The Economy's Fundamental Problem Has Changed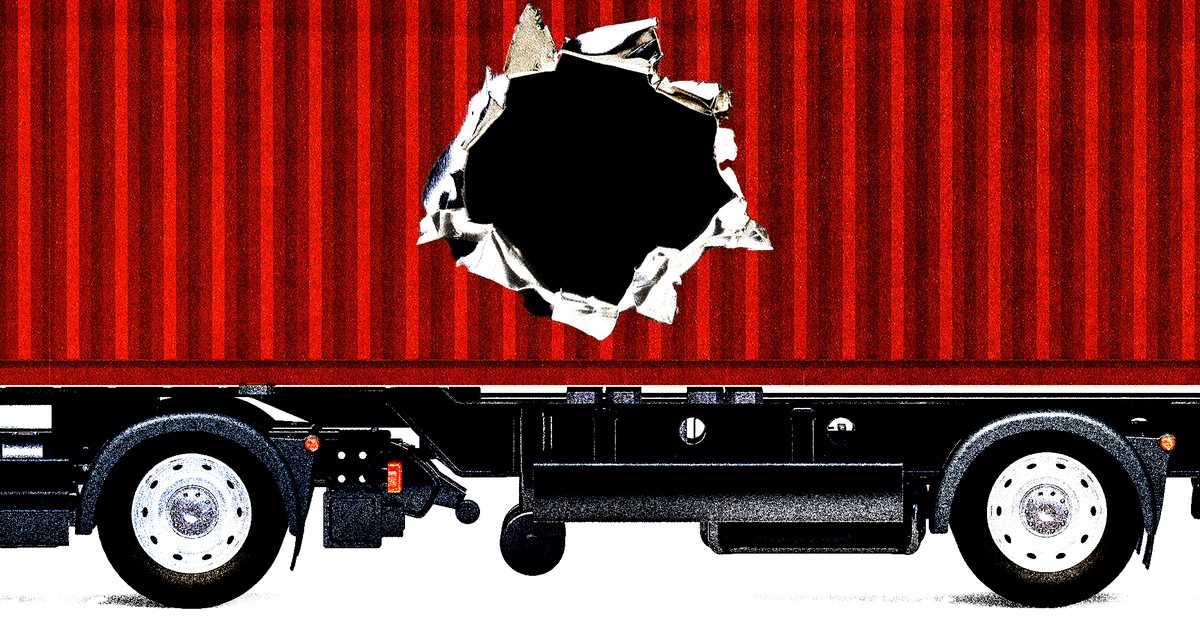 A few weeks ago, I was buying an iced coffee near my home in San Francisco. I went to pay with cash, and the barista asked me to pay with Apple Pay or a card—she could give me back bills, but did not have any coins.
I would not have thought anything of it, save for the fact that I've had similar experiences over and over again of late. My younger son drinks infant formula; I haven't been able to buy our preferred brand more than once or twice in his lifetime. My older son recently needed an antibiotic for an ear infection; the pediatrician warned my husband he might not be able to find it. My dogs' veterinarian told me this fall that we should find a new vet; he's so overbooked that he's dropping clients. My family is relocating, so we are now scrambling to find nursery-school spots for our kids. As for reasonably priced movers—I'm not sure they exist. I'm probably going to drive the truck myself.
Since the pandemic hit, the economy has been plagued by shortages, some caused or worsened by COVID and many not. Indeed, none of the supply crunches I just cited—coins, formula, antibiotics, veterinary services, early-childhood education, truck drivers—has much to do with the virus still afflicting the world. Something deeper is going on. After the Great Recession, we went through a decade in which economic life was defined by a lack of demand. Now, after the COVID recession, we've entered a period in which economic life is defined by a lack of supply.
During the aughts and 2010s, the primary problem was that most families did not earn enough money. Unemployment and underemployment were rampant. Wage growth was slack because companies had no incentive to compete for workers. The middle class was shrinking. And inequality yawned, with the haves getting richer while the have-nots struggled.
This era—which lasted from 2007 until 2018, give or take—was one of extremely loose monetary policy and stingy fiscal policy. The Federal Reserve made it as cheap as it possibly could for businesses and individuals to borrow, but only corporations and the wealthy had the cash on hand to take advantage; Congress, for its part, declined to do much long-term investment and kept its spending stable. It was also an era of low GDP growth, low inflation, and a steady debt-to-GDP ratio, outside of the Great Recession itself. In this environment—let's call it Demand World—the fundamental problem was the economy's low appetite for goods and services.
Today, we live in Supply World. People's primary economic fixation is getting their hands on enough of the stuff they want to buy. Families, for once, have plenty of money. By the middle of the Trump administration, the unemployment rate had fallen low enough and stayed low for long enough that wages started increasing. Businesses began bidding against one another to win over workers. (A Panda Express near my home had a sign up offering $86,000 a year plus a bonus for managers and $19 an hour for its lowest-paying kitchen jobs.) Then the government showered families with money during the pandemic, in the form of stimulus checks, child allowances, small-business relief, and extended unemployment-insurance payments. As a result, inequality has—in a remarkable and underappreciated trend—declined, a lot and fast.
This era—which began in 2018—is one of massive government spending. Congress approved $5 trillion in COVID-related stimulus while the Fed once again dropped borrowing costs to zero during the early pandemic, before hiking rates to tamp down on the torrid pace of cost increases. It is an era of good GDP growth, high inflation, and a ballooning debt-to-GDP ratio.
The issue in Supply World is that shortages, accompanied by rising costs, are keeping businesses and families from getting the things they want and need. We have a labor shortage, caused by COVID-related retirements, COVID-related disability and death, changes in immigration, and low-wage industries struggling to retain workers. The number of people coming into the United States has plummeted, thanks in no small part to the Trump administration's restrictive border policies and anti-immigrant rhetoric: Immigration added more than a million people to the population in 2016, and a quarter of that many in 2021. At the same time, COVID pushed millions of older Americans to retire, though some are coming back to the labor force now; the virus also killed thousands of workers and maimed millions more. And many industries have struggled to attract workers, due to burnout, dangerous labor conditions, persistently low wages, or some combination of the three.
Then there is the housing shortage, a long-simmering, GDP-stifling national catastrophe, one responsible for problems as varied as the homelessness crisis, falling fertility rates, low productivity growth, and the lack of cool new music. For decades, places like New York and the Bay Area have created more new jobs than they have permitted new homes, leading to escalating prices and long commutes. Those superstar cities have exported their shortages around the country in recent years.
Finally, we face persistent shortages of consumer goods and services: life-saving CPAP units, children's cough medicines, mid-range couches. Service shortages are in some cases a direct result of the housing shortage and the labor shortage: Getting affordable child care in cities such as Seattle and New York is impossible because they are so expensive for child-care workers to live in, and because there aren't enough workers in the country to begin with, thanks in part to President Donald Trump. As for the ongoing shortages of stuff, they are due to COVID-related supply-chain disruptions, the sudden surge in consumer spending, and a lack of corporate investment in the Demand World era.
Indeed, Demand World in no small part created Supply World: The entire economy tilted toward producing goods and services for the tiny elite, rather than the middle class. And the lack of demand made it hard to see the lack of supply as a problem. Homelessness got cast as a poverty problem, not a housing-stock problem. The decline of domestic manufacturing got cast as a crisis for the Rust Belt, not for everyone who might want to feed their preemie or bike to work.
With the economy slowing and interest rates going up, might we end up back in Demand World? I asked that question of the former Treasury Secretary Larry Summers, who in 2013 began warning that the global economy was entering a period of "secular stagnation," characterized by low investment, low productivity growth, and low interest rates. To boost growth, he argued, the government might have to run deficits indefinitely.
"I don't think anybody can know whether we're headed back to secular stagnation or not," he told me. On one hand, he said, the country's workforce had gotten older. The pace of technological change seemed to have slowed. The cost of capital goods had fallen, and corporate profit shares had grown. On the other hand, he noted, the country was running large deficits. Labor unions had gotten more active, and the government more progressive. He also said that he imagined the clean-energy transformation might provide a burst of growth.
So might investment in child care, housing, and domestic manufacturing. So might letting in millions more immigrants. So might deploying the astonishing new technologies emerging from Silicon Valley. Strong demand and ample supply—that's the world we all should want.
Oil advances on solid U.S. economic report, signs of China demand – BNN Bloomberg
Oil gained on signs of better-than-expected U.S. economic growth and the potential for greater energy demand from China.
West Texas Intermediate traded near US$81 a barrel, paring some earlier gains. Global benchmark Brent also advanced.
The U.S. economy expanded by more than forecast in the fourth quarter, figures released Thursday showed, easing recession fears and buoying markets. Meanwhile, a gauge of the dollar slipped to the lowest since April, making commodities priced in the currency cheaper for overseas buyers.
Oil has recovered from a steep drop at the start of the year, largely on hopes that Chinese consumption will pick up after years of lockdowns. The number of virus-related deaths and severe cases at hospitals in China is now 70 per cent lower than peak levels in early January, authorities said late Wednesday.
Energy demand is starting to pick up and the momentum will continue this year, Trafigura Chief Economist Saad Rahim said during a webinar. The rebound in Chinese tourism will have a big impact on consumption, he added, noting that the recovery takes place against a "backdrop of structural underinvesment" in supply.
Liquidity is also returning to the futures market, with open interest in global benchmark Brent near the highest since last February.
Prices:
WTI for March delivery rose 1.3 per cent to US$81.20 a barrel by 10:03 a.m. in New York.
Brent for March settlement increased 1.1 per cent to US$87.09 a barrel.
U.S. crude inventories rose for a fifth week to the highest level since June 2021, the Energy Information Administration reported Wednesday. Still, the gain of 533,000 barrels was smaller than some market participants expected.
Russian oil products will be subject to a European Union ban on seaborne imports and a Group of Seven-led price cap on the fuels in less than two weeks, with concern it may be more disruptive to markets than recent sanctions on Russian crude. Russian shipments of diesel-type fuel from the Baltic port of Primorsk are already on course to slow.
Meanwhile, French strikes are hampering deliveries of fuels such as diesel and gasoline as labor action hits the refining industry for the second time this month.
Big tech props up U.S. stocks amid mixed economic data – BNN Bloomberg
A rally in tech megacaps drove the stock market higher, with traders assessing economic data that suggest the Federal Reserve still has a path to a soft landing — with officials set to further downshift their rate hikes next week.
The S&P 500 headed toward its highest since early December. Tesla Inc. led gains in the tech-heavy Nasdaq 100, with Elon Musk teasing potential for the carmaker to produce 2 million vehicles this year. International Business Machines Corp. weighed on the Dow Jones Industrial Average as its cash flow miss overshadowed a profit beat.
The U.S. economy grew faster than forecast into the end of 2022, but there were signs of slowing underlying demand as the steepest rate hikes in decades threaten growth this year. Sales of new homes rose for a third month in December, wrapping up an otherwise disappointing year in which soaring borrowing costs stifled demand and weighed on the economy.
Comments:
Fawad Razaqzada, market analyst at City Index and FOREX.com:

"The weaker GDP print compared to the previous reading means the economy is slowing, but the above-forecast number will ease recession fears at the same time. They call this the 'goldilocks' scenario. It should be positive for risk assets, I would imagine, and judging by the reaction post the data, that's how it is proving to be so far."

Ian Lyngen, the head of U.S. rates strategy at BMO Capital Markets:

"Overall, it was a solid round of data that is consistent with the Fed continuing on with the steady quarter-point hikes at the next 2-3 meetings and then retaining a restrictive policy stance throughout the year."

Jeffrey Roach, chief economist at LPL Financial:

"The Q4 GDP report will likely reignite conversations about the economy sticking a soft landing. Given the softer inflation data, the Fed will likely downshift the pace of rate hikes to 0.25 per cent at next week's meeting. However, other recession indicators are flashing red so upcoming monthly data, especially on the labor market, will be key for investors."

Bill Adams, chief economist for Comerica Bank:

"A slowing trend in real GDP — and more importantly, slowing inflation — is enough for the Fed to reduce the size of their rate hike at next Wednesday's decision. The Fed is nearing the end of its rate hike cycle, which we forecast will conclude with a final quarter percentage point increase at the March decision."
A team led by Deutsche Bank AG's Binky Chadha is maintaining its view that the S&P 500 can rise to 4,500 by the end of the first quarter, 12 per cent above Wednesday's close, before slumping amid an economic contraction. That's even as the benchmark is headed for its best January since 2019.
"We view the rally as having further to go," the strategists wrote. "While a number of leading indicators have fallen steeply, raising the alarm, there are several reasons for a continued pushing out of the timing of a potential recession."
However, it appears many investors don't have the appetite to chase the rally. Some 35 per cent of clients in a recent JPMorgan Chase & Co. survey said they plan to add to stock holdings in the coming weeks. That's a hair away from a 33 per cent reading in late November that marked an all-time low.
Corporate Highlights:
American Airlines Group Inc. expects profit this year to exceed estimates following a slow start, as steady demand for air travel keeps an industry recovery going into 2023.
Southwest Airlines Co.'s operations meltdown last month will lead to a first-quarter loss as the fallout extends into 2023 from a fiasco that led to thousands of canceled flights and prompted a federal probe into its operations.
Lam Research Corp., one of the three biggest providers of chip-manufacturing equipment in the U.S., is cutting about 7 per cent of its workforce to reduce expenses in a declining market.
Dow Inc. plans to cut about 2,000 jobs as the chemical maker seeks US$1 billion in savings and confronts a flareup in energy costs that followed Russia's invasion of Ukraine.
Mastercard Inc. warned revenue growth would slow even faster than expected this quarter, stoking fears that inflation has put a damper on consumer spending.
Comcast Corp. topped Wall Street profit estimates in the fourth quarter despite continuing to lose customers in its cable and broadband businesses.
Key events:
Earnings for the week include: American Express, Charter Communications, Chevron, HCA Healthcare (Friday)
U.S. personal income/spending, PCE deflator, University of Michigan consumer sentiment, pending home sales, Friday
Some of the main moves in markets:
Stocks
The S&P 500 rose 0.6 per cent as of 10:26 a.m. New York time
The Nasdaq 100 rose 1.4 per cent
The Dow Jones Industrial Average rose 0.2 per cent
The Stoxx Europe 600 rose 0.5 per cent
The MSCI World index rose 0.6 per cent
Currencies
The Bloomberg Dollar Spot Index rose 0.1 per cent
The euro fell 0.3 per cent to US$1.0888
The British pound fell 0.2 per cent to US$1.2372
The Japanese yen fell 0.5 per cent to 130.29 per dollar
Cryptocurrencies
Bitcoin fell 2 per cent to US$23,127.32
Ether fell 0.4 per cent to US$1,612.75
Bonds
The yield on 10-year Treasuries advanced five basis points to 3.49 per cent
Germany's 10-year yield advanced four basis points to 2.19 per cent
Britain's 10-year yield advanced five basis points to 3.29 per cent
Commodities
West Texas Intermediate crude rose 1.3 per cent to US$81.19 a barrel
Gold futures fell 0.5 per cent to US$1,950.10 an ounce
2 in 3 Canadians say the economy is doing poorly: poll
A new survey from Research Co. shows that most of Canadians are not happy with the current economy and that their financial status have worsened over the past six months.
As many as 62 per cent of respondents described current economic condition in Canada as "bad" or "very bad", up five points since Research Co. conducted a similar story in July 2022. In addition, just 35 per cent of Canadians (down five points) rate the economic conditions tight now as "very good" or "good".
When it comes to their own personal finances, 51 per cent of respondents described their personal finances as "very good" or "good," which is down six points, while 47 per cent (up six points) defined them as "poor" or "very poor."
Breaking down the data by province, 27 per cent of Alberta residents said they hold a positive view of the Canadian economy, while 28 per cent of Saskatchewan and Manitoba residents and 29 per cent of Atlantic Canadians said they feel the same way.
Meanwhile, 37 per cent of Ontario residents, 35 per cent of people in British Columbia and 41 per cent of Quebec respondents said they have a positive perspective towards economic condition.
Nearly half of Canadians (44 per cent) said they are pessimistic over the national economic stability and expect the national economy to decline over the nest six months while only 13 per cent predict an improvement.
"Most Canadians aged 55 and over (51 per cent) think an economic recovery in the next six months is unattainable," Mario Canseco, President of Research Co. said. "The proportions are lower among their counterparts aged 35-to-54 (43 per cent) and aged 18-to-34 (38 per cent)."
More than half of Canadians (52 per cent) said they are worried "frequently" or occasionally" about the value of their investments and their savings safety.
The survey also found that 37 per cent of Canadians have "frequently" or "occasionally" expressed concerned about unemployment affecting their households, while 34 per cent expressed the same feeling about paying their mortgage and 29 per cent feel the same way about their employer running into serious financial trouble.
Most respondents also believe that certain items prices will go higher in the nest six months. For example, 85 per cent of Canadians believe a week's worth of groceries will be more expensive while 67 per centfeel the same way for a new car price.
The survey also included respondents about whether they believe the prime minister is doing the right thing to help the economy. Of the respondents, 42 per cent said they trust Justin Trudeau, while the ratings are lower (34 per cent) for Bank of Canada governor Tiff Macklem. Fewer people (33 per cent) trust the Conservative Leader Pierre Poilievre to do the right thing to help the economy.
METHODOLOGY
The results are based on an online study conducted from Jan, 13 to 15, 2023, among 1,000 adults in Canada. The data has been statistically weighted according to Canadian census figures for age, gender and region. The results are considered accurate within +/- 3.1 percentage points, 19 times out of 20.
Reporting for this story was paid for through The Afghan Journalists in Residence Project funded by Meta.