The efforts to develop a Covid-19 vaccine – Denbighshire Free Press
The NHS has said it stands ready for whenever a coronavirus vaccine is approved by regulators.
Work has been going on behind the scenes to ensure that staff are ready to start delivering jabs to the most vulnerable, as well as health and care workers, as a priority.
Apart from the work of scientists and academics, months of work has gone into preparing for the delivery of a vaccine.
Mass vaccination clinics have been proposed, with a number of venues suggested, including sports halls, leisure centres and even the Copper Box stadium in London's Olympic Park.
The NHS Nightingale Hospitals have also been earmarked as sites for mass vaccination clinics – among other uses.
In addition, NHS leaders have said there will be "roving teams" deployed to vaccinate care home residents and workers.
Consideration will also have to be given to the storage of the vaccine, with some of the vaccine candidates needing special storage in ultra-low temperature freezers, not the typical fridges which are found at a run-of-the-mill GP surgery.
And health leaders have been in discussions over how to get people to return for any subsequent doses if needed.
There are more than 200 vaccine candidates in clinical trials.
But rather than buying stock of each, the Government created a taskforce to pick the best six.
Once selected, it then ploughed millions of pounds into securing doses of each of the front-runners.
The taskforce has struck agreements to buy 350 million doses of vaccine candidates across a range of different types.
These include: 40 million doses of the BioNTech/Pfizer vaccine which has reported positive results; 100 million doses of the Oxford/AstraZeneca jab; 60 million doses of the vaccine created by GSK and Sanofi Pasteur; 60 million doses of the Valneva inoculation; 60 million doses of the Novavax jab; and 30 million doses of the Janssen not-for-profit vaccine.
The Department for Business, Innovation and Skills said it has funded several vaccine manufacturing sites to ensure there is no "bottleneck" in production.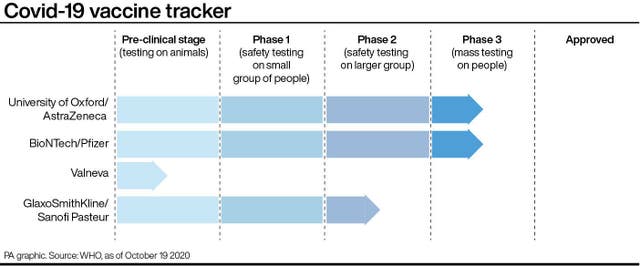 Vaccine transport has also been taken into consideration, and the additional personal protective equipment (PPE) needed for staff delivering the vaccines has formed part of the discussions.
Any new medicine has to be approved by regulators, and the Medicine and Healthcare products Regulatory Agency has been working to ensure that it prioritises reviews of Covid vaccines.
Regulators usually assess results at the end of the clinical trial process, but for some vaccine candidates it has said it will carry out a rolling data review to speed up the process.
In addition to the efforts of the Government, the health service and other arms-length bodies, people across the general population have helped research towards getting a safe vaccine.
More than 300,000 Britons have signed up to take part in clinical trials to test the safety and efficacy of a vaccine.
Alberta province halts AstraZeneca vaccine first shots due to supply issue
Alberta has stopped administering first doses of the AstraZeneca COVID-19 vaccine because of limited supply, a government spokesman said on Tuesday.
Alberta Health spokesman Tom McMillan said the change was due to supply issues rather concerns about rare side-effects.
"This decision is based on the fact that we are receiving no known future shipments of AstraZeneca at this time but are receiving large quantities of mRNA vaccines," McMillan said in an email, referring to messenger RNA vaccines from Moderna and Pfizer/BioNTech.
The shortage of AstraZeneca vaccines comes as the western oil-producing province of Alberta struggles with a surge in COVID-19 cases. Last week the provincial government introduced new restrictions to curb infections.
Alberta has administered approximately 255,000 first doses of the AstraZeneca vaccine. The remaining supply of about 8,400 doses will be used as second doses.
Last week, Alberta reported its first case of a patient dying from a blood clot condition after receiving the AstraZeneca vaccine. There have been three such deaths in Canada.
Despite the deaths linked to the AstraZeneca vaccine, Canada's health regulator has continued to support the use of the vaccine and highlighted its benefits.
Dozens of countries paused the use of the AstraZeneca vaccine this year after reports of rare, but serious, blood clots. Several of them have now resumed use either fully or with restrictions after health regulators said the benefits of the shot outweigh any risks.
The province is now receiving large and consistent shipments of Pfizer and Moderna vaccines, with more than 236,000 doses arriving this week.
(Reporting by Nia WilliamsEditing by Bill Berkrot and Nick Zieminski)
BioNTech committed to deliver 1.8 billion doses of COVID-19 vaccine this year
BioNTech SE said on Monday that its order backlog for delivery of COVID-19 vaccines this year together with partner Pfizer Inc had grown to 1.8 billion doses, underscoring its role as a major global supplier of immunization shots.
That was up from 1.4 billion doses announced in March.
Based on these delivery contracts, the company said it expects about 12.4 billion euros ($15.1 billion) in revenue from the vaccine this year, including sales, milestone payments from partners and a share of gross profit in the partners' territories, up from a previous forecast of 9.8 billion euros.
More than 450 million doses of the two-shot vaccine known as Comirnaty were supplied globally as of May 6, 2021. By contrast, AstraZeneca, which has pledged to deliver up to 3 billion vaccine doses this year, said on April 30 it had supplied more than 300 million doses so far. That includes production from partners such as the Serum Institute of India.
BioNTech and Pfizer, which have been spared the type of production setbacks that have hobbled AstraZeneca and Johnson & Johnson , have repeatedly lifted projected delivery volumes amid a global scramble to speed vaccination campaigns.
Earlier on Monday, BioNTech unveiled plans to set up a new factory in Singapore to produce several hundred million doses of its mRNA vaccines per year from 2023.
BioNTech's partner for China, Fosun Pharma , said on Sunday it would provide a factory with an annual capacity of up to 1 billion doses of the COVID-19 vaccine under a joint venture with BioNTech.
That followed a contract with the European Union for up to 1.8 billion doses of COVID-19 vaccines for 2021-2023, to cover booster shots, donations and reselling of doses.
BioNTech reported first-quarter total revenue of 2.05 billion euros, up from 27.7 million a year earlier, driven by vaccine sales, and including an estimated 1.75 billion euros from BioNTech's share of gross profit from sales in Pfizer's territories.
Quarterly net profit jumped to 1.13 billion euros, compared to a 53.4-million-euro loss in the year-earlier period.
The company said there was no evidence its current vaccine will need to be adapted to fight new virus variants, but added that it had developed strategies to address such variants should the need arise.
BioNTech reiterated that output capacity for the vaccine would reach 3 billion doses by the end of 2021, and more than 3 billion doses in 2022.
Pfizer last week said the pair was targeting production of as much as 4 billion doses of the shot next year, mostly for low- and middle-income countries.
($1 = 0.8222 euros)
(Reporting by Ludwig Burger; Editing by Thomas Escritt, Bernadette Baum and Bill Berkrot)
Canada ready to discuss COVID-19 vaccine IP waiver, 'not interfering or blocking' -Trudeau
Canada is ready to discuss an intellectual property rights (IP) waiver for COVID-19 vaccines and will not block one even though it stresses the importance of protecting patents, officials said on Friday.
U.S. President Joe Biden on Wednesday threw his support behind waiving IP rights for COVID-19 vaccines. Any such waiver would have to be negotiated through the World Trade Organization (WTO).
"We've been working with partners at the WTO to find a consensus-based solution and are ready to discuss proposals, in particular for COVID-19 vaccines," Prime Minister Justin Trudeau told reporters.
Biden's proposal angered pharmaceutical companies. Firms working on vaccines have reported sharp revenue and profit gains during the crisis.
Canadian International Trade Minister Mary Ng earlier said that Ottawa firmly believed in the importance of protecting IP.
"I can assure you Canada is not interfering or blocking. Canada is very much working to find a solution," said Trudeau, who did not give details of the Canadian negotiating stance.
Ng said Ottawa recognized how much the pharmaceutical industry had done to innovate COVID-19 vaccines, adding that many barriers to access were unrelated to IP, such as supply-chain constraints.
Canada is trying to quell a third wave of the coronavirus pandemic that is pushing some healthcare systems to breaking points, particularly in the western provinces of Alberta and Manitoba.
Manitoba officials said they were postponing some non-urgent surgeries to open space for COVID-19 patients and planned to announce tougher public health restrictions as daily cases soared to a near-record high.
The U.S. state of Montana will offer vaccines to around 2,000 Alberta truckers who regularly cross the border, Alberta Premier Jason Kenney said.
Truckers will get vaccinated at a post being set up just south of the border, using Montana's surplus Johnson & Johnson vaccines.
The scheme mirrors an agreement that Saskatchewan and Manitoba reached with North Dakota.
(Additional reporting by Nia Williams in Calgary and Rod Nickel in Winnipeg; Editing by David Goodman/Mark Heinrich, Grant McCool and Marguerita Choy)