The end of the Merkel era: Is 'Mutti' really ready to swap politics for plum cake and potato soup? – CNN
The German Chancellor is preparing to step down later this year, having long ago cemented her position as one of the world's most successful political leaders.
In her time in office, she has dealt with five UK prime ministers, four French presidents and seven Italian prime ministers. When President-elect Joe Biden takes office on Wednesday, he'll be the fourth American commander-in-chief she's worked with.
Yet despite her track record, Merkel, the leader of the world's fourth-biggest economy, has spent much of her political career having to prove herself.
Her counterparts have tried to overpower or even humiliate her. Vladimir Putin once
brought a Labrador dog
into his meeting with the Chancellor who is famously afraid of dogs.
Donald Trump
told her she was stupid. Silvio Berlusconi once
left her waiting
for 15 minutes while he chatted on the phone.
When she became the first woman to take Germany's top job in 2005, many deemed her too inexperienced and uncharismatic to last.
Bild, Germany's most-read newspaper, marked the occasion with a front-page photo and a headline reading "Miss Germany!" Even within her own party, she was referred to as "das Mädchen," German for "the girl."
But while other leaders have come and gone over the intervening years, Merkel has endured, enjoying an unparalleled popularity. "Das Mädchen" became nicknamed "die Mutti," a mother figure and symbol of stability.
Political scientist Joyce Mushaben, said Merkel was seen as a "temporary" leader when she first rose through the ranks of the Christian Democratic Union (CDU) party.
Many of her male rivals had been mired in scandal, and there was a feeling that "she was just going to be holding that place until they could find a real CDU man to replace her," Mushaben said. "They completely underestimated her learning ability."
Merkel ended up leading the party for 18 years, stepping down in late 2018. It soon became clear just how difficult it will be to replace her. Merkel's handpicked successor
Annegret Kramp-Karrenbauer
lasted just over a year, struggling to keep the regional fractions of the party in line.
This weekend, the party picked Armin Laschet as her successor. Laschet, a long time Merkel ally currently serving as the Minister-president of the federal state of North-Rhine Westphalia, won with 52.79% (521 votes), beating Friedrich Merz, a corporate lawyer, who obtained 47.21% (466 votes).
Laschet will lead the party into the federal election in September. His election was a clear vote in favor of the continuation of Merkel's moderate politics.
Mushaben, a Merkel biographer and professor of comparative politics and gender studies at the University of Missouri-St. Louis, said the key to Merkel's success lay in the unique mix of her background and her abilities.
Her experience of growing up as a pastor's daughter in Communist East Germany has deeply influenced her political decision-making, and as a former scientist with a doctorate in quantum chemistry, she often approaches problems in the same way as complex calculations, Mushaben said.
When her political mentor Helmut Kohl became tangled in a corruption scandal in 1999, she publicly denounced him and called for him to go, despite having been his long-time protege.
"People saw her as a person of integrity, someone who didn't just grab the mic and shoot off her mouth, but someone who waited until she really had something to say," Mushaben added.
As well as being the first woman to become chancellor, Merkel was also the first politician from the former East Germany to take the post following the fall of the Berlin Wall.
Merkel referenced this part of her background recently, when pushing for more coronavirus restrictions, admitting that as someone who sees the freedom to travel as a hard-won right, she was uneasy about the new rules, but explained why they were necessary.
Corinna Hoerst, senior fellow and deputy director at the German Marshall Fund in Brussels, said Merkel has been a new type of leader.
"She exudes empathy, stability and reliability," Hoerst said. "That's unique and it has redefined, in some ways, what people are looking for in a leader, because it's so opposed to any of the sort of male stereotypes that we had."
The world's crisis manager
Even her staunchest critics admit that Merkel has special powers when it comes to handling crises, having seen Germany through the global financial crisis, the Eurozone debt crisis, and the immigration crisis; with months to go before she steps down, she remains at the forefront of the fight against the coronavirus pandemic.
She has often acted as the voice of reason, and as a maker of deals. Political scientists describe her as "calm," "pragmatic," and "diplomatic." Some might even add "boring" to the mix.
"There's nothing glamorous about her," said Gabriele Abels, a professor of comparative politics at the University of Tübingen, Germany. "She is very … matter of fact, very rational and people would never think of her as being corrupt."
Abels said Merkel embodies what most Germans look for in a leader: "While we sometimes look at other countries which have more of the charismatic leaders, we don't want these for ourselves, we've had enough of that in history."
Hoerst said Merkel's particular strength in recent years has been in building consensus and leading from the middle.
"It's kind of funny that women are seen as, you know, 'Oh, she's so emotional,' but actually, it has been the men who are highly emotional, whether it's Boris Johnson or President Trump, while Chancellor Merkel has been diplomatic and determined not just to forge ahead but to get everybody around the idea," she said.
Merkel's determination to find an agreement has paid off during some of the biggest crises of the past decade. She was able to broker a deal between the Eurozone and Greece, and convinced Russia and Ukraine's top officials to talk to one another.
As a former scientist and environmental minister, she also put climate center from the beginning of her leadership. She presided over the very first UN Climate Conference in Berlin and convinced the other leaders of G8 to accept the need to cut greenhouse gas emissions. "She even got George Bush to admit that there was a climate change problem; she was a great mediator," Mushaben said.
But the leading by consensus hasn't always worked. Late last year, she struggled to convince the leaders of Germany's federal states to implement stricter nationwide coronavirus restrictions when infection levels began to rise. And as the rotating President of the Council of the European Union in the past six months, she has struggled to find a consensus with Hungary and Poland over their
adherence to the EU's rule of law
.
'We can manage this'
There were also times when Merkel didn't go looking for a compromise, most notably in 2015 when she welcomed refugees fleeing conflicts in Syria and elsewhere.
"Politically persecuted people have the right to asylum. We can be proud of the humanity of our Basic Law … we also grant protection to all those who flee to us from wars," she told the German people that summer.
"I put it simply: Germany is a strong country. The motive with which we approach these things must be: We have achieved so much — we can do it!," Merkel said.
"To me that's her most memorable moment, that three-week period in 2015 where she made the decision to fight all the people in her cabinet and the chief for the federal police and the border guards, they all said don't do it and she said, 'If we can save the banks, we can save the human beings,'" Mushaben said.
Hoerst agrees that that decision will form a major part of Merkel's legacy.
"It was a humanistic thing to do and it was the right thing to do," she said. "She empowered German citizens who felt empathy for refugees but maybe haven't been active, and she gave them the recognition and the support so that locally they organized and opened their houses."
Many criticized the move, particularly after an estimated 1.2 million people arrived in Germany within the next year and half.
The large influx initially caused some problems, and boosted far-right anti-immigration parties such as the Alternative für Deutschland (AfD). But that sentiment appears to have been temporary — the AfD has since faded in the polls, and the policy of welcoming in refugees and migrants is starting to pay off economically.
Like many other European countries, Germany is facing a demographic time bomb, with too many retirees and not enough workers.
According to Germany's
Institute for Labor Market and Occupational Research
, 49% of the working-age refugees who have arrived in the country since 2013 were employed as of February last year. More than half of those were in skilled jobs and more than two-thirds were in full-time work.
Another 17% were in paid training programs and 3% were in paid internships. According to the research, most of the remaining were either studying, actively looking for jobs or on maternity or parental leave. Some 85% have taken German language courses.
What's next?
Merkel has repeatedly rejected the idea of running for a fifth term and most commentators believe she will stick to that promise.
"Even her decision to run for the fourth term was very hesitant, but she saw Putin behaving badly and she saw the election of Trump and she said, 'Okay, I'm the only grown up left on the stage,'" Mushaben said.
This time around, Merkel appears determined to step back.
"I don't think she will take up any other position, I think that she will actually retire and just enjoy doing the things she has hardly been able to do in the last 20, 30 years," Abels said.
According to Mushaben, the outgoing Chancellor has previously said that she is looking forward to spending more time cooking plum cake and her famous potato soup, indicating she isn't planning a big speaking tour or another position.
But even if she retires completely, she will continue to influence the world for a long time to come.
"In the future, it will be very difficult to argue that a woman cannot be a successful leader, and that's a very important message to tell," Abels said.
China's electoral reform 'earthquake' set to upend Hong Kong politics – Reuters
HONG KONG (Reuters) – China's plan to dramatically reform Hong Kong's electoral system, expected to be unveiled in a parliamentary session in Beijing starting this week, will upend the territory's political scene, according to more than a dozen politicians from across the spectrum.
The proposed reform will put further pressure on pro-democracy activists, who are already the subject of a crackdown on dissent, and has ruffled the feathers of some pro-Beijing loyalists, some of whom may find themselves swept aside by a new and ambitious crop of loyalists, the people said.
"It will be an earthquake shaking up local political interests," said one person briefed on the impending changes.
The measures will be introduced at the annual meeting of the National People's Congress, China's rubber-stamp parliament, which starts on Friday, according to media reports.
The plan was signalled last week by senior Chinese official Xia Baolong, who said Beijing would introduce systemic changes to only allow what he called "patriots" to hold public office in Hong Kong.
In a full transcript of his remarks published this week by the pro-Beijing Bauhinia Magazine, Xia said Hong Kong's electoral system had to be "designed" to fit with the city's situation and shut out what he called non-patriots, some of whom he described as "anti-China agitators" that would bring destruction and terror to the city – a reference to pro-democracy campaigners who took to the streets in sometimes violent demonstrations in 2019.
Xia did not announce any specifics, but the plan will likely include changes to how the 70-seat Hong Kong legislature is elected, and the composition of a committee that will select Hong Kong's next leader, according to the person briefed on the plan and local media reports.
Veteran democrats have been quick to condemn the plan.
"It totally destroys any hope for democracy in the future," said Lee Cheuk-yan, a pro-democracy former member of Hong Kong's legislature. "The whole concept of Xia Baolong is that the Communist Party rules Hong Kong and only those that support the party can have any role."
Lee learned of the impending reform last week, in the middle of his trial, along with a group of eight other pro-democracy activists, for unlawful assembly charges related to a protest in August 2019.
"It's no longer for people to decide," Lee told Reuters on a lunch break from the trial last week. "It's one party rule, completely."
The prospect of further bending the electoral process to China's liking has also worried some pro-Beijing figures, who think it may be going too far and ultimately hurt Hong Kong.
"Don't go too far and kill the patient," Shiu Sin-por, a pro-Beijing politician and former head of Hong Kong's Central Policy Unit, told reporters after a briefing session with Xia on the matter. The opposition camp has already been neutralised by last year's national security law, Shiu said, allowing the government to "push forward policies smoothly."
China's main liaison office in Hong Kong, and China's Hong Kong and Macau Affairs Office, did not respond to requests for comment.
The Hong Kong government said in a statement that it was prioritising the implementation of the principle of "patriots ruling Hong Kong" and improving the electoral system, and that it will continue to listen to views on the matter.
POLITICAL MATHEMATICS
Electoral reform is the latest political tremor to hit Hong Kong, a former colony that Britain handed back to China in 1997, which retains some autonomy from Beijing and whose status as a global financial hub was built on the rule of law and civil liberties not allowed in mainland China.
The city's atmosphere has changed radically in the past 18 months. Mass street protests in 2019 against China's intensifying control prompted Beijing to impose a sweeping national security law last June, which authorities have used to jail activists and stifle dissent.
On Sunday, Hong Kong police charged 47 pro-democracy campaigners and activists with conspiracy to commit subversion for their roles in organising and participating in an unofficial primary election last July, the biggest single crackdown under the new law.
Even though such arrests have already marginalised the pro-democracy camp, China wants to exert greater control over a voting process largely unchanged since 1997, and is still afraid of democrats winning a majority in the legislature at the next election, said the person briefed on the electoral reform plan.
"They did the mathematics and it was seen as too risky to do nothing," said the person.
Two senior pro-Beijing politicians told Reuters the electoral reform plan, coming on top of the broader crackdown that has already provoked international criticism, would ultimately damage Hong Kong, potentially destroying its unique character, pluralism and attractiveness for investors.
"It's really sad that Hong Kong has degenerated to this stage," said one of the politicians, on the electoral reform. "We're handing Hong Kong over to the next generation in a worse state than we inherited it."
The two pro-Beijing politicians spoke to Reuters on condition of anonymity, due to the sensitivity of the matter. It is rare for pro-Beijing politicians in Hong Kong to voice any doubt about China's moves, even anonymously.
"Nothing is normal anymore," said the second pro-Beijing politician. "It's a new abnormal."
One faction that appears ready to benefit from electoral reform is the new Bauhinia Party, formed in May by Charles Wong and two other mainland-born, pro-Beijing businessmen, pushing policies that Wong says will help revive Hong Kong and its leadership.
"They (Beijing) never really have any opposition to what we do," Wong told Reuters in his 12th-floor seafront office last week.
Wong, 56, was born in mainland China but came to Hong Kong as a youth and speaks fluent Cantonese, the local dialect. Describing himself as a "patriot," Wong embodies China's declared wish to have Hong Kong run at all levels by people with closer ties and sympathy with the mainland.
"We are Hong Kong people," he told Reuters. "We love Hong Kong."
Reporting by James Pomfret and Clare Jim in Hong Kong: Additional reporting by Sharon Tam in Hong Kong: Editing by Bill Rigby and Neil Fullick
How rape allegations have rocked Australian politics – BBC News
Just a fortnight ago, Australia was shocked by a former political adviser's allegations that she had been raped in the nation's Parliament House.
Brittany Higgins said she'd been attacked by a male colleague – also an adviser for the ruling Liberal Party – in a government minister's office in 2019.
Her story has triggered a flood of other women to come forward with their own experiences of alleged sexual assault and harassment in Australian politics.
The most explosive of these – a 1988 rape allegation – now hangs over an unidentified cabinet minister. The minister denies rape, Prime Minister Scott Morrison said on Monday.
A rape accusation against an opposition MP has also been referred to police.
As the allegations pile up, Mr Morrison's government in particular is facing a public clamour for answers. Here's how events have unfolded so far.
Brittany Higgins speaks out
Ms Higgins said she was 24 and weeks into a new "dream job" when she was taken to parliament by a senior colleague after a night out in March 2019.
Heavily drunk, she had fallen asleep in the minister's office before waking, she said, to find the man sexually assaulting her.
The man was sacked in the days following, not for the alleged assault but for breaching office security with the late-night visit.
Meanwhile Ms Higgins told her boss – then Defence Industry Minister Linda Reynolds – that she had been sexually assaulted. The meeting occurred in the same room where Ms Higgins alleged the attack took place.
Ms Reynolds has said she offered support to her aide to go to the police. Ms Higgins said she felt pressure that doing so would lead to her losing her job.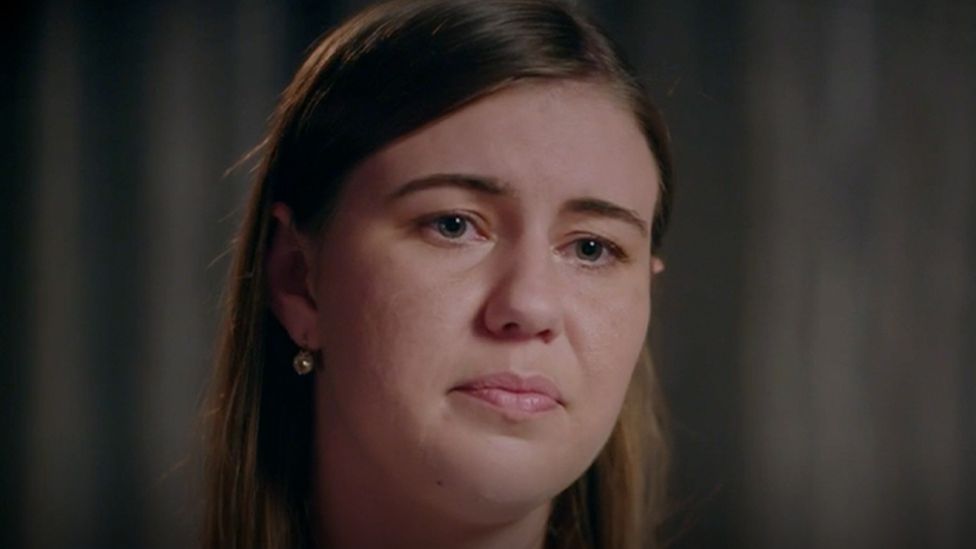 Ms Higgins said she had since felt "silenced" by the Liberal Party, but decided to speak out after seeing a photo of Mr Morrison in January which showed him celebrating the activism of a sexual assault survivor.
"He's standing next to a woman who has campaigned [for survivors' rights]… and yet in my mind his government was complicit in silencing me. It was a betrayal. It was a lie," she told news.com.au.
PM criticised for response
A day after Ms Higgins came forward, Mr Morrison apologised for the way her complaint had been treated by the government two years ago. He also promised inquiries into parliament's work culture and support for political staff.
However, he sparked a public backlash when he appeared to suggest that he'd understood Ms Higgins' experience better after his wife urged him to think of his two daughters.
"She said to me: 'You have to think about this as a father. What would you want to happen if it were our girls?'" he told reporters.
Women in particular condemned Mr Morrison's framing of the issue. Did he need to think of Ms Higgins as someone's daughter, they asked, before he could empathise or take her account seriously?
Critics also used the comment to argue that Mr Morrison wasn't tackling the issue seriously enough.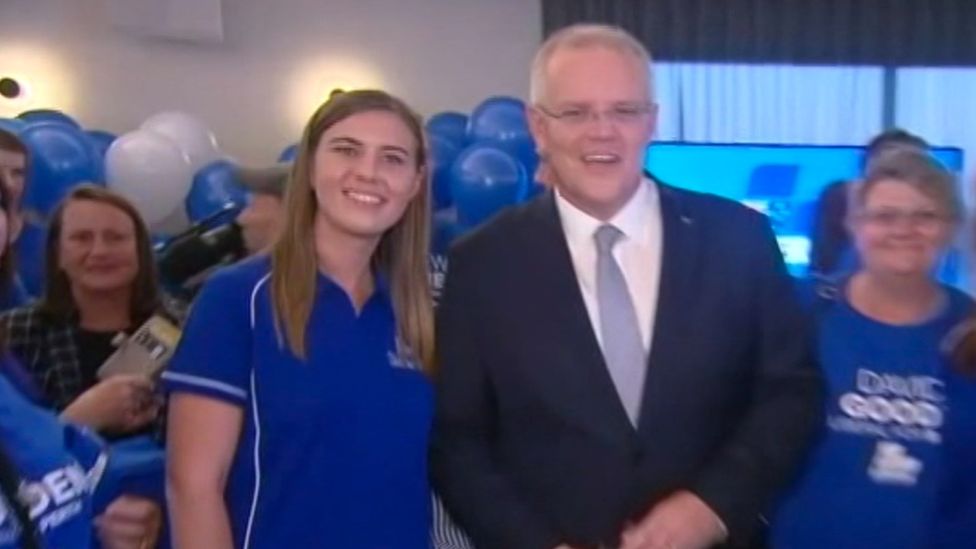 Mr Morrison and his ministers were also accused of skirting questions about who within the government knew what and when, and why they didn't do more.
It has since emerged that several people in Parliament House – including at least three cabinet ministers – knew about the alleged crime.
Mr Morrison maintains he found out about the allegation at the same time as the rest of the nation.
But when he disputed a suggestion by Ms Higgins that one of his advisers had been "checking up" on her – doubting her recollection in that instance – she said: "The continued victim-blaming rhetoric by the prime minister is very distressing to me and countless other survivors."
Other women come forward
Since Ms Higgins' spoke out, four other women have come forward to local media to accuse the same man of sexual assault or harassment.
One woman said she'd been raped by the man in 2020 after drinks and dinner with him. "If this had been properly dealt with by the government in 2019 this would not have happened to me," she told The Australian.
Another woman, an election volunteer, said she was also raped by the man after a night out in 2017.
A third woman said the man had stroked her thigh during a group dinner with colleagues in 2017. She made a report to police after seeing Ms Higgins speak out, the ABC reported.
Last Wednesday, a fourth woman told news.com.au she had felt pressured by the man to have sex in 2014.
Then late last week, amid suggestions that some lawmakers had been reticent to report Ms Higgins' allegations earlier, the Australian Federal Police (AFP) issued a statement to lawmakers. It reminded them to report any criminal allegations they had come across.
Cabinet minister accused of rape
On Friday, two opposition lawmakers – Labor Senator Penny Wong and Greens Senator Sarah Hanson-Young – referred a letter they had received to the AFP.
It alleged that a man who was now a cabinet minister had raped a 16-year-old girl in 1988.
The identity of the minister and the alleged victim have not been reported by Australian media. The woman took her own life last June, aged 49.
Earlier last year, the woman reported the allegation to New South Wales Police, but an investigation was suspended after she died.
Last week, friends of the woman wrote a letter to Mr Morrison and other lawmakers, urging him to establish an independent investigation.
Mr Morrison has declined to do so, insisting that the matter is one for police.
"The individual involved here has vigorously rejected these allegations," he told reporters on Monday.
"And so, it's a matter for the police," he said, adding that "there was nothing immediate considered that was necessary for me to take any action on".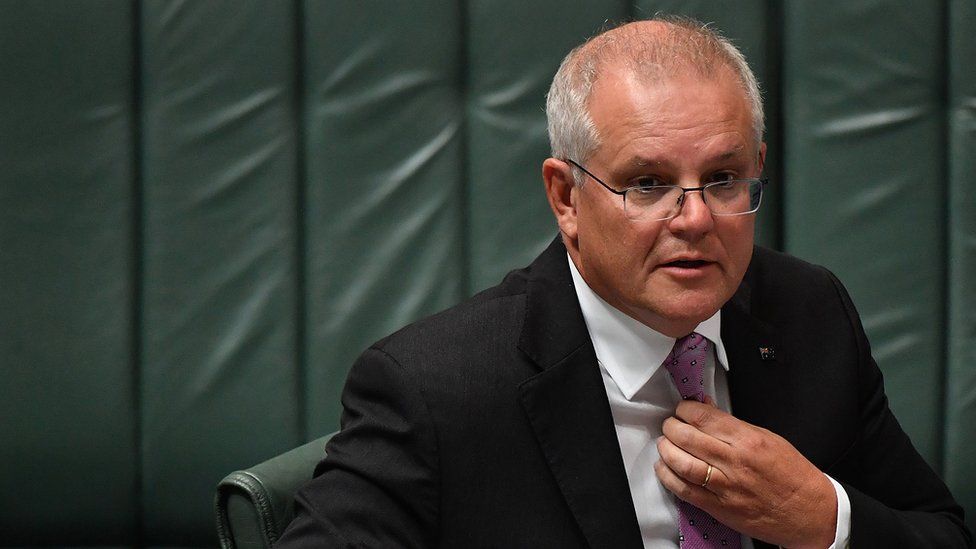 But the letter argues that because the alleged victim is dead, police are unlikely to pursue their own investigation because such cases typically require testimony from a complainant.
"Failure to take parliamentary action because the New South Wales Police cannot take criminal action would feel like a wilful blindness," the letter said.
On Sunday, a government lawmaker referred a rape allegation against a Labor MP to police. No further information about that allegation is yet known.
Public pressure
The allegations of the past fortnight have reignited wider questions about Australian political culture, including long-held debates about sexism and misogyny.
One of the women who alleges she was raped by the political adviser said she had come forward, in part, to "help shine a light on this awful culture".
Last week, Mr Morrison said: "I think we've got a problem in the parliament and the workplace culture that we have to work on."
But calls for more action from the government continue to grow.
Critics argue, for instance, that a cabinet minister accused of a serious crime should be stood aside pending an investigation – a suggestion the government has rejected.
Meanwhile, Ms Higgins says she has now filed a police complaint and is "determined to drive significant reform" in how parliament handles cases such as hers.
"I believe that getting to the bottom of what happened to me and how the system failed me is critical to creating a new framework," she said.
Armenia's political tensions rise amid rival rallies – CTV News
YEREVAN, ARMENIA —
Political tensions in Armenia heightened Monday, with supporters of the embattled prime minister and the opposition each holding massive rallies at separate sites in the capital.
Prime Minister Nikol Pashinyan has faced opposition demands to resign since he signed a peace deal in November that ended six weeks of intense fighting with Azerbaijan over the Nagorno-Karabakh region. The Russia-brokered agreement saw Azerbaijan reclaim control over large parts of Nagorno-Karabakh and surrounding areas that had been held by Armenian forces for more than a quarter-century.
Opposition protests seeking Pashinyan's ouster abated during the winter but intensified last week amid a rift between him and the country's military leaders.
The spat was sparked by Pashinyan firing a deputy chief of the military's General Staff who had laughed off the prime minister's claim that only 10% of Russia-supplied Iskander missiles that Armenia used in the conflict exploded on impact.
The General Staff then demanded Pashinyan's resignation, and he responded by dismissing the General Staff chief, Col. Gen. Onik Gasparyan. The dismissal has yet to be approved by Armenia's largely ceremonial president, Armen Sarkissian, who sent it back to Pashinyan, saying the move was unconstitutional.
Pashinyan quickly resubmitted the demand for the general's ouster, and the prime minister's allies warned that the president could be impeached if he fails to endorse the move.
Sarkissian's office responded with a strongly worded statement condemning "inadmissible speculation" about his move and emphasizing that his decision was "unbiased and driven exclusively by national interests."
Addressing a rally of thousands of his supporters, Pashinyan voiced hope the president would endorse the dismissal of the General Staff's chief for meddling in politics.
He blamed the country's former leader who lost power in the 2018 "velvet revolution" for influencing the military brass and trying to "set the army against the legitimately elected authorities and the people."
The prime minister also suggested calling a constitutional referendum in October to ask voters about expanding presidential powers to avoid future crises, although he didn't spell out specific changes.
After an hour-long speech, Pashinyan led his supporters on a march across Yerevan under the heavy escort of police and security officers.
Amid the escalating tensions earlier in the day, a group of protesters broke into a government building in central Yerevan to press for Pashinyan's resignation, but they left shortly afterward without violence. Later, thousands of opposition supporters attended a demonstration demanding that the prime minister resign.
Pashinyan, a 45-year-old former journalist who came to power after leading large street protests in 2018 that ousted his predecessor, still enjoys broad support despite the country's humiliating defeat in Nagorno-Karabakh and the opposition calls for his resignation.
The prime minister has defended the peace deal as a painful but necessary move to prevent Azerbaijan from overrunning the entire Nagorno-Karabakh region, which lies within Azerbaijan but was under the control of ethnic Armenian forces backed by Armenia since a separatist war there ended in 1994. The fighting with Azerbaijan that erupted in late September and lasted 44 days has left more than 6,000 people dead. Russia has deployed about 2,000 peacekeepers to monitor the Nov. 10 peace deal.
Armenia has relied on Moscow's financial and military support and hosts a Russian military base — ties that will keep the two nations closely allied regardless of the outcome of the political infighting.
Last week, the Russian Defence Ministry rebuked the Armenian leader for criticism of the Iskander missile, a state-of-the-art weapon touted by the military for its accuracy. The Russian military said it was "bewildered" to hear Pashinyan's claim because Armenia hadn't used an Iskander missile in the conflict.
In a bid to repair the damage to Armenia's ties with Moscow, Pashinyan rescinded his claim Monday, acknowledging that he made the statement after being misled.