The exclusion of women in Myanmar politics helped fuel the military coup – The Conversation CA
On Feb. 1, 2021, Myanmar's military seized power. While a dramatic event, the coup was a continuation of old power structures.
Myanmar's decade-long period of political transition, peace-building and democratic elections fell short of freeing the country from military control. Despite its female leader, the exclusion of women throughout the failed transition to democracy is partly why Myanmar was unable to create deep institutional change.
Aung San Suu Kyi's image as "mother of the nation" depicted her as a caring matriarch. This image stood in contrast with the harsh patriarchy of military rule. But politics in Myanmar defy stereotypes and simple classifications.
Suu Kyi may have been the face of the era of democratic reforms, but in reality, the transition was initiated and controlled by the military. Suu Kyi's legacy as a Nobel Peace Prize laureate was permanently stained by her handling of the Rohingya genocide, and her projected femininity and democratic idealism should not be confused for feminism or inclusive democracy.
Gender can still help us understand politics in Myanmar, however — just not along these lines. Instead, a different story emerges by looking at the exclusion of women in key stages of the transition process. It is a tale of the persistence of patriarchal power throughout the decade of democratization.
Constitution kept men in charge
The governing patriarchy is on full display in the 2008 constitution that spurred Myanmar's decade of democracy. According to one provision of the constitution, certain positions are suitable for men only. Women are excluded from key ministerial positions, and a major government agency, the Union Civil Service Board, regularly uses this clause of the constitution to block applications from women for both mid- and junior-level positions. This caps decades of extreme repression of women.
The Myanmar army is infamous for its systematic targeting of ethnic minority women and girls for sexual violence, and the militarization of the country has contributed to widespread discriminatory practices.
---


Read more:
Internet blackouts in Myanmar allow the military to retain control


---
The peace process (2011-15) between the Tatmadaw — Myanmar's military — and ethnic armed groups that have long challenged its hold on the country was a deal involving men. Only four women served inconsistently on senior negotiation delegations (less than six per cent). Women were also largely excluded from ceasefire structures and monitoring teams.
Other important institutions also failed to modernize during the transition. Instead, they generally mirrored conservative and traditional attitudes. Women's representation in parliament gained roughly five per cent in both the 2015 and 2020 elections, growing from less than five per cent in 2014 to just over 15 per cent in November's contested election. Important as this progress was, equality was ultimately handcuffed by the embedded patriarchy of the military.
The military orchestrated the democratic transition according to rules designed to give them continued influence. In so doing, they hamstrung women's political inclusion.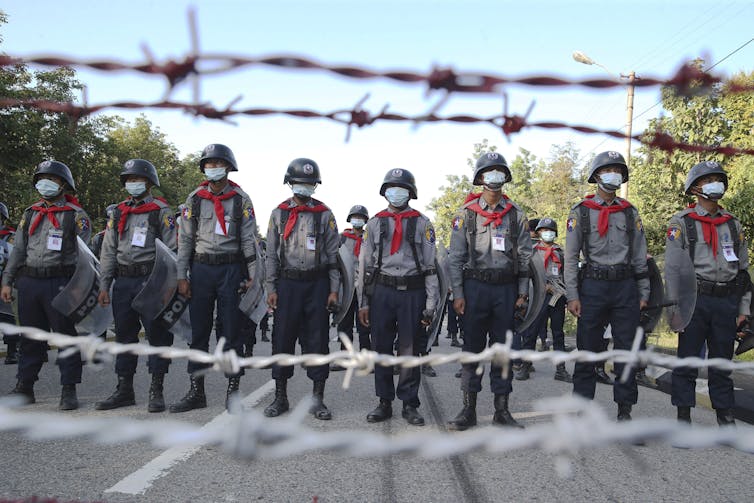 The Tatmadaw also retained the right to appoint 25 per cent of legislative seats. A military background is required for certain ministerial positions. Since women were only recently allowed to serve in the military, the requirement effectively makes them ineligible to hold these offices.
There were only two women among the 166 military appointees following the 2015 elections. The military appointed only 10 per cent of women to national, state and regional legislative chambers in 2020. The military-backed Union Solidarity and Development Party (USDP) only elected one woman to both the 2015 and 2020 parliaments. The military quota makes reform unlikely because any constitutional amendment to address discrimination requires 75 per cent approval.
The patriarchy of the military is reflected in the non-military political parties, notwithstanding Suu Kyi's leadership. The parties are gatekeepers to women's representation. But they have generally not taken steps to improve women's political participation.
No quick fix
We are not arguing more women in Myanmar politics would have prevented the coup. There is no such thing as a quick fix to eliminate the country's history of militarization.
But we do suggest that women's relative absence from positions of influence helped enable the military to maintain its grip on power.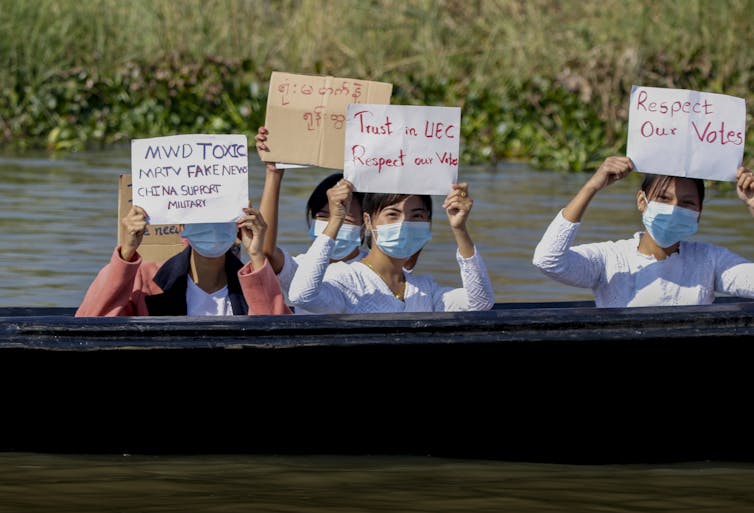 Understanding this connection is important for three reasons. First, giving women a seat at the table makes a difference. Research shows that equality and inclusion foster sustainable peace, meaning that the attitudes of the participating men are also required. Rather than just armed organizations, civil society groups and women's organizations should be included in transitions from war to peace.
Second, the women's movement in Myanmar offers new models for collaborative governance. Relegated to the shadows, women's groups nonetheless organized to contribute to the peace process through informal channels, including back-channel negotiation. They have shown a path for bridging ethnic differences to work towards common goals.
Finally, by tracing the path of patriarchy in Myanmar, we can better understand what brought about the coup. As we grapple with why the military staged a coup at this particular moment in time, it should be seen in light of the country's militarized recent history and the power dynamics of the transition. Women's rights organizations are currently mobilizing and are putting it out there quite simply: a militarized Myanmar is a threat for women.
G7 to consider mechanism to counter Russian 'propaganda'
By William James
LONDON (Reuters) -The Group of Seven richest countries will look at a proposal to build a rapid response mechanism to counter Russian "propaganda" and disinformation, British Foreign Secretary Dominic Raab told Reuters.
Speaking ahead of a G7 foreign ministers' meeting in London, the first such in-person meeting for two years, Raab said the United Kingdom was "getting the G7 to come together with a rapid rebuttal mechanism" to counter Russian misinformation.
"So that when we see these lies and propaganda or fake news being put out there, we can – not just individually, but come together to provide a rebuttal and frankly to provide the truth, for the people of this country but also in Russia or China or around the world," Raab said.
Russia and China are trying to sow mistrust across the West, whether by spreading disinformation in elections or by spreading lies about COVID-19 vaccines, according to British, U.S. and European security officials.
Russia denies it is meddling beyond its borders and says the West is gripped by anti-Russian hysteria.
"It's time to think of why the countries which are sick to the core with propaganda, and which used it more than once to justify armed intervention and toppling of governments … accuse our country of their own sins," Russian Foreign Ministry spokeswoman Maria Zakharova said on social media after Raab's comments.
China says the West is a bully and that its leaders have a post-imperial mindset that makes them feel they can act like global policemen.
Britain has identified Russia as the biggest threat to its security though it views China as its greatest long-term challenge, militarily, economically and technologically.
Raab will meet U.S. Secretary of State Antony Blinken on Monday, kicking off a week of diplomacy aimed at reinvigorating the G7's role and forming a wider bulwark against those it sees as undermining the rules-based international order.
"The scope for intense global cooperation, international cooperation with our American partners and indeed the wider G7, that we're convening this week has never been greater," Raab said.
He stressed that meeting in person – something only possible due to measures like daily testing of attendees – would make diplomacy much easier: "You can only do so much by Zoom."
The G7 members are Britain, the United States, Canada, France, Germany, Italy and Japan and their combined gross domestic product is about $40 trillion – a little less than half of the global economy.
RUSSIA-CHINA
British and U.S. officials have expressed concern in recent months about growing strategic cooperation between Russia, the world's largest country by territory, and China, the world's fastest-growing major economy.
Asked about the concerns, Raab said: "What matters to us most is that we broaden the international caucus of like-minded countries that stand up for open societies, human rights and democracy, that stand for open trade."
He said many of those allies wanted "to know how this pandemic started." The coronavirus outbreak, which began in China in late 2019, has killed 3.2 million people and cost the world trillions of dollars in lost output.
Raab said some of the barriers between the G7 and other like-minded countries needed to be broken down, so that there could be a broader network of allies that stood up for open markets and democracy.
Britain has invited India, Australia and South Korea to attend this week's meeting, running from Monday to Wednesday, and the full leaders' summit in June.
Asked whether Britain could seek to join a separate grouping known as the Quad – the United States, Japan, Australia and India – Raab said there was no concrete proposal as yet, but Britain was looking at ways to engage more in the Indo-Pacific.
(Writing by William James and Guy Faulconbridge; Additional reporting by Vladimir SoldatkinEditing by Susan Fenton and Frances Kerry)
New Zealand says differences with China becoming harder to reconcile
By Praveen Menon
WELLINGTON (Reuters) -Differences between New Zealand and its top trading partner China are becoming harder to reconcile as Beijing's role in the world grows and changes, Prime Minister Jacinda Ardern said on Monday.
The comments come as New Zealand faces pressure from some elements among Western allies over its reluctance to use the Five Eyes intelligence and security alliance to criticise Beijing.
In a speech at the China Business Summit in Auckland, Ardern said there are things on which China and New Zealand "do not, cannot, and will not agree", but added these differences need not define their relationship.
"It will not have escaped the attention of anyone here that as China's role in the world grows and changes, the differences between our systems – and the interests and values that shape those systems – are becoming harder to reconcile," Ardern said.
"This is a challenge that we, and many other countries across the Indo Pacific region, but also in Europe and other regions, are also grappling with," she added.
In comments that sparked some reaction among Western allies, Foreign Affairs Minister Nanaia Mahuta said last month she was uncomfortable expanding the role of Five Eyes, which includes Australia, Britain, Canada and the United States.
"This speech appears to be crafted to deflect surprisingly sharp and severe criticism from commentators after Mahuta's remarks last month," said Geoffrey Miller, international analyst at the political website Democracy Project.
However, the comments do not change New Zealand's overall shift to a more China-friendly, or at least more neutral position, he said.
"Ardern and Mahuta are selling the new stance as New Zealand advancing an 'independent foreign policy' that is not loyal to any major bloc," he added.
SENSITIVE ISSUES
China, which takes almost one-third of New Zealand's exports, has accused the Five Eyes of ganging up on it by issuing statements on Hong Kong and the treatment of ethnic Muslim Uyhgurs in Xinjiang.
New Zealand's parliament on Tuesday is set to look at a motion put forward by a smaller party to declare the situation in Xinjiang as a genocide.
Ardern said New Zealand would continue to speak about these issues individually as well as through its partners, noting that managing the relationship with China is not always going to be easy.
China's Ambassador to New Zealand, Wu Xi, who also spoke at the event warned that Hong Kong and Xinjiang related issues were China's internal affairs.
"We hope that the New Zealand side could hold an objective and a just a position, abide by international law and not interfere in China's internal affairs so as to maintain the sound development of our bilateral relations," she said in her speech.
Beijing is engaged in a diplomatic row with Australia and has imposed trade restrictions after Canberra lobbied for an international inquiry into the source of the coronavirus. China denies the curbs are reprisals, saying reduced imports of Australian products are the result of buyers' own decisions.
Over the weekend, U.S. Secretary of State Antony Blinken said China had recently acted "more aggressively abroad" and was behaving "increasingly in adversarial ways."
When asked if New Zealand would risk trade punishment with China, as did Australia, to uphold values, Ardern said: "It would be a concern to anyone in New Zealand if the consideration was 'Do we speak on this or are we too worried of economic impacts?'"
(Reporting by Praveen Menon; Editing by Lincoln Feast.)
Canada records C$282.56 billion budget deficit over first 11 months of 2020/21
OTTAWA, April 30 (Reuters) – Canada's budget deficit in the first 11 months of fiscal 2020/21 swelled to C$282.56 billion ($230.04 billion) from a deficit of C$6.98 billion in the year-ago period, as Ottawa spent heavily to fight the COVID-19 pandemic, the finance ministry said on Friday.
"The unprecedented shift in the government's financial results reflects the severe deterioration in the economic situation and temporary measures implemented," it said in a statement.
Year-to-date revenues dropped 14.1% reflecting a broad-based decline in tax and other revenues, which include items like Crown corporation profits. Year-to-date program expenses, meanwhile, jumped 81.6% largely due to emergency transfers to individuals, businesses and the provinces.
On a monthly basis, Canada posted a deficit of C$14.37 billion in February 2021, compared to the C$3.58 billion surplus recorded in February 2020.
Monthly revenues were down 9.3% on a decline in tax and other revenues. Program expenses climbed 58.1%, again on COVID-19 response measures.
(Reporting by Julie Gordon, 613-235-6745, Julie.gordon@tr.com; Editing by David Ljunggren)