The Fascist Politics of the Pandemic by Federico Finchelstein & Jason Stanley – Project Syndicate
NEW YORK/NEW HAVEN – In stark contrast to the effective leadership shown by German Chancellor Angela Merkel, South Korean President Moon Jae-in, and Singapore's autocratic technocracy, the world's far-right nationalists have met the COVID-19 crisis with something not seen in decades: the fascist politics of disease. And no one typifies this brand of politics better than Brazil's president, Jair Bolsonaro.
True, a few other world leaders – including Nicaraguan President Daniel Ortega and the dictators of Belarus, Turkmenistan, and North Korea – still deny that the coronavirus poses any threat. But, among coronavirus deniers, Bolsonaro is in a league of his own.
Among other things, Bolsonaro recently fired Brazil's minister of health, Luiz Mandetta, merely for advocating mild social-distancing measures. Bolsonaro seems to be emulating his US counterpart, Donald Trump, who recently ousted a senior health official for resisting his efforts to champion an unproven treatment for COVID-19.
Throughout the crisis, Trump has been out of his depth, oscillating incoherently between denial and calls for decisive action, and most recently speculating that the coronavirus could be treated by injecting household disinfectants. And yet he and Bolsonaro channel the same political impulse to place themselves above science and expertise, exalting their own gut instincts and justifying their decisions with faith and myth. Though their "strategies" are superficially distinct, both share a fascist historical background, which centers around the cult of a leader and the myth of national greatness – a greatness that has supposedly been compromised by internationalism and liberalism (which fascists equate with communism).
Around the world, far-right leaders' responses to the pandemic feature key elements of fascist ideology. After members of Spain's right-wing nationalist Vox party were infected at their own political rallies, they suggested that their antibodies represented the nation's fight against a foreign invader. As one Vox leader, Javier Ortega Smith, put it, "my Spanish antibodies fight against the damned Chinese viruses."
Similarly, Bolsonaro, in his first major speech on COVID-19 (on March 24), claimed that Brazil was not particularly vulnerable to the virus. Unlike feeble Italy, with its "large number of elderly people," contemporary Brazil, he argued, "has everything, yes, everything to be a great Nation." Bolsonaro then touted his own "athlete's history," thus indulging another standard fascist motif: the leader as the embodiment of the nation's health and vigor. According to "Bolsonarismo," Bolsonaro simply is Brazil.
Subscribe to Project Syndicate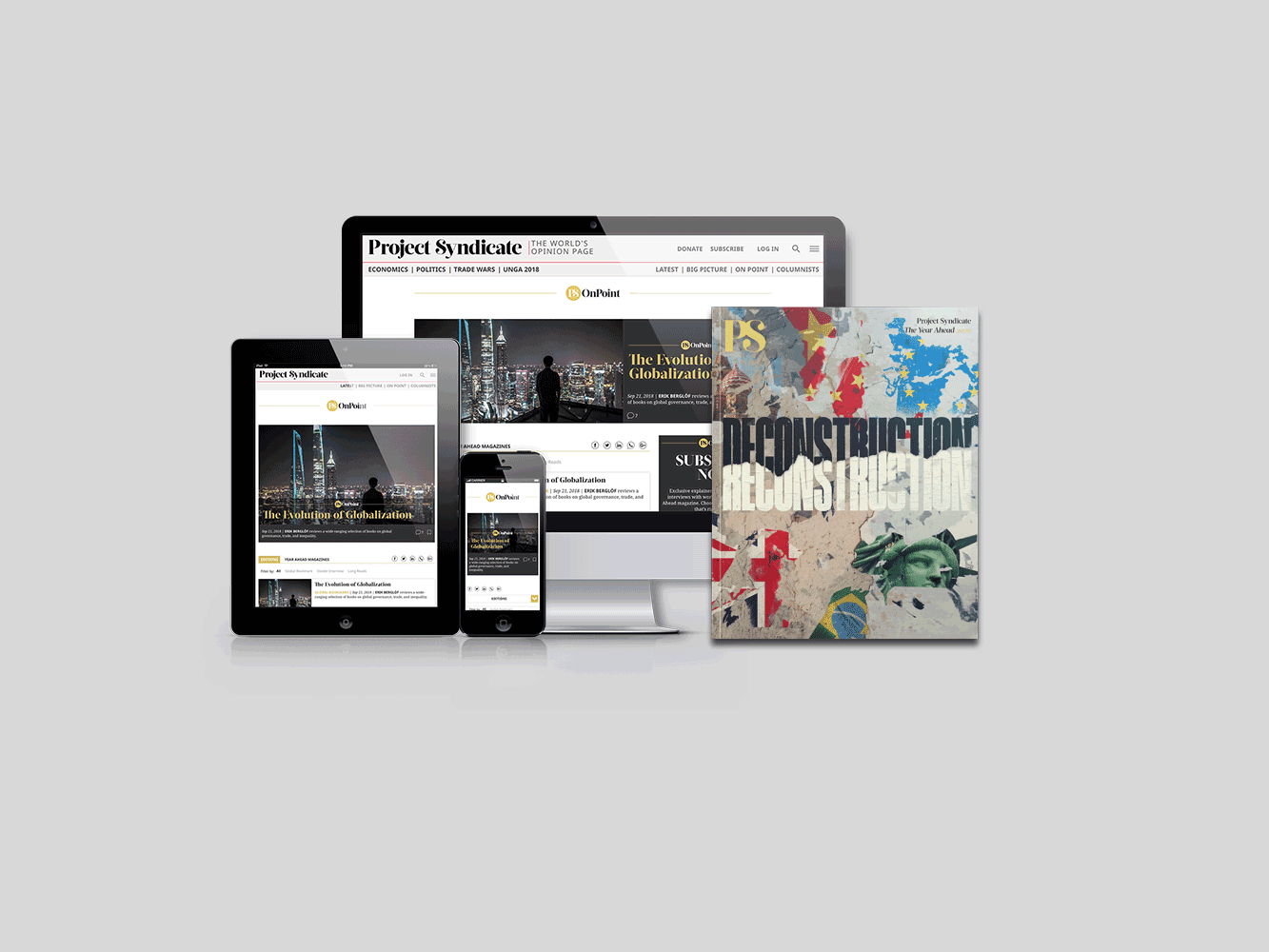 Subscribe to Project Syndicate
Enjoy unlimited access to the ideas and opinions of the world's leading thinkers, including weekly long reads, book reviews, and interviews; The Year Ahead annual print magazine; the complete PS archive; and more – all for less than $2 a week.
There is good reason why some in the media have dubbed Bolsonaro, elected in late 2018, "the Trump of the tropics." Bolsonaro's affinity for Trump has never been clearer than in his reaction to the pandemic. When Trump called in late March to reopen America by Easter, Bolsonaro quickly imitated him.
But, unlike Trump, Bolsonaro actually follows through. While Trump has often hinted at a desire for absolute power, he invariably retreats. By contrast, Bolsonaro joins public protests in support of intervention by Brazil's military to disband Congress and the courts. He is essentially Trump's id, acting out what Trump can only fantasize about. And, given that fascism is, at root, a fantasy of total domination by a leader, Bolsonaro has now surpassed his teacher in approaching it.
Moreover, in fascist politics, reality is merely an instrument through which to propagate ideology and assert domination. As Hitler put it in Mein Kampf, "[t]he national State will look upon Science as a means for increasing national pride."
Beyond Brazil and the United States, one other great democracy – the world's largest – has come under far-right rule: India. There, Prime Minister Narendra Modi and the ruling Bharatiya Janata Party, have used the pandemic to advance an ongoing campaign of demonization directed at India's Muslim population.
To that end, the Modi government has been publicly attributing the spread of the coronavirus to an annual meeting of the Muslim missionary group Tablighi Jamaat, while ignoring similar meetings held by Hindu groups. It is not surprising, the journalist Rana Ayyub observes, that "the hashtags #CoronaJihad and #BioJihad have inundated Twitter" in recent weeks.
The Modi government's message is based on a repugnant lie, but it has far-reaching consequences for India's Muslims. Well before COVID-19 arrived, Muslims were being targeted by a campaign of state discrimination. In addition to an official government effort to strip millions of Muslims of their citizenship, there has been an upsurge in extrajudicial violence against Muslims, including a pogrom that coincided with Trump's lavish official visit to India earlier this year.
In fascist politics, members of the hated outgroup are almost always depicted as bearers of disease. That is how the Nazis described the Jews, and it is how far-right governments today justify policies targeting immigrants and minorities. In Italy, home to the first fascist regime, Matteo Salvini of the right-wing League party argued in February that "[a]llowing migrants to arrive from Africa, where the presence of the virus has been confirmed, is irresponsible." At the time, there were already 229 confirmed COVID-19 cases in Italy, and just one in all of Africa.
Not surprisingly, the Trump administration, too, has used the COVID-19 crisis to strengthen its anti-immigrant stance. Going beyond its obsessive attacks on undocumented immigrants, the administration has also now imposed a sweeping moratorium on legal immigration.
Political leaders will always be tempted to blame problems on familiar ideological enemies, because doing so provides narrative coherence. But as Hannah Arendt reminded us, "[t]he chief disability of totalitarian propaganda is that it cannot fulfill this longing of the masses for a completely consistent, comprehensible, and predictable world without seriously conflicting with common sense."
Now that the US has surpassed 60,000 confirmed (and almost certainly far more total) COVID-19 deaths, reality is asserting itself against propaganda. But, as we know from the history of fascism, there is no guarantee that common sense will prevail.
OPINION | Alberta premier targets Ottawa in pivot to pre-pandemic politics – CBC.ca
This column is an opinion. For more information about our commentary section, please read this editor's blog and our FAQ.
---
Pandemic? What pandemic?
Watching Alberta politics these days is like riding a time machine into the past when COVID-19 didn't exist or into a future where it's been conquered. Or perhaps we woke up in a parallel universe.
Because Alberta politics is beginning to act as if the pandemic suddenly disappeared.
Last week, Premier Jason Kenney called the COVID-19 virus the flu, as in, "an influenza of this nature," even though it's a coronavirus that's more contagious and more deadly than the flu and has no vaccine. He also announced — without first informing Alberta's chief medical officer — that he would let the province's public health emergency lapse June 15.
This week, he announced he'd like to fast-track phase 2 of the business reopening (that includes movie theatres and libraries).
But, most tellingly of all, he resumed his heated attacks against the federal Liberal government.
If nothing else, this signals a return to normality for Kenney who is no longer pleading for more pandemic financial relief from Ottawa.
Kenney once again on offensive
After 10 weeks of biting his tongue and smiling through gritted teeth whenever he talked kindly about Prime Minister Justin Trudeau and the federal Liberals, Kenney is once more on the offensive.
And there was no better target for him than the recent federal ban on 1,500 "assault-style" firearms.
On Wednesday, Kenney held a news conference with Justice Minister Doug Schweitzer where they wrapped themselves in the Alberta flag while taking shots not only at the federal government but at Central Canadians.
"While some people in faraway places like Toronto may not understand the reality, hundreds of thousands of Albertans simply use firearms as a part of everyday life," said Kenney, who explained he was "defending law-abiding Albertans against a federal attack against their rights as law-abiding firearms owners."
Not to be outdone in the outrage department, Schweitzer promised to stand up for "an Alberta-made justice system."
"(Albertans) don't want policy developed in downtown Toronto, they want policy developed right here in Alberta," said Schweitzer, who added: "We're going to have more Alberta and less Ottawa in our justice system."
Picking fights with Ottawa
We haven't heard the "more Alberta, less Ottawa" trope much the past 10 weeks as the Kenney government took what might be called a "less Alberta, more Ottawa" approach to emergency financial help.
But now the Alberta government is pivoting with all the subtlety of a dog running on linoleum suddenly trying to change direction.
It's clumsy but for Kenney it means he's getting back on track. He's picking fights with Ottawa, taking potshots at "faraway places like Toronto," focusing on his rural base of support, and once again pushing an Alberta-first agenda that could include setting up an Alberta provincial police force and Alberta pension plan.
"Stay tuned for the Fair Deal panel (report)," Kenney said this week when asked if he's in favour of cutting ties with the RCMP. Kenney has said the Fair Deal report will be coming out when the pandemic is over. You have to wonder if in Kenney's mind this means "tomorrow."
Kenney also said he is "seriously considering" launching a legal challenge against the federal government's gun ban.
Never mind that firearms fall under federal jurisdiction.
Time machine to Klein days
Here's where the time machine seems to have taken us back to the days of former premier Ralph Klein. Klein made something of a career launching lawsuits, or threatening legal action, against the federal government on a host of issues including the GST, social transfer payments and, coincidentally, the gun registry.
Klein's legal fights were the political equivalent of tilting at windmills but he knew that for a populist politician winning was not crucial; it's the donning of the armour and the spurring of the steed.
This is political theatre and Kenney is such a master at it he should have his own show at the Edmonton Fringe Festival (if only the festival hadn't been cancelled because of the pandemic).
Kenney would also like to put the pandemic behind him because it hasn't given him a popularity boost, unlike just about every other political leader in the country.
An Angus Reid poll about premiers released last week ranked Kenney as second last, with a 48-per-cent approval rating, whereas Ontario's controversial Doug Ford, for example, enjoyed 69 per cent approval.
This week, a poll by Research Co. indicated that 56 per cent of Albertans said their province would be better off with a different premier in charge, the highest level of disapproval in the country.
Consequently, Kenney has dusted off his Captain Alberta cape that had sat forgotten the past 10 weeks, perhaps under a mound of applications for federal aid. He is proudly wearing it into battle once more against the Trudeau Liberals.
The pandemic might not be over medically, but in Kenney's mind it seems to be over politically.
Trudeau takes a knee at anti-racism protest on Parliament Hill – CBC.ca
Prime Minister Justin Trudeau made an appearance at an anti-racism protest on Parliament Hill today, showing up unannounced to hear speeches from activists demanding fairer treatment from police for minorities.
Trudeau joined the large crowd in kneeling for eight minutes and 46 seconds — which is how long a Minneapolis police officer held down George Floyd with his knee on his neck before he died. The African-American man died while in police custody on May 25; all four officers at the scene now face charges.
Protesters in other cities have asked police officers to kneel to show respect for black people who have been killed in police custody. Toronto Police Chief Mark Saunders also took a knee during a protest in that city today.
Former NFL quarterback Colin Kaepernick launched the kneeling gesture some years ago by dropping to one knee during the national anthem to protest violent police treatment of African-Americans. His critics accused him of showing disrespect for the anthem and the American flag.
Trudeau tried to blend into the crowd Friday — but TV cameras and the RCMP security detail made his presence known to the roughly 4,000 activists gathered around the Centennial Flame on the lawn at Parliament Hill. Trudeau told his security detail to stop pushing people as he made his way closer to the stage where the speakers were addressing the crowd.
Trudeau initially was met with chants of "Stand up to Trump!" and "Go away!" from some in the crowd. The yelling died down as local black leaders started speaking about their calls for an end to racial injustice at home and abroad.
WATCH | Justin Trudeau takes a knee during anti-black racism protest
The Trump chant was a reference to the prime minister's reluctance to condemn U.S. President Donald Trump by name over his handling of the protests.
Trudeau was asked this week to respond to the president's threat to deploy active duty military personnel on protesters in U.S. cities — a question that Trudeau answered after a 21-second pause.
The prime minister clapped Friday as the assembled speakers chanted "black lives matter" and called on those in power to do more to address systemic racism.
Someone in the crowd handed the prime minister a T-shirt with that slogan emblazoned on the front.
Trudeau was accompanied by Families Minister Ahmed Hussen, a Somali-Canadian who has spoken out about the racism he has faced in Canada.
"I think it's powerful when you have the head of government taking a knee and clapping when people say 'black lives matter,'" Hussen said. "It's incredibly powerful for him to come and be part of this."
The crowd on hand for the Parliament Hill protest was a multi-racial cross-section of the city, something Hussen said gives him "a lot of hope in the future."
WATCH | Ahmed Hussen says the PM's action were 'pretty powerful'
After the speeches, the protesters moved down Wellington St., which runs right in front of the Prime Minister's Office in downtown Ottawa.
NDP Jagmeet Singh also took part in similar anti-black racism protests in Toronto. He marched with the activists to that city's Nathan Phillips Square.
"We need to be heard. People need to be heard," Singh said in a video post on his Instagram page. "People want justice, they want systemic change and an end to racial profiling."
Watch: The Power Panel discusses Prime Minister Justin Trudeau's attendance at a protest against anti-black racism and his government's record on that issue:
The politics behind how governments control coronavirus data – SaltWire Network
Anton Oleinik, Memorial University of Newfoundland
COVID-19 has affected almost every country around the globe. The World Health Organization has confirmed cases in 216 countries and territories, a total that represents more than 85 per cent of 251 entities recognized by the United Nations. Yet each government has responded differently to the coronavirus pandemic — including how data on the disease have been shared with each country's citizens.
The selectiveness with which governments release information about the number of confirmed cases and the deaths caused by the coronavirus suggest techniques of "bio-power" may be at play.
French philosopher Michel Foucault invented the concept of bio-power in his lectures at the Collège de France in 1977-78. He defined bio-power as a "set of mechanisms through which the basic biological features of the human species became the object of a political strategy, of a general strategy of power."
Foucault found an early example of bio-power in the smallpox vaccine developed by the end of the 18th century — one of the first attempts to manage populations in terms of the calculus of probabilities under the banner of public health. While a COVID-19 vaccine is still in the making, the concept of bio-power may help make better sense of how we see governments deal with the ongoing pandemic.
Our perception of the probability of contracting the virus and the chances to recover is shaped by the relevant statistical figures released by our respective governments. Those figures feed the entire spectrum of our own reactions to COVID-19 — including fear and negligence.
A balanced take on COVID-19 and a proper course of action to deal with the pandemic means the information provided by governments must be complete, valid and reliable. Unfortunately, that is not happening in many cases.
When examining how some countries have responded to the pandemic, bio-political factors should be taken into account. This includes how governments are collecting and sharing data about the coronavirus. Let's look at three countries in particular.
The United States
In the U.S., COVID-19 information is disseminated by government agencies, universities, the media and even search engines. Various levels of governments remain the ultimate source of the reported figures, but how accurate are those figures?
The U.S. now has the most confirmed cases and deaths caused by COVID-19. While this can be explained by a late response to the pandemic and the lack of universal health care coverage, the political stakes in the COVID-19 crisis are also very high for the U.S.
The social and economic crisis caused by the pandemic will be a major factor in this year's elections. In an effort to shift attention from his administration's response, U.S. President Donald Trump has indicated China should be blamed for the crisis. The high number of infections and deaths contribute to a feeling of fear and insecurity — which from a bio-power perspective may actually help Trump sell his message.
Russia
In addition to being the only source of information about COVID-19, the Russian government also makes every effort to protect its monopoly on the production and dissemination of the relevant data. Anyone who attempts to collect and disseminate COVID-19 figures without having a "licence to inform" may face criminal charges for being an agent provocateur.
A group of medical doctors in Chechnya, the previously rebel region in the Caucasus now under the tight control of the central government, attempted to complain about the lack of preparedness to COVID-19. They were promptly accused of "provocations" and forced to deliver public apologies.
According to government data, Russia has one of the lowest COVID-19 mortality rates in the world, less than one per cent. (The U.S. reports a six per cent mortality rare; Italy, France and the U.K. are in the range of 14-15 per cent). Either the Russians have an exceptionally strong immune system or something is wrong with the way the government counts the deaths.
As well, the regular monthly statistics of deaths released by some regions shows an anomalous hike in April — numbers that are out of line with the officially approved figures of COVID-19-related deaths.
The gap between the number of officially acknowledged COVID-19 cases and deaths may have political explanations.
Similar to the U.S., the pandemic interferes with the political agenda in Russia. The constitutional referendum engineered to extend Vladimir Putin's term as Russia's president was originally scheduled on April 22, but was eventually postponed until July 1.
Putin is trying to make the gambit of accepting high (but not necessarily accurate) figures of COVID-19 infections and simultaneously doing everything possible to under-report the true number of COVID-19-related deaths. If successful, he would be able to claim credit for handling the crisis better than other world leaders.
Canada
Canada's figures do not look controversial at first sight. The country has neither an exceptionally high number of COVID-19 cases nor an exceptionally high mortality rate (7.5 per cent). But that doesn't mean there aren't potentially some elements of bio-power at play.
Canada's government chose to complicate the task of comparing the COVID-19 figures across its provinces and territories. The federal government's website dedicated to COVID-19 reports the aggregate data only. No death statistics are included. Comparing the responses of each province requires an examination of 13 different provincial websites, which have various formats of reporting the relevant figures.
Access-to-information requests are not of great help here either, despite the fact that there are access-to-information acts both at the federal and provincial levels. It takes an average of one month to get a response to an access-to-information request under normal times. But now governments have full discretion in deciding what information on COVID-19 to release, as well as when and how to do it.
This means that in Canada, bio-politics manifests itself through the fuzziness of information and, in the absence of clear information, the public is expected to uncritically accept the actions of their governments.
Anton Oleinik, Professor of Sociology, Memorial University of Newfoundland
This article is republished from The Conversation under a Creative Commons license. Read the original article.