The Green Plan: New Climate Economy – Green Party of Ontario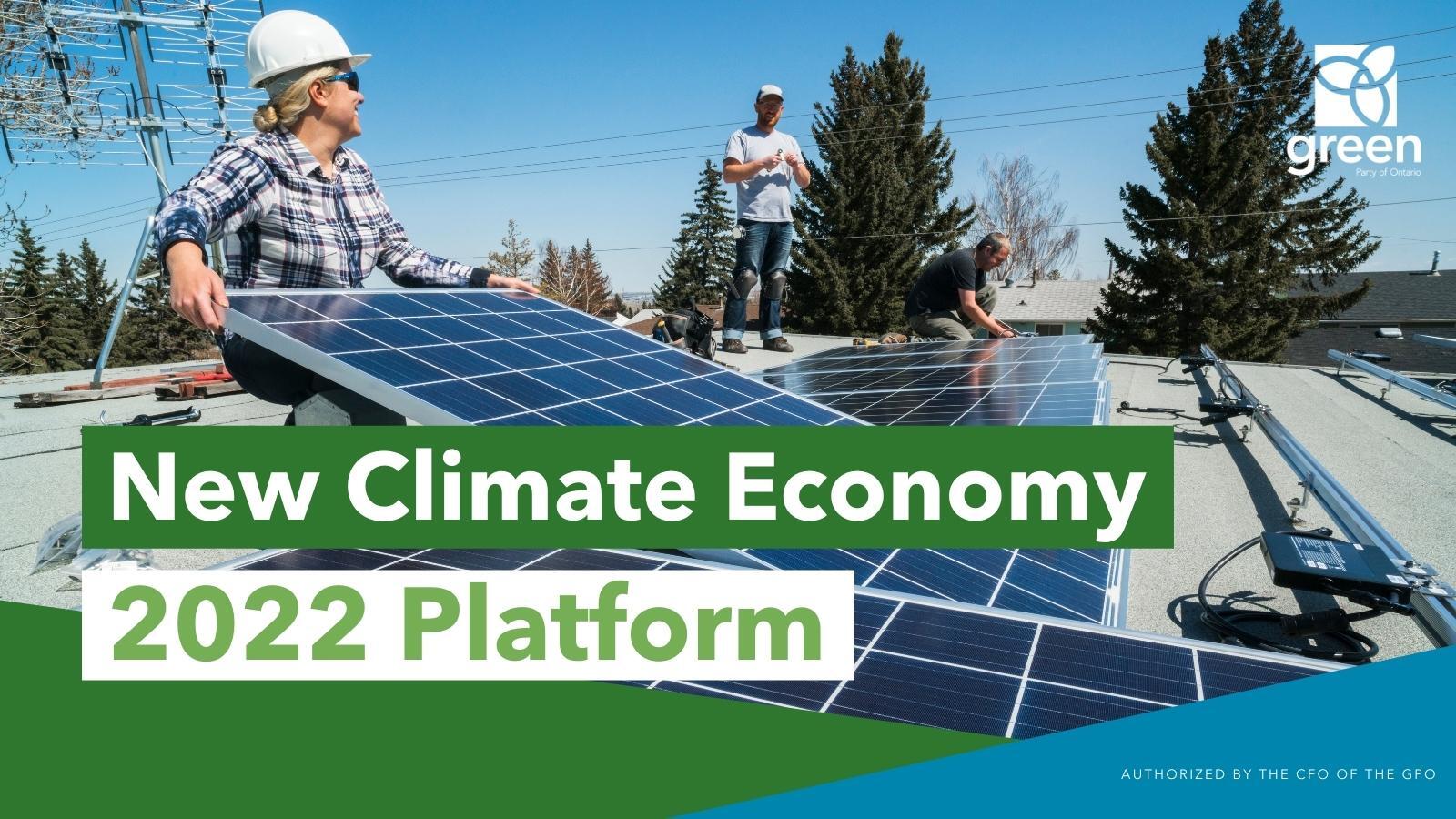 New Climate Economy
We can act now to build a more caring society and a new climate economy. Together, we can transform Ontario from a climate failure into a world leader.
We need honest, ambitious climate action now.
The path forward is laid out in our ambitious, honest and achievable climate plan, one that relies on bold action – not half-measures – to get us to real net-zero emissions by 2045.
Ontario is missing out while the government doubles down on gas plants and urban sprawl, scraps renewable energy contracts, goes to court over carbon pricing, and snubs cash incentives to make EVs affordable for the average person.
If Ontario wants to attract jobs and investment in the trillion dollar clean economy, we need to show that we're a province that takes climate change seriously.
We can create hundreds of thousands of jobs retrofitting our buildings, manufacturing EVs, and creating low-carbon products and technologies. And we'll take care of our own backyard, preserving nature as our best defence against climate change and moving to a zero-waste economy.
We can support farmers on the frontlines of the climate crisis. Agriculture must be part of the solutions to the climate crisis. Our plan calls for protections and investments to help local food systems thrive.
Our communities and infrastructure were never built to withstand the extreme weather events that are becoming common and more intense with each passing year. We need to support municipalities in adaptation. Working with Indigenous communities, we also need to protect and restore nature, which will reduce climate pollution and help us adapt to extreme weather events.
Stopping climate pollution is also an opportunity to improve our overall health and well-being. Even meeting the comparatively modest federal climate targets would save about 112,081 lives between 2030 and 2050 due to air quality improvements alone.
The climate crisis provides an opportunity to embrace a future where we take care of each other and the planet. Ontario has the innovative businesses, natural wealth, geography and workforce to take the lead. It's time to start now.
Real net zero by 2045
The latest report from the Intergovernmental Panel on Climate Change is clear that there must be 'rapid, deep. and immediate' cuts to emissions.

Dianne Saxe, GPO candidate and former Environmental Commissioner of Ontario
The transition to a low carbon economy and a net-zero future is laid out in our climate plan, Roadmap to Net Zero.
Year after year, scientists tell us that we need to urgently phase out fossil fuels. Governments make promises about cutting emissions, and then make policy decisions that do the opposite. Greens will get Big Oil out of our wallets for good, and introduce the first Zero Carbon Law that will keep Ontario within our fair share of the world's total remaining carbon budget.
We will end fossil fuel subsidies immediately. We'll also join other provinces by adopting Zero Emission Vehicle standards and position Ontario at the forefront of the EV revolution, from mining to manufacturing. Incentives for green building retrofits will create good jobs, reduce climate pollution and help people save money by saving energy.
Action on climate change needs to be strong and immediate, and it can be an opportunity for Ontario to lead North America in the new climate economy.
Phase out fossil fuels
Establish a Fair Share Carbon Budget for Ontario for the rest of this century and incorporate a legal annual reporting requirement on progress and pollution reduction plans.
Cut carbon pollution in half by 2030 and hit real net zero by 2045. Take over administration of the federal carbon fee system and increase the price by $25 until it reaches $300/tonne in 2032. All carbon fee revenues collected from individuals will be returned to individuals as dividends.
Work with the federal government to establish border carbon adjustments to create a level playing field for Ontario's low-carbon producers.
Eliminate fossil fuels from electricity generation the fastest way compatible with our fair share carbon budget, aiming to phase out fossil gas by 2030.
Stop new gas hookups and new fossil fuel infrastructure by 2025.
Move to renewable, clean energy sources
Double Ontario's electricity supply by 2040 and make Ontario's electricity emission-free as quickly as possible in order to electrify transportation and buildings with clean energy.
Allow homes and businesses with renewables to earn credits toward energy use for excess energy production.
Electrify everything practicable, including buildings, transport and industrial energy.,
Negotiate to buy and/or exchange power with Quebec if both power and transmission are available at a reasonable price.
Add at least 7500 MW of short- and medium-term storage to help our electrical grid run smoothly.
Don't build new uranium mines or nuclear plants that add to our huge pile of dangerous nuclear waste that has already been in "temporary" storage for 50 years. Shut down the aged Pickering Nuclear Plant as scheduled or earlier if continued operation is unsafe.
Increase access to electric vehicles and charging infrastructure
Increase demand for new low-emission vehicles with cash incentives up to $10,000 for buying a fully electric vehicle and $1,000 for an e-bike or used electric vehicle.
Phase out the sale of new gas and diesel passenger vehicles, medium-duty trucks, and buses by 2030.
Require trucks in urban areas to be 50% Zero-Emission Vehicles (ZEV) by 2030, and 100% ZEV by 2040.
Make electric charging infrastructure:

Increase the number of fast-charging stations on every 400 series highway rest stop.
By 2023, require all new or re-surfaced parking areas (public and private) to install EV charging.
Provide a tax incentive for businesses to install charging infrastructure.
Require existing parking lots and garages (public or private, above ground or below) to install access to EV charging in 25% of spots by 2024, 50% by 2030, and 75% by 2035.
Amend the building code so that new homes are EV charging ready.

Create EV supply chains to grow jobs and businesses in Ontario (see Build our New Climate Economy for detail).
Make buildings energy efficient
Create hundreds of thousands of new jobs by retrofitting 40% of existing homes and workplaces to net-zero (conservation plus heat pump and solar, for example) by 2030 and 100% by 2040 to help people save money by saving energy.
Amend the Building Code, so all new commercial and residential buildings are built with the lowest carbon footprint possible and net zero by 2028.
Provide net-zero retrofit grants for non-profit housing providers, co-ops and low-income households to lower their energy costs and consumption.
Release the pent-up demand for green retrofits by ensuring owners and tenants have access to low-cost financing and incentives to insulate and electrify their home. This will reduce energy bills and protect Ontarians from international energy price jumps.
Encourage the use of sustainable and non-toxic building materials, and remove regulatory obstacles to mass timber construction using FSC-certified wood.
Make building-level fossil fuel use transparent through labelling and disclosure.
Establish strong, integrated conservation programs for electricity, gas and water, including ensuring that multi-unit buildings improve energy efficiency and install individual meters for every unit.
Lead by example
Set aggressive GHG targets for provincial government operations, and expand pollution reduction programs to include hospitals, schools, universities, and other public institutions.
Put a strong climate lens on all government decisions, including a shadow carbon price on capital investments.
Eliminate fossil fuel use in new and renovated government buildings by 2025, and in all government buildings by 2030.
Require all large public and private organizations to disclose and reduce their carbon footprint and climate-related financial risks.
Support municipalities to be climate leaders
Provide municipalities and practitioners with knowledge, technical expertise, resources, and training via a Green Infrastructure Support Hub.
Attract private investment into municipal and commercial Property Assessed Clean Energy programs (PACE, also called Local Improvement Charges) with seed capital and a provincial loan-loss guarantee.
Allow municipalities to borrow money to make municipally owned buildings more efficient and pay the loans back out of the savings.
Require all municipalities to adopt plans for reducing corporate and community emissions as far as possible to net-zero by 2045, and give them the authority and tools to implement them, including long-term, predictable funding.
Restore the 50% provincial cost-share for transit operations and support electrification plans for all municipal transit systems.
Build our New Climate Economy
Climate action is job action. It's as simple as that.
Ontarians are problem-solvers, not problem-deniers. The path to a net-zero future is not easy, but it is clear, and Greens are ready to roll up our sleeves and lead the way on climate action.
We can make this happen. We can make choices that build livable communities and a better economy. Choices supporting green innovations that lead to new businesses, careers and better jobs, and that make it more costly for industries to pollute and more profitable for them to decarbonize. Choices to cover the tuition costs for skilled trades and clean energy so that we can launch a massive green workforce.
And choices to give people who need it the most a helping hand as the world makes the transition. Billions of dollars are flowing into the new climate economy. If Ontario wants to attract these jobs and investment, we need to show that we're a province that takes climate change seriously. We must show strong support for growing green businesses, including supporting a skilled workforce, research, financing, inputs and procurement to help them thrive.
Ensure a just and equitable transition
Focus at least 25% of the overall benefits of public investments to reduce climate pollution on disadvantaged communities.
Fund a $6B climate bonus for low-income households by adding a 1% climate surcharge levy on the province's top 10% income earners.
Focus conservation subsidies on retrofits that reduce energy use for those unduly affected by the cost of energy, especially rural, remote, low-income, and Indigenous communities.
Redirect the annual $7B taxpayer subsidy for electricity prices to support energy efficiency and climate action, maintaining energy subsidies only to those in need while also providing free access to upgrades that lower energy costs and consumption.
Conduct a transition census of vulnerable jobs and economic sectors to develop strategies that help workers and businesses adapt to a new climate economy.
Train today for the jobs of tomorrow
Create hundreds of thousands of new jobs by retrofitting 40% of existing homes and workplaces to net zero by 2030, and 100% by 2040.
Modernise the apprenticeship application process to provide candidates with an electronic, single-entry access to the apprenticeship application and registration process.
Reduce the ratio of journeypersons to apprentices to one-to-one.
Increase training opportunities by providing incentives for businesses that participate in training and certification programs in job growth areas such as green building, biomedical technology, renewable energy, and sustainable transportation.
Provide incentives for businesses involved with green retrofits, reforestation, and other forms of green economic activity to provide Ontario youth with valuable job experience.
Over the 4 years, give 60,000 people the skills and experience to work in the green economy through a year of free college tuition plus a year of guaranteed work when they graduate with targeted recruitment of women, Indigenous people, and racialized communities.
Support and grow green businesses
Build on Ontario's strengths in mining, innovation, financing, and auto manufacturing to create a strong electric vehicle manufacturing strategy and electric transportation industry supply chain.
Provide incentives for businesses investing in energy efficient and low-carbon equipment, buildings, and vehicle fleets.
Starting in 2023, set a minimum and increasing percentage of public procurements of GHG intensive materials that must be low-carbon, providing a market for heavy industries that are transitioning to low-carbon technologies and processes.
Redirect existing business support programs to help small and medium-sized businesses scale up or transition to the green economy.
Prepare Ontario industries for the new climate economy
Scale up EV innovation and production through an EV technology innovation fund and a Climate Bank.
Set strict standards for polluting industries and help them meet their goals via support from low-interest loans, the Ontario Centres of Excellence, collaboration with clean-tech providers, and public procurement.
Support Ontario entrepreneurs to build world-leading clean businesses in energy storage (e.g. batteries), electric/ fuel cell mobility, smart transit and low-carbon biomaterials.
Fund research, demonstration, and commercialisation of low-carbon industries and low-carbon capital investments in existing industries through grants and loans.
Make Ontario safe and resilient
Plan how to manage the health risks to people, including heat, wildfire smoke, flooding, drought, and insect-borne diseases.
Create a Climate Adaptation Fund funded by a dedicated adaptation levy to help get the overdue work underway to prepare municipalities, infrastructure, buildings, agriculture and forestry to withstand the increased effects of climate change.
Require all large public and private organizations to evaluate their vulnerability to climate shocks and stresses, and to plan how to manage them.
Integrate climate resilience into land use planning and when designing, sizing and siting infrastructure.
Expand natural infrastructure on private and public lands to increase resilience to climate risks.
Protect our natural ecosystems
Let's protect the places we love by conserving and protecting at least 25% of Ontario by 2025, and 30% by 2030, especially areas of particular importance like wetlands and natural heritage.
Ontario's wetlands, forests and watersheds are just some of the benefits our natural environment provides that make Ontario special. These ecosystems are key in keeping our air and water clean and protecting the good soil we depend on to grow our province.
Protecting our natural heritage helps preserve biodiversity and directly affects some of our most important economic sectors: tourism, forestry, food, and farming. When it comes to climate change, our natural ecosystems provide our best low cost solutions to maintaining a clean water supply and providing flood protection.
Now is the time to strengthen protections for the places we love, the natural heritage we celebrate, and the food and water resources that sustain us. We need to expand the Greenbelt by adding a new Bluebelt that protects our supply of clean water.
Protect natural spaces
Protect at least 25% of lands and water in Ontario by 2025 and 30% by 2030.

Work with Indigenous communities to establish Indigenous Protected and Conserved Areas (IPCAs) where Indigenous governments have the primary role in protecting and conserving ecosystems through their laws, governance and knowledge systems.
Permanently protect Provincially Significant Wetlands, Areas of Natural and Scientific Interest and Provincial Wildlife Areas on Crown land.
Protect and restore natural areas that sequester carbon and protect biodiversity, including grasslands and peatlands, old growth forests, and ecological corridors between protected areas.

Strengthen and fund the ecological integrity role of Ontario's public parks system and create five new provincial parks.
Strengthen the Greenbelt Act and make new highways through the Greenbelt illegal.
Reward sustainable forestry and land management practices that protect the Boreal forest.
Enhance urban tree canopy targets and improve legal protection for urban trees. Dedicate 15% of the existing infrastructure funding for green infrastructure, including urban forests.
Safeguard our source water
Double the size of the Greenbelt to include a Bluebelt of protected moraines, river systems, and watersheds that includes the Paris Galt Moraine, Carruthers Creek, Grand River Watershed, and many other critical bodies of water.
Work with Indigenous Peoples and the federal government to establish National Marine Conservation Areas in Hudson and James Bay, and in the Great Lakes.
Implement a plan for cutting phosphorus entering Lake Simcoe to 44 tonnes by 2026 and support the creation of a phosphorus recycling facility..
Restore provincial funding for source water protection under the Clean Water Act and expand drinking water source protection to northern, remote and Indigenous communities.
Bring back oversight and public consultation to reduce flooding and protect people and the places we love. Mandate vegetated setbacks along lakes, rivers, flood plains and drains.
Use water sustainably
Fix the Permit to Take Water process

Stop industrial water extraction and ban bulk removal of water from a watershed.
Restore municipal regulation of aggregate extraction below the water table .

Add water usage to reporting obligations for large buildings and the public sector.
Incentivise water conservation and reuse, such as greywater systems in households.
Require multi-unit residential and commercial buildings to install water metres.
Reduce waste
Set high recycling and management standards for printed paper and packaging (Blue Box) materials, and a minimum standard of 85% for plastic packaging by 2030.
Adopt clear, stringent, and enforceable extended producer responsibility standards for waste and packaging generated at workplaces, schools, and in public places – the sectors responsible for the majority of Ontario's waste.
Expand the federal government's list of banned single-use plastics to include water bottles, coffee cups and other unnecessary packaging.
Ensure a broad range of right to repair legislation to extend the life of goods and protect purchasers.
Ban food waste from landfills or incinerators and expand food waste collection to all municipalities across the province.
Set targets to significantly reduce Ontario's material and consumption footprints and track and report on progress.
Set required minimum use of recycled aggregates in infrastructure projects as well as providing research and education funding to ensure that all reclaimed concrete material can be re-engineered and re-used as effectively as possible.
Stand strong for environmental justice
Strengthen and uphold the Environmental Bill of Rights.
Require the Ministry of Environment to develop and report on a strategy to address environmental racism.
Establish more strict monitoring and enforcement standards for air and water pollution in areas where communities are exposed to potential health risks from multiple industries.
Strengthen environmental oversight and public consultation
Restore the Office of the Environmental Commissioner.
Establish and enforce industry sector standards for air and water pollution that protect health.
Restore a robust environmental assessment process and reverse changes that allow for assessments to be "streamlined."

Ensure assessments consider climate impacts and climate friendly alternatives to a project as part of the evaluation process.
Restore automatic environmental assessment of public-sector projects, plans and policies, including timber management on Crown lands and regional assessments.
Include private sector projects that will have long term environmental impacts, including mining and smelters.

Rapidly repeal all recent changes that limited Conservation Authorities' authority and provide stable funding mechanisms so Conservation Authorities can fulfil their mandates, including watershed level protections.
Reverse changes in Bill 245 that merged all land use planning tribunals, including the Environmental Review Board, into the Ontario Land Tribunal, and reverse damaging changes to the Local Planning Appeal Tribunal (LPAT).
Uphold the duty to obtain free, prior and informed consent from First Nations and Métis communities regarding decisions that may affect them.
Protect biodiversity
Restore the original Endangered Species Act, 2007 and a science-based system for determining species status, recovery, and habitat protection while eliminating exemptions for industry.
Properly fund and support endangered species recovery efforts and habitat stewardship programs.
Cancel the Species at Risk Conservation Fund (aka "Pay to Slay") that allows businesses to simply offset their harm to biodiversity by paying into the fund.
Protect pollinators by ending the outdoor use of neonicotinoid pesticides. Restore the pesticide advisory committee.
Regulate new outdoor lighting to include dark sky protection.
Strengthen animal welfare rules
Ban the breeding, possession, use, and sale of wild exotic animals as pets and implement a more comprehensive licensing system for zoo facilities housing exotic wild animals.
Ban road-side zoos and prohibit inhumane and unsafe animal-visitor interactions as per the World Association of Zoos and Aquariums guidelines.
Enhance animal welfare standards for animal agriculture. Implement more robust regulations and inspections of the housing, sale, and transport of agricultural animals and ensure enforcement.
Oppose the use of furs on ornamental, except by First Nations, Métis, and Inuit persons, and where such use is protected by the Charter of Rights and Freedoms.
Repeal all provincial breed-specific legislation.
Help local food systems to thrive
We need to protect farmland that is being paved over at an alarming rate. We have to act now to support farm-to-table agriculture here in Ontario.
In Ontario, we are losing farmland at an alarming rate of 175 acres a day, largely to urban sprawl and aggregate mining. We need to provide permanent protections for prime agricultural land to keep it from being destroyed by urban sprawl, highways, and gravel mining that threatens our groundwater supply.
Greens will support farm-to-table agriculture here in Ontario, making it easier for small farms to use the latest technology, access the internet and turn a profit. We'll also provide support for farmers to adopt more sustainable practices so that farming and climate action go hand-in-hand.
Healthy soil is essential for the health of Ontario's farms and food system. It also impacts yield and quality, water and nutrient retention, resilience, biodiversity, and climate change adaptation and mitigation. So we need to support our family farms while they protect this precious resource.
Our plan provides solutions that will create better connections between farmers and consumers and build a stronger, healthier regional food system. It's increasingly expensive for Ontarians to put food on the table, and the current sprawl agenda of paving over the farmland that feeds us does not help this.
Protect farmland
Freeze urban boundaries now.
Permanently protect prime farmland from being lost to non-agricultural use, such as urban sprawl, highways, and gravel mining.
Move class 1 and 2 soils from the Whitebelt to the Greenbelt.
Increase access and support for local, nutritious food
Introduce a nutritious school lunch program for the public school system.
Provide start-up funding and land for community-owned healthy food markets, community gardens, and rooftop growing spaces, particularly in urban food deserts.
Set measurable, made-in-Ontario food purchas­ing targets for all public institutions.
Treat surplus food as a valuable resource. First, use it to feed people, then animals, and never send it to landfill.
Provide tax incentives for local food and beverage manufacturers who purchase inputs grown by local farmers.
Support local sustainable farming
Pass the Organic Products Act ​to regulate the use of the term "organic" within Ontario.
Invest in research and innovation that improves the sustainability of how we grow, produce, and distribute our food.
Revise crop insurance programs to support farming practices that improve soil carbon and soil health.
Incentivise on-farm composting of agricultural waste that results in biogas recovery.
Invest in an Organic Growth Strategy​ to support transition, small-scale certification, access to organic advisors and capital, expansion of organic research programs, and increased promotion of Ontario's organic products.
Ban the routine use of unnecessary antibiotics in healthy animals.
Pay farmers for programs that produce, enhance and maintain ecosystem services leading to cleaner water and air, habitat, carbon sequestration and climate resiliency on agricultural lands (e.g. ALUS).
Invest in the next generation of farmers
Create policies that support the retention of family-owned farms, farming by experienced farmers among new Canadians, and the succession of farms to a younger generation of farmers.
Provide education and grant opportunities to encourage students to enter into the agri-food business.
Promote training in specialty programs that focus on sustainable practices and soil-health within agricultural schools.
Continue to enhance the supply management system to include more farm products and ensure offsets or grants for those looking to enter the system or with a lower ability to produce.
Rebuild agricultural extension programs and hire soil-health focused agronomists.
Purchase available farmland and place it in protected Land Trusts so it can be made available for dramatically lower costs to new farmers who would otherwise not be able to afford farmland.
Advocate for the federal government to restrict farming products from future trade deals.
Make family farming more profitable
Ensure the Federal-Provincial-Territorial grocery retailer code of conduct is mandatory, enforceable, transparent and benefits both customers and farmers.
Increase investments in the Risk Management Program to meet or exceed the previous 85% coverage to improve financial security for farmers.
Establish a food processing infrastructure fund to support investments by Ontario-based companies in food processing facilities.
Eliminate property tax penalties for farmers with small-scale, value-added production facilities on farm.
Protect farmers against losses for up to ten years as they transition from chemical agriculture to soil-health agriculture.
Shift program dollars from supporting industrial and intensive animal agriculture to supporting soil health and regenerative agriculture.
Potential of Seaweed on Economy Being Explored in Upcoming Webinar – VOCM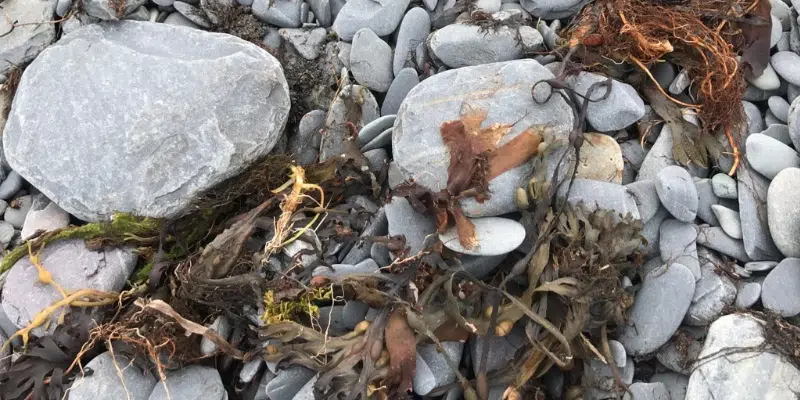 A webinar on the potential of seaweed as an economic driver is coming later this month.
The webinar, put together by The Laurentic Forum Consortium, will look at how coastal communities can use an abundance of seaweed to boost the economy, as seaweed is being used as fertilizer, diet supplements, bioplastics, animal feed, pharmaceutical products, and much more.
Webinar moderator and the executive director of the Canadian Centre for Fisheries Innovation, Keith Hutchings, says seaweed farming could provide opportunities in Newfoundland and Labrador.
He says if utilized correctly, communities and regions can add one more industry to help sustain them.
The webinar is taking place May 19.
The Laurentic Forum consortium invites you to join us on May 19, 2022, to discuss the tremendous opportunity and potential associated with the seaweed industry.

Info/Registration:https://t.co/gyQoIPHuCQ pic.twitter.com/ps1vuDLBvs

— Laurentic Forum (@ForumLaurentic) May 11, 2022
Charting the Global Economy: Growth Prospects Continue to Dim – BNN
(Bloomberg) — Sign up for the New Economy Daily newsletter, follow us @economics and subscribe to our podcast.
Prospects for the world economy are growing bleaker as Russia's war in Ukraine takes a toll on European businesses and consumers, China employs a heavy-handed approach toward Covid-19 and US financial conditions tighten, according to the Institute of International Finance.
Central banks around the world continue to boost interest rates to counter a surge in inflation. In the US, the closely watched consumer price index showed inflation remains well-elevated. The squeeze to household budgets is also being felt in the UK and France.
Here are some of the charts that appeared on Bloomberg this week on the latest developments in the global economy:
World
The world economy will essentially flatline this year as Europe falls into recession, China slows sharply and US financial conditions tighten significantly, according to a new forecast from the IIF, which counts more than 450 financial-services firms as members. The group forecasts 2.2% global GDP growth this year, markedly lower than the International Monetary Fund estimate of 3.6% on a purchasing power parity basis.
The gasoline market is starting to run out of control — just like diesel before it. US buyers are already sucking in more supplies from Europe as the summer driving season — which increases demand — gets underway. Add to that a loss of so-called secondary feedstocks from Russia that are critical in the production of the road fuel.
US
Americans got little respite from inflation in April, as prices for a range of necessities and discretionary-spending categories continued to climb at some of the fastest-ever rates. While annual measures of consumer prices cooled slightly from March — signaling a peak that economists expected — the details painted a more troubling picture as monthly figures advanced more than forecast.
US homebuyers are increasingly turning to adjustable-rate mortgages as overall borrowing costs soar. ARMs — which carry variable interest rates that reset based on the market at predetermined times — accounted for 10.8% of total home-loan applications last week. That's up from 3.1% of activity at the start of the year and is the largest share since 2008.
Europe
The French government pledged to increase social benefits and issue food vouchers to the poorest households as freshly re-elected President Emmanuel Macron seeks to avert panic over a cost-of-living crisis before legislative elections next month.
The UK economy unexpectedly contracted in March as the cost of living squeeze forced consumers to cut back on spending, throwing doubt on the Bank of England's ability to keep hiking interest rates and piling pressure on Prime Minister Boris Johnson's government to respond.
For many of Sweden's highly indebted consumers, the Riksbank's sudden interest-rate increase at the end of April marks the start of a new squeeze that officials have long fretted about.
Asia
China's exports and imports struggled in April as worsening Covid outbreaks cut demand, undermined production and disrupted logistics in the world's second-largest economy.
Japan's household spending climbed in March for the first time in three months as virus restrictions were lifted across the nation, offering some support for private consumption at the end of a bruising quarter for the economy.
Emerging Markets
Malaysia's central bank unexpectedly raised its benchmark interest rate in an effort to head off price pressures, while authorities in Argentina boosted borrowing costs for the fifth time this year.
Latin American central banks will likely extend their monetary tightening campaigns beyond what was originally expected after inflation surged past forecasts in April, with steep increases in food and fuel costs stinging policy makers.
South Africa is headed for a record year of power cuts if the rate of station breakdowns fails to improve, particularly at coal-fueled plants. Africa's most industrialized nation was already on track to exceed the annual record for energy shed from controlled blackouts, a practice locally known as loadshedding that's used to prevent the grid from a total collapse.
©2022 Bloomberg L.P.
Biden's Midterm Hopes Bedeviled by Signs of Economy in Distress – BNN
(Bloomberg) — President Joe Biden's hopes for a political reset have been overwhelmed by an unrelenting series of economic setbacks, adding to the challenges Democrats face as they court exhausted voters ahead of the crucial midterm election in November.
US gasoline prices are at historic highs. Inflation in April exceeded consensus forecasts. Technology stocks have plummeted, taking retirement accounts with them. A record low portion of Americans think it's a good time to buy a house.
On top of it all, a shortage of baby formula has left parents in the world's wealthiest country scrounging empty store shelves to feed their children. The crisis is drawing bipartisan condemnation on Capitol Hill, with lawmakers accusing the administration of moving too slowly after an Abbott Laboratories factory in Michigan was shut down over safety issues.
Cast against the backdrop of Russia's war in Ukraine and the ongoing pandemic — the US surpassed 1 million Covid-19 deaths this week — it's little wonder the nation's mood is grim. Biden's inability to assuage Americans' growing unease was highlighted as a US consumer sentiment measure released Friday hit its lowest reading since 2011, a six-point decline from April that was worse than any forecast in a Bloomberg survey of economists.
The nation's economic struggles and the administration's tepid response are striking at a core promise of the Biden presidency: that he would return competence to the White House. And there are clear signs Americans hold their president accountable. Just 38% approve of the job Biden is doing, according to a Monmouth University poll released Thursday.
Most respondents in the survey said it's currently difficult to pay for essentials like gas, grocery bills and health insurance deductibles.
"We understand there are challenges you're dealing with every day," White House Press Secretary Jen Psaki told reporters on Friday. "Costs are too high. It is too expensive to fill up your gas tank. Food is too expensive at the store. And our focus right now is on taking every step possible to address those issues."
Yet Biden has often sought to shift blame. He's said gasoline and food cost too much because of "Putin's price hike," in reference to the Russian president who ordered the Ukraine invasion, and he said this week that the Federal Reserve is primarily responsible for combating rising prices.
The baby formula crisis presents a particularly acute political risk. Democrats have looked to reorient their midterm strategy to wooing back female voters after the leak of a draft Supreme Court opinion that would overturn the landmark Roe v. Wade decision establishing abortion rights nationwide.
But Biden — a practicing Catholic whose congressional career was dotted with votes restricting federal abortion spending — has for now acted as a reluctant messenger, preferring sweeping legal and philosophical arguments for maintaining Roe rather than explicitly espousing his support for abortion rights.
Less than two weeks after the leak, television coverage has shifted to stories of mothers struggling to find the baby formula they need to feed their children.
"It's pretty amazing that with all the focus on global and economic insecurity, a life challenge so personal and individual could cut through — but it has," said Republican pollster Frank Luntz. "When young families think about whether they are better or worse off under Biden, life challenges like this make life more difficult for Democrats."
White House officials have argued that troubling indicators of an economy in distress should be weighed against other data that show strength. Payrolls beat consensus estimates in the past month, and unemployment is just 3.6%, offering a strong jobs picture. Year-over-year earnings were up 5.5%, and gross domestic product has grown at its fastest rate since 1984. And despite the recent stock market swoon, the S&P 500 remains up more than 5% since Biden took office.
Still, White House aides acknowledge that many Americans feel the costs of inflation more viscerally than news suggesting the overall economy is healthy — and that some trends are unfavorable. That explains why Biden in recent days has stepped up his efforts to shift responsibility for some of Americans' leading concerns.
Following Wednesday's inflation report, Biden called inflation "unacceptably high" but added that action to lower prices "starts with the Federal Reserve."
Biden has also sought to ratchet up pressure on Republicans. In a speech Tuesday at the White House, Biden said he understood Americans' frustration so much that he could "taste" it — but said the opposition party has yet to present a concrete plan to tackle high prices if the GOP captures Congress in November.
He has also said Republicans are pursuing an "ultra-MAGA agenda," referring to former President Donald Trump's "Make America Great Again" slogan, though Biden hardly ever uses his opponent's name.
And he's tried to spotlight a GOP proposal, written by Florida Senator Rick Scott, that would require all Americans to pay some income tax, including families that don't earn enough money to owe taxes now, and that would require reauthorizing all federal legislation after five years. Democrats say that would imperil entitlements like Social Security and Medicare.
Other Republicans including the Senate minority leader, Kentucky's Mitch McConnell, have distanced themselves from Scott's plan, and the Florida senator has said in response to Biden's attacks that the president should resign.
But Biden has also acknowledged the political vulnerability he faces.
"It's going to be hard, because inflation is going to scare the living hell out of everybody," he told Democratic donors in Chicago on Wednesday. "We have a problem we have to deal with. In the meantime, we can't take our eye off all that could happen if we do not prevail."
©2022 Bloomberg L.P.