The Julian Assange Media Blackout Must End
The Julian Assange Media Blackout Must End
Stunning revelations have emerged overseas about the reckless and duplicitous methods used by US law enforcement against Julian Assange. But in the US, the story has been subject to an almost total media blackout.
A couple weeks back, the US government's attempt to prosecute Julian Assange for publishing classified material was dealt a major blow. You probably didn't even hear about it.

Two weeks ago, the Icelandic newspaper Stundin published a bombshell report revealing that Sigurdur Thordarson, a former WikiLeaks volunteer from Iceland whose testimony was key to the US case against Assange, admitted to fabricating accusations against Assange. Those accusations had been featured in the US indictment against the organization's founder, and they were cited by the British judge who narrowly ruled against Assange's extradition at the start of this year.

The crux of the situation is this: the indictment charges, among other things, that Assange instructed Thordarson "to commit computer intrusions" and secretly record high-ranking Icelandic officials, including members of parliament; that they tried to decrypt a "stolen" file from an Icelandic bank; that Assange tried to use "the unauthorized access given to him by a source" to make use of a government website that tracked police vehicles; and that he had ordered and encouraged Thordarson to set up a relationship with a hacking group, who would hack and illegally obtain documents to pass on to WikiLeaks. All of these claims, Thordarson has now admitted to Stundin, are either highly misleading or outright false, the paper reports.

But it gets much worse. Thordarson is a clinically diagnosed sociopath with a history of criminal activity, including stealing documents and embezzling funds from WikiLeaks itself, which he did shortly before contacting the FBI offering to be an informant on the organization. While he was collaborating with the FBI, Thordarson was racking up an impressive rap sheet, featuring fraud, forgeries, and serious sexual misconduct involving underage boys, landing him in prison for a time.

This didn't stop the Trump administration, with its bias toward the national security state and hostility to press freedoms, from jumping at the chance to make an immunity deal with Thordarson in 2019, made in writing and viewed by Stundin.

According to the newspaper, in exchange for helping the US government build a case that Assange was a criminal rather than a news publisher worthy of First Amendment protections, the Trump Justice Department guaranteed Thordarson both immunity from prosecution over any of his law-breaking that they happened to know about, and that they wouldn't share information with Icelandic or any other authorities about his criminal activities. As a result, states the report, Thordarson "started to fleece individuals and companies on a grander scale than ever," including forging his lawyer's signature for a fraudulent real estate scheme, criminal activity that was going on right up to the day the report was published.

It's hard to know where to begin here. For one, it's a vivid illustration of just how sordid Washington's yearslong pursuit of Assange has been. To punish Assange for embarrassing the US government, successive administrations not only got in bed with a criminal, they effectively facilitated his crimes, which included forcing and tricking boys into sex. The fact that accusations of sexual misconduct against Assange proved central to the case for his extradition to the United States adds an extra layer of hypocrisy.

That's far from the only one, though. As Stundin reports, when the FBI first tried to use Thordarson as an informant, under Barack Obama, they "took material he had gathered, including data he had stolen from WikiLeaks employees and even planned to send him to England with a wire." In other words, they took stolen documents and planned to secretly record a group of people, the very things the US Justice Department has (in the latter case, falsely) accused Assange of doing while charging that it made him a vile criminal.

In fact, as Stundin points out, when the hackers Thordarson had been in touch with carried out a DDoS (distributed denial-of-service) attack on several Icelandic government websites — thereby giving the FBI the pretext to enter Iceland and set up contact with Thordarson — one of those involved had already become an informant for the Bureau. That means that, before falsely accusing Assange of carrying out hacking operations against the Icelandic government, it's likely the US government gave, at the very least, its blessing to an actual hacking operation against the Icelandic government.

It's abundantly clear, from this report alone, that at no point in this saga did Washington have a genuine and principled opposition to any of the transgressions involved here, from hacking and stealing secrets to general criminality. Rather, it was all about punishing Assange for exposing US war crimes and the backroom dealings of the powerful, sending a message to any other whistleblowers or leakers who would try to do the same and, as a nice bonus, maybe scaring journalists and press outlets into thinking twice before reporting on such information.

All of this has become particularly relevant this week, with the UK courts agreeing to hear the US government's appeal of the rejection of Assange's extradition, as reported by Shadowproof. Happily piggybacking on Donald Trump's seedy deal with Thordarson, the Biden administration has now offered several "assurances" in an effort to reverse the January decision, including that they would allow Assange to apply for transfer to a prison in his home country of Australia to serve out his time.

With Thordarson recanting on his allegations, however, this puts the Biden administration in a bit of an awkward position. Secretary of state Antony Blinken has previously acknowledged the danger to press freedoms from prosecuting Assange, noting quite accurately in 2017 that "if he is simply publishing information that happened to come his way . . . that doesn't make him a whole heck of a lot different, perhaps, than the New York Times." He had then added the caveat that "if, on the other hand, he is actually instructing people to try to steal classified information that he can publish, that might be different."

No one should be under any illusion that Blinken or Joe Biden is actually concerned about press freedoms, of course, as the administration's actions in the first six months in office plainly show — just with assuring liberal voters this presidency is different from Trump's. But that's a lot harder to do when a key part of the case that Assange wasn't merely a publisher of official secrets, but a criminal directing global hacking operations, turns out to have been fabricated.

But there's always a solution. As organizations like FAIR and Media Lens have documented, the establishment press — which, since the campaign period, have adopted a tone of unabashed cheerleading toward the new president that has been measurably more favorable than for Trump — has decided to simply ignore the story.

Nearly two weeks after the Stundin report came out, the only mainstream news outlet that's so much as acknowledged its existence is the Washington Post, which on Thursday buried a brief reference to it halfway down a story on Biden's magnanimous offer to let Assange rot in an Australian prison, playing down the story's significance to the case. Of course, last year, before Thordarson had been discredited, the paper had devoted nearly eight hundred words to his falsified allegations when they were included in the Justice Department's updated indictment, arguing that it "adds evidence to the government's assertions that Assange is not a publisher or journalist but a hacker" and that it "seem[s] to strengthen the prosecution's case."

We will see how long Biden continues to pursue his extradition and whether it will prove successful, particularly in light of these recent revelations. But one thing's for sure: however you might feel about his various alleged wrongdoings, it is hard to argue that Assange, who turned fifty last week in solitary confinement, hasn't been sufficiently punished already.

Assange spent seven years locked in an embassy, unable to set foot outside, a far more extreme version of the pandemic lockdowns we were all forced to briefly endure and which sent rates of mental health problems soaring. Following that, since April 2019, Assange has been held in near-total isolation, with the UN special rapporteur on torture declaring that his "rights have been severely violated for more than a decade." The prolonged solitary confinement left Assange unable to "think properly" and suicidal, ironically the chief reason given for denying his extradition.

This level of suffering should be enough to consider the matter closed, and the message sent to any other potential leaker of state secrets. The fact that this administration is continuing this wretched crusade speaks to the carceral sadism that has long been a bipartisan project in Washington, and which Joe Biden made his area of expertise for decades. Let's hope it fails, for the sake of the very "decency" the establishment press loves to wax poetic about when it talks about this president.
Jimmy Butler steals the show on NBA media day with 'emo' phase look following Damian Lillard's trade to the Milwaukee Bucks – CNN
We use cookies and data to
Deliver and maintain Google services
Track outages and protect against spam, fraud, and abuse
Measure audience engagement and site statistics to understand how our services are used and enhance the quality of those services
If you choose to "Accept all," we will also use cookies and data to
Develop and improve new services
Deliver and measure the effectiveness of ads
Show personalized content, depending on your settings
Show personalized ads, depending on your settings
Non-personalized content is influenced by things like the content you're currently viewing, activity in your active Search session, and your location. Non-personalized ads are influenced by the content you're currently viewing and your general location. Personalized content and ads can also include more relevant results, recommendations, and tailored ads based on past activity from this browser, like previous Google searches. We also use cookies and data to tailor the experience to be age-appropriate, if relevant.
Select "More options" to see additional information, including details about managing your privacy settings. You can also visit g.co/privacytools at any time.
Social media traffic to top news sites craters
Traffic referrals to the top global news sites from Meta's Facebook and X, formerly Twitter, has collapsed over the past year, according to data from Similarweb.
Why it matters: Website business models that depended on clicks from social media are now broken.
What's happening: Regulatory pressure and free speech concerns have pushed tech giants to abandon efforts to elevate quality information, leaving the public more susceptible to misinformation ahead of the 2024 election.
Meanwhile, news companies are scrambling to find business solutions while simultaneously fighting to protect their work in the AI era.
The big picture: While the news industry has known this day would come, many are still unprepared.
A slower ad market and less reliable traffic contributed to a record number of media job cuts this year.
Efforts to reach voters with trusted information are becoming more difficult as tech platforms lean into viral trends, instead of quality news.
Yes, but: Disruption is often a catalyst for change.
The over-reliance on social media traffic kept news publishers from focusing on building stronger consumer products of their own.
Publishers are better prepared now to defend their intellectual property in the AI era having learned from their mistakes of being too heavily reliant on third parties for survival.
Go deeper: Social media news consumption slows globally
Go deeper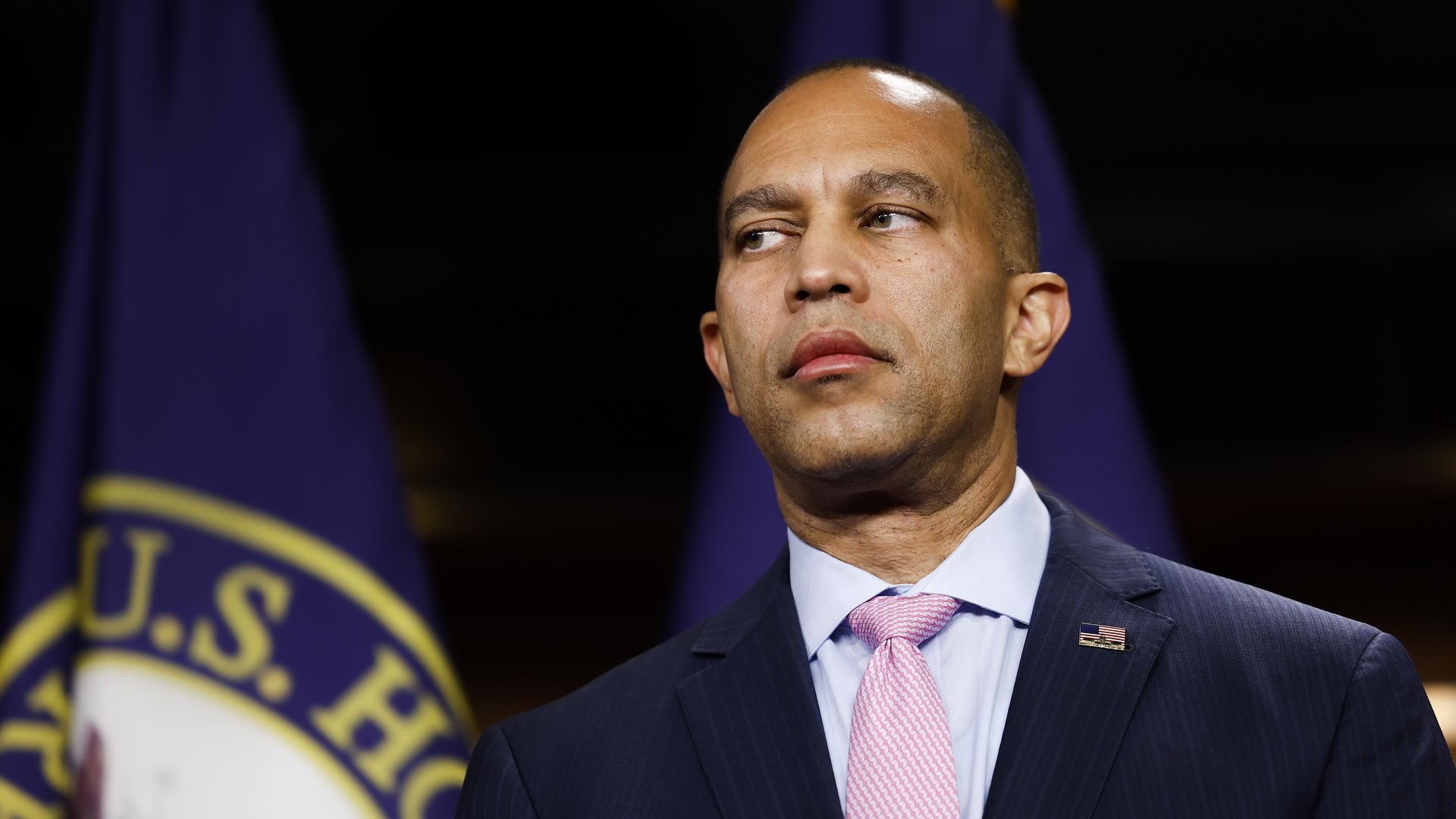 House Speaker Kevin McCarthy (R-Calif.) is unlikely to get a lifeline from across the aisle as he fights to keep his job, according to interviews with and statements from nearly two dozen House Democrats.
Why it matters: If a half dozen Republicans support the motion to vacate introduced by right-wing Rep. Matt Gaetz (R-Fla.), which is set for a vote on Tuesday afternoon, McCarthy will need Democratic votes to survive.
For all the signs of a cooling economy, employers sure had an awful lot of open jobs as summer came to an end, according to a shocker of a labor market report out Tuesday. But it's probably sending a misleading signal.
Driving the news: Employers reported having 9.6 million job openings at the end of August, according to the Job Openings and Labor Turnover report, up 690,000 from July, driven by a particularly large surge in professional and business services openings.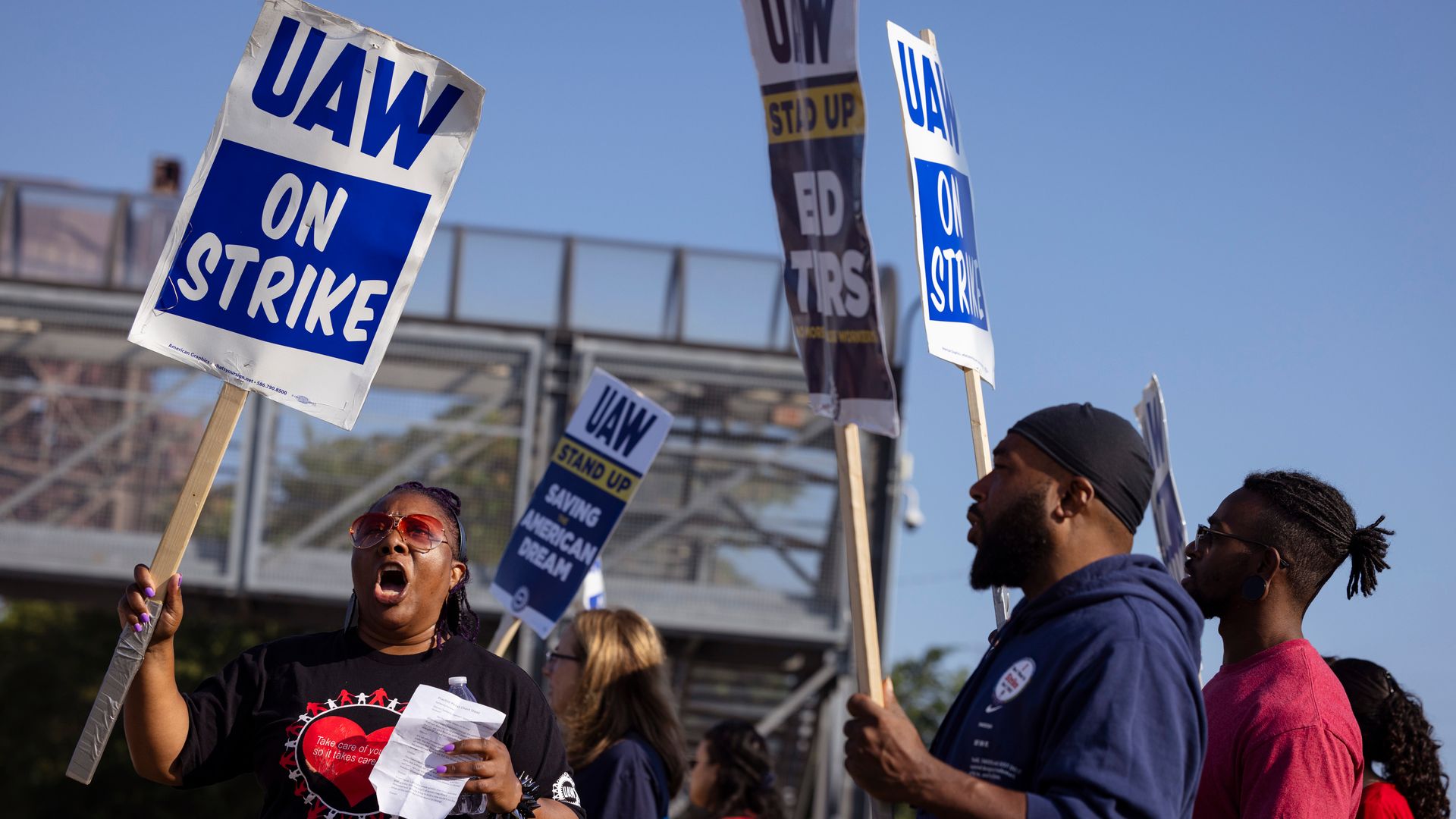 Ford and General Motors laid off 500 more people after the United Auto Workers widened its historic strike last week, the automakers confirmed to Axios Tuesday.
Why it matters: Roughly 3,000 workers have been impacted by layoffs since the UAW strike against the Detroit Three began last month.
India police raid homes of NewsClick journalists in illegal funding probe
Police in India have arrested a prominent journalist and founder of a news website under a stringent anti-terror law over allegations of receiving foreign money for pro-China propaganda.
NewsClick's founder and editor-in-chief Prabir Purkayastha was arrested on Tuesday evening under the Unlawful Activities Prevention Act (UAPA) and criminal conspiracy charges, local media reports said.
Journalist Amit Chakravarty was also arrested in the same case, the reports added.
The arrests came after the office of the New Delhi-based news portal and homes of several journalists and writers linked to it were raided as part of an investigation into suspected illegal foreign funding of the media company. Laptops and mobile phones were taken away as part of the probe.
"A special investigations team launched a search operation to identify all those individuals who were possibly getting funds from overseas to run a media group with the main agenda of spreading foreign propaganda," said a home ministry official overseeing the raids by the federally-controlled Delhi Police.
Indian authorities registered a case against NewsClick and its journalists on August 17, days after a New York Times report alleged the website had received funds from an American millionaire who, the Times wrote, funded the spread of "Chinese propaganda". NewsClick denied the charges.
The raids on Tuesday were conducted at more than a dozen homes of journalists and some other writers linked to NewsClick.
A home ministry official said the raids were part of an investigation by the Enforcement Directorate, India's financial crime control agency, into suspected money laundering by NewsClick, whose office was also sealed by the Delhi Police.
In a statement, the police said 37 male suspects were questioned at the NewsClick office while nine female suspects were questioned at their residences.
Thirty locations connected with the portal and its journalists were searched, the police said. Among those questioned were journalists Urmilesh, Aunindyo Chakravarty, Abhisar Sharma, Paranjoy Guha Thakurta and historian Sohail Hashmi.
NewsClick officials were not immediately available for comment. The company's website says it reports on news from India and elsewhere with a focus on "progressive movements".
NewsClick founder Purkayastha said at the time the allegations were not new and that the organisation would respond to them in court.
The Press Club of India said it was deeply concerned by the raids. A group of journalists has planned a protest march in New Delhi on Wednesday.
'Coercive actions'
A statement from the INDIA alliance, a coalition of 28 opposition political parties, said in the last nine years, the government has deliberately persecuted and suppressed the media by using different investigative agencies.
"Even if you were … to believe these allegations at worst you could have targeted the management of the website, but what we are seeing now is that even junior employees are getting raided, even contributors are getting raided," Shoaib Daniyal, political editor at the Scroll news website, told Al Jazeera.
"India has an extremely draconian terror law regime where people can be arrested and locked away for years without trial," he added.
A spokesperson from Prime Minister Narendra Modi's nationalist Bharatiya Janata Party (BJP) said the raids were justified as foreign funding to media groups must be assessed by investigating agencies.
India has fallen to 161st rank in the World Press Freedom Index, an annual ranking by non-profit Reporters Without Borders, from 150th last year, its lowest ever. Modi's government rejects the group's rankings, questioning its methodology, and says India has a vibrant and free press.
A few months ago, Indian tax authorities raided BBC offices in New Delhi and Mumbai, shortly after the British broadcaster released a documentary that was critical of Modi.
Ties between India and China have been strained since 2020, when clashes between the two neighbours' militaries in a disputed border area killed at least 20 Indian soldiers and four Chinese servicemen.
Since then, New Delhi has banned many Chinese-owned apps, including TikTok, and launched tax investigations into some Chinese mobile phone companies.
SOURCE: AL JAZEERA AND NEWS AGENCIES