The latest news on COVID-19 developments in Canada for Monday, April 5, 2021 – Coast Reporter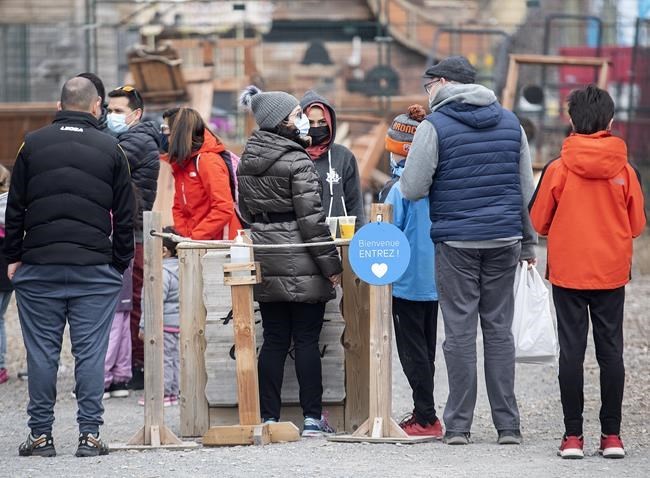 The latest news on COVID-19 developments in Canada (all times eastern):
7:45 p.m.
An Alberta energy company says three positives cases of the Brazilian COVID-19 variant have been linked to its employees.
PTW Energy Services says in a statement that the infections were detected in its offices in Drayton Valley, Edson and Hinton.
It says it is working closely with health officials to monitor the situation.
Chief medical health officer Dr. Deena Hinshaw has said it's believed an outbreak of about 26 cases linked to the variant started with a traveller returning to Alberta from out of province.
—
7:10 p.m.
Health officials in B.C. are reporting 999 new COVID-19 cases on Sunday and 890 cases on Monday, for a total of 1,889 new cases over the past two days.
The province says 23 people have died from complications linked to the virus since last Thursday.
There are 8,490 active cases in the province, of which 318 people are in hospital, with 96 in intensive care.
B.C. also reported 916 new confirmed cases that are variants of concern, for a total of 3,559 cases that have been confirmed to date, including 2,771 of the variant first identified in the United Kingdom and 737 of the strain originally detected in Brazil.
—
6:20 p.m.
Health officials in the Northwest Territories say one person was infected with COVID-19 recently due to international travel.
The Office of the Chief Public Health Officer says the person is from Yellowknife.
The territory says contact tracing has not identified any risk to the public.
It says the person and three other contacts are self-isolating and doing well.
Health officials say the case will be counted in the territory's COVID-19 statistics Tuesday.
—
5:40 p.m.
Alberta has identified 887 new daily cases of COVID-19 and 432 more involving variants.
Nearly 40 per cent of active cases are now variants.
Chief medical health officer Dr. Deena Hinshaw says on Twitter that she's concerned about the rising number of cases, including variants, in recent days.
There are currently 4,145 active cases of variants in the province.
There are 312 people in hospital with COVID-19, including 76 in intensive care.
—
5:35 p.m.
Alberta's top doctor says an outbreak of the COVID-19 variant first found in Brazil appears to be linked to a large employer with multiple sites across Western Canada.
Chief medical health officer Dr. Deena Hinshaw says on Twitter that it's believed it started with a traveller returning to Alberta from out of province.
She says the spread has been confined to three work sites in the central and north zones in which employees travelled between locations.
Some 26 cases have been linked to those sites and to household contacts.
Hinshaw says so far, three of those infections are confirmed to be the Brazilian variant, adding that's likely to increase as more results come in.
—
4:30 p.m.
Saskatchewan is reporting 219 new COVID-19 cases and one additional death.
The province's daily pandemic update says 86 new cases involving variants of concern have been identified.
The update also notes that a hotel and bar in a central Saskatchewan village has been issued a stiff fine for failing to follow COVID-19 restrictions.
It says the Milden Hotel and Bar was fined $14,000 for failure to comply with the Re-Open Saskatchewan Plan.
—
3:50 p.m.
Ottawa's chief medical officer is asking the Ontario government to implement further restrictions, including a provincewide stay-at-home order.
Dr. Vera Etches says in a series of tweets that the province isn't dealing with the same virus from one year ago. The virus has changed, she says, and so must our behaviours.
She points to stricter lockdowns in other countries that have helped control transmission.
She writes on Twitter that vaccines are here, but communities need more time and more doses for vaccination efforts to have a real impact.
Etches also says her team is in the process of reviewing COVID-19 data to determine what approach the national capital should take with schools.
—
2:20 p.m.
Peel Region's top doctor says he has ordered all schools to be closed.
Dr. Lawrence Loh says he is ordering schools in the southern Ontario region, including Brampton, Caledon and Mississauga, to close starting tomorrow.
The schools will move to online learning only and will remain closed until April 18.
Loh says the closure will allow students and staff at least two weeks out of schools to break any chains of transmission and protect them from exposure.
—
1:35 p.m.
Manitoba is reporting 135 new COVID-19 cases and two deaths over the last two days.
The current five-day test positivity rate is 5.1 per cent provincially and 4.3 per cent in Winnipeg.
The province says some 7,200 vaccination appointments set for Monday to Thursday of next week will have to be rescheduled.
It says a delay in supplies of the Moderna vaccine will affect appointments at so-called "pop-up" sites.
The sites are temporary vaccination clinics set up in smaller communities across the province, including Steinbach, Portage la Prairie, Dauphin and Swan River.
—
1:05 p.m.
Newfoundland and Labrador is reporting no new COVID-19 cases today.
Health officials in the province haven't reported a new infection since April 1.
The province has four active reported cases.
It has reported a total of 1,020 COVID-19 infections and four deaths linked to the virus.
—
12 p.m.
New Brunswick is reporting 10 new cases of COVID-19 today.
Health officials say seven cases in the Moncton region are under investigation.
They say three cases in the Edmundston area involve contacts of a previously reported infection.
New Brunswick has 168 active reported COVID-19 cases and 14 people in hospital with the disease, including eight in intensive care.
—
11:45 a.m.
Toronto Mayor John Tory says the city is working on a plan to vaccinate high-risk people at their places of work.
Tory said today the plan would involve mobile vaccination units that are already being used in some hard-hit neighbourhoods.
He says the federal and provincial governments should work together to improve the paid sick day program to help workers stay home and isolate.
The Ontario government has said it will not duplicate the paid sick leave program run by the federal government.
—
11 a.m.
Quebec is reporting 1,252 new cases of COVID-19 today and four more deaths attributed to the novel coronavirus, including one in the past 24 hours.
Health officials say hospitalizations rose by one, to 503, and 123 people were in intensive care, a drop of five.
The province says it administered 22,494 doses of vaccine Sunday, for a total of 1,552,215.
Quebec has reported a total of 317,364 COVID-19 infections and 10,697 deaths linked to the virus; it has 10,271 active reported infections.
—
10:45 a.m.
Nova Scotia is reporting three new cases of COVID-19 today in the Halifax area.
Health officials say one case is related to travel outside Atlantic Canada, one involves a contact of a previously reported infection, and one is under investigation.
Nova Scotia has 32 active reported infections.
The province says it had administered 113,471 doses of COVID-19 vaccine as of Sunday, with 29,532 people having received a booster shot.
—
10:40 a.m.
Ontario says it has had nearly 6,000 new COVID-19 cases over a two-day span.
The province is reporting 2,938 new cases of COVID-19 today and 3,041 cases for Sunday.
Data sharing was paused in Ontario on Sunday for the Easter holiday.
Ten deaths were linked to the virus on today's report and 12 on Sunday's update.
This report by The Canadian Press was first published April 5, 2021.
The Canadian Press
Canada's manufacturers ask for federal help as Montreal dockworkers stage partial-strike
MONTREAL (Reuters) – Canada's manufacturers on Monday asked the federal government to curb a brewing labor dispute after dockworkers at the country's second largest port said they will work less this week.
Unionized dockworkers, who are in talks for a new contract since 2018, will hold a partial strike starting Tuesday, by refusing all overtime outside of their normal day shifts, along with weekend work, they said in a statement on Monday.
The Canadian Union of Public Employees (CUPE) Quebec's 1,125 longshore workers at the Port of Montreal rejected a March offer from the Maritime Employers Association.
The uncertainty caused by the labour dispute has led to an 11% drop in March container volume at the Montreal port on an annual basis, even as other eastern ports in North America made gains, the Maritime Employers Association said.
The move will cause delays in a 24-hour industry, the association said.
"Some manufacturers have had to redirect their containers to the Port of Halifax, incurring millions in additional costs every week," said Dennis Darby, chief executive of the Canadian Manufacturers and Exporters (CME).
While the government strongly believes a negotiated agreement is the best option for all parties, "we are actively examining all options as the situation evolves," a spokesman for Federal Labor Minister Filomena Tassi said.
Last summer's stoppage of work cost wholesalers C$600 million ($478 million) in sales over a two-month period, Statistics Canada estimates.
($1 = 1.2563 Canadian dollars)
(Reporting By Allison Lampert in Montreal. Additional reporting by Julie Gordon in Ottawa; Editing by Marguerita Choy)
Canada scraps export permits for drone technology to Turkey, complains to Ankara
OTTAWA (Reuters) –Canada on Monday scrapped export permits for drone technology to Turkey after concluding that the equipment had been used by Azeri forces fighting Armenia in the enclave of Nagorno-Karabakh, Foreign Minister Marc Garneau said.
Turkey, which like Canada is a member of NATO, is a key ally of Azerbaijan, whose forces gained territory in the enclave after six weeks of fighting.
"This use was not consistent with Canadian foreign policy, nor end-use assurances given by Turkey," Garneau said in a statement, adding he had raised his concerns with Turkish Foreign Minister Mevlut Cavusoglu earlier in the day.
Ottawa suspended the permits last October so it could review allegations that Azeri drones used in the conflict had been equipped with imaging and targeting systems made by L3Harris Wescam, the Canada-based unit of L3Harris Technologies Inc.
In a statement, the Turkish Embassy in Ottawa said: "We expect our NATO allies to avoid unconstructive steps that will negatively affect our bilateral relations and undermine alliance solidarity."
Earlier on Monday, Turkey said Cavusoglu had urged Canada to review the defense industry restrictions.
The parts under embargo include camera systems for Baykar armed drones. Export licenses were suspended in 2019 during Turkish military activities in Syria. Restrictions were then eased, but reimposed during the Nagorno-Karabakh conflict.
Turkey's military exports to Azerbaijan jumped sixfold last year. Sales of drones and other military equipment rose to $77 million in September alone before fighting broke out in the Nagorno-Karabakh region, data showed.
(Reporting by David Ljunggren in Ottawa and Tuvan Gumrukcu in Ankara; Writing by Daren Butler; Editing by Gareth Jones and Peter Cooney)
Investigation finds Suncor's Colorado refinery meets environmental permits
By Liz Hampton
DENVER (Reuters) – A Colorado refinery owned by Canadian firm Suncor Energy Inc meets required environmental permits and is adequately funded, according to an investigation released on Monday into a series of emissions violations at the facility between 2017 and 2019.
The 98,000 barrel-per-day (bpd) refinery in the Denver suburb of Commerce City, Colorado, reached a $9-million settlement with the Colorado Department of Public Health and Environment (CDPHE) March 2020 to resolve air pollution violations that occurred since 2017. That settlement also addressed an incident in December 2019 that released refinery materials onto a nearby school.
As part of the settlement, Suncor was required to use a third party to conduct an independent investigation into the violations and spend up to $5 million to implement recommendations from the investigation.
Consulting firm Kearney's investigation found the facility met environmental permit requirements, but also pinpointed areas for improvement, including personnel training and systems upgrades, some of which was already underway.
"We need to improve our performance and improve the trust people have in us," Donald Austin, vice president of the Commerce City refinery said in an interview, adding that the refinery had already undertaken some of the recommendations from the investigation.
In mid-April, Suncor will begin a turnaround at the facility that includes an upgrade to a gasoline-producing fluid catalytic cracking unit (FCCU) at Plant 1 of the facility. That turnaround is anticipated to be complete in June 2021.
Suncor last year completed a similar upgrade of an automatic shutdown system for the FCCU at the refinery's Plant 2.
By 2023, the company will also install an additional control unit, upgraded instrumentation, automated shutdown valves and new hydraulic pressure units in Plant 2.
Together, those upgrades will cost approximately $12 million, of which roughly $10 million is dedicated to Plant 2 upgrades, Suncor said on Monday.
(Reporting by Liz Hampton; Editing by Marguerita Choy)