The latest news on COVID-19 developments in Canada for Tuesday, April 6, 2021 – Coast Reporter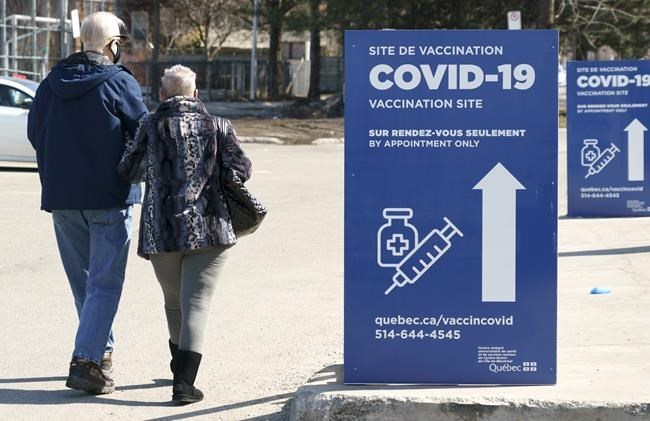 OTTAWA — The latest news on COVID-19 developments in Canada (all times eastern):
7:05 p.m.
Alberta is reporting 931 new daily cases of COVID-19.
The province says 676 variant cases have been identified.
It says nearly 43 per cent of the 10,809 active infections are variants.
There are 328 people in hospital with the illness and 76 of them are in intensive care.
—
7 p.m.
Alberta Premier Jason Kenney is reinstituting some public-health restrictions, saying that variant cases of COVID-19 continue to soar and are on track to swamp the health system by mid-May.
Kenney says that as of Friday, restaurants must close to in-person dining.
Retail stores will be allowed 15 per cent customer capacity rather than the current 25 per cent, and low-intensity group fitness activities are once again banned.
Kenney says Alberta is now seeing a third wave of COVID-19, driven mainly by the more contagious and dangerous variants.
The province averaged about 1,000 new COVID-19 cases a day during the Easter long weekend, and the death total has now surpassed 2,000 in the province.
—
6:20 p.m.
British Columbia is reporting 1,068 new cases of COVID-19, bringing the province's total to 105,988.
Provincial health officer Dr. Bonnie Henry says three more people have died.
Officials have administered 912,056 COVID-19 shots, 87,474 of which were second doses.
Testing has confirmed 207 cases involving variants of concern and all but one are in the Vancouver Coastal Health region.
—
5:25 p.m.
Less than two weeks after easing restrictions, Quebec is reversing its decision to reopen gyms and to bring back all high school students to in-person classes.
Premier Francois Legault says students in grades 9, 10 and 11 in red zones, including Montreal, will return to alternative schedules of in-person learning one day out of every two, starting next Monday.
Legault says gyms in red zones will be forced to close on Thursday.
Health Minister Christian Dube says vaccination appointments will be open to all Quebecers 60 and over by the end of the week.
He says anyone as young as 55 can book an appointment for an Oxford-AstraZeneca vaccine by this Thursday.
—
4:55 p.m.
Starting tomorrow, Nunavut will ease restrictions in its central Kivalliq region.
Masks remain mandatory in Arviat, the last Nunavut community to have an outbreak of COVID-19, while gatherings in homes will be limited to five people.
Outdoor gatherings in Arviat will be limited to 50 people, while indoor gatherings in community spaces will also be limited to 50 people.
Schools in Arviat will operate using a blend of in-person and remote learning.
In the rest of the Kivalliq, up to 15 people can gather in homes and up to 100 people can gather in community spaces indoors.
The last case of COVID-19 in Nunavut was declared in Arviat on March 20 and there are currently no active cases in the territory.
—
3:40 p.m.
Saskatchewan is reporting 217 new cases of COVID-19 and three additional deaths.
The province says nearly half of the new infections are in the Regina zone.
There are 202 people in hospital with COVID-19 and 44 of them are in intensive care.
—
1:50 p.m.
Ontario Premier Doug Ford says his government will be implementing further public health restrictions as COVID-19 cases continue to rise.
Ford says the situation with variants of concern of the virus is changing day to day and people are not following a request to stay at home.
He did not provide any specific details about the additional measures or when they might be imposed.
His comments come a day after top doctors of three COVID-19 hot spots in Ontario urged the province to impose tougher restrictions, including a stay-at-home order.
—
1:40 p.m.
Manitoba health officials are announcing 62 new cases of COVID-19 and two more deaths from the virus.
Screening has also found five additional cases that are variants of concern.
Dr. Brent Roussin, the chief provincial public health officer, says people need to avoid non-essential travel as the number of variants has significantly risen in neighbouring provinces.
Public health orders require anyone returning to the province to isolate for two weeks.
The age eligibility for vaccines remains at 64 and older and 44 and older for First Nations people.
—
1:25 p.m.
New Brunswick is reporting three new cases of COVID-19 today.
Health officials say the Saint John, Fredericton and Edmundston regions each have one case.
Officials are also confirming that the seven cases reported Monday in the Moncton region are connected and are travel-related.
The Vitalite Health Network says the intensive care unit at the Edmundston Regional Hospital is at capacity and new patients will be diverted to other hospitals.
There are 162 active reported cases of COVID-19 in New Brunswick and 18 patients are hospitalized with the disease, including 12 in intensive care.
—
12:45 p.m.
Canada's chief public health officer is advising Canadians to avoid interprovincial travel amid concerns COVID-19 vaccines might not be fully effective against new variants of the disease.
Dr. Theresa Tam says she is concerned about people travelling as tourists and gathering for leisure activities.
With new variants of concern now being identified in provinces such as British Columbia, Ontario and Alberta, there is concern Canadians could further spread these strains of the virus across the country.
Tam says some laboratory tests show the P1 variant, in particular, might elude a person's immunity response.
This means people who have been vaccinated or who have contracted COVID-19 could still get sick or reinfected by the virus.
—
12:15 p.m.
Prime Minister Justin Trudeau says most provinces have made it clear they don't need Ottawa's help when it comes to getting COVID-19 vaccines into the arms of Canadians, but he adds the federal government will be there if needed.
He says political leaders are just as exhausted as Canadian families, business owners and frontline workers, which he believes is why some premiers, including Ontario's Doug Ford, have been critical of the vaccine rollout in Canada.
Trudeau says that when he speaks with Ford later today, he hopes to determine how the federal government can assist Ontario with the third wave of COVID-19 now sweeping the province.
—
11:45 a.m.
Prime Minister Justin Trudeau says the federal government is delivering the final instalment from billions of dollars announced last summer to help provinces and territories through the COVID-19 pandemic.
He says the federal funding has been used to bolster the capacity of Canada's health-care systems, secure personal protective equipment for essential workers and protect the most vulnerable.
It has also helped support child-care needs during the pandemic and keep municipalities and public transit operating.
Trudeau now says $700 million, the final instalment from the Safe Restart Agreement, will help provinces and territories with efforts including testing and contact tracing.
—
11:40 a.m.
Prime Minister Justin Trudeau says he will speak today with Ontario Premier Doug Ford about the COVID-19 situation in Ontario.
He says he expects to discuss what the spike in cases in Ontario means for hospitals and the importance of vaccinating as many people as possible, as quickly as possible.
Trudeau says he will also speaks to all provincial and territorial premiers Wednesday about their efforts to protect and support Canadians from the new variants and rising cases in areas across the country.
—
11:30 a.m.
NDP Leader Jagmeet Singh is calling on the federal government to do more to help provinces get vaccinations into the arms of essential workers.
Singh says a priority should be workers who cannot stay home and toil in industries where the virus is known to be spreading.
He says Prime Minister Justin Trudeau can help by offering assistance from the military and pushing for paid sick leave.
Singh says he won't accept the excuse that administering vaccinations is a provincial responsibility.
—
11:20 a.m.
Conservative Leader Erin O'Toole is pressing the government to ask the auditor general to appoint a "special monitor" to track the federal pandemic response as it happens to glean lessons promptly.
O'Toole also says a Conservative government would call a public inquiry to study the federal response to the COVID-19 pandemic.
He says the federal Liberals "dropped the ball" on vaccines and Canadians need to know what worked and what didn't.
—11:15 a.m.
Quebec is reporting 1,168 new cases of COVID-19 today and four additional deaths, including one within the previous 24 hours.
The provincial Health Department says hospitalizations rose by 11 to reach 514, with 121 patients in intensive care, a drop of two.
Public health authorities say 39,816 doses of vaccine were administered in the province yesterday, bringing the total to 1,592,197.
Quebec has reported 318,532 confirmed COVID-19 cases and 10,701 deaths since the pandemic began.
—
11:05 a.m.
Nova Scotia is reporting six new cases of COVID-19 today and a total of 36 active cases.
Five cases have been identified in the Halifax area with one related to travel outside of Atlantic Canada, three close contacts of a previously reported case, and one case under investigation.
There is also one case in the province's eastern health zone identified as a close contact of a previously reported case.
Health officials say that unrelated to the new cases are four new cases of the variant that first emerged in the United Kingdom that have been identified in the Halifax area and have since been resolved.
—
11 a.m.
Prince Edward Island is reporting no new cases of COVID-19 today.
Chief medical officer of health Dr. Heather Morrison says there are eight active reported cases on the Island.
Morrison says two cases reported on March 26 have been confirmed as the B.1.1.7 variant first identified in the United Kingdom.
She says both variant cases are related to travel outside Atlantic Canada.
—
10:30 a.m.
Ontario reports 3,065 new cases of COVID-19 and eight more deaths linked to the virus.
Health Minister Christine Elliott says that 955 of those new cases are in Toronto, 561 are in Peel Region, and 320 are in York Region.
She also says there are 165 new cases in Ottawa and 132 in Niagara Region.
More than 76,000 doses of a COVID-19 vaccine were administered in Ontario since Monday's report.
This report by The Canadian Press was first published April 6, 2021.
The Canadian Press
Note to readers: This is a corrected story. A previous version said Quebec students in grades 3-5 in red zones will return to alternative schedules of in-person learning one day out of every two. In fact, it is students in grades 9-11.
Myanmar military sentences 19 to death, says anti-coup protests dwindling
(Reuters) – Nineteen people have been sentenced to death in Myanmar for killing an associate of an army captain, the military owned Myawaddy TV station said on Friday, the first such sentences announced in public since a Feb. 1 coup and crackdown on protesters.
The report said the killing took place on March 27 in the North Okkalapa district of Yangon, Myanmar's biggest city. Martial law has been declared in the district, allowing courts martial to pronounce sentences.
The military rulers who overthrew an elected government said on Friday that a protest campaign against its rule was dwindling because people wanted peace, and that it would hold elections within two years, the first timeframe it has given for a return to democracy.
Troops fired rifle grenades at anti-coup protesters on Friday in the town of Bago, near Yangon, witnesses and news reports said. At least 10 people were killed and their bodies piled up inside a pagoda, they said.
Myanmar Now news and Mawkun, an online news magazine, said at least 20 people were killed and many wounded. It was not possible to get a precise toll because troops had cordoned off the area near the pagoda, they said.
Junta spokesman Brigadier General Zaw Min Tun told a news conference in the capital, Naypyitaw, that the country was returning to normal and government ministries and banks would resume full operations soon.
More than 600 people have been killed by security forces cracking down on protests against the coup, according to an activist group. The country has ground to a standstill because of the protests and widespread strikes against military rule.
"The reason of reducing protests is due to cooperation of people who want peace, which we value," Zaw Min Tun said. "We request people to cooperate with security forces and help them."
He said the military had recorded 248 deaths and he denied that automatic weapons had been used. Sixteen policemen had also been killed, he said.
The Assistance Association for Political Prisoners (AAPP) activist group has said 614 people, including 48 children, had been killed by security forces since the coup, as of Thursday evening. More than 2,800 were in detention, it said.
"We are humbled by their courage and dignity," a group of 18 ambassadors in Myanmar said of the protesters in a joint statement.
"We stand together to support the hopes and aspirations of all those who believe in a free, just, peaceful and democratic Myanmar. Violence has to stop, all political detainees must be released and democracy must be restored."
The statement was signed by the ambassadors of the United States, Britain, the EU, Canada, Australia, New Zealand, South Korea, Switzerland and several other European nations.
"The suggestions from neighbouring countries and big countries and powerful people in politics, we respect them," Zaw Min Tun said. He also accused members of deposed leader Aung San Suu Kyi's National League for Democracy of arson and said the protest campaign was being financed by foreign money, but gave no details.
Suu Kyi and many of her party colleagues have been in custody since the coup.
Zaw Min Tun said reports that some members of the international community did not recognise the military government were "fake news".
"We are cooperating with foreign countries and working together with neighbouring countries," the spokesman said.
Ousted Myanmar lawmakers urged the United Nations Security Council on Friday to take action against the military.
"Our people are ready to pay any cost to get back their rights and freedom," said Zin Mar Aung, who has been appointed acting foreign minister for a group of ousted lawmakers. She urged Council members to apply both direct and indirect pressure on the junta.
"Myanmar stands at the brink of state failure, of state collapse," Richard Horsey, a senior adviser on Myanmar with the International Crisis Group, told the informal U.N. meeting, the first public discussion of Myanmar by council members.
The U.N. special envoy for Myanmar, Christine Schraner Burgener, had wanted to visit the country but said she has been rebuffed by the generals.
She said on Friday she had arrived in Bangkok, the capital of neighbouring Thailand.
"I regret that Tatmadaw answered me yesterday that they are not ready to receive me," Schraner Burgener said on Twitter, referring to the Myanmar military. "I am ready for dialogue. Violence never leads to peaceful sustainable solutions."
(Reporting by Reuters Staff; Writing by Raju Gopalakrishnan and Grant McCool; Editing by Nick Macfie and Daniel Wallis)
Australia abandons COVID-19 vaccination targets after new advice on AstraZeneca shots
By Paulina Duran
SYDNEY (Reuters) – Australia has abandoned a goal to vaccinate nearly all of its 26 million population by the end of 2021 following advice that people under the age of 50 take Pfizer's COVID-19 vaccine rather than AstraZeneca's shot.
Australia, which had banked on the AstraZeneca vaccine for the majority of its shots, had no plans to set any new targets for completing its vaccination programme, Prime Minister Scott Morrison said in a Facebook post on Sunday afternoon.
"While we would like to see these doses completed before the end of the year, it is not possible to set such targets given the many uncertainties involved," Morrison said.
Authorities in Canberra changed their recommendation on Pfizer shots for under-50s on Thursday, after European regulators reiterated the possibility of links between the AstraZeneca shot and reports of rare cases of blood clots.
Australia, which raced to double its order of the Pfizer vaccine last week, had originally planned to have its entire population vaccinated by the end of October.
Australia's hardline response to the virus largely stopped community transmissions but the vaccination rollout has become a hot political topic – and a source of friction between Morrison and state and territory leaders – after the country vaccinated only a fraction of its four million target by the end of March.
About 1.16 million COVID-19 doses have now been administered, Morrison added, noting the speed of Australia's vaccination programme was in line with other peer nations, including Germany and France, and ahead of Canada and Japan.
Australia began vaccinations much later than some other nations, partly because of its low number of infections, which stand at just under 29,400, with 909 deaths, since the pandemic began.
(GRAPHIC – Global COVID tracker: https://graphics.reuters.com/world-coronavirus-tracker-and-maps/)
(Reporting by Paulina Duran; Editing by Lincoln Feast.)
HSBC and Huawei CFO reach agreement on document publication linked to extradition case
HONG KONG (Reuters) – HSBC and Huawei Technologies' Chief Financial Officer Meng Wanzhou have reached an agreement in a dispute about the publication of documents relating to U.S. fraud allegations against her, their lawyers told a Hong Kong court.
The judge, Linda Chan, made court orders along the lines of the agreement, she said on Monday. The orders were, however, not immediately available.
The legal dispute reached the Hong Kong court last month after a British judge in February blocked the release of internal HSBC documents relating to the fraud allegations against Meng.
Meng, who has been under house arrest in Canada since being detained at Vancouver airport in 2018, is facing charges of bank fraud in the United States for allegedly misleading HSBC about Huawei dealings in Iran, causing the bank to violate U.S. sanctions.
Meng, who says she is innocent, was seeking the publication of documents relating to her ongoing efforts to battle extradition from Canada to the U.S.
Responding to Reuters' request for comment on Monday, a Huawei spokesman and an HSBC spokeswoman said they had reached an agreement, but did not provide any further details.
(Reporting by Alun John in Hong Kong and David Kirton in Shenzhen; Editing by Sumeet Chatterjee and Ana Nicolaci da Costa)