The latest news on COVID-19 developments in Canada – Richmond News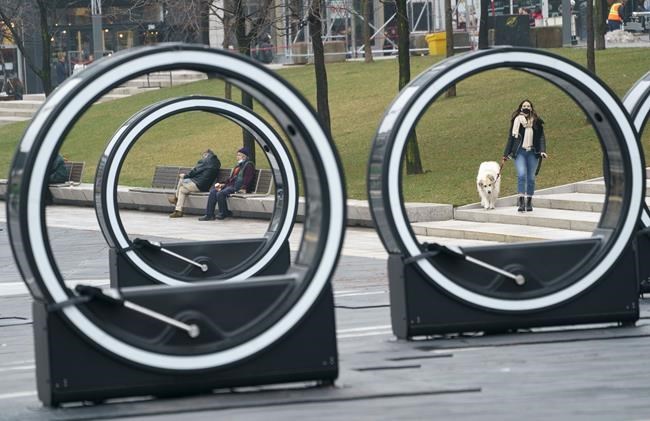 The latest news on COVID-19 developments in Canada (all times Eastern):
3:17 p.m.
Health Canada says a review of a COVID-19 vaccine approved for emergency use in the United Kingdom is expected to be completed soon.
British officials gave the go-ahead for a vaccine developed by American drugmaker Pfizer and Germany's BioNTech today.
Health Canada says its independent review of the vaccine is ongoing.
It says the review started Oct. 3.
Canada has a purchase deal to buy at least 20 million doses from Pfizer and the option to buy another 56 million.
The first four million are supposed to arrive between January and March.
—
2:45 p.m.
Saskatchewan is reporting 238 new cases of COVID-19 and two more dead.
Health officials say those who died were 60 and older and their deaths bring the province's death toll since the start of the pandemic to 53.
There are 132 people in hospital, with 26 people receiving intensive care.
Saskatchewan's seven-day average of new daily cases sits at 274.
Premier Scott Moe says although he expects high case numbers for weeks to come, he hopes community transmission rates will be lowered enough to loosen household gathering restrictions in time for Christmas.
—
2:21 p.m.
Public health officials in New Brunswick are reporting six new cases of COVID-19 in the province Wednesday.
The Moncton, Saint John, Fredericton and Edmundston regions each had one case, while there were two in the Bathurst region.
There are now 119 active cases in the province.
There has been a total of 514 cases and seven deaths since the pandemic began.
—
1:43 p.m.
Manitoba is reporting 277 new COVID-19 cases and 14 deaths.
Chief public health officer Dr. Brent Roussin says the daily case count has dropped in recent days, but the health-care system is still being strained.
Almost half of the 106 intensive care beds being used in the province are occupied by people with COVID-19.
—
1:36 p.m.
Nova Scotia is reporting 17 new cases of COVID-19, bringing its total of active cases to 127.
Sixteen are in the Halifax area, including a case at St. Margaret's Bay Elementary school that was reported late Tuesday.
Health officials say the remaining case reported today is in the northern health zone and is related to travel outside of Atlantic Canada.
Nova Scotia Health Authority labs completed 3,295 tests on Tuesday.
—
1 p.m.
For the first time, Nunavut's COVID-19 recoveries outnumber its active case count.
The territory announced 11 new cases of COVID-19 today for a total of 80 active cases and 113 recovered.
Dr. Michael Patterson, Nunavut's chief public health officer, says cases will go up and down as his team continues to contact trace.
A two-week lockdown to slow the spread of COVID-19 lifted today in all communities except Arviat, which has 65 active cases.
—
12:50 p.m.
There is one new case of COVID-19 in Newfoundland and Labrador.
Health officials say the new case is related to travel and involves a man between 20 and 39 years old in the eastern part of the province.
There have been 340 confirmed cases of COVID-19 in Newfoundland and Labrador since the onset of the pandemic.
—
11:10 a.m.
Quebec is reporting a record number of new daily COVID-19 cases, with 1,514 infections added today.
The Health Department also reported 43 new deaths linked to the novel coronavirus, including nine in the past 24 hours.
The province's previous high for daily cases was reported Saturday, when the province hit 1,480 new cases.
Hospitalizations have increased by 21 for a total of 740, with one more patient in intensive care for a total of 99.
—
10:45 a.m.
Ontario is reporting 1,723 new cases of COVID-19 today, and 35 new deaths due to the virus.
Health Minister Christine Elliott says there are 500 new cases in Peel Region, 410 cases in Toronto, and 196 cases in York Region.
The province says it has conducted 44,226 tests since the last daily report.
In total, 656 people are hospitalized in Ontario due to COVID-19, including 183 in intensive care.
—
9:50 a.m.
Quebec's deputy premier says that beginning Friday, stores and malls will have to enforce strict limits on the number of people allowed inside if they want to remain open.
Genevieve Guilbault says maximum capacity will be set according to a store's total surface area, and the allowable number of customers will be clearly posted.
Distancing and mask-wearing must also be enforced for customers waiting in line, and Guilbault says those not respecting the rules could be subject to fines of between $1,000 and $6,000.
Guilbault says the situation remains fragile in Quebec, hinting that COVID-19 numbers to be released later this morning will show that.
This report by The Canadian Press was first published Dec. 2, 2020.
The Canadian Press
Calgary Stampede to proceed with limited events
The Calgary Stampede, an annual rodeo, exhibition and festival that is also Canada's biggest and booziest party, will go ahead this year after being pulled in 2020 due to the pandemic, though it will not look and feel the same, an event organizer told CBC Radio.
"It won't be your typical Stampede … it's not the experience that you had in years past," Kristina Barnes, communications manager with the Calgary Stampede, told a CBC Radio programme on Friday.
She said organizers were still deciding whether to include rodeo or the grandstand show in this year's version.
Known as "the greatest outdoor show on earth," the Stampede draws tourists from around the world for its rodeo and chuckwagon races, but much of the action happens away from official venues at parties hosted by oil and gas companies.
"The Safest and Greatest Outdoor Show on Earth is what we're going to call it this year," Barnes said, adding the organizers are working directly with Alberta Health to ensure Stampede experiences stay "within the guidelines" that may be in effect in July.
The event is scheduled to take place between July 9-18, according to the Calgary Stampede website.
Last month, Alberta Premier Jason Kenney told reporters the Calgary Stampede can probably go ahead this year as Alberta's coronavirus vaccination campaign accelerates.
Barnes and the office of the Alberta premier were not available for immediate comment.
The cancellation of the event last year was a crushing disappointment for Canada's oil capital.
The news comes as Alberta has been dealing with a punishing third wave of the pandemic, with the province having among the highest rate per capita of COVID-19 cases in the country. Data released on Friday showed the province had 1,433 new cases, compared with the seven-day average of 1,644.
(Reporting by Denny Thomas; Editing by Chris Reese)
U.S. trade chief pressured to lift duties on Canadian lumber
 As U.S. Trade Representative Katherine Tai prepares to meet her Canadian and Mexican counterparts on Monday to review progress in the new North American trade agreement, she is under pressure from home builders and lawmakers to cut U.S. tariffs on Canadian lumber.
Shortages of softwood lumber amid soaring U.S. housing demand and mill production curtailed by the COVID-19 pandemic have caused prices to triple in the past year, adding $36,000 to the average cost of a new single-family home, according to estimates by the National Association of Home Builders (NAHB).
Republican lawmakers have taken up the builders' cause, asking Tai during hearings in Congress last week to eliminate the 9% tariff on Canadian softwood lumber imports. Senator John Thune told Tai that high lumber costs were "having a tremendous impact on the ground" in his home state of South Dakota and putting homes out of reach for some working families.
The Trump administration initially imposed 20% duties in 2018 after the collapse of talks on a new quota arrangement, but reduced the level in December 2020.
"The Biden administration must address these unprecedented lumber and steel costs and broader supply-chain woes or risk undermining the economic recovery," said Stephen Sandherr, chief executive officer of the Associated General Contractors of America. "Without tariff relief and other measures, vital construction projects will fall behind schedule or be canceled."
On Friday, White House economic adviser Cecilia Rouse said the Biden administration was weighing concerns about commodity shortages and inflation as it reviews trade policy.
The tariffs are allowed under the U.S.-Mexico-Canada Agreement on trade, which permits duties to combat price dumping and unfair subsidies.
The U.S. Commerce Department has ruled that lumber from most Canadian provinces is unfairly subsidized because it is largely grown on public lands with cheap harvesting fees set by Ottawa. U.S. timber is mainly harvested from privately-owned land.
Tai said she would bring up the lumber issue with Canadian Trade Minister Mary Ng at the first meeting of the USMCA Free Trade Council, a minister-level body that oversees the trade deal.
WILLING PARTNER
But Tai told U.S. senators that despite higher prices, the fundamental dispute remains and there have been no talks on a new lumber quota arrangement.
"In order to have an agreement and in order to have a negotiation, you need to have a partner. And thus far, the Canadians have not expressed interest in engaging," Tai said.
Youmy Han, a spokeswoman for Canada's trade ministry, said the U.S. duties were "unjustified," and that Canadian Prime Minister Justin Trudeau has raised the issue with U.S. President Joe Biden.
"Our government believes a negotiated agreement is possible and in the best interests of both countries," Han said in an emailed statement to Reuters.
But builders are growing frustrated with a lack of high-level engagement with high-level Biden administration officials on the issue as they watch lumber prices rise.
"They are clearly still gathering facts, which is even more frustrating given that this issue has been going on since before the election, before the inaugural," said James Tobin, a vice president and top lobbyist at the NAHB.
(Reporting by David Lawder and Jarrett Renshaw in Washington and David Ljunggren in Ottawa; Writing by David Lawder; Editing by Paul Simao)
Centerra to fight Kyrgyzstan takeover of its gold mine
Centerra Gold said on Sunday it has initiated binding arbitration against Kyrgyzstan government, after the parliament passed a law allowing the state to temporarily take over the country's biggest industrial enterprise, the Kumtor gold mine operated by Centerra.
Recently, a Kyrgyzstan court also imposed $3.1 billion fine on Kumtor Gold Company (KGC), which operates the gold mine, after ruling that the firm had violated environmental laws.
The gold miner said that it intends to hold the government accountable in the arbitration for "any and all losses and damage" due to its recent actions against KGC and the Kumtor mine if no resolution is reached.
"The Government's actions have left Centerra no choice but to exercise our legal rights, through the pursuit of arbitration and otherwise, to protect the interests of KGC, Centerra and our shareholders," Centerra's Chief Executive Officer Scott Perry said in a press release.
Kyrgyzstan has a long history of disputes with Centerra Gold over how to share profits from the former Soviet republic's biggest industrial enterprise.
(Reporting by Maria Ponnezhath in Bengaluru; Editing by Lisa Shumaker)