The Moon's Magnetosphere Used to be Twice as Strong as the Earth's – Universe Today
For decades, scientists have held that the Earth-Moon system formed as a result of a collision between Earth and a Mars-sized object roughly 4.5 billion years ago. Known as the Giant Impact Hypothesis, this theory explains why Earth and the Moon are similar in structure and composition. Interestingly enough, scientists have also determined that during its early history, the Moon had a magnetosphere – much like Earth does today.
However, a new study led by researchers at MIT (with support provided by NASA) indicates that at one time, the Moon's magnetic field may have actually been stronger than Earth's. They were also able to place tighter constraints on when this field petered out, claiming it would have happened about 1 billion years ago. These findings have helped resolve the mystery of what mechanism powered the Moon's magnetic field over time.
The study, which recently appeared in the journal Science Advances, was led by Saied Mighani, an experimental rock physicist with MIT's Department of Earth, Atmospheric, and Planetary Sciences. He was joined by members of the Berkeley Geochronology Center at UC Berkeley and the China University of Geosciences, with additional support provided by famed EAPS professor, Dr. Benjamin Weiss.
To recap, Earth's magnetic field is essential to life as we know it. When incoming solar wind particles reach Earth, they are deflected by this field and form a bow shock in front of Earth and magnetotail behind it. The remaining particles are deposited on the magnetic poles where they interact with our atmosphere, which causes the Aurorae seen in the far northern and southern hemispheres.
Were it not for this magnetic field, Earth's atmosphere would have been slowly stripped away by solar wind over the course of billions of years and rendered a cold, dry place. This is believed to be what happened on Mars, where a once-thicker atmosphere was depleted between 4.2 and 3.7 billion years ago and all of the liquid water on its surface was either lost or froze as a result.
Over the years, Weiss' group has helped demonstrate through the study of lunar rocks that roughly 4 billion years ago, the Moon also had a strong magnetic field of about 100 microteslas in strength (whereas Earth'sis around 50 microteslas today). In 2017, they studied samples collected by the Apollo astronauts that were dated to about 2.5 billion years ago and found a much weaker field (less than 10 microteslas).
In other words, the Moon's magnetic field weakened by a factor of five between 4 and 2.5 billion years ago, then disappeared entirely about 1 billion years ago. At the time, Weiss and his colleagues theorized that perhaps there were two dynamo mechanisms in the Moon's interior that were responsible for this change.
In short, they argued that a first dynamo effect could have generated a much stronger magnetic field around 4 billion years ago. Then, 2.5 billion years ago, it was replaced by a second dynamo that was more long-lived but sustained a much weaker magnetic field. As Dr. Weiss explained in an MIT News release:
"There are several ideas for what mechanisms powered the lunar dynamo, and the question is, how do you figure out which one did it? It turns out all these power sources have different lifetimes. So if you could figure out when the dynamo turned off, then you could distinguish between the mechanisms that have been proposed for the lunar dynamo. That was the purpose of this new paper."
Until now, obtaining lunar rocks that are less than 3 billion years old has been a major challenge. The reason for this has to do with the fact that volcanic activity, which was common on the Moon 4 billion years ago, ceased roughly 3 billion years ago. Luckily, the MIT team was able to identify two samples of lunar rock obtained by the Apollo astronauts that were created by an impact 1 billion years ago.
While these rocks were melted by the impact and then resolidified, thus erasing their magnetic record in the process, the team was able to perform tests on them to reconstruct their magnetic signature. First, they analyzed the orientation of the rock's electrons, which Weiss describes as "little compasses" since they would either align in the direction of an existing magnetic field or appear in random orientations in the absence of one.
In both samples, the team observed the latter, which suggested that the rocks formed in an extremely weak magnetic field of no more than 0.1 microteslas (possibly none at all). This was followed by a radiometric dating technique that was adapted for this study by Weiss and David L. Shuster (a Berkeley Geochronology Center researcher and co-author of the study). These results confirmed that the rocks were indeed 1 billion years old.
Finally, the team conducted heat tests on the samples to determine if they could provide a good magnetic record at the time of the impact. This consisted of placing both samples in an oven and exposing them to the kinds of high temperatures that would have been created by an impact. As they cooled, they exposed them to an artificially-generated magnetic field in the laboratory and confirmed that they were able to record it.
These results confirm that the magnetic strength initially measured by the team (0.1 microteslas) is accurate and that by 1 billion years ago, the dynamo powering the Moon's magnetic field had likely ended. As Weiss expressed:
"The magnetic field is this nebulous thing that pervades space, like an invisible force field. We've shown that the dynamo that produced the moon's magnetic field died somewhere between 1.5 and 1 billion years ago, and seems to have been powered in an Earth-like way."
As noted, this study also helps to resolve the debate surrounding what drove the lunar dynamo in its later stages. While multiple theories have been suggested, these new findings are consistent with the theory that core crystallization is responsible. Basically, this theory states that the Moon's inner core crystallized over time, slowing the flow of electrically-charged fluid and arresting the dynamo.
Weiss suggests that prior to this, precession may have been responsible for powering a much stronger (but short-lived) dynamo which would have produced the strong magnetic field. This is consistent with the fact that 4 billion years ago, the Moon is thought to have orbited much closer to Earth. This would have resulted in Earth's gravity having a far greater effect on the Moon, causing its mantle to wobble and stirring up activity in the core.
As the Moon slowly migrated away from Earth, the effect of precession decreased and the magnetic field-producing dynamo would weaken. By about 2.5 billion years ago, crystallization became the dominant mechanism by which the lunar dynamo continued, producing a weaker magnetic field that persisted until the outer core finally crystallized a billion years ago.
Studies like this could also help resolve the mystery of why planets like Venus and Mars lost their magnetic fields (contributing to cataclysmic climate change) and how Earth could lose its own someday. Considering its importance to habitability, a greater understanding of dynamos and magnetic fields could also help in the search for habitable exoplanets.
Further Reading: MIT News, Science Advances
Australian Yarrabubba meteor crater is 2.229 billion years old – SlashGear
Scientists say that the Earth has about 190 major meteor craters on its surface. Despite having so many impact craters, scientists only know the age of a few of them. A team of scientists recently studied the Yarrabubba meteor crater in Australia and were able to determine that the crater was 2.229 billion years old.
That makes it the oldest crater currently known. It took the crown of the oldest crater from the Vredefort Dome crater in South Africa with scientists saying the Australian crater is 200 million years older. Scientists are studying crater and trying to date them in an attempt to see what sort of role they played in the environmental development of the planet.
Scientists are trying to determine how a meteor impact might relate to the formation of the continents. Science also wants to know when meteor impacts declined to the point where life could emerge. The Australian crater the team studied is in a very remote part of Western Australia and is believed to have been 70km across. It's so old that it doesn't look much like an impact crater.
It's major features have been weathered away by wind, rain, and other forces leaving only overgrown rocky outcrops according to the team. The weathered remains prevented scientists from dating it with the most common form of crater dating using what's called a "melt sheet."
The team instead searched for rocks that could be used to date the events. The specific type of rock has the minerals zircon and monazite inside that contain uranium and lead. The ratio of those can be used to determine the age of the rock. Crystals melted by the impact were used to date the crater.
Study reveals unexpected rise in potent greenhouse gas – Space Daily
Scientists had expected the levels of HFC-23, a type of hydrofluorocarbon and a potent greenhouse gas, to drop in the latest global survey of greenhouse gas emissions. Instead, atmospheric concentrations of HFC-23 are rising.
HFC-23 is the byproduct of the production of HCFC-22, another hydrofluorocarbon that is commonly used in cooling systems in developing economies. India and China are two of the largest emitters of HFC-23, but in 2015, the two nations promised to rapidly reduce their HFC-23 emissions.
After making the pledge, officials in China and India reported tremendous progress with their HFC-23 abatement program, with the expectation that HFC-23 emissions would drop to nearly zero by 2017.
A new study, published Tuesday in the journal Nature Communications, suggests the opposite has happened.
Authors of the new study assumed China and India's reported progress was real, and would lead to reduced concentration of HFC-23 in the atmosphere.
"We had no particular reason to distrust the reports. We were motivated to write the paper because the reported reductions were so dramatic," study co-author Matthew Rigby, an atmospheric chemist at the University of Bristol in Britain, told UPI in an email. "Based on the reported values, we were expecting to see global atmospheric concentrations stabilize, following decades of growth. So it was a surprise to see them continue to grow, and in fact, grow at a faster rate than ever before."
Rigby is a member of the Advanced Global Atmospheric Gases Experiment, UGAGE, which measure greenhouse gas concentrations in the atmosphere at test sites around the globe.
The latest findings revealed a significant global rise in HFC-23 in 2017, but the data doesn't pinpoint the exact source of the increase. Rigby and his colleagues acknowledged that their study doesn't prove China and India failed to execute their HFC-23 abatement programs.
"From our analysis, we cannot definitively say that China and India have not achieved their reported emission reductions," lead study author Kieran Stanley, a post-doctoral researcher at the Goethe University Frankfurt in Germany, told UPI. "However, seeing as China and India account for 75 percent of the total global HCFC-22 production in 2017, it is highly likely that China's reported emissions reductions haven't taken place."
Because India's HCFC-22 production accounts for just 7 percent of global production, it's harder to guess how much progress the country has made in its efforts to reduce HFC-23 emissions.
According to Stanley, had China and India truly made the emissions reduction progress they reported, that would mean large amounts of illegal, unreported HCFC-22 were manufactured in 2017. If that had happened, Stanley said the hydrocarbon's price should have dropped. It didn't.
After the ozone-eating gases, chlorofluorocarbons, or CFCs, were banned by the Montreal Protocol, most industries adopted a variety of alternative gases — hydrofluorocarbons. While most of theses gases are less harmful to the ozone layer, some feature a greenhouse gas effect.
In 2016, parties to the Montreal Protocol signed the Kigali Amendment, aiming to reduce the warming impact of HFCs.
HFC-23's greenhouse gas effect is particularly potent. Just 1 metric ton of HFC-23 is equivalent to the greenhouse gas effect of 12,000 metric tons of carbon dioxide.
This isn't the first time scientists have found concentrations of a gas regulated by the Montreal Protocol and its amendments. In 2018, scientists found evidence of a dramatic rise in the ozone-eating gas CFC-11. Investigations revealed China's foam industry as the primary driver of the emissions increase.
"These two findings do suggest that monitoring of the chemical industry may need to be improved in China," Rigby said. "In light of the finding of new emissions of CFC-11 from China, the government has announced additional monitoring initiatives focused on ozone depleting substances. Hopefully, they will also be able to look into these continuing emissions of the greenhouse gas, HFC-23."
Related Links

Space Technology News – Applications and Research


Thanks for being there;


We need your help. The SpaceDaily news network continues to grow but revenues have never been harder to maintain.

With the rise of Ad Blockers, and Facebook – our traditional revenue sources via quality network advertising continues to decline. And unlike so many other news sites, we don't have a paywall – with those annoying usernames and passwords.

Our news coverage takes time and effort to publish 365 days a year.

If you find our news sites informative and useful then please consider becoming a regular supporter or for now make a one off contribution.


SpaceDaily Monthly Supporter
$5+ Billed Monthly

SpaceDaily Contributor

$5 Billed Once

credit card or paypal



Scientists film chemical bond making, breaking

Washington DC (UPI) Jan 17, 2020

Everything depends on chemical bonds. Without chemical bonds, everything would fall apart. And yet, scientists don't entirely understand how chemical bonding works.
Now, for the first time, scientists have filmed chemical bond making and breaking in action. The breakthrough – described this week in the journal Science Advances – promises to offer scientists new insights into this fundamental atomic phenomenon.
The main reason chemical bonding isn't well understood is that the processes … read more



Earth's oldest asteroid impact 'may have ended ice age' – BBC News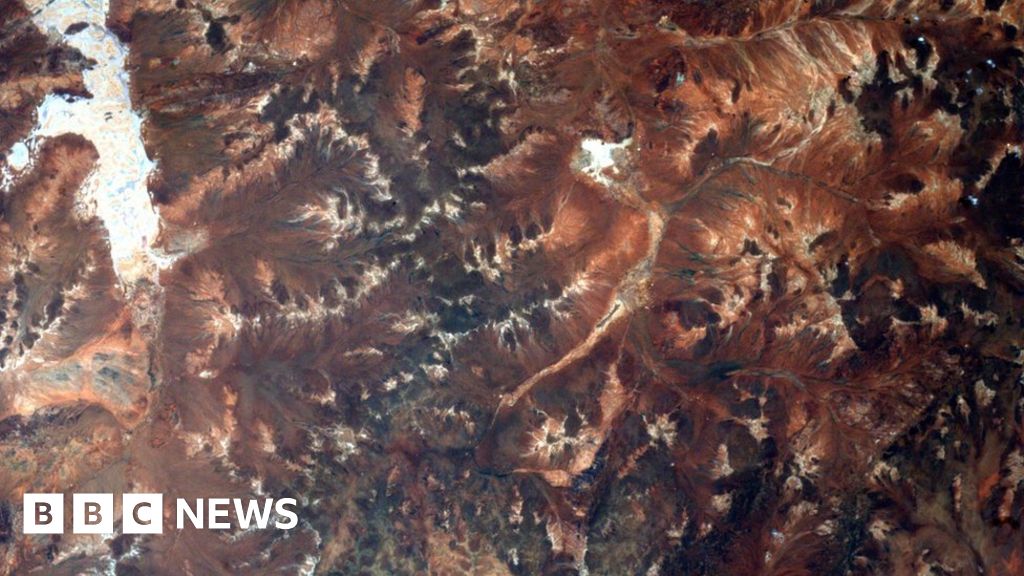 Scientists have identified the world's oldest asteroid crater in Australia, adding it may explain how the planet was lifted from an ice age.
The asteroid hit Yarrabubba in Western Australia about 2.2 billion years ago – making the crater about half the age of Earth, researchers say.
Their conclusion was reached by testing minerals found in rocks at the site.
The scientists say the find is exciting because it could account for a warming event during that era.
The Curtin University research was published in the journal Nature Communications on Wednesday.
How did they date it?
The crater was discovered in the dry outback in 1979, but geologists had not previously tested how old it was.
Due to billions of years of erosion, the crater is not visible to the eye. Scientists mapped scars in the area's magnetic field to determine its 70km (43 miles) diameter.
"The landscape is actually very flat because it's so old, but the rocks there are distinctive," researcher Prof Chris Kirkland told the BBC.
To determine when the asteroid hit Earth, the team examined tiny zircon and monazite crystals in the rocks. They were "shocked" in the strike and now can be read like "tree rings", Prof Kirkland said.
These crystals hold tiny amounts of uranium. Because uranium decays into lead at a consistent pace, the researchers were able to calculate how much time had passed.
It is at least 200 million years older than the next most ancient impact structure – the Vredefort Dome in South Africa.
"We were interested in the area because the Western Australian landscape is very old but we didn't expected [the crater] to be as old as this," Prof Kirkland said.
"It's absolutely possible that there's an older crater out there just waiting to be discovered, but the difficulty is in finding the crust before it erodes and you lose that early Earth history".
Could it have ended an ice age?
The timing of the impact could also explain why the world warmed around this time, according to the researchers.
Scientists believe the planet was previously in one of its "Snowball Earth" periods, when it was largely covered in ice. At some point, the ice sheets melted and the planet began to rapidly warm.
"The age of the [crater] corresponds pretty precisely with the end of a potential global glacial period," Prof Kirkland said.
"So the impact may have had significant changes to our planetary climate."
Using computer modelling, the team calculated that the asteroid struck a kilometres-thick ice sheet covering the Earth. The event would have released huge volumes of water vapour, a greenhouse gas, into the atmosphere.
This could have helped the planet's warming during the Proterozoic era – a stage when oxygen had just appeared in the atmosphere and complex life had not yet formed.
"Obviously we were very excited just with the age itself," Prof Kirkland said. "But placing that right with the context of Earth's other events makes it become really very interesting."
There is not enough modelling from the time to comprehensively test the theory, but "the rocks tell a story about the massive impact into the planet".
Another theory for the warming event is that volcanic eruptions may have pushed carbon dioxide into the atmosphere.