The Most Promising Investment Trend For 2021 – Baystreet.ca
The world's eCommerce king has found itself in a war that it may not be able to win.
Its competitors are a group of specialty players that are overtaking Amazon one sector at a time.
These specialist sectors include the pet food industry, that Amazon is losing to the now-giant Chewy.com (NYSE:CHWY)—the $26.4-billion company that started as a dotcom in a basement and then stole major market share from Amazon.
Now, ecommerce pioneer Sean Dollinger who took Namaste Technologies (TSXV.N) from $6M to $1.2B in just 15 months has launched a new venture looking to shake up the $4.5-trillion global wellness economy.
It's PlantX Life Inc (VEGA.CN) and it's another specialty market … that plans to scoop up Amazon-style market share.
What Chewy.com did for pet food, PlantX intends to do for plant-based everything from what we eat and what we put on our skin to what we wear and how we decorate our homes.
This isn't just a company – it's an entire healthy lifestyle ecosystem.
The global wellness economy was already valued at $4.5 trillion in 2018… it's an industry that's grown faster than the global economy itself, going from $3.7 trillion to $4.2 trillion between 2015 and 2017 ….
And PlantX is ready to capture a huge segment of this booming market.
PlantX has its own plant-based food products, house plants, cosmetics, decor, pet food, and even its own celebrity chef. You can shop online for just about everything you can imagine that is plant-based, shop in a smart store, order plant-based takeout or find the best places to dine vegan.
It's making plant-based meals for restaurants that have an urgent need to come up with more non-meat options for its pandemic-panicked clientele.
And it's deliciously mainstream.
Just as Chewy.com is eating up Amazon market share in its specialist segment, PlantX is coming in for the entire vegan market.
It's already covered Canada.
Now, it's pushing into the United States, and it's bringing its entire ecosystem with it—and there's fast-paced news flow to go along with it …
Mother Nature Is Back—With A Multi-Trillion-Dollar Vengeance
Meat might be a $950-billion industry, but it's starting to crack at the seams.
It was starting to crack even before the pandemic.
Now, the food revolution has been kicked into overdrive.
Overnight, it's gone from a momentous vegan "hippie" trend to the beginning of a megatrend.
Before the pandemic, meat was becoming increasingly associated with poor health, shorter life-spans and the spread of disease.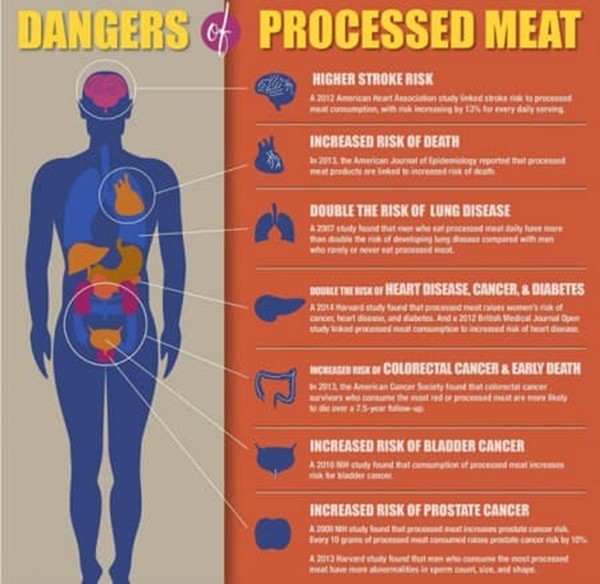 Now, it's become synonymous with epidemic and pandemic. Think: swine flu, bird flu, salmonella and E. coli.
The pandemic supply disruptions gave us all time to think.
Once it became more difficult to obtain meat products, we started to question the quality of what was there. And the safety. We started to try new things. And we weren't disappointed.
Plant-based food has become surprisingly good.
Good enough, in fact, to be featured on the most unlikely of menus, from Burger King and Kentucky Fried Chicken to Jack-in-the-Box and McDonalds.
From the "Rebel Whopper" and "Beyond Fried Chicken" to the "P.L.T."

Nothing says "mainstream" like Fast Food.
And it's infiltrating the most mainstream of grocery stores, too.
A recent study by SupermarketPerimeter indicates that 77% of grocery shoppers in the United States have purchased plant-based meat alternatives in the past 6 months.
Even more astonishingly, not just vegetarians and vegans are buying it: Some 40% of purchasers eat animal-based meat, too.
Just look at U.S. retail sales growth of plant-based meat alone during the initial months of the pandemic: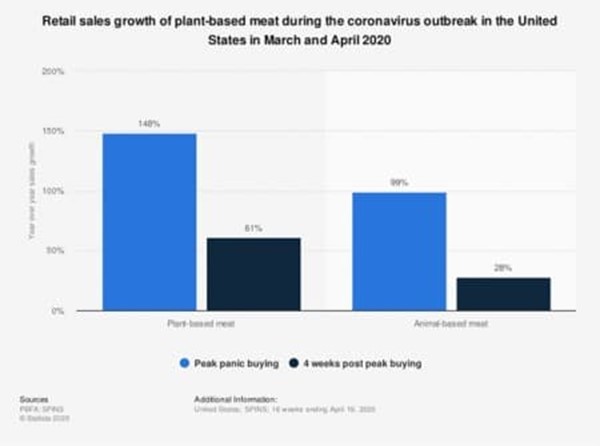 And then the Canadian: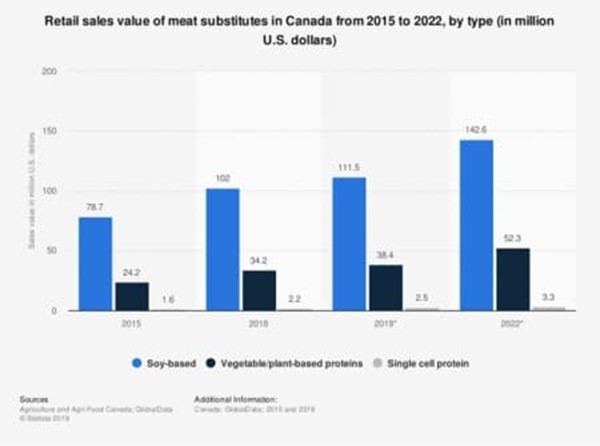 While the initial panic-buying sobered up from March to April, it's holding on to major gains–enough so that the trend now appears solidified.
In fact, plant-based products are a key driver of growth for food companies and retailers. Plant-based outpaces overall food growth by more than 5X.
By March 2020, grocery sales of plant-based foods that directly replaced animal-based foods grown to $5 billion—over 29% in only two years.
And that is at a time when the entire U.S. retail food sales grew by only 4%.
Plant-based is outpacing the rest of the food market …
And PlantX (VEGA.CN) —whose founder has created a billion-dollar company before—is positioned to play a major role in this outsized growth.
Growth-Driving Deal Flow & Megatrend Profit Margin Potential
The deal flow has been extremely fast-moving.
In early September, PlantX closed a $30-million deal with San Diego-based Liv Marketplace to build and operate PlantX's first brick-and-mortar retail location in California. That confirms a huge push into the United States, with a 4,515-square-foot store that will sell a line of over 5,000 plant-based products.
And a lineup of other deals …
– PlantX acquired UK-based Bloombox Club in late September, and it's now on target to hit $4 million in gross revenue.
– That same month, PlantX cut a series of deals with specialty producers, grocers, and even LA-based celebrity chef Gregg Drusinsky.
– It launched its own glacial water brand in September.
– On October 8th, PlantX jumped into the $38.4-billion North American pet food industry by launching yet another vertical with Kirtana Inc. products.
– Plant-based home meal delivery services started delivering in April and have already hit 10,000 meals.
They don't hold inventory or maintain expensive warehouses. Ecommerce 2.0 is all about "curation", not waste.
In Canada, PlantX has teamed up with Vancouver-based UpMeals, which has a Grade A kitchen. UpMeals prepares the chef-designed meals from PlantX, making PlantX profitable right out of the gate.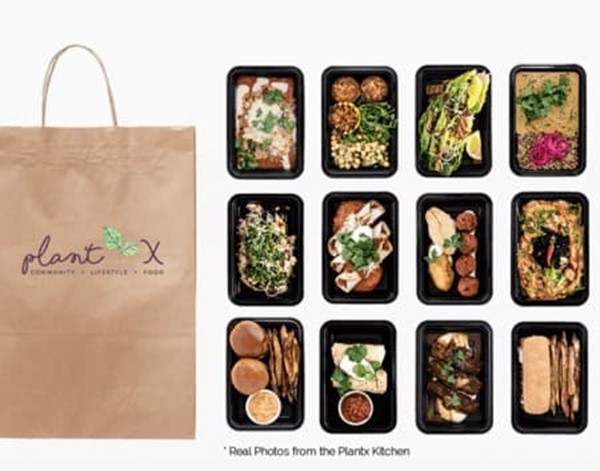 They use FedEx to ship across Canada, with bulk meals going to a single address and then immediately disbursed by local courier.
By early next year, we expect it to be happening in the United States, as well.
But there's also a brick-and-mortar element. The PlantX flagship store, coming soon, isn't your typical brick-and-mortar establishment.
This store is cutting edge in every respect. There are no carts. No aisles packed with products. Instead, it's all scan QR codes, and payments by smartphone or tablet. That means that in a tiny retail space, PlantX can sell thousands of products.
And because it's an entire community … it draws people into a digital plant-based space that gives them a sense of belonging at a time when that is urgently needed.
And it's not just a healthy lifestyle and tons of verticals–we're looking at healthy margins, too.
PlantX (VEGA.CN) says its plant sales have a 55% profit margin, followed by online food sales at 40% and delivery at 35%.
This isn't a tech startup that's attracting investors on sheer growth runways without clear profit potential. This is the tech startup 2.0 generation of ESG-focused ecosystems with tons of verticals for making money.
This one has unlimited potential because the verticals are unlimited.
From Dotcom Revolution to Food Revolution
Beyond Meat (NASDAQ:BYND) and Impossible Foods have already stormed this scene.
Beyond Meat IPO'ed at $66 a share. It's exploded already to $195, with a market cap of ~$12 billion. Impossible Foods isn't public.
Neither has that kind of upside left that would mint a millionaire.
And they're all about alternative meat. Nothing more.
PlantX is far … beyond meat.
It has a huge ecosystem with limitless verticals and a tiny market cap of only $60 million.
Yet–it hopes to become the Amazon of everything plant-based.
It's a new lifestyle, and it's being led by a massively successful entrepreneur who's done this before, and it could ride the tailwinds of a pandemic that has changed our lives forever.
Chewy.com was a threat to Amazon because it did pet food better.
PlantX could potentially become a bigger threat because it does an entire plant-based lifestyle better.
Dollinger made a billion-dollar company before, and we're betting he can do it again.
He started his first delivery company when he was only 17 years old, in a basement. That business became one of the largest in Canada.
What Dollinger has built this time around has greater potential than Chewy. It's got its own pet food line, and an entire ecosystem whose potential customers are anyone who wants the best Mother Nature has to offer.
That includes anyone who eats food.
It's a direct, undervalued challenge to the $4.5-trillion global health and wellness industry, and the it's one of the best opportunities to come out of a devastating pandemic.
Yum! Brands (NYSE:YUM), though not traditionally associated with health and wellness, is racing to grab a piece of this multi-trillion dollar trend. Kentucky Fried Chicken, the fast-food megalith, is diving in head first to offer its loyal customers a taste of the vegan lifestyle. Teaming up with the meantless sensation Beyond Meat, KFC has launched a line of chicken-less 'chicken nuggets' that have been a huge hit across the globe.
Already the meatless fried chicken alternative is offered in the UK, China, across Europe, Canada and the United States, and thanks to its success, it will likely continue to expand this offering across the globe. While nailing the iconic texture and flavor of KFC's chicken without meat was no easy feat, the new vegan alternative has been wildly successful.
"I've said it before: despite many imitations, the flavor of Kentucky Fried Chicken is one that has never been replicated, until Beyond Fried Chicken," Andrea Zahumensky, chief marketing officer at KFC.
Thanks to partnerships with the likes of KFC and others, Beyond Meat (NASDAQ:BYND) has taken the world by storm, locking down its marketing in a way that compelled a new generation of would-be meat eaters to make the switch to a new plant-based alternative. And Wall Street has responded in kind. Since April, Beyond Meat has soared by 111%, quickly becoming a favorite for Robinhood stock traders.
Today, the plant-based meat alternative giant is already worth nearly $12 billion, but new research suggests the market could climb to a whopping $74 billion in just the next few years meaning there is plenty of room for the alt-meat giant to grow.
Beyond Meat's mission statement speaks volumes, "By shifting from animal to plant-based meat, we can positively impact four growing global issues: human health, climate change, constraints on natural resources, and animal welfare." It's a clear cut example of everything the new generation of investors is looking for in a company. It is combatting social challenges, climate change, and looking to tackle the hurdles facing our growing population.
Canadian companies are getting on board as well:
Burcon NutraScience Corporation (TSX:BU) is a Canadian tech firm rethinking the plant-based diet. With a focus on high-purity, sustainable, flavorful, and affordable products, Burcon has checked every box in the consumer's book. Founded way back in 1998, the company has been at the forefront of the movement for over two decades, and it's only become more refined since.
According to its mission statement, Burcon "seeks to improve the health and wellness of global consumers through the discovery and development of sustainable, functional and renewable plant-based products for the global food and beverage industries."
Else Nutrition Holdings Inc. (CSE:BABY) is another innovative plant-based lifestyle company from Canada. Else Nutrition has taken a different approach than many of its competitors, targeting a particularly young market – babies. Else was a first-mover in this space, offering a well-rounded, clean, sustainable and most importantly, plant-based, approach to baby food.
Their products aim to deliver al of the same benefits as typical baby food, but with an organic twist. In fact, 92% of their products are made from three core healthy ingredients, almonds, tapioca, and buckwheat. And the best part, is they never alter the plants' chemistry or remove any of the micronutrients, they just alter the texture.
Maple Leaf Foods (TSX:MFI) is another veteran in the Canadian foods realm. Since 1991, Maple Leaf has been making aggressive acquisitions, supplying high-quality foods, and leading in new innovations to ensure the highest quality products for all of its consumers around Canada. And just last year, it announced its plans to dive head first into the plant-based foods industry with a $310 million facility in Shelbyville, Indiana.
More than that, however, Maple Leaf Foods is also committed to slashing its own carbon footprint. In fact, on November 7, 2019, the company announced that it was the first major carbon-neutral food company – a huge claim to fame in a world racing to go green.
The Very Good Food Company Inc. (CSE:VERY) is a Canadian company that is quickly gaining a lot of ground in the market. With the slogan, "we believe in butchering beans, not animals," they're looking to tap into the plant-based niche in a hurry. And it's resonated very well with investors.
Since its IPO in June, the Very Good Food Company has seen its share price grow by over 70%, and it's showing no signs of slowing. In just a few short months, the company has opened several new facilities, signed a string of deals, and is quickly carving out its place in Canada's fast-growing plant-based lifestyle scene.
Modern Meat Inc (CSE:MEAT) is a Canadian company following directly in the footsteps of its American cousin, Beyond Meat. With a focus on Instagram-worthy products that could easily garner the interest of any meat-eater, the company is looking to make the plant-based lifestyle trendy. And consumers are loving it.
The company announced in early October that its stock had sold out for over 15 weeks in a row. "We are pleased to announce that our sellout streak is continuing and there is an obvious demand for our products. Despite the interest in our products we are currently constrained by our production capacity and continuing the set-up of our new facility," stated Tara Haddad, Chief Executive Officer of the Company.
By. Paul Reed
IMPORTANT NOTICE AND DISCLAIMER
The owner of Oilprice.com owns shares of the featured company and therefore has an incentive to see the stock perform well. The owner of Oilprice.com has no present intention to sell any shares in the near future but does not undertake any obligation to notify the market when it decides to buy or sell shares of the issuer in the market. This share ownership should be viewed as a major conflict with our ability to be unbiased. This is why we stress that you conduct extensive due diligence as well as seek the advice of your financial advisor or a registered broker-dealer before investing in any securities.
Readers should beware that third parties, profiled companies, and/or their affiliates may liquidate shares of the profiled companies at any time, including at or near the time you receive this communication, which has the potential to hurt share prices. Frequently companies profiled in our articles experience a large increase in volume and share price during the course of investor awareness marketing, which often ends as soon as the investor awareness marketing ceases. The investor awareness marketing may be as brief as one day, after which a large decrease in volume and share price may likely occur.
This communication is not, and should not be construed to be, an offer to sell or a solicitation of an offer to buy any security. Neither this communication nor the Publisher purport to provide a complete analysis of any company or its financial position. The Publisher is not, and does not purport to be, a broker-dealer or registered investment adviser. This communication is not, and should not be construed to be, personalized investment advice directed to or appropriate for any particular investor. Any investment should be made only after consulting a professional investment advisor and only after reviewing the financial statements and other pertinent corporate information about the company. Further, readers are advised to read and carefully consider the Risk Factors identified and discussed in the advertised company's SEDAR and/or other government filings. Investing in securities, particularly microcap securities, is speculative and carries a high degree of risk. Past performance does not guarantee future results. This communication is based on information generally available to the and does not contain any material, non-public information. The information on which it is based is believed to be reliable. Nevertheless, the Publisher cannot guarantee the accuracy or completeness of the information.
FORWARD LOOKING STATEMENTS. This publication contains forward-looking statements, including statements regarding expected continual growth of the featured companies and/or industry. The Publisher notes that statements contained herein that look forward in time, which include everything other than historical information, involve risks and uncertainties that may affect the companies' actual results of operations. Factors that could cause actual results to differ include, but are not limited to, the size and growth of the market for the companies' products and services, the companies' ability to fund its capital requirements in the near term and long term, pricing pressures, etc.
INDEMNIFICATION/RELEASE OF LIABILITY. By reading this communication, you acknowledge that you have read and understand this disclaimer, and further that to the greatest extent permitted under law, you release the Publisher, its affiliates, assigns and successors from any and all liability, damages, and injury from this communication. You further warrant that you are solely responsible for any financial outcome that may come from your investment decisions.
TERMS OF USE. By reading this communication you agree that you have reviewed and fully agree to the Terms of Use found here http://oilprice.com/terms-and-conditions If you do not agree to the Terms of Use http://oilprice.com/terms-and-conditions, please contact Oilprice.com to discontinue receiving future communications.
INTELLECTUAL PROPERTY. Oilprice.com is the Publisher's trademark. All other trademarks used in this communication are the property of their respective trademark holders. The Publisher is not affiliated, connected, or associated with, and is not sponsored, approved, or originated by, the trademark holders unless otherwise stated. No claim is made by the Publisher to any rights in any third-party trademarks.
Investing in a sustainable future – Kaleido introduces its Sustainable Investment Policy – Canada NewsWire
QUEBEC CITY, Dec. 1, 2020 /CNW Telbec/ – Kaleido, the pioneer in education savings, is introducing a new responsible and sustainable investment strategy this December with its new Sustainable Investment Policy. One financial action at a time, Kaleido is working to build a brighter future.
"Sustainable investment means more than just investing in environmentally responsible firms," says Isabelle Grenier, President and CEO of Kaleido. "We're proud to say that 100% of our asset managers consider environmental, social, and governance factors—ESG criteria—when choosing what securities to invest in. We have an enormous responsibility as asset managers because every choice counts!"
ESG investing prioritizes organizations that create lasting value while making positive contributions on important social and environmental issues. It's a philosophy that goes hand-in-hand with Kaleido's work in education savings. After all, our goal is to build value over the years so our families can use their investments for their children's postsecondary studies.
Kaleido also advocates for best practices in sustainable investment along with other national leaders in the field as an associate member of Canada's Responsible Investment Association (RIA).
"We are committed to staying ahead of the curve. Our portfolio managers are already taking positions in favor of workplace safety and greenhouse gas reduction, for example. Our Sustainable Investment Policy is one more step towards our goal to create a brighter future for our youth," says Grenier.
As always, Kaleido is driven by the conviction that all children can achieve their full potential when given the means. To give future generations the same chance, it is both logical and vital to invest in companies and initiatives that are working toward that goal.
About Kaleido
Kaleido helps families in Quebec and New Brunswick give their children a leg up on future success. Every day more than 100 employees and as many representatives create brighter opportunities for youth through education savings, parent support, and insurance solutions.
Kaleido has been a pioneer in education savings since 1964. Over the years the organization has issued $993 million in educational assistance payments and savings refunds to benefit more than 227,000 young people. Kaleido has $1.7 billion in assets under management.
To learn more, visit kaleido.ca/en and follow us on social media.
SOURCE Kaleido Growth Inc.
For further information: Patrick Pedneault, Media Relations, [email protected], 418-651-8977, ext. 2312
Related Links
BMO to exit oil and gas investment banking in the US – BNN
Bank of Montreal is winding down its U.S. oil and gas investment banking business and will focus on assets in Canada going forward, becoming the latest financial institution to cut ties with America's beleaguered shale industry.
BMO said it has made "the financial decision for an orderly wind-down of our non-Canadian investment and corporate banking energy business." Going forward, the company said by email, its capital markets energy business will be focused on Canada.
The company is eliminating about 50 positions in its investment banking group as part of the exit that was announced to staff on Monday, according to a person with direct knowledge of the situation who asked not to be identified because the information isn't public. A handful of corporate bankers will manage BMO's U.S. oil and gas loan book, the person said.
BMO is the latest bank to halt investment banking tied to U.S. oil and gas explorers, which even before the pandemic were facing pressure after years of generating meager returns. The move didn't appear to be related to ESG concerns plaguing fossil fuel companies. America's shale industry has been swept up in a wave of consolidation in recent months as the pandemic slashes oil demand, drags down prices and forces low-premium mergers. That follows years of lackadaisical M&A activity in the oil patch.
On Tuesday, BMO reported gross impaired loans in its U.S. oil and gas portfolio of $457 million at the end of its fiscal fourth quarter, compared with only $93 million for the industry in Canada and other countries.
BMO's U.S. oil and gas loan book was about $7 billion as of July 31, making up half of its overall oil and gas loans, according to a company presentation.
–With assistance from Derek Decloet.
Scotia's top 10 investment themes for 2021 include 'the hunt for yield intensifies' – The Globe and Mail
Daily roundup of research and analysis from The Globe and Mail's market strategist Scott Barlow
The equity strategy team led by Hugo Ste-Marie at Scotia Capital published 10 Themes for 2021 – Unleashing Excess Cash Tuesday morning.
The top themes are,
"1. Piles of stacked cash could soon turn into hot money. 2. Synchronized downturn, synchronized upturn 3. The road to US$200 EPS 4. Income scarcity: The hunt for yield intensifies 5. Bond yields: The great normalization 6. Go Global 7. Small could be big in 2021 8. Hard assets shining, CAD roaring 9. Sector rotation favors cyclicals 10. No Value left behind [and]11. Bonus – Capital markets spring back to life"
Here's an excerpt from the section on yield scarcity,
"Interest rates on cash deposits and government bond yields should remain quite anemic next year. As traditional sources of income can't fulfill their role anymore, the hunt for yield will likely intensify and investors will have to look for alternatives. Equities appear an obvious choice. After a challenging year, dividend growth should resume in 2021 on the back of improving profitability trends. Moreover, dividend yields have rarely been this attractive versus government bonds in over half a century"'
" @SBarlow_ROB Scotia: "10 Themes for 2021 – Unleashing Excess Cash" – (research excerpt) Twitter
***
Morgan Stanley has updated its "Fresh Money Buy List" of top U.S. stocks picks, removing S&P Global Inc. because of "regulatory and/or policy restrictions".
The remaining list consists of Ally Financial, Citizens Financial Group Inc., Walt Disney Co., Humana Inc., Johnson & Johnson, Linde PLC, Mastercard Inc., PVH Corp., and T-Mobile U.S. Inc.
"@SBarlow_ROB MS drops S&P Global from its Fresh Money Buy List of U.S. picks" – (table, including performance) Twitter
***
Also from Morgan Stanley, the technology and telecom research team led by Katy Huberty published a report outlining the bright outlook for 5G-related stocks and provided a list of stock ideas (my emphasis),
"We are buyers of stocks exposed to stronger than expected consumer 5G demand. Consumer smartphone purchase intentions are the strongest in recent history according to our AlphaWise survey of nearly 3,500 consumers in the US and China. The main driver is demand for 5G, which is now the primary reason consumers are upgrading in the US and China – a comparatively bigger catalyst than any other recent technology upgrade and a more bullish signal relative to investors' more cautious stance. We highlight key takeaways across our global technology and telco services teams and recommend owning a group of stocks that we view best positioned for 5G infrastructure investment and smartphone demand upside."
The top 10 5G-related stock ideas are Apple Inc., T-Mobile US Inc., Qualcomm Inc., Delta Electronics Inc., Samsung Electronics Co Ltd., Sunny Optical Technology Company Ltd., China Mobile Ltd., Taiwan Semiconductor Manufacturing Company Ltd., Murata Manufacturing Co. Ltd. and Ericsson.
"@SBarlow_ROB MS: Top 10 5G-related stock picks" – (table) Twitter
***
New column from me: "What investors can learn from the top performing U.S. value stocks" – Inside the Market
Diversion: The Ringer's panel rewatches and discusses the 1980s movie Wall Street – The Ringer (podcast)
Tweet of the Day:
Be smart with your money. Get the latest investing insights delivered right to your inbox three times a week, with the Globe Investor newsletter. Sign up today.