The Other Art Fair: Fall Edition – greenpointers.com
The Other Art Fair is back at The Brooklyn Expo Center this weekend!
What is The Other Art Fair?
Ten years and running, The Other Art Fair bridges the gap between talented artists and art lovers alike. An international success, The Other Art Fair plans annual visits in Chicago, London, Dallas, Melbourne, Los Angeles, Sydney, Toronto, and of course, Brooklyn.
This year, the Brooklyn edition of The Other Art Fair will take place at The Brooklyn Expo Center from November 4th-7th with 130 artists selected to showcase their works. With such a wide variety of styles, prices, and interdisciplinary talents, there truly is something for everyone.
The Inspiration
Ever thought about wanting to start your own art collection? Ever wished you knew where to look? When Ryan Stainer founded The Other Art Fair, he did so with the intention of creating a community in which a younger generation of art buyers could feel in touch with art and artists that inspire them. The Other Art Fair makes unique, distinguished art accessible, and gives those artists the opportunity to grow within their community.
Guest & Featured Artists
This year's guest artist is none other than Hatecopy!
"From themes of pre-pandemic nostalgia and spaces that once brought us joy and closeness, emerges Hatecopy's Saathi Arcade; a fully interactive experience fusing South Asian pop art, 80's arcades, underground carrom clubs, digital media and more."

The Other Art Fair website
The artist's name, Hatecopy, was created out of her hate for being a copywriter. After leaving a copywriting job in advertisement, Maria Qamar's art has gained massive popularity for its bright, lively colors, its commentary on topics related to social justice, and South Asian culture, and its comic book style design.
This year's featured artist is Anna Marie Tendler!
"Following her success at the Los Angeles edition of The Other Art Fair, multidisciplinary artist Anna Marie Tendler will showcase her latest photography series entitled "Rooms in the First House," offering framed master works, editioned fine art prints, small posters, as well as her handmade vintage lamps."

The Other Art Fair website
In addition to being a photographer and textile artist, Anna Marie Tendler is also an illustrator, a painter, and an interior designer. Plus, she received a Masters degree in fashion and textile history. Most of her work involves a combination of these talents, and select works will be available at The Other Art Fair.
The Local Artists
In addition to being a local event, there are also a number of Brooklyn-based artists involved. Some of those names include Tali Margolin, Evan Ishmael, Elisa Valenti, Edna Carty, Tucker Eason, Allison Harrell, AJ Springer, Heather Abshire, Xan Pardon, Ana Marie Velasco, Francis Minien, Alejandro Aboli, Patrick Keefe, and Jacyln Mottola, just to name a few.
For the full list of local artists and images of their work, click here.
New Futures
In an effort to support new artists, the New Futures Class of 2021 features up and coming artists and awards each the opportunity to sell their work with the assistance of exhibition space sponsorship and mentorship.
The Brooklyn New Futures are Caroline Boreri, Watson Mere, and Wenlu Bao.
Click here to discover the entire New Futures Class of 2021.
Other Artists To Look For
In addition to the guest & featured artists, the local artists, and the new futures, there are a few handpicked artists that curators and panelists suggest you keep your eye on.
These include: Jessica Alazraki, Jean Rim, Sasha Yosselani, David Rockwell, Twig Lips, Allison Harrell, and Jenna Cable.
Plus, Director Sophie Lucas is especially excited about the work of Giovanni Martins.
Interactive Art
Bluestone Babe Hand Poke Tattoos: Flash tattoos by Rosa Bluestone Perr will be available on a first-come, first-serve basis.
The Draw on the Way: Portraits of patrons will be drawn spontaneously by illustrator Sarah Nisbett to showcase the evolving nature and inspiring presence of art, everywhere we go.
8 Ball Radio: Entertainment will be provided by 8 Ball Radio, with music selected from a variety of in-house DJs.
Curator Tours: If you'd like a guide for your The Other Art Fair experience, Saatchi Art has your back. Art curator India Balyejusa has a different agenda for each day of the exhibit to focus on different aspects of the artists and your interests.
Thursday, November 4: 'Ones To Watch' from 7pm-7.30pm
Friday, November 5: 'Focus on Photography' from 7pm-7.30pm
Saturday, November 6: 'Focus on Prints' from 2pm-2.30pm
Sunday, November 7: 'Focus on Originals' from 2pm-2.30pm
Additional Exhibitions
Other art friend organizations will be showcasing pop-up experiences. This includes the New Futures exhibition, plus 'Gowanus — In Perspective/In the Abstract' and 'ArTech Collective.'
"Arts Gowanus has curated a small sampling of the amazing work made in Gowanus and divided artists into two categories; those who work figuratively and those who work abstractly. Arts Gowanus is a not-for-profit organization working to support, promote, and advocate for local artists and a sustainable arts community in Brooklyn."

Gowanus — In Perspective
"Founded by AHRC NYC, ArTech Collective provides opportunities for artists with intellectual and developmental disabilities to develop and express themselves through inclusive, innovative and accessible approaches to traditional and new media."

ArTech Collective
Plan Your Visit
Tickets are on sale now ranging from $18-$35. For guests 21 years or older, each ticket also comes with two complimentary Bombay Sapphire drink tickets.
Visitors must show proof of vaccination. Masks are encouraged, though not required, unless you've only had one shot of the COVID vaccine in which case masks are required at all times.
Hours of operation are as follows:
Thursday, November 4 (private viewing): 6pm-10pm
Friday, November 5: 3pm-10pm
Saturday, November 6: 11am-7pm
Sunday, November 7: 11am-6pm
And Yes, There's Food!
The Bombay Sapphire bar will be providing the signature event cocktail, and will also be serving beer, wine, and soft drinks. Nadas NYC will be selling their specialty Columbian empanadas.
Virtual Editions
If you cannot make it in person, there will be a global virtual fair November 8th-29th. Click here to register.
How To Join The Community
If you're an aspiring artist and would like to get involved in The Other Art Fair community, keep an eye out for the 2022 application openings. For all Brooklynites, click here to stay in the loop.
Lenny Kravitz wows at private party during Miami Art week – Rocky Mountain Outlook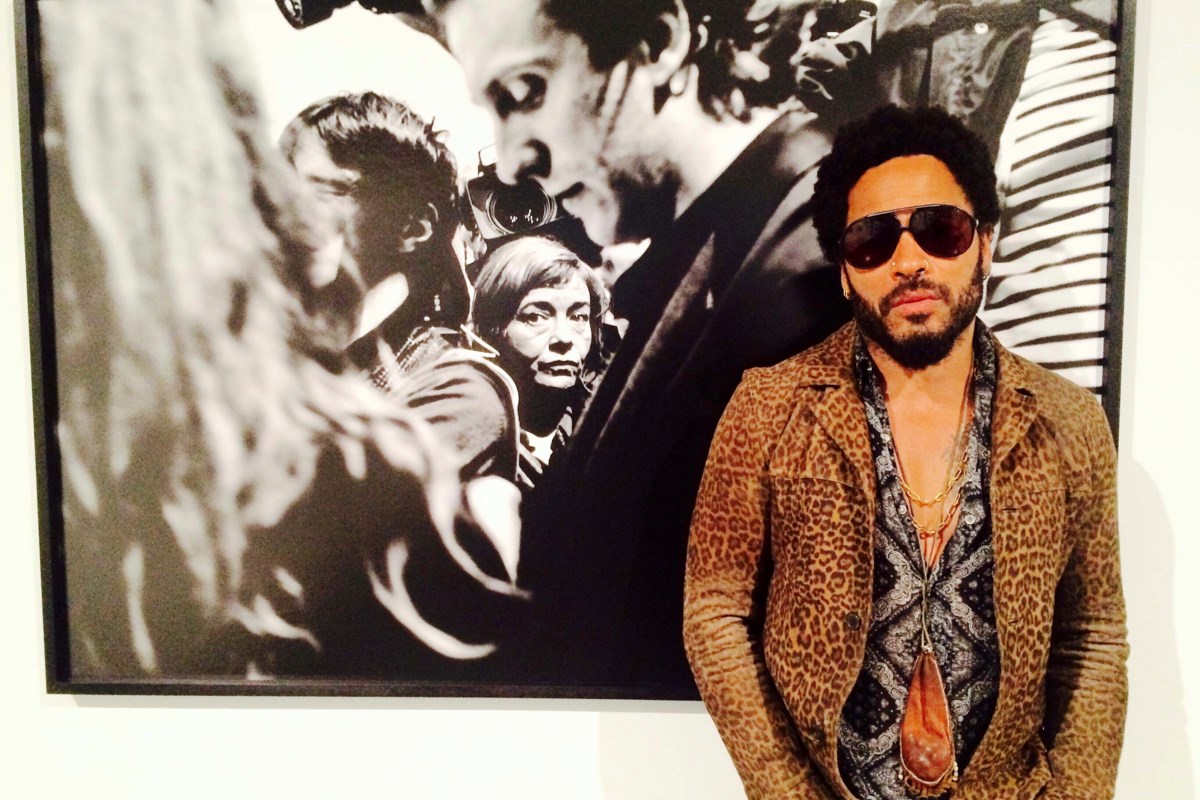 MIAMI BEACH, Fla. (AP) — Legendary rocker Lenny Kravitz gave a private performance Friday for a star-studded crowd that included Leonardo DiCaprio and local Latin boy band CNCO during Miami's Art Week.
The lavish party is an annual affair hosted by business mogul and art collector Wayne Boich. He and his wife also hosted a private dinner before the Richard Mille After Dark event at their waterfront estate. Venus and Serena Williams danced and sang along as Kravitz took the stage for a 75-minute concert as a yacht pulled alongside to hear the rocker.
"This ain't a concert. We're just hanging out," the "Are You Gonna Go My Way," singer said, pulling Boich onstage to dance.
Kravitz, who has lived on and off in Miami for years, is a regular during the prestigious Art Basel week and even displayed his photography during an exhibit in 2015, saying he was tired of always being the subject of photos and wanted to turn the camera around for a change.
The black-and-white collection, titled "Flash," captured soulful photographs and people in their everyday environments.
After midnight, rapper T.I. surprised a crowd that included French Montana, "Transformers" actor Amaury Nolasco and NBA star Joakim Noah.
Even the "Live Your Life" rapper seemed impressed by the event, calling it an "extravagant party … and as the founder of trap music my expectations are high."
The night ended with Hannah Bronfman's husband DJ'ing as she and actress Karrueche danced.
In a week filled with over-the-top events, Boich's parties have become a mainstay. It was canceled last year due to COVID, but guests at his 2019 party which included Floyd Mayweather, Dwyane Wade and Alesso, watched a performance by Wyclef Jean, a cameo from "Country Grammar" singer Nelly and an after-party show by rapper 2 Chainz.
Kelli Kennedy, The Associated Press
The best art books of 2021 – The Guardian
Art Museum on Market / Scenic Architecture Office – ArchDaily
Art Museum on Market / Scenic Architecture Office
Text description provided by the architects. The Xitang East Area under construction is the eastward expansion of the old town of Xitang, including nearly 100,000 square meters of tourist retail, hotel, visitor center and cultural facilities. After completion, it will become a new entrance at the northeast of the old town. Xitang East Area is divided by a river into two phases. As the key point of Phase Ⅱ, Building One locates at the southwest corner of the northern site, facing the river on the west and south sides to overlook the old town and adjoining the Phase Ⅰretail blocks on the other side of the river.
The old town of Xitang has strict urban planning requirements for the new buildings in the scenic area. In addition to the height limit, sloping roof, small blue-black tile, black-white & gray tone and wood color are all prerequisites for the design. What kind of program should be planned in the core area of ​​the East Area riverfront? What kind of form-type should be used to meet the needs of function and establish its landmark while complying with the requirements of townscape? It is the answer to these challenges that dominate the entire design process.
The basic urban fabric of the pedestrian streets in East Area is the retail courtyard on the ground and first floor and gable-roof-house hotel courtyard on the second floor. On top of this "base color" are the special landmarks scattered in the area, such as the tourist center at the center, the Nijigen Activity Hall at the northeast corner, and the Naera Boutique Hotel PhaseⅡat the northwest corner. As one of these landmarks, Building One especially needs to attract people to stay and participate in long time purposed activities, thereby forming an agglomeration effect and becoming the highlight of the tourist experience in the entire eastern area. After thorough studies and discussions, a mixed function of market and art gallery became the consensus of the client and the design team, that is to create an open and flowing market space on the first floor to accommodate the organic farm market, creative bookstore, coffee shop, restaurant and hotel reception while create a multifunctional art gallery on the second floor to host exhibitions, forums and cocktail parties.
We translated the program and style regulations into the design commitment of space and image, which became the basis for the tectonic system. As per the obvious difference between the programs of the upper and lower floors, we continued the stacking pattern of frame and gable roof structure used in the pedestrian street, but reversed it upside-down with the gable roof structure at the bottom in order to acquire particularity with coordination.
The Chinese overhanging gable roof supported by the white gable wall is a traditional residential form-type in the southern Yangtze River Delta, and a single roof can be replicated continuously to cover a larger area. We extracted the structural form of Y-shaped columns from the geometry of the continuous gable wall to support the upside-down triangular truss roof, forming a linear unit with a width of 6.3 meters and a length of nearly 52 meters. The space in the truss is used to install MEP equipment, and a continuous undulating indoor space is formed under the truss. 6 linear units are connected parallel to form the roof covering the ground floor market, echoing the continuous ancient town settlements. The freely distributed Y-shaped columns ensure open and flowing space for the market, making sharable and flexible space possible for diversified functions. At the east and west ends, some of the Y-shaped columns are replaced by V-shaped gable walls with diagonal braces inside, which solve the seismic force and establishes a connection with the traditional gable walls with inverted slope.
The art gallery sits on the market, and if we had continued to use the language of gable roofs and unit settlements, we would easily achieve harmony in style, but it would be difficult then to provide the necessary landmark identity and large interior space. Therefore, we tried to construct a single, relatively abstract form to house a column-free space. The connection with tradition is no longer limited to the figurative form, but draws inspiration from wooden craftsmanship to pursue a more complete iconicity. In the end, we extracted the cross-bearing structure from the lantern craft of Xitang.
The big roof is about 30 meters long and 20 meters wide. 92 short glulam beams cross and bear with each other to form a slightly arched shell, which makes the large-span structure more reasonable and solves drainage of the roof with its slope simultaneously. The weight of the wooden roof is transferred to the surrounding wooden pillars through a ring of horizontal steel frame. The group of columns is composed of X-shaped oblique columns three-dimensionally composd by inter-inserted glulam poles. Providing continuous supports in both the vertical and horizontal dimensions, this column group has a strong resistance for lateral force. It not only bears the horizontal thrust of the arch roof beams and makes slender column size with a section of 160X160mm possible, but also provides side resistance for the glass curtain wall at the inner side of the column.
On the second floor, we concentrate the stair, elevator, large lifting platform and other equipment in a long box on the north side of the gallery to keep the purity of the main space. The outward folded floor-to-ceiling curtain wall is made of half- glazed glass with gradual fogging, and an adjustable membrane is set under the diamond-shaped skylight on the roof to offer the art gallery soft natural light during daytime, while the warm light can be shed at night, making it a glamorous "super lantern" in the east district of Xitang.