The Perfect Mix: Politics and Comedy – The New York Times
When Chelsea Connor first saw Will Carey, all 6 feet 7 inches of him, in June 2014, he was onstage at the comedy club Caroline's on Broadway, discussing the gentrification of the chopped cheese sandwich.
"I'm a Brooklyn girl and I've been eating that chopped cheese sandwich since I was a kid, so I could instantly relate," said Ms. Connor, 31, the director of media relations and communications for the Retail, Wholesale and Department Store Union, a New York-based labor union and division of the United Food and Commercial Workers International Union.
"He did a lot of observational humor and had so many funny bits that just got to me," she said.
Mr. Carey, 34, whose height helped him notice Ms. Connor sitting with friends on a crowded evening, was a lot more observational than she first thought. When his standup routine ended, he walked off the stage and made a beeline for her and introduced himself.
"I just saw her and thought she was very beautiful," he said. "When I started talking to her, I thought she was particularly smart and interesting, and I wanted to know more about her."
He asked if he could escort her to the subway station, and Ms. Connor, then living with her parents in Prospect Heights, Brooklyn, accepted his offer. "She gave me her phone number and then told me I could call her in a month," said Mr. Carey, then living in Woodside, Queens.
Ms. Connor had been a spokeswoman for the campaign of Adriano Espaillat, who was running against Rep. Charles Rangel in a Democratic primary in New York. She explained to Mr. Carey that she was too busy to do anything that month but focus on the election.
"I knew nothing about local politics at the time," Mr. Carey said, "so I was trying to follow the debates on local newscasts and various websites. When I saw that her candidate had lost, I texted her to say I was sorry about that."
Ms. Connor remembered Mr. Carey's text as "the very first I received the morning after the campaign."
"It's 7 in the morning and I look at my phone and it says, 'Will the comedian,' which is how I had saved his name," said Ms. Connor, who graduated from N.Y.U. and received a master's degree in elections and campaign management from Fordham.
"It took me a few seconds to remember who he was," she said.
They were soon back in touch, and Ms. Connor set up a first date at a Chinese restaurant in Manhattan with Mr. Carey, who now works in content operations at Stitcher Radio, a podcasting network in New York. He is still a stand-up comedian, as well as a producer and host of the podcast "Between Awesome and Disaster."
"I had only spoken to her in person that one time at Carolines, but I had a better conversation with her than I had ever had with any other woman," said Mr. Carey, who graduated from Towson University.
"There was a certain, driven stick-to-itiveness about her that had obviously come from working in the world of politics," he said, "and I found that very attractive."
They began dating steadily. In October 2018, they took a trip to Southeast Asia. On a rainy day, they climbed Elephant Mountain in Taipei, Taiwan, and after arriving at the summit cliff, Mr. Carey proposed, as fellow climbers around them began to cheer.
They were married Sept. 9 in an outdoor ceremony at Gantry State Park in Long Island City, Queens, before five guests, including their officiant, Samuel Zelitch, who became a minister of American Marriage Ministries for the event. The couple had originally planned to marry May 23 at the Brooklyn Cider House with 178 guests, but the coronavirus forced them to cancel.
Transcending politics – Northwest Arkansas Democrat-Gazette
It is a phrase that has been continuously invoked by Democratic and Republican leaders. It has become the clearest symbol of the mood of the country, and what people feel is at stake in November. Everyone, it seems, is fighting for it.
"This campaign isn't just about winning votes. It's about winning the heart and, yes, the soul of America," former Vice President Joe Biden said in August at the Democratic National Convention, not long after the phrase "battle for the soul of America" appeared at the top of his campaign website, next to his name.
A recent campaign ad for President Donald Trump spliced videos of Democrats invoking "the soul" of America, followed by images of clashes between protesters and police and the words "Save America's Soul," with a request to text "SOUL" to make a campaign contribution.
That the election has become a referendum on the soul of the nation, suggests that in an increasingly secular country, voting has become a reflection of one's individual morality — and that the outcome hinges in part on spiritual and philosophical questions that transcend politics: What, exactly, is the soul of the nation? What is the state of it? And what would it mean to save it?
The answers go beyond a campaign slogan, beyond politics and November, to the identity and future of the American experiment itself, especially now, with a pandemic that has wearied the country's spirit.
"When I think of soul of the nation," Joy Harjo, the U.S. poet laureate and a Muscogee (Creek) Nation member, said, "I think of the process of becoming, and what it is we want to become. That is where it gets tricky, and that is where I think we have reached a stalemate right now. What do people want to become?"
Harjo said the country's soul was "at a crucial point."
"It is like everything is broken at once," she said. "We are at a point of great wounding, where everyone is standing and looking within themselves and each other."
In Carlsbad, Calif., Marlo Tucker, the state director for Concerned Women for America, has been meeting regularly to pray with a group of a dozen or so women about the future of the country. The group has been working with other conservative Christian women to register voters.
"It really comes down to what do you stand for, and what do you not stand for," she said.
"I know this is a Christian nation, the Founding Fathers were influenced by the biblical values," she said. "People are confused, they are influenced by this sensationalism, they are angry, they are frustrated. They are searching for hope again in government, they are searching for leaders who actually care for their problems."
THE BODY POLITIC
The soul, and the soul of the body politic, is an ancient philosophical and theological concept, one of the deepest ways humans have understood their individual identity, and their life together.
In biblical Hebrew the words translated as soul, nefesh and neshama, come from a root meaning "to breathe." The Genesis story describes God breathing into the nostrils of man, making him human.
The meaning echoes through today, in a pandemic that attacks the respiratory system and in police violence against Black people crying out, "I can't breathe."
Homeric poets saw the soul as the thing humans risk in battle, or the thing that distinguishes life from death. Plato wrote of Socrates exploring the connection between the soul and the republic in creating the virtue of justice. For St. Augustine, who wrote "The City of God," the city could be judged by what it loves.
The soul of the nation is "a very ancient trope that is revived when all sorts of cultural ideas are in flux," Eric Gregory, professor of religion at Princeton University, said. "It reveals something about the current political conversation, in times of crisis and change, a corruption of sickness."
Often we stress systems and institutions, he said, but in the Trump era there has been a return to ancient concepts about the welfare of the city, where politics is about right relationships. "In ancient politics the health of society had a lot to do with the virtue of the ruler," Gregory said.
In the United States, the question of who could define the soul of the nation was fraught from the start, from the forced displacement of American Indians to the enslavement of Africans.
And the state of the soul of the nation has often been tied to the country's oppression of Black people. Abolitionists like Frederick Douglass fought for an "invincible abhorrence of the whole system of slaveholding" to be "fixed in the soul of the nation." Lyndon B. Johnson said the country found its "soul of honor" on the fields of Gettysburg. When the Rev. Martin Luther King Jr. and other civil rights leaders formed what is now the Southern Christian Leadership Conference in 1957, they made their founding motto "to save the soul of America."
'BATTLE FOR THE SOUL'
This year Trump has positioned himself as the defender of a Christian America under siege. "In America, we don't turn to government to restore our souls, we put our faith in Almighty God," he said at the Republican National Convention. Franklin Graham, one of his evangelical supporters, wrote last year that this age is "a battle for the soul of the nation," as the original "moral and spiritual framework, which has held our nation together for 243 years, is now unraveling."
For Biden, the soul of the nation came into focus after the deadly white nationalist rally in Charlottesville, Va., three years ago. "We have to show the world America is still a beacon of light," he wrote at the time.
Amid questions of the soul, voters have problems they want solved, and systems they want changed.
North of Boston, Andrew DeFranza, executive director of Harborlight Community Partners, an organization that develops inexpensive housing, reflected on the disastrous impact of the coronavirus pandemic for many people, from essential workers to people with disabilities. The country's soul is disoriented, adversarial and tired, he said.
"I don't think Group A is going to beat Group B and everything is going to be fine," he said of the election. "We are eager to see political leaders at every level regardless of party demonstrate concrete, actionable plans to address these issues of inequity around health and race, and to do so in a way that is concrete and has outcomes to which they can be accountable."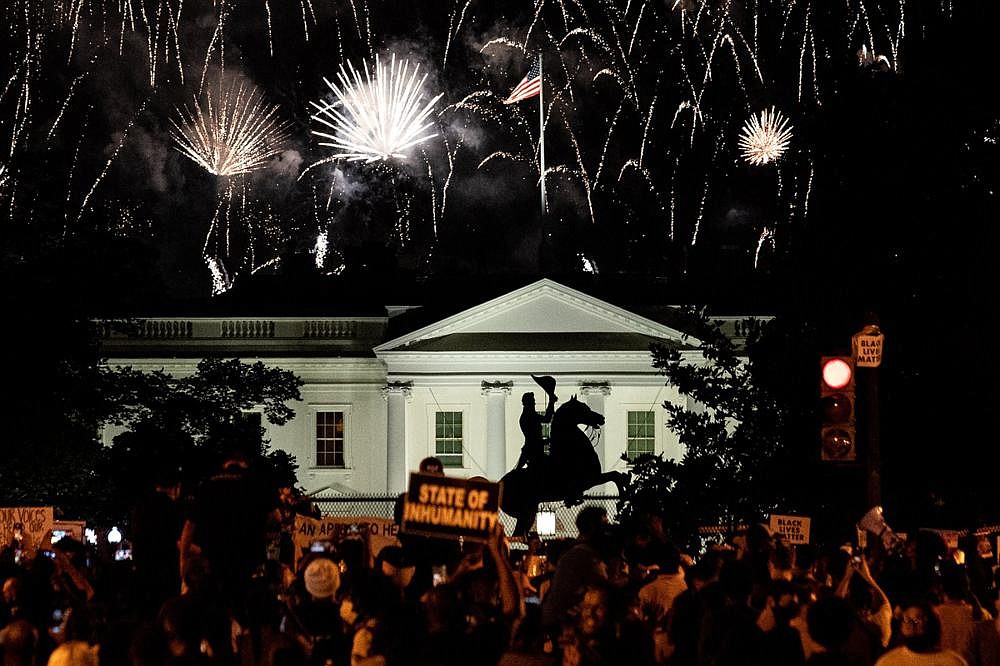 Protesters watch a fireworks display above the White House after President Donald Trump accepted the Republican presidential nomination during the final night of the Republican National Convention, in Washington, on Aug. 27. The election has become a referendum on the soul of the nation, suggesting that in an increasingly secular country, voting has become a reflection of one's individual morality — and that the outcome hinges in part on spiritual and philosophical questions that transcend politics.
(The New York Times/Erin Schaff)
On politics and the principle of nurturing – MinnPost
Who is my neighbor? Over the course of life's wanderings my answer to this question has gone through expansion and contraction cycles, and as I stumble into middle age over the cracks and potholes I recognize I've treated the question at times as rhetorical and metaphorical, but increasingly in recent years, literal. Especially this year, and especially at this time of year as I make decisions about the votes I will cast for elected offices in November.
The passionate pursuit of a single issue can drive a vote. As I write this, I've just read the fine commentary on these pages by Erik Johnson, who discourages us from hinging our decisions on single issues ("At election time, you have a voice — and it is your obligation to use it," Oct. 19). I have never been a single-issue voter, but in these complex times parsimony is an elixir. The issue I claim is the principle of nurturing (the breadth of which may get me a pass from detractors of single-issue voting). Oxford Languages defines nurturing as "to care for and encourage the growth and development of." As a mental health professional, I've become aware of the ubiquity of the need for nurturing (all of us, not just those who seek professional support), and as a Lutheran I struggle with the limitations on the bandwidth I have for contributing to the nurturing needed where my family lives in the urban core and across the state where my kids will grow up alongside yours.
A natural tendency
Humans have a natural tendency to nurture — with our families, pets, gardens, clubs, teams, businesses — reflecting the importance of people, where we belong, and what we are responsible for. We can recognize nurturing in the actions of people who inspire us. We read about nurturing in the newspaper and other media every day in wide-ranging stories of long-sustained efforts in every sector of life from global politics to sports to race relations, in obituaries telling us how the world is a better place because of ideas, values, and visions nurtured. Nurturing is not something the political right or the left can claim — thankfully it is a nonpartisan path to tread.
In his 2015 book "The Nurture Effect," Anthony Biglan argues for nurturing as the core of solutions to challenges faced by individual people, families, schools, and our larger society (among other roles in his influential career in social/behavioral science, Biglan directed the research consortium of the Promise Neighborhoods initiative under the Obama administration). He describes nurturing as a scalable practice supported by decades of research across sectors of society that drives improvements to the human condition at the individual and systems levels. Biglan traces the origin of his push for nurturing to his work on a 2009 Institute of Medicine report on preventing social and health problems: "I began to see common threads that ran through all successful programs, policies, and practices … all of them make people's environments more nurturing."
Neighbors = Minnesotans
Back to the question "who is my neighbor," I have settled on the answer of "everyone in Minnesota." Business and pleasure have taken me all over this state to experience the richness of its people, places, and pursuits. But rather than a simple balm for my struggling spirit and a road map for action, this answer adds complexity. The decisions I make at the ballot box this November cannot possibly nurture all my neighbors in the ways they would define it. It is not a zero-sum calculation, but what nurtures the (mostly white) neighbors on my block may not nurture my BIPOC neighbors. Decisions that nurture my urban hometown or my beloved wild lands may not nurture the farmers who grow my food or the mining families who produce resources for our state and far beyond. I try to listen and learn but I don't walk in the shoes of others. I embrace the tension in having no simple answers and in rejecting the dichotomous choices of our politics.
There will be winners in this election who will earn the responsibility of nurturing their entire constituencies, and must be held to account in that regard. I cling to an optimism that I am not alone in the hope that our civil discourse can embrace the difficult shades of gray it has shied away from in this age of the echo chamber, and collectively our tendencies as nurturers will pave smoother roads for all our neighbors.
Tim Moore is a psychologist who lives in St. Paul with his wife and three children.
WANT TO ADD YOUR VOICE?
If you're interested in joining the discussion, add your voice to the Comment section below — or consider writing a letter or a longer-form Community Voices commentary. (For more information about Community Voices, see our Submission Guidelines.)
Boris Johnson used to be the Teflon man of British politics, brushing off scandals, gaffes and mistakes. Not any more – CNN
Now Johnson's plans appear ruined. He'd wanted to use his personal enthusiasm for Brexit to instil a fresh sense of optimism that the UK's future was brighter outside the European Union. Free from the Brussels bureaucracy, Johnson's government vowed to address the UK's socio-economic imbalance that in some sense led to Brexit by "leveling up" deprived areas. He would also seek to strengthen
the bond between the four nations of the UK
, which had been stretched to near-breaking point amid the bitterness following the 2016 referendum. In short, the man who led the campaign that caused so much division was on a charm offensive to heal the country.
However, 10 months on, his government is short on resources and losing good will. Johnson's opponents point to numerous errors made early in the pandemic over testing and confusing messaging over lockdowns, the highest death count in Europe and worst recession of any major economy as evidence of his failures. Worse, members of his own party fear that his lack of attention to detail and instinct for combative politics is causing a shift in the PM's public perception: From affable optimist to incompetent bully who is hopelessly out of his depth. And they worry what long-term damage this might do both to Johnson's personal mission and the brand of the Conservative party writ large.
One former Conservative cabinet minister and colleague of Johnson, who declined to be named, agreed with this analysis. "To deal with a crisis like this, you need public confidence and you need different bits of the state working together as effectively as possible," the politician said. "Instead, they have managed to enrage the leadership in Scotland and Wales while picking largely pointless fights with mayors of major cities where Conservatives historically don't do well. It's a very strange way of going about uniting the country."
Over the past week, Johnson has been in
a protracted and public spat
with the Labour Mayor of Greater Manchester, Andy Burnham. Johnson wanted the city to enter the UK's highest tier of Covid restrictions. Burnham didn't want this to happen without more financial support from the central government. The whole thing ended in a complete mess, as Johnson's government didn't make clear after talks collapsed that the money deemed insufficient by Burnham was still on the table. This led to a televised press conference in which Burnham supposedly found out live on air that the government had withdrawn their offer of £60 million ($78 million) for the city, instead only offering £22 million.
The government claims the whole thing was a set up by Burnham and in fact the minister responsible had talked with him before the press conference.
A government minister told CNN that there is "zero evidence that the PM picked a fight with Burnham," adding that a central government "naturally has to balance economic and public health issues while local politicians have a much narrower focus," implying Burnham was playing politics with Johnson.
However, worryingly for Johnson, his personal approval ratings and trust in his government have plummeted sufficiently since the crisis that the truth doesn't entirely matter.
"When you look at Boris's personal brand you see dramatic drop-offs in people who think he is likeable and trustworthy since the start of the pandemic. He now lags behind Keir Starmer (leader of the opposition Labour party) on almost all of those metrics," says Chris Curtis, Political Research Manager at pollster YouGov.
This dip in trust is particularly toxic for Johnson when you combine it with the reputation Conservatives have in parts of the country that historically vote Labour and Johnson was able to pick up seats in last December's election — the so-called Red Wall.
"People will remember in six or 12 months that the government didn't seem to care if children went hungry over Christmas during an economic crisis. It costs relatively little to fund compared to other government spending this year," says Lauren McEvatt, former special adviser to a previous Conservative administration. "It feeds into a narrative which still exists that Conservatives ultimately don't care as much about poor people."
What's perplexed many observers over the Rashford affair is that Johnson had to U-turn earlier this year on exactly the same matter for summer holidays. "This government is like that GIF where Sideshow Bob keeps stepping on the same rakes and whacking himself in the face," says Rob Ford, professor of politics at the University of Manchester.
All of which only goes to reopen the question of government competence. "From the start, this government set out to hyper-centralize everything from a small team in Downing Street in order to have a tight grip on the Johnson project," says a senior Conservative lawmaker. "That means a small group of people are making decisions in areas they might not be experts. That's hard enough at the best of times, but during a crisis which affects the whole country and is constantly changing, it's virtually impossible."
The lawmaker goes on to explain that he thinks they "rely too much on focus groups" in order to appeal to public opinion. "The trouble is, focus groups don't have much foresight. Something might be very popular one day but six months down the line look like a massive mistake. Normal practice in government is to find the right policy and sell it to the public, not the other way around."
Numerous current and former Downing Street insiders told CNN that while it was true this government did run a lot of focus groups and deemed them to be very important, opinion was divided on their precise influence over policy making. Some said that decisions were made on the basis of focus groups; some said they helped shape how the government would sell policy to the public; some claimed it had led to major policy U-turns, including over Rashford's summer campaign. A government official denied this claim.
Whatever the truth, it is hard to deny that Johnson's credibility has taken a significant hit this year. Many point to a scandal surrounding his most senior adviser, Dominic Cummings, as the worst moment of the year. Cummings, having displayed symptoms for Covid, decided to drive hundreds of miles from his home in London when government advice clearly stated that he should self-isolate. Cummings claimed that he did so to provide childcare for his young son.
"They could have killed that story in 48 hours if they said he was desperately worried about his baby and now realizes it was wrong," says the former cabinet minister. Instead, Cummings gave a bizarre press conference where he defended not only his initial trip, but a further outing in his car which he claimed to merely be testing his eyesight. "The refusal to show any kind of contrition led to a big change of mood. That episode symbolizes what has been wrong about the approach," the former minister adds.
Whether that's fair or not, it's certainly possible to argue the case that the
Cummings scandal
had three key ingredients: Cock-up; lack of apology; aggressive response. It is also possible to superimpose this playbook onto both the responses to Burnham and Rashford. In the case of the latter, Johnson was not helped by members of his own party implying that some poor parents are feckless and not interested in feeding their children and that children have always gone hungry anyway.
All of this leaves Johnson vulnerable to those who want to paint him as a mean-spirited bully running a shambolic government. "Fairly or unfairly, it does play to the stereotype of Conservatives as not interested in the poor and not interested in the north. This, unfortunately, does really damage his agenda for leveling up, cementing the red wall and defending the union," says the former minister.
It's worth pointing out that as things stand, Johnson's party is still ahead in the polls. A government minister puts this down to the fact that despite all the headlines, Johnson's real actions present an alternative narrative that voters understand. "If you move away from Covid, all the big announcements we have made are focused on investments in skills, and we didn't go for austerity 2.0 despite massive pressure. All of these things suggest that leveling up is still the PM's top priority," the minister said.
However, despite those polls, Johnson only won his majority last December and that lead has been slipping. And as the crisis continues, many of his previous supporters are increasingly skeptical that Boris Johnson was ever really the man to unite a country divided by political chaos for which he was largely responsible.