The Politics of South Korea's 'China Threat' – The Diplomat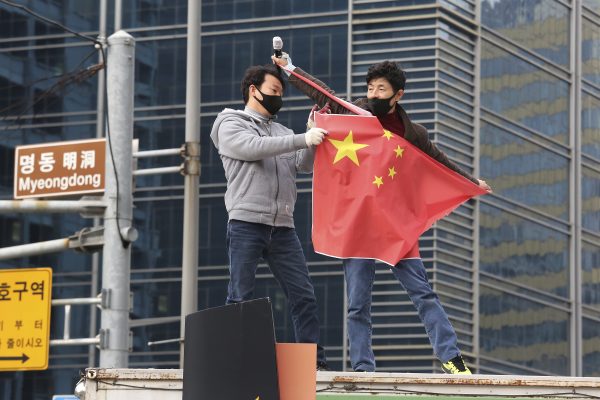 In an unprecedented turn of events, the consortium behind the production of "Joseon Exorcist," a highly anticipated Korean historical drama featuring zombies, announced the cancellation of the show after airing its second episode on March 23. The production team had been beset with the accusations that it was "distorting" history by presenting Korean culture through "Chinese" aesthetics. Sponsors of the show quickly pulled out, leading to the complete scrapping of the $28 million series. The hasty cancellation of the series underscores a very strong undercurrent of anti-Chinese sentiments in the country, which could turn South Korea's China policy into a wedge issue in its hyper-partisan political landscape.
The Korea-China Drama
The cancellation of "Joseon Exorcist" does not come out of the blue, nor has it been the only case. Other ongoing Korean dramas such as "True Beauty" and "Vincenzo" have come under fire for product placement of Chinese brands like JD.com or a Chinese brand of bibimbap. South Korean entertainment has become popular abroad, and it is no secret that there is significant Chinese capital behind many mega-productions. However, the pushback in South Korea has become more intense recently.
A more immediate explanation for this trend is China's recent alleged "cultural imperialism." Since last year, the South Korean media has started to report incidents of China's cultural appropriation – an attempt to label traditional Korean clothing hanbok as a type of Chinese hanfu, or spats over the origins of kimchi. Further, it was discovered that Chinese search engines were listing Korean historical figures or national heroes such as King Sejong, Yun Dong-ju, or Kim Yuna as "chaoxianzu," (joseonjok in Korean) referring to the Korean Chinese minority group living in Northeast China.
For Koreans, these controversies are seen a continuation of the "Northeast Project" from the early 2000s, in which Chinese academics sought to find archaeological evidence to buttress the claims of China as a perennial multiethnic state that included the ethnic Korean people. The labelling of Korean cultural heritage under the Sinic umbrella provoked a nationwide outrage in South Korea and raised concerns that this might be a reflection of a newly emerging colonial attitude on the part of the Chinese. However, there is more to the story.
The Rise of Anti-Chinese Sentiments
The South Korean backlash against China's cultural encroachments must be understood as a manifestation of deep-seated anti-Chinese sentiments that has built up over the past few years. According to the Pew Research Center, the percentage of South Koreans with negative sentiments toward China has reached all-time high, jumping from 31 percent in 2002 to 75 percent in 2020, while the percentage of those with positive sentiments took a dive from 66 percent to 24 percent during the same period. Obviously, the COVID-19 outbreak and Beijing's so-called "wolf warrior diplomacy" have been key factors souring perception in South Korea, like in the rest of the world, but there are more deeply seated issues at play in the South Korean context.
South Koreans have experienced and vividly remember the economic retaliation orchestrated by Beijing in response to the agreement to install the Terminal High Altitude Area Defense (THAAD) missile defense system at the request of the United States in 2016. In a classic "shrimp between the whales" moment, South Korea suffered at least $7.5 billion of economic losses when Beijing imposed unofficial – but by no means ineffective – sanctions on Korean products, from tourism to entertainment. The rise of anti-Korean vandalism and assault in China, which followed cues from state media, made it difficult for South Koreans to separate Beijing from the Chinese people. This was a watershed moment in which many South Koreans came to experience first-hand the implications of dependence on a more assertive and activist China.
The cognitive framework of South Koreans toward China that emerged during the THAAD crisis has remained in place despite the normalization of relations between Beijing and Seoul in 2017. Recent revelations of human rights abuse in Xinjiang and the crackdown on civil society activism in Hong Kong have further reinforced this perception of China among South Koreans. The pandemic and the increasingly aggressive rhetoric from China's diplomats contributed to this trend as well.
A Policy Mismatch
However, there is a mismatch between this strong anti-China sentiment in the public and South Korea's current foreign policy. This, combined with external environments that make the policy of "strategic ambiguity" vis-à-vis China and the United States increasingly difficult and the hyper-partisan, polarized political landscape, could altogether transform China policy into a key wedge issue in South Korea's politics in the coming years.
Following the THAAD debacle, Seoul has been careful to not provoke Beijing again. Also, seeking a closer relationship with Beijing has been aligned with President Moon Jae-in's agenda of lessening dependence on the U.S. to derive more agency for Seoul's North Korea policy, as well as the political ideology of the South Korean progressives that elected him. In this, Moon has consistently made overtures to collaborate with China, and he has been working to organize President Xi Jinping's visit to Seoul this spring.
The Moon administration has been extra careful in navigating its relations with Beijing. It has not banned the procurement of Huawei's 5G network equipment by LG U+, one of the three telecoms in the country, despite calls to do so from Washington. And South Korea remains one of the few democracies that has not expressed support for the rights and freedoms of the protesters in Hong Kong.
More recently, South Korea did not endorse Canada's Declaration Against Detention in State-to-State Relations, an initiative that seeks to pressure Beijing to release the two detained Canadians. The declaration was supported by 57 countries, including most of the key democracies. Likewise, South Koreans were not present when diplomats in Beijing gathered in front of the courthouse to show support for the Canadians. Thus far, Seoul has been silent about the possibility of sanctions against China for human rights violations in Xinjiang as well.
Then, considering the strong anti-Chinese sentiment in South Korea, there is a mismatch between the popular will and Seoul's foreign policy today. South Koreans have become increasingly critical of the Moon administration's approach to China, which many regard as unnecessarily deferential or even humiliating.
The external environment has also made it increasingly difficult for Seoul to maintain the policy of strategic ambiguity between China and the United States. On the North Korea front, the Moon administration has not made any tangible progress since the 2019 Hanoi summit fell apart. The election of President Joe Biden has not eased the tension between the two superpowers; rather, Washington has been moving to repair and renew its alliances around the world to lead a united front against China, from tech to military.
Washington is highly critical of Seoul's strategic ambiguity and has been demanding more. The CSIS Commission on the Korean Peninsula recommends the abandonment of strategic ambiguity, which creates a "high-cost, low benefits scenario," and urges Seoul to recommit to the U.S.-South Korea alliance. The Biden administration is also said to be asking Seoul to contribute more actively to the Quad initiative in the Indo-Pacific.
There are growing concerns about being isolated on the international stage while attempting to maintain strategic ambiguity. Seoul's silence on key human rights issues – especially given Moon's career as a human rights lawyer – has been noted, and experts have warned that South Korea's absence from alliance activities may completely cede policy leadership in the region to others, especially Tokyo. There are also concerns that key, sensitive South Korean sectors such as semiconductors and batteries might suffer if Seoul remains locked out of the alliance and stuck in the middle between Beijing and the liberal democracies.
In this context, China policy has become a wedge issue, which will, unfortunately, further limit the policy latitude for Seoul, regardless of who comes to power. South Korea's political landscape has become extremely polarized, with the public split on all issues – social, economic, and foreign affairs – along party lines. According to a government survey in 2019, 91.8 percent of South Koreans indicated that they believe that there is a conflict between progressives and conservatives, a drastic jump from 70.2 percent in 2006.
Politicizing China
Cold War rhetoric remains influential in South Korea due to its history (i.e., the fight against North Korea and Seoul's anti-Communist operations) and it further reinforces the historical, partisan divide between pro-U.S. conservatives and anti-U.S. progressives. Now, the difference is that the focal point is not North Korea, but China. The Cold War language of the "reds" infiltrating free societies and plotting their overthrow from within can easily be identified in today's conservative rhetoric about China. Common themes include China's political influence on leftist elites like Moon or Chinese capital slowly taking over the Korean entertainment industry.
Conservatives have already started to exploit the mismatch between South Korea's strong anti-Chinese sentiments and Seoul's passive foreign policy. The outbreak of COVID-19 created an opening for the conservatives to attack the Moon government's China policy – they blamed the failure to ban flights from China or criticize Beijing's early responses to the pandemic as a sign of Moon's policy of extreme deference vis-à-vis China. The allegations of "stolen elections" last year that gained significant ground among conservatives also centered around China's supposed furtive operations to subvert South Korea's democracy through the election of progressive politicians.
There are more signs of the mainstream conservatives mobilizing to exploit these anti-China sentiments. The main conservative opposition People Power Party's (PPP) policy white paper clearly indicates its hawkish stance vis-à-vis Beijing. It calls for stronger reaction against "historical distortions" by China, strengthening of the U.S.-Korea alliance, pushback against Xi Jinping's glorification of China's participation in the Korean War, and overall a more "confident" China policy driven by national interest.
With the upcoming by-elections on April 7, conservative politicians and media have even started to politicize the franchise of Chinese residents. Under the current law, foreign residents who have lived in South Korea for more than three years can vote in local elections, and the Chinese Koreans are perceived to be supporters of the Democratic Party.
Oh Se-hoon of the PPP, who is expected to win the Seoul mayor race in the April 7 by-election, attributed his loss to the progressive candidate in last year's election to the fact that "tens of thousands of Joseonjok live in [the district] … over 90 percent of them vote for the Democratic Party," a quote that was widely circulated in the national media.
In another instance, Chosun Ilbo, the most circulated newspaper with a conservative bent, reported the Democratic Party's outreach to Chinese voters under the headline "Franchise for Foreigners: Democratic Party Pleads for Votes from Chinese," which clearly panders to the underlying current of anti-China sentiments and aims to politicize the voting rights of Chinese residents in South Korea.
"China Threat" and Democratic Values
South Koreans are already eyeing the 2022 presidential election. The current administration, beset with economic troubles and corruption scandals, is increasingly unpopular, with Moon's approval ratings at 32.2 percent. Moon is already losing his influence in the party, and his lame duck period might have already begun, with attention shifting to the favorites for the 2022 election instead. Until the polls in March 2022, South Koreans will be exposed to debates and campaigns in a highly partisan environment. China policy is likely to remain a key wedge issue.
Conservatives will continue to make their pitches for tougher policies (which may or may not become reality) on China – from protecting the ownership of kimchi to South Korean participation in the U.S.-led initiatives in the Indo-Pacific. The results of the election will be important, but it will also be critical to watch how the calls for tougher policies on China and rise in anti-China sentiments throughout South Korea society affect civil liberties and democratic values. China got blamed for the purported theft of the 2020 South Korean election in a widely spread conspiracy theory, and conservatives have started to politicize the right of foreign residents to vote. In a highly polarized social and political environment, China could provide the excuse for extreme rhetoric, practices, and policies that go against fundamental liberal values.
There are several parallels to draw between the South Korean case and the different responses to the "China threat" around the world. A key shared element in these is how the frustration with elite politics and existing economic and social problems are getting channeled through these debates on China. More specifically, people hear from the elites that economic engagement with China is important and beneficial, but house prices continue to go up and inequality continues to rise. Ultimately, these responses to the "China threat" underscore the struggle of liberal democracies to identify ways of dealing with an assertive and powerful China that is increasingly more present in their lives.
Biden offers tax credits for COVID-19 vaccination and paid time off
By Trevor Hunnicutt
WASHINGTON (Reuters) –President Joe Biden on Wednesday announced tax credits for certain businesses that pay employees who take time off to get COVID-19 shots, a new effort to involve corporate America in his vaccination campaign.
"I'm calling on every employer, large and small, in every state to give employees the time off they need with pay to get vaccinated," the Democratic president said.
The tax credits will apply to businesses with fewer than 500 employees, he said.
In a speech, Biden also said he expects the United States to reach his 100-day goal of getting 200 million coronavirus vaccine shots in arms by the end of the day, even as the nation faces an increase in infections.
"Today we hit 200 million shots," Biden said. "It's an incredible achievement for the nation."
Biden said the vaccine effort is entering a new phase with everyone over age 16 becoming eligible to be vaccinated. Biden said 80% of all seniors have received at least one shot, leading to a dramatic decline in the deaths of elderly Americans.
"If you've been waiting for your turn, wait no longer," Biden said.
Biden administration officials said the government plans to reimburse businesses for the cost of giving workers as many as 80 hours in paid time off to get their shots or recover from any side effects.
The tax credit is for up to $511 per day for each worker, through September. Businesses with fewer than 500 employees employ roughly half of U.S. private-sector workers. The tax credits were authorized under Democratic-backed COVID-19 pandemic relief legislation passed by Congress and signed by Biden over Republican opposition.
The administration's chief problem in its response to the pandemic is now shifting from securing enough vaccine supply to persuading enough Americans to seek out the available shots.
More than half of American adults have had at least one vaccine dose, according to the U.S. Centers for Disease Control and Prevention (CDC). A third of U.S. adults are fully vaccinated, as well as 26% of the population overall.
The U.S. COVID-19 death toll of more than 568,000 leads the world. The coronavirus is still killing hundreds of Americans daily and many Americans have shown a reluctance to get vaccinated.
Countries around the world with less successful vaccination campaigns than the United States are dealing with a spike in infections.
Biden, who has loaned some unused vaccines to Canada and Mexico and donated funds to a multilateral vaccination effort for poor countries, said the White House is still looking at its options for eventually sending vaccines to Canada, Central America and elsewhere. Biden told reporters after his speech that he spoke with Canadian Prime Minister Justin Trudeau earlier on Wednesday.
"We don't have enough to be confident to send it abroad now, but I expect we're going to be able to do that," Biden said.
"We're looking at what is going to be done with some of the vaccines that we are not using. We've got to make sure they are safe to be sent."
(Reporting by Trevor Hunnicutt and Steve Holland; Editing by Will Dunham and Jonathan Oatis)
The Liberal Government rolls out post-pandemic spending plan ahead of likely election
By Julie Gordon
OTTAWA (Reuters) -Canadian Prime Minister Justin Trudeau's government on Monday lined up billions in new spending to provide emergency support during a virulent third wave of COVID-19 and to help launch an economic recovery ahead of an election expected later this year.
The budget, the Liberal government's first in two years because of the pandemic, is aimed squarely at boosting near-term growth and includes a long-promised national daycare plan.
It also follows through on stimulus promised late last year, outlining a C$101.4 billion ($81 billion) "growth plan" over three years, with nearly half of that spending coming in the first year.
"We have to finish the fight against COVID – and that costs a lot of money," Finance Minister Chrystia Freeland told reporters, adding that hundreds of thousands of Canadians remain out of work because of the pandemic.
Liberal insiders expect Trudeau to seek an election later this year to try to secure a majority in parliament. The Liberals currently need the support of at least one other party to pass legislation, including the budget.
Opposition lawmakers were unimpressed with the budget. But the leader of the left-leaning New Democratic Party said he was not prepared to bring down the government over it.
"It is clearly irresponsible to have an election or in any way to trigger an election while we are in the midst of this third wave," Jagmeet Singh told reporters. "The impact on people would be devastating and we are not going to do that."
Erin O'Toole, who heads the official opposition Conservatives, said: "This is an election budget and a poor one at that." His party trailed the Liberals by 37% to 29% in an Abacus Data poll published last week.
Business groups were pleased with the added certainty of finally having a full budget, but remained unsold on the need for a massive stimulus plan with the economy already set to surge later this year as pent-up demand is unleashed.
"There's a lot of spending in a lot of programs. But the effects of all of those combined together for me is just a bit unsure," said Robert Asselin, senior vice president of policy at the Business Council of Canada.
The deficit for the fiscal year that started on April 1 will be the second largest in recent decades, with the closely watched debt-to-GDP ratio hitting 51.2%, although Freeland promised a return to restraint as the economy gets back to normal.
"I think the key here is the debt-to-GDP (ratio) is expected to peak this year … and it's expected to come down in the years ahead," said Doug Porter, chief economist at BMO Capital Markets. "I think that's a credible plan if they can stick to it."
THIRD COVID WAVE
Trudeau's Liberal government has been buoyed in opinion polls by its response to the COVID-19 pandemic. But a third wave of infections is pounding the country's largest city, Toronto, and its suburbs – a key Ontario region for securing an electoral majority – and the coronavirus vaccine rollout has trailed other wealthy countries like the United States and Britain.
Of the nearly C$50 billion in new spending this year, C$27 billion is set aside to extend pandemic recovery measures like wage and rent subsidies for businesses and for a new program to help transition companies back to hiring.
The budget also aims to create a national childcare program and to make a more aggressive effort to reduce carbon emissions, both measures that polls show are important to Liberal voters.
While Freeland said historically low interest rates allowed significant investment, she also pledged to unwind deficits and reduce the debt-to-GDP ratio over the medium term. A senior government official said, however, that a fiscal anchor should not be seen as a "straitjacket."
The official also said that the government had run stress tests on the accumulating debt and was confident of its abilities to service that debt even as interest rates rise in the future.
"It's hard for us to draw a conclusion that we're out over our skis. We don't believe we are. We think we're in very solid terrain," the official told reporters.
Surging growth should also increase revenues, with 5.8% growth forecast for this year, after a 5.4% contraction in 2020.
The deficit in the current year is projected to hit C$154.7 billion, less than half that of the previous fiscal year, with total national debt soaring to C$1.23 trillion this year, up from C$1.08 trillion in the previous year.
The Canadian dollar steadied at about 1.2530 to the greenback, or 79.81 U.S. cents, after the budget was released. Canada's 30-year yield extended its rise, up 7.5 basis points at 2.060%.
($1 = 1.2526 Canadian dollars)
(Reporting by Julie Gordon; Additional reporting by David Ljunggren, Steve Scherer, Fergal Smith and Moira Warburton; Editing by Peter Cooney)
Beijing huddles with friends, seeks to fracture U.S.-led 'clique'
By Gabriel Crossley and Yew Lun Tian
BEIJING (Reuters) – China is shoring up ties with autocratic partners like Russia and Iran, as well as economically dependent regional countries, while using sanctions and threats to try to fracture the alliances the United States is building against it.
Worryingly for Beijing, diplomats and analysts say, the Biden administration has got other democracies to toughen up to a rising, more globally assertive China on human rights and regional security issues like the disputed South China Sea.
"China has always resolutely opposed the U.S. side engaging in bloc politics along ideological lines, and ganging up to form anti-China cliques," the Chinese foreign ministry said in a statement to Reuters.
"We hope relevant countries see clearly their own interests…and are not reduced to being anti-China tools of the U.S."
After last month's stormy talks between top U.S. and Chinese diplomats in Anchorage, Beijing also appeared to engage more urgently with countries like Russia, Iran and North Korea, which are also on the wrong end of U.S.-led sanctions.
COLD COMFORT
"China is very worried about U.S. alliance diplomacy," said Li Mingjiang, associate professor at the S. Rajaratnam School of International Studies in Singapore, pointing to what he calls attempts to "huddle for warmth" with governments shunned by the West.
Days after the Alaska meeting, the Chinese government's top diplomat, State Councillor Wang Yi, received Russia's foreign minister Sergei Lavrov, who called for Moscow and Beijing to push back against what he called the West's ideological agenda.
A week later, Wang flew to Iran and signed a 25-year economic pact, which Renmin University professor Shi Yinhong said "effectively exposes every Chinese company participating to direct or indirect U.S. sanctions."
President Xi Jinping, meanwhile, exchanged messages with North Korean leader Kim Jong Un, calling for a deeper partnership with another country whose ambitions for nuclear arms has drawn sanctions.
China is also wooing its economically dependent neighbours. Wang hosted foreign ministers from Indonesia, Malaysia, the Philippines, Singapore and South Korea in China's southeastern Fujian province in recent weeks.
Li said Beijing will be holding out promises to help these countries revive their economies after the COVID-19 pandemic, making them think twice about siding with the United States.
After Philippines diplomats and generals accused China of sending militia-manned vessels into their waters, President Rodrigo Duterte said he was not going to let territorial disputes in the South China Sea get in the way of working with China on vaccines and economic recovery.
BUILDING BLOCS
Biden has continued to pressure Beijing on many of the same issues the Trump administration did, but with a more alliance-focused strategy.
At a meeting between Biden and Japanese Prime Minister Yoshihide Suga on Friday, the two countries presented a united front against China's assertiveness, on issues ranging from the disputed East China Sea islands known as Senkaku in Japan and Diaoyu in China, to rights issues in China's Hong Kong and Xinjiang region.
Last month, the United States, the European Union, Britain and Canada imposed coordinated sanctions over reports of forced labour in China's western Xinjiang region, while over a dozen countries jointly accused China of withholding information from an investigation into the origin of the COVID-19 pandemic.
Germany, Britain, the Netherlands, Canada and France all recently joined the United States in sending warships through the disputed South China Sea, or announced plans to do so.
Washington also said it wants a "coordinated approach" with allies on whether to participate in the 2022 Winter Olympics in Beijing, amid concerns over human rights violations, particularly related to the treatment of Uighurs and other Muslim minorities in Xinjiang.
BREAKING THE 'CLIQUE'
China has responded angrily to shows of unity by Washington's allies, with its diplomats dubbing Japan a "vassal" and Canada's Prime Minister Justin Trudeau a "running dog" of the United States.
China's strategy to weaken this unity revolves around encouraging U.S. allies to engage independently with Beijing, and put the economic benefits first, while punishing them if they engage in joint-action against China.
Beijing responded to the EU's sanctions of Chinese officials over Xinjiang with disproportionately harsh counter-sanctions, analysts said, potentially torpedoing a long-awaited investment agreement.
Janka Oertel, director of the Asia Programme at the European Council on Foreign Relations, believes Beijing is prepared to sacrifice economic benefits for core interests if they are threatened by the U.S.-EU alliance.
Xi drove home the message in a recent phone call with German Chancellor Angela Merkel, telling her that he hoped "the EU will make a correct judgment on its independence".
But China still needs European technology and investment, said Joerg Wuttke, president of the European Chamber of Commerce in China.
"They still talk to us, despite the sanctions, business keeps going, and that's very reassuring."
Beijing has not given up persuading Washington that cooperation is better than competition, as demonstrated last week when it assured U.S. climate envoy John Kerry of support for Biden's virtual climate summit this week.
"China hopes Washington can appreciate that it is in U.S. interests to have China as a friend rather than as a foe," said Wang Wen, a professor at the Chongyang Institute of the Renmin University of China.
(Reporting by Gabriel Crossley and Yew Lun Tian; Editing by Tony Munroe & Simon Cameron-Moore)