The Politics of South Korea's 'China Threat' – The Diplomat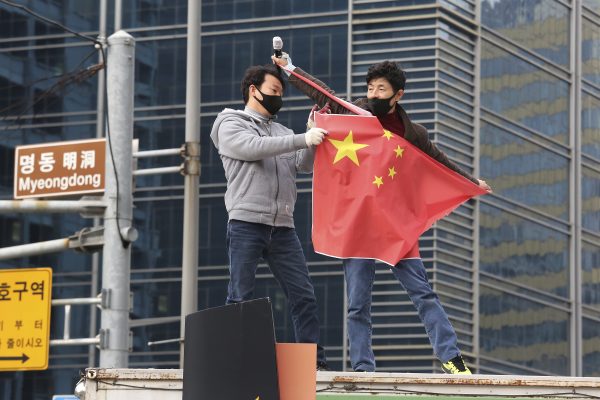 In an unprecedented turn of events, the consortium behind the production of "Joseon Exorcist," a highly anticipated Korean historical drama featuring zombies, announced the cancellation of the show after airing its second episode on March 23. The production team had been beset with the accusations that it was "distorting" history by presenting Korean culture through "Chinese" aesthetics. Sponsors of the show quickly pulled out, leading to the complete scrapping of the $28 million series. The hasty cancellation of the series underscores a very strong undercurrent of anti-Chinese sentiments in the country, which could turn South Korea's China policy into a wedge issue in its hyper-partisan political landscape.
The Korea-China Drama
The cancellation of "Joseon Exorcist" does not come out of the blue, nor has it been the only case. Other ongoing Korean dramas such as "True Beauty" and "Vincenzo" have come under fire for product placement of Chinese brands like JD.com or a Chinese brand of bibimbap. South Korean entertainment has become popular abroad, and it is no secret that there is significant Chinese capital behind many mega-productions. However, the pushback in South Korea has become more intense recently.
A more immediate explanation for this trend is China's recent alleged "cultural imperialism." Since last year, the South Korean media has started to report incidents of China's cultural appropriation – an attempt to label traditional Korean clothing hanbok as a type of Chinese hanfu, or spats over the origins of kimchi. Further, it was discovered that Chinese search engines were listing Korean historical figures or national heroes such as King Sejong, Yun Dong-ju, or Kim Yuna as "chaoxianzu," (joseonjok in Korean) referring to the Korean Chinese minority group living in Northeast China.
For Koreans, these controversies are seen a continuation of the "Northeast Project" from the early 2000s, in which Chinese academics sought to find archaeological evidence to buttress the claims of China as a perennial multiethnic state that included the ethnic Korean people. The labelling of Korean cultural heritage under the Sinic umbrella provoked a nationwide outrage in South Korea and raised concerns that this might be a reflection of a newly emerging colonial attitude on the part of the Chinese. However, there is more to the story.
The Rise of Anti-Chinese Sentiments
The South Korean backlash against China's cultural encroachments must be understood as a manifestation of deep-seated anti-Chinese sentiments that has built up over the past few years. According to the Pew Research Center, the percentage of South Koreans with negative sentiments toward China has reached all-time high, jumping from 31 percent in 2002 to 75 percent in 2020, while the percentage of those with positive sentiments took a dive from 66 percent to 24 percent during the same period. Obviously, the COVID-19 outbreak and Beijing's so-called "wolf warrior diplomacy" have been key factors souring perception in South Korea, like in the rest of the world, but there are more deeply seated issues at play in the South Korean context.
South Koreans have experienced and vividly remember the economic retaliation orchestrated by Beijing in response to the agreement to install the Terminal High Altitude Area Defense (THAAD) missile defense system at the request of the United States in 2016. In a classic "shrimp between the whales" moment, South Korea suffered at least $7.5 billion of economic losses when Beijing imposed unofficial – but by no means ineffective – sanctions on Korean products, from tourism to entertainment. The rise of anti-Korean vandalism and assault in China, which followed cues from state media, made it difficult for South Koreans to separate Beijing from the Chinese people. This was a watershed moment in which many South Koreans came to experience first-hand the implications of dependence on a more assertive and activist China.
The cognitive framework of South Koreans toward China that emerged during the THAAD crisis has remained in place despite the normalization of relations between Beijing and Seoul in 2017. Recent revelations of human rights abuse in Xinjiang and the crackdown on civil society activism in Hong Kong have further reinforced this perception of China among South Koreans. The pandemic and the increasingly aggressive rhetoric from China's diplomats contributed to this trend as well.
A Policy Mismatch
However, there is a mismatch between this strong anti-China sentiment in the public and South Korea's current foreign policy. This, combined with external environments that make the policy of "strategic ambiguity" vis-à-vis China and the United States increasingly difficult and the hyper-partisan, polarized political landscape, could altogether transform China policy into a key wedge issue in South Korea's politics in the coming years.
Following the THAAD debacle, Seoul has been careful to not provoke Beijing again. Also, seeking a closer relationship with Beijing has been aligned with President Moon Jae-in's agenda of lessening dependence on the U.S. to derive more agency for Seoul's North Korea policy, as well as the political ideology of the South Korean progressives that elected him. In this, Moon has consistently made overtures to collaborate with China, and he has been working to organize President Xi Jinping's visit to Seoul this spring.
The Moon administration has been extra careful in navigating its relations with Beijing. It has not banned the procurement of Huawei's 5G network equipment by LG U+, one of the three telecoms in the country, despite calls to do so from Washington. And South Korea remains one of the few democracies that has not expressed support for the rights and freedoms of the protesters in Hong Kong.
More recently, South Korea did not endorse Canada's Declaration Against Detention in State-to-State Relations, an initiative that seeks to pressure Beijing to release the two detained Canadians. The declaration was supported by 57 countries, including most of the key democracies. Likewise, South Koreans were not present when diplomats in Beijing gathered in front of the courthouse to show support for the Canadians. Thus far, Seoul has been silent about the possibility of sanctions against China for human rights violations in Xinjiang as well.
Then, considering the strong anti-Chinese sentiment in South Korea, there is a mismatch between the popular will and Seoul's foreign policy today. South Koreans have become increasingly critical of the Moon administration's approach to China, which many regard as unnecessarily deferential or even humiliating.
The external environment has also made it increasingly difficult for Seoul to maintain the policy of strategic ambiguity between China and the United States. On the North Korea front, the Moon administration has not made any tangible progress since the 2019 Hanoi summit fell apart. The election of President Joe Biden has not eased the tension between the two superpowers; rather, Washington has been moving to repair and renew its alliances around the world to lead a united front against China, from tech to military.
Washington is highly critical of Seoul's strategic ambiguity and has been demanding more. The CSIS Commission on the Korean Peninsula recommends the abandonment of strategic ambiguity, which creates a "high-cost, low benefits scenario," and urges Seoul to recommit to the U.S.-South Korea alliance. The Biden administration is also said to be asking Seoul to contribute more actively to the Quad initiative in the Indo-Pacific.
There are growing concerns about being isolated on the international stage while attempting to maintain strategic ambiguity. Seoul's silence on key human rights issues – especially given Moon's career as a human rights lawyer – has been noted, and experts have warned that South Korea's absence from alliance activities may completely cede policy leadership in the region to others, especially Tokyo. There are also concerns that key, sensitive South Korean sectors such as semiconductors and batteries might suffer if Seoul remains locked out of the alliance and stuck in the middle between Beijing and the liberal democracies.
In this context, China policy has become a wedge issue, which will, unfortunately, further limit the policy latitude for Seoul, regardless of who comes to power. South Korea's political landscape has become extremely polarized, with the public split on all issues – social, economic, and foreign affairs – along party lines. According to a government survey in 2019, 91.8 percent of South Koreans indicated that they believe that there is a conflict between progressives and conservatives, a drastic jump from 70.2 percent in 2006.
Politicizing China
Cold War rhetoric remains influential in South Korea due to its history (i.e., the fight against North Korea and Seoul's anti-Communist operations) and it further reinforces the historical, partisan divide between pro-U.S. conservatives and anti-U.S. progressives. Now, the difference is that the focal point is not North Korea, but China. The Cold War language of the "reds" infiltrating free societies and plotting their overthrow from within can easily be identified in today's conservative rhetoric about China. Common themes include China's political influence on leftist elites like Moon or Chinese capital slowly taking over the Korean entertainment industry.
Conservatives have already started to exploit the mismatch between South Korea's strong anti-Chinese sentiments and Seoul's passive foreign policy. The outbreak of COVID-19 created an opening for the conservatives to attack the Moon government's China policy – they blamed the failure to ban flights from China or criticize Beijing's early responses to the pandemic as a sign of Moon's policy of extreme deference vis-à-vis China. The allegations of "stolen elections" last year that gained significant ground among conservatives also centered around China's supposed furtive operations to subvert South Korea's democracy through the election of progressive politicians.
There are more signs of the mainstream conservatives mobilizing to exploit these anti-China sentiments. The main conservative opposition People Power Party's (PPP) policy white paper clearly indicates its hawkish stance vis-à-vis Beijing. It calls for stronger reaction against "historical distortions" by China, strengthening of the U.S.-Korea alliance, pushback against Xi Jinping's glorification of China's participation in the Korean War, and overall a more "confident" China policy driven by national interest.
With the upcoming by-elections on April 7, conservative politicians and media have even started to politicize the franchise of Chinese residents. Under the current law, foreign residents who have lived in South Korea for more than three years can vote in local elections, and the Chinese Koreans are perceived to be supporters of the Democratic Party.
Oh Se-hoon of the PPP, who is expected to win the Seoul mayor race in the April 7 by-election, attributed his loss to the progressive candidate in last year's election to the fact that "tens of thousands of Joseonjok live in [the district] … over 90 percent of them vote for the Democratic Party," a quote that was widely circulated in the national media.
In another instance, Chosun Ilbo, the most circulated newspaper with a conservative bent, reported the Democratic Party's outreach to Chinese voters under the headline "Franchise for Foreigners: Democratic Party Pleads for Votes from Chinese," which clearly panders to the underlying current of anti-China sentiments and aims to politicize the voting rights of Chinese residents in South Korea.
"China Threat" and Democratic Values
South Koreans are already eyeing the 2022 presidential election. The current administration, beset with economic troubles and corruption scandals, is increasingly unpopular, with Moon's approval ratings at 32.2 percent. Moon is already losing his influence in the party, and his lame duck period might have already begun, with attention shifting to the favorites for the 2022 election instead. Until the polls in March 2022, South Koreans will be exposed to debates and campaigns in a highly partisan environment. China policy is likely to remain a key wedge issue.
Conservatives will continue to make their pitches for tougher policies (which may or may not become reality) on China – from protecting the ownership of kimchi to South Korean participation in the U.S.-led initiatives in the Indo-Pacific. The results of the election will be important, but it will also be critical to watch how the calls for tougher policies on China and rise in anti-China sentiments throughout South Korea society affect civil liberties and democratic values. China got blamed for the purported theft of the 2020 South Korean election in a widely spread conspiracy theory, and conservatives have started to politicize the right of foreign residents to vote. In a highly polarized social and political environment, China could provide the excuse for extreme rhetoric, practices, and policies that go against fundamental liberal values.
There are several parallels to draw between the South Korean case and the different responses to the "China threat" around the world. A key shared element in these is how the frustration with elite politics and existing economic and social problems are getting channeled through these debates on China. More specifically, people hear from the elites that economic engagement with China is important and beneficial, but house prices continue to go up and inequality continues to rise. Ultimately, these responses to the "China threat" underscore the struggle of liberal democracies to identify ways of dealing with an assertive and powerful China that is increasingly more present in their lives.
What Newsom's Landslide Victory Says About National Politics – New York Magazine
Time to celebrate! (Maybe not at the French Laundry.)
Photo: Bing Guan/Bloomberg via Getty Images
The California recall is over, and it did not provide much suspense. But while voters' verdict was clear, the significance of Gavin Newsom's win for the national landscape is less obvious. I spoke with national political correspondent Gabriel Debenedetti about how to interpret what went down in the Golden State.
Ben: In the end, it wasn't close: Governor Gavin Newsom romped to victory in Tuesday's California recall over his closest rival, Larry Elder, and a motley assortment of other Republicans. He's up by 28 points as of this writing, so it's very far from the close call Democrats were worried about a few weeks ago. Do you think this was ever actually a contest, or more a case of one poll leading people astray? (Or was that one scary poll the central reason this turned into such a landslide, since Democrats started paying attention?)
Gabriel: There were several distinct stages to this race. When I first wrote about it a few months ago, the prevailing feeling — even among Republicans — was, more or less, "This is ridiculous; Newsom will win easily." All polling suggested that was the case, and there was no single dynamic on the ground hinting otherwise, even if people weren't happy that COVID was stilllll around. No one actually thought that was Newsom's fault!
But this summer, there was a definite concern in Dem circles, even in the White House. There's been a bit of revisionist history already that one single poll showing the recall succeeding caused this epochal freakout that led to a surge in Dem votes. That's not totally true; it is true that warning signs started flashing for Newsom a few months ago. That SurveyUSA poll was one thing. But there were plenty of other surveys, public and private, showing Republicans faaaar more engaged and showing Newsom failing to fully connect with Latino voters, for example, or with many base liberals in the LA area. All the coverage of those polls absolutely helped get people engaged — no one in Newsom World denies that.
But they also usually hasten to say that this is an oversimplification, and I suspect they're right: In some ways, this pattern is only natural for a weirdly timed special election driven by right-wing partisans in a blue state. Newsom's team started putting out organizers and ads, and things turned around. Duh.
Ben: Sorry to contribute to the revisionist history. I am not a revisionist by nature.
Gabriel: If on-the-ground reporting is the first draft of history, Slack chats for publication are the first-and-a-half draft.
Ben: Naturally, political observers are trying to figure out whether and how this result will have national implications, particularly for next year's midterms. Some people seem to be shoehorning in a previously baked take that the recall itself is a bad sign for Democrats; others view the landslide as a warning sign for a Republican Party that has gotten used to rallying around, for lack of a better word, kooks. But is there really much to extrapolate here, or is this a local story that only seems like a national one?
Gabriel: All of the above, of course! It's not, though, a local story. I think Newsom's ex-campaign manager Addisu Demissie was right when he said on Twitter last night, "Before anyone starts with the California isn't America but tonight let me preempt with the fact that 1 in 8 Americans lives here." Which, yeah, good point, Addisu.
I'm not sure what this portends for the midterms, except that Newsom executed a pretty obvious playbook pretty effectively: If you're in a fairly Democratic-leaning area and your opponent is willing to paint him/herself as Trump 2.0, you lean into that. Seems obvious, and Newsom did it to great effect.
I'm really struggling with all the takes that this is a warning sign for Democrats. Sorry, but the Democratic governor of California steamrolls a right-wing provocateur and we read it as "Dems in disarray?" Come on. That's national media at its eye-rolliest.
That said, there are probably a decent number of lessons to be learned from how Californians think about COVID and Newsom's masking and vaccination policies. This was the first real supposedly competitive state-level race where someone who was in charge of a COVID response faced an up-or-down vote since the pandemic started. And it turns out this mass backlash just … isn't happening. That doesn't mean there isn't a lot of discontent in California — over lockdowns but also over the housing crisis, homelessness, wildfires, and on and on. Just that when it comes to the undisputed most important issue of the day, Newsom won largely by saying, again and again, I'm taking this seriously.
Ben: Right. We should say that this whole recall was really made possible by Newsom's big unforced error on COVID — dining at the French Laundry in contravention of his pandemic safety measures. But it seems a bit of personal hypocrisy wasn't the silver bullet Republicans were hoping for. I also think this points to the difficulty in forecasting what this means for next year. Beyond the long time lag, who knows whether the pandemic will finally have receded, or whether it will still be issue No. 1?
Gabriel: Right, yes, absolutely. I'm old enough to remember when the midterms were going to be all about Dr. Seuss, or something. That said, COVID completely changed the way we live and think and consume around the world, so even if the midterm question isn't "Did Politician X handle lockdown and mask policy the right way?," it's hard to conceive of a world where the experience of the past two years isn't fairly central to voters' decision-making.
Then again, how many voters in 2014 made their decision based on the Ebola scare? In 2018, how many were terrified by the "migrant caravan"? Which is all a way of saying: We're still building the fundamental landscape of the midterms, not the final marginal issues.
It can be frustrating, though, to look at this purely through that lens. We can also take more direct lessons from this for governance's sake. Turns out voters like it when you address the pandemic head-on and don't when you pretend it's over. Newsom's personal hypocrisy hurt him, obviously, but he got past it by making the race about policy and warning that if Elder were to win, California's COVID policy would start to look like Texas's or Florida's, which are hands-off and scary.
Ben: What does it say about the current state of the Republican party that there were all these qualified-on-paper candidates, like former San Diego mayor Kevin Faulconer (as well as an international celebrity in Caitlyn Jenner), and voters rallied around a conservative talk-radio host?
Gabriel: Elder's rise isn't that shocking to me, after spending some time on the ground in California. He was decently well known in the southern part of the state, got a lot of play on Fox News, and enjoyed throwing Trump fans the kind of red meat they wanted. That's enough to get ahead of the other Republicans, but clearly not enough to win over any moderates.
The Jenner story, I suspect, will be told soon. It has to be: What happened? She may not have ever been an acceptable candidate to California's modern GOP, but there was money and buzz behind her Brad Parscale–fueled campaign and then it fizzled so quickly and embarrassingly that, clearly, there's a bigger behind-the-scenes tale to be told.
Faulconer's fall, though, is clearly the one that says the most. Here was a guy who was semi-openly preparing for a statewide run as a "sensible, moderate Republican" for years. He had run a huge city, and was decently well known. And then … he decided he had to go Trumpy and promptly lost all credibility. He was probably right that to win over Republicans in California, he had to take that turn, but it completely ended his chances with the moderates among whom he'd built his reputation in the first place. His attempt to turn back to some form of "I have something for everyone!" in the final weeks just came across as limp. Lots of people think he'll now challenge Newsom in 2022. But why? And which version of Faulconer are we gonna get?
Ben: Could this cause other moderate Republicans around the country to reevaluate whether they need to go full Trump? For many, as it was for Faulconer, it's sort of a damned-if-you-do, damned-if-you-don't situation, electorally speaking.
Gabriel: Can I answer this after J.D. Vance loses his primary by 30?
Pope: No place for politics in Biden Communion flap – Alaska Highway News
ABOARD THE PAPAL PLANE (AP) — Pope Francis said Wednesday that Catholic bishops must minister with "compassion and tenderness," not condemnation, to politicians who support abortion rights and warned that clerics shouldn't let politics enter into questions about receiving Communion.
Francis was asked en route home from Slovakia about the debate in the U.S. church about whether President Joe Biden and other politicians should be denied Communion because of their stances on abortion. U.S. bishops have agreed to draft a "teaching document" that many of them hope will rebuke Catholic politicians, including Biden, for receiving Communion despite their support for abortion rights.
Francis declined to give a "yes" or "no" answer, saying he didn't know the U.S. case well enough. He repeated that abortion was "homicide," and that Catholic priests cannot give the Eucharist to someone who is not in communion with the church. He cited the case of a Jew, or someone who isn't baptized or who has fallen away from the church.
Most importantly, he said, was that priests and bishops must respond pastorally and not politically to any problem that comes before them. He said they must use "the style of God" to accompany the faithful with "closeness, compassion and tenderness."
"And what should pastors do? Be pastors, and not go condemning, condemning," Francis said.
Francis recalled cases when the church had held fast to a principle on political grounds and it ended badly, citing the Inquisition-era condemnation of Giordano Bruno for alleged heresy. He was burned at the stake in Rome's Campo dei Fiori.
"Whenever the church, in order to defend a principle, didn't do it pastorally, it has taken political sides," Francis said. "If a pastor leaves the pastorality of the church, he immediately becomes a politician."
Francis said he had never denied Communion to anyone, though he said he never knowingly had a pro-abortion politician before him, either. And he admitted he once gave Communion to an elderly woman who, after the fact, confessed that she was Jewish.
Francis repeated his belief that the Eucharist "is not a prize for the perfect" but rather "a gift of the presence of Jesus in the church." But he was unequivocal that it cannot be given to anyone who is not "in communion" with the church, though he declined to say if a pro-abortion politician was out of communion.
He was similarly unequivocal that abortion is murder, and that even a weeks-old embryo is a human life that must be protected.
"If you have an abortion, you kill," Francis said. "That's why the church is so tough on this issue, because if you accept this, you accept homicide daily."
U.S. bishops agreed in June that the conference doctrine committee will draft a statement on the meaning of Communion in the life of the church that will be submitted for consideration, probably an in-person gathering in November. To be formally adopted, the document would need support of two-thirds of the bishops.
Despite the short flight back from Bratislava, the Slovak capital, Francis fielded an unusually wide array of questions. Among other things he said:
—That he couldn't understand why some people refuse to take COVID-19 vaccines, saying "humanity has a history of friendship with vaccines" and that serene discussion was necessary to help them.
—That states can and should pass civil laws to allow homosexual couples to have inheritance rights and health care coverage, but that the church couldn't accept gay marriage because marriage is a sacrament between a man and woman. "Marriage is marriage. This doesn't mean condemning people who are like this. No, please! They are our brothers and sisters and we have to accompany them."
—That his surgery to remove 33 centimeters (13 inches) of his colon in July wasn't easy, despite those who have marveled at how well he had recovered. "It wasn't cosmetic surgery," he quipped.
Nicole Winfield, The Associated Press
New Democrats' Singh looks to dance his way to role as Canada's kingmaker
WINNIPEG/VANCOUVER (Reuters) – Sporting dance moves on TikTok videos in his signature neon turbans, the leader of Canada's left-leaning New Democratic Party (NDP), Jagmeet Singh, is poised to recover from a 2019 election stumble and strengthen his position as kingmaker in the country's next government.
Singh, the first member of a visible minority to lead a major Canadian federal party, helped prop up Prime Minister Justin Trudeau's Liberal minority government for two years and could resume that role. A tight race means the Liberals or Conservatives may end up with another minority  after the Sept. 20 election.
Singh, 42, a criminal defence lawyer who became NDP leader in 2017, outstrips Trudeau and Conservative leader Erin O'Toole in personal popularity, according to polls and surveys. But the NDP lags both parties in polls, with 20% support among undecided voters, compared to 32% for both the Liberals and Conservatives, according to a Leger poll on Tuesday.
The NDP campaign has been on the offensive, with Singh almost exclusively visiting districts where the party does not have seats, a party official said.
The party, which currently has 24 seats in Parliament, says it has more cash than in 2019, when it finished third, and is actively trying to capitalize on Singh's popularity and his social media savvy.
Singh's TikTok videos regularly draw more than 1 million views and he is quick to jump on Instagram and Snapchat with updates from the campaign trail. Last year, he squared off against U.S. Democratic congresswoman Alexandria Ocasio-Cortez on the popular Among Us video game, in a livestreamed fundraiser.
In the campaign's final days, the NDP plans to feature him in the Nintendo video game Animal Crossing and is considering projecting his image on the sides of buildings.
Whether that will translate into more votes is unclear. The NDP could also see its traditional youth base affected by the absence of college-based voting stations this year, due to COVID-19 pandemic restrictions.
However, the party is trending higher in polls this time than in 2019.
"People didn't really know Jagmeet Singh last election," said Nikki Hill, who previously helped run federal NDP campaigns and is now an Earnscliffe political strategist. "What they've seen in the last couple of years is someone they actually identify with."
During the past two years, Singh pressed for more social spending by the Liberal government and resisted previous gambits by the government to trigger an election, saying it was unnecessary in a pandemic.
Another minority government would result in either the Liberals or Conservatives relying on Singh to support the next government, giving the NDP an opportunity to push for concessions on its priority issues such as government-paid drug or dental care, higher taxes on the wealthy, hiking minimum wage and cancelling student debt.
"People are fed up with being taken for granted by the Liberals," Singh told Reuters. "Things haven't gotten better, they've gotten worse, so they're looking forward to something different."
Asked about areas of common ground on which the NDP could work with either the Liberals or Conservatives, he said: "I'm less interested in committing to a party (to work with). I'm committed to working on the things that will make people's lives better."
"If someone wants to work with me to tax the super-wealthy, I welcome people to do that," Singh added.
Trudeau has warned that progressive votes for the NDP, instead of Liberals, may help elect the Conservatives, and he has criticized Singh's climate plan for lack of details.
The NDP has committed C$200 billion ($158.2 billion) in new spending over five years, and promises to cut emissions 50% by 2030 from 2005 levels. But at a recent leaders debate, Singh sidestepped questions about whether he would cancel expansion of the government-owned Trans Mountain oil pipeline.
The NDP needs to pull out wins in British Columbia and in urban Toronto to cement significant gains, benefiting in part from a dysfunctional Green Party, pollsters say. The NDP could pick up six seats in Canada's biggest city of Toronto, according to a senior Conservative.
The NDP may have more leverage in the next government because polls indicate it may be the only losing party, other than either the Conservatives or Liberals, with enough constituency seats to pass bills, said CIBC Chief Economist Avery Shenfeld.
Winning it all may be a step too far for the NDP, which has never held power federally. In its best showing, it romped to a shock second-place finish in 2011 and became the official opposition for a few years.
In a late August campaign stop in Winnipeg, indigenous leaders appeared with Singh at a press conference before unexpectedly endorsing a Liberal in a Manitoba parliamentary constituency.
Singh looked on awkwardly.
"All campaigns experience difficulties at some point," said Alex Marland, political science professor at Memorial University of Newfoundland.
(Additional reporting by Julie Gordon and David Ljunggren in Ottawa; Editing by Alistair Bell)