THE SELF-TAUGHT GARDENER: The art of magical thinking – theberkshireedge.com
End-of-year articles and newscasts often focus on those whom we have lost in the past year, and 2021 was no different. For some friends the loss of Sondheim was the most notable, but for me it was the loss of Joan Didion. Articles lauding her skills as a writer and observer call to mind her commentary on everyone from Ronald Reagan to Martha Stewart (it's arguable whether two such subjects demonstrate range or only replication, but I will not digress), but what always intrigued me about Didion was her questioning nature. And how that informed me as a gardener. I have no idea if she had any horticultural interests beyond the frangipani leis that were placed over her head when she took one of her many trips to Hawaii, but her approach to life and to her art informs me on how I want to garden.
Didion's writing begins with a question, and meanders forward as she seeks answers in the details and evidence around her. For her, observation was not a lead-in to writing but the work itself. Research did not end with the written word; the written word was the beginning that would spur more thought and observation. For me, this is the essence of gardening. Dig in, invest, observe. Repeat. Predetermined approaches and processes and canned thinking should be called into question. To paraphrase Didion on writing, I garden "entirely to find out what I'm thinking, what I'm looking at, what I see and what it means." Notions of beauty and art evolve and are meant to do so. And the never-ending present in which we garden is at once of the moment and a part of a future where the current assumptions may not hold, where things may fall apart.
Didion poses a seemingly simple question in her memoir of coming of age in California: "Don't you think people are formed by the landscape they grew up in?" Does she want us to believe it is as simple as that, or is she merely leading us to the question of how we allow setting, past and present, to define us? The landscape, not only from which we come but that which we create, certainly informs us and illumines a part of both who we are and who we have been.
That is true whether it is the mountains of California that her forbears crossed along with the Donner party or the interior settings with which we more often associate her or the characters she has profiled or created. Her forbears left the Donner party and, in an unknowing act of self-preservation, headed up through Oregon and missed out on the most tragic part of that trip. This survival trait is seen in Didion herself, who often skipped out on production meetings with the claim of a migraine or some other form of malaise, leaving her husband/co-screenwriter to deal with the present day cannibalizers known as studio executives. But it is not the past that is defining but rather it is action in the present.
The settings in which I picture Didion are not mountainscapes or gardens in California, but in her apartment, filled with items such as a framed teletype about Nixon's resignation, that reveal some small aspect of what drives her. The things we collect, whether faded teletypes or young trees on their way to maturity, tell us about who we are. But they are not the complete story. I think we keep plants and things around us so, as Didion argues, we don't lose touch with our past selves.
I think we are well-advised to keep on nodding terms with the people we used to be, whether we find them attractive company or not. … We forget all too soon the things we thought we could never forget. We forget the loves and the betrayals alike, forget what we whispered and what we screamed, forget who we were."
Perhaps this is why I hold onto plants to which I no longer feel connected. They inform me of who I am and occasionally of the lessons they taught me and of mistakes I hope not to repeat in the garden.
I remember seeing Didion at a party in her honor at the Greenwich Village home of artist Jennifer Bartlett. The setting, replete with an indoor pool and a series of gardens which felt more like the enclosed gardens of Southern California than those of the typical Greenwich Village terrace, told me more about who our host and the guest of honor were, and had been. It reminded me of Didion's statement that "a place belongs forever to whoever claims it hardest, remembers it most obsessively, wrenches it from itself, shapes it, renders it, loves it so radically that he remakes it in his own image." This setting, like the art of these two California-born creators, was the crossover point between history and creation. It was a landscape based not on past realities but shaped by them, just as a good garden calls to mind the terrain from which it is derived while also having an identity all of its own.
The best gardens are artful and share this sense of biography and history, while inhabiting the present. They contain the plants and landforms that we have known in our lives. Like the work of Didion and Bartlett, they not only reflect the past but become more real than the past itself. Our memories are fleeting and often based as much on the shared stories of family and friends as on our own knowledge of such events. But as in the work of Didion, the verity of such memories is not as important as what we do with the emotions and ideas to which they connect us. A scarlet oak in our present-day garden may call to mind one outside a childhood bedroom window, but it is not so much that, as it is a connection to an eternal present and ever out-of-reach future. We garden not only to see who we were and from where we come, but more importantly, to see who we will be and what we can create from what was.
As I think back on Didion, walking through Bartlett's Charles Street house on that warm, (September, perhaps?) day, I am not sure what I recall and what I have created for myself from this memory. And I hope that, someday, my garden will serve as a setting that informs someone else in the way such memories (and the works of art of another) have entered my own consciousness and sense of self.
____________________________________
A gardener grows through observation, experimentation, and learning from the failures, triumphs, and hard work of oneself and others. In this sense, all gardeners are self-taught, while at the same time intrinsically connected to a tradition and a community that finds satisfaction through working the soil and sharing their experiences with one another. This column explores those relationships and how we learn about the world around us from plants and our fellow gardeners.
Art with heart: B.C. artists are saying thanks to frontline staff by offering them their works – CBC.ca
B.C. artists are using their skill and creativity to thank frontline workers by offering them original works through an online platform.
Artists can donate their work by making a submission on the Arthanks website, where each available piece is displayed in a photo. Frontline workers can then browse through the options and request a piece of art.
"We connect the two. We just say here's the art, here's the recipient, please get together socially distanced and hand it off," said David MacLean, a North Vancouver-based artist who came up with the idea.
"When you give a piece of art it's kind of original, it's a little bit different, it's a little more than just a one-off thank you," he added.
MacLean says the concept of Arthanks was formed as he found himself painting more during the pandemic.
"I was getting madder and madder about the grief that frontline workers are taking … and thinking, 'what have I done?' Well, nothing. I've done little or nothing to help," he told CBC's The Early Edition on Thursday.
MacLean began giving his art to friends and family who were frontline workers — including nurse Robyn Whyte, who he met at a Deep Cove cafe.
Whyte said the two had chatted about their professions and MacLean offered her one of his works after noticing a wolf design on her sweater.
"It just happened … he was donating a piece of art that was related to wolves and I couldn't say no, it's a beautiful piece of art," said Whyte.
MacLean had informally donated about 20 pieces of art when he reached out to Ginger Sedlarova, a friend in the local art scene, to help recruit volunteers and expand the initiative.
He said they have given away about 40 pieces of art since the initiative started last summer, and they are now looking for more artists to donate.
The works on display currently include paintings, vases and miscellaneous pottery.
He said all frontline workers are welcome to request a piece of art, including health-care workers, education workers and those in customer service-facing jobs such as grocery store clerks — "anyone who put themselves at risk to help us in this time of COVID," according to the Arthanks website.
In receiving her gift, Whyte said she was reminded that people are thankful for the contributions of frontline workers.
"It's great to be acknowledged. We've all been working very hard and it's just going on so long…" she said. "I know that there's people out there who are thankful and I really appreciate it."
Restoration of Michelangelo's Pieta statue in Florence reveals flaws in marble
The restoration of Michelangelo's famed Pieta dell'Opera del Duomo in Florence has revealed that the single block of marble from which the masterpiece was sculpted was flawed, offering a likely reason for why it was abandoned before it was completed.
The statue, better known as the Bandini Pieta, represents the Virgin Mary and Mary Magdalene holding the body of Christ as he is taken down from the cross by a man, Nicodemus, whose face is the self-portrait of the Italian Renaissance artist.
"It's a Pieta that has suffered and is very intimate… it is a really personal statue," Beatrice Agostini, director of the restoration project, told Reuters.
The works of restoration confirmed that the 2,700 kg piece of marble had veins and numerous minute cracks, particularly on the base, which may have been the reason for Michelangelo's decision to stop working on the sculpture before finishing it, a statement said.
The artist had initially planned to place the sculpture next to his tomb but only years after beginning to sculpt it, in the mid 1500s, a then 75-year old Michelangelo decided to abandon the masterpiece, giving it as a gift to a servant, who then sold it to a banker, Francesco Bandini.
Restorers did not find any sign of hammer blows, making it unlikely the widespread hypothesis that an unhappy Michelangelo tried to destroy the sculpture in a moment of frustration, the statement added.
The non-invasive restoration started in 2019 but was interrupted several times due to the COVID-19 epidemic. Deposits were removed from the sculpture's surface, which was then cleaned, bringing it back to its original hue.
The project was commissioned and directed by the Opera di Santa Maria del Fiore and was financed by U.S. non-profit organization Friends of Florence.
"The operation has restored to the world the beauty of one of Michelangelo's most intense and troubled masterpieces," a joint statement said.
Visitors have been able to witness all stages of the process as the statue was always on display, in an open laboratory, on a platform, behind a glass screen.
(Reporting by Matteo Berlenga in Florence, writing by Giulia Segreti in Rome, editing by Angus MacSwan)
Art Beat: Arts Council keeps its friends close – Coast Reporter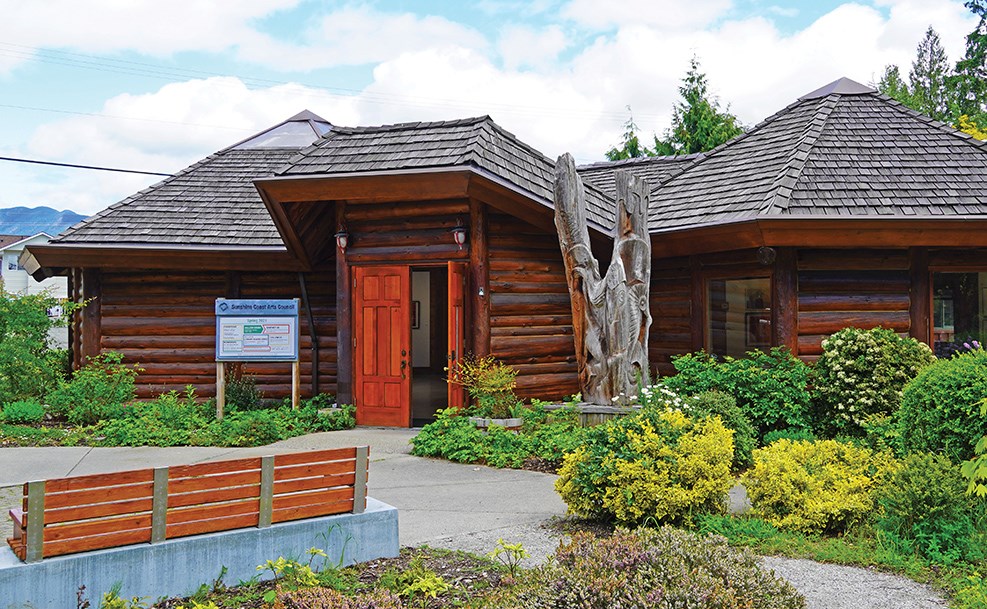 Until Feb. 6, the Sunshine Coast Arts Council is exhibiting works by its members in a variety of mediums.
The annual "Friends of the Gallery" show is hosted in the Doris Crowston Gallery of the Sunshine Coast Arts Centre, at 5714 Medusa Street, in Sechelt.
Now in its 20th year, the "Friends" event began as a way to encourage emerging artists. Today, individual artists from the community are invited to submit one piece of work they completed in the previous year to be shown in the group exhibition.
Artworks are also available for purchase.
Youth Urged to Float Beachcombers-Inspired Creations
The Sunshine Coast Writers and Editors Society describes itself as "a magnet for creative souls on the Coast." To mark this year's golden jubilee of The Beachcombers, the iconic CBC Television program, the society is seeking to attract young creative souls through an art and writing contest.
Various types of submissions are welcome, including short stories, creative nonfiction, poetry, scripts, cover artwork and colouring for the planned anthology and exhibit.
Written entries must contain at least one reference to The Beachcombers, the Coast or the beach. Allusions to jet boat manoeuvres and amicable ribbing at the lunch counter of Molly's Reach are likely assets as well.
Details are online on the Society's website at scwes.ca. Submissions must be received by midnight on June 1.
Family Literacy Week: Tales on Trails
The Province of British Columbia has proclaimed Jan. 24 to 31 as Family Literacy Week, marking the fifth successive year that Family Literacy Day (Jan. 27) has overflowed with a sevenfold increase in bookish intensity.
"Children's literacy skills expand and grow much faster when families read, play and learn together," said Jennifer Whiteside, B.C.'s Minister of Education. "Family Literacy Week is a great opportunity to focus on dynamic ways to support our youngest learners so they can develop the skills they need to succeed in their school years and beyond."
Decoda Literacy Solutions, a province-wide literacy organization, is hosting a photo contest. Participants may take a photo using a "Let's Be Active" theme and submit it by email to contest@decoda.ca or post it on social media using these hashtags: #LetsBeActive and #FLW2022. There will be a class prize and a prize for individuals.
To mark the occasion, the Gibsons and District Public Library has encouraged families to host "reading walks" in which families and individuals stroll through local parks, reading along to stories.
The Coast Reporter encourages all such literary ramblers to glance up from time to time, in order to avoid mid-chapter collisions incurred while covering one's tracks.