The Suns get serious, and send a strong message to Devin Booker – theScore
The blockbuster trade between the Oklahoma City Thunder and Phoenix Suns on Monday tells a tale of two teams taking opposite approaches to this offseason.
The Thunder, who nabbed the fifth-seed and came up one possession short of the second round last year, looked at the hyper-congested Western Conference landscape and decided to zag while every other teams zigged. The Suns, who missed out on the eight-seed by a half-game after an 8-0 run in the bubble – marking their 10th straight season without a playoff berth – decided it was time to try to out-zig the competition.
And so, the Thunder are sending Chris Paul and Abdel Nader to the Suns for Kelly Oubre, Ricky Rubio, Ty Jerome, Jalen Lecque, and a top-12 protected 2022 first-round pick.
Oklahoma City already reportedly agreed to send Sixth Man of the Year runner-up Dennis Schroder to the Los Angeles Lakers, and it now owns 16 first-round picks – with swap rights on four of them – over the next six drafts. The Thunder will almost certainly look to add to that by flipping any or all of Steven Adams (on a $27-million expiring contract), Danny Green (acquired in the Schroder deal), Rubio, and Oubre, either this offseason or ahead of the 2021 trade deadline. They seem intent on stripping their roster for parts to further beef up their already-preposterous asset base.
What this means for the Suns is less clear, and far more interesting.
This is a great trade for Phoenix. The acquisition cost was relatively low; Oubre had a nice season last year, but it became clear in the bubble that Mikal Bridges and Cam Johnson were the Suns' wings of the future, so getting an All-NBA point guard without giving up either of them – or the 10th overall pick in Wednesday's draft – makes this a nice piece of win-now business. And despite his incongruous age, Paul should be a snug fit next to young cornerstones Devin Booker and Deandre Ayton.
The opportunity cost isn't particularly steep, either. Paul will tie up the Suns' cap space for the next two years, but they were unlikely to be major players in 2021 free agency and compromised very little of their long-term future. There's no guarantee that waiting things out would've given them an opportunity to land a star that better fits Booker and Ayton's timeline, and with the assets they gave up, it's hard to imagine them getting a better player than Paul.
When Paul's deal expires in 2022 (assuming he picks up his $44-million player option a year from now), Booker will still be only 26 and under contract for another two years. Perhaps by then the Suns will have washed off the stink of their past decade of bumbling incompetence and generated the kind of franchise equity that will make them an attractive free-agent destination. Most importantly, they'll have proven to Booker that they're serious about competing and also likely have gotten him some valuable playoff experience.
Paul is, above all else, a winner. He has a way of professionalizing teams, and he won't tolerate the kind of defensive negligence or bad habits that plagued the Suns in recent years. That persnickety attitude grated on teammates in the past, but he proved last season that he can also be a tremendous leader for a team in transition. Booker is a star in his own right, but he can learn a ton from playing with a basketball sage like Paul, whose guidance did wonders for young Thunder backcourt mate Shai Gilgeous-Alexander.
As far as how good the Suns can be, a lot of that will depend on how well Paul holds up in his age-36 and 37 seasons. He was remarkably durable last season, appearing in all but two games. Phoenix likely can't bank on a repeat, no matter how strongly Paul believes in the power of a plant-based diet. But if he can stay reasonably healthy and produce at something close to the level he did last season, the offensive potential of this team is sky-high.
On paper, this Suns supporting cast looks considerably stronger than the one Paul played with in 2019-20 when the Thunder went 44-28 and outscored teams by 6.9 points per 100 possessions with him on the floor. In Phoenix, he'll have more shooting around him, better wing play, a more dynamic co-lead playmaker, and a dramatically better pick-and-roll finisher. He's joining a team that finished 12th in offensive rating, and second inside the bubble.
Paul continues to drive a hyper-efficient offense (114 on-court offensive rating last year) with his brainy playmaking, self-creation, knock-down shooting from multiple levels, and masterful manipulation of space. His quickness has declined, and his free-throw and at-rim attempts have been in freefall for a while, but he's proven he doesn't need to dust bigs off the dribble to be effective.
He was probably the single most clutch player in basketball last year, which will be a boon to a team that's struggled badly to close games. He remains one of the league's best pick-and-roll orchestrators, and it's easy to imagine him carving up teams in a spread offense flanked by Booker, Johnson, and Bridges, with a soft-handed 7-footer in Ayton rolling down the gut. Paul and Booker instantly form one of the best backcourts in the league.
Booker is coming off an All-Star season in which he averaged nearly 27 points a game on 61.8% true shooting, bolstered by a career-best 54.9% mark from 2-point range, which is flat-out ridiculous for a high-usage guard. That efficiency was partly the product of ceding a large chunk of his on-ball responsibilities to Rubio and seeking out higher-percentage looks via off-ball movement. He scored 1.59 points per possession off cuts, putting him in the 95th percentile league-wide. Paul is an even better passer and offensive organizer than Rubio, and the threat of his shooting will open up the floor in a way his predecessor couldn't when Booker has the ball.
Though Paul has historically been extremely ball-dominant, he's shown he can adapt to playing alongside other high-usage ball-handlers, first with James Harden for the Houston Rockets and then with Gilgeous-Alexander and Schroder in Oklahoma City. He actually spent less time with the ball in his hands than Rubio did last year, according to NBA Advanced Stats.
Dual-ball-handler offenses bring all kinds of benefits, including the ability to stagger minutes and have one of them on the floor captaining the offense at all times. According to Synergy, Paul created an incredible 1.11 points per possession via shots and passes as a pick-and-roll ball-handler last year, while Booker created a more modest (but still robust) 1.01.
Those numbers could be even better with the two playing in tandem. They can serve as pressure releases for each other, whether by spotting up, relocating, or using ball reversals to flow from one pick-and-roll to the next. Paul hit 42.3% on catch-and-shoot threes last season, and Booker hit 39.3%. Between the two of them, the Suns should be one of the best pull-up mid-range shooting teams in the league.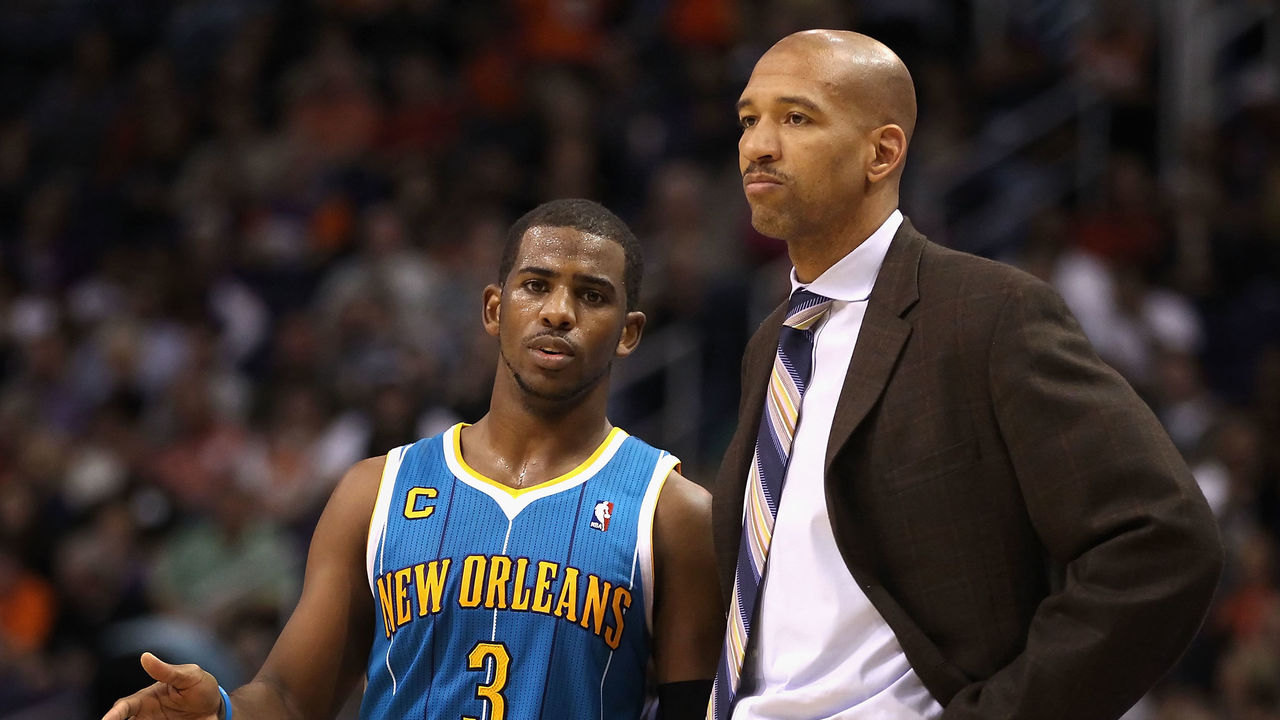 However, we may see some tension at the offensive end between the motion- and pass-heavy system Monty Williams installed last year and Paul's probing, isolationist tendencies. The Suns ranked second in assist frequency last year, while the Thunder ranked 28th. The Thunder ranked third in isolation frequency, and the Suns ranked 29th. But Paul and Williams, who've collaborated in the past, should be able to meet somewhere in the middle.
The defense will be more of a question mark for this team, but unless he suffers a precipitous drop-off, Paul doesn't represent a downgrade from Rubio. He still has some of the best hands and help instincts in the game and is an expert screen-navigator, and his strength allows him to defend either guard spot, which could give cover to Booker in certain matchups.
As for the rest of the projected starting five: Bridges' footwork and ridiculous length make him one of the best wing defenders in the league, Johnson held up surprisingly well at the four as a rookie, and Ayton made huge strides as a rim-protector and pick-and-roll defender in his sophomore season. If all of that holds up, there's no reason Phoenix can't jump into the top half in defensive efficiency after finishing 17th last year.
This roster also isn't a finished product. The Suns still need to decide what to do with backup bigs Dario Saric, Aron Baynes, and Frank Kaminsky, and whether Cameron Payne, Jevon Carter, and Elie Okobo can be the extent of their guard depth. Along with that No. 10 pick, they'll have the $9.3-million non-taxpayer midlevel exception to play with. They can it use to target another guard (like old friend De'Anthony Melton), an Oubre replacement on the wing (though they did just fine without him in the bubble), or a power forward like Paul Millsap who can further shore up their frontcourt defense.
There's much work to be done, but as presently constructed, the Suns look like a solid playoff team. That doesn't mean they're a lock to make it; next year's West is going to be a torture chamber, and things will be particularly challenging with a division-heavy schedule since Phoenix resides in the stacked Pacific. The Suns are very much in the mix, though. They're not on the Lakers' or Los Angeles Clippers' level, and they may be a notch below the Golden State Warriors and Denver Nuggets, but they've launched themselves into the next tier of playoff contenders, among which they'll have a strong chance to crack the top eight and maybe even win a series.
That brings us back to Booker. Even with four years remaining on his max deal, the Suns were clearly feeling the pressure to give him a reason to believe in them. When it comes to struggling teams hoping to retain their homegrown stars, the clock starts ticking the moment they sign their rookie extensions. During Booker's torrid run in the bubble, his own peers were lobbying for him to get out of Phoenix.
Booker said two years ago he was fed up with missing the playoffs, and then the Suns proceeded to miss the playoffs two more times. Keeping him happy is the front office's No. 1 priority. If winning truly is his primary motivating factor right now, this move should unquestionably help do that.
Knicks Only Had Interest In Russell Westbrook If Rockets Attached Assets – RealGM.com
Russell Westbrook was an All-NBA selection in 19-20, but he received very little trade interest as he sought a trade from the Houston Rockets.
"There. Was. No. Market. For. Russell. Westbrook," said Zach Lowe on his podcast one day after the trade. "I kept saying this over and over again. The Clippers were not interested. The Knicks were not interested unless they were incentivized. I don't know where the Hornets noise came from. Maybe it was credible. All I can say is from the people I know there, I never heard they were interested. There was, to my knowledge, nothing."
Westbrook has $132 million remaining on his contract over three seasons and has fit issues.
NHLPA weighing options if NHL cancels season – TSN
The NHL Players' Association's lawyers are investigating whether to file an unfair labour practice complaint with the U.S. National Labor Relations Board (NLRB) or pursue a grievance with an arbitrator if the NHL decides to cancel the upcoming season, two people familiar with the matter told TSN.
If the league decides against playing the 2020-21 season, a complaint to either the NLRB or an arbitrator would be the process the NHLPA would follow to try to get players paid.
The season hangs in the balance of talks between the NHL and NHLPA – most notably the financial burden players will shoulder this season and the remaining five years of a collective bargaining agreement extended in July through 2025-26.
The NHLPA declined to comment when asked how it would respond to a cancelled season.
NHL commissioner Gary Bettman said Wednesday in an interview during a virtual sports business conference that the NHL wants to play the 2020-21 season. But Bettman and NHL team owners want players to agree to raise the cap on salary escrow this year and also to defer the payment of more of their salaries.
The NHLPA wants the NHL to live up to the collective labour agreement the two sides agreed on in July. The NHL and NHLPA agreed in the deal to keep the salary cap at $81.5 million through the 2020-21 season. Ten per cent of player salaries are to be deferred and 20 per cent placed in escrow – an increase of more than 50 per cent from escrow payments during the 2019-20 season, which was delayed and shortened because of the COVID-19 pandemic.
Bettman on Wednesday said the NHL is "not seeking to renegotiate," the six-year labour agreement that was ratified unanimously by NHL team owners.
"We're not actually having negotiations and we're not seeking to renegotiate," Bettman told FOX Business host Liz Claman. "We made a number of assumptions collectively over the summer, most of which are not applicable anymore."
In an effort to force the NHL to pay the salaries of its players even if games are not held, several labour lawyers said in interviews with TSN that the NHLPA could either file a complaint with the U.S. NLRB (players on Canadian franchises would be included in such a filing) or file a grievance with an arbitrator. Both moves have their advantages, the lawyers said.
"Clearly this would be a high-stakes case," said Jim Quinn, a New York sports lawyer who has worked for the NFL and NBA players' associations. "The stakes don't get any higher."
Both the NHL and NHLPA could argue that the language in the CBA favours its side.
Article 5 of the CBA says the league is within its rights, "to determine when, where, how and under what circumstances it wishes to operate, suspend. …" a season.
Article 7, however, says the NHL cannot lock out players.
"Neither the league nor any club shall engage in a lockout during the term of this agreement," the CBA says.
In his interview on Wednesday, Bettman was asked about the possibility that the 2020-21 season could be cancelled over the financial impasse.
"There are letters in the agreement, which we don't have to get into, that were put in for our benefit in the event things got out of control as well. And so we each have rights which we could adhere to," he said.
Jodi Balsam, a former NFL lawyer who now teaches sports law at Brooklyn Law School in New York, said NHL players would seem to have a strong legal case to pursue if the league cancels the season.
"They signed this CBA in July 2020 and that was hardly a promising month," Balsam said. "The pandemic had subsided, but every source of medical and scientific knowledge was predicting a resurgence in the fall. And if the NHL failed to prepare for that in the latest CBA then that's on them. The big question is whether the NHL players stay unified and insist the NHL follow through with the deal they bargained for."
Players are set to receive 72 per cent of their salaries during the 2020-21 season. Twenty per cent of player salaries are being given back to owners to repay their revenue shortfall from 2019-20's paused season. A further 10 per cent is to be deferred and paid out over three seasons.
The NHL is asking players to defer another 16 per cent in 2020-21 and has also asked to raise limits on escrow in future years of the CBA.
Balsam said if the NHLPA wanted a clear-cut decision that the league must pay players their 2020-21 salaries regardless of whether there are games, then the union would be better off pursuing a claim with the NLRB.
"Arbitrators tend to want to look for leeway to find a compromise solution," she said. "They're incentivized to find a solution because they can be fired by either the league or union."
The NLRB was created in 1935. While it has a mandate to protect the rights of employees and to improve their wages and working conditions, Balsam said under U.S. president Donald Trump it has made decisions that favour employers.
Balsam said making that argument would be a "long shot" for the NHL, and noted that even though the NLRB has four of its five board member slots filled with three Republicans and one Democrat, president-elect Joe Biden will have the opportunity to name a Democrat chair of the board immediately following his Jan. 20 inauguration. (Trump appointed current NLRB chair Peter Robb in September 2017, eight months after his inauguration.)
Quinn, who has worked in the past for players associations in hockey, basketball and football, said he would advise the NHLPA to consider taking their complaint to an arbitrator.
Unlike the courts, or even the NLRB, arbitration cases can be decided quickly. Rules for introducing evidence in arbitration are not as strict. While there are exceptions, such as when an arbitrator in 2018 forced NHL player Dennis Wideman to produce text messages in his dispute with an NHL referee who Wideman had hit on the ice, the parties tend to have less power to demand the production of emails and other documents from the other side, and rules for conduct can be fashioned to suit the case.
"The NLRB is very slow, and it's going to take ages to get a decision out of them," Quinn said. "You may get an injunction quickly but if you're pursuing damages, like the players' salaries for a season, that could take five years for the board to resolve."
Currently, the NHL and NHLPA have agreed on three arbitrators to decide on disputes: Richard Levie, a retired U.S. District Court judge in Washington who also works for the NBA and NBPA to resolve differences related to players and agents; Katherine Forrest, a former U.S. District Judge for the Southern District of New York who was hired by NHL and NHLPA last year; and Shyam Das, who has decided player discipline-related cases.
If it proceeds with an arbitration complaint, the NHLPA chooses which arbitrator will take its complaint. Forrest, who has yet to oversee an NHL/NHLPA arbitration, would be a strong candidate to hear a prospective case, a person familiar with the matter said.
Michael Lotito, a San Francisco-based labour-law attorney at Littler Mendelson who represents employers before the NLRB, said he can envision the NHLPA both filing a complaint with the board and also pursuing a complaint through a grievance.
"We're a country of messaging not fact," he said. "For the union, this may be an opportunity to send a message to players that, 'We're fighting for you every way we can.'"
Lotito said that while the NLRB tends to handle broad complaints, arbitrators are more likely to consider the "nitty gritty" of CBA negotiations.
"An arbitrator can look at the notes both sides might produce showing details on the back-and-forth talks leading up to the CBA being signed," Lotito said. "Maybe those notes would show clearly that an issue like 'no fans in arenas' was clearly on the table and discussed as a possibility before a deal was done."
James Harden Preferred Playing With John Wall Over Russell Westbrook – RealGM.com
James Harden preferred to become teammates with John Wall rather than run it back with Russell Westbrook. Harden still wants to be traded by the Rockets either way.
"He had a preference of John Wall over Westbrook," said Adrian Wojnarowski on ESPN Thursday morning. "Although in the last couple of years, Harden has moved teammates in and out. Brought Chris Paul in, moved him out. Same with Russell Westbrook now.
"Whether that's going to be enough to convince him to want to be there long-term, the Rockets aren't sure about that. They do have a cushion to work with. Remember, James Harden is under contract for two more years. So they're going to start the season with Harden and Wall, and they're hopeful that John Wall can get back to that All-Star form. A five-time All-Star, a former No. 1 overall pick. If they can get John Wall back playing at a high level, they're hopeful that will help to make a case to James Harden."
Harden and Westbrook were also teammates previously with the Oklahoma City Thunder.
"Both point guards wanted to go to the other team," said Wojnarowski of Wall and Westbrook..