The Top Ten Property Investment Coaches To Follow – GlobeNewswire
London, United Kingdom, Nov. 07, 2020 (GLOBE NEWSWIRE) — Property investing is an age old tool for those looking to diversify their portfolio, create passive income and build generational wealth for themselves and their family. The world of property investing has been booming for the last decade, and is set to take some interesting turns in the years to come. For most of us, the world of property investing is daunting. Without the proper direction and guidance, you could be wasting your hard earned money on the wrong investments. According to Two Comma PR, a property investment coach is of utmost importance if you want to make the right investments, and secure the best returns on them. Each with their own unique area of expertise, here are the Top 10 property investment coaches to follow.
Shane Duff
@LeckhamptonPropertyGroup
Professional footballer turned property investor and developer, Shane Duff is serving aspiring and experienced property entrepreneurs as a highly-regarded property coach.
Shane, a director at Leckhampton Property Group, has extensive experience in the property industry ranging from buy-to-lets to multi-million-pound luxury new build developments. Shane's main role at LPG involves investment generation, client relations and deal sourcing. Using his experience to good use, he coaches some of the country's most aspiring property investors.
During his 11 years in the football league, Shane was known as an uncompromising player, and charismatic leader. The high pressure, volatile nature of football has driven Shane's achievements in property. It has built a resilience in Shane that has prepared him well for an industry that is full of ups and downs, and allows him to draw on his experiences to support his coaching clients.
An award-winning property coach, Shane aims to help people who want to use property as their means to achieve their larger dreams and goals. He focuses on building a strong personal relationship first, getting to know you as a person to maximise your property coaching experience. With experience, coaching people from 17 to 60 years of age, Shane guides investors new to the property industry as well as experienced individuals looking to take their journey to the next level. Clients have gone on to achieve results far surpassing their expectations in a short period of time.
Vincent Wong
@VincentWong_Official
Vincent Wong is one of the most well respected and well recognized property investors in the UK. Starting his journey in the property business after acquiring his MBA in 1997, Vincent helped countless property owners and investors structure their own 'win-win' deals. At the height of the financial crisis, Vincent pioneered ground-breaking financing strategies in the UK, Malaysia, and the Netherlands, to which he was then credited as the father of lease options in these countries, for structuring property deals without the need for traditional mortgage financing and deposits.
In 2009, Vince founded Wealth Dragons with his business partner, John Lee, with the vision of making self-education available to all – which they wildly succeed in, becoming the first billion-dollar company in the self-development industry. Ten years later, Wealth Dragons Group PLC made history by becoming the first UK company in the industry to be listed on the stock exchange.
Vince is passionate about sharing his knowledge and experience from working in the industry for more than 20 years. He is a highly sought-after public speaker and internationally recognized as one of the go-to experts in the property investing industry. He and his team are currently building a new technology platform, that will fundamentally change the way properties are bought and sold throughout the world.
Vincent's first published book, "Property Entrepreneur", explains and shares knowledge on how anyone can make money from property, regardless of their financial situation. He also co-authored "The Wealth Dragon Way" that discusses the why, the when, and the how of becoming financially free. If you're looking for a property coach who can deliver results like no other, Vince Wong has the knowledge and breadth of experience to do just that.
Nic Clark
Nic Clark is a property investment strategist with over 8 years of experience. Now, Nic deals directly with international clients who invest in UK based properties, and he takes pride in completing over 400 transactions to date. His specialisation includes buy-to-let properties, HMO's, and capital strategies. Since founding Jenic Property, Nic has expanded his business through word-of-mouth. Their exceptional service as a team has tapped professionals from around the world, helping them leverage their capital and redefine their retirement plans through investing in UK properties.
Nic started his venture in this field with no financial support from his friends or family. Having to raise his funding on his own and building his client base from scratch lets him develop a "never give up" work ethic. He strongly believes that every problem has a solution, regardless of what situation you're in. This allows Nic and his team in Jenic Property to do what they do best as a property investment company, helping people gain their best interest for their short-term and long-term financial goals. This November 2020, Jenic Property is opening their doors so you can apply to be an exclusive client, which will allow you to start replacing your income through UK property from anywhere in the world one property at a time.
With Jenic Property proven track record, this is a great opportunity to get the best team on board to help you deliver your goals, spaces are limited to ensure the quality of interaction between Jenic Property and their clients; while building a long-term relationship.
Abbie Sorabjee
@nalacoaching
Abbie Sorabjee is a process engineer turned property investor, developer and mentor. She worked for a big corporate company for years until she stumbled across property investment training that changed her life.
Abbie took her newfound knowledge and started her property investment business despite having no capital. Within 18 months, Abbie replaced enough of her salary with passive income that she was able to leave her full-time job forever. After just 6 years of investing, Abbie's property portfolio is now valued at over £1.7 million. This has given her the freedom to move around with her military husband, without having to look for a new job after every house move.
Abbie founded Nala Coaching just over a year ago to help others to do the same. Nala Coaching's mission is to support women to achieve financial freedom by building a successful property investment business with confidence and clarity. While the property business is currently a male-dominated industry, it is completely possible for anyone to achieve success. Through jargon-free, personalized and actionable coaching programs and courses, Abbie's clients learn everything they need to create their own profitable property portfolios. All of Nala Coaching's resources are structured through online platforms, making them accessible to everyone, everywhere, whenever it is convenient for them.
Trisha Pegg
@Trishapegg1
Trisha Pegg is a Business Coach, Millionaire Property Developer and Trainer. After 5 years of travelling the world, pursuing her passion for singing and performing, Trisha realised there was something missing from her life, and to feel completely fulfilled, she needed to find it. Having been raised in a family that promoted the belief of 'the harder you work, the more you will earn', Trisha committed herself to a life of long hours in the corporate world, following the belief that the sacrifices she makes today will lead to a more prosperous tomorrow. Trisha quickly realised that the harder she worked in the corporate world, the richer her boss became, with very little benefit to her own life. This, coupled with the declining time she was able to spend with her 3 children, meant that a serious change in lifestyle was required.
Supported by her business partner, Mark, Trisha began a journey of self-discovery and personal development with the aim of discovering her true purpose in life. With an untapped passion for property, Trisha decided to pursue property education to discover how she could create affordable housing using a 'no money down' strategy. Utilising her own lead generation and relationship-building skills from the corporate world, coupled with Mark's sales talent, Trisha created a property portfolio that enabled her to become financially free in just 12 months using none of her own money. In just under 3 years, Trisha had created a property portfolio amassing in excess of 8 Million and also another 8 Million in Project management portfolio growth, a coaching, mentoring and training business that enables people to create financial freedom from property using her own portfolio creation strategies.
Simon Smith
@SimonSmithOnline
Simon Smith is a successful property investor specialising in rent-to-rent, HMO, and serviced accommodation. Previously working full-time in the music industry, Simon felt the need to diversify his income streams and after discovering the world of HMOs through a friend, he decided to take the leap. He soon created multiple forms of cash flow to support his family and in just 12 months, Simon was able to build his portfolio with over 20 properties under his name, exceeding £10k of passive income per month. After transforming his life, Simon made it his new mission to share his knowledge and unique property investment model to help others looking to create financial freedom.
In just two years he has transformed his initial investment of 3k, to 500k in sales. His quick growth inspired a lot of people, who started reaching out to him for assistance. Simon managed to help his first client land two deals and earn £1500PCM extra passive income in a short period of time, which is where he realized how rewarding it was to help others and give back.
The available information to learn property investing out there is exploding, however it seems that most are very broad and lack ongoing support. With this in mind, Simon centred his mentoring approach around hand holding clients as they start, scale and systemise their property businesses to reach their financial goals. He says, "Don't wait 25 years, get creative". If you're looking to create passive income through property, look no further than his quick growth and popular podcast.
Mark Lloyd
@MarkLloydProperty
Mark Lloyd is a property investor and mentor, who for the last 15 years has been investing in properties throughout the UK. When he started out, he knew very little about the market until he attended some training, leading him to realize the full potential that property investing can achieve. He co-founded Property Master Academy with Jackie Reeves and Peter Licourinos, to help people looking to start or re-ignite their interest in property investing. Working alongside these successful property investors with over 50 years of experience in this field, Mark Lloyd is passionate about passing on techniques and seeing others succeed. Through coaching and mentoring, he commits himself to share his expertise as well as pitfalls so people can learn from his experience.
Brought up on one of the roughest council estates in England, Mark Lloyd moved to London at 19. He entered the banking industry and after six years of working, that's when he decided to leave and become self-employed. Mark considers the big leap as the best decision he had ever made. However, the recession of the early 90s caused him to lose almost everything including his home, wife, and daughter. He was able to avoid bankruptcy but the next few years were tough until he had a chance conversation with his plumber and decided to set up their company together. This led to meeting others who joined them eventually building four companies of which they sold two. Now, he has built his portfolio in property investing and he wants to share that knowledge with you.
If you're looking to grow your investment portfolio, Property Master Academy is your best bet.
Olufela Adebayo and Alliyah Naomi Gure
@Zoom.Properties
Zoom Properties is a luxury serviced accommodation business based in Birmingham City. Founded by two university students who dared to jump and venture into property investing, while managing their studies, part-time jobs, and their social life as young adults – which they certainly take pride in. Olufela Adebayo, a 22-year old Nigerian is currently studying Property Finance and Investment at Nottingham. His passion for property investing began as he watched the property development business of his father flourish from scratch until he passed away in 2014. When he co-founded Zoom Properties, he committed himself to fulfilling his father's dreams to spread this property development business all throughout the UK and Nigeria. Alliyah Naomi Gure, a 22-year old graduate of Biomedical Sciences, found her passion in property investing with the British television series "Homes Under the Hammer". Seeing before and after images sparked an interest causing her to take a big leap from her University degree to build Zoom Properties last August 2019.
Since Olufela and Alliyah founded Zoom Properties, they have built a portfolio with five properties already. They provide landlords with guaranteed rent and hassle-free management. They also provide both holiday guests and contractors great properties to stay at while visiting Birmingham City. Their interior design skills can be paralleled to professionals which transform properties, and give the landlord and guests the added value they need for a great stay. Even with the global pandemic, Olufela and Alliyah managed to keep 100% rent and as they grow their business, you can trust that you as their client will grow as well.
Rick Gannon
@RickGannon.UK
Rick Gannon is a retired police officer and now a full-time property investor. For over 20 years, Rick has invested in properties and now, his portfolio has grown to include houses in multiple occupation or HMO, single lets, and commercial and holiday lets. When Rick reached around 50 tenants, he saw the need to have a system and support for tenant recruitment and found the "Go Tenant" property management software which has become the most recommended system for landlords on social media.
He is currently housing 140 tenants and strives to ensure the utmost customer service is always delivered. He is continuing to build a legacy for his two children to ensure that they are financially secure for the rest of their lives. Rick also founded an online mentoring academy, where he shares all his knowledge and experience with people wanting to learn property investing the right way. His class costs £30 and is a pay-as-you-go cancel anytime service. Rick believes that there is no such thing as "get rich quick" and that success comes with hard work and grit. As long as you are consistent and have a strong desire to succeed, then you will meet your goals.
Rick also authored three best-selling books namely, "House Arrest", "Cash In A Property Crash", and "45 Ways to Buy Property". He is also a magazine columnist for Your Property Network and HMO Magazine and has been featured in several national press articles.
TJ Atkinson
@TJALife
TJ Atkinson is a property investor, property entrepreneur, and the founder of The Breakthrough Academy. He owns and manages buy-to-let and commercial properties in London and Kent. Starting his career in real estate as a consultant at MCS doing risk assessments, he negotiated contracts and terms with developers and estate agents, delivering presentations to stakeholders, to secure multiple property deals and much more. Continuing his career as a catalyst consultant to another firm, The Source London, he helps business owners and individuals to enter the serviced accommodation market through his rent to rent strategy. They also help larger and established serviced accommodation operators elevate their operations by giving them the necessary tools, finding them clients, and helping them negotiate deals.
Over the years of working in real estate, TJ was able to develop his own strategy to get anyone on board in property investing. Since he founded The Breakthrough Academy, TJ was able to reach thousands of people and has helped hundreds of people start earning through property investing. He uses his years of experience in the field to coach and mentor black and ethnic minorities wanting to get started in real estate. Growing up in a poor council estate to managing multiple properties, he wanted to teach others how they can do the same. And leading by example, TJ is dedicated to showing his community that it is possible.
Make sure to follow each of these amazing property investment coaches, as they continue to thrive and help their clients reach their financial goals. Each of their Instagram's have been directly linked here. Finally, we would like to thank Two Comma PR for taking the time to put this article together.
Media Details
Contact: Sabrina Stocker
Company: Two Comma PR
Phone: +44 (0) 7494 973518
Email: info@twocommapr.com
Website: www.twocommapr.com
Attachment
Feds should invest to meet climate goals, catalyze recovery: RBC – Investment Executive
"Making these investments now could help underpin a low-carbon transition, drawing in business investment, and complementing the government's efforts to support jobs and economic recovery," it said.
The government has planned emissions reductions toward the ultimate goal of net-zero emissions by 2050.
Yet, for major polluters, such as the energy sector and heavy industry (such as concrete and steel), carbon capture is technically feasible but "often seen to be cost prohibitive," RBC noted.
Carbon capture projects "are capital intensive and high-risk during the extended construction phase," it said, adding that this discourages private investment.
This is where government should be stepping into the breach with public funding for research, RBC suggested. Ultimately, driving down costs and developing effective technology will help the projects become more viable for private investment.
"As it lays out long-term climate plans, the federal government has an opportunity to write a new chapter in Canadian climate policy: one that acknowledges the importance of the energy sector, encourages abatement across industries, leverages investment from the private sector, and spurs innovation in sectors that contribute the most to our climate challenge," the report said.
At the same time, government investment can help combat the long-lasting effects of the Covid-19 crisis, the report said.
"While crisis support for the economy has rightly been the government's focus, investment in new technologies and industries can limit lasting scars from this recession," it said.
Council varies its investment policy – Houston Today
The District of Houston has bolstered its policy of placing public monies in local financial institutions by allowing the amount to be invested to exceed othwerwise specified limits.
It means that $7.5 million in investments coming due Dec. 31 can be placed with either the Bulkley Valley Credit Union or the Royal Bank or with both and not placed elsewhere.
In a detailed presentation made to council Nov. 17, District of Houston chief administrative officer Gerald Pinchbeck, also the District's financial officer, noted the District's existing policy sets dollar amount limits based on a percentage of the District's total investment account and on a percentage of the assets of the Bulkley Valley Credit Union.
The same policy also sets limits on what can be invested with the Royal Bank, the only other financial institution in the community, based on the percentage of securities within the District's total investment portfolio.
"If there are any overages, then upon maturity the investments woud need to be made elsewhere," he said.
The District's investment mix includes term deposits now at the credit union which are guaranteed and senior government and corporate bonds.
In approving of the move to exceed the investment limits in the policy, council directed that the policy be brought back for a further review at a future date.
"Investments under the temporary policy variance will be made by reviewing the rates being offered, the security of the investments available, and the expected return on investment," said Pinchbeck.
The money the District invests are not required for its current operating or capital spending obligations.
The District's long-standing policy of placing investments with financial institutions that have a presence in the community reflects its commitment to recognize and support local businesses.
The Investment Trend That Could Send Tesla To $2 Trillion – Baystreet.ca
Hedge fund bulls say Tesla (NASDAQ:TSLA) is on its way to a $2-trillion market cap after gaining 400% this year … It's already worth 5X the combined value of giants Ford and GM, and it's an industry disrupter that's making millionaires out of anyone who ties-in with them.
And the auto industry disruption tie-ins are many, varied… and potentially lucrative.
From new EV startups and batteries or fuel cells …
To ride-sharing with an ESG twist and car subscription companies that are challenging our ideas of ownership.
The ideas are racking up, and the growth runway potentials are phenomenal.
EV startup NIO (NYSE:NIO) has gained over 1500% this year.
EV charging stock Blink (NYSE:BLNK) has gained 1400% YTD.
Now, mergers and consolidations are the name of this game as all the tie-ins fight for market share.
EV startup Fisker (NYSE:FSR) opted to go public, and acquired Spartan Energy (SPAQ).
Food delivery—another mobility tie-in—is in a state of all-out war for market share.
Giant Uber is acquiring rival Postmates for $2.65 billion.
Just Eat Takeaway is acquiring Grubhub for nearly $7 billion …
And the innovative outlier hoping to steal the show is Canadian Facedrive (TSX.V:FD; OTCMKTS:FDVRF), the only ride-hailing and food delivery platform that has an ESG angle with carbon-offset operations.
The Biggest Change Yet Is Coming To Transportation
As a part of the clean energy transition, the world is racing to roll out the next era of transportation: electric vehicles.
But there's yet another disruption happening in the industry….
Not only will conventional gas-powered vehicles in time be on the chopping block…the entire concept of owning a car may be on the verge of extinction sooner than you think.
And Facedrive is among the first movers in this surprising new market.
It scooped up Steer, a subscription-based electric vehicle provider in September in a deal that included a $2-million strategic investment by energy giant Exelon's wholly-owned subsidiary, Exelorate Enterprises, LLC.
When you combine the $5 trillion global transportation industry with an energy industry whose renewables sector is quickly growing, you'll see a trend that is in its infancy…
But make no mistake about it – it will be a trend that upends the entire automotive sector.
This is where Facedrive's acquisition of Steer really comes into its own.
Steer is a new all-inclusive, monthly, risk-free car subscription service that is 100% electric, plug-in and hybrid.
And it is predicting that transportation is ready for another round of evolution…
The success of subscription based 'leasing' models is already well documented, and this simple concept could be at the core of the next major disruption in the auto industry.
We've already seen it with electric bikes and scooters…
But this step could change everything.
Imagine being able to have a clean, convenient, quality-controlled electric vehicle personally delivered to you whenever you needed it….
Without the hassle of maintenance or insurance.
And it's affordable.
Better yet, you aren't investing in something that immediately loses its value as soon as you drive it off the lot.
It's one answer to the last remaining hurdle of full-on adoption of EVs.
And unlike leasing a car—there's no mileage limit.
And the growth runways are phenomenal when you consider that 70% of Steer members have never even driven an EV before. That means that these are new converts.
Anyone who couldn't afford to ride an EV before, can now, with Steer. But it's a diverse collection that allows users to drive pretty much any EV, hassle-free, including an Audi e-Tron or a Hyundai Kona, both new all-electric SUVs with ranges of over 250 miles.
Source: Audi.com
Food: The $26B Shared Mobility Vertical
Facedrive (TSX.V:FD; OTCMKTS:FDVRF) was the first ride sharing company to see the "impact investing" writing on the wall.
It saw where things would go wrong for Uber, which completely ignored sustainability.
It saw what would happen when studies showed that ride-hailing results in nearly 70% more pollution than whatever transportation it displaced.
Then Facedrive launched an ESG coup: The were the first to offer customers an EV option, and then to plant trees to offset their carbon footprint.
Then they applied that same "people and planet first" business model to a second vertical: Food delivery—the carbon-offset version.
Facedrive's acquisition of Foodora from Deliver Hero positioned it near the top of Canada's food delivery hierarchy overnight.
And Foodora's former owner Delivery Hero is the rare food delivery company not carrying around negative reputational baggage for bullying customers and restaurants at a time when they are struggling to make ends meet. They are international giants with services in 40 countries and a portfolio of over 500,000 restaurants.
And Facedrive's new acquisition has hit the ground running …
The new Facedrive Foods app was launched a few weeks ago, and already it's processing 3,000 orders daily, with close to 4,000 restaurant partners and over 220,000 active users.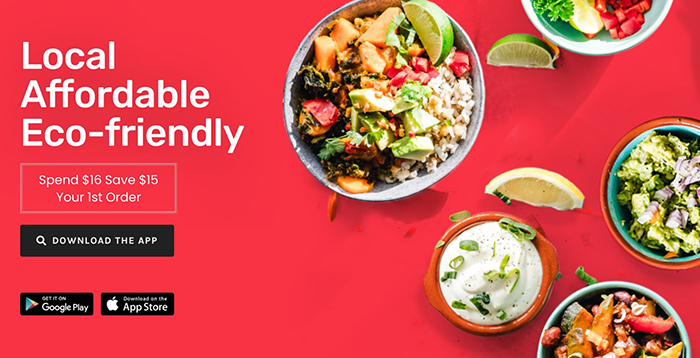 Next, comes international expansion ….
This Is Where Big Names Are Gathering
Exelon's (NASDAQ:EXC) market cap is ~$41 billion … and it's not the only huge market-cap company whose radar is pinging Facedrive: There's also a tie-in to eCommerce King Amazon (NASDAQ:AMZN) ….
Both global e-commerce giant Amazon and Canadian Tier-1 telecoms giant Telus jumped in on Facedrive's corporate partnership program. And that news flew right under the radar because it wasn't officially announced and was revealed only when Facedrive released its Q1 earnings report.
That means both giants will be Corporate partners of Facedrive meaning that their employees will receive preferred rates on Facedrive products and services.
And they have …
In October, Air Canada became the next big name to jump on the Facedrive bandwagon.
With the global tourism industry facing $1 trillion in losses and on track to shed 100 million jobs before the year is out, Air Canada has signed a deal with Facedrive Inc. (TSX.V:FD; OTCMKTS:FDVRF) to launch a pilot project for its employees using TraceSCAN, Facedrive's proprietary COVID contact-tracing technology and wearables.
So, watch the news flow on that one, too as talks progress with more big airlines …
The name of this game is ultimate impact.
Facedrive is chasing Big Money earmarked for ESG-focused plays …
At a time when the world has just hit the trillion-dollar mark in ESG fund investments.
Big capital has tons of money to put into low-risk impact investing …
But they can't find enough places to park it.
That's where Facedrive ticks so many boxes. Whether it's pushing disruptors of the transportation industry from three different corners, with Facedrive ride-hailing, food delivery and transformational Steer …
Or whether it's helping giant airlines keep track of virus contacts.
Either way, Facedrive (TSX.V:FD; OTCMKTS:FDVRF) has been ahead of the curve from day one. At this point, there's no stopping the march of EVs, and this is the company that brings it all together in a comprehensive ESG ecosystem.
And with so many verticals, the news flow is hard to keep up with.
The Electric Vehicle Revolution Is Kicking Into High Gear
Tesla (NASDAQ:TSLA) is now the most valuable car maker "of all time". Tesla is worth almost $495 billion, while the top three American automakers–GM, Ford and Chrysler–are worth around $129 billion combined. This year alone, Tesla has risen by 460%, and is showing no signs of slowing. Especially now that the company is set to be included in the S&P 500.
There's a reason Tesla has performed so well this year. Investors love Elon Musk's vision. As one of the world's most innovative car manufacturers, it has single-handedly made electric vehicles cool. Its slick design is beloved across the world. In fact, it's almost impossible to NOT see a Tesla in cities like Hong Kong or San Francisco.
And Tesla isn't solely an electric vehicle company, either. It's also building its own energy business which includes revolutionary solar panels and top-tier battery technology. Clearly, its efforts are paying off, as it is without-a-doubt one of the most popular stocks on Wall Street.
Tesla's success has also fueled a boom in other EV-related companies. Blink (NASDAQ:BLNK), for example, an electric vehicle charging company, has risen by over 1400% since the beginning of the year, and the sky is the limit for this up-and-comer. A wave of new deals, including a collaboration with EnerSys and another with Envoy Technologies to deploy electric vehicles and charging stations adds further support.
Michael D. Farkas, Founder, CEO and Executive Chairman of Blink noted, "This is an exciting collaboration with EnerSys because it combines the industry-leading technologies of our two companies to provide user-friendly, high powered, next-generation charging alternatives. We are continuously innovating our product offerings to provide more efficient and convenient charging options to the growing community of EV drivers."
In addition to the company's string of high-profile deals, Blink is also consistently posting promising revenues. In fact, earlier this month, the company noted that third-quarter revenue had increased by as much as 18% from the year before despite disruptions caused by the COVID-19 pandemic.
Canadian Companies Are Fueling A Sustainabilty Boom
Westport Fuel Systems (TSX:WPRT ) is a clean energy technology company that builds products to help the transportation industry reduce their carbon footprint. In particular, it provides systems for less impactful fuels, such as natural gas. In North America alone, there are over 225,000 natural gas vehicles. But that shies in comparison to the global 22.5 million natural gas vehicles globally, which means the company still has a ton of room to grow!
Boralex Inc. (TSX:BLX) is an upcoming renewable firm based in Kingsey Falls, Canada. The company's primary energies are produced through wind, hydroelectric, thermal and solar sources and help power the homes of many people globally. Not only has it has had a great influence in the adoption of renewable electricity domestically, it's even branching out into the United States, France and the United Kingdom. In fact, just recently, Boralex took control of a massive 209MW solar farm in California.
GreenPower Motor (TSX.V:GPV) is a thriving electric bus manufacturer based out of Vancouver. At the moment, its focus is primarily on the North American market, but its ambitions are much larger. Founded over 10 years ago, GreenPower has been on the frontlines of the electric transportation movement, with a focus on building affordable battery-electric busses and trucks.
Year-to-date, GreenPower Motor has seen its share price soar from $2.03 to $36.88. That means investors have seen 1700% gains this year alone. And with this red-hot sector only going up, GreenPower will likely continue to impress.
NFI Group (TSX:NFI) is another one of Canada's home-grown electric vehicle pioneers producing transit busses and motorcycles. The company had a tough go at it towards the beginning of the year, but has since cut its debt and begun to address its cash flow struggles in a meaningful way. Though it remains down from January highs, NFI still offers investors a promising opportunity to capitalize on the electric vehicle boom.
In the previous months, NFI has seen an uptick in insider stock purchases which is often a sign that the board and management strongly believe in the future of the company. In addition to its increasingly positive financial reports, it is also one of the few in the business that actually pay dividends out to its investors.
Canada's Silicon Valley is all in on the sustainability race, too. Shopify Inc (TSX:SHOP) Canada's own e-commerce giant helps users build their own online stores. It has huge clients – everyone from Tesla to Budweiser are on board. And the company is beloved by millennial investors. In addition to its revolutionary approach on e-commerce, Shopify is playing an increasingly active role in creating a greener tomorrow. It has committed to spending at least $5 million annually to help combat climate change. It's even making cuts throughout its own operations, decommissioning its data centers and sourcing renewable power for its buildings. Thanks the these efforts, Shopify has posted a return of 137% this year alone, and is showing no signs of slowing.
By. Terry Goddard
**IMPORTANT! BY READING OUR CONTENT YOU EXPLICITLY AGREE TO THE FOLLOWING. PLEASE READ CAREFULLY**
Forward-Looking Statements /
This publication contains forward-looking information which is subject to a variety of risks and uncertainties and other factors that could cause actual events or results to differ from those projected in the forward-looking statements. Forward looking statements in this publication include that the demand for ride sharing services will grow; that Steer can help completely change the way people view car ownership, that Steer can disrupt industry segments; that Tracescan could help the tourism industry deal with COVID and will sign new agreements for use of its alert wearables; that new tech deals will be signed by Facedrive; that Facedrive will be able to expand to the US and globally; that Facedrive will be able to fund its capital requirements in the near term and long term; and that Facedrive will be able to carry out its business plans. These forward-looking statements are subject to a variety of risks and uncertainties and other factors that could cause actual events or results to differ materially from those projected in the forward-looking information. Risks that could change or prevent these statements from coming to fruition include that riders are not as attracted to EV rides as expected; that competitors may offer better or cheaper alternatives to the Facedrive businesses; TraceScan may not work as expected in commercial settings and customers may not acquire or use it; changing governmental laws and policies; the company's ability to obtain and retain necessary licensing in each geographical area in which it operates; the success of the company's expansion activities and whether markets justify additional expansion; the ability of the company to attract drivers who have electric vehicles and hybrid cars; the ability of Facedrive to attract providers of good and services for merchandise partnerships on terms acceptable to both parties, and on profitable terms for Facedrive; and that the products co-branded by Facedrive may not be as merchantable as expected. The forward-looking information contained herein is given as of the date hereof and we assume no responsibility to update or revise such information to reflect new events or circumstances, except as required by law.
DISCLAIMERS
This communication is not a recommendation to buy or sell securities. Oilprice.com, Advanced Media Solutions Ltd, and their owners, managers, employees, and assigns (collectively "the Company") owns a considerable number of shares of FaceDrive (TSX:FD.V) for investment, however the views reflected herein do not represent Facedrive nor has Facedrive authored or sponsored this article. This share position in FD.V is a major conflict with our ability to be unbiased, more specifically:
This communication is for entertainment purposes only. Never invest purely based on our communication. Therefore, this communication should be viewed as a commercial advertisement only. We have not investigated the background of the featured company. Frequently companies profiled in our alerts experience a large increase in volume and share price during the course of investor awareness marketing, which often end as soon as the investor awareness marketing ceases. The information in our communications and on our website has not been independently verified and is not guaranteed to be correct.
SHARE OWNERSHIP. The owner of Oilprice.com owns a substantial number of shares of this featured company and therefore has a substantial incentive to see the featured company's stock perform well. The owner of Oilprice.com will not notify the market when it decides to buy more or sell shares of this issuer in the market. The owner of Oilprice.com will be buying and selling shares of this issuer for its own profit. This is why we stress that you conduct extensive due diligence as well as seek the advice of your financial advisor or a registered broker-dealer before investing in any securities.
NOT AN INVESTMENT ADVISOR. The Company is not registered or licensed by any governing body in any jurisdiction to give investing advice or provide investment recommendation. ALWAYS DO YOUR OWN RESEARCH and consult with a licensed investment professional before making an investment. This communication should not be used as a basis for making any investment.
RISK OF INVESTING. Investing is inherently risky. Don't trade with money you can't afford to lose. This is neither a solicitation nor an offer to Buy/Sell securities. No representation is being made that any stock acquisition will or is likely to achieve profits.