The trade not made: Where Raptors, Sixers, Heat, Lakers go from here – theScore
The 2021 NBA trade deadline saw 16 deals made involving 48 players, 19 draft picks, and multiple stars. We already broke down what all those moving parts mean for the teams and players involved, but what about the trades that weren't made?
The prospect of Toronto trading Kyle Lowry loomed over this year's deadline, and the six-time All-Star staying put (for now) may actually be a bigger story than any of the moves made.
So, with analysis on the 16 completed trades already noted, here's how Lowry's extended stay with the Raptors affects not just Toronto, but the three teams that were reportedly Lowry's biggest deadline suitors.
Raptors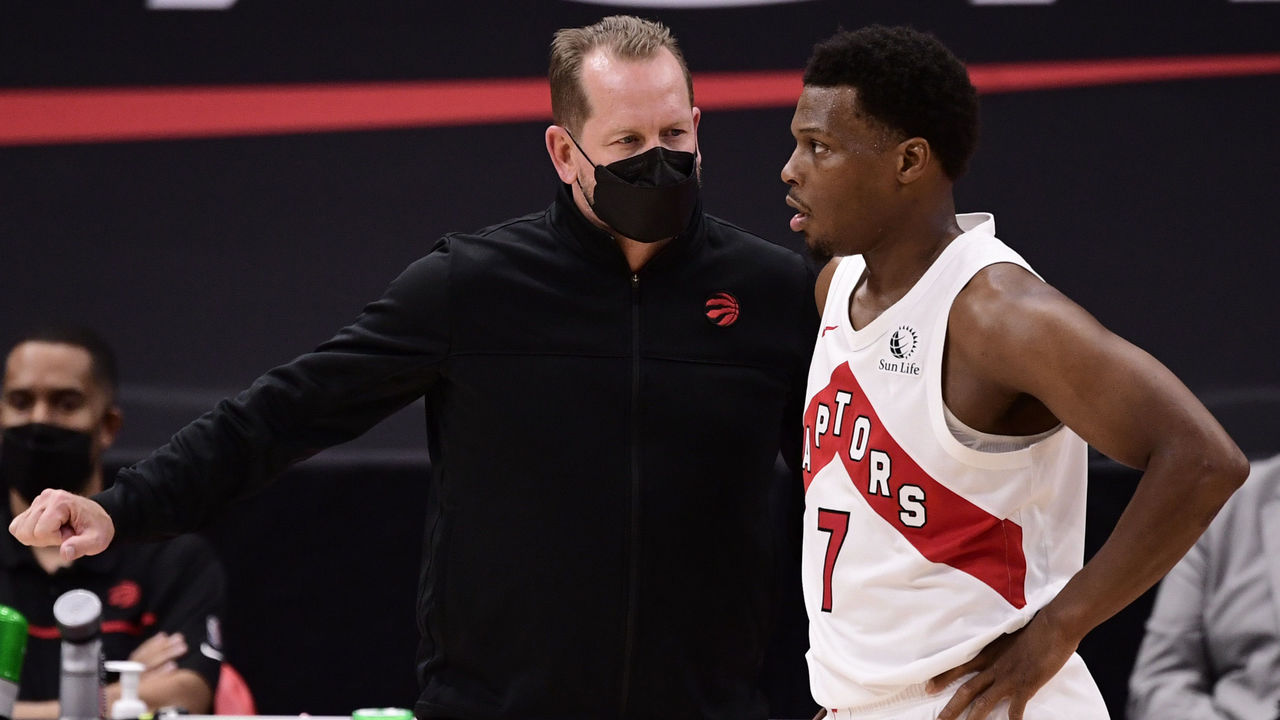 After all the rumors, negotiations, pre-emptive eulogies, and would-be swan songs, Lowry's still a Toronto Raptor. That might feel more surprising if it weren't so familiar.
Lowry nearly leaving the Raptors via trade or free agency is basically a biennial tradition at this point. As any Raptors fan can tell you, he never had any intention of sticking around in the first place. He's professed that when he was acquired in 2012 he considered Toronto a two-year stopover and nothing more. But try as they might, neither Lowry nor the organization could seem to find a way out of their increasingly entangled relationship.
He had his bags packed for New York in 2013, before James Dolan decided at the 11th hour that Iman Shumpert and a pick was too steep a price. Then the Raptors accidentally got really good, Lowry and DeMar DeRozan developed a deep bond, and next thing Lowry knew he was leading the team to its first playoff berth in six years and re-upping for three more years in the offseason.
He hit free agency again in 2017, after a second-round sweep at the hands of the Cavaliers seemed to reveal the Raptors' ceiling, and there were plenty of rumblings that he was looking for a change of scenery. But teams that might've pried him away (like the Spurs, 76ers, and Timberwolves) opted not to seriously pursue him, and so he re-signed again. Over the next three seasons, the Raptors won 72% of their games, and a Larry O'Brien Trophy.
Even during the 2018-19 championship season that cemented Lowry's legacy as the greatest player in franchise history, it seemed for a moment as if he might be on the move. The Raptors reportedly pondered trading him for Mike Conley in the lead-up to the deadline. They kept him, raised a banner a few months later, then tacked an extra year onto the end of his deal.
In other words, Thursday was well-trod ground for Lowry and the team that's employed him for the last nine years. The trade market was always going to be what determined whether or not the Raptors pulled the trigger on a deal. They weren't going to trade Lowry for the sake of it, at least not without him outright asking them to do so. And since he felt comfortable sticking it out until he hits free agency after the season, the team didn't feel any pressure to accept a deal it didn't like.
There were reportedly only three serious suitors to which Lowry was amenable to being traded, and with none of the 76ers, Heat, or Lakers willing to meet Toronto's asking price in terms of draft-pick or prospect capital (no Tyler Herro, no Talen Horton-Tucker, no Sixers multi-first-round-pick package), the front office decided it was better off retaining Lowry's Bird rights and either re-signing him or flipping him in a sign-and-trade this summer. In other words, we'll get to do the whole will they/won't they dance again in a few months. Fun!
In the meantime, the fan base will get to root for its most beloved player for at least another 28 games, and the Raptors will have a far better chance than they otherwise would've had to snag a play-in spot, reach the postseason proper, and give some team a headache in the first round. If that's all they get out of this, if Lowry ultimately decides to leave and sign with a cap-space team like Miami outright, and the Raptors' stubbornness turns out to have cost them Duncan Robinson and Precious Achiuwa, then so be it.
Lowry may have just turned 35, but he's still a fantastic player, and he means more to the Raptors – even if he only has two months left with them – than some middling prospects do. For now, the GROAT stays. – Joe Wolfond
Heat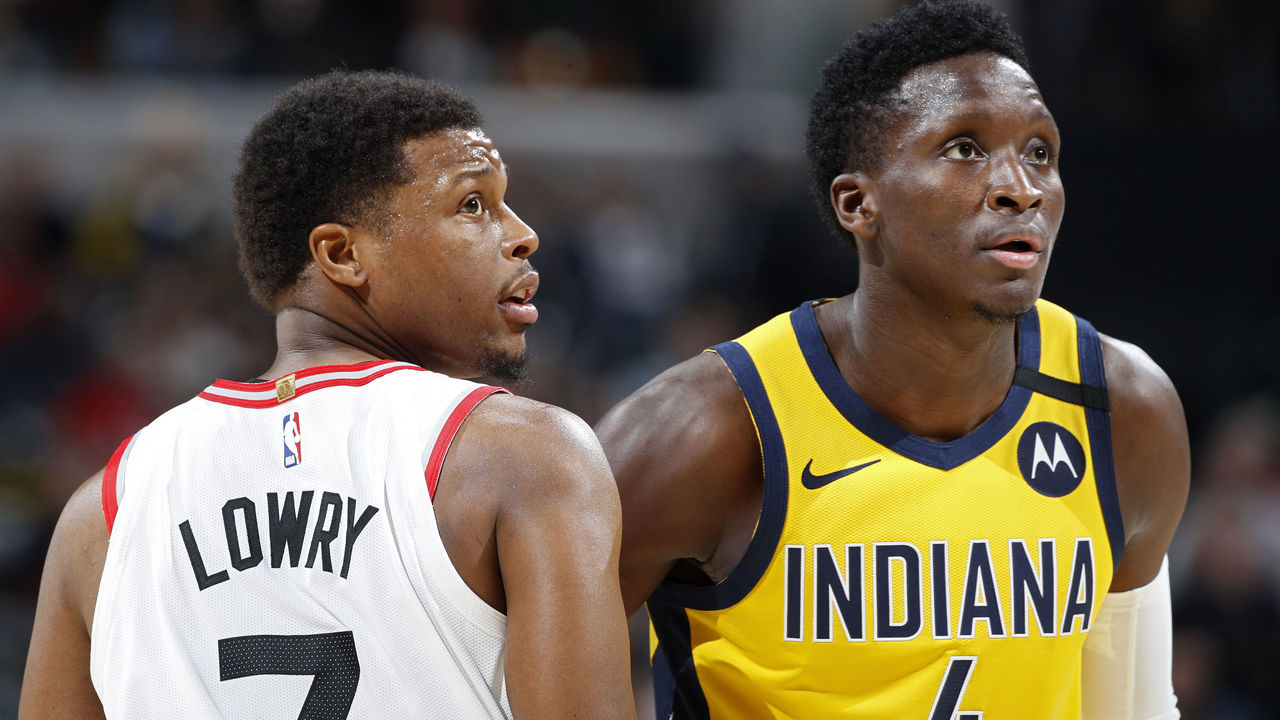 Of the three potential Lowry suitors that failed to get their man, Miami's the team that should sleep most soundly.
Reports indicated that the Heat were willing to put rookie big man Achiuwa and sharpshooter Robinson (a pending free agent) on the table, but not Tyler Herro, who is six years younger than Robinson and comes with an extra two years of team control. Overvaluing homegrown talent like Herro can often undermine teams in their pursuit of game-changing stars like Lowry, but the decision was defensible from Miami's perspective.
The Heat were instead able to acquire Victor Oladipo for pennies on the dollar, surrendering Kelly Olynyk, Avery Bradley, and a 2022 first-rounder (Houston will get whichever of Miami's or Brooklyn's 2022 picks is better). Oladipo doesn't impact the game at the same level as Lowry, but a good argument can be made that the Heat will be better served by the roster left with Oladipo in the fold than they would've been by the more depleted team they'd be left with had they caved to Toronto's Lowry demands.
In other words, the drop-off from Lowry to Oladipo might not be as stark as the overall drop-off that comes from trading Herro, Achiuwa, one of Olynyk or Goran Dragic (for salary filler), and Bradley, as opposed to just Olynyk and Bradley.
Should the partnership with Oladipo not go as swimmingly as expected, there's no sunk cost in losing him to free agency, given that Olynyk and Bradley weren't going to be part of Miami's plans beyond this season. In that worst case scenario where Oladipo bails, the Heat could always make a run at Lowry this summer, when the future Hall of Famer tests free agency, himself.
The Heat's new-look rotation possesses more two-way upside than all but a few teams. If Oladipo proves a perfect match in Miami, where he's reportedly yearned to end up all along, and agrees to re-sign with the Heat this summer, the team's looking at a future core of Jimmy Butler, Bam Adebayo, Oladipo, Herro, and Achiuwa, with the latter two still holding plenty of trade value.
The Heat didn't come away from the deadline with Lowry, but Miami found a way to raise its short- and long-term ceiling while minimizing its risk. You can't ask for much more than that. – Joseph Casciaro
76ers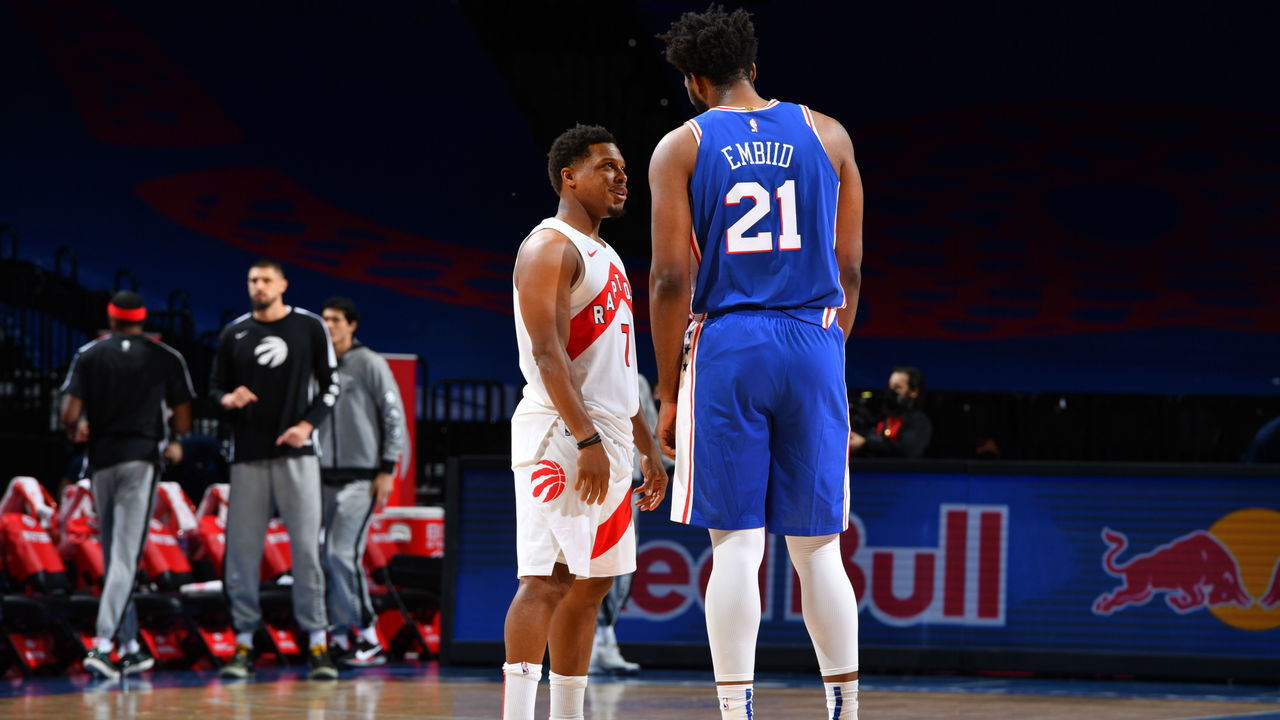 On its face, it was justifiable for the Sixers to decide that the asking price for Lowry was too rich for their blood. For as much as he could've helped them by addressing basically all of their most pressing needs, asking a team to fork over two prospects and two first-round picks (as the Raptors were reportedly doing) for a 35-year-old impending free agent is asking a lot.
There are a couple significant questions that the Sixers had to weigh in working out the risk/reward calculus here. The first is whether Lowry would've been enough to vault them above Milwaukee and Brooklyn in the Eastern Conference pecking order. The second is whether acquiring Lowry would've been the best use of their resources in the grand scheme. If their answer to either one of those questions had been yes, Lowry would almost certainly be a member of his hometown team right now. Instead, they decided to make a much safer, more affordable play for George Hill, who fills some but not all of their needs.
Were they right to hold the line and ultimately walk away?
In regards to the first question, we can only hypothesize about how they would've stacked up to the rest of the East with Lowry in the fray, but they certainly would've had no less than a puncher's chance. Joel Embiid is arguably the single biggest individual matchup advantage in the conference, but without high-level half-court creators around him, he simply has to do too much by himself to beat high-level defenses. Lowry would've lightened his load and amplified his advantages. Lowry's passing and pull-up shooting would've also allowed Ben Simmons to more naturally shift into his most effective half-court role – as a rim-runner, pick-and-roll screener, and secondary playmaker.
The Nets would still likely be favored in a series. As much as the Sixers would gain by adding Lowry, they'd also be losing a ton of wing defense between Matisse Thybulle and Danny Green. Lowry can guard up a position or two, but he's not the point-of-attack defender he once was. Even so, Philly would've closed the gap considerably, if not entirely. Hill is a capable ball-handler and a great shooter who can further space the floor for Embiid, but he's a middling playmaker who isn't going to be relied upon to initiate high-leverage postseason possessions. He doesn't move the needle to nearly the same extent.
The second question might be the more pertinent one: Was Lowry simply not the right guy to chase? It's possible Daryl Morey didn't pull the trigger because he thinks the Sixers are already good enough as constructed to win a title. Or maybe he thinks a better trade opportunity will eventually materialize. By retaining all their best trade assets, the Sixers kept their powder dry for a potential blockbuster down the road. Should Bradley Beal ever become available, for example, they'll likely be glad to still have the cupboard full. Odds are this won't be their only opportunity to add a major piece to the Simmons-Embiid core (or just the Embiid core, if the target is big enough to require Simmons be sent out).
Perhaps the signs of slippage Lowry has shown made the prospect of acquiring his Bird rights and re-signing him through his age-37 season less enticing. Morey's long been a win-now executive, but that doesn't mean he's incapable of taking the long view. He clearly thought this wasn't the moment to push his chips into the middle.
And yet, for all the reasons it made sense for Philly to pass, it's hard not to feel disappointed by the missed opportunity. Morey's the guy who famously said that if your team has even a 5% chance to win, "you've gotta be focused all on winning the title." The guy went all-in to try to take down the Warriors at the height of their dynasty. Obviously, there are limits to that ethos, and the fact Embiid and Simmons are still relatively young means Morey can afford to be more patient than he's been in the past.
But Embiid's playing the best basketball of his life, and some of the best basketball any modern center has played. Given his injury history, there's no telling how many more seasons like this the Sixers will get from him. When you have a superstar in his prime, there's never a wrong time to go all-in. – Wolfond
Lakers
The Lakers' dearth of young talent and draft capital made them a surprise entrant in the Lowry sweepstakes, but the simple mention of the defending champions likely sent shockwaves throughout the league.
If and when LeBron James and Anthony Davis return to full health, the Lakers will still be the team to beat. Had they found a way to acquire Lowry and complete a stunning new Big Three, the NBA would've been lunch meat. The combined basketball IQ of LeBron and Lowry (plus Marc Gasol) would've given the Lakers an unfathomable advantage.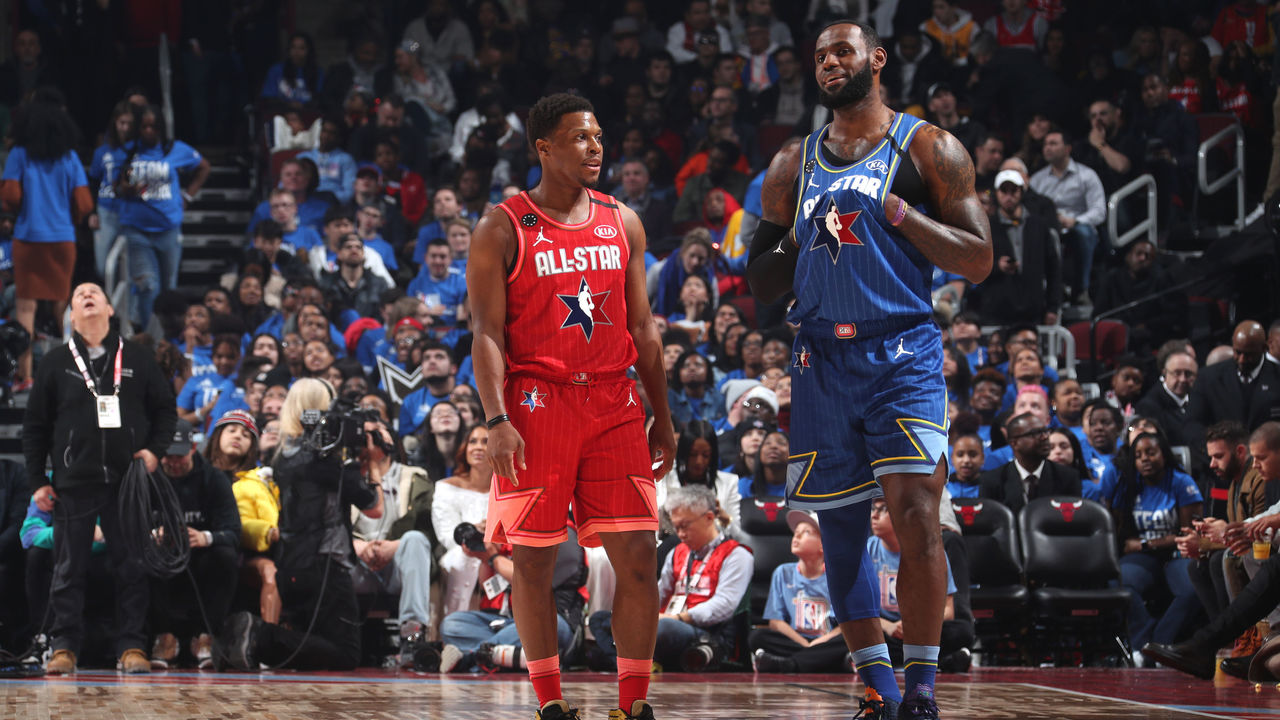 There's a few ways to look at the Lakers' failed pursuit of Lowry.
On one hand, you can argue they never had enough to get a deal done given how hard a bargain Masai Ujiri was driving, as Talen Horton-Tucker is the team's lone true prospect, and the Lakers can't trade a first-round pick until 2027. But Horton-Tucker and a lightly protected 2027 first-rounder – a pick far enough into the future to imagine life without LeBron – actually isn't a terrible offer, and I'm not convinced the Raptors would've turned it down.
From that perspective, it seems ludicrous that the Lakers would've held this deal up because they were unwilling to include Horton-Tucker. Championship windows are never open as long as incumbent teams want to believe they are, there's a rising power in Brooklyn, and James will be 37 in December. If the Lakers fall short in the playoffs or another injury hobbles them along the way, it'll be fair to ask whether L.A. just passed on the chance to secure James another title because it overvalued Horton-Tucker, who's about to hit restricted free agency.
Things are rarely that black and white, though, and you can just as easily make the argument that if the Lakers are confident in the healthy returns of James and Davis, they view themselves as championship favorites anyway. Why decimate a team already on track for another championship to match salaries in a blockbuster trade for an aging star? Lowry makes more than $30 million this season, and in addition to Horton-Tucker, the Lakers would've had to move Dennis Schroder and one of Montrezl Harrell or Kentavious Caldwell-Pope to make the math work.
There's more: Given that Horton-Tucker and draft picks far into the future might be the franchise's best trade chips right now, it's understandable that the Lakers chose to hold on to those assets. Assuming Horton-Tucker is re-signed to a reasonable deal, what might a package built around THT and a future pick be able to fetch the Lakers next year, when Harrell will be on an expiring contract and Kyle Kuzma's extension kicks in, thereby increasing his cap hit?
If Horton-Tucker, one of Harrell or Kuzma, and a pick are turned into a bigger piece in pursuit of a 2022 championship and beyond, Rob Pelinka's patience and decision to pass on Lowry at the 2021 deadline will appear clairvoyant.
In any event, while plenty of teams' futures will be shaped by the moves they made on Thursday, the future of at least one of the teams above may now hinge on the biggest trade it didn't make. – Casciaro
Boston Bruins Add Offense With Solid Taylor Hall Trade – Boston Hockey Now
The Boston Bruins clearly understood they had serious deficiencies on their NHL roster this season and credit them for going and doing something about it.
The B's finished off their Sunday night fireworks ahead of the NHL trade deadline by sending a second round pick and Anders Bjork to the Buffalo Sabres in exchange for top-6 winger Taylor Hall and bottom-6 forward Curtis Lazar. TSN's Darren Dreger, Sportsnet's Elliotte Friedman and ESPN's John Buccigross were the first to report about the completed deal between the Bruins and Buffalo Sabres in the hours following the B's getting stomped by the Washington Capitals, 8-1, at TD Garden.
I think @Buccigross deserves the credit here https://t.co/gF5Bxc9f2E

— Elliotte Friedman (@FriedgeHNIC) April 12, 2021
The Buffalo Sabres retained half of the $8 million salary that Hall signed for prior to the start of the 2021 hockey season.
After acquiring Hall @ 50% & Lazar for Bjork, the #NHLBruins added $772K Cap Hit for remainder of year.

They have $24K of Projected Cap Space; $100K Annual Cap Hit that can be added, w/ 24 Active on Roster. Sending players to taxi would create more room.https://t.co/2o0hsHzUIy https://t.co/rXiRKKk3lt pic.twitter.com/I7ZRUSmSQp

— PuckPedia (@PuckPedia) April 12, 2021
The 29-year-old Hall is having a terrible season in Buffalo with just two goals and 19 points in 37 games along with a minus-21 rating after he chose to sign a one-year deal with the Sabres during the offseason. But he brings legitimate offensive talent as a former No. 1 overall pick and Hart Trophy winner to a Boston Bruins team that's ranked in the bottom third of the NHL offensively all season.
The Bruins were one of the suitors for Hall prior to him choosing the Sabres months ago, and now they get him for a deep discount while keeping their own first round picks after making their deadline deals.
Holding onto their own first round pick was a priority for Boston Bruins GM Don Sweeney after spending first rounders at the deadline in two of the last three deadlines in trades for damaged goods Rick Nash and Ondrej Kase.
The 26-year-old Lazar has five goals and 11 points in 33 games as a bottom-6 forward for the Sabres this season and is signed for $800,000 for next season. It seemed clear that something was going on with the 24-year-old Anders Bjork over the last couple of weeks as he was a healthy scratch for five straight games, including Sunday night against Washington, and heads to Buffalo hoping to further develop a game built on speed and skill level that hasn't translated into offense as of yet.
Hall should fit right into the top-6 with the Bruins as a skilled winger for playmaking center David Krejci, but it remains to be seen how he's going to fit as another left winger on a team with Nick Ritchie and Jake DeBrusk.
Either Ritchie or DeBrusk is going to have to play the off wing with a Krejci/Hall combo, but that's a problem that Boston Bruins head coach Bruce Cassidy will gladly figure out after being forced to piece together lineups all season due to injuries and offensive inconsistency. With the acquisition of Hall, Lazar and left-handed defenseman Mike Reilly on Sunday night, it would appear the Boston Bruins are largely done with deals ahead of Monday's NHL trade deadline.
Interestingly enough, the Boston Bruins are set to play the Buffalo Sabres on Tuesday night at TD Garden.
Drouin must return to mentality that's led to success this season – Sportsnet.ca
It was something Dominique Ducharme said after his Montreal Canadiens played an abysmal game against the Ottawa Senators last week, something that only truly resonated after they lost 3-2 to the Toronto Maple Leafs on Wednesday — a game that emboldened the struggle Jonathan Drouin's currently enduring.
"Ninety per cent of the mistakes we made were mental, and the rest of it was above our shoulders." the coach said after the 6-3 loss to Ottawa last Saturday, somewhat channelling New York Yankees legend Yogi Berra with this bit of wit and wisdom.
It was hard not to think of those words watching Drouin play the way he did on Wednesday. For much of this season, the talented left winger has played a primary role in Montreal's success. He's led them with 19 assists, been tenacious on the forecheck, physically engaged all over the ice, cerebral as always in his execution and, as he's said on several occasions, relatively unconcerned by whether or not his name has been featured on the scoresheet.
But it seemed clear, after watching Drouin dump a breakaway into Jack Campbell's chest with one of 32 shots the Maple Leafs goaltender turned aside to set a franchise record with his 10th consecutive win, he had diverted from that. And that affected the way he played the rest of the game.
It was Drouin's fifth in a row without a point, his 18th without a goal, and he'd have to be a robot not to be suffering the mental wear of not seeing the puck go in more than twice since the season started, the torment of seeing only three per cent of his shots hit the back of the net through 36 games after 10 per cent of them resulted in goals through the first 348 games of his career.
"It is weighing on me where, when I have a chance and miss the goal, I might be trying to score too much," Drouin said. "It's something I obviously think about — every player would — and I've just gotta put it past me and just keep shooting pucks."
Ideally, the 26-year-old wouldn't be thinking about any of this. These are thoughts that weigh a player down and right now the Canadiens are in tough without Brendan Gallagher for the rest of the season and Drouin needs to be light and free to help account for that loss. And in order for him to do that, he needs to focus on what he does best.
Because the reality is that even though Drouin can score more, scoring isn't what he needs to do in order to be at his best and really help this team.
"When his feet are moving and he's making plays, Drou's a pass-first guy," explained Jake Allen, who made 29 saves in Carey Price's absence. "When his feet are moving, his head's always in it. When his feet are moving, he's controlling the play, controlling the puck. He's a guy who really can control the play for a whole line. You want the puck on that guy's stick and let the other guys do the dirty work and he'll find them."
But when Drouin's feet aren't moving, there just isn't enough of that other stuff happening.
When Drouin's feet weren't moving, he lost a battle for the puck in the offensive zone and allowed the NHL's leading goal scorer to start the rush that resulted in the winning play of Wednesday's game.
Auston Matthews to Mitch Marner, back to Matthews, off Allen and slammed into Montreal's net by Zach Hyman with 9:39 remaining in the third period, with Drouin watching from just inside his own blue line.
"You give a 3-on-2 to the Matthews line and it's the kind of play they're going to make you pay on," said Ducharme.
Was Drouin still thinking about that shot he didn't bury in the second period?
It's understandable if he was, but those are the kind of thoughts he needs to shake right now.
"He wants to do well, and I'm sure it's getting a little bit in his head," said Ducharme. "I think the best remedy for him is to be scoring that goal or making that big play, and I think he's going to be energized by that and less thinking, more acting.
"It is a fine line. Those kind of thoughts is not something that you want to happen. But when you receive that puck and you see the opening and stuff, (the slump) comes back to (your mind). That's why the mental part of the game is something that's very tricky. It's not his will to be thinking that way. Every player who's going through a time like that will have that thought and scoring that goal will take him to a different level. At those kind of times you need to make it even simpler and being even more inside going at the net and finding a garbage (goal) right there and you put it in and sometimes you go on a little run. It might be that kind of goal that he needs to get that monkey off his back."
It's the kind of goal Corey Perry scored twice to give the Canadiens a chance in this game.
But Drouin isn't Perry, who rightly pointed out after the game he's made a career of scoring goals that way. And even if Drouin can borrow from what Perry does next time he has a chance like the one Brett Kulak set him up with for that breakaway, there are other ways he can positively impact the game.
You can appreciate that Drouin said he's putting pressure on himself to score more and help make up for the goals the team will be missing with Gallagher sidelined, but that might not get him to where he needs to be mentally to contribute as much as he already has this season.
What would, though, is a sharp turn towards the mentality he described just days ago. The one that's enabled him to be a much more consistent player this season than he has in seasons past.
"When I was younger, I'd stay on one game or stay on one play for too long and wouldn't be able to let it go for a bit or a couple of days," Drouin said. "But I think for me now it's can I look at myself in the mirror after a game and did I give my good effort? Was I a part of this game? Was I doing something right in a lot of areas?
"That's what I do now. I think points are there, goals are there, assists are there, but it's just about playing that real game and playing to help your team win."
Drouin's done a lot of that this season and has a chance to get right back to it when the Winnipeg Jets visit the Bell Centre Thursday.
Scioscia to lead U.S. baseball bid for spot at Tokyo Olympics
(Reuters) – Mike Scioscia, who won World Series both as a player and manager, was named manager of the U.S. men's national baseball team on Tuesday, as they seek a spot at the Tokyo Olympics.
After 19 seasons as manager of the Anaheim Angels, guiding them to their only World Series win in 2002, Scioscia will make his international coaching debut in June when the United States hosts the Baseball Americas Qualifier in Florida.
For the tournament the U.S. will be grouped with the Dominican Republic, Puerto Rico, and Nicaragua in Pool A while Canada, Colombia, Cuba, and Venezuela will make up Pool B.
The top two teams from each pool will advance to the Super Round, where the country with the best overall record will earn a spot in the Tokyo Olympic tournament.
Second and third-place finishers will advance to a final qualifier, joining Australia, China, Taiwan, and the Netherlands.
"Mike's tenure with the Angels' franchise was nothing short of spectacular, creating and celebrating a culture of success with six division titles, an American League pennant, and its first-ever World Series title," said USA Baseball Executive Director/CEO Paul Seiler in a statement. "More impactfully, his leadership, integrity, and character are unparalleled in our game, making him the perfect fit for the USA Baseball family."
The Olympic tournament will take place from July 28-Aug. 7 in Fukushima City and Yokohama.
Hosts Japan, Israel, South Korea, and Mexico have already secured a berth in the six-team field.
(Reporting by Steve Keating in Toronto. Editing by Toby Davis)