The US economy is about to shrink, JPMorgan warns – CNN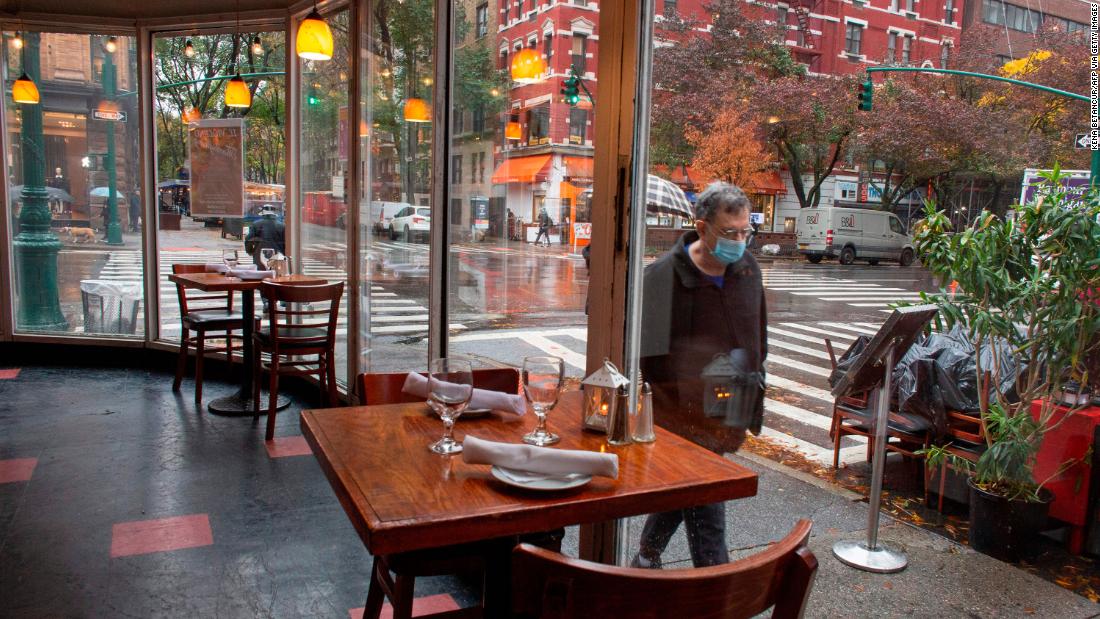 On Friday, JPMorgan became the first Wall Street bank to warn that GDP will turn negative by early next year as Americans wait for vaccines to get distributed.
"This winter will be grim," JPMorgan economists wrote in a client note, "and we believe the economy will contract again" in the first quarter.
After
blockbuster growth
this summer, the economy is
rapidly losing momentum
. The third quarter brought a record 33.1% annualized growth, but now JPMorgan expects GDP to slow to 2.8% in the fourth quarter and then shrink by 1% during the first three months of 2021.
'Dereliction of duty'
"Congress has failed the country," said David Kotok, chief investment officer of Cumberland Advisors.
Ian Shepherdson, chief economist at Pantheon Macroeconomics, slammed Congress for an "appalling dereliction of duty."
Treasury Secretary Steven Mnuchin said those funds can be used by Congress to stimulate the economy, but there's no guarantee a deal can be reached there. And this is a bizarre time to remove ammo the Fed is using to fight the crisis.
"Trump would have signed a bill pre-election. Now he is unpredictable and our national government seems to be in chaos," Kotok said.
Even the US Chamber of Commerce, a normally Republican-friendly organization, said Mnuchin's decision "closes the door on important liquidity options for businesses at a time when they need them most," adding that it "unnecessarily ties the hands of the incoming administration."
Light at the end of the tunnel
The good news is that medical breakthroughs suggest the economic revival could
get back on track later next year. Both
Pfizer
(PFE)
and
Moderna
(MRNA)
have announced
early results
indicating their
vaccine candidates
are about 95% effective — far more than experts had anticipated.
Although it will take time to distribute those vaccines, they should eventually bring relief to the parts of the economy crushed by the pandemic:
hotels
,
airlines
, cruise lines, restaurants and
movie theaters
.
"The early success of some major vaccine trials increases our confidence that such medical intervention can limit the damage that the virus has inflicted on the US economy," JPMorgan economists wrote.
JPMorgan expects the economy to grow "briskly" during the second and third quarters, with annualized growth of 4.5% and 6.5%, respectively.
Of course, some parts of the US economy are outright booming.
The strength of the housing market helps to blunt the broader economic troubles caused by the pandemic.
Consumer spending slows, layoffs rise
Still, there are growing signs the worsening spread of Covid-19 is hitting the US economy.
Retail sales barely grew in October, and for the first time since April spending at bars and restaurants declined. As the
CNN Business Economic Recovery Dashboard
shows, restaurant reservations on OpenTable peaked in mid-October and are down by more than half from a year ago.
"The restaurant recovery ground to a halt in October," said Pantheon's Shepherdson.
Raphael Bostic, the president of the Atlanta Federal Reserve, said on CNBC this week that officials are going to be "paying really close attention" to see if the
"weakness" in retail spending
turns into something worse.
Meanwhile, the labor market recovery is losing steam — and will be pressured by the new travel restrictions. Initial jobless claims rose in the latest week for the first time in a month. At 746,000, first-time unemployment claims remain well above the worst levels of the Great Recession.
The US economy has shown surprising resilience — until the last few weeks.
But now Aneta Markowska, chief financial economist at Jefferies, fears latest coronavirus spike and health restrictions will cause US consumer spending, the biggest driver of the economy, to drop to zero in the fourth quarter.
"There is a real risk we could contract," Markowska said.
Scarring fears
"If you're an investor with a long-term horizon, you can look through this near-term weakness," Markowska said. "If you're an employee in a COVID-sensitive sector, the vaccines don't help you yet in any way, shape or form."
The unprecedented initial response by the Fed, Congress and the White House was aimed at limiting the pandemic's permanent economic damage. Officials sought to avoid bankruptcies, business closures and permanent job losses.
JPMorgan, however, said the spike in the number of permanent job losses is a "worrisome development" because it can take those newly unemployed longer to find work, plus they run the risk of running out of unemployment benefits.
The hope is that a faster recovery in 2021 limits the scars to the economy. Even so, "some lasting damage still seems inevitable," JPMorgan said.
Israel's Gaza blockade has devastated Hamas-ruled territory's economy, UN agency says – Global News
Israel's blockade of the Hamas-ruled Gaza Strip has cost the seaside territory as much as $16.7 billion in economic losses and sent poverty and unemployment skyrocketing, a U.N. report said Wednesday, as it called on Israel to lift the closure.
The report by the U.N. Conference on Trade and Development echoed calls by numerous international bodies over the years criticizing the blockade. But its findings, looking at an 11-year period ending in 2018, marked perhaps the most detailed analysis of the Israeli policy to date.
Israel imposed the blockade in 2007 after Hamas, an Islamic militant group that opposes Israel's existence, violently seized control of Gaza from the forces of the internationally recognized Palestinian Authority. The Israeli measures, along with restrictions by neighbouring Egypt, have tightly controlled the movement of people and goods in and out of the territory.
Israel says the restrictions are needed to keep Hamas from building up its military capabilities. The bitter enemies have fought three wars and numerous skirmishes over the years.
But critics say the blockade has amounted to collective punishment, hurting the living conditions of Gaza's 2 million inhabitants while failing to oust Hamas or moderate its behaviour. Gaza has almost no clean drinking water, it suffers from frequent power outages and people cannot freely travel abroad.
"The result has been the near-collapse of Gaza's regional economy and its isolation from the Palestinian economy and the rest of the world," the U.N. agency said in a statement.
The report analyzed both the effects of the closure, which has greatly limited Gaza's ability to export goods, as well as the effects of the three wars, which took place in 2008-2009, 2012 and 2014.

1:21


Video appears to show Israeli missiles intercept rockets fired from Gaza Strip



The last war was especially devastating, killing over 2,200 Palestinians, more than half of them civilians, and displacing some 100,000 people from homes that were damaged or destroyed, according to U.N. figures. Seventy-three people, including six civilians, were killed on the Israeli side, according to Israel's Foreign Ministry, and indiscriminate Hamas rocket fire brought life to a standstill in southern Israel.
Using two methodologies, the report said that overall economic losses due to the blockade and wars ranged from $7.8 billion to $16.7 billion. It said Gaza's economy grew by a total of just 4.8 per cent during the entire period, even as its population grew over 40 per cent.
These economic losses helped propel unemployment in Gaza from 35 per cent in 2006 to 52 per cent in 2018, one of the highest rates in the world, UNCTAD said.
It said the poverty rate jumped from 39 per cent in 2007 to 55 per cent in 2017. Based on Gaza's economic trends before the closure, the report said the poverty rate could have been just 15 per cent in 2017 if the wars and blockade had not occurred.
"The impact is the impoverishment of the people of Gaza, who are already under blockade," said Mahmoud Elkhafif, the agency's co-ordinator of assistance to the Palestinian people and author of the report.
Israel has long accused the U.N. of being biased against it. The report, for instance, included only a brief mention that indiscriminate rocket fire at Israeli civilian areas is prohibited under international law. "Palestinian militants must cease that practice immediately," it said.
Israel's Foreign Ministry accused UNCTAD of failing its mission to assist developing economies and presenting a "one-sided and distorted depiction" that disregards "terrorist organizations' control over the Gaza Strip and their responsibility for what occurs in the Gaza Strip."

1:29


Palestinian officials say Gaza ceasefire reached with Israel



"In light of all this, we cannot take the findings of the reports it publishes seriously, and this report is no different," it said.
In Gaza, Hamas spokesman Hazem Qassem said the report revealed "the level of the crime" committed by Israel.
"This siege has amounted to a real war crime and pushed all services sectors in the Gaza Strip to collapse," he said. "These figures also reveal the international inability to deal with the illegal siege on Gaza."
Gisha, an Israeli human rights group that pushes for freedom of movement in an out of Gaza, said it was Israel's "moral and legal obligation" to life the closure. "The true price paid by Palestinians in lost time, opportunities, and separation from loved ones is inestimable," it said.
The U.N. agency said it compiled the report at the request of the U.N. General Assembly and noted that it did not include other costs of Israeli occupation over the Palestinians. Israel captured the West Bank, east Jerusalem and Gaza Strip in the 1967 Mideast war, though it withdrew from Gaza in 2005.
UNCTAD, a technical agency that seeks to reduce global inequality, recommended that Israel lift the blockade to allow free trade and movement. It also called for reconstruction of Gaza's infrastructure, addressing Gaza's electricity and water crisis, allowing the Palestinians to develop offshore natural gas fields and for the international community to push Hamas and the Palestinian Authority to reconcile.
___
Associated Press writer Fares Akram contributed reporting from Gaza City, Gaza Strip.
© 2020 The Canadian Press
As economy struggles, Fed weighs boosting bond purchases – Nanaimo News NOW
With the economy showing signs of slowing in the face a resurgence in coronavirus cases and a return to shutdowns in some areas, there has been market speculation that the Fed could decide to boost the size of its monthly purchases.
The minutes show that while no decision was taken on what to do or when, Fed officials were keeping their options open. Some analysts believe the Fed will make an announcement on boosting the bond purchase program at its next meeting on Dec. 15-16, especially if there has been no movement by Congress to provide more economic relief to individuals and businesses.
The minutes said that many Fed officials "judged that asset purchases helped provide insurance against risks that might reemerge in financial markets in an environment of high uncertainty."
Concern has been growing among economists that the economy is slowing after an initial rebound this summer and could even topple into a double-dip recession in the early part of 2021 if Congress does not replenish expiring support programs.
At the White House Wednesday, Peter Navarro, one of President Donald Trump's economic advisers, told reporters that a "sober" reading of the economic recovery shows "we are facing … a chasm ahead for millions of Americans unless there can be a bipartisan" deal to provide further economic relief.
The minutes released Wednesday covered the Fed's Nov. 4-5 meeting, held just after the November elections, and were released with the customary lag of three weeks.
At the meeting, the central bank kept its benchmark interest rate at a record low near zero and signalled that it was prepared to do more if needed to support the economy.
A multitrillion-dollar stimulus effort enacted in the spring has helped support millions of Americans who have been thrown out of work and provided further assistance to struggling individuals and businesses.
But many of those programs have expired and jobless benefits are due to run out for millions of Americans by the end of this year.
Federal Reserve Chairman Jerome Powell had said at a news conference following the two-day meeting that Fed officials had discussed whether and how a bond buying program might be altered to provide more economic support.
In addition to increasing the size of the program, the Fed could decide to alter the composition of the bonds purchases to focus on buying long-term securities as a way of putting added downward pressure on long-term rates.
___
AP White House reporter Kevin Freking contributed to this report.
Martin Crutsinger, The Associated Press
National child-care system would boost women's job numbers and economy, report says – Peninsula News Review
A new report estimates that hundreds of thousands of women could get back into the labour force if the Liberals follow through on a pledge to create a national child care system.
The paper to be released Wednesday makes the case that federal spending to create a national program would "pay for itself" in the form of extra income tax, extra spending and reduced social costs as more parents entered the workforce.
There is also the potential for tens of thousands of construction jobs as new centres and spaces are built, along with an employment boost in the child-care sector as it expands.
Report author and economist Jim Stanford says the lack of accessible and affordable daycare is a key reason why fewer women in their 30s and 40s are in the workforce than men the same age.
He estimates that between 363,000 and 726,000 women in the "prime parenting age cohort" between 25 and 50 could join the labour force over a 10-year period as a national child-care program is developed.
Among them would be up to 250,000 women moving into full-time jobs.
Stanford's paper builds on previous research into the economic spinoffs of Quebec's publicly funded daycare system, but develops estimates based on how a national system might look.
The Liberals have promised to make a long-term spending commitment to create a national child-care system, seeing it as a key avenue to help women harder hit during the pandemic in what has been dubbed a "she-cession."
"Economists have agreed for years that child care has huge economic benefits, but we just can't seem to get the ball over the line in Canada," says Stanford, director of the Centre for Future Work.
"I finally think the ducks are being lined up here and we can actually make this happen," he adds.
"This really is the moment when we can finally move forward, and it is a moment when Canada's economy needs every job that it can get."
A recent report by RBC economists Dawn Desjardins and Carrie Freestone calculated that 20,600 women fell out of the labour force between February and October even as 68,000 more men joined it.
The situation was most acute for women ages 20 to 24, and 35 to 39; one of the reasons the duo cited for the sharper drop was the pandemic-caused closure of child-care centres.
Child-care centres, which often run on tight margins and rely on steep parental fees, couldn't keep up with costs during spring shutdowns and shed about 35,000 jobs between February and July. Some centres have closed for good.
The worry Stanford notes is that many of the job losses will become permanent and more centres will close without financial assistance from governments.
Scotiabank economists Jean-Francois Perrault and Rebekah Young suggested in September that creating nationally what Quebec has provincially would cost $11.5 billion a year.
Their analysis also suggested federal coffers could reap billions in new tax revenue as women in particular would get into the workforce in greater numbers, offsetting some of the overall cost.
Stanford's estimate is for a boost to government revenues of between $18 billion and $30 billion per year, split between federal and provincial governments.
"This literally is a social program that pays for itself," Stanford says.
"The economic benefits of giving this first-class care to early-age children, and getting their mothers in the labour market working to their full potential, are enormous."
He argues that provinces, mired in a fiscal quagmire worse than the federal government's, shouldn't stand in the way of "reasonable demands" from the federal government to create a national system.
Provinces have responsibility for child-care delivery. Stanford says they cannot afford to look this gift horse of new revenues in the mouth given the federal government would foot most of the bill.
Jordan Press, The Canadian Press
---
Like us on Facebook and follow us on Twitter.
Want to support local journalism during the pandemic? Make a donation here.