The US economy is about to shrink, JPMorgan warns – CNN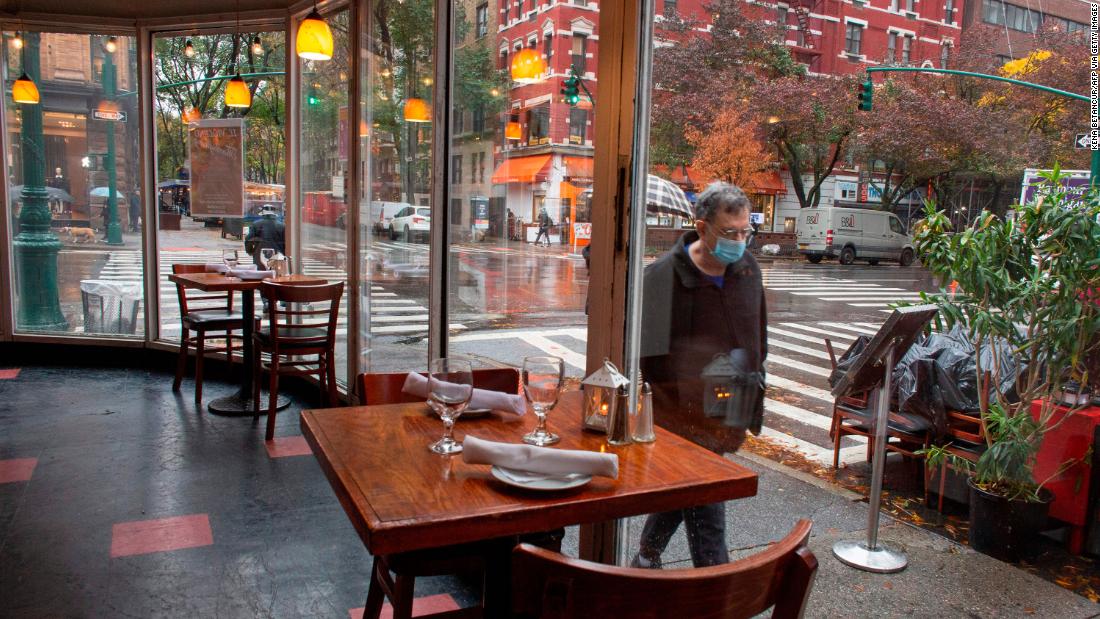 On Friday, JPMorgan became the first Wall Street bank to warn that GDP will turn negative by early next year as Americans wait for vaccines to get distributed.
"This winter will be grim," JPMorgan economists wrote in a client note, "and we believe the economy will contract again" in the first quarter.
After
blockbuster growth
this summer, the economy is
rapidly losing momentum
. The third quarter brought a record 33.1% annualized growth, but now JPMorgan expects GDP to slow to 2.8% in the fourth quarter and then shrink by 1% during the first three months of 2021.
'Dereliction of duty'
"Congress has failed the country," said David Kotok, chief investment officer of Cumberland Advisors.
Ian Shepherdson, chief economist at Pantheon Macroeconomics, slammed Congress for an "appalling dereliction of duty."
Treasury Secretary Steven Mnuchin said those funds can be used by Congress to stimulate the economy, but there's no guarantee a deal can be reached there. And this is a bizarre time to remove ammo the Fed is using to fight the crisis.
"Trump would have signed a bill pre-election. Now he is unpredictable and our national government seems to be in chaos," Kotok said.
Even the US Chamber of Commerce, a normally Republican-friendly organization, said Mnuchin's decision "closes the door on important liquidity options for businesses at a time when they need them most," adding that it "unnecessarily ties the hands of the incoming administration."
Light at the end of the tunnel
The good news is that medical breakthroughs suggest the economic revival could
get back on track later next year. Both
Pfizer
(PFE)
and
Moderna
(MRNA)
have announced
early results
indicating their
vaccine candidates
are about 95% effective — far more than experts had anticipated.
Although it will take time to distribute those vaccines, they should eventually bring relief to the parts of the economy crushed by the pandemic:
hotels
,
airlines
, cruise lines, restaurants and
movie theaters
.
"The early success of some major vaccine trials increases our confidence that such medical intervention can limit the damage that the virus has inflicted on the US economy," JPMorgan economists wrote.
JPMorgan expects the economy to grow "briskly" during the second and third quarters, with annualized growth of 4.5% and 6.5%, respectively.
Of course, some parts of the US economy are outright booming.
The strength of the housing market helps to blunt the broader economic troubles caused by the pandemic.
Consumer spending slows, layoffs rise
Still, there are growing signs the worsening spread of Covid-19 is hitting the US economy.
Retail sales barely grew in October, and for the first time since April spending at bars and restaurants declined. As the
CNN Business Economic Recovery Dashboard
shows, restaurant reservations on OpenTable peaked in mid-October and are down by more than half from a year ago.
"The restaurant recovery ground to a halt in October," said Pantheon's Shepherdson.
Raphael Bostic, the president of the Atlanta Federal Reserve, said on CNBC this week that officials are going to be "paying really close attention" to see if the
"weakness" in retail spending
turns into something worse.
Meanwhile, the labor market recovery is losing steam — and will be pressured by the new travel restrictions. Initial jobless claims rose in the latest week for the first time in a month. At 746,000, first-time unemployment claims remain well above the worst levels of the Great Recession.
The US economy has shown surprising resilience — until the last few weeks.
But now Aneta Markowska, chief financial economist at Jefferies, fears latest coronavirus spike and health restrictions will cause US consumer spending, the biggest driver of the economy, to drop to zero in the fourth quarter.
"There is a real risk we could contract," Markowska said.
Scarring fears
"If you're an investor with a long-term horizon, you can look through this near-term weakness," Markowska said. "If you're an employee in a COVID-sensitive sector, the vaccines don't help you yet in any way, shape or form."
The unprecedented initial response by the Fed, Congress and the White House was aimed at limiting the pandemic's permanent economic damage. Officials sought to avoid bankruptcies, business closures and permanent job losses.
JPMorgan, however, said the spike in the number of permanent job losses is a "worrisome development" because it can take those newly unemployed longer to find work, plus they run the risk of running out of unemployment benefits.
The hope is that a faster recovery in 2021 limits the scars to the economy. Even so, "some lasting damage still seems inevitable," JPMorgan said.
Wall Street skids on inflation fears; USD, bond yields jump
U.S. stocks suffered the biggest slump in at least 11 weeks on Wednesday and benchmark Treasury yields jumped after data showed consumer prices in April unexpectedly rose by the highest level in nearly 12 years, prompting bets on earlier interest rate hikes.
A 0.8% jump in the U.S. consumer price index – outpacing a 0.2% forecast – boosted the U.S. dollar as expectations of rising real interest rates burnished the currency's appeal.
The gyrations in financial markets underscored concerns among some investors that the Federal Reserve could be wrong in its prediction that inflation pressures in the United States are temporary, and that the central bank may have to raise rates sooner than it expects.
The prospect of tighter monetary policy knocked shares lower and the stock market steadily extended losses through the day. The Dow Jones Industrial Average shed 2%, the S&P 500 dropped 2.1%, and the Nasdaq Composite lost 2.7%. [.N]
For the S&P 500 and the Nasdaq Composite Index, Wednesday's tumble was the biggest fall in a single day since Feb. 25, while the Dow's decline was the sharpest in a day since Jan 29.
Richard Clarida, vice chair of the Federal Reserve, acknowledged on Wednesday that the latest inflation report was the second piece of data in a week to catch the central bank off-guard, describing it as the "biggest miss in history."
Yet Clarida maintained the Federal Reserve's dovish note, saying it will be "some time" before the U.S. economy is sufficiently healed for the central bank to consider pulling back its crisis-level of support.
Some investors continued to challenge the Federal Reserve's assessment, however.
"We've been warning about the prospect of higher for longer inflation in the United States for many months, but even we hadn't predicted this," said James Knightley, chief international economist at ING Group.
"We increasingly doubt the Fed's position that this is transitory and think they will end up hiking rates far sooner than 2024."
Some money market investors seemed to agree. Eurodollar futures contracts expiring in December on Wednesday priced in a 25-basis-point rate hike by the end of next year, compared with 22 basis points before the inflation report.
DOLLAR GAINS
Weakness on Wall Street mirrored stock market losses in Asia, as surging commodity prices stoked inflation concerns. MSCI's broadest index of Asia-Pacific shares outside Japan had slumped 0.95% overnight, after hitting its lowest level since March 26.
European shares fared better. London's blue-chip FTSE 100 rebounded 0.8% as buoyant corporate earnings and a better-than-expected economic growth report bolstered hopes about a sharp recovery from the pandemic-driven recession.
In the United States, the surprisingly strong inflation data lifted Treasury yields. The benchmark 10-year Treasury yield jumped to 1.6952%, its biggest rise in a day since March 18, and the two-year Treasury yield also rose to stand at 0.1668%. [US/]
In keeping with expectations of rising price pressures as the U.S. economy recovers from the COVID-19 pandemic, the yield curve steepened, and the spread between two- and 10-year Treasury yields widened to 152.8 basis points.
The dollar, which could benefit from rising real interest rates, gained after wobbling briefly earlier in the day.
The dollar index, which measures the greenback against six major currencies, rose 0.65% to 90.795.
A stronger dollar dented the euro, which slid 0.6% to $1.2070.
Higher Treasury yields and the stronger dollar dragged on non-yielding bullion. Spot gold slid 1.3% to $1,813.41 an ounce. [GOL/]
Hopes of rising demand on the back of an economic recovery pushed oil prices to eight-week highs.
U.S. crude jumped 1.2% to $66.08 a barrel, the highest close since March 11. Brent crude added 1.1% to $69.32 per barrel, a close last seen on March 5. [O/R]
In cryptocurrencies, ether fell after scaling a new record high overnight, dropping 2% to $4,096.01. The value of the second-biggest digital token has surged over 5.5 times so far this year.
(Reporting by Koh Gui Qing in New York, Tom Arnold in London and Swati Pandey in Sydney; Additional reporting by Sujata Rao in LondonEditing by Alison Williams and Matthew Lewis)
Oil drops as India coronavirus crisis tempers rally
Oil prices fell on Thursday, pulling back from an eight-week high as concerns about the coronavirus crisis in India, the world's third-biggest importer of crude, tempered a rally driven by IEA and OPEC predictions that demand is coming back strong.
Brent crude was down 32 cents, or 0.5%, at $69.00 a barrel by 0145 GMT, after gaining more than 1% on Wednesday. West Texas Intermediate (WTI) was down 31 cents, or 0.5%, to $65.77 a barrel, having risen 1.2% in the previous session.
"The path for crude prices appears to be higher but until the situation improves in India, WTI will probably struggle to break above the early March high," Edward Moya, senior market analyst at OANDA, said in a note.
Oil demand is already outstripping supply and the shortfall is expected to grow further even if Iran boosts exports, the International Energy Agency (IEA) said in its monthly report on Wednesday.
A day earlier, the Organization of the Petroleum Exporting Countries (OPEC) stuck to its forecast for a strong return of world oil demand in 2021, with growth in China and the United States cancelling out the impact of the coronavirus crisis in India.
But global concern is rising over the situation in India, the world's second-most populous country, where a variant of the coronavirus is rampaging through the countryside in the deadliest 24 hours since the pandemic began.
Medical professional are still unable to say for sure when new infections will hit a plateau and other countries are alarmed over the transmissibility of the variant that is now spreading worldwide.
Fuel shortages are getting worse in the southeastern United States six days since the shutdown of the Colonial Pipeline, the largest fuel pipeline network in the world's biggest consumer of oil.
Colonial, which pipes more than 2.5 million barrels per day, said it is hoping to get a large portion of the network operating by the end of the week.
(Reporting by Aaron Sheldrick; Editing by Michael Perry)
Oil prices on track for eight-week high on demand hopes
Oil prices rose more than 1% on Wednesday, putting the contracts on track for their highest close in almost eight weeks, as U.S. crude exports plunged and on signs of a speedy economic recovery and upbeat forecasts for energy demand.
Brent futures rose 74 cents, or 1.1%, to $69.29 a barrel by 12:05 p.m. EDT (1605 GMT), while U.S. West Texas Intermediate (WTI) crude rose 75 cents, or 1.2%, to $66.03.
That puts both benchmarks on track for their highest closes since March 11. Earlier in the session, WTI on track for its highest close since Oct. 29, 2018 and Brent for its highest close since May 28, 2019.
U.S. crude exports fell last week to around 1.8 million barrels per day (bpd), their lowest since October 2018, while crude inventories declined 0.4 million barrels versus an expected 2.8 million-barrel draw, according to weekly government data. [EIA/S]
"The export (drop) is the bullish element keeping trade propped up," Tony Headrick, energy market analyst at CHS Hedging, said, noting the crude stock "drawdown combined with the lack of exports is good sign."
Traders noted one factor weighing on prices this afternoon was the U.S. inventory report also showed total oil products supplied fell 2.2 million bpd to 17.5 million bpd. That was their biggest weekly decline and the lowest weekly demand since January.
The International Energy Agency (IEA) said in its monthly report that oil demand is already outstripping supply and the shortfall is expected to widen even if Iran boosts exports.
Similarly, the Organization of the Petroleum Exporting Countries on Tuesday stuck to a forecast for a strong recovery in world oil demand in 2021, with growth in China and the United States outweighing the impact of the coronavirus crisis in India.
"Oil prices today are experiencing a lift on positive demand outlooks released by OPEC and IEA, which both came out with a similar consensus that oil demand will average 96.4 million bpd in 2021," said Louise Dickson, oil markets analyst at Rystad Energy.
Oil also found support from positive economic data. Britain's pandemic-battered economy grew more strongly than expected in March, while U.S. consumer prices increased by the most in nearly 12 years in April as booming demand amid a reopening economy pushed against supply constraints.
India's coronavirus death toll crossed 250,000 in the deadliest 24 hours since the pandemic began.
In the United States, fuel shortages worsened as the shutdown of the Colonial Pipeline, the nation's largest fuel pipeline network, entered its sixth day and gasoline stations from Florida to Virginia ran out of supply in some cities.
Colonial, which transports more than 2.5 million bpd, said it hopes to restart a large portion of the network by the end of the week.
The gasoline crack spread – a measure of refining profit margins – was on track for its highest close since hitting a record high on April 20, 2020 when WTI futures turned negative, according to Refinitiv data.
(Additional reporting by Laura Sanicola in New York, Bozorgmehr Sharafedin in London and Shu Zhang and Sonali Paul in Singapore; Editing by Marguerita Choy and Mark Heinrich)