The US economy is reliant on consumer spending – can it survive a pandemic? – The Conversation US
The COVID-19 pandemic has radically affected the American economy, reducing spending by American households on materials goods, air travel, leisure activities as well as the use of automobiles. As a result, greenhouse gas emissions have temporarily fallen dramatically.
While this may be a positive for the environment, the social price is high: Since the U.S. economy depends heavily on consumer spending, the country is experiencing the highest unemployment rate since the Great Depression, the threat of homelessness for tens of thousands of people and a failure of businesses large and small. How did the U.S. arrive at the point whereby mass consumption – and the greenhouse gas emissions associated with it – is necessary for economic and social well-being? Are greenhouse gas reductions and a thriving economy incompatible?
A consumer society is a 20th-century construct. The American Dream has become synonymous with buying material goods such as cars, houses, furniture or electronics, distorting its original meaning. Today, the spending habits of American households make up 70% of the U.S. gross domestic product, a measurement that describes the size of the economy. U.S. companies spend about US$230 billion on advertising each year, half of all the money spent on advertising globally.
Buy your dreams
Today's consumer society emerged after the end of World War I, fueled by the emergence of the modern advertising industry and facilitated by widespread adoption of consumer credit. Edward Bernays, the nephew of Sigmund Freud, is generally credited with inventing the field of marketing during the 1920s. The essence of his approach was to tap into people's desires to feel good, powerful and sexy instead of emphasizing the usefulness of a product. Bernays created the term "engineering of consent" and popularized the term "consumer" when referring to American people.
Mass consumption grew steadily until the onset of the Great Depression. But the deliberate creation of the present consumer society took off in earnest during the 1940s and 1950s. When WWII ended, so did wartime industrial production. Industry leaders shifted their enormous production capabilities from the military to the civilian sector.
At the same time, President Harry Truman was concerned with looming unemployment among returning veterans and saw mass production of consumer goods as the solution. The 1944 GI Bill helped returning veterans purchase houses with down payments and government-guaranteed loans. Mortgage interest deductions and government-financed infrastructure – local utilities and roads, a national highway system – made suburban homeownership a logical financial plan for families, while Social Security provided relief from having to save for old age.
Labor unions, too, were vested in increasing wages for their members, so working families could afford houses, cars and household appliances. At this particular historical juncture, business, government and labor came together, united in their shared goal to increase household consumption as the bedrock of economic prosperity and social harmony.
These developments took place in the context of the post-war euphoria over the uncontested power of the U.S., the post-Depression hunger for a better life, advances in cheap mass production and a demographic boom. Consumerism became a symbol of the superiority of the capitalist system over Soviet-style communism, as illustrated by the famous "Kitchen Debate" in 1959 at the American National Exhibition in Moscow. Standing among the sleek labor-saving appliances of a modern American kitchen, Vice President Richard Nixon demonstrated to Soviet Premier Nikita Khrushchev the higher quality of life of working people in the U.S.
The great transformation
The results of this business-government-labor alliance were astonishing. National output of goods and services doubled between 1946 and 1956, and doubled again by 1970. Mass-produced cheap and comfortable single-family homes, increasingly distant from city centers, became affordable. The iconic 1949 Levittown on Long Island, New York, was a model of the suburbs: uniform, convenient, segregated by race and dependent on the automobile. By 1960, 62% of Americans owned their homes, in contrast to 44% in 1940. Suburban shopping malls, uniform and racially segregated, became by default public gathering spaces, replacing city streets, cafes and places of commerce.
[Get the best of The Conversation, every weekend. Sign up for our weekly newsletter.]
This social transformation occurred in a span of a single generation. Consumerism and a suburban lifestyle became the organizing principles of society and synonymous with fundamental values such as family well-being, safety, democratic political freedom and the American Dream.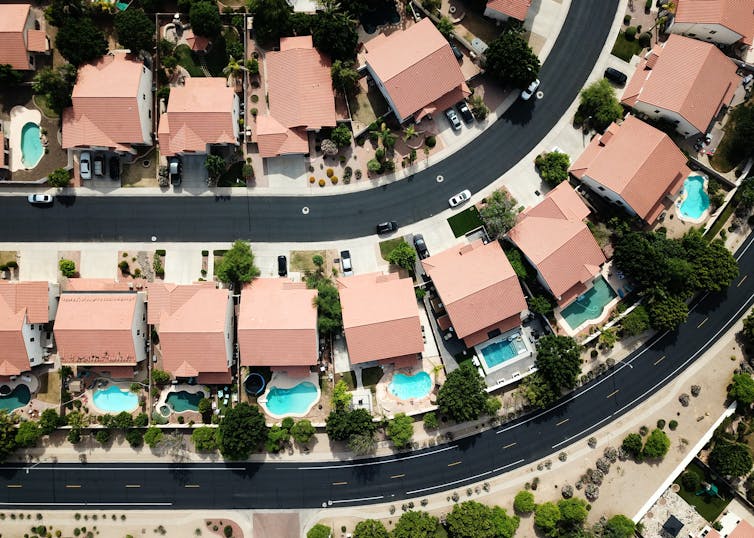 Basics get bigger
Since the 1950s, this version of a good life – shaped by advertising of what was necessary to live well – has been remarkably stable. But there is a twist: The notion of what represents basic comfort has been steadily moving toward larger and more – SUVs and myriad conveniences and technologies, bigger and more dispersed houses filled with furniture and stuff and additional bathrooms and bedrooms, larger kitchens, media and exercise rooms and outdoor living rooms.
Today, the best predictor of household carbon footprint is income. This correlation holds true in different countries, regardless of political views, education or environmental attitudes.
Rethinking consumption
Consumption comes at a high ecological cost. As the gross national product grows – driven largely by household consumption – so do greenhouse gas emissions. Many scientists and policy analysts believe that as technology increases energy efficiency and replaces fossil fuels with renewable energy sources, greenhouse gas emissions will be significantly reduced. But despite the rapid advances in these technologies, there is no evidence that trends in greenhouse gas emissions are separate and independent from economic growth trends. Neither is there a basis for the idea that green growth will prevent the anticipated climate catastrophe that the world is facing.
At the same time, there is little evidence that Americans have become happier in the last seven decades of growing consumerism.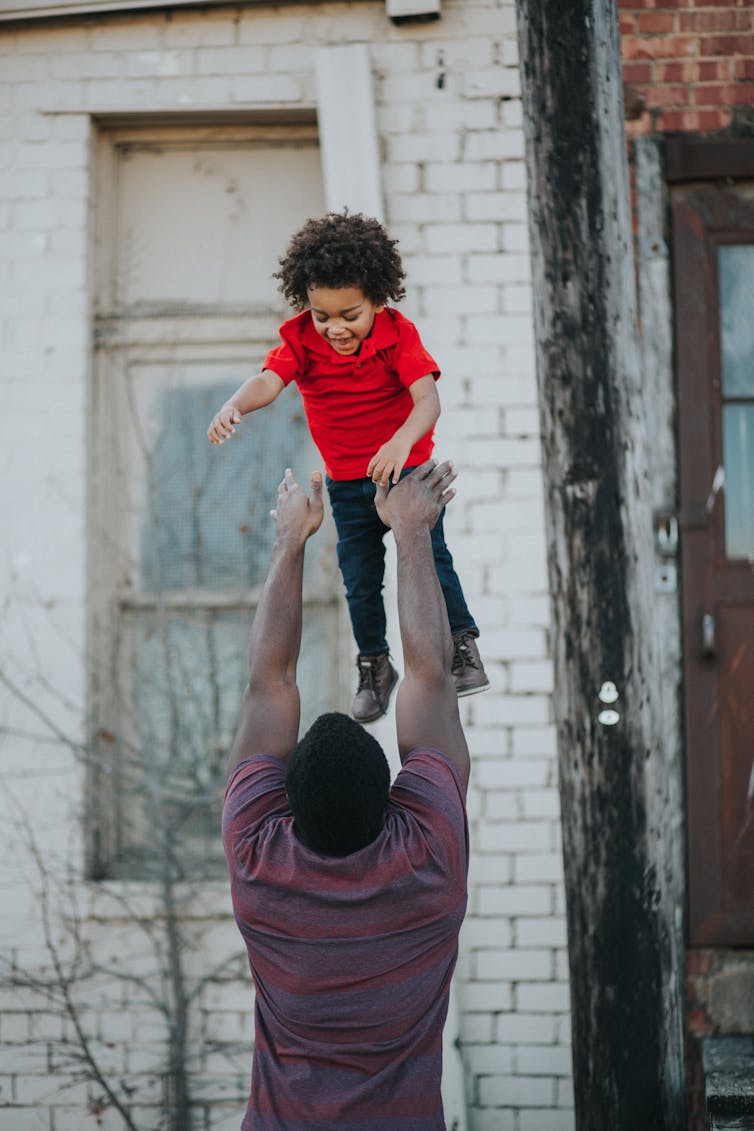 This pandemic reveals to me the vulnerability of an economy heavily dependent on a single source of economic activity – consumption. From my perspective, the U.S. would be better off if the economy – our collective wealth – were more heavily weighted toward public spending on, and investment in, education, health care, public transit, housing, parks and better infrastructure, and renewable energy. Such an economy would contribute to human well-being, emit less greenhouse gas and be less vulnerable to sudden disruptions in consumer spending.
As I see it, it is time for an honest public conversation about the carbon footprint of our "basic" lifestyles and what Americans need rather than what they are told they need.
Opinion: Smart solutions needed to create circular economy for plastics – Edmonton Journal
Article content continued
Continued collaboration with stakeholders, including governments, are key to making a circular economy a reality. Industry has embraced targets to make plastic packaging 100-per-cent recyclable or recoverable by 2030 and 100 per cent reused, recycled or recovered by 2040. Industry is already developing advanced recycling technologies (ART) to turn waste plastic back into new plastics, allowing us all to get the maximum value from existing resources and move toward eliminating plastic waste from our environment.
However, we need additional investment in research to continue identifying innovative and cost-effective recycling methods, strategies and programs for different types of plastics. We also need to continue to create financial incentives to establish standards and end-markets for recycled plastic content in products.
A critical component for success is a robust harmonized extended producer responsibility (EPR) program across the province, which shifts the costs and operational responsibilities for managing recycling systems from local governments to producers. The economic and environmental benefits of doing so are abundantly clear. The Recycling Council of Alberta estimates that implementing an EPR program for packaging and paper products would save Alberta municipalities more than an estimated $100 million annually. The savings would only grow from there as we expand EPR programs to cover additional material streams.
Alberta has the opportunity to leverage its technical chemical expertise to lead the way through the design and implementation of innovative plastics industry approaches that will assist in our evolution to a circular economy in Canada.
Christina Seidel is the executive director of the Recycling Council of Alberta and co-chair for the Plastics Alliance of Alberta.
Why stock markets are up 44% amid the worst economic contraction in history – CBC.ca
The economy is in a ditch, and millions of Canadian workers still find themselves unemployed or underemployed compared with where things were before COVID-19. And still the stock market is posting some record gains.
You can't blame anyone who throws their hands in the air and asks: Just what on earth is going on?
"It's surprising how quickly they came back," Robert Kavcic, senior economist at the Bank of Montreal, said of the markets.
In March stocks crashed. They fell so steep and so far that many assumed it would take years to rebound. In the end, the stock market recovery took just 150 days. Since it bottomed out on March 23 of this year, the broadest marker of the U.S. stock market — the S&P 500 — is up 44 per cent
So, what gives?
It's always important to remember that the stock market is not the economy. Stocks are meant to reflect the future value of a given company's stock, not the state of Main Street today.
Kavcic said the sharp rise in equities shows how the pandemic has hit different sizes of businesses in different ways. For the most part, the big fish are doing OK, but the little ones are hurting.
"If you look where most of the economic damage was, it was and still is in smaller businesses and Main Street-type businesses that don't necessarily trade on the equity market," Kavcic said. "You don't have a hair salon or a restaurant trading on the Nasdaq."
And yet, he said, digital companies like Netflix and Cisco and Microsoft have fared incredibly well. And those are the companies driving stock market gains.
The suffering is happening among small and medium-sized businesses, which make up 70 per cent of private-sector employment in Canada. They are most exposed to a lockdown at least in part because they have the least cushion to weather bad times.
Companies in the digital sphere have prospered throughout the lockdown.
By almost every measure, we live in a digital world. The stock market is just reflecting that.
Marc Benioff, CEO of cloud computing company Salesforce, said the world has turned digital.
Salesforce CEO Marc Benioff: "We're in a new digital world, in an all digital world. The past is gone, it's not coming back…We need to rebuild our companies, our organizations and ultimately we need to rebuild ourselves to be successful…" <a href="https://t.co/zwuOIrIfxC">https://t.co/zwuOIrIfxC</a> <a href="https://t.co/nK2TeVqsmh">pic.twitter.com/nK2TeVqsmh</a>

&mdash;@CNBC
"We're in a new digital world. An all digital world," he said in an appearance on CNBC. "We are now in this new digital future, and we need to rebuild our companies and our organizations."
Benioff didn't mention the stock market. But he didn't have to. Salesforce stock is up 74 per cent in the past six months.
Low rates fuelling the stock market fire
The other major factor driving equity gains is the sheer volume of cheap money out there.
Philip Petursson, chief investment strategist and head of capital markets research at Manulife Investment Management, said the world has never seen fiscal and monetary support like it's seeing now.
"As of the end of July, global central banks had cut interest rates 164 times in 147 days and committed $8.5 trillion US in stimulus," he said in a note to clients.
Petursson said investors were so sure stocks would remain low for a long time that they pulled staggering amounts of money out of markets. The Canadian mutual fund industry had its worst month ever in March, he said, with more than $14 billion Cdn in net redemptions — that's people pulling their money out.
"South of the border, investors pulled $326 billion US from mutual funds and ETFs, more than three times the $104 billion US in outflow in October 2008 during the Great Financial Crisis," Petursson wrote.
But stock markets have a way of confounding even the best experts.
U.S. election volatility
And if you thought the wild ride was coming to an end, hold onto your hat.
The U.S. presidential election looms as the next major event on the volatility calendar.
No one knows what will happen on Nov. 3. And markets hate uncertainty. We also don't really know how markets will react if either President Donald Trump, a Republican, or Democratic candidate Joe Biden wins.
Kavcic said markets had it very wrong the last time, in 2016.
"Everyone thought Trump was negative for equities on election night, and it turned out to be the opposite," he said.
Adding to this year's uncertainty, there's now a real possibility that the Democrats could sweep election night — winning the presidency and control of the House of Representatives and Senate.
Many Wall Street types have expressed concern that would lead to dramatic change, such as tax hikes that would hurt growth and slow markets.
But Frances Donald, managing director and chief economist at Manulife, said that may not be the case.
"While the popular perception is that a Democratic sweep would be broadly market negative," she said in a report published this month, "we'd caution that we believe such fears are likely exaggerated."
Donald said 2021 will be another "exceptionally challenging" year for the economy, with high levels of unemployment and an ongoing health crisis.
"It isn't likely to be an environment that can plausibly absorb higher tax rates on either the corporate or individual level," she wrote. "Rather, it will be an environment that necessitates large-scale, continuous stimulus."
That's music to the ears of investors who are driven by hopes of further fiscal and monetary support.
Expect the unexpected
One final note of weirdness.
Stock markets have begun to show some jitters this week.
The S&P, the Dow Jones and the Nasdaq all fell sharply on Monday.
Some of that has been an overstretching of valuations of those tech companies that have performed so well since the pandemic struck.
But Kavcic has another theory.
He said traditionally, equity markets reflect a bet on what will happen in the future. So maybe some of the spring's bull run was a reflection of how much things would improve over the summer.
"And maybe what we're seeing today is reflective of what we're going to see in the winter, which might be a rolling back of the economy again at least in some parts," he said.
Winter, as they used to say, is coming. It will bring a whole host of unknowns and challenges. Whether the cold months to come will bring investors an icy chill or warm glow from fiery markets is anyone's guess, but one thing is for certain: Even in the worst economic crisis since the Great Depression, hope springs eternal.
Euro zone firms continue to load up on credit as economy reopens: ECB data – TheChronicleHerald.ca
FRANKFURT (Reuters) – Euro zone companies continued to load up on bank credit in August, European Central Bank data showed on Friday, two months after most economies had eased restrictions on economic activity aimed at controlling the coronavirus pandemic.
Bank loans to firms rose by 7.1% year on year, extending a borrowing boom that started in March when large parts of the euro zone's economy came to a standstill and entrepreneurs were forced to draw from their credit lines to pay their bills.
(Reporting By Francesco Canepa; Editing by Toby Chopra)