'The US is falling apart': How Russian media is portraying the US Capitol siege – The Conversation US
The storming of the U.S. Capitol on Jan. 6, which was Christmas Eve for Eastern Orthodox Christians, was a perfect holiday gift for Russian politicians and state-controlled Russian media.
While President Vladimir Putin has remained silent so far, reaction from political leaders was instantaneous, and the topic has dominated Russian news coverage ever since.
Maria Zakharova, a spokesperson for the Russian Foreign Ministry, said that while the siege is "an internal affair," it's important to point out that the "electoral system of the U.S. is archaic."
Konstantin Koschev, head of the International Affairs Committee of the Federal Council, the upper chamber of Russian Parliament, proclaimed "the end of the celebration of democracy."
Russian media have been eager to take up these points.
For years, the pro-Kremlin media has exalted stability as the core virtue of Putin's "sovereign democracy" – a term coined by Putin.
As a scholar of post-Soviet politics, I've watched how state-controlled Russian media have portrayed pro-democracy protests in countries surrounding Russia, including my native Ukraine, as CIA-led efforts to destabilize Russia.
The storming of the U.S. Capitol by pro-Trump rioters has allowed Russian media outlets to change the conversation and depict the siege as the final collapse of the U.S. political system and democracy itself.
US 'disorder'
Russian coverage of the Capitol insurrection points out the perceived hypocrisy of Democratic leaders and the U.S. media.
Russian state-controlled media have repeatedly juxtaposed Democratic outrage over former President Donald Trump's role in the siege against the party's support for the "BLM and antifa summer riots" – their term for racial justice protests last summer in the wake of George Floyd's death.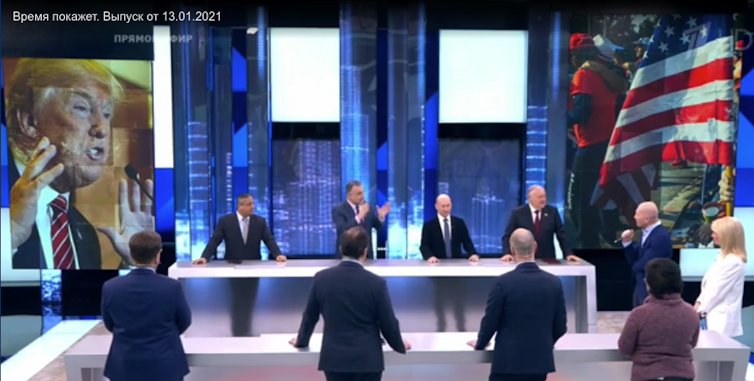 State-controlled media have also highlighted allegations – debunked in the U.S. – that members of antifa, a left-wing protest movement, and Black Lives Matter participated in the storming of the Capitol. "Time Will Tell" and "60 Minutes," two pro-Kremlin news talk shows on the state-run Russia 1 TV channel, have dedicated air time to this allegation.
The upshot of such coverage juxtaposes the disorder in the United States to the order and stability in Russia – a favorite message of Russian propagandists.
'Digital gulag for Trump'
Somewhat surprisingly, members of both the Russian political opposition and the country's pro-Putin political elite assert that the suspension of Trump's social media accounts amounts to censorship and undermines democracy.
Such statements from people like Vladimir Zhirinovsky, the bombastic nationalist leader of the Russian Liberal Democratic Party, come off as hypocritical in a country whose ruler's power is based on censorship and anti-democratic measures, but are not surprising.
But Alexei Navalny, the Russian opposition leader and Putin critic who was poisoned and almost died last August and was recently jailed upon his return to Russia, also criticized Trump's Twitter ban. He is likely worried that the Russian government will mimic companies like Twitter in its own censorship efforts.
Yet, there is also much relish for discussing Trump's Twitter ban among Russian propagandists. That included Vladimir Soloviev, a popular television host, who has dubbed it the "digital gulag for Trump." He has argued that the social media ban is part of an ongoing campaign to silence Trump and his supporters.
On Jan. 13, the hosts of the evening talk show "Time Will Tell" reacted with horror at the "police state" and "repressions" of pro-Trump rioters at the Capitol.
The hosts likened the tips received by the FBI from the public to citizens snitching on each other – a remark that resonates with anyone aware of former Soviet leader Josef Stalin's reign of terror.
They also insisted that Trump supporters have become the "enemies of the people," after Sen. Chuck Schumer urged the FBI to add Capitol rioters to the federal no-fly list.
This portrayal of Trump and his supporters as persecuted political dissidents has been used to further highlight the argument that American democracy is steeped in hypocrisy.
'US is falling apart'
So-called U.S. disintegration has been a favorite topic for the state-controlled network Russia 1. The hosts of "Time Will Tell" have repeatedly reinforced this point by referring to the U.S. as "United, for now, States."
During a recent broadcast, host Anatoly Kuzichev repeatedly said, "the U.S. is falling apart."
RT, another state-controlled media outlet formerly known as Russia Today, reinforced a similar claim by quoting the former Soviet leader Mikhail Gorbachev, who said the Capitol insurrection has "called into question the future fate of the United States as a state."
If Russian media outlets are to be believed, there are no longer any beacons of democracy left in the world. Margarita Simoniyan, chief editor of RT, summed up that view in a tweet: The United States "never were" a model of democracy.
[Deep knowledge, daily. Sign up for The Conversation's newsletter.]
Instagram aims to launch chronological feed option in 2022
The head of Instagram said on Wednesday he aims to launch next year a version of the app with a chronological feed, rather than one ranked algorithmically, in his first appearance before Congress where he was grilled about children's safety online.
Instagram's Adam Mosseri was the latest tech executive pressed by lawmakers to provide more transparency into their platforms' algorithms and the impact of the content they curate and recommend for users.
Instagram and its parent company Meta Platforms Inc, formerly Facebook, have come under intense scrutiny over the potential impact of their services on the mental health, body image and safety of young users, including after whistleblower Frances Haugen leaked internal documents about the company's approach to younger users.
Speaking before a Senate panel, Mosseri said the photo-sharing app had been working "for months" on the option of a feed ordered chronologically and planned to launch it in early 2022, in a significant change for the service, which uses algorithmic ranking to personalize a feed based on user preferences.
At the hearing, lawmakers pushed Mosseri for specific answers on what legislative reforms he would support around kids' online safety, including on targeted advertising. In his opening remarks, Senator Richard Blumenthal said the time for self-regulation was over.
In his testimony, Mosseri called for the creation of an industry body to determine best practices to help keep young people safe online. The body, he said, should receive input from civil society, parents, and regulators to create standards on how to verify age, design age-appropriate experiences, and build parental controls.
Mosseri said tech companies should have to adhere to standards by this proposed industry body to "earn" some of their Section 230 protections, referring to a key U.S. internet law which offers tech platforms protections from liability over content posted by users.
'TOO LITTLE, TOO LATE'
Instagram, since September, has suspended plans for a version of the app for kids, amid growing opposition to the project.
The pause followed a Wall Street Journal report that said internal documents, leaked by former Facebook employee Haugen, showed the company knew Instagram could have harmful mental health effects on teens.
Mosseri, speaking at the hearing, echoed the company's previous statements that public reporting mischaracterized the internal research. He did not commit to making permanent the pause on a kids-focused version of Instagram.
He also touted product announcements Instagram made on Tuesday on young users' safety, but Senator Marsha Blackburn called the updates "too little, too late," while Senator Blumenthal referred to the changes, including Instagram's pause on its kids app, as a "public relations tactic."
In a call after the hearing, Blackburn said she would like to see Instagram offer "today" the option for a purely chronological news feed while Blumenthal said it could be a "significant step depending on the details."
Senator Blackburn also said that her team created a fake Instagram account for a 15-year-old that defaulted to a public account, despite Instagram's changes to make new accounts for users under 16 private by default. Mosseri said this loophole had been missed on the web version of the site and would be corrected.
Instagram, like other social media sites, has rules against children under 13 joining the platform but has said it knows it has users this age. In his testimony, Mosseri called for more age verification technology at a phone level, rather than by individual tech platforms, so users have an "age-appropriate experience."
(Reporting by David Shepardson, Elizabeth Culliford and Diane Bartz; Editing by Chris Sanders, Franklin Paul, Mark Porter, Bernadette Baum and Aurora Ellis)
GB News Weighs International Expansion With Media Partners – BNN
(Bloomberg) — Conservative-leaning British television startup GB News is mulling exporting its broadcasting model to other markets provided it can shore up its domestic product, according to people familiar with the matter.
GB News launched in June with a mission to offer an alternative to what its backers described as a liberal consensus at rivals like the British Broadcasting Corp. Its debut was beset with difficulties including poor broadcast quality and on-air gaffes. The station has tried to turn things around by re-vamping its schedule, hiring new faces like former U.K. Independence Party leader Nigel Farage, and recently launching a marketing campaign.
Executives led by former Sky News Australia boss Angelos Frangopoulos are now focused on building an audience to rival that of Comcast Corp.'s Sky News, said the people, who asked not to be named because the discussions are private. They must also contend with the launch next year of talkTV by Rupert Murdoch's News Corp., which will include a show from controversial journalist Piers Morgan.
If they can overcome these issues down the line, parent company All Perspectives Ltd. is looking at how to push into countries including Germany, Italy, Spain and Poland, according to the people. That could be done with joint ventures melding its low-cost, cloud-based newsroom technology with presentation handled by local media groups, the people said. Possible partners discussed included German media conglomerate Axel Springer, they added.
Any expansion is not imminent, and a move abroad may not happen, said the people. Spokeswomen for GB News and Axel Springer declined to comment on the plans.
©2021 Bloomberg L.P.
Horizon Media, Madison Avenue's Long-Time Independent Media Shop, Sells Minority Stake – Variety
Horizon Media, one of the largest advertising companies not owned by the big publicly-traded entities that dominate the industry, intends to sell off a minority stake to investment firms, ending its decades of pursuing a purely go-it-alone strategy.
Horizon, long controlled by entrepreneur Bill Koenigsberg, said it had sold a piece of the company to Temasek, a Singapore investment firm. LionTree Advisors, an investment firm led by Aryeh Bourkoff, will also become an investor as part of the transaction. Financial terms were not disclosed, but Koenigsberg is to remain "the long-term majority shareholder" of the agency. Horizon was founded in 1989, employs 2,500 people and manages media investments valued at more than $9.5 billion
"Horizon sees more opportunity than ever before to take advantage of gaps in the marketplace and continue our significant growth in driving positive business outcomes for our clients. In evaluating the next evolution of Horizon, I wanted a world class partner who is like-minded strategically, has the same appetite for growth, understands the media, marketing, and technology landscape, is global in scale, and culturally aligned," Koenigsberg said in a statement. "I found that perfect combination in Temasek and LionTree."
Horizon is one of a handful of large firms that help advertisers allocate and invest millions of dollars in advertising, serving all the while as influential go-betweens that deal with blue-chip marketers and the media outlets they need to get the word out about their products and services. Horizon has long worked for Berkshire Hathaway's Geico, one of the nation's biggest ad spenders, along with Anheuser-Busch InBev's Corona beer and CBS. Horizon is also involved in the launch of the Hoop Dreams Classic, an event that is backed by actor Michael B. Jordan and WarnerMedia among others.
But the other media buying giants, like Magna, Omnicom Media Group and GroupM, are backed by Madison Avenue giants like Interpublic Group, Omnicom Group and WPP. Koenigsberg has, over the years, chosen to remain independent — and some clients have appreciated it.
In the past, Koenigsberg has seen his company's independence as an advantage. "Being CEO for the company for the last 30 years and having a long-term vision is an enormous competitive advantage, because when I look at my competitors — and I don't want to go back 30 years, let me go back 10 — there have probably been 100 different CEOs at my competitor agencies," he told Ad Age in 2020. "When a new one comes in, they feel the need to shake things up and leave a mark," he said, adding: "There's an inconsistency in where they're going. For me, I've had a much longer runway and an ability to drive the business forward with this long-term vision."