'The US is falling apart': How Russian media is portraying the US Capitol siege – The Conversation US
The storming of the U.S. Capitol on Jan. 6, which was Christmas Eve for Eastern Orthodox Christians, was a perfect holiday gift for Russian politicians and state-controlled Russian media.
While President Vladimir Putin has remained silent so far, reaction from political leaders was instantaneous, and the topic has dominated Russian news coverage ever since.
Maria Zakharova, a spokesperson for the Russian Foreign Ministry, said that while the siege is "an internal affair," it's important to point out that the "electoral system of the U.S. is archaic."
Konstantin Koschev, head of the International Affairs Committee of the Federal Council, the upper chamber of Russian Parliament, proclaimed "the end of the celebration of democracy."
Russian media have been eager to take up these points.
For years, the pro-Kremlin media has exalted stability as the core virtue of Putin's "sovereign democracy" – a term coined by Putin.
As a scholar of post-Soviet politics, I've watched how state-controlled Russian media have portrayed pro-democracy protests in countries surrounding Russia, including my native Ukraine, as CIA-led efforts to destabilize Russia.
The storming of the U.S. Capitol by pro-Trump rioters has allowed Russian media outlets to change the conversation and depict the siege as the final collapse of the U.S. political system and democracy itself.
US 'disorder'
Russian coverage of the Capitol insurrection points out the perceived hypocrisy of Democratic leaders and the U.S. media.
Russian state-controlled media have repeatedly juxtaposed Democratic outrage over former President Donald Trump's role in the siege against the party's support for the "BLM and antifa summer riots" – their term for racial justice protests last summer in the wake of George Floyd's death.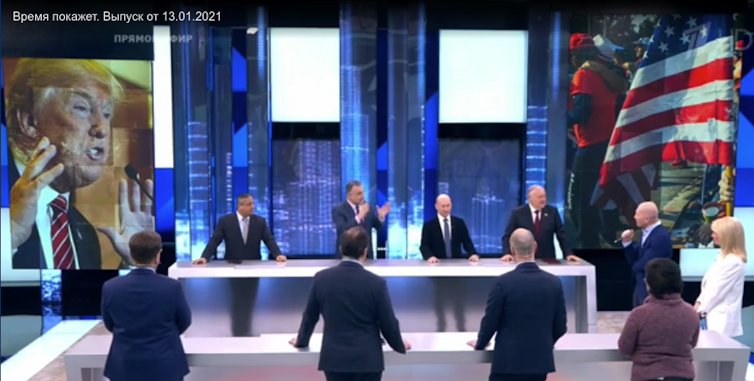 State-controlled media have also highlighted allegations – debunked in the U.S. – that members of antifa, a left-wing protest movement, and Black Lives Matter participated in the storming of the Capitol. "Time Will Tell" and "60 Minutes," two pro-Kremlin news talk shows on the state-run Russia 1 TV channel, have dedicated air time to this allegation.
The upshot of such coverage juxtaposes the disorder in the United States to the order and stability in Russia – a favorite message of Russian propagandists.
'Digital gulag for Trump'
Somewhat surprisingly, members of both the Russian political opposition and the country's pro-Putin political elite assert that the suspension of Trump's social media accounts amounts to censorship and undermines democracy.
Such statements from people like Vladimir Zhirinovsky, the bombastic nationalist leader of the Russian Liberal Democratic Party, come off as hypocritical in a country whose ruler's power is based on censorship and anti-democratic measures, but are not surprising.
But Alexei Navalny, the Russian opposition leader and Putin critic who was poisoned and almost died last August and was recently jailed upon his return to Russia, also criticized Trump's Twitter ban. He is likely worried that the Russian government will mimic companies like Twitter in its own censorship efforts.
Yet, there is also much relish for discussing Trump's Twitter ban among Russian propagandists. That included Vladimir Soloviev, a popular television host, who has dubbed it the "digital gulag for Trump." He has argued that the social media ban is part of an ongoing campaign to silence Trump and his supporters.
On Jan. 13, the hosts of the evening talk show "Time Will Tell" reacted with horror at the "police state" and "repressions" of pro-Trump rioters at the Capitol.
The hosts likened the tips received by the FBI from the public to citizens snitching on each other – a remark that resonates with anyone aware of former Soviet leader Josef Stalin's reign of terror.
They also insisted that Trump supporters have become the "enemies of the people," after Sen. Chuck Schumer urged the FBI to add Capitol rioters to the federal no-fly list.
This portrayal of Trump and his supporters as persecuted political dissidents has been used to further highlight the argument that American democracy is steeped in hypocrisy.
'US is falling apart'
So-called U.S. disintegration has been a favorite topic for the state-controlled network Russia 1. The hosts of "Time Will Tell" have repeatedly reinforced this point by referring to the U.S. as "United, for now, States."
During a recent broadcast, host Anatoly Kuzichev repeatedly said, "the U.S. is falling apart."
RT, another state-controlled media outlet formerly known as Russia Today, reinforced a similar claim by quoting the former Soviet leader Mikhail Gorbachev, who said the Capitol insurrection has "called into question the future fate of the United States as a state."
If Russian media outlets are to be believed, there are no longer any beacons of democracy left in the world. Margarita Simoniyan, chief editor of RT, summed up that view in a tweet: The United States "never were" a model of democracy.
[Deep knowledge, daily. Sign up for The Conversation's newsletter.]
'Pawri' power: 5-second social media clip pulls India, Pakistan closer – TheChronicleHerald.ca
By Syed Raza Hassan
KARACHI, Pakistan (Reuters) – A 19-year-old Pakistani student who shot to fame after her five-second video went viral on social media across the subcontinent, hopes numerous renditions of her monologue will translate into more dialogue between rival neighbours India and Pakistan.
The short video shot by Dananeer Mobeen in the Nathaigali mountains of northern Pakistan and uploaded onto Instagram shows a group of youngsters enjoying themselves by a roadside.
Swinging around the device she is filming on, Mobeen gestures behind her and says in Urdu, "This is our car, this is us, and this is our party taking place."
Seemly innocuous, she deliberately mispronounces the English word "party" as "pawri" to poke fun at South Asians who adopt Western accents. It immediately struck a chord in both India and Pakistan, sparking top trending hashtags on social media, and garnering millions of views and hundreds of spin-offs.
"It was the most random video. I initially had no intention of uploading it," Mobeen said, expressing surprise at how viral it had gone and adding the trend showed the power and reach of social media.
"Pawri" monologue renditions have been used by police in India and the Delhi Commission for Women in their social media outreach campaigns.
In one video, two Indian soldiers deployed in snowy mountains give it their own spin with "This is us, this is our gun, and we are patrolling here", while popular Bollywood actors Ranveer Singh and Deepika Padukone each did a version that also went viral.
Indian dairy company Amul, known for inculcating trendy takes on current issues in its advertisements, did a "this is our pav-tea" version https://twitter.com/Amul_Coop/status/1362262247809028100?s=20, in a nod to a popular bread snack eaten with tea.
Even politicians jumped on the bandwagon, with a leader from India's ruling Bharatiya Janata Party using the catchy hook at an election rally.
"I'm honoured and grateful for all the love across the border," said Mobeen, expressing her happiness at fostering some rare friendly cross-border dialogue.
India and Pakistan, both nuclear-armed nations, have fought three wars and often had tense relations since gaining independence in 1947.
Relations had most recently soured over developments in the northern region of Kashmir, which both countries control in parts but claim in full.
Last week, their militaries released a rare joint statement saying they had agreed to observe a ceasefire along the disputed Kashmir border, after exchanging fire hundreds of times over past months.
Since the video went viral, Mobeen said she has been inundated with acting and modelling offers, along with requests for product endorsements. Instead, she says she aspires to join Pakistan's foreign services.
(Reporting by Syed Raza Hassan; Additional reporting by Nivedita Bhattacharjee in Bengaluru; Editing by Gibran Peshimam and Karishma Singh)
QYOU Media Q2 FY 2021 Revenue Grows 148% Over Q1 FY2021 – Canada NewsWire
TORONTO, LOS ANGELES, and MUMBAI, India, March 1, 2021 /CNW/ – QYOU Media Inc. (TSXV: QYOU) (OTCQB: QYOUF), a company operating in India and the United States producing and distributing content created by social media stars and digital content creators, has reported financial results for the second quarter of Q2 fiscal year 2021 ended December 31, 2020.
Impact of COVID-19: As previously reported by the company on June 1, 2020 and on October 28, 2020, the business in both India and the United States experienced material negative impact due to the loss of contracts and revenue caused by the COVID-19 pandemic from early March thru to the end of September (Q1 FY 2021). Results for Q2 FY 2021 continued to experience some negative impact from COVID-19.
For the three months ending December 31, 2020, revenue was $968,139 up 148% as compared to $390,950 in FY Q1 2021 and down 2% from $986,341 for the three months ended December 31, 2019. Net loss was $518,578 for the 3 months ending December 31, 2020 representing a decrease of 55% as compared to a net loss of $1,149,333 in FY Q1 2021 and a decrease of 73% from $1,944,944 for the three months ended December 31, 2019.
QYOU Media, via its Q India subsidiary has continued to experience rapid growth in 2021 in ratings, distribution and revenues. Highlights include:
In addition the company recently completed fully subscribed bought deal financing for $11.5 million including the over allotment led by investment banks Clarus Securities, Canaccord Genuity and Gravitas Securities. https://www.wildlaw.ca/transactions/2021/qyou-media-inc-completes-$11-million-bought-deal-financing/
Curt Marvis, Co-Founder and CEO of QYOU Media commented, "We are delighted with our growth in 2021 across all key metrics. After three years of solid work and investment the company is now positioned in India to grow revenue and brand recognition in a meaningful way. We continue to believe this is only the beginning of a much steeper growth trajectory for our business in the second half of the year."
The Q India is an advertiser and influencer marketing supported Hindi language content brand, channel and VOD provider delivering hit digital programming from social media stars and leading digital video creators targeting Young Indian audiences. The channel has recently become one of India's fastest growing youth entertainment brands reaching 4.4 Gross Rating Points(GRP) on BARC (Broadcast Audience Research Council) in February 2021. With a growing library of over 850 programs, and beginning in April with the addition of DD Free Dish, the channel will reach an audience of 700 million via 88 million television homes with partners including TATA Sky, Airtel DTH, SitiNetworks and DD Free Dish; 380 million OTT users via platforms including ShemarooMe, MX Player, ZEE5, and Dish Watcho; and 232 million users on mobile and digital platforms including Snap, JioTV, Airtel Xstream, Amazon Fire TV and Chingari.
The company also announced that on June 5, 2017, Curt Marvis, the Chief Executive Officer of the Company, issued a promissory note to and in favour of the Company, evidencing a loan by the Company to Mr. Marvis in the original principal amount of US$150,000. The Note bears interest at a rate of three percent per annum. Subject to the approval of the TSX Venture Exchange, the Board of Directors and Mr. Marvis agreed that if Mr. Marvis still held the position of an executive of the Company as at January 31, 2021, the obligations outstanding under the Note as at such date would be forgiven. As Mr. Marvis remained Chief Executive Officer of the Company on January 31, 2021, the Note has been cancelled, subject to the approval of the TSX Venture Exchange. In addition the company has filed for the issuance of 4.4M options (exercisable at $.30 per share) and 8.8M RSU grants to certain executives and board members under the vesting terms of the respective plans.
About QYOU Media
QYOU Media operates in India and the United States producing and distributing content created by social media stars and digital content creators. In India, we curate, produce and distribute premium content including television networks and VOD for cable and satellite television, OTT and mobile platforms. In the United States, we manage influencer marketing campaigns for major film studios and brands. Founded and created by industry veterans from Lionsgate, MTV, Disney and Sony, QYOU Media's millennial and Gen Z-focused content reaches more than 700 million consumers around the world. Experience our work at www.qyoumedia.com and www.theq.tv
Forward-Looking Statements
This press release may contain "forward-looking information" and "forward-looking statements"within the meaning of applicable securities laws, including, without limitation, the Company's future plans and anticipated results, the strengthening of the Company's position and revenue in India, growth in the influencer marketing segments of the Company's business, and new strategic partnerships. All information contained herein that is not clearly historical in nature may constitute forward-looking information. Forward-looking statements are necessarily based upon a number of estimates and assumptions that, although considered reasonable by management, are inherently subject to significant business, economic and competitive risks, uncertainties and contingencies that may cause actual financial results, performance or achievements to be materially different from the estimated future results, performance or achievements expressed or implied by those forward-looking statements and the forward-looking statements are not guarantees of future performance. Additional risks and uncertainties regarding QYOU Media are described in its publicly available disclosure documents, filed by QYOU Media on SEDAR at www.sedar.com except as updated herein. The forward-looking statements contained in this news release represent QYOU Media's expectations as of the date of this news release, or as of the date they are otherwise stated to be made, and subsequent events may cause these expectations to change. Except as required by law, QYOU Media undertakes no obligation to publicly update or revise any forward-looking statements, whether as a result of new information, future events or otherwise, except as may be required by law. Readers are cautioned not to put undue reliance on these forward-looking statements.
Neither the TSX Venture Exchange nor its Regulation Services Provider (as that term is defined in the policies of the TSX Venture Exchange) accepts responsibility for the adequacy or accuracy of this release.
SOURCE QYOU Media Inc.
For further information: [email protected]
Related Links
Former FC Barcelona officials detained after raid on soccer club, Spanish media report – CBC.ca
Catalan police detained several people after raiding Barcelona's stadium on Monday in a search and seize operation, adding to the club's turmoil less than a week before it elects a new president.
The operation was related to last year's "Barcagate," in which club officials were accused of launching a smear campaign against current and former players who were critical of the club and then-president Josep Maria Bartomeu.
Police said detentions were made but did not say who or how many people were taken into custody. Spanish media said Bartomeu and other former club officials were among those detained.
Authorities spent several hours at the team's headquarters searching documents and talking to employees.
The club, mired in debt of more than 1.1 billion euros ($1.68 billion Cdn), said it offered "full collaboration to the legal and police authorities to help make clear facts which are subject to investigation."
It added the case was related "to the contacting of monitoring services on social networks."
"The information and documentation requested by the judicial police force relate strictly to the facts relative to this case. FC Barcelona (expresses) its utmost respect for the judicial process in place and for the principle of presumed innocence for the people affected within the remit of this investigation," the club said.
The club did not mention Bartomeu. A text message sent to Bartomeu was not immediately answered.
Key former officials detained
One of the three presidential candidates, Joan Laporta, told Lleida Radio that what happened on Monday "was a consequence of the bad management by the previous administration."
He said news of Bartomeu's reported detention was "shocking" and "not good" for the club, but said the former president deserved the "presumption of innocence."
Laporta was Barcelona's president a decade ago and, like Bartomeu, also faced a no-confidence vote during his time in charge.
Among those reportedly detained were club CEO Oscar Grau and legal department chief Roman Gomez Ponti. Jaume Masferrer, Bartomeu's former chief of staff, also was allegedly detained.
They were taken to a police station for interrogation, Spanish media said, and police also went to Bartomeu's house searching for evidence.
Court officials said a judge ordered the search and seize operation but the detentions were made at the discretion of the police agents involved. Authorities said the operation was being carried out by the police's financial crimes department.
A period of struggles
Barcelona has denied accusations that it hired – and overpaid – a company to make negative comments about its own players and opponents on social media in order to boost the image of senior club officials.
The company was accused of using fake social media accounts to discredit opposition figures when they expressed views that went against the club. Some of the figures were reported to have included players such Lionel Messi and Gerard Pique, as well as former coach Pep Guardiola.
The club later released an independent audit report showing that there was no wrongdoing.
Bartomeu and his board of directors resigned last year amid fallout from the controversy surrounding Messi. The club has been mired in political turmoil and debt prompted by the coronavirus pandemic.
The club has been managed by a caretaker board since Bartomeu left in October while facing a no-confidence motion supported by thousands of club members furious at the team's poor performances and the club's financial situation.
The club's struggles began to surface after the team's embarrassing 8-2 loss to Bayern Munich in the quarterfinals of the Champions League last season, which was the first without a title for the Spanish club since the 2007/08 season.
Bartomeu was loudly criticized by Messi, especially after the former president denied the player's request to leave the club at the end of last season. Messi's contract ends this season and the Argentine great has yet to say whether he will stay or go.
Barcelona is five points off the Spanish league lead. It lost at home to Paris Saint-Germain 4-1 in the first leg of the round of 16 of the Champions League and was beaten by Sevilla 2-0 in the first leg of the Copa del Rey semifinals.