The virus that shut down the world: Economic meltdown – UN News
The early warning signs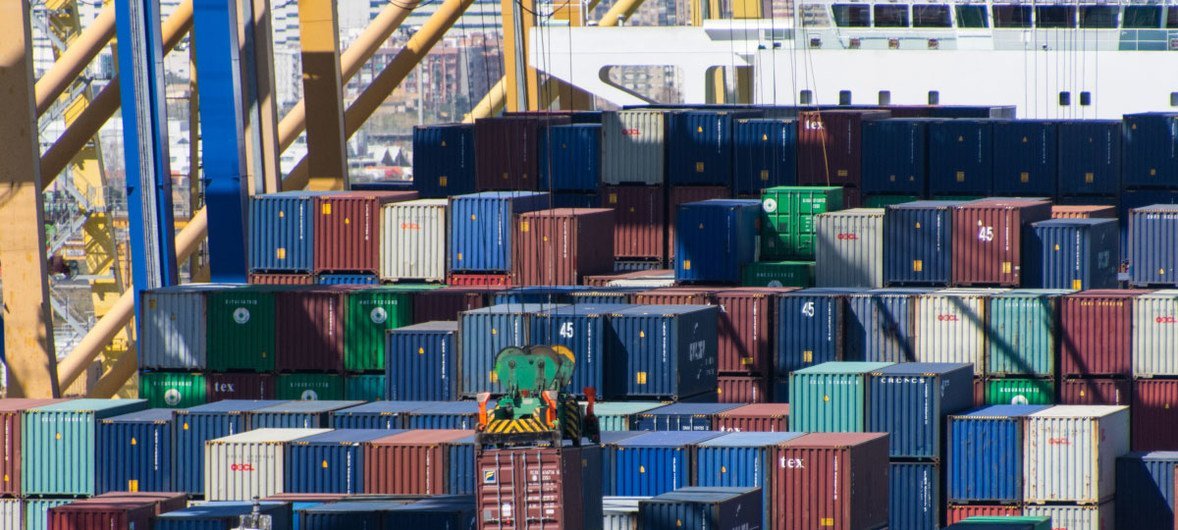 UNCTAD/Jan Hoffmann
UNCTAD has estimated global economic losses of $1 trillion in 2020.
Even before the virus had officially been declared a pandemic, it was clear that the shutdowns, travel bans and other restrictions on movement would be serious.
Back in March, the UN trade agency, UNCTAD, was forecasting that around $1 trillion would be lost to the global economy over the year, and the International Monetary Fund (IMF) and World Bank arranged for a multi-billion dollar injection of UN-back global funds to be made available to low-income and emerging markets.
Despite this assistance, the outlook, especially for some six billion people living in developing countries, was grim, with UNCTAD warning of a "looming financial tsunami.
Young and lower-skilled workers bear the brunt
ILO/Feri Latief
A woman follows health protocols by wearing a face mask at work in a restaurant in Indonesia.
In May, the UN Department of Economic and Social Affairs (DESA) forecast that the global economy would shrink by almost 3.2 per cent in 2020, equivalent to some
$8.5 trillion in losses, and the International Labour Organisation (ILO) warned that nearly half of the global workforce could see their livelihoods destroyed due to the continued decline in working hours brought on by lockdowns. The following month, the World Bank confirmed that the world was in the middle of the worst recession since World War Two.
Lower-skilled workers were hard hit, in wealthier as well as developing economies. Mass lay-offs took place in the service sector, particularly industries that involve personal interactions such as tourism, retail, leisure and hospitality, recreation and transportation services. The ILO followed up in December, with a report showing that wage increases are slowing, or even reversing, hitting women workers and the low-paid hardest: this trend is expected to continue even with the rollout of vaccines. Young people were also particularly affected: more than one in six had stopped working by May and those who were still in work saw their hours cut by almost 23 per cent.
Is universal basic income the answer?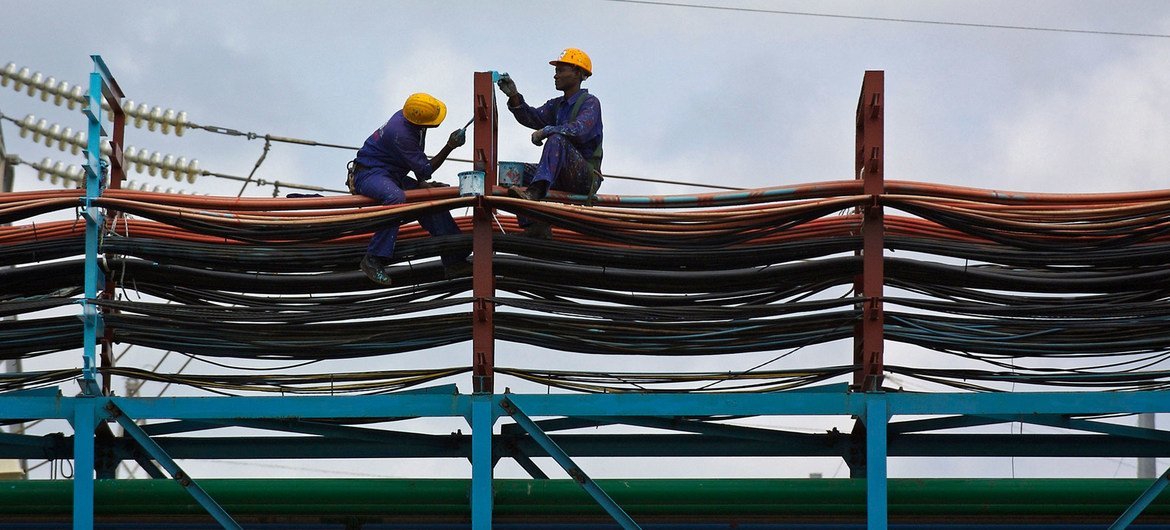 World Bank/Jonathan Ernst
Providing a universal basic income could be a central part of fiscal stimulus packages.
Confronted by this flood of negative data, the idea of universal basic income (where governments give a minimum sum of money to all citizens, regardless of work status or income) began to gain traction within the UN.
In May, A report by the Economic Commission for Latin America and the Caribbean (ECLAC) proposed that governments ensure immediate temporary cash transfers to help millions of people struggling to meet basic needs, as the massive fallout from COVID-19 rippled across the region's economies.
When UN News interviewed a senior official at UNDP, Kanni Wignaraja, she said that the pandemic had upended economies so severely, that bolder ideas were now needed.
"At the UN, we're saying that, if there isn't a minimum income floor to fall back on when this kind of massive shock hits, people literally have no options. Without the means to sustain themselves, they are far more likely to succumb to hunger or other diseases, well before COVID-19 gets to them. This is why, for UNDP, it is so essential to bring back a conversation about universal basic income, and to make it a central part of the fiscal stimulus packages that countries are planning for".
By Summer, a UN Development Programme (UNDP) report was recommending a temporary universal basic income, for the world's poorest people, as a way to slow the surge in COVID-19 and enable close to three billion people to stay at home. The study showed that workers who lack any kind of social safety net have no choice but to venture outdoors, putting themselves and their families at risk.
Contacted in December by UN News, UNDP elaborated on some of the way that temporary basic income has helped to slow the spread of COVID-19, and provide a safety net for people in need.
For example, this year saw several UN agencies working together to help the Government of Cambodia roll out their first digital cash transfer system for people living below the poverty line, a system which is, says UNDP, now the backbone of the Government's COVID-19 cash transfer program for the poor. The Governments of Bangladesh, Indonesia, Malaysia, the Philippines, Viet Nam and other countries have introduced similar cash transfer systems.
Canadian regulator lifts banks' capital buffer to record, priming for post-pandemic world
Canada's financial regulator raised the amount of capital the country's biggest lenders must hold to guard against risks to a record 2.5% of risk-weighted assets, from 1% currently, in a surprise move that could pave the way for them to resume dividend increases and share buybacks.
The new measures, which take effect on Oct. 31, is a sign that the economic and market disruptions stemming from the coronavirus pandemic have abated and banks' capital levels have been resilient, the Office of the Superintendent of Financial Institutions (OSFI) said in a statement.
But the regulator acknowledged that key vulnerabilities, including household and corporate debt levels, as well as asset imbalances caused by steep increase in home prices over the past year, remain.
In a sign of concern about the housing market, OSFI and the Canadian government raised the benchmark to determine the minimum qualifying rate for mortgages, starting June 1.
The increase in the Domestic Stability Buffer (DSB) to the highest possible level raises the Common Equity Tier 1 (CET1) capital – the core bank capital measure – to 10.5% of risk-weighted assets; a 4.5% base level, a "capital conservation buffer" of 2.5%, and a 1% surcharge for systemically important banks, plus the DSB.
The change "gives OSFI more leeway to loosen a restriction down the road, namely the freeze on buybacks and dividend increases," National Bank Financial Analyst Gabriel Dechaine said.
OSFI felt it was "useful for the banks to understand what our minimal capital expectations are and to give them time to adjust to that… ahead of any lifting of the temporary capital distribution restrictions," Assistant Superintendent Jamey Hubbs said on a media call.
Even with the higher requirement, Canada's six biggest banks would have excess capital of about C$51 billion, dropping from C$82 billion as of April 30, according to Reuters calculations.
That was driven in part by a moratorium on dividend increases and share buybacks imposed by OSFI in March 2020, although a pandemic-driven surge in loan losses has so far failed to materialize.
The Canadian banks index slipped 0.25% in morning trading in Toronto, while the Toronto stock benchmark fell 0.1%.
The increase is the first since the last one announced in December 2019, which did not come into effect as planned in April 2020, as OSFI made an out-of-schedule change https://www.reuters.com/article/canada-mortgages-regulation-idUSL1N2B636J that dropped the rate to 1% in March. It has maintained that level at its twice yearly reviews.
Prior to that, OSFI had raised the required level by 25 basis points at every twice yearly review since it was introduced at 1.5% in June 2018.
($1 = 1.2326 Canadian dollars)
(Reporting By Nichola Saminather; Editing by Marguerita Choy and Jonathan Oatis)
Canada Economic Indicators
The economic indicators used to gauge the performance of an economy and its outlook are the same across most nations. What differs is the relative importance of certain indicators to a specific economy at various points in time (for instance, housing indicators are closely watched when the housing market is booming or slumping), and the bodies or organizations compiling and disseminating these indicators in each nation.
Here are the 12 key economic indicators for Canada, the world's 10th-largest economy:1
GDP Growth
Statistics Canada, a national agency, publishes growth statistics on the Canadian economy on monthly and quarterly bases. The report shows the real gross domestic product (GDP) for the overall economy and broken down by industry. It is an accurate monthly/quarterly status report on the Canadian economy and each industry within it.2
Employment Change and Unemployment
Key data on the Canadian employment market, such as the net change in employment, the unemployment rate, and participation rate, is contained in the monthly Labour Force Survey, released by Statistics Canada. The report contains a wealth of information about the Canadian job market, categorized by the demographic, class of worker (private sector employee, public sector employee, self-employed), industry, and province.3
Consumer Price Index
Statistics Canada releases a monthly report on the consumer price index (CPI) that measures inflation at the consumer level. The index is constructed by comparing changes over time in a fixed basket of goods and services purchased by consumers. The report shows the change in CPI monthly and over the past 12 months, on an overall and core (excluding food and energy prices) basis.4
International Merchandise Trade
This monthly report from Statistics Canada shows the nation's imports and exports, as well as the net merchandise trade surplus or deficit. The report also compares the most current data with that for the preceding month. Exports and imports are shown by product category, and also for Canada's top ten trading partners.5
Teranet – National Bank House Price Index
This composite index of house prices across Canada was developed by Teranet and the National Bank of Canada and represents average home prices in Canada's six largest metropolitan areas. A monthly report shows the change in the index monthly and over the past 12 months, as well as monthly and 12-month changes in Canada's six and 11 largest metropolitan areas.6
RBC Manufacturing Purchasing Managers' Index – PMI
Released on the first business day of each month, this indicator of trends in the Canadian manufacturing sector was launched in June 2011 by Royal Bank of Canada, in association with Markit and the Purchasing Management Association of Canada. RBC PMI readings above 50 signal expansion as compared to the previous month, while readings below 50 signal contraction. The monthly survey also tracks other information pertinent to the manufacturing sector, such as changes in output, new orders, employment, inventories, prices, and supplier delivery times.7
The Conference Board's Consumer Confidence Index
The Conference Board of Canada's Index of Consumer Confidence measures consumers' levels of optimism in the state of the economy. It is a crucial indicator of near-term sales for consumer product companies in Canada, as well as an indicator of the outlook for the broad economy since consumer demand comprises such a significant part of it. The index is constructed on the basis of responses to four questions by a random sampling of Canadian households. Survey participants are asked how they view their households' current and expected financial positions, their short-term employment outlook, and whether now is a good time to make a major purchase.8
Ivey Purchasing Managers Index – PMI
 An index prepared by the Ivey Business School at Western University, the Ivey PMI measures the monthly variation in economic activity, as indicated by a panel of purchasing managers across Canada. It is based on responses by these purchasing managers to a single question: "Were your purchases last month in dollars higher, the same, or lower than in the previous month?" An index reading below 50 shows a decrease; a reading above 50 shows an increase. Panel members indicate changes in their organization's activity over five broad categories: purchases, employment, inventories, supplier deliveries, and prices.9
Housing Starts
Canada Mortgage and Housing Corporation (CMHC) issues a monthly report on the sixth working day of every month, showing the previous month's new residential construction activity. The data is presented by region, province, census metropolitan area, and dwelling type (single-detached or multiple-unit). The indicator is an important gauge of the state of the Canadian housing market.10
Home Sales
This key indicator of housing activity is compiled by the Canadian Real Estate Association (CREA) and is based on the number of home sales processed through the MLS (Multiple Listing Service) Systems of real estate boards and associations in Canada. The monthly report from the CREA shows the change in home sales across Canada, as well as for major markets, from month to month. The report also includes other important housing-related information, such as the change (as a percentage) in newly listed homes, the national sales-to-new listings ratio, months of housing inventory, the change in the MLS Home Price Index, and the national average price for homes sold within the month.11
Retail Sales
Statistics Canada releases a monthly report on retail sales activity across Canada, with changes shown on month-over-month and year-over-year bases. The headline number shows the percentage change in national retail sales on a dollar basis; the percentage change in volume terms is also shown. The retail sales figures are shown by industry and for each province or territory, and provide insights into Canadian consumer spending.12
Building Permits 
The building permits survey conducted monthly by Statistics Canada collects data on the value of permits issued by Canadian municipalities for residential and non-residential buildings, as well as the number of residential dwellings authorized. Since building permit issuance is one of the very first steps in the process of construction, the aggregate building permits data are very useful as a leading indicator for assessing the state of the construction industry.13
The Bottom Line
The 12 economic indicators briefly described above show the health of key aspects of Canada's economy: consumer spending, housing, manufacturing, employment, inflation, external trade, and economic growth. Taken together, they provide a comprehensive picture of the state of the Canadian economy.
Canada adds jobs for fourth straight month in May
Canada added 101,600 jobs in May, the fourth consecutive month of gains, led by hiring in the education and health services sector as well as in professional and business services, a report from payroll services provider ADP showed on Thursday.
The April data was revised to show 101,300 jobs were gained, rather than an increase of 351,300. The report, which is derived from ADP's payrolls data, measures the change in total nonfarm payroll employment each month on a seasonally-adjusted basis.
(Reporting by Fergal Smith; Editing by Alex Richardson)