The wildly unpredictable politics of the SCOTUS opening – CNN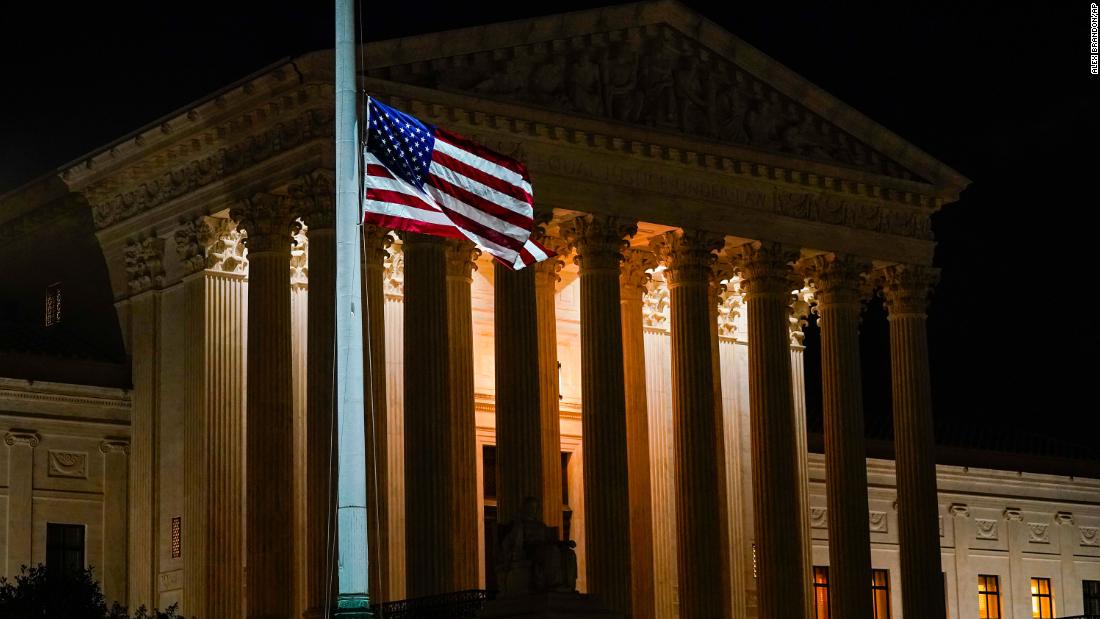 What we know a fight over a court seat will do is rally the Republican base behind Trump. The GOP's hardcore conservatives have generally stuck with Trump almost solely because of the number of federal judges he has appointed and the Senate has confirmed. Many may have wandered a bit amid Trump's demonstrably poor response to the Covid-19 pandemic, but a court fight may be just what the President and his campaign need to bring those lingerers back into the fold.
Politics Podcast: There Just Isn't Good Evidence That 'Shy' Trump Voters Exist – FiveThirtyEight
This is the final(!) preelection installment of Model Talk on the FiveThirtyEight Politics podcast. Galen Druke talks to editor-in-chief Nate Silver about the latest polling shifts in key battleground states and whether there is any reason to believe that "shy Trump voters" will deliver an upset win for the president on Election Day. (The evidence suggests there isn't.)
You can listen to the episode by clicking the "play" button in the audio player above or by downloading it in iTunes, the ESPN App or your favorite podcast platform. If you are new to podcasts, learn how to listen.
The FiveThirtyEight Politics podcast is recorded Mondays and Thursdays. Help new listeners discover the show by leaving us a rating and review on iTunes. Have a comment, question or suggestion for "good polling vs. bad polling"? Get in touch by email, on Twitter or in the comments.
78 seconds that will actually make you feel good about politics – CNN
And because we are dealing with Donald Trump, all of that normal end-of-campaign stuff has been made much, much worse. Trump is at the say-anything-and-do-anything stage of the campaign — particularly as polling suggests he is a clear underdog in Tuesday's election.
Amid all of the darkness and terrible-ness (not a word, but you get the point) I'm here to offer you a reminder that not everything is, in fact, totally awful. And that politics can sometimes be a noble pursuit taken on by people committed to public service.
That's four governors from three different parties(!) making a call for call for calm and civility in this wildest of moments.
The four governors assured Minnesotans that a delay in announcing a winner is a) expected and b) proof the system is working. (Contrast that with President Trump's repeated insistence that the election "should END on November 3rd," like he tweeted on Friday).
"Our state is proud to have one of the safest and most secure election systems in the country," says former Republican Gov. Tim Pawlenty.
"You can have faith that your vote will be counted," says former Democratic Gov. Mark Dayton.
"With so many of us voting by mail, it may take a little longer to verify a winner," says Walz.
"And that's OK. It's by design," says Pawlenty.
"A delay just means that our system is working and that we're counting every single ballot," says former Reform Party governor Jesse Ventura.
Imagine that. Political leaders — both current and former — acting like, well, leaders. Educating the public rather than trying to skew reality for their own political benefit. (Worth noting: All four governors are shown walking in with their masks on, and putting them back on ant the end of the video.)
That a message like this feels so stunning and so different serves as a reminder of just how far Trump — and his decidedly unpresidential approach to the presidency — has changed our expectations from our leaders over these past four years. It was once common ground for politicians of all stripes to urge citizens to a) vote and b) know that their vote was fairly counted. Trump has chosen, for political reasons, to make war on that most basic of democratic assumptions as well as virtually every other "norm" including the guidelines set to mitigate the spread of the coronavirus.
"25,000, people want to be there, and they say you can only have 250 people, so they thought I'd cancel," Trump carped on Friday about a campaign rally in, you guess it, Minnesota. "But I'm not canceling."
Politics doesn't have to be utterly awful and soul-crushing. It can be unified and, dare I say it, uplifting. Watch the Minnesota governors' ad. And remember how things once were — and could be again.
U.S. election: How COVID-19 misinformation is being weaponized in politics – Global News
Social media platforms are being used to downplay the threat of the coronavirus and push back on COVID-19 restrictions in the leadup to the 2020 U.S. election.
In a global pandemic, inaccurate information not only misleads but could also be a matter of life and death if people start taking unproven drugs, ignoring public health advice or refusing a coronavirus vaccine when one becomes available.
"A very dangerous element of all of this misinformation is distrust in institutions, in media and in democracy," said Luca Nicotra, a disinformation researcher with non-profit research and activism foundation Avaaz.
"And this has very clear effects, for instance on vaccination rates. We have already seen how Facebook and other social media have promoted the rise of the anti-vaccination movement all around the world."
A study by his organization found that content from the top 10 websites spreading health misinformation had almost four times as many views on Facebook than websites providing evidence-based information, like public health institutions such as the World Health Organization and the Centers for Disease Control and Prevention.
Nicotra says this has a lot to do with Facebook's business model.
"Facebook is not a neutral platform. So basically, every time a user logs in, its algorithm decides what you see from the thousands of posts of all the pages you like or the friends you have. It selects the one that it believes will keep you in the platform the most," he said.
"And what Facebook knows, (CEO Mark) Zuckerberg himself has said that they know that its algorithm, if left unchecked, will promote in a user's timeline, divisive, sensationalist content and disinformation."
Despite all evidence, strong rhetoric downplaying the risks associated with COVID-19 has been endorsed at the highest levels of the U.S government.
According to a study by Cornell University, President Donald Trump has been the world's biggest driver of COVID-19 misinformation during the pandemic.
A team from the Cornell Alliance for Science looked at 38 million articles published by English-language, traditional media worldwide between Jan. 1 and May 26 of this year.

15:36


Coronavirus: COVID-19 and the fear fueling conspiracy theories



And misinformation is increasingly moving offline and spilling over into the streets in the form of protests or sometimes aggressive refusals to follow social distancing restrictions.
In April, thousands of people gathered at Michigan's state capitol to protest executive orders issued by Gov. Gretchen Whitmer that shut down most of the state.
Trump openly encouraged such protests, tweeting, "LIBERATE MICHIGAN!"
A group of men known as the Wolverine Watchmen, said to have been motivated by Whitmer's actions to limit the spread of COVID-19, have been arrested on conspiracy charges, accused of plotting to kidnap the Michigan governor.
Trump has admitted to downplaying the pandemic, continuing to do so even after he was diagnosed with COVID-19 — fuelling the growing coronavirus-denial movement.
"His success in responding or reacting personally to COVID that is now being fed into those conspiracies as well, that it proves that it's a hoax, that it's not nearly as serious as we went on it was," said Barbara Perry, the director of Ontario Tech University's Centre on Hate, Bias and Extremism.
And with Facebook's algorithm trying to keep people on its platform for as long as possible, it's no surprise that what keeps people engaged are sensational posts often full of false information.
"So Facebook's responsibility then comes from the inaction on not constraining the algorithm (from going into) these black holes," Nicotra said. "That, really, in the best case, radicalizes people. In the worst case, during a global pandemic like the one we are in the middle of, really, it puts people's lives in danger."
Facebook has not responded to Global News' request for comment but it has made an effort to label posts with warning notices about coronavirus misinformation — including posts by politicians.
But advocates say it's not enough.
One idea set forth by Nicotra's foundation is that when Facebook deems a post false or dangerous, it should not only add a warning on the initial post but also when someone shares it, sending them notifications that what they have shared is untrue.
There's also a push to downgrade the algorithm, says Nicotra, so that when a post is verified false, its reach is automatically decreased.
And as we get closer and closer to the U.S. election and important COVID-19 regulations are debated, access to fact- and science-based information is more important now than ever.