The Winners And Losers in Eight Months That Ravaged UK Economy – BNN
(Bloomberg) — With new restrictions and Brexit threatening to push the U.K. back into recession, the economy is probably more than a year away from recouping the staggering losses inflicted by the coronavirus.In broad terms, no sector has escaped the carnage. Economic output is still almost 10% below pre-pandemic levels, 800,000 fewer employees are on payrolls and the government is borrowing on a scale not seen in peacetime in a bid to avert mass unemployment and keep struggling businesses afloat.Beneath the surface, however, sharply diverging fortunes can be perceived. The housing market is enjoying its best run for years, buoyed by government stimulus and pent-up demand. Retail sales are at an all-time high. Job cuts, meanwhile, have fallen hardest on young people seeking a foothold in the labor market.On day 12 of a new lockdown in England to tackle a resurgent Covid-19 outbreak, the following charts provide an overview of the Group of Seven's hardest-hit economy, eight months after the crisis struck.
The Bank of England had no idea of what lay in store when it delivered its normal forecasting round in January. Brexit presented the biggest threat, policy makers said, as they predicted growth of around 1.5% a year and unemployment remaining below 4%.
As of the third quarter, the economy was over 10% smaller than predicted back then, and officials now don't expect a return to pre-crisis levels until early 2022 — even if Britain and the European Union clinch a Brexit trade deal. Unemployment stood at 4.8%, the most in four years, after an unprecedented 314,000 redundancies.
On Nov. 5, Chancellor Rishi Sunak announced that furloughed workers will get 80% wage support through March. That may help limit the peak in joblessness to around 7.5%, according to Dan Hanson of Bloomberg Economics.
If any businesses are having a good pandemic, they are couriers, estate agents and some retailers, according to Office for National Statistics data last week.
The real-estate market reopened over the summer, releasing a wave of demand that was further fueled when Sunak announced a temporary tax cut for property buyers. Spending on gardens and house improvements has sustained Britons forced to spend more time at home. The strength of demand for postal services is unsurprising given the shift toward online purchases.
Their fortunes stand in stark contrast to hospitality, leisure and the performing arts. Hardest hit are travel agents, tour operators and air transport services, where output has plunged by over 80% since the end of 2019. Divergences are narrower in manufacturing, which has experienced fewer disruptions to day-to-day operations.
Just as they did in the global financial crisis, young people are bearing the brunt of the pandemic.
About a fifth of 18 to 24-year-olds who were furloughed have now lost their jobs, and only a third of those let go have been able to find new work, according to the Resolution Foundation. Youth unemployment jumped to 13.6% in the third quarter, almost triple the national average.
The figures pile pressure on Prime Minister Boris Johnson to do more to create jobs and retrain unemployed workers.
Even before the crisis, young people were struggling with unaffordable housing, job insecurity and years of wage stagnation. Now they potentially face further damage to their long-term prospects through the effects of scarring on earnings and employment.
The pandemic has wrought havoc with the public finances, pushing debt above 100% of GDP for the first time since Harold Macmillan was prime minister in the early 1960s.
The budget deficit, which was forecast to be just 55 billion pounds ($72 billion) in the current fiscal year, is now on course to exceed 400 billion pounds. As a share of the economy, that's double the level reached after the financial crisis.
The scale of the damage will be laid bare on Nov. 25, when the Office for Budget Responsibility is due to publish new forecasts. Tax increases in the coming years appear inevitable but there is no immediate pressure on Sunak, with the International Monetary Fund arguing further stimulus may even be necessary.
Financial markets are sanguine too. With the Bank of England mopping up every pound of borrowed money through its bond-buying program, the cost of taking on debt has never been cheaper.
The challenge facing Sunak is vividly highlighted by the fact that Britain's recovery trails far behind the world's major industrialized nations, despite a record rebound in the third quarter.
Output was still 9.7% below end-2019 levels, leaving Britain closer to euro-area laggard Spain than its Group of Seven peers, where the average shortfall was little more than 4%. On Monday, Japan reported stronger-than-forecast 5% growth for the quarter, or an annualized 21.4%.
U.K. business investment has stagnated since the 2016 Brexit referendum, and in the third quarter it recovered less than 25% of what it lost in the previous three months. The reticence of companies to spend reflects both the pandemic and concerns about Britain's imminent exit from the EU single market — potentially with no trade deal.
©2020 Bloomberg L.P.
A $900 Billion Plan Would Help the Economy, but Not Fix It – The New York Times
#masthead-section-label, #masthead-bar-one display: none
A $900 Billion Plan Would Help the Economy, but Not Fix It
While a compromise package gaining steam in Congress would provide urgent help to the economy, some people and businesses would be left out in the cold.
Dec. 4, 2020,

6:07 p.m. ET
The economic recovery, slowing for months, is in danger of going into reverse. That's why a growing list of economists, business lobbyists and other advocacy groups are urging lawmakers to rally around the $908 billion aid package currently gaining bipartisan support in Congress.
A plan of that size would fall short of doing everything that economists argue Congress should do to help workers and businesses during the coronavirus pandemic. But they said that if lawmakers could get the details right, Congress should do it anyway.
"It's within the range where you could argue it does enough good that it would be worth taking it," said William E. Spriggs, a Howard University economist who served in the Labor Department under President Barack Obama. "But it leaves a ton on the table, and still leaves us with a big problem going forward."
The $908 billion compromise is not even a legislative proposal yet. It is a bipartisan framework, assembled by a group of senators led by Susan Collins, Republican of Maine, and Joe Manchin III, Democrat of West Virginia. Many of its details are still being negotiated, including how the government ought to distribute more aid to small businesses.
Once the bill is complete, its success is not assured: Senator Mitch McConnell of Kentucky, the majority leader, has stopped short of endorsing it, and so has President Trump, who would need to sign any legislation approved in the lame-duck congressional session. But Speaker Nancy Pelosi of California has backed it as a starting point for renewed negotiations, and President-elect Joseph R. Biden Jr. said Friday that he was "encouraged" by the effort.
Experts say the plan would provide relief to several battered corners of the economy. It includes nearly $300 billion for small-business aid, $180 billion for unemployed workers, and $160 billion for state, local and tribal governments.
The plan wouldn't help everyone who needs aid, and the support might not last long enough to bridge the economy to the rebound that is expected to come when coronavirus vaccines are widely distributed. And much depends on the details, particularly when they come to Americans who have been unemployed for months and small businesses that struggled to tap government programs early in the pandemic.
But if the plan was passed soon, it would send money out quickly. And with virus cases rising and economic gains stalling, a growing number of politicians are willing to accept such a compromise.
"You get most of the way there, you don't turn around at the end," said Gov. Mike DeWine of Ohio, one of several Republican governors who has called for more federal aid. "We can't stop now, and I guess I would say that to my friends in Congress: We need your help one more time here. Help get us through what's going to be a very tough winter."
November employment data released by the Labor Department on Friday underscored his point. Job growth slowed to 245,000, the weakest monthly gain of the recovery so far. The number of people trapped in long-term unemployment rose to nearly four million. Restaurants and retailers, whose rehiring of furloughed workers helped power the rebound in earlier months, cut jobs in November. The number of people who have lost their jobs permanently rose, the latest sign that the crisis will leave lasting economic scars.
"I do feel a greater sense of urgency now, especially after seeing the jobs report," said Karen Dynan, a Harvard economist and former Treasury Department official in the Obama administration. "We're really starting to see the cracks now."
Perhaps the top goal for the aid package is preventing millions of families from losing their only source of income the week after Christmas.
As many as 13 million Americans are receiving benefits under two programs that expanded and extended the existing unemployment insurance program. Those programs, created by Congress in the spring, are set to expire at the end of the year — an outcome that members of both political parties have said they want to avoid.
The aid package being discussed in Congress would extend both programs, while also reviving the extra unemployment benefit that expired over the summer, most likely at half the original $600-a-week level. But depending on how the negotiations go, it may not further extend eligibility for people who are close to the end of their benefits already.
Putting money into the pockets of the unemployed could be good for the broader economy: Research has found that unemployment benefits are among the most effective forms of economic stimulus because recipients are likely to spend rather than save the money. And by helping families avoid foreclosures, evictions and debt defaults, unemployment benefits can prevent the financial damage from spreading.
But the most compelling argument may be not economic but humanitarian: Without the money, many families could go hungry, become homeless and face other hardships.
"If households are in financial catastrophe, then we have a moral obligation as a country to help households regardless of what their spending or not spending does to the aggregate economy," said Wendy Edelberg, director of the Hamilton Project, an economic policy arm of the Brookings Institution.
Money in the proposal would similarly provide a lifeline to some small businesses that risk closing for good amid weak demand between now and when vaccines become available. Even large companies could be hurt if many smaller firms go under, which is one reason large business groups have called for immediate aid to small companies.
"Jobs created by small businesses impact big businesses' ability to sell to those people," said Suzanne Clark, the president of the U.S. Chamber of Commerce. "So we're really worried about the totality of the ecosystem and the number of small businesses just hanging on by a thread."
But many business groups warn that the compromise plan does not include enough money, potentially leaving some companies without aid, in a repeat of the government's initial round of Paycheck Protection Program loans in the spring. Lawmakers could again find themselves almost immediately facing pressure to allocate more money to the program.
The structure of the aid is unlikely to provide a long-term bridge for certain types of businesses, including many in the hospitality industry, that might not return to pre-pandemic levels of activity for months or years.
The deal would provide money to state and local governments, though the $160 billion being discussed is a small fraction of the $1 trillion that Democrats initially proposed last spring.
State and local aid has been a major sticking point in negotiations, with Mr. McConnell dismissing it as a "blue-state bailout." But Republican-led states face some of the biggest revenue gaps.
States and local governments, which have been battered by pandemic-related costs and collapsing tax revenues, have already cut more than 1.3 million jobs, and much deeper cuts loom. Those cuts could have both short- and long-term consequences. A new round of public-sector layoffs and furloughs, combined with slowing private-sector hiring, could derail the precarious recovery. And cuts to schools, public transportation and other services could make it harder for the economy to regain momentum once the pandemic has passed.
Even if Congress does reach a deal before the end of the year, Mr. Biden warned Friday that lawmakers would need to spend more once he took office. "The country's going to be in dire, dire, dire straits if they don't," he said.
Canadian economy added 62,000 jobs in November, Statistics Canada says – KitchenerToday.com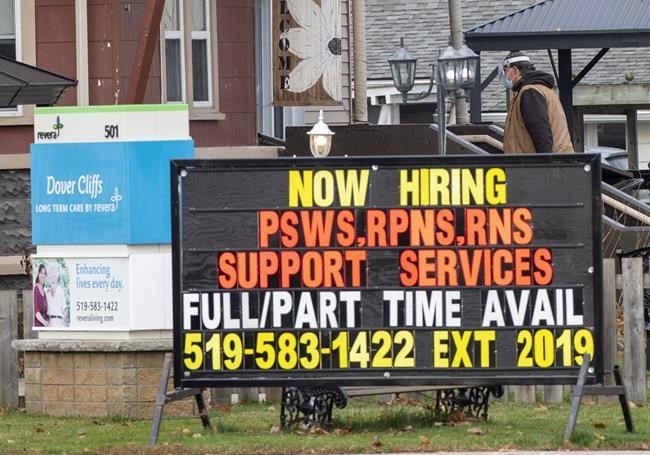 Statistics Canada says the economy added 62,000 jobs in November compared with an addition of 84,000 in October.
The gains were mostly focused in full-time work with a gain of 99,000 jobs, offset somewhat by a decline in part-time work of 37,000 positions.
The average economist estimate had been for a gain of 20,000 jobs and the unemployment rate to remain unchanged, according to financial data firm Refinitiv.
The gains in November left the country 574,000 jobs short of recouping the approximately three million jobs lost from lockdowns in March and April that sent the unemployment rate skyrocketing to 13.7 per cent in May.
Last month, the unemployment rate fell to 8.5 per cent compared with 8.9 per cent in October.
But the pace of gains has slowed, with employment rising by 0.3 per cent in November compared to an average of 2.7 per cent per month between May and September.
In Waterloo Region, the unemployment rate dropped from 10.8 per cent in October to 9.1 per cent in November.
Local entrepreneurs pitch their ideas for circular food economy – GuelphToday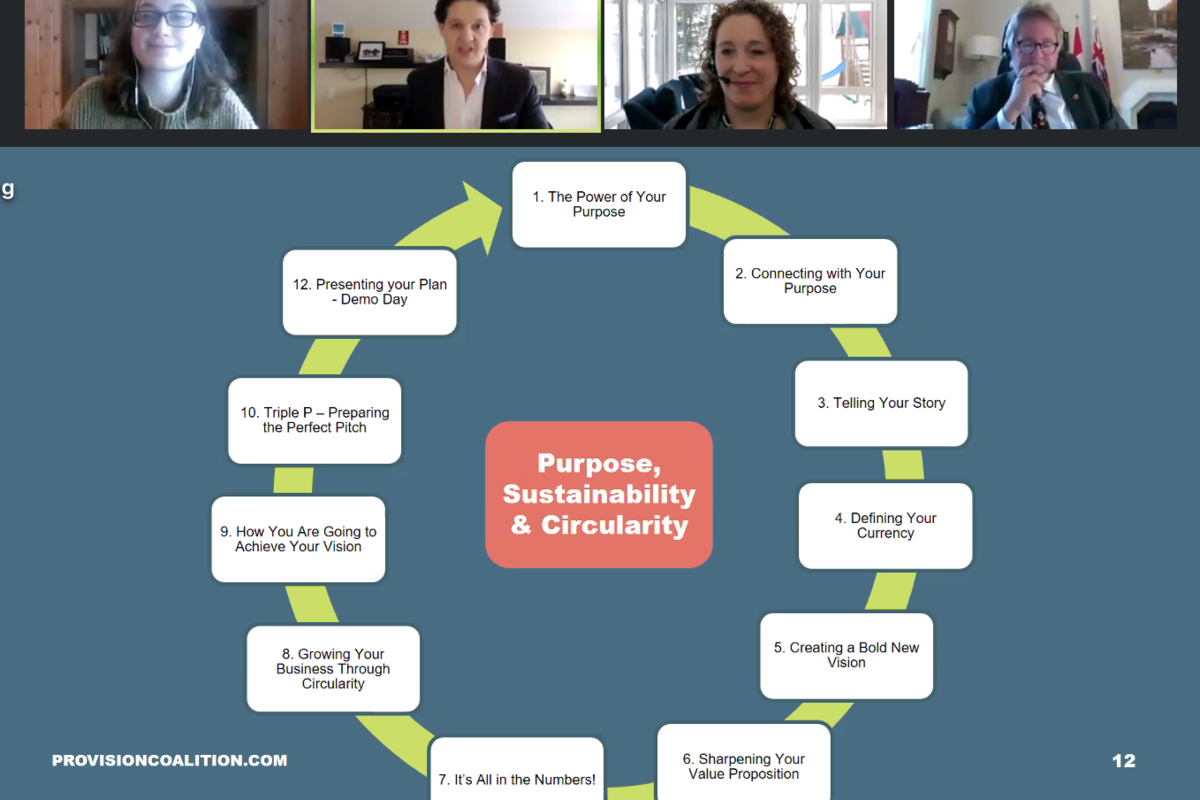 Local entrepreneurs got the chance to pitch their ideas to create a circular food economy earlier this week
The second cohort of graduates from the R-Purpose MICRO program presented their ideas for a more circular economy to a panel of judges for constructive criticism.
The virtual Demo Day event allowed companies to present business pitches and make connections with leaders from various industries.
The program is aimed at micro-companies who have fewer than five employees and is part of Guelph-Wellington's Our Food Future initiative.
"This initiative is to create Canada's first circular food economy by 2025," said Cher Mereweather, president and CEO of the Provision Coalition. "The circular food economy is inspired by the planets natural cycle, it re-imagines and regenerates the systems that feed us, it eliminates waste, it shares in economic prosperity and it nourishes our community.
Each company has an individual idea to create a more circular food economy, from home hydroponic kits to soy-based cream liqueur.
The judges came from various backgrounds:
– Barb Swartzentruber, Executive Director for the City of Guelph Smart Cities office
– Sheri Evans, local development manager for Sobeys
– Marcia Woods, CEO and co-founder for Freshspoke
– Evan Clark, vice-chair of the Golden Triangle Angel Network
"What's amazing is the one thing we all share," said Clark. "We're all optimistic about a world that can be a little bit better and a little bit more environmentally friendly. We're all here to combat a variety of things related to climate change and how we connect with each other. "
Out of 13 presentations, the judges picked 5th bean, a soy-based cream liqueur company, and A Friendlier Company, a company that is creating reusable takeout packaging, as the runners up.
However, a unanimous vote crowned Well Baked Box as the winner. The company works on creating sustainably-sourced boxed baking and snack kits that are delivered. The kits are all free of gluten, dairy and refined sugar.
"I think being very niche in baking is a very smart play," said Woods. "Being able to provide that for folks who have specific dietary requirements is very cool."
Husband and wife duo Stewart Russell and Courtney Clayson-Russell were inspired by their passions for helping others make healthier choices. Russel said when they created the company, they wanted to make a commitment to running a sustainable and environmentally conscious business.
Russell said the taking the R-Purpose MICRO course shaped the direction Well Baked Box is going to be taking.
"This has been crazy, what we thought we were doing at the being of R-Purpose MICRO and what we're doing now and planning to do is completely different," said Russell. "It was very special for us to be part of the course."