The 'xenobot' is the world's newest robot — and it's made from living animal cells – CTV News
TORONTO —
Forget gleaming metal droids — the robots of the future may have more in common with the average amphibian than with R2D2.
A team of scientists have found a way to not just program a living organism, but to build brand new life-forms from scratch using cells, creating what researchers are calling "xenobots."
Tiny in size, but vast in potential, these millimetre-sized bots could potentially be programmed to help in medical procedures, ocean cleanup and investigating dangerous compounds, among other things.
"They're neither a traditional robot nor a known species of animal," said researcher Joshua Bongard in a news release. "It's a new class of artifact: a living, programmable organism."
In the introduction for the research published in "Proceedings of the National Academy of Sciences" (PNAS) on Monday, researchers point out that the traditional building blocks we've used for robots and tech — steel, plastic, chemicals, etc. — all "degrade over time and can produce harmful ecological and health side-effects."
After realizing that the best "self-renewing and biocompatible materials" would be "living systems themselves," researchers decided to create a method "that designs completely biological machines from the ground up."
The bots are made out of stem cells taken from frog embryos — specifically, an African clawed frog called "xenopus laevis," which supplied the inspiration for the name "xenobot." To design the xenobots, the possible configurations of different cells were first modeled on a supercomputer at the University of Vermont.
The designs then went to Tufts University, where the embryonic cells were collected and separated to develop into more specialized cells. Then, like sculptors (if sculptors used microsurgery forceps and electrodes), biologists manually shaped the cells into clumps that matched the computer designs.
Different structures were sketched out by the computer in accordance with the scientists' goal for each xenobot.
For example, one xenobot was designed to be able to move purposely in a specific direction. To achieve this, researchers put cardiac cells on the bottom of the xenobot. These cells naturally contract and expand on their own, meaning that they could serve as the xenobots' engine, or legs, and help move the rest of the organism, which was built out of more static skin cells.
In order to test if the living robots were truly moving the way they were designed to, and not just randomly, researchers performed a test that has stumped many a living creature.
They flipped the robot on its back. And just like a capsized turtle, it could no longer move.
When researchers created further designs for the bots, they found that they could design them to push microscopic objects, and even carry objects through a pouch.
"It's a step toward using computer-designed organisms for intelligent drug delivery," says Bongard.
The possible uses for these tiny robots are numerous, researchers say.
"In biomedical settings, one could envision such biobots (made from the patient's own cells) removing plaque from artery walls, identifying cancer, or settling down to differentiate or control events in locations of disease," the research paper suggests.
A robot made out of metal or steel generally has to be repaired by human hands if it sustains damage. One major benefit that researchers found of creating these robots out of living cells was how they reacted to physical damage.
A video taken by the researchers showed that when one of their organisms was cut almost in half by metal tweezers, the two sides of the wound simply stitched itself back together.
These living robots, researchers realized, could repair themselves automatically, "something you can't do with typical machines," Bongard said.
Because they are living cells, they are also naturally biodegradable, Bongard pointed out. Once they've fulfilled their purpose, "they're just dead skin cells," making them even more optimal for usage in medical or environmental research.
Although scientists have been increasingly manipulating genetics and biology, this is the first time that a programmable organism has been created from scratch, researchers say.
This new research takes scientists a step closer to answering just how different cells work together to execute all of the complex processes that occur every day in animals and humans.
"The big question in biology is to understand the algorithms that determine form and function," said co-leader Michael Levin in the press release. He directs the Center for Regenerative and Developmental Biology at Tufts.
"What actually determines the anatomy towards which cells co-operate?" he asked. "You look at the cells we've been building our xenobots with, and, genomically, they're frogs. It's 100 per cent frog DNA — but these are not frogs. Then you ask, well, what else are these cells capable of building? As we've shown, these frog cells can be coaxed to make interesting living forms that are completely different from what their default anatomy would be."
Of course, a biological organism created and programmed by humans which is capable of healing itself might sound a little alarming. After all, one of the sponsors of the research is the Defense Advanced Research Projects Agency, which is affiliated with the U.S. military.
Researchers acknowledged in the press release that the implications around such technological and biological advancements can be worrying at times.
"That fear is not unreasonable," Levin said. However, he believes that in order to move forward with science, we should not hold back from complex questions. "This study is a direct contribution to getting a handle on what people are afraid of, which is unintended consequences.
"I think it's an absolute necessity for society going forward to get a better handle on systems where the outcome is very complex," Levin says. "A first step towards doing that is to explore: how do living systems decide what an overall behavior should be and how do we manipulate the pieces to get the behaviors we want?"
Australian Yarrabubba meteor crater is 2.229 billion years old – SlashGear
Scientists say that the Earth has about 190 major meteor craters on its surface. Despite having so many impact craters, scientists only know the age of a few of them. A team of scientists recently studied the Yarrabubba meteor crater in Australia and were able to determine that the crater was 2.229 billion years old.
That makes it the oldest crater currently known. It took the crown of the oldest crater from the Vredefort Dome crater in South Africa with scientists saying the Australian crater is 200 million years older. Scientists are studying crater and trying to date them in an attempt to see what sort of role they played in the environmental development of the planet.
Scientists are trying to determine how a meteor impact might relate to the formation of the continents. Science also wants to know when meteor impacts declined to the point where life could emerge. The Australian crater the team studied is in a very remote part of Western Australia and is believed to have been 70km across. It's so old that it doesn't look much like an impact crater.
It's major features have been weathered away by wind, rain, and other forces leaving only overgrown rocky outcrops according to the team. The weathered remains prevented scientists from dating it with the most common form of crater dating using what's called a "melt sheet."
The team instead searched for rocks that could be used to date the events. The specific type of rock has the minerals zircon and monazite inside that contain uranium and lead. The ratio of those can be used to determine the age of the rock. Crystals melted by the impact were used to date the crater.
Study reveals unexpected rise in potent greenhouse gas – Space Daily
Scientists had expected the levels of HFC-23, a type of hydrofluorocarbon and a potent greenhouse gas, to drop in the latest global survey of greenhouse gas emissions. Instead, atmospheric concentrations of HFC-23 are rising.
HFC-23 is the byproduct of the production of HCFC-22, another hydrofluorocarbon that is commonly used in cooling systems in developing economies. India and China are two of the largest emitters of HFC-23, but in 2015, the two nations promised to rapidly reduce their HFC-23 emissions.
After making the pledge, officials in China and India reported tremendous progress with their HFC-23 abatement program, with the expectation that HFC-23 emissions would drop to nearly zero by 2017.
A new study, published Tuesday in the journal Nature Communications, suggests the opposite has happened.
Authors of the new study assumed China and India's reported progress was real, and would lead to reduced concentration of HFC-23 in the atmosphere.
"We had no particular reason to distrust the reports. We were motivated to write the paper because the reported reductions were so dramatic," study co-author Matthew Rigby, an atmospheric chemist at the University of Bristol in Britain, told UPI in an email. "Based on the reported values, we were expecting to see global atmospheric concentrations stabilize, following decades of growth. So it was a surprise to see them continue to grow, and in fact, grow at a faster rate than ever before."
Rigby is a member of the Advanced Global Atmospheric Gases Experiment, UGAGE, which measure greenhouse gas concentrations in the atmosphere at test sites around the globe.
The latest findings revealed a significant global rise in HFC-23 in 2017, but the data doesn't pinpoint the exact source of the increase. Rigby and his colleagues acknowledged that their study doesn't prove China and India failed to execute their HFC-23 abatement programs.
"From our analysis, we cannot definitively say that China and India have not achieved their reported emission reductions," lead study author Kieran Stanley, a post-doctoral researcher at the Goethe University Frankfurt in Germany, told UPI. "However, seeing as China and India account for 75 percent of the total global HCFC-22 production in 2017, it is highly likely that China's reported emissions reductions haven't taken place."
Because India's HCFC-22 production accounts for just 7 percent of global production, it's harder to guess how much progress the country has made in its efforts to reduce HFC-23 emissions.
According to Stanley, had China and India truly made the emissions reduction progress they reported, that would mean large amounts of illegal, unreported HCFC-22 were manufactured in 2017. If that had happened, Stanley said the hydrocarbon's price should have dropped. It didn't.
After the ozone-eating gases, chlorofluorocarbons, or CFCs, were banned by the Montreal Protocol, most industries adopted a variety of alternative gases — hydrofluorocarbons. While most of theses gases are less harmful to the ozone layer, some feature a greenhouse gas effect.
In 2016, parties to the Montreal Protocol signed the Kigali Amendment, aiming to reduce the warming impact of HFCs.
HFC-23's greenhouse gas effect is particularly potent. Just 1 metric ton of HFC-23 is equivalent to the greenhouse gas effect of 12,000 metric tons of carbon dioxide.
This isn't the first time scientists have found concentrations of a gas regulated by the Montreal Protocol and its amendments. In 2018, scientists found evidence of a dramatic rise in the ozone-eating gas CFC-11. Investigations revealed China's foam industry as the primary driver of the emissions increase.
"These two findings do suggest that monitoring of the chemical industry may need to be improved in China," Rigby said. "In light of the finding of new emissions of CFC-11 from China, the government has announced additional monitoring initiatives focused on ozone depleting substances. Hopefully, they will also be able to look into these continuing emissions of the greenhouse gas, HFC-23."
Related Links

Space Technology News – Applications and Research


Thanks for being there;


We need your help. The SpaceDaily news network continues to grow but revenues have never been harder to maintain.

With the rise of Ad Blockers, and Facebook – our traditional revenue sources via quality network advertising continues to decline. And unlike so many other news sites, we don't have a paywall – with those annoying usernames and passwords.

Our news coverage takes time and effort to publish 365 days a year.

If you find our news sites informative and useful then please consider becoming a regular supporter or for now make a one off contribution.


SpaceDaily Monthly Supporter
$5+ Billed Monthly

SpaceDaily Contributor

$5 Billed Once

credit card or paypal



Scientists film chemical bond making, breaking

Washington DC (UPI) Jan 17, 2020

Everything depends on chemical bonds. Without chemical bonds, everything would fall apart. And yet, scientists don't entirely understand how chemical bonding works.
Now, for the first time, scientists have filmed chemical bond making and breaking in action. The breakthrough – described this week in the journal Science Advances – promises to offer scientists new insights into this fundamental atomic phenomenon.
The main reason chemical bonding isn't well understood is that the processes … read more



Earth's oldest asteroid impact 'may have ended ice age' – BBC News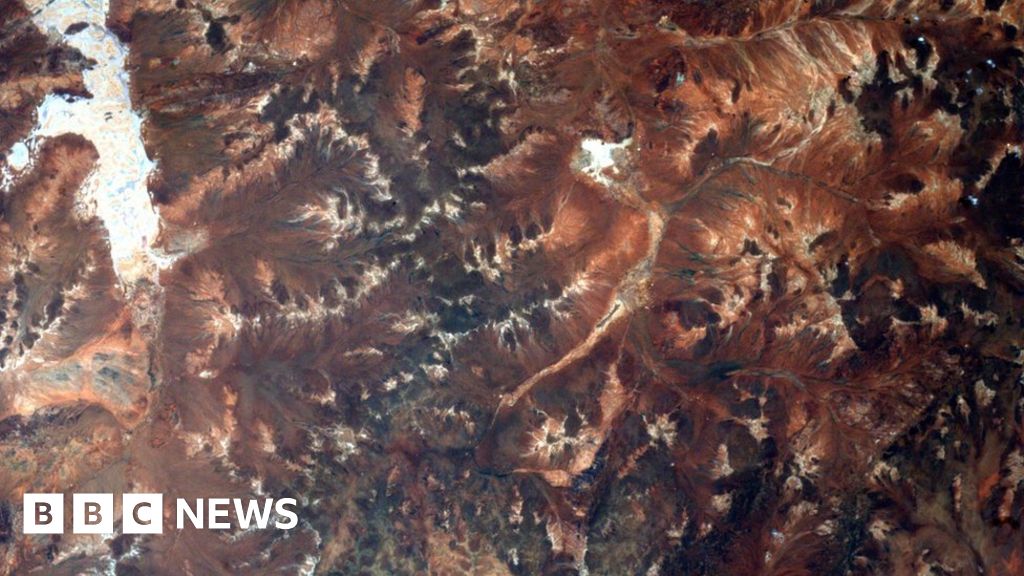 Scientists have identified the world's oldest asteroid crater in Australia, adding it may explain how the planet was lifted from an ice age.
The asteroid hit Yarrabubba in Western Australia about 2.2 billion years ago – making the crater about half the age of Earth, researchers say.
Their conclusion was reached by testing minerals found in rocks at the site.
The scientists say the find is exciting because it could account for a warming event during that era.
The Curtin University research was published in the journal Nature Communications on Wednesday.
How did they date it?
The crater was discovered in the dry outback in 1979, but geologists had not previously tested how old it was.
Due to billions of years of erosion, the crater is not visible to the eye. Scientists mapped scars in the area's magnetic field to determine its 70km (43 miles) diameter.
"The landscape is actually very flat because it's so old, but the rocks there are distinctive," researcher Prof Chris Kirkland told the BBC.
To determine when the asteroid hit Earth, the team examined tiny zircon and monazite crystals in the rocks. They were "shocked" in the strike and now can be read like "tree rings", Prof Kirkland said.
These crystals hold tiny amounts of uranium. Because uranium decays into lead at a consistent pace, the researchers were able to calculate how much time had passed.
It is at least 200 million years older than the next most ancient impact structure – the Vredefort Dome in South Africa.
"We were interested in the area because the Western Australian landscape is very old but we didn't expected [the crater] to be as old as this," Prof Kirkland said.
"It's absolutely possible that there's an older crater out there just waiting to be discovered, but the difficulty is in finding the crust before it erodes and you lose that early Earth history".
Could it have ended an ice age?
The timing of the impact could also explain why the world warmed around this time, according to the researchers.
Scientists believe the planet was previously in one of its "Snowball Earth" periods, when it was largely covered in ice. At some point, the ice sheets melted and the planet began to rapidly warm.
"The age of the [crater] corresponds pretty precisely with the end of a potential global glacial period," Prof Kirkland said.
"So the impact may have had significant changes to our planetary climate."
Using computer modelling, the team calculated that the asteroid struck a kilometres-thick ice sheet covering the Earth. The event would have released huge volumes of water vapour, a greenhouse gas, into the atmosphere.
This could have helped the planet's warming during the Proterozoic era – a stage when oxygen had just appeared in the atmosphere and complex life had not yet formed.
"Obviously we were very excited just with the age itself," Prof Kirkland said. "But placing that right with the context of Earth's other events makes it become really very interesting."
There is not enough modelling from the time to comprehensively test the theory, but "the rocks tell a story about the massive impact into the planet".
Another theory for the warming event is that volcanic eruptions may have pushed carbon dioxide into the atmosphere.