These U.S. Policies Can Help Catalyze Impact Investing—And Address Historic Challenges, Says Report – Forbes
In the face of severe racial inequities and income disparities laid bare by the pandemic, U.S. society faces gargantuan challenges—and impact investors and entrepreneurs can play a significant role in addressing them. But governmental policy needs to do a lot of the heavy lifting. That means catalyzing investment by strengthening some existing policies and creating new ones.
That's the message of Private Capital, Public Good, a report just issued by the U.S. Impact Investing Alliance. It lays out policy recommendations for the incoming Biden administration, federal regulators and members of Congress to take over the next two years.
"We face historic and epic problems," says Fran Seegull, executive director of the U.S. Impact Investing Alliance. "Private capital can't do it alone. Government can't do it alone. This is about a partnership."
The report discusses 12 recommendations presented under two themes. One focuses on the role of existing community investing programs, ("Transforming community investing to confront inequality") , the other on stakeholder capitalism, ("Accelerating stakeholder capitalism to advance American economic leadership").
Community Investing
Community investing targets the "need to counteract decades of deliberate underinvestment in Black, tribal, rural and other marginalized communities" by tapping Community Development Financial Institutions (CDFIs) and Minority Depository Institutions (MDIs), plus tax credit programs. Since Covid first devastated US. businesses, especially small companies, CDFIs and MDIs have played an oversized role in helping underserved communities survive through loans to businesses, individuals, affordable housing projects and such nonprofit groups as local health clinics, according to Seegull.
With that in mind, the report calls for an expansion of the CDFI Fund, which currently has an annual allocation of about $250 million, to at least $1 billion, to help out the more than 1,000 CDFIs in operation and "fortify their balance sheets," says Seegull.
An additional recommendation is to strengthen the Community Reinvestment Act (CRA), which was passed in 1977 to address decades of redlining in mostly Black neighborhoods, by encouraging banks to help meet the banking needs of low-income areas. That would include, for example, addressing what Seegull calls the "grade inflation" of CRA projects, by which nearly 90% of banks receive an often undeserved satisfactory score. Another possibility: that considerations related to what's called environmental racism, such as the proximity of low-income neighborhoods to polluting power plants, be part of the CRA.
And another: introduce mandated, standardized reporting about Opportunity Zone investment.
Stakeholder Capitalism
As for stakeholder capitalism, meaning taking into account considerations other than short-term shareholder gains, one recommendation is to introduce a regulatory requirement that corporations issue Environmental, Social and Governance (ESG) disclosures. In 2019, the Business Roundtable made a public commitment to stakeholder capitalism, but it didn't come with many specifics, according to Seegull. "This is a real mechanism for accountability," she says. The report also suggests investigating developing similar disclosures for large private companies.
There's also the related matter of addressing what Seegull calls "regulatory backsliding" by regulators. In October, the Department of Labor issued a new "factors" rule that limited the ability of retirement plans to take into account ESG considerations. Also, in September, the SEC approved rules making it harder for investors to submit shareholder proposals.
It all relates to a question of U.S. competitiveness, according to Seegull. "Europe is really leading on disclosure and the U.S. is lagging," she says. "Our regulations need to keep step with reality and keep step with the market. We're getting left behind."
A bigger, related move: Using the U.S. Development Finance Corp., which focuses on investment in emerging markets, as a model for creating a domestic investment vehicle to target sustainable job creation in the U.S. That one's a tall order, Seegull says. But, she says, "This is a living document that we will be modifying and updating over time."
Province announces approx. $1.9M investment in local townships – KitchenerToday.com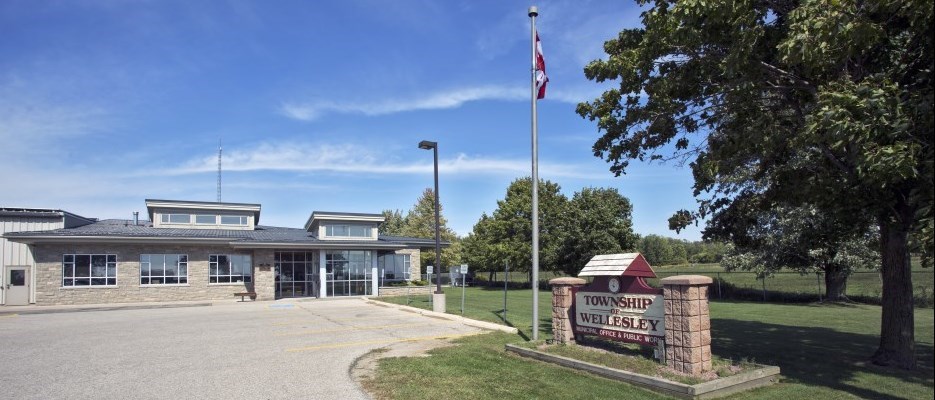 A funding boost to our local townships announced by the provincial government today, as MPP for Kitchener-Conestoga Mike Harris Jr. announced almost $1.9 million dollars in investments for infrastructure projects in the townships of Wellesley, Wilmot and Woolwich. Those funds made available through the Ontario Community Infrastructure Fund (OCIF) are said to come through the province's continuing effort to support municipalities "as they build and repair roads, bridges, water and wastewater infrastructure."
In a release, MPP Harris Jr. said the funding will help local municipalities in moving forward with their infrastructure priorities and asset management planning needs in 2021. Of the nearly $1.9M investment, Wellesley will receive $518,917, Wilmot will be receiving $728,765 and $630,843 will go to Woolwich.
"This is part of my commitment to support our local municipalities and make our community the best place to live and grow." said Harris.
Part of a larger investment effort, the funds come as part of the province's approximately $200 million commitment to 424 communities to help address core infrastructure products and other planning needs this year. Also commenting on the province-wide effort was the Minister of Infrastructure Laurie Scott, who said the investment in infrastructure projects has the government "strengthening and building communities."
"This is part of our ongoing commitment to support small, rural and northern municipalities across Ontario, providing stable funding needed to build long-term economic resilience."
Funding through the Ontario Community Infrastructure Fund provides stable and predictable funding for rural and northern communities with populations under 100,000. The province also provides funding to communities through the Canada Infrastructure Program – a $30-billion, 10-year program shared between federal, provincial and municipal governments.
Ovintiv faces proxy challenge from investment firm Kimmeridge – The Globe and Mail
Kimmeridge Energy Management Co on Tuesday launched a proxy fight against Ovintiv Inc to win three seats on the oil producer's board.
The private investment firm urged Ovintiv to alter its capital spending, focus on governance and said that the board had allowed Ovintiv to become an environmental laggard, trailing peers on key environmental metrics.
Kimmeridge has nominated its founder Ben Dell, Cambiar Investors' Katherine Minyard and Columbia University research scholar Erin Blanton as independent directors to Ovintiv's board.
Ovintiv, responding to the Kimmeridge notice, said it will carefully review the nominations.
Kimmeridge owns 2.5% of Ovintiv's common shares and is one of the oil driller's top ten shareholders.
"Despite our best efforts to engage constructively with the company, the Board was dismissive of our recommendations to help position Ovintiv as a leading E&P," said Mark Viviano, managing partner and head of public equities at Kimmeridge.
Earlier this month, Kimmeridge had urged Ovintiv to focus on capital allocation, management compensation issues and establishing environmental strategy.
Your time is valuable. Have the Top Business Headlines newsletter conveniently delivered to your inbox in the morning or evening. Sign up today.
NEW Fidelity Investment Solutions: Fidelity Multi-Asset Innovation Fund and Fidelity All-in-One ETFs – Canada NewsWire
TORONTO, Jan. 26, 2021 /CNW/ – Fidelity Investments Canada ULC ("Fidelity"), one of Canada's top investment management firms, today launched new investment products available to Canadian financial advisors and investors – Fidelity Multi-Asset Innovation Fund, Fidelity All-in-One Balanced ETF/ETF Fund and Fidelity All-in-One Growth ETF/ETF Fund.
"In today's uncertain times, Canadian financial advisors and investors are looking for more stability to help them achieve their investing and life goals − balanced funds are an ideal solution for this. Moreover, investors are looking to invest with managers that have the experience and global resources to navigate and capitalize on the constant changes all around us", said Kelly Creelman, Senior Vice President, Products & Marketing. "With today's launch of Fidelity's new products, we are meeting demand by offering advisors and investors convenient ways that can help them grow their savings in a balanced manner."
Fidelity Multi-Asset Innovation Fund
Fidelity Multi-Asset Innovation Fund harnesses the experience of renowned portfolio managers Mark Schmehl, Jeff Moore and Michael Plage. This new fund leverages the vast research resources of Fidelity that span across asset classes and the globe. This global balanced mandate aims to achieve a high total investment return by investing primarily in, or providing exposure to, a mix of equity and an expansive set of fixed income securities of U.S. and other issuers from around the world.
"Mark Schmehl's strong historical track record in equities coupled with the fixed income investing acumen of Jeff Moore and Michael Plage form the basis of the new Fidelity Multi-Asset Innovation Fund, "said Creelman. "By bringing Mark's focus on positive change and Jeff's and Michael's focus on income and risk mitigation, this Fund can serve as a core holding for advisors and investors aiming for strong risk-adjusted returns with lower volatility."
When investing in equity securities, portfolio manager Mark Schmehl seeks to identify companies that are positioned to benefit from innovative emerging technologies or business models. On the fixed income side, portfolio managers Jeff Moore and Michael Plage aim to generate income while focusing on mitigating risk through investing in global investment grade bonds, higher yielding lower quality fixed income securities and more.
Fidelity All-in-One ETFs
Fidelity All-in-One ETFs are a convenient and cost-efficient one-ticket solution for advisors and investors looking for exposure to a globally-diversified portfolio of stocks and bonds. These ETFs, sub-advised by Geode Capital Management LLC, will provide broad market exposure that goes beyond a passive approach, by harnessing the power of Fidelity Factor ETFs and Fidelity's systematic and active fixed income management. We have combined the best features of an ETF – choice, simplicity, and cost – with the attraction of professional management. The Fidelity All-in-One ETFs are designed with strategic asset allocation and portfolio rebalancing with indirect management fees from the underlying ETFs. These funds are expected to begin trading on the NEO Exchange effective January 26, 2021. They are also available in mutual fund versions.
Fidelity All-in-One Balanced ETF (FBAL) aims to achieve capital growth through total returns by using a strategic allocation approach. It invests primarily in underlying Fidelity ETFs that provide exposure to a diversified portfolio of global equity and fixed income securities. It generally follows a neutral mix of 60% global equity securities and 40% global fixed income securities.
Fidelity All-in-One Growth ETF (FGRO) seeks capital growth through a strategic allocation approach with generally more emphasis on equities. It invests primarily in underlying Fidelity ETFs that provide exposure to a diversified portfolio of global equity and fixed income securities. It generally follows a neutral mix of 85% global equity securities and 15% global fixed income securities.
For more information, visit fidelity.ca
About Fidelity Investments Canada ULC
At Fidelity, our mission is to build a better future for Canadian investors and help them stay ahead. We offer investors and institutions a range of innovative and trusted investment portfolios to help them reach their financial and life goals.
As a privately-owned company, our people and world class resources are committed to doing what is right for investors and their long-term success. Our clients have entrusted us with $175 billion in assets under management (as at January 19, 2021) and they include individuals, financial advisors, pension plans, endowments, foundations and more.
We are proud to provide investors a full range of investment solutions through mutual funds and exchange-traded funds, including domestic, international and global equity, income-oriented strategies, asset allocation solutions, managed portfolios, sustainable investing and our high net worth program. Fidelity Funds are available through a number of advice-based distribution channels including financial planners, investment dealers, banks, and insurance companies.
Read a fund's prospectus and consult your financial advisor before investing. Exchange-traded funds are not guaranteed, their values change frequently, and past performance may not be repeated. Commissions, management fees, brokerage fees and expenses may all be associated with investments in exchange-traded funds and investors and may experience a gain or loss.
Find us on social media @FidelityCanada
SOURCE Fidelity Investments Canada ULC
For further information: Chris Pepper, Vice-President, Corporate Affairs Fidelity Investments Canada ULC T: (416) 307-5388, M: (416) 795-7762, E: [email protected]
Related Links