This is Japan's first AI-generated manga comic. But is it art? – CNN
In his latest comic "Cyberpunk: Peach John," manga author Rootport imagines the
Japanese
folklore hero Momotaro — who is said to have been born from a giant peach — living in a dystopian future. But while the writer created the storyline and dialogue, his sci-fi-inspired imagery was produced entirely by artificial intelligence.
In fact, the 37-year-old has never drawn a comic by hand.
The publishing house behind the work, Shinchosha, believes that "Cyberpunk: Peach John" is the world's first complete AI manga work. On sale in Japan from Thursday, it was illustrated using Midjourney, an online image generator that can produce detailed pictures based on users' prompts.
To create the panels, Tokyo-based Rootport entered a string of text descriptions, which he then refined using trial and error, to create images that matched his storyline.

Rootport gave his characters distinctive features that would help readers recognize characters as the story progresses. Credit: Shinchosha Publishing
Speaking to CNN via email, the anonymous author, who uses the pen name Rootport due to privacy concerns, said he completed the work in just six weeks. Spanning more than 100 pages and — unlike many manga publications — rendered in full color, a work of this scale would take over a year to complete by hand, he estimated.
Online AI imaging tools like Midjourney, DALL-E 2, Stable Diffusion and Google's Imagen have exploded in popularity since they became publicly available last year. Yet they remain in their infancy, meaning that the author sometimes struggled to produce what he called "the perfect image for a specific scene."
For one thing, Midjourney was not able to directly replicate existing characters in new poses or with different facial expressions. To get around this, Rootport gave his characters distinctive features (such as pink hair, dog ears or a red kimono) that would help readers recognize characters as the story progresses.
"(But) even in legendary manga works, it is commonplace for the character drawings to differ between the beginning and the end of the series," he explained.
AI imaging tools also infamously struggle to accurately render human hands, which often appear with too many (or too few) fingers. For this reason, Rootport said he made a "significant compromise" by limiting scenes that pictured characters' hands.
"Hands were difficult to draw, and details tended to appear as if they were melting," he said.

Rootport, wearing gloves to protect his identity, demonstrates how he generates characters using text prompts. Credit: Richard A. Brooks/AFP/Getty Images
Redefining creativity
AI imaging tools are raising new questions about creativity and artistic integrity. In August, Colorado game designer Jason M. Allen sparked outrage when he
won a $300 art competition
with a futuristic image created using AI. Social media users questioned the artistic merit of Allen's work, though he insisted that a huge amount of work had gone into his submission. "It's not like you're just smashing words together and winning competitions," he told CNN at the time.
Similar controversies have touched the comic book world. Shortly after celebrated South Korean artist Kim Jung Gi
died last October
, a game developer published a tool allowing users to generate images resembling his comics using text prompts. The developer said he had intended it as an homage, but he soon faced furious backlash — and, as he told the online publication
Rest of World
, even death threats — from Kim's fans.
But Rootport insisted that his comic book, which includes a 10-page how-to guide telling readers how to produce their own AI-generated manga, should be considered a work of art. He likened arguments in favor of AI art to those used to defend Marcel Duchamp's "Fountain" — a porcelain sculpture of a urinal — or Andy Warhol's "Campbell's Soup Cans."
"If you consider their works, which utilize existing industrial products and label designs, to be art, there is no rational reason to treat AI differently."
The author reported that his work was positively received when he posted a preview of the comic online, although some people on social media have expressed their disapproval. One Twitter user
described
the project as "an absolute insult to manga and mangaka (manga artists) everywhere." Another
wrote
: "Weird to publish a manga by AI when your country (has) some of the most talented artist in existence."
But the author said he does not envisage AI putting artists out of work anytime soon. He compared his process to making music using MIDI instruments, in that the technology "excels at quickly turning mental images into reality."
"Just as few composers would claim that MIDI makes human orchestras unnecessary, I do not believe that human manga artists will become unnecessary," he added. "Both humans and AI create based on learned data from the past. However, humans can create not only from data, but also from emotion, experience and as a means of communication.
"Currently, AI still does not possess emotions or experiences, nor does it have a desire to communicate. In this respect, AI cannot yet create a perfect work on its own. Human assistance is essential."
A new dawn
Beyond ethical issues, legislators and creators around the world are also grappling with copyright concerns raised by tools trained using large datasets of existing images. In January, stock photo giant Getty images announced that it was
suing Stability AI
, the company behind Stable Diffusion, for allegedly copying and processing its images without obtaining proper licenses. (In a statement to CNN, Stability AI said it "take(s) these matters seriously" and is "reviewing the documents and will respond accordingly.")
Japanese manga artist and politician Ken Akamatsu has been among the most prominent voices calling for new guidelines on AI-generated art. Posting a
video
to his personal YouTube channel, Akamatsu, who serves in the Japanese parliament's upper house, suggested that creators should be able to exclude their work from datasets used to train AI programs — or be compensated should they opt in.

Copies of "Cyberpunk: Peach John" at the office of publisher Shinchosha in Tokyo. Credit: Philip Fong/AFP/Getty Images
Rootport, however, believes that AI technology will ultimately liberate artists from the "grueling process" of creating manga, which he said often entails onerous deadlines that see artists suffering ill-health due to overworking. Tools like Midjourney could, he argued, improve the industry's "inhumane working conditions."
"It would not only make things easier for manga creators, but also has the potential to improve the quality of the stories themselves," he said.
"By reducing the amount of time spent on labor-intensive tasks, creators can devote more time and energy to the creative aspects of manga, leading to more interesting and engaging stories."
Is This The Actual Cover-Art For 'The Winds Of Winter'? – Forbes
I've penned many an article and blog post about the long, long wait between books in George R.R. Martin's fantasy series A Song Of Ice And Fire upon which the HBO hit show Game Of Thrones was based. Mostly, when I post these it's some kind of grappling with disappointment, some attempt to give up the ghost and move on from what used to be my favorite fantasy series of all time.
After all, the world has changed since A Dance With Dragons released back in 2011. I've changed, too. Maybe I should be able to move on now, nearly twelve years later. I wish I could.
Today, however, I come to you with that terrible, wonderful poisoned chalice: Hope. Winter may be coming at last, and just in time for spring. Don't get me wrong, I'm still a "chalice half-empty" kind of guy when it comes to Martin's novels. I love his writing—just not the pace of his prose.
But now we have this possible cover art for The Winds Of Winter and while it might not be the official cover art for the book it also might be. The artist, Ertaç Altınöz, released the below image a few days ago on Instagram and Art Station and it's possible this is more than just fan-art. This is, after all, the same artist who did the cover art for The Rise Of The Dragon, the new illustrated book set in Martin's fictional realm of Westeros.
I reviewed that book not too long ago, and it really does have a bunch of lovely art.
That lovely artwork on the cover of Belarion the Black Dread? That's by Ertaç Altınöz. So when he posted this cover of The Winds Of Winter, I stopped and took note:
When a follower on Instagram asked the artist if this was the official cover, since he's worked with Martin before, Altınöz replied "I have my moments David, so who knows, my friend?"
That's what we call 'playing coy' and could mean a lot of things. It doesn't rule out the possibility that this is, indeed, the long-awaited Winds Of Winter cover. Then again, it's far from a sure thing.
Let's pretend it's the real deal for a moment. If it is, that could also mean that we're getting an official announcement of some kind—perhaps even a release date!—in the not-so-distant future. In the artist's other Instagram posts, he typically notes when something is a fan poster or fan-art and he doesn't do that here. Then again, when he posts the official artwork, it usually is accompanied with some kind of publisher copyright—and this, I'm afraid, has none.
I know what you're thinking. I'm thinking it, too. This is probably nothing, signifying nothing, a bit of fan-art from an artist as hopeful as the rest of us that Martin will finish the damn book and we can all wait another decade for the last one (to probably never come out). I'm not bitter, you're bitter.
Imaginary Friends: Barcelona art show aims to connect with our inner child – The Guardian
Nine leading contemporary artists have come together to create an interactive exhibition in Barcelona for kids – and anyone in touch with their inner child.
"Before the pandemic we had the idea of mounting an exhibition of contemporary art for people of all ages, something that children could relate to but also so that older people could relive the experience of being a child and participate as if they were children," said Martina Millà, who jointly curated the show at the Fundació Joan Miró with Patrick Ronse, the artistic director of the Be-Part contemporary art platform in Belgium.
Millà added: "There's much in this exhibition that's therapeutic, above all a return to a pre-pandemic spirit after we've all suffered so much."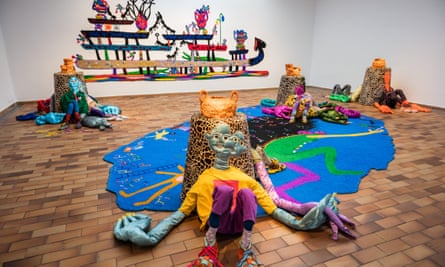 The show, titled Imaginary Friends, brings together installations from nine contemporary artists, several of whom are known to Ronse from his involvement in the 2018 Play festival of contemporary art.
Outside, at the entrance to the exhibition, visitors are invited to sit on Jeppe Hein's beguilingly convoluted bench, conceived as a riposte to the hostile architecture of street furniture, such as benches designed so that homeless people cannot sleep on them.
One of the most striking installations is We Are the Baby Gang, a collection of colourful, feathered polar bears created by Paola Pivi, an Italian artist who lives in Alaska, which Millà says is designed to make us consider the anthropomorphic way we look at animals.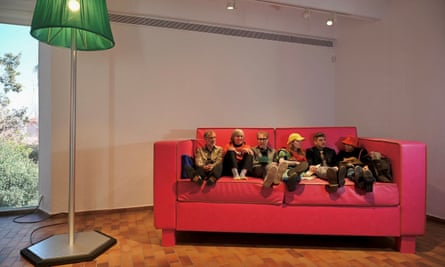 The creatures are very tactile but this part of the show is not interactive, leaving one small and disappointed boy to go into a screaming meltdown when he was told off for touching the exhibit.
That aside, the gallery is filled with the babble of excited children and the British artist Martin Creed's Half the Air in a Given Space gives them plenty of opportunity to let off steam.
Creed has filled a room almost to the ceiling with large orange balloons, creating an immediate feeling of disorientation and claustrophobia accompanied by an irresistible impulse to burst out laughing.
Perhaps the most engaging work in the show is the Swiss artist Pipilotti Rist's oversized sofa and armchair. Sitting on the enormous sofa, with your feet barely reaching the edge of the seat, never mind the floor, is an Alice in Wonderland moment that provokes a powerful physical memory of childhood.
"These works are a way of inventing a parallel life," said Millà. "It's like having an imaginary friend, and also a means of escape."
Imaginary Friends is at the Fundació Joan Miró in Barcelona until 2 July
Inspired by a Lifetime exhibition showcases art by nonagenarians – CollingwoodToday.ca
A local artist is capturing the beauty in sunset years by teaching seniors how to paint. Their work has made the walls of a local gallery.
"I thought I'd be dead before I got famous. Thank God that's not the case," jokes 92-year-old Keith Sumner, one of the many seniors whose original art is displayed at the exhibit titled Inspired by a Lifetime at Stonebridge Art Gallery.
A resident of Leacock Retirement Lodge in Orillia, he is one of the students taking lessons with Lisa Harpell, an Elmvale-based artist who has been teaching art classes to seniors in retirement homes in the region.
The work of about 40 senior artists ranging in age from 81 to 101 years old from seven retirement communities is on display at the Wasaga Beach gallery until March 27. The show includes work done by residents from Waterside Retirement Lodge (Wasaga Beach), Chartwell Whispering Pines (Barrie), Aspira Waterford Retirement Residents (Barrie), Allandale Station (Barrie), Lavita Barrington Retirement Lodge (Barrie), Bayfield House (Penetanguishene), and Leacock Retirement Lodge (Orillia).
The exhibition also includes Harpell's paintings and sculptures.
True to its title, each painting displayed for Inspired by a Lifetime has an impactful story to tell.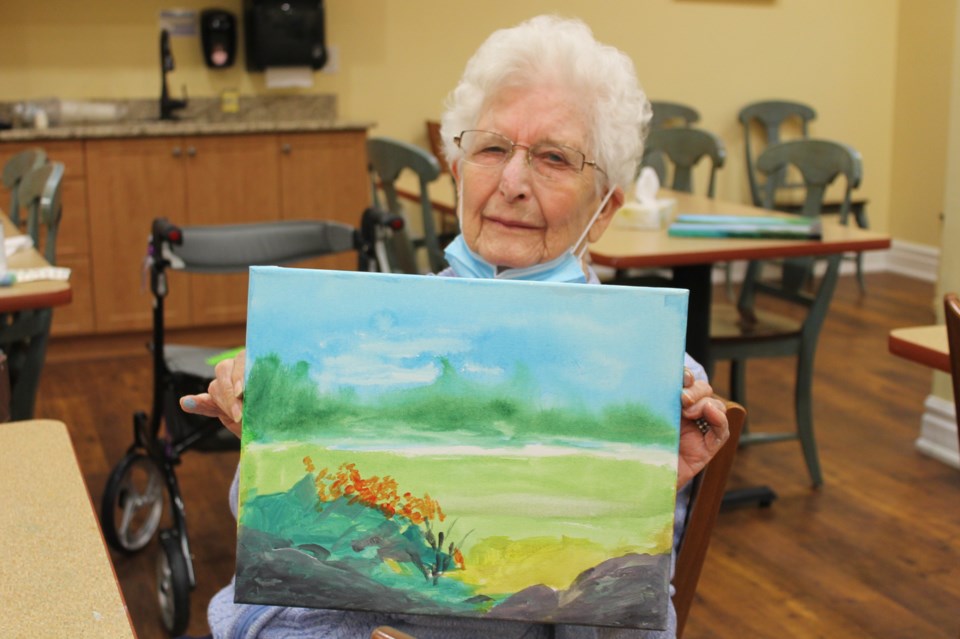 Verna Stovold, who lives with macular degeneration, is one of the many seniors attending the classes.
"Verna paints beautifully because her body remembers how to paint background, middle ground and foreground," said her teacher, Harpell. "She tells us the paint that she wants and she dabs her brush and goes right ahead and paints. She asks me all the time if it's okay if she comes to class … I say, 'Verna, you're the one that's inspiring everyone else.' Because I am holding up [her] paintings and everybody goes 'wow.'"
Stovold has two large paintings and ten studies included in the exhibition.
The process of training seniors to paint has been extremely gratifying for Harpell.
"It is deeply satisfying to the soul. It brings me to tears all the time," she said. "Because I know that what they created is worth showing. And it needs to be brought to the community not only for their sake, but for the community to realize that anyone can do this. Creativity is something that gives us hope. And that is something that is necessary in this world right now."
In her early days, Georgian College, Barrie, grad worked with the late Canadian artist, William Ronald.
"He really did bring out the kid in me. He was such a kid himself. And that [thought] is what I really try to pass on, not only his legacy. I also find that the child in every one of my students wants to just play with paint and get their hands dirty. And have some fun and laughs," says the mother of four.
Alysanne Dever, lifestyle and programs manager at Chartwell Whispering Pines Retirement Residence, said the exhibition and art classes have brought a wave of positivity for the artists, their family, and their caretakers.
"This is the first time that I have ever seen or heard of an art gallery showing for seniors with no prior experience," says Dever, noting the opening day reception crowd packed the gallery. "Really, that's what it's all about! The residents were so proud that people were complimenting and wanting to learn about what inspired them to paint specific photos. One of our residents actually sold an art piece as well and she was so thrilled!"
Dever is a strong proponent of the benefits of art therapy, and says it provides residents with a creative outlet to express what might otherwise stay bottled up.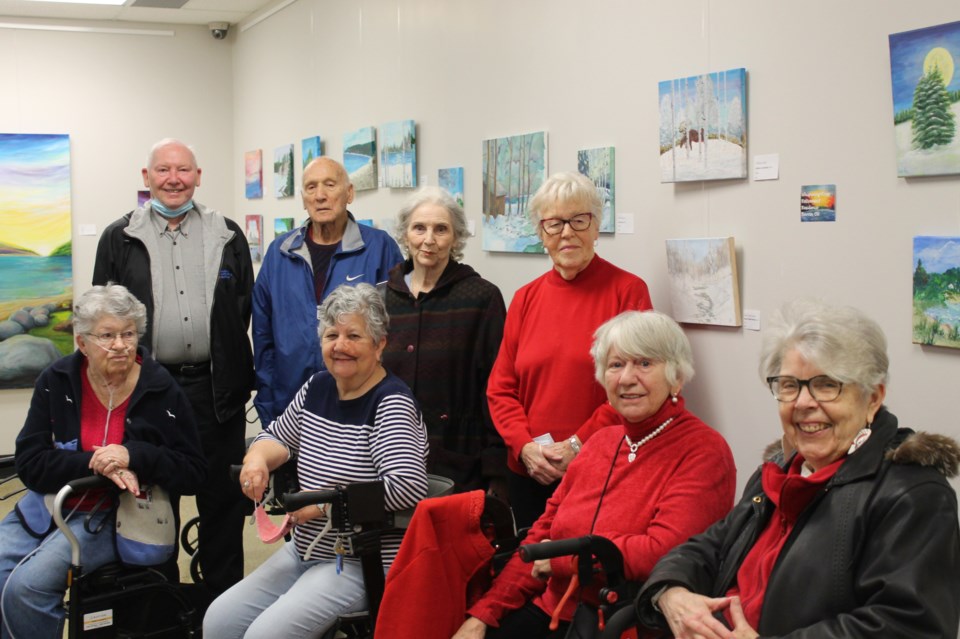 "This allows them to escape from reality, even for a little bit as they immerse themselves in their art piece in that moment," says Dever. "Art therapy encourages seniors to use their creativity and gives them a sense of control and independence, which are essential qualities as you age."
Not every brush stroke is smooth, and not every day was wrinkle-free for Harpell while she taught lessons in retirement homes. From outbreaks and whiteouts to loss of confidence, the behind-the-scenes training and coordination to make the exhibit happen meant clearing several hurdles.
And yet, Harpell says, it is during the most trying circumstances that intuitive art therapy has a larger role to play, especially among the community's vulnerable ones. Art has played such a role in Sumner's life, after he picked up the brush in his 90s.
"Painting puts you in a different mindset. Takes you away from everyday things," says Sumner. "My perception of things has changed. The sky is different every day… and it intrigues me. I am observing things more critically, in more detail…and painting has encouraged that."
The exhibit is supported by the Wasaga Society for the Arts, in part because it helps accomplish the society's mandate of making art accessible.
The society's interim president, Steve Wallace, said the group aims to introduce the community to all kinds of art, and to promote diversity and inclusion for artists and patrons.
The Inspired by a Lifetime exhibition runs at the Stonebridge Art Gallery until March 27 on Thursdays and Saturdays and on Monday, March 27 from 1 p.m. to 4 p.m.