This meteorite is 4.6 billion years old, and existed before the planets in our solar system were formed – CTV News
TORONTO —
A 4.6 billion-year-old meteorite discovered this spring in the U.K. predates our solar system, researchers say, and may provide insights into how life on Earth came to be.
The tiny meteorite was found in a field in Gloucestershire, resting in a horseshoe impression. It was spotted by Derek Robson, director of astrochemistry at the East Anglian Astrophysical Research Organization (EAARO), who was out searching for fragments of a meteorite with a team of space researchers after a "bright yellow-green fireball" streaked through the skies at the end of February, according to a Facebook post from EAARO.
The team had received special permission to go search for meteorite fragments during a COVID-19 lockdown. Around a month after the fireball lit up the skies, a dark stone was spotted by Robson, shining with iridescence in the mud.
Robson and EAARO, along with scientists at the Loughborough University, are studying the rock, which is thought to have travelled a distance of more than 177 million kilometres to reach Earth from its original home in the asteroid belt between Mars and Jupiter.
But it's not the distance that interests scientists — it's the age of the meteorite, and the unusual substances that the meteorite contains.
This meteorite is thought to have existed before the planets of our solar system came together.
"It doesn't appear to have undergone thermal metamorphism, which means it's been sitting out there, past Mars, untouched, since before any of the planets were created, meaning we have the rare opportunity to examine a piece of our primordial past," Shaun Fowler, a specialist in electron microscopy at the Loughborough Materials Characterisation Centre, said in a press release.
"It's a scientific fairy-tale," Sandie Dann, a professor at Loughborough University, said in the release. She has known Robson since 1997. "First your friend tracks a meteorite, then finds it and then gifts a bit of this extra-terrestrial material to you to analyze.
"At this stage, we have learned a good deal about it, but we've barely scratched the surface."
Using tools such as electron microscopes to observe the surface texture of the meteorite in fine detail, scientists have begun to compile what the chemical structure and composition of the meteorite is.
The meteorite is in the classification "carbonaceous chondrite," which comprise only 5 per cent of meteorites that fall to Earth. Chondrite is one of two types of stoney meterorites, while carbonaceous chondrite refers to the makeup of the meteorite itself. These meteorites often contain ancient organic material.
"Carbonaceous chondrites contain organic compounds including amino acids, which are found in all living things," Robson said in the release.
"Being able to identify and confirm the presence of such compounds from a material that existed before the Earth was born would be an important step towards understanding how life began."
Fowler said that the majority of the meteorite is made up of minerals "such as olivine and phylloscilicates" as well as round grains commonly found in chondrites called chondrules.
"But the composition is different to anything you would find here on Earth and potentially unlike any other meteorites we've found – possibly containing some previously unknown chemistry or physical structure never before seen in other recorded meteorite samples," he added.
If the organic compounds in the meteorite could be identified and studied further, it may add credence to the theory that meteorites brought key amino acids to Earth's surface during its early days, adding the building blocks of life to Earth's "primordial soup."
Jason Williams, managing director of EAARO and a member of the team that went searching for the meteorite, said in the Facebook post that it is important to analyze meteorite samples as soon as possible when they have "volatile organic compounds."
"While curating the meteorite fragments we noticed they exhibited a strong odour which we believe indicates the presence of volatile organic substances that may provide an exciting insight into the origin of this material and the early solar system," he said.
The University of Sheffield, as well as overseas specialists, will also be helping EAARO in analyzing the meteorite, working to uncover the secrets this ancient piece of our solar system may contain.
'Eye of Sauron' volcano and other deep-sea structures discovered in underwater 'Mordor' – Livescience.com
Researchers exploring the Indian Ocean have discovered the remains of a collapsed underwater volcano with an uncanny resemblance to the all-seeing "Eye of Sauron" from J.R.R. Tolkien's famous fantasy series "The Lord of the Rings," as well as two other seafloor structures named after places in Tolkien's Middle-earth.
The eye is actually an oval-shaped depression measuring 3.9 miles (6.2 kilometers) long by 3 miles (4.8 km) wide. Called a caldera, this giant divot is left over from the ancient collapse of a deep-sea volcano. The caldera is surrounded by a 984-foot-tall (300 meters) rim, giving the impression of eyelids, and an equally tall cone-shaped peak at the center, which looks like a pupil, according to The Conversation. The unusual structure is located 174 miles (280 km) southeast of Christmas Island ― an Australian external territory off mainland Australia ― at a depth of 10,170 feet (3,100 m).
A team of researchers discovered the structure while onboard the ocean research vessel Investigator, owned by Australia's Commonwealth Scientific and Industrial Research Organisation (CSIRO), on the 12th day of an expedition to Australia's Indian Ocean Territories. The researchers used multibeam sonar to create 3D maps of the caldera and the surrounding seafloor.
Related: 5 colossal cones: Biggest volcanoes on Earth
Like other calderas, this one formed when the peak of the original volcano collapsed, according to the researchers.
"The molten magma at the base of the volcano shifts upwards, leaving empty chambers [below]," chief scientist Tim O'Hara, senior curator at Museums Victoria in Australia, wrote in The Conversation. "The thin, solid crust on the surface of the dome then collapses, creating a large, crater-like structure."
The area surrounding the volcanic crater is also home to two other noteworthy structures.
"Our volcanic 'eye' was not alone," O'Hara wrote. "Further mapping to the south revealed a smaller sea mountain covered in numerous volcanic cones, and further still to the south was a larger, flat-topped seamount."
Continuing the connection to Tolkien's fantasy epic, the researchers named the cone-covered mountain Barad-dûr, after Sauron's main stronghold, and the seamount Ered Lithui, after the Ash Mountains, both of which are found alongside the Eye of Sauron in the evil realm of Mordor.
The Ered Lithui seamount is part of a cluster of seamounts thought to date back about 100 million years, O'Hara wrote. The Ered Lithui seamount was once above the water's surface, giving it its flat top, and it has gradually sunk to around 1.6 miles (2.6 km) below sea level.
Over millions of years, sand and sinking detritus — particulate matter, including plankton, excrement and other organic matter — have coated the seamount in a thick layer of sediment around 328 feet (100 m) deep. However, the caldera remains relatively uncovered, suggesting it may be significantly younger, O'Hara said.
"This sedimentation rate should have smothered and partially hidden the caldera," O'Hara wrote. It also "looks surprisingly intact for a structure that should be 100 million years old."
This freshness suggests that the volcano was created, and subsequently collapsed, after the seamount began sinking into the ocean.
"It is possible that volcanoes have continued to sprout long after the original foundation," O'Hara wrote. "Our restless Earth is never still."
Originally published on Live Science.
Europe's robotic arm and Russian's Nauka on their way to ISS – SpaceWatch.Global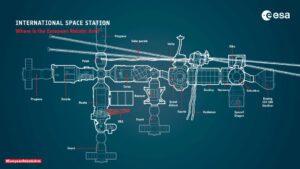 Paris, 23 July 2021. – The European Robotic Arm (ERA) is on its way to the International Space Station (ISS) after its launch from the Baikonur Cosmodrome in Kazakhstan, the European Space Agency (ESA) said.
The 11-m-long robot is travelling folded and attached to what will be its home base – the Multipurpose Laboratory Module, also called 'Nauka', ESA said. The Proton-M booster placed Nauka and ERA into orbit around ten minutes after liftoff, nearly 200 km above Earth, the agency said.
ERA is capable of 'walking' around the Russian parts of the orbital complex. It can handle components up to 8000 kg with 5 mm precision, and it will transport astronauts from one working site to another.
The Russian Nauka module ('nauka' means 'science' in Russian) was delayed for years due to technical problems that Roscosmos, the Russian space agency, finally solved.
Space News quoted Russian sources yesterday that Nauka suffered further problems after reaching orbit. The space agencies – NASA and Roscosmos – did not comment these rumors.
New 3D images of shark intestines show they work like Tesla valves – CTV News
TORONTO —
Despite sharks being frequently cast as the 'scary creature with large teeth' in our collective imagination, not a lot is known about what sharks actually eat and how they can go so long between meals.
But new 3D imaging may have unravelled some of those digestive mysteries by creating a better picture of what a shark's intestines look like.
According to a new study published in the journal Proceedings of the Royal Society B, researchers have made images using CT scans that allow a closer look at the animal's spiral intestines, which may allow it to digest food slowly.
"It's high time that some modern technology was used to look at these really amazing spiral intestines of sharks," Samantha Leigh, assistant professor at California State University and lead author of the study, said in a press release. "We developed a new method to digitally scan these tissues and now can look at the soft tissues in such great detail without having to slice into them."
Researchers took CT scans of around three dozen shark species from specimens preserved at the Natural History Museum of Los Angeles. This process involved taking a series of X-rays from different angles and then combining those flat images to produce a 3D one.
This meant researchers didn't have to dissect a shark and disturb the organs involved.
"Intestines are so complex, with so many overlapping layers, that dissection destroys the context and connectivity of the tissue," co-author Adam Summers, a professor based at UW Friday Harbor Labs, explained in the release.
"It would be like trying to understand what was reported in a newspaper by taking scissors to a rolled-up copy. The story just won't hang together."
By examining these 3D images, researchers were able to theorize that the spiral shape of the sharks intestines actually help them retain food for longer. The spiral shape of the gut slows down the progress of food through the shark, moving based on gravity and the contraction of the intestines.
The release explained that the sharks' intestines function similarly to a one-way valve designed by Nikola Tesla more than 100 years ago, in that it allows fluid to move in one direction without any backflow or external help from other moving parts.
Contrary to how often the shark in Jaws was seen chowing down, sharks often go for days or even weeks between meals, so these spiral intestines may help them stretch out one large meal, researchers say.
The next step for researchers is to create these structures themselves using a 3D printer, and see what happens when material passes through them in real time. The release also mentioned that these structures could serve as inspiration for technology and things such as wastewater treatment or filtering out microplastics from water.
As sharks eat a wide variety of things in the ocean and are frequently top predators, understanding more about how they digest could help us understand more about the ocean ecosystem in general.
"The vast majority of shark species, and the majority of their physiology, are completely unknown," Summers said, adding that new things are discovered every time they look closely.
"We need to look harder at sharks and, in particular, we need to look harder at parts other than the jaws, and the species that don't interact with people."