This meteorite may have just rewritten how Earth and Mars got their water – The Weather Network
Where did Earth get its abundant water? Was it really delivered by asteroids and comets? New evidence from Mars supports a different idea — that our planet has had its water all along, no impacts required.
As the only planet we know of with abundant oceans of liquid water on its surface, scientists have invested considerable effort into figuring out exactly where Earth's water originated. We know that there's water locked up in asteroids and comets. At the same time, we also know that Earth suffered heavy bombardment from these objects shortly after it formed over 4.5 billion years ago. Suggesting that there could be a possible link between these two facts isn't too much of a stretch.
Still, it's not the only hypothesis that's been considered.
"There are two hypotheses about the emergence of water. One is that it arrives on planets by accident, when asteroids containing water collide with the planet in question. The other hypothesis is that water emerges in connection with the formation of the planet," said Martin Bizzarro, from the University of Copenhagen's Centre for Star and Planet Formation, said in a press release.
Bizzarro is co-author of a new study led by Zhengbin Deng, an assistant professor at the Centre for Star and Planet Formation, which carefully examined the mineral structure of an ancient Mars meteorite known as NWA 7533 (aka "Black Beauty"). The research team's conclusions suggest that the second hypothesis — where water is simply a natural byproduct of planet formation — may be the correct one.
Meteorite 'Northwest Africa 7533', discovered in Morocco in 2012, was found to be an ancient piece of the planet Mars, which was blasted into space by an immense impact before eventually crossing paths with Earth. Credit: University of Copenhagen/Deng et al.
Black Beauty was revealed to be an ancient piece of Mars after scientists examined gases trapped in bubbles inside the meteorite. Previous studies have also shown that this meteorite was ejected from the surface of Mars during an impact that took place around 4.4 billion years ago.
During their study of NWA 7533, Deng and his colleagues discovered signs that there was already water on Mars's surface at the time of that impact.
"We have developed a new technique that tells us that Mars, in its infancy, suffered one or more severe asteroid impacts. The impact, Black Beauty reveals, created kinetic energy that released a lot of oxygen. And the only mechanism that could likely have caused the release of such large amounts of oxygen is the presence of water," Deng said in the press release.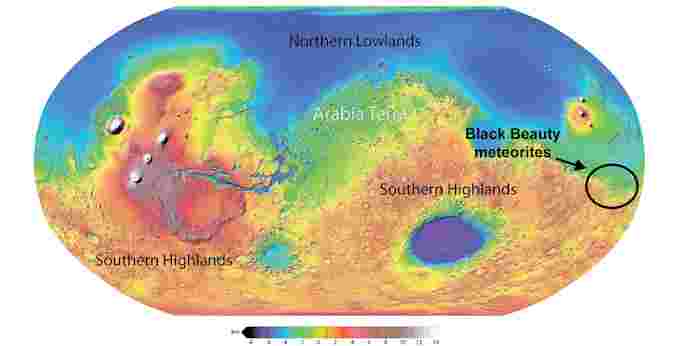 This false-colour elevation map of Mars reveals the likely location where the Black Beauty meteorites originated. Credit: NASA/University of Copenhagen
"If that is true, it is extremely exciting, because it means that the presence of water is a bioproduct of the planet formation process," Bizzarro said.
A WARMER MARS?
Additionally, as study co-author Takashi Mikouchi pointed out in a University of Tokyo press release, "such an impact would have released a lot of hydrogen, which would have contributed to planetary warming at a time when Mars already had a thick insulating atmosphere of carbon dioxide."
This combination may solve the mystery of why we see abundant evidence of liquid water on Mars' surface, despite the planet being colder in the distant past. Any water on Mars now is either completely frozen or in the form of briny deposits buried under its thick glaciers. Billions of years ago, the Sun was even cooler than it is today and would have provided less heat to Mars. So, even with a thicker atmosphere, the planet wouldn't have been warm enough for liquid water without some added help.
Related: ROM scientist shows off meteorites from Mars and the Moon
IMPLICATIONS FOR LIFE, HERE AND BEYOND
This new 4.4 billion year timeline for water on Mars' surface is roughly 700 million years earlier than previous estimates. According to Bizzarro, it would have also been long before water-rich asteroids could have bombarded Mars. So, where did the water come from? This study provides a compelling answer.
"It suggests that water emerged with the formation of Mars. And it tells us that water may be naturally occurring on planets and does not require an external source like water-rich asteroids," Bizzarro explained.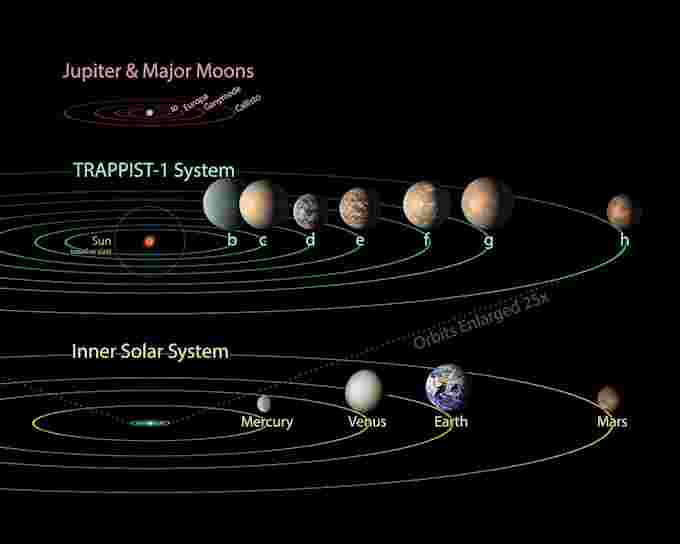 The TRAPPIST-1 planetary system, compared here to our own solar system, could be an ideal location to search for life, with three rocky planets in its 'habitable zone'. Credit: NASA/JPL-Caltech
This shifting of the narrative for water — from an accident requiring very specific conditions to simply something that happens naturally during planet formation — could make the emergence of biological life far less complicated. This has implications for Earth and Mars, and possibly even Venus. It also could change our perspective slightly as we continue to discover more rocky planets around other stars.
If this study's findings are correct, it becomes far more likely that most rocky exoplanets will have abundant water on their surface. Since water is essential for the development of life — at least life as we know it — that also increases our chances of discovering that we're not alone in the universe!
New species of crested dinosaur identified in Mexico
A team of palaeontologists in Mexico have identified a new species of dinosaur after finding its 72 million-year-old fossilized remains almost a decade ago, Mexico's National Institute of Anthropology and History (INAH) said on Thursday.
The new species, named Tlatolophus galorum, was identified as a crested dinosaur after 80% of its skull was recovered, allowing experts to compare it to other dinosaurs of that type, INAH said.
The investigation, which also included specialists from the National Autonomous University of Mexico, began in 2013 with the discovery of an articulated tail in the north-central Mexican state of Coahuila, where other discoveries have been made.
"Once we recovered the tail, we continued digging below where it was located. The surprise was that we began to find bones such as the femur, the scapula and other elements," said Alejandro Ramírez, a scientist involved in the discovery.
Later, the scientists were able to collect, clean and analyze other bone fragments from the front part of the dinosaur's body.
The palaeontologists had in their possession the crest of the dinosaur, which was 1.32 meters long, as well as other parts of the skull: lower and upper jaws, palate and even a part known as the neurocranium, where the brain was housed, INAH said.
The Mexican anthropology body also explained the meaning of the name – Tlatolophus galorum – for the new species of dinosaur.
Tlatolophus is a mixture of two words, putting together a term from the indigenous Mexican language of Nahuatl that means "word" with the Greek term meaning "crest". Galorum refers to the people linked to the research, INAH said.
(Reporting by Abraham Gonzalez; Writing by Drazen Jorgic; Editing by Ana Nicolaci da Costa)
Alberta family searches for answers in teen's sudden death after COVID exposure, negative tests – CBC.ca
A southern Alberta mother and father are grappling with the sudden, unexplained death of their 17-year-old daughter, and with few answers, they're left wondering if she could be the province's youngest victim of COVID-19.
Sarah Strate — a healthy, active Grade 12 student at Magrath High School who loved singing, dancing and being outdoors — died on Monday, less than a week after being notified she'd been exposed to COVID-19.
While two tests came back negative, her parents say other signs point to the coronavirus, and they're waiting for more answers.
"It was so fast. It's all still such a shock," said Sarah's mother, Kristine Strate. "She never even coughed. She had a sore throat and her ears were sore for a while, and [she had] swollen neck glands."
Kristine said Sarah developed mild symptoms shortly after her older sister — who later tested positive for COVID-19 — visited from Lethbridge, one of Alberta's current hot spots for the virus.
The family went into isolation at their home in Magrath on Tuesday, April 20. They were swabbed the next day and the results were negative.
'Everything went south, super-fast'
By Friday night, Sarah had developed fever and chills. On Saturday, she started vomiting and Kristine, a public health nurse, tried to keep her hydrated.
"She woke up feeling a bit more off on Monday morning," Kristine said. "And everything went south, super-fast."
Sarah had grown very weak and her parents decided to call 911 when she appeared to become delirious.
"She had her blanket on and I was talking to her and, in an instant, she was unresponsive," said Kristine, who immediately started performing CPR on her daughter.
When paramedics arrived 20 minutes later, they were able to restore a heartbeat and rushed Sarah to hospital in Lethbridge, where she died.
"I thought there was hope once we got her heart rate back. I really did," recalled Sarah's father, Ron.
"He was praying for a miracle, and sometimes miracles don't come," said Kristine.
Searching for answers
At the hospital, the family was told Sarah's lungs were severely infected and that she may have ended up with blood clots in both her heart and lungs, a condition that can be a complication of COVID-19.
But a second test at the hospital came back negative for COVID-19.
"There really is no other answer," Ron said. "When a healthy 17-year-old girl, who was sitting up in her bed and was able to talk, and within 10 minutes is unconscious on our floor — there was no reason [for it]."
The province currently has no record of any Albertans under the age of 20 who have died of COVID-19.
According to the Strate family, the medical examiner is running additional blood and tissue tests, in an effort to uncover the cause of Sarah's death.
'Unusual but not impossible'
University of Alberta infectious disease specialist Dr. Lynora Saxinger, who was not involved in Sarah's treatment, says it is conceivable that further testing could uncover evidence of a COVID-19 infection, despite two negative test results.
However, she hasn't seen a similar case in Alberta.
"It would be unusual but not impossible because no test is perfect. We have had cases where an initial test is negative and then if you keep on thinking it's COVID and you re-test, you then can find COVID," she said.
According to Saxinger, the rate of false negatives is believed to be very low. But it can happen if there are problems with the testing or specimen collection.
She says people are more likely to test positive after symptoms develop.
"The best sensitivity of the test is around day four or five of having symptoms," she said. "So you can miss things if you test very, very early. And with new development of symptoms, it's always a good time to re-test because then the likelihood of getting a positive test is a little higher. But again, no test is perfect."
Sarah deteriorated so quickly — dying five days after she first developed symptoms — she didn't live long enough to make it to her follow-up COVID-19 test. Instead, it was done at the hospital.
'An amazing kid'
The Strate family now faces an agonizing wait for answers — one that will likely take months — about what caused Sarah's death.
But Ron, who teaches at the school where Sarah attended Grade 12, wants his daughter to be remembered for the life she lived, not her death.
Sarah was one of five children. Ron says she was strong, active and vibrant and had plans to become a massage therapist after graduating from high school.
She played several sports and loved to sing and dance as part of a show choir. She was a leader in the school's suicide prevention group and would stand up for other students who were facing bullying.
"She's one of the leaders in our Hope Squad … which goes out and helps kids to not be scared," he father said.
"She's an amazing kid."
Sarah would often spend hours helping struggling classmates, and her parents hope her kindness is not forgotten.
"She'd done so many good things. Honestly, I've got so many messages from parents saying, 'You have no idea how much your daughter helped our kid,'" said Ron.
"This 17-year-old girl probably lived more of a life in 17 years than most adults will live in their whole lives. She was so special. I love her so much."
China launches key module of space station planned for 2022
BEIJING (Reuters) -China launched an unmanned module on Thursday containing what will become living quarters for three crew on a permanent space station that it plans to complete by the end of 2022, state media reported.
The module, named "Tianhe", or "Harmony of the Heavens", was launched on the Long March 5B, China's largest carrier rocket, at 11:23 a.m. (0323 GMT) from the Wenchang Space Launch Centre on the southern island of Hainan.
Tianhe is one of three main components of what would be China's first self-developed space station, rivalling the only other station in service – the International Space Station (ISS).
The ISS is backed by the United States, Russia, Europe, Japan and Canada. China was barred from participating by the United States.
"(Tianhe) is an important pilot project in the building of a powerful nation in both technology and in space," state media quoted President Xi Jinping as saying in a congratulatory speech.
Tianhe forms the main living quarters for three crew members in the Chinese space station, which will have a life span of at least 10 years.
The Tianhe launch was the first of 11 missions needed to complete the space station, which will orbit Earth at an altitude of 340 to 450 km (211-280 miles).
In the later missions, China will launch the two other core modules, four manned spacecraft and four cargo spacecraft.
Work on the space station programme began a decade ago with the launch of a space lab Tiangong-1 in 2011, and later, Tiangong-2 in 2016.
Both helped China test the programme's space rendezvous and docking capabilities.
China aims to become a major space power by 2030. It has ramped up its space programme with visits to the moon, the launch of an uncrewed probe to Mars and the construction of its own space station.
In contrast, the fate of the ageing ISS – in orbit for more than two decades – remains uncertain.
The project is set to expire in 2024, barring funding from its partners. Russia said this month that it would quit the project from 2025.
Russia is deepening ties with China in space as tensions with Washington rise.
Moscow has slammed the U.S.-led Artemis moon exploration programme and instead chosen to join Beijing in setting up a lunar research outpost in the coming years.
(Reporting by Ryan Woo and Liangping Gao; Editing by Christian Schmollinger, Simon Cameron-Moore and Lincoln Feast.)