THROBBER joins Winter/Summer Stations art installations in the Beach for month of August – Beach Metro Community News – Beach Metro News
Photo above, The Epitonium at Woodbine Park. Inset photos show THROBBER at the R.C. Harris Water Treatment Plant; and Arc de Blob at Kew Gardens Park. THROBBER photo by Abhi Kathuria/The Beach BIA. Photos of The Epitonium and Arc de Blob by Susan Legge.
The seventh annual design competition Winter Stations has returned to the Beach.
In partnership with The Beach BIA, with three of the winning five installations on exhibit until Aug.31, the annual art installation has made it home for the summer despite a number of delays caused by the COVID-19 pandemic.
Historically launched on Family Day weekend, Winter Stations held a special Spring Stations late this year, with programming in and around The Distillery Historical District.
The Beach BIA is inviting residents to safely view winning installations ARc de Blob, The Epitonium, and THROBBER as part of Summer Stations.
The stations are located at Kew Gardens adjacent to the Toronto Public Library Beaches Branch, Woodbine Park and the R.C. Harris Water Treatment Plant. Click here to view a map of the winning installations.
"In a turn-of-events, it's wonderful that the winning installations got to do a tour of the city, beginning at The Distillery District, and I'm thrilled that Summer Stations can finish their exhibit where it happens annually, at the Beaches," said Beaches-East York Councillor Brad Bradford in a press release by Winter Stations.
"We're glad to add a bit of joy to the neighbourhood this summer, and Torontonians can enjoy public art on their way to the library, park, shopping and more."
Paul Bieksa, Executive Director of The Beach BIA, is also thrilled to have the art installations on display locally.
"The Beach BIA is thrilled to invite Torontonians and visitors to experience Summer Stations in new, unique locations including Kew Gardens, Woodbine Park and the R.C. Harris property. Bring friends or family, explore the art installations outdoors along Queen Street East, shop local and enjoy great food in our neighbourhood."
Bieksa added that the Beach Summer Stations installations would not have been possible this month "without the generous contribution from The Richards Group and the tremendous cooperation and collaboration of Councillor Bradford and the City of Toronto's Parks and Water departments."
"We are so excited to support The Beach BIA and help bring the Summer Stations to the community," added Selene Richards, Co-Founder & Director of The Richards Group.
Winning design, The Embrace, by higher-education partner Sheridan College's students, will be on exhibit at the college's Trafalgar Campus from Aug. 20 to Oct. 22.
In the press release, Winter Stations organizers said they are looking forward to resuming the regular programming and schedule in 2022 which consists of the art installations being set up along Woodbine Beach in February.
For more on the winning designs for 2021, please see Beach Metro News' earlier story at https://beachmetro.com/2021/01/22/winter-stations-2021-winners-named-but-exact-date-of-exhibition-on-woodbine-beach-yet-to-be-determined/
Winter Stations was founded by RAW Design, Ferris + Associates, and Curio, Winter Stations Design Competition was conceived as a way of using design to inspire Torontonians to visit the Beach in the winter.
For the 2021 competition theme 'Refuge', organizers invited artists to reflect back on the year left behind and consider what refuge means to each of us in their submissions.
The 2021 Winter Stations jury was co-chaired by City Councillor Bradford and Tiffany Pratt, and consisted of Mayor John Tory, Krystal Koo, Norm Li, Jacquie Comrie, Evan Perelekos and Lisa Rochon.
For more information on Winter Stations, please go to www.winterstations.com
---
Did you enjoy this article? If so, you may consider becoming a Voluntary Subscriber to the Beach Metro Community News and help us continue providing the community with more local content such as this. For over 40 years, our staff have worked hard to be the eyes and ears in your community, inform you of upcoming events, and let you know what and who's making a difference. We cover the big stories as well as the little things that often matter the most. CLICK HERE to support Beach Metro News.
Art Beat: Coast artist heads to show in New York City – Coast Reporter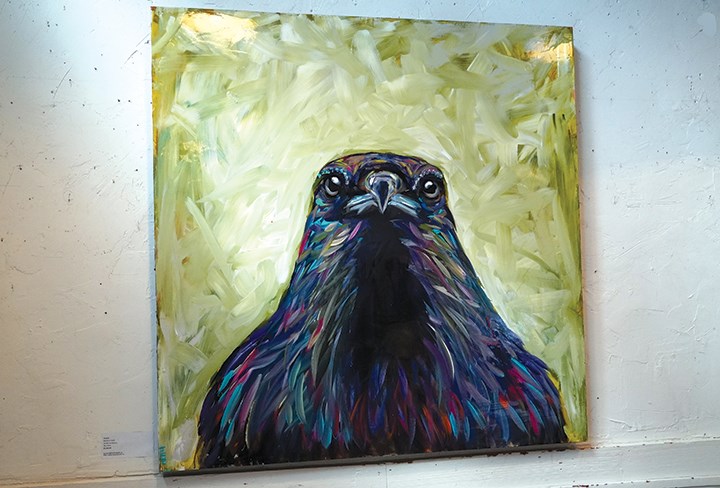 Roberts Creek artist Kandice Keith is on the U.S. East Coast this week to show her nature-inspired paintings at the Affordable Art Fair in New York City, Thursday, Sept. 23 to Sunday, Sept. 26. "It's a really amazing opportunity," Keith said in an interview. "I'm very fortunate." Keith was set to go to the twice-yearly fair in March 2020, but the outbreak of COVID-19 put an end to that plan. "This is a make-up for that show," Keith said. She's also slated to return to the NYC fair at the Metropolitan Pavilion next March. You can see some of Keith's vivid and luminous work currently on display at the Gumboot Café.
Oktoberfest
Anna Lumiere, Grant Olsen, and Coast String Fiddlers are among the performers featured at Oktoberfest, which has been on all week in downtown Sechelt until Friday, Sept. 24. A full rundown of acts and events can be found at secheltdowntown.com. Celebrations move to Rockwood Lodge on from 1 to 6 p.m. on Saturday, Sept. 25, where more live music is planned. Prizes for best lederhosen and beer stein.
Raincheck
FibreWorks Studio & Gallery in Madeira Park had planned an opening reception last Saturday for its new, juried exhibition, A Beautiful Mess: the joyful & random discovery of the artistic process. The reception has been rescheduled for this Saturday, Sept. 25, from 2 to 4 p.m.
Scent and Soul
You can meet Rohanna Goodwin Smith, author of Scent and Soul: The Extraordinary Power of the Sense of Smell, at One Flower One Leaf Gallery on Marine Drive in Gibsons, Saturday and Sunday, Sept. 25 and 26, from 1 to 3 p.m.
Live Music
Peter Van plays a solo show on piano at the Clubhouse Restaurant in Pender Harbour on Friday Sept. 24, from 5 to 8 p.m. Then, for a $5 cover on Sunday, Sept. 26 from 2 to 5 p.m. you can hear the Steve Hinton Band.
The Howesounders host a Friday night jam session at Roberts Creek Legion on Sept. 24, starting at 7 p.m. Sign up at the door to book some solo- or group stage-time. On Saturday, Sept. 25, there's a Jeevious/Jaggs Jambouree, where members of the Jeevious family and a few players from Vancouver's Staggers and Jaggs will shake things up for a few hours, starting at 7 p.m. Jim Foster is at the Backeddy Resort and Marina in Egmont, weather permitting, on Saturday, Sept. 25 from 4 to 7 p.m.
Banditry Cider on Pratt Road in Gibsons is staging its first Apple Festival on Sunday Sept. 26, with a lot of family-friendly frivolity starting at 11 a.m. The band The Burying Ground plays from 4 to 6 p.m.
Let us know about your event by email at arts@coastreporter.net.
Aging, Art and the Modern Elder opens at the 1401 Gallery | Cranbrook – E-Know.ca
Posted:
September 23, 2021
Aging, Art and the Modern Elder opens at the 1401 Gallery
Aging, Art and the Modern Elder opens at the 1401 Gallery this Friday, September 24 at 12:30 p.m.
The show will run until October 24 and the gallery is open every weekend, Fridays 12:30 to 4:30 p.m., Saturdays 10:30 a.m. to 4:30 p.m. and Sundays 12:30 to 4:30 p.m.
Entry is free although Cranbrook Arts welcomes donations towards their exterior renovation fund.
This project is from 16 artists belonging to North Okanagan Federation of Canadian Artists. All the artists are seniors and through their art they wish to educate the general community about aging, elderhood and ageism.
This project aims to promote a reconceptualization of aging and highlight the opportunities inherent in the new longevity. These artists hope to help change society's attitude toward aging and mortality from one of disease or condition to be dreaded to one of challenges, opportunities and joys.
Each artist is interviewed in an accompanying video which will also be running in the gallery.
If you have not yet visited the new 1401 Gallery, we invite you to do so.
Cranbrook and District Arts Council
Please enable JavaScript to view the comments powered by Disqus.
---
Article Share
Article Share
---
First Annual Art in the Park on Sept. 18 in Massey – Sault Star
Article content
Aside from the detailed planning and organizing of an outdoor event such as the upcoming Art in The Park at the Mouth Park in Massey, event organizers are tasked with many other jobs. Jobs including setting a date for the event, getting the word out to the public, and perhaps most important of all, finding, booking and scheduling artists to perform at the event.
Article content
This is no easy task. Yet the newly formed Friends of the Mouth group has tackled the job and is all set with performers, artists and performers scheduled for the first annual Art in The Park. The event will take place on Saturday, Sept. 18 from 11 am till 2 pm.
Art in The Park is organized by Jayson Stewart and volunteers from the Friends of the Park. Stewart is confident this event will be held annually in the early fall each year.
Several artists are scheduled to appear at this first annual event in Massey. However, Stewart is leaving the door open for others to take part.
"You don't have to be a scheduled artist to create art at our event. Bring your sketchbook or paints, write poetry, read a book, knit something… be a part of the creative fun," he says.
Scheduled performers include: tie-dye artist Amanda Robinson, potter May Cameron, Poet Charlie Smith, poet Jacqueline Denis, painter Mary Dillen, painter John Gaudrffeau, Jody Blackwell (crochet and knit hats), Theresa Minten (painter), Quilts of Velour (quilters), musician Paul Disale, Jayson Stewart (painter and fairy doors), Massey Movement and Dance, and Beth Cassidy singer/guitarist. Stewart is inviting all to attend this event.
"We would love to see you at Mouth Park for the first annual Art in The Park Day where you get to enjoy live music while watching local artists create all sorts of artwork, or just bring your swim trunks and enjoy a day at the beach."
Those who attend Art in The Park are asked to observe all COVID-19 protocols, including social distancing, wearing a mask if you can't social distance, and limit yourself to a group of no more than five people around an artist or musician.
Article content
Stewart is excited to have so many artists participate in the Art in the Park Day.
"Anyone can come out and watch the artists do what they do best, but they're also welcome to bring their own sketchbooks, easels or just a chair or picnic blanket and create their own art."
Stewart is putting out an invitation to high school students to visit the Art in Park on Saturday.
"If any high school students join us that day and do some art in the park with us, they can earn community service hours."
Interested artists and musical performers can email Friends of the Mouth friendsofmouthpark@gmail.com. Updates on the event may be found on the Friends of the Mouth website, https://www.mouthpark.com/events/artinthepark2021
The long-range forecast for that day is sunshine with a temperature of 20 degrees Celsius.