Tim Hortons Brier bubble heats up with championship round – TSN
If the first seven days at the Tim Hortons Brier was a marathon, then the next two days will be a sprint.
Eighteen teams entered the curling bubble in Calgary last week and they've been whittled down to the elite eight which will compete in the championship round of the Canadian men's curling championship.
It all starts Friday when Kevin Koe takes on Brendan Bottcher at 2:30pm et/11:30am pt on TSN 1/3 and streaming on TSN.ca, the TSN App and TSN Direct.
The top four teams in each pool will carry their records over and will play four more games against teams in the opposing pool.
With no page playoff this year, only the top three teams will make the playoffs. The top-ranked team after championship pool play will get a bye into Sunday's championship contest while the second and third-seeded teams will battle in the semifinals earlier in the day.
Like last month's Scotties Tournament of Hearts, entering championship pool play with three losses probably means you need to win out to have a chance to play on Sunday. It's a tough task, but it can be done as proven by Alberta's Laura Walker, who ran the table to get into a tiebreaker against Jennifer Jones. She won the game and reached the Scotties playoffs for the first time in her career.
Let's take a closer look at the Brier's championship pool and which teams are in the best position.
Looking Good
Wild Card 2 (Team Kevin Koe)
7-1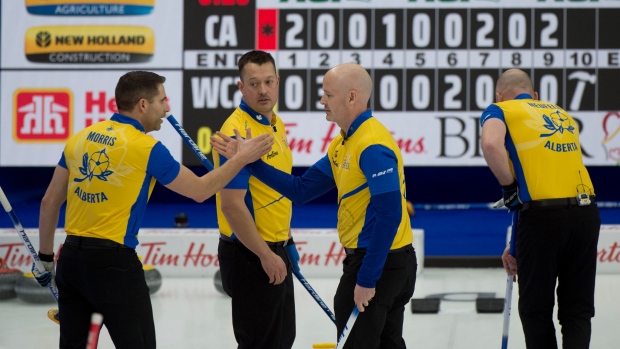 The Pool B winners are in good position to capture one of the three playoff spots thanks to their strong round-robin record.
Kevin Koe led his Calgary-based rink to wins in each of their first six games before dropping their first against Ontario's John Epping on Wednesday night. They struggled early against Quebec, but turned things around in the second half to clinch the top spot.
"We're in a good position going in. I like where we're at," said lead Ben Hebert on Thursday. "[We're at] 7-1 and we control our own destiny to still claim the top spot if we run the table. That's a good place to be, but we're going to have to pick up our game at bit.
"We've been playing pretty good, but a few misses out of me and John, not setting us up early enough. We need to get on the same page and make it a little easier on BJ and Kev. If we do that, we're going to be real tough to beat."
After a brief hiatus, John Morris is back at the Brier this year, throwing second rocks and holding the broom for Koe. In fact, the two were teammates back in the early 2000s when Koe played vice for Morris.
If the 46-year-old Koe can find his way to the top of the podium Sunday night, he would be the only skip with five Brier Tankards to his name.
Wild Card 3 (Team Glenn Howard)
7-1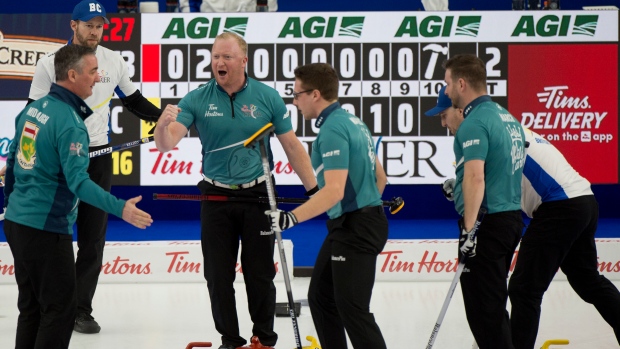 The story of this year's Brier has been 53-year-old Wayne Middaugh.
Middaugh didn't even know he'd be competing at this year's Canadian championship until last month when a snowmobile accident resulted in multiple broken ribs for former teammate and long-time buddy Glenn Howard.
Howard couldn't play so Middaugh got the call.
It's a remarkable feat that Middaugh, a three-time world champion, is able to play at all given that he has a titanium rod in his leg after breaking 11 bones during a horrific skiing accident in 2016.
Due to COVID-19 protocols, curlers at Markin MacPhail Centre have had plenty of time to rest and relax between games, simply because they don't have the various responsibilities of a normal Brier. Middaugh credits that factor as one of the reasons why he's been able to stay sharp all week.
"There's nothing that can replace being mentally fresh," said Middaugh on Thursday.
The veteran has been pure vintage inside the bubble, regularly shooting in the high 80s and making numerous highlight reel game-winners. He's gotten plenty of help from the sweeping due of David Mathers and Tim March while vice Scott Howard is playing some of the best curling of his life in Calgary.
Everything has clicked this week for Team Howard, beating perennial contenders in Brad Jacobs and Mike McEwen en route to a first-place finish in Pool A. They've won their last five games coming into the championship pool.
The skip says he isn't feeling much pressure as an underdog this week compared to his heyday.
"Expectations weren't super high," Middaugh said. "We knew we could make a lot of shots. We weren't sure if we could run with the big guys, it turns out if we play really well (we can)."
Howard has been alongside his team for the entire ride as well and has used his coaching experience with Scotland's Eve Muirhead to help where he can, said Middaugh.
"Our coach has been outstanding at getting us prepared for every game and every team," said Middaugh. "He's done all the things an awesome coach should do."
It won't get any easier in the championship round with matchups against Koe, Brad Gushue, John Epping and Matt Dunstone.
Right Behind
Canada (Team Brad Gushue)
6-2
The defending champs had a difficult schedule over their first four games, but took care of business in the second half of the preliminary round and are on a four-game winning streak coming into the championship pool.
"I think we have been getting better as the week has gone on," skip Brad Gushue said. "We're starting to feel more comfortable and more confident in our rock placement which is key for us."
Gushue, 40, has had two perfect games this week and has shot 95 per cent or better in each of his last three games.
A fourth Brier title in five years would only add to Team Gushue's legacy as one of the greatest rinks of all-time. It would also allow Gushue to join the ranks of Koe, Randy Ferbey, Kevin Martin and Ernie Richardson as the only skips to win the Brier four times.
Alberta (Team Brendan Bottcher)
6-2
Edmonton's Brendan Bottcher is in familiar territory at the Canadian championship.
For the fourth straight year, the 29-year-old has led his rink out of the Saville Community Sports Centre into a good position to make the playoffs.
"It's a long week," Bottcher said. "It started out OK, I think we're gaining some momentum here and I hope we can take that through into the last couple days."
Alberta's round robin finale against British Columbia was delayed nearly an hour due to ice repairs, but they were able to get back on track when play resumed to avoid the dreaded third loss. Bottcher made a beautiful game winning takeout with the last throw of the game to pick up the victory.
Bottcher's rink became the first in history to lose three straight Brier finals when they fell to Gushue in Kingston last year.
Will they get over the hump in the curling bubble?
Saskatchewan (Team Matt Dunstone)
6-2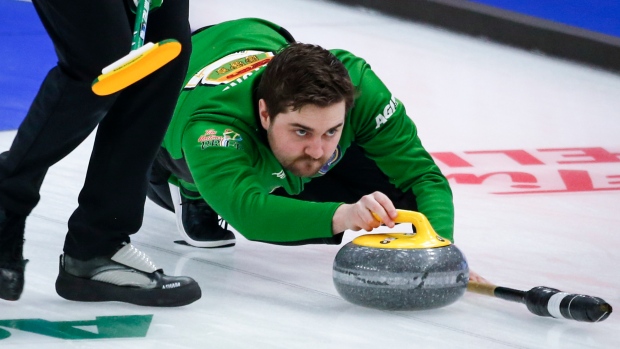 For the second straight year, 25-year-old Matt Dunstone and his rink are in a good position heading into the championship pool.
"We just accomplished step one of three ultimately," Dunstone said. "So it doesn't change. The arena, the rocks, everything stays the same come tomorrow."
Last year in Kingston, Ont., Team Dunstone had a 6-1 record after round-robin play and ended up with the bronze medal, the best result for the prairie province since 2015.
Whatever happens over the next couple days, Dunstone says his team is just grateful they get to curl at all.
"We're out here trying to enjoy this as much as possible because we haven't had curling in a year. To come back and not only play, but play on the biggest stage," he said. "This is about as good as it gets and that's our perspective going into this. Win or lose that's not going to change, but obviously we're going to go out there, compete our asses off and play well."
Ontario (Team John Epping)
6-2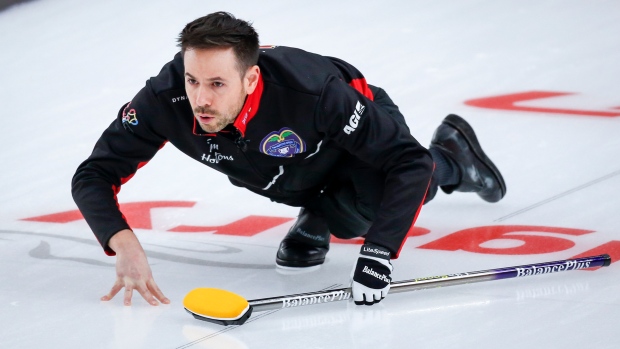 Toronto's Team John Epping kicked off the Brier last Friday night with a 6-2 loss to Gushue and the defending champs.
They've turned things around since and have been one of the better squads inside the bubble, highlighted by a win over previously undefeated Team Koe.
Their skipper is getting hot at the right time as well, shooting 91 per cent or better in the last two games.
Epping lost to Brad Jacobs in the second playoff tiebreaker at last year's Brier.
In The Mix
Northern Ontario (Team Brad Jacobs)
5-3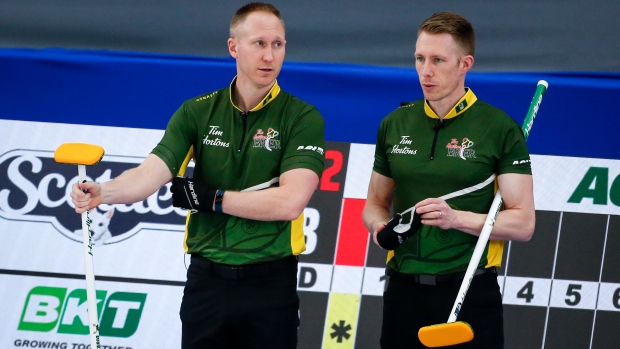 For the second straight year, Brad Jacobs and his Sault Ste. Marie rink will likely have to run the table in the championship pool to have a shot at the playoffs.
A tough 8-6 defeat to Wayne Middaugh in their round-robin finale gave them their third loss of the week.
They had three losses in round-robin play last year as well and still needed to win a pair of tiebreakers to make the page playoff after putting up a 4-0 record in the championship round.
If Team Jacobs was able to do it once, there's a good chance they can find a way to do it again.
The 35-year-old Jacobs has made the playoffs in each of his six appearances at the Brier since winning his first and only Tankard in 2013.
Manitoba (Team Jason Gunnlaugson)
5-3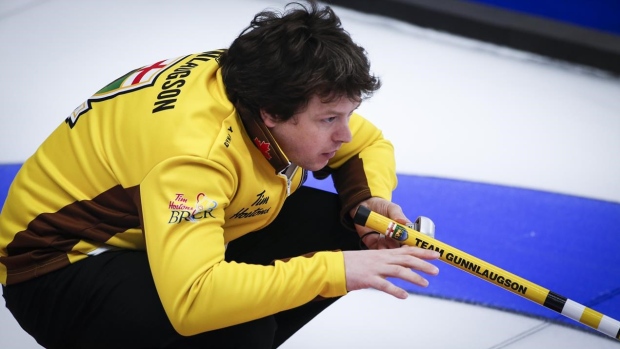 After winning their first five games, Manitoba's Team Jason Gunnlaugson dropped their final three round-robin games and will be in for an uphill battle in the championship round.
They lost games to Middaugh and British Columbia's Jim Cotter on Thursday after attempting difficult shots with their last throws.
In his first Brier appearance, last year in Kingston, Gunnlaugson held a 5-2 pool play record before losing all four games in the championship round.
Gunnlaugson faces Koe, Gushue, Epping and Dunstone on the schedule over the next couple days.
Maple Leafs News & Rumors: Campbell, Spezza, Engvall, Calling Leaders – The Hockey Writers
Where did Saturday's game come from? In the three seasons that I've covered the Toronto Maple Leafs, it was one of the strangest games I watched. The team was overwhelmed. There was every chance to come in and play well against what should have been an under-manned Pittsburgh Penguins' squad; but, a final score of 7-1 for the Penguins shows it didn't happen.
Related: Frederik Andersen's Legacy: One of the Best Maple Leafs' Goalies Ever
The question that remains for the Maple Leafs as a team is whether this current funk is a short one or whether it's symptomatic of deeper issues. There's a saying attributed to William Arthur Ward that "The pessimist complains about the wind; the optimist expects it to change; the realist adjusts the sails."
The question now is what the Maple Leafs will do to adjust the sails. Although there's great value in optimism, for as optimistic a face as head coach Sheldon Keefe shows the public, having watched him in the Amazon Prime Documentary "All or Nothing," you have to know Keefe isn't singing "Kum Ba Yah" behind the scenes when he's not answering the media's questions.
Keefe's a realist and is surrounded by realists. What will happen now? In this edition of Maple Leafs' News & Rumors, I'll take a look at Jack Campbell's odd night. Second, I'll look at Jason Spezza's continuing contributions to the team. Finally, I'll consider Maple Leafs' current team leadership.
Item One: Time for a Jack Campbell Mulligan
The stats line shows that Maple Leafs' starting goalie Jack Campbell let in five goals on 21 shots during Saturday's 7-1 loss to the Penguins. That isn't the Campbell we know from either last season or thus far this season. The second period did him in when he let in four goals in 20 minutes.
By the third, coach Keefe had enough and put in Michael Hutchinson to close out the obvious defeat. Given that the 29-year-old Campbell entered the game with a 2-0-1 season's record, a goals-against-average of 1.18, and a save percentage of .953 in four games, he deserves a mulligan.
Honestly, it's hard for me to lay a guilt trip on a goalie who had, until Saturday's game, only given up two or fewer goals in each of his first four starts. Here's hoping, although Campbell might have fallen in one game, that he can get up quickly.
Item Two: Jason Spezza Continues to Produce
No surprise, the one player whose game seemed unaffected by the circumstances was Jason Spezza. He scored a goal to tie the game early and gave Maple Leafs' fans early hope that all was not lost. It was the last goal the team would score.
Related: Ron Francis' 5 Best & Worst Moves as Hurricanes General Manager
Spezza continues to show up. In six games to start the 2021-22 campaign, he's scored three goals and added two assists (for five points). Last season, he scored 10 goals and 20 assists (for 30 points) in 54 games. He shows no signs of a let-up.
Item Three: How Did Pierre Engvall Emerge with a Plus-One Rating?
One amazing scoresheet surprise has to be that Pierre Engvall emerged with a plus-one rating on the night. How does a player play 13:21 minutes during a 7-1 loss and come out on the positive side of the ledger? I have no comment on Engvall's game because I didn't notice the statistic until I looked at the box score after the game.
Engvall had an assist on Spezza's goal but was miraculously not on for any Penguins' goals. That just seems amazing and was perhaps the only positive statistic the Maple Leafs can show for the game.
Item Four: Considering Team Leadership
Each offseason the team's management gets together to talk about what moves it can make during the offseason to improve the team. Last season, the management decided to bring in outside players to provide leadership. Chief among those players was Joe Thornton. I believe he provided that aspect of leadership and the team was better for his presence. Even if his play was less than expected, he helped the team.
Related: 3 Takeaways From Maple Leafs' 7-1 Loss to Penguins
During this offseason, I believe management thought it was time for the team's internal leadership to take the next leadership step. Specifically, it was time for Jake Muzzin, Morgan Rielly, John Tavares, Auston Matthews, and Mitch Marner to take the reins. The team's management reasoned that group had seasoned enough to do that job. In addition, Wayne Simmonds and Spezza remained to help.
As a result, this season, the team is different because management didn't bring in outside players for leadership. That leadership now must come from within – starting with Matthews, Marner, and Tavares. The results on the ice suggest that it hasn't happened yet.
As my sometimes collaborator and long-time Maple Leafs' fan Stan Smith emailed me after the game, if these players are to lead they'll have to do it by example. So far, it isn't happening – not yet anyway,
If this team is to come out of its current crisis, that leadership must emerge soon.
What's Next for This Maple Leafs?
The Maple Leafs must try to shake off this blowout before they meet ex-teammate Frederik Andersen and the Carolina Hurricanes on Monday. You can only imagine that Andersen is waiting to exact some payback against his old team.
Related: Frederik Andersen's Unforgivable Sin According To Maple Leafs Fans
Winning in Carolina won't be easy for the Maple Leafs. The Hurricanes are 4 – 0. Andersen's only given up seven goals in four games, and he'll be ready. It might be another disaster, or it could be a chance for redemption. That it's the Maple Leafs' third game in four nights, this one might take some lucky bounces or the immediate emergence of Auston Matthews and Mitch Marner.
Is it too naive for Maple Leafs' fans to be optimistic?
The Old Prof (Jim Parsons, Sr.) taught for more than 40 years in the Faculty of Education at the University of Alberta. He's a Canadian boy, who has two degrees from the University of Kentucky and a doctorate from the University of Texas. He is now retired on Vancouver Island, where he lives with his family. His hobbies include playing with his hockey cards and simply being a sports fan – hockey, the Toronto Raptors, and CFL football (thinks Ricky Ray personifies how a professional athlete should act).
If you wonder why he doesn't use his real name, it's because his son – who's also Jim Parsons – wrote for The Hockey Writers first and asked Jim Sr. to use another name so readers wouldn't confuse their work.
Because Jim Sr. had worked in China, he adopted the Mandarin word for teacher (老師). The first character lǎo (老) means "old," and the second character shī (師) means "teacher." The literal translation of lǎoshī is "old teacher." That became his pen name. Today, other than writing for The Hockey Writers, he teaches graduate students research design at several Canadian universities.
He looks forward to sharing his insights about the Toronto Maple Leafs and about how sports engages life more fully. His Twitter address is https://twitter.com/TheOldProf
Wentz leads Colts to rain soaked road win over 49ers – Sportsnet.ca
SANTA CLARA, Calif. — Colts coach Frank Reich wasn't about to make the same mistake twice.
After being burned by a conservative third-down run call late in a loss to Baltimore two weeks ago, Reich put the ball in Carson Wentz's hands this time — and it paid off.
Wentz threw a 28-yard TD pass to Michael Pittman Jr. to finish off the San Francisco 49ers on Sunday night in a rain-soaked 30-18 victory.
Instead of playing for a field goal the way he did late against the Ravens that contributed to an overtime loss, Reich stayed aggressive even in the treacherous conditions.
"I felt like something about learning the lesson from the Ravens game," he said. "We had a third-and-8 and I called a run. I told the guys, `I'm not doing that again. I'm throwing a pass.' I don't care what anybody says. It really comes from trusting your quarterback and trusting your receivers."
Wentz and Pittman earned that trust, delivering numerous big plays during a driving rain storm that could have made throwing deep difficult.
Pittman had four catches for 105 yards and a touchdown. He also drew two other pass interference calls as Wentz repeatedly looked his direction as the Colts (3-4) overcame the wet conditions and an early nine-point deficit to win for the third time in four games following an 0-3 start to the season.
"It seems like he just goes into a kind of a beast mode kind of deal," running back Jonathan Taylor said of Pittman. "When the ball is in his hands, he's like, `No one is stopping me.' And if the ball is in the air, he's like, 'This ball is mine, or it's a PI. This is my ball.'"
The 49ers (2-4) dropped their fourth straight game and remained winless at home for more than a year since beating the Rams on Oct. 18, 2020, as the return of starting quarterback Jimmy Garoppolo failed to provide any spark on a wet night.
Garoppolo threw for 181 yards, lost a fumble, threw two interceptions and struggled to push the ball downfield in his first game back after missing one game with a calf injury.
"The NFL is a crazy thing," Garoppolo said. "One week, you're on top. One week, you're at the bottom of it. Every team has its ups and downs. We're at the lower point right now. But we can fight back."
Wentz and the Colts were able to do just enough on offense thanks to three pass interference penalties for 97 yards and a productive game on the ground from Taylor, who ran for 107 yards and a score.
Wentz threw an 11-yard TD pass to Mo Alie-Cox in the first quarter and then led two short TD drives following fumbles by San Francisco, leading to his 1-yard score late in the first half and Taylor's 5-yard run that made it 20-12 late in the third.
Garoppolo led a TD drive early in the fourth, cutting the deficit to 20-18 on a 14-yard throw to Deebo Samuel. But his 2-point try was batted down at the line.
The Colts then put it away by driving for a field goal and getting the late TD pass from Wentz to Pittman on another short field after Xavier Rhodes intercepted Garoppolo.
"I've got to catch them," Pittman said. "Carson can really throw it out there, so I just got to make sure that I'm the one who comes down with it."
IN THE SLOP
The driving rain storm had a big impact on the game, especially during a stretch midway through the second quarter.
Colts running back Nyheim Hines got wide open downfield on a third-down pass that slipped right through his hands.
Indianapolis then punted and Brandon Aiyuk muffed the ball before kicking it back nearly 20 yards into the end zone. He recovered it and it was ruled a touchback because he never had possession.
Wentz and Garoppolo both fumbled snaps that they recovered later in the quarter before Samuel lost a fumble for San Francisco at his own 28 on a perfect punchout by Darius Leonard.
That set up a 1-yard run by Wentz that gave the Colts a 13-12 halftime lead.
TAKE IT AWAY
The Niners came in with a league-low two takeaways but doubled that total in the first half.
Taylor fumbled on Indianapolis first play from scrimmage and Fred Warner recovered to set up a field goal by Joey Slye that made it 9-0.
Wentz then made an inexplicable decision early in the second quarter. As he was trying to run away from Nick Bosa, Wentz appeared to flip the ball forward right into Azeez Al-Shaair's hands. It was ruled a fumble.
INJURY REPORT
Colts: CB BoPete Keyes (hamstring) left in the first half and didn't return.
49ers: LT Trent Williams was scratched after aggravating an ankle injury last week in practice. Rookie Jaylon Moore made his first career start in his place. … S Jaquiski Tartt (knee), DE Dee Ford (head injury) and CB Emmanuel Moseley (back) all left the game.
UP NEXT
Colts: Host Titans on Sunday.
49ers: Visit Chicago on Sunday.
Time For Maple Leafs To Admit The Kyle Dubas Experiment Has Failed – The Hockey Writers
It's still in early in the season, but based on the reactions from Toronto Maple Leafs' fans on Sunday, you'd never know the organization has 76 games to pull their season around and get things back on track. No, after a 7-1 loss at the hands of a very depleted Pittsburgh Penguins team, Leafs Nation is freaking out over a terrible start and a lack of production from some key contributors on this Leafs' roster.
Mitch Marner has one assist in six games. Auston Matthews has played three since returning from injury and has no points. John Tavares has three points in six but is clearly slowing down. Nick Ritchie hasn't popped up on the scoresheet yet and Ondrej Kase has one goal and no helpers. The team leader in points is the player most fans often talk about trading and everyone on the roster not named Morgan Rielly, Travis Dermott, and Michael Amadio is either even or a minus player.
These six games are being seen as a microcosm of a much larger problem, one that has plagued this franchise for a few seasons now. The window to win is rapidly closing and the prospects for the roster being productive while together are dwindling. The exodus started this past offseason and it will only continue.
Dubas Hasn't Come as Advertised
Two people are responsible for this and one more than the other. You can't blame the GM without pointing a finger at the person who hired him, but the GM has been the one pulling the trigger on a series of poor decisions that have clearly caught up to this team.
When Brendan Shanahan hired Kyle Dubas to be his new general manager in July of 2014, the decision was seen as progressive and astute. Dubas was young, he had a strong handle on analytics and he was bringing in a fresh perspective. The thought was he'd crunch the numbers, look at this team in a different way and make changes accordingly.
While much of the number-crunching speculation turned out to be true, one of the first big moves Dubas made was signing John Tavares to a massive contract in free agency. Tavares was a player the Leafs didn't need, but he wanted to come home to Toronto and Dubas wanted to make a splash. Both the GM and the player got what they wanted.
Immediately the team transitioned into salary cap crisis mode. Giving Tavares $11 million over the course of seven seasons meant the Leafs were inevitably going to run into issues re-signing Nylander, Matthews and Marner. All contracts got done, but all negotiations were a bit contentious with the exception of Matthews who was pretty much going to get whatever he wanted.
Related: Maple Leafs Are Playing the Blame Game
Dubas went to work trying to plug holes in goal and on the blue line and while he was successful in some regard, he had to make sacrifices when he came to a number of crossroads. Essentially, Dubas has been lauded for his ability to work the salary cap with his numbers guy Brandon Pridham. The reality is, the two men are being applauded for barely being able to keep the team above water based on their cap restrictions.
Series of Wrong Decisions
Starting with the Tavares signing — Tavares is a great player but he wasn't a necessity for the Maple Leafs — Dubas fell down a rabbit hole of transactions that haven't panned out for Toronto. He moved Nazem Kadri for Tyson Barrie (who left in free agency then led the NHL in points for a defenseman), he traded a number of players to create cap flexibility, he made trades and signed free agents that barely moved the needle, and he lost big names to free agency, simply because he couldn't afford to keep them.
The latest losses might be among the team's most painful. Zach Hyman reportedly left the Maple Leafs over a no-trade clause. While there was talk the money was a big issue, Elliotte Friedman has reported that Hyman simply wanted security. Dubas wasn't in a position to give it to him and the Edmonton Oilers were. Meanwhile, Frederik Andersen left for the Carolina Hurricanes (for a reasonable $4.5 million over two seasons) leaving the Maple Leafs without a proven starter. Jack Campbell might be the real deal, but he's going to cost a pretty penny to keep as he's an unrestricted free agent at the end of the season.
Nick Foligno was a disaster of a trade. Joe Thornton didn't pan out. The grit is essentially all but gone and the future isn't looking as bright as it should for a GM who was going to find gems in the draft others couldn't find.
What Has Dubas Left This Team With?
What's perhaps more concerning than what Dubas has done with the roster is what he can do moving forward. As the prospect of going deep in the playoffs dwindle, some important pieces will likely be moving on.
Few expect Rielly to remain with the club after this season. He's going to get paid on the open market and the Leafs simply can't afford him. Meanwhile, even though he seems to love this team, Campbell could dart in free agency if the right offer comes along and Dubas can't match. There's always talk Auston Matthews might want to head home to Arizona and the best players on the team are taking all sorts of heat from the fan base as they band together in the face of unscrupulous critcism.
Related: Maple Leafs News & Rumors: Campbell, Spezza, Engvall & Calling All Leaders
Right or wrong, Dubas has committed to his core four guys: Tavares, Matthews, Marner and Nylander. He seems unwilling to trade any of them, even though almost everyone knows that's the one thing that can help him balance out his roster. His formula for winning hasn't worked and Dubas seems relentless in his need to beat a dead horse.
What might be the most troubling is that if he makes a move, it will likely be the wrong one. The player with the most tradeable contract is Nylander, yet he leads the team in scoring and might be the most naturally skilled player of the four. Tavares isn't going anywhere thanks to a full no-move clause and the fans seems to be chasing Marner out of town, which will inevitably bite the Maple Leafs in the a– if and when he's traded.
As Corey Landberg accurately wrote on Twitter, "Imagine being Kyle Dubas and walking into Matthews, Marner, Nylander entering their prime, Rielly and Kadri on great contracts, a solid goalie, depth all over the roster and then you turn them into this crap 4 years later."
Fans are losing their minds over the rough start to the 2021-22 season and many are blaming Dubas. What's crazy is that this downward trend started a while ago. The 7-1 loss to the Penguins only shined a light on something most fans should have been aware of.
Jim Parsons is a senior THW freelance writer, part-time journalist and audio/video host who lives, eats, sleeps and breathes NHL news and rumors, while also writing features on the Edmonton Oilers. He's been a trusted source for five-plus years at The Hockey Writers, but more than that, he's on a mission to keep readers up to date with the latest NHL rumors and trade talk. Jim is a daily must for readers who want to be "in the know."
Other content contributions include: NHLtradetalk.com, The Sportster and hosting weekly video casts, THW News and Rumors Rundown, plus Oilers Overtime.
For interview requests or to provide content info, follow Jim on Twitter or his social media accounts. They appear under his photo on articles like this one.