Time magazine names Elon Musk its Person of the Year – Al Jazeera English
Time magazine has named Tesla and SpaceX CEO Elon Musk as its Person of the Year, for an incredible 12 months of achievements in which he jockeyed for the crown of world's richest person and made his Twitter account a must-read while moving the needle on climate change, cryptocurrencies, space exploration, and universal broadband.
In April, NASA granted Musk's rocket company SpaceX an exclusive contract to put United States astronauts on the moon for the first time since 1972 – moving Musk one step ahead of rival old-guard rocket firm Boeing and one step closer to his stated goal of helping to make humans a multi-planetary species.
In May, Musk hosted Saturday Night Live, using the television show as a platform to poke fun at himself and to raise awareness of Asperger syndrome, a mild form of autism, by announcing that he has it.
In October, Musk's growing wealth received yet another turbo-charge after car-rental company Hertz said it planned to buy 100,000 Teslas for its customers. The news sent Tesla stock soaring and the electric vehicle company's valuation past $1 trillion.
Though electric vehicles comprised just 0.43 percent of all vehicles in operation in the US in the first half of this year, Tesla commanded roughly two-thirds of that market, according to Experian Automotive.
All those milestones did not quell Musk's quirky (and sometimes costly) behaviour. He regularly shares humorous memes with his 65 million followers on Twitter. Last month, Tesla shares took a knock after Musk asked in a Twitter poll whether he should sell his Tesla stock, which he has to the sum of nearly $11bn dollars, according to the US Securities and Exchange Commission.
He's also used Twitter as a platform to help move cryptocurrencies more into the mainstream. In February, Musk announced that Tesla had bought $1.5bn in Bitcoin and signalled its intent to start accepting it as payment. He also extolled Dogecoin through a series of memes that helped transform the once-joke cryptocurrency into a sought-after digital asset.
But he also showed the limits of his crypto boosterism, tweeting in May that Tesla would suspend accepting payments in Bitcoin and citing concerns over the cryptocurrency's carbon footprint.
Not just dollars and memes
The about-face on Bitcoin lent more credibility to Musk's loftier stated aims to curb climate change.
"Had the 800,000 Teslas sold in the last year been gas-powered cars, they would have emitted more than 40 million metric tons of CO₂ over their lifetimes—equivalent to the annual emissions of Finland," Time magazine wrote in its profile of Musk.
But curbing emissions is just a part of his grand vision for humanity. Musk also wants people to start colonising Mars.
"The goal overall has been to make life multi-planetary and enable humanity to become a spacefaring civilization," Musk told Time.
When asked by Time about the timeline for sending people to Mars and refueling on the Red Planet to come back to Earth, Musk responded: "I'll be surprised if we're not landing on Mars within five years."
Back here on Earth, Musk is working to close the digital divide with Starlink, a satellite broadband service with nearly 2,000 launched satellites to date. He hopes to launch as many as 42,000 more to provide internet service to underserved developing and rural communities around the globe.
Musk is also in talks with Brazil's government on how Starlink's satellites can help combat the Amazon's deforestation and forest fires. And he's taking steps to provide internet services to rural India.
But things are not all starry-eyed for the billionaire. Some former employees have accused his companies of fostering an environment where sexual harassment, poor working conditions and racism are prevalent. Earlier this year, a federal jury ordered Tesla to fork over $137m to an African American former employee at the EV maker's factory in Freemont, California, who said that Tesla turned a blind eye to racial abuse.
Tesla has been fined for regulatory violations. And the National Highway Traffic Safety Administration is looking into the safety of Tesla's Autopilot software after a complaint implicated it in a crash.
Musk's Midas touch and expanding net worth have also landed him in the inequality crosshairs and the debate over whether the government should force the rich to pay more taxes.
"A lot of the push for higher government involvement and expropriating of assets by the government is pushed by a bunch of politicians who are actually saying that resources in control of private individuals should be in control of the government. They are basically saying that they want control of the assets," Musk told Time magazine in an interview.
Born in Pretoria, South Africa, Musk moved to the US to attend Stanford University as a PhD candidate, but dropped out. He co-founded internet mapping service Zip2 and e-payment company PayPal, which were then sold to Compaq and eBay, respectively.
China cuts rates on policy loans for first time since April 2020 – CNBC
A woman walks past the headquarters of the People's Bank of China in Beijing, China.
Jason Lee | Reuters
China's central bank on Monday cut the borrowing costs of its medium-term loans for the first time since April 2020, defying market expectations, to cushion any economic slowdown.
The People's Bank of China (PBOC) said it was lowering the interest rate on 700 billion yuan ($110.19 billion) worth of one-year medium-term lending facility (MLF) loans to some financial institutions by 10 basis points to 2.85% from 2.95% in previous operations.
Thirty-four out of the 48 traders and analysts, or 70% of all participants, polled by Reuters last week predicted no change to the MLF rates, although a rising number of market participants start to forecast a rate cut.
With 500 billion yuan worth of MLF loans maturing on Monday, the operation resulted a net 200 billion yuan of fresh fund injections into the banking system.
The central bank also lowered the borrowing costs of seven-day reverse repurchase agreements, or repos, by the same margin to 2.10% from 2.20%, when it offered another 100 billion yuan worth of reverse repos into the banking system on the day, compared with 10 billion worth of such short-term liquidity tool due on Monday.
Credit Suisse chairman resigns after company probe – BBC News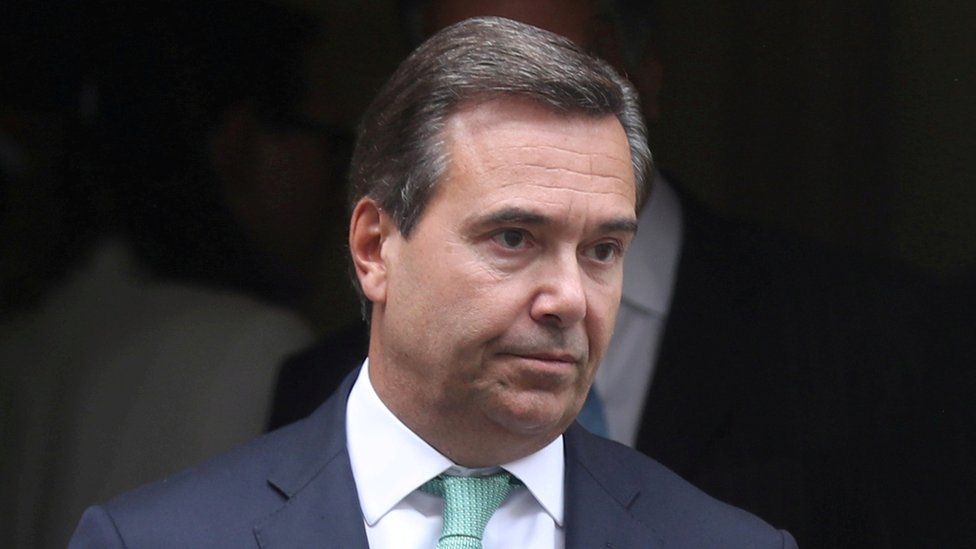 The chairman of global banking giant Credit Suisse, Antonio Horta-Osorio, has resigned with immediate effect after an internal company probe.
He was reportedly found to have broken the UK's Covid-19 quarantine rules.
The former boss of Lloyds Banking Group joined Credit Suisse after a series of scandals at the Swiss bank.
Now, Mr Horta-Osorio, who was the chairman of Credit Suisse for less than a year, has been replaced by board member Axel Lehmann.
"I regret that a number of my personal actions have led to difficulties for the bank and compromised my ability to represent the bank internally and externally," Horta-Osorio said in a statement issued by the bank.
"I therefore believe that my resignation is in the interest of the bank and its stakeholders at this crucial time," he added.
Last month, it was reported by the Reuters news agency that a preliminary investigation by Credit Suisse had found that Mr Horta-Osorio had breached Covid-19 rules.
He reportedly attended the Wimbledon tennis finals in July at a time when the UK's Covid-19 rules required him to be in quarantine.
Speaking to the BBC, a spokesperson for Credit Suisse said that the bank would give no further details on Mr Horta-Osorio's resignation other than those in its statement.
They also said that there were no plans to release the findings of the investigation.
Before joining Credit Suisse Mr Horta-Osorio was chief executive of British lender Lloyds Banking Group.
He was brought in to lead Switzerland's second-largest bank to help clean up a corporate culture marred by its involvement with collapsed investment company Archegos and insolvent supply chain finance firm Greensill Capital.
In February 2020, then-Credit Suisse chief executive Tidjane Thiam resigned after a scandal revealed the bank had spied on senior employees.

You may also be interested in:
UK government to cut funding for BBC – Mail on Sunday report
Britain's government will cut the BBC's funding by ordering a two-year freeze on the fee that people pay to watch the broadcaster, the Mail on Sunday reported.
The future of the licence-payer funded British Broadcasting Corporation is a perpetual topic of political debate, with Prime Minister Boris Johnson's government most recently suggesting its funding needs to be reformed.
Set against an inflation rate expected to reach a 30-year high of 6% or more in April, freezing the licence cost at its current 159 pounds ($217.40) would provide some relief to consumers battling sharply rising costs of living.
But it would also be a large blow to the BBC's finances as it tries to compete with privately funded news outlets and the likes of Netflix and other entertainment streaming services funded by consumer subscriptions.
In November, the government launched negotiations to agree how much the TV licence would cost, part of a five year funding settlement due to begin in April 2022.
The Digital, Media, Culture and Sport department declined to comment when asked about the Mail on Sunday report.
Culture secretary Nadine Dorries said that the licence fee settlement would be the last such agreement and tweeted a link to the Mail on Sunday article.
"Time now to discuss and debate new ways of funding, supporting and selling great British content," she said on Twitter.
The BBC declined to comment on Dorries' tweet or the Mail on Sunday report.
The opposition Labour Party said the funding cut was politically motivated.
"The Prime Minister and the Culture Secretary seem hell-bent on attacking this great British institution because they don't like its journalism," said Lucy Powell, Labour lawmaker and culture policy chief.
The BBC's news output is regularly criticised by UK political parties. Its coverage of Brexit issues – central to Johnson's government – has long been seen as overly critical by supporters of leaving the European Union.
Last week, one Conservative lawmaker said BBC coverage relating to parties in Johnson's Downing Street residence during coronavirus lockdowns amounted to a "coup attempt" against the prime minister.
($1 = 0.7314 pounds)
(Reporting by William James. Editing by Jane Merriman)