Time to Reset Expectations for World Economy With Virus Untamed

Investors banking on a coronavirus vaccine to save the world economy in 2021 need to temper their ambitions as scientists increasingly warn of a long and difficult road ahead.
While drug companies are making progress in the quest to find a cure for a disease that triggered the worst recession since the Great Depression, questions remain about how effective the first wave of vaccines would be, how easy they will be to distribute to more than 7 billion people and then how many will agree to take them.
The future for global growth relies on the answers to those questions as a new wave of the pandemic means health fears and government restrictions continue to inhibit daily life and commerce. Even when a successful immunization system does come along, it won't be an instant economic panacea, says Chris Chapman, a portfolio manager at Manulife Investment, which manages more than $660 billion.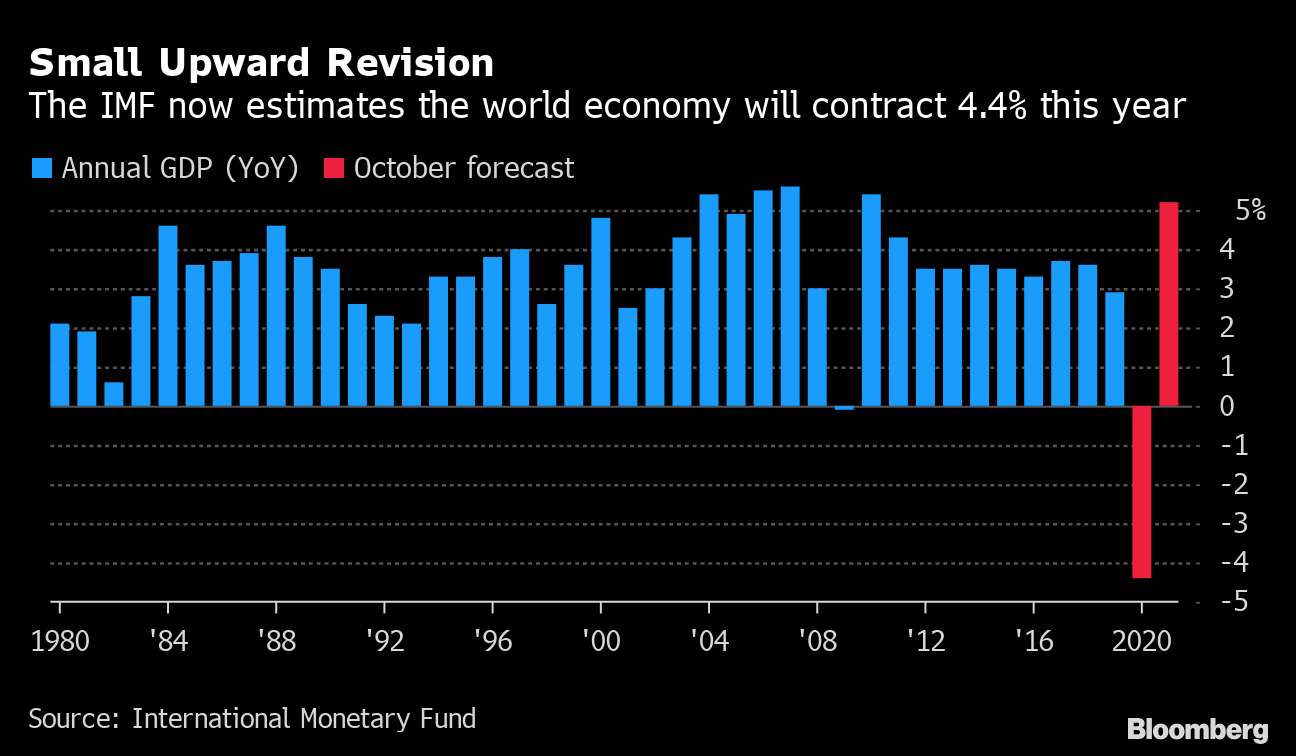 "In terms of actually getting back to pre-Covid or trend growth, it could take more than a year," said Chapman. "The timing of the recovery will be delayed, but there is still expectation of a vaccine at some point next year."
For decades, the world economy relied on central bankers and finance ministers to pull it out of crisis, on the basis that if you pump the right amount of money into an economy, a recovery will eventually follow.
This time is different, as investors look to scientists and data from vaccine and treatment trials for signs of hope just as much as they pore over stimulus plans coming out of Washington, Beijing or European capitals. The longer the hunt for an effective vaccine lasts, the weaker economic expansions will be.
To be sure, science could yet make major breakthroughs in the near term. If even only a small proportion of the population such as healthcare workers and the most vulnerable are immunized, that could make a big difference to the resumption of everyday life. Savings built up by households and businesses in 2020 could be unleashed in 2021.
Pfizer Inc. said this month it could seek emergency-use authorization in the U.S. by late November for its vaccine with German partner BioNTech SE. Moderna, another frontrunner in the race, is also looking at the possibility of an emergency approval this year if it has positive interim results next month.
Balancing Act
"There is a fair prospect that by the late spring, vaccines will be available in quantities sufficient to protect the most vulnerable groups," said Neil Ferguson, an epidemiologist at Imperial College London, and former Covid-19 adviser to the U.K. government. "But at least until then, life will unfortunately remain a balancing act between reopening society and keeping the virus in check."
Scientific hiccups may slow things down too. Johnson & Johnson paused clinical trials of its Covid-19 shot this month after a participant fell ill, weeks after AstraZeneca Plc and the University of Oxford stopped studies for the same reason. On Friday, both companies announced plans to resume their U.S. trials.
Effective treatments that would also help the economic recovery are also a mixed picture. Disappointing trial results this month for the much-hailed drug remdesivir from Gilead Sciences Inc. showed the antiviral treatment doesn't save the lives of Covid-19 patients, despite U.S. President Donald Trump extolling its benefits. Still, U.S. regulators cleared the drug for use this week and Gilead has challenged the recent findings citing other positive results.
While there are hopeful signs from some antibody treatments being tested, the steroid dexamethasone is one of the only other therapeutics showing a meaningful benefit, and is aimed at people with very severe symptoms.
Even if an effective vaccine is discovered, the logistics of distribution will still mean disruption to work, travel and leisure will remain, with only a small subset of the population expected to receive a shot in the first instance anyway.
That all spells trouble for global growth, even as data in the U.S. and euro-area are likely to show this week that it rebounded smartly in the third quarter and didn't collapse as much as once feared.
Long gone though is talk of a V-shaped recovery, as winter nears in the northern hemisphere — and with it the risk the virus spreads more easily. Bloomberg Economics's gauges of high-frequency data already point to a weakening of activity in many industrial nations in October, particularly those in Europe.
'Very Precarious'
"The virus is creating a major element of uncertainty," former Federal Reserve Chairman Alan Greenspan told Bloomberg Television last week. "Forecasting it is very precarious."
Underscoring the pressure for an end to the pandemic is the knowledge economic scars are already forming. Among them: lost jobs, record debts, corporate bankruptcies, atrophying skills, missed investment, deglobalization, frayed mental health and rising inequality.
A recent study declared the U.S. economy alone will witness "large, persistent adverse effects" in the long term that outweigh the short-term hit in part because the virus means greater unease among the public.
"This did not start as a financial crisis but it is morphing into a major economic crisis, with very serious financial consequences," World Bank Chief Economist Carmen Reinhart told Bloomberg Television. "There's a long road ahead."
Even in those parts of the world where the virus has been largely contained, consumers remain cautious. Chinese retail sales have only just begun to accelerate even though the most severe limits on movement were lifted months ago.
There is also the question of re-infection. Scientists have found it's possible to get Covid-19 more than once, with a handful of confirmed cases globally. That presents another obstacle, which a vaccine may only partially solve.
There's a high chance the coronavirus, like flu, could require regular shots to keep it at bay, meaning the virus could cast an even longer arc than already expected, cautioned Graham Medley, a professor of infectious disease modeling at the London School of Hygiene & Tropical Medicine, and member of the U.K. government's Covid-19 advisory panel.
"If second and third infections are as infectious as the first infection, and the first generation of vaccines is not very efficacious, then it's possible that Covid-19 will continue to be a major aspect of life into 2022," he said.
Source:- Bloomberg
Dan Davies- Weekly Column – Horgan lacks plan to rebuild B.C. economy – Energeticcity.ca
The good news is we now see a light at the end of the tunnel. We're able to start planning and thinking about rebuilding —about heading out to local businesses, about being able to start saving again for the future and plotting a path to personal economic recovery.
The bad news is John Horgan, and the NDP don't seem to have a plan in place for rebuilding British Columbia — and the latest proof is in the Public Accounts for 2020/21.
Normally, these are just dry numbers, and they pass without much notice. This time is different. The numbers don't lie, and they show where B.C. is at and, more importantly, where the province must go in the coming days.
The provincial deficit sits at $5.5 billion — which is a lot of money. Taxpayer-supported provincial debt has increased by $13.5 billion in 2020/21, with total provincial debt now at $87 billion. This works out to $16,919 in debt for every British Columbian.
Now, the Official Opposition backed the government in providing support, even when John Horgan was bungling the rollout of things like support for small businesses.
But we've also been clear that we need a plan to rebuild the economy. It's not just enough to hope; we need a roadmap that clearly lays out how we ensure there are jobs in every corner of the province. The NDP hasn't done that, except to spend $500,000 on a consultant from England.
We're all doing the hard work of figuring out how to get ahead in our personal lives. It's not too much to expect Premier Horgan to do the same for British Columbia. It's time for him to do his job and create a B.C. jobs plan.
What freight rail tells us about the economy – Marketplace
Warren Buffett was once asked which economic indicator he would choose if he were stranded on a desert island with access to only one set of economic statistics. There are lots of indicators out there — consumer confidence, inflation and unemployment.
But Buffett picked freight rail traffic. And for good reason.
"What we move is the economy. It's the tangible economy," said Ian Jefferies, CEO of the Association of American Railroads. "And so as the economy goes, rail goes. So when rail is doing well, it usually means the economy is running pretty strong."
Right now rail is doing well, especially when it comes to intermodal train traffic, Jeffries said. That's when products travel in containers from ship to truck or train.
"The highest volumes we've ever seen"
"For the first half of 2021 … intermodal traffic was the highest volumes we've ever seen," he said.
Intermodal train traffic was up more than 17% from the first half of last year, Jeffries said. No surprise there, because train shipments fell off when the pandemic started, like the rest of the economy. But intermodal traffic was also more than 5% higher than in 2019, which was a good year. These intermodal trains are brimming with the imported products consumers are demanding.
"This is a good sign," said Diana Furchtgott-Roth, a former deputy at the Transportation Department now teaching at George Washington University. "It's a good sign first of all that people have money to spend. And second, it's good that they have confidence to spend."
So, the freight rail tea leaves are pointing squarely toward more economic growth, right? Actually, Furchtgott-Roth said that this year, it's complicated.
Jammed ports can cause problems on the rails
U.S. ports are backed up with a traffic jam of ships full of imports. Because of that whole intermodal thing, problems at the ports can cause problems on the rails. Plus, shipments for the holidays are starting now.
It could take longer for imported products to reach store shelves, Furchtgott-Roth said.
"If we don't have enough goods shipped by rail, if the congestion continues, the prices will be higher," she said.
Freight rail also tells us about U.S. exports. Right now, rail shipments of grain are down. That's kind of weird, since farmers are producing plenty, said Joseph Schofer, who teaches civil and environmental engineering at Northwestern University. Grain might also be caught up in the international shipping snag, he said, or maybe it's a storage issue.
"If you don't have enough storage, you can't move product and the system slows down or freezes up," he said.
Ore, metal and chemical shipments are up
Rail shipments of other raw materials like ores, metals and chemicals are up, Schofer said; they're going to U.S. factories, which are ordering a lot of supplies right now.
"Because they have either expectations that they can sell more products, or they have firm orders for more products," he said.
Either way, Schofer said, it's a vote of confidence in the economy, pointing the way to more economic growth this fall. How much growth depends on COVID-19, of course, but also how long it takes to unclog the ports and sort out storage issues and other bottlenecks that could cut into the rail shipments the economy needs to keep humming.
Nova Scotia election: party leaders talk economy with Halifax Chamber of Commerce – CTV News Atlantic
HALIFAX —
Nova Scotia's Liberal leader pitched himself as a deficit slayer before a business audience on Wednesday, contrasting his budget balance goals with the spending plans of his Progressive Conservative opponent.
The differing spending strategies were on display as the two party leaders, along with the head of the province's NDP, responded to questions posed by members of the Halifax Chamber of Commerce and debated each other.
"We need to make sure that we are living within our means," Liberal Leader Iain Rankin told the business crowd. "The spending that is proposed by both opposition parties is in the billions — adding structural deficits that we cannot incur right now."
Tory Leader Tim Houston has presented a costed platform that projects $553 million in new spending in Year 1 if he's elected, with about 80 per cent of that dedicated to health care.
Houston and NDP Leader Gary Burrill told the chamber they planned to run deficits to address needs in health care, housing and long-term care.
In contrast, Rankin spoke of targeted spending to ensure the province can get back to balanced budgets over the next four years. The Liberal leader insisted that a more measured approach to spending would help preserve core government services and prevent future tax increases.
"This government has clearly shown that we will keep taxes low," he said. "When we got back to (budget) balance four times we reduced taxes for small businesses, we reduced taxes for income tax."
But Houston said big spending is needed to address challenges, particularly in the health-care sector, in which he proposes to invest an additional $430 million. "We need to be up front and honest," he said. "Big spending is required to fix health care after eight years of neglect."
The Tory leader said that even with his new proposed spending, his plan would return the province's ledger to balance within six years.
Houston highlighted his party's $140-million program that would allow companies to pay lower taxes if they put more money toward workers' salaries.
"That's a very specific government policy that will put more money into the hands of those working families that are struggling to pay for groceries, struggling for housing," he said.
Meanwhile, Burrill said the NDP — which held only five seats at the legislature's dissolution — said deficit spending is required during a time when the economy is trying to recover from one of its biggest contractions in recent history.
Burrill also said a $70-million tax break given to the province's larger corporations that took effect just prior to the pandemic effectively prevented the government from helping small businesses in a meaningful way during the lockdowns.
He warned that if the Liberals win the Aug. 17 election, they will likely cut hundreds of millions of dollars in government spending in order to achieve balanced budgets. The Liberals, Burrill added, balanced budgets during their prior mandate by cutting a film tax credit and rural economic development programs.
The NDP leader also pointed out that most jurisdictions in Canada are not planning to return to balanced budgets for the next six to eight years.
Later in the day, the Liberals, who had been revealing their campaign planks in separate announcements, released their entire platform, estimating the cost of their promises at $454.7 million over four years, including $93.2 million in Year 1.
About $127 million is committed to health care, $77.8 million to skills and job training and $183 million toward economic and business initiatives.
"It is a plan that sets this province on a clear course to recover from the pandemic," Rankin told reporters.
The Liberal leader presented four new proposals in the platform, including a $30-million, 10-year funding commitment for the Centre for Ocean Ventures and Entrepreneurship in Dartmouth, N.S., which is dedicated to researching new technologies for the ocean.
Rankin promised $6 million for the cultural sector, including for a new $3-million "content creator fund" to help boost local talent. The Liberal leader also pledged to create a new cabinet position: minister of digital government, responsible for overseeing initiatives in the digital economy.
This report by The Canadian Press was first published Aug. 4, 2021.