Tom Brady Super Bowl history: Biggest wins and losses, overall record, stats by game – Sporting News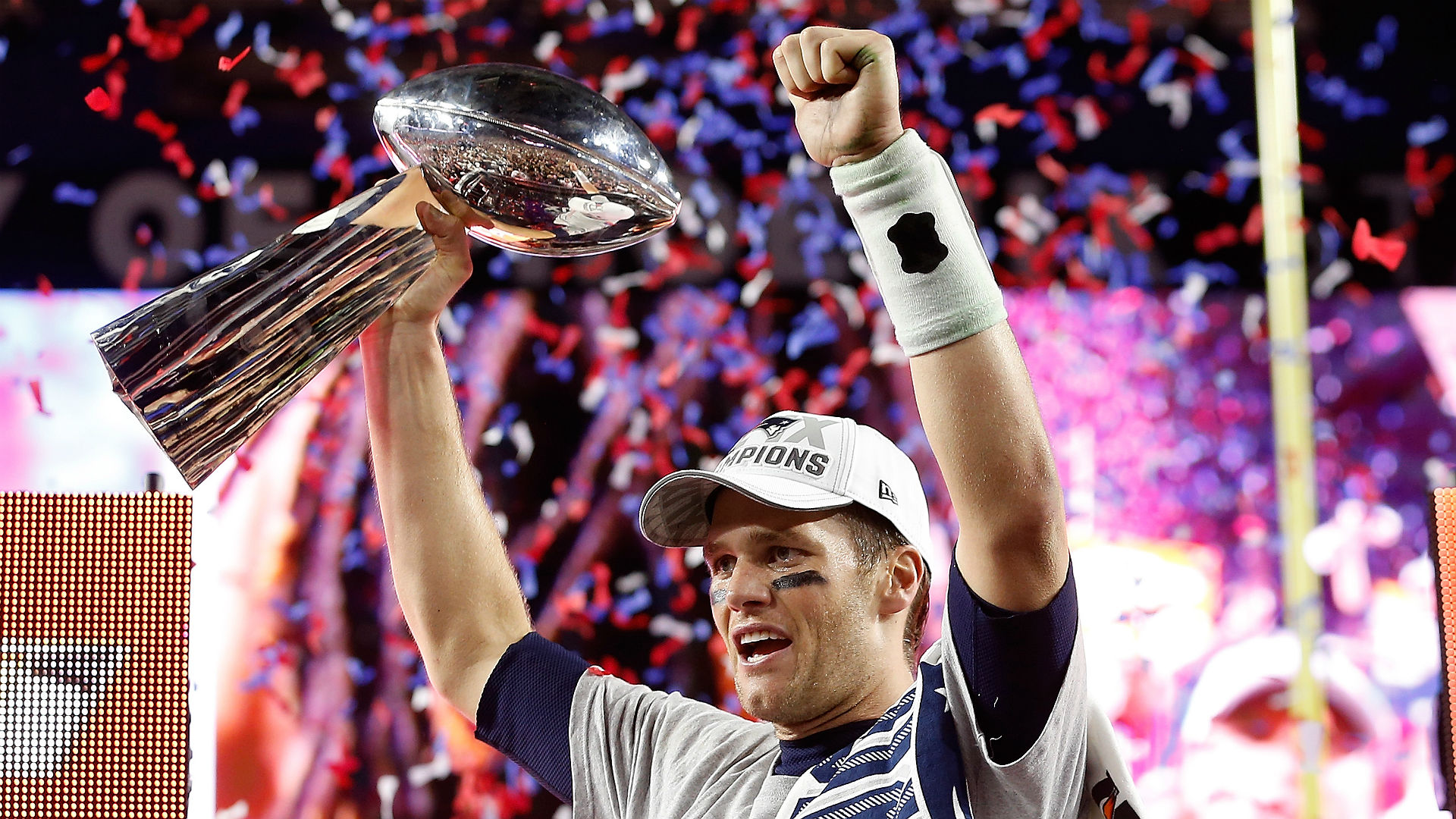 Tom Brady is back in the Super Bowl? Wow, what a shocker!
With another Super Bowl berth this year, the Buccaneers quarterback has now reached the big game in 10 of his 21 NFL seasons. Brady wasn't the starter during his first professional campaign and tore his ACL in Week 1 of the 2008 season, so he's basically shooting over 50 percent for his career.
As a member of the Patriots, the 43-year-old won six Super Bowl rings, the most of any player in NFL history. He also holds multiple Super Bowl records that may never be touched — and he's only going to add to them on Sunday.
Before Brady and the Bucs battle Patrick Mahomes and the Chiefs in Super Bowl 55, let's take a look back at the GOAT's incredible Super Bowl resume.
MORE: Comparing Brady's ageless achievements to other great athletes
Super Bowl 36: Patriots 20, Rams 17
Brady's stats: 16-for-27 passing, 145 yards, one TD, zero INTs, 86.2 rating (Super Bowl MVP)
In his first Super Bowl appearance, Brady helped the Patriots pull off the upset against the Rams' "Greatest Show on Turf." With no timeouts remaining and less than two minutes on the clock, Brady led New England down the field, setting up Adam Vinatieri's game-winning 48-yard field goal.
Not a bad debut, huh?
[embedded content]
Super Bowl 38: Patriots 32, Panthers 29
Brady's stats: 32-for-48 passing, 354 yards, three TDs, one INT, 100.5 rating (Super Bowl MVP)
The script was slightly different, but Brady enjoyed a similar ending in his second trip to the Super Bowl. With the game tied 29-29, Brady did a one-minute drill to put Vinatieri in position for another buzzer-beater.
[embedded content]
Super Bowl 39: Patriots 24, Eagles 21
Brady's stats: 23-for-33 passing, 236 yards, two TDs, zero INTs, 110.2 rating
Three for three. Brady outdueled Donovan McNabb, whose final desperation heave was picked off by Rodney Harrison to seal a Patriots victory. New England wide receiver Deion Branch earned MVP honors after catching 11 passes from Brady for 133 yards.
[embedded content]
Super Bowl 42: Giants 17, Patriots 14
Brady's stats: 29-for-48 passing, 266 yards, one TD, zero INTs, 82.5 rating
Look away, Patriots fans.
Brady's first Super Bowl loss was his most painful. The Pats entered the contest hoping to put the finishing touches on a perfect season, but New York's defense pressured Brady all game long, sacking him five times and limiting New England to just 14 points. On the Giants' last offensive drive, Eli Manning connected with David Tyree on the "Helmet Catch" and then found Plaxico Burress in the end zone for the game-winning touchdown.
[embedded content]
Super Bowl 46: Giants 21, Patriots 17
Brady's stats: 27-for-41 passing, 276 yards, two TDs, one INT, 91.1 rating
As Yogi Berra once said, "It's like deja vu all over again."
New England captured a 17-9 lead in the second half, but New York responded with 12 unanswered points to jump ahead late in the fourth quarter. Brady guided the Patriots to midfield on the team's final drive, giving New England a Hail Mary opportunity. Unfortunately for the Pats, Rob Gronkowski couldn't snag the falling football.
Manning 2, Brady 0. Who saw that coming?
[embedded content]
Super Bowl 49: Patriots 28, Seahawks 24
Brady's stats: 37-for-50 passing, 328 yards, four TDs, two INTs, 101.1 rating (Super Bowl MVP)
Brady bounced back after two Super Bowl losses, throwing for 300-plus yards and four scores on his way to his third MVP award. However, this game was remembered not for what Brady did, but rather for what the Seahawks didn't do.
Down by four points with the ball on the New England 1 and only seconds remaining, Seattle elected to pass instead of handing off to Marshawn Lynch. Russell Wilson was then picked off by Malcolm Butler, securing a victory for the Patriots and leaving Seahawks supporters furious.
[embedded content]
Super Bowl 51: Patriots 34, Falcons 28 (OT)
Brady's stats: 43-for-62 passing, 466 yards, two TDs, one INT, 95.2 rating (Super Bowl MVP)
So many 28-3 jokes. SO MANY.
With 8:31 on the clock in the third quarter, Atlanta took that now-infamous 25-point lead. The Pats then stormed back to win in overtime behind a stellar performance by Brady, who added Super Bowl MVP No. 4 to his trophy room. Never count out "Touchdown Tom."
[embedded content]
Super Bowl 52: Eagles 41, Patriots 33
Brady's stats: 28-for-48 passing, 505 yards, three TDs, zero INTs, 115.4 rating
Despite finishing with the best Super Bowl stat line of his career, Brady walked off the field disappointed following the conclusion of this game. He could have used a few stops from his defense, which struggled to contain . . . Nick Foles?
Yes, the Eagles QB played the game of his life, throwing for 373 yards and three touchdowns and catching a TD pass on his way to being named Super Bowl MVP.
[embedded content]
Super Bowl 53: Patriots 13, Rams 3
Brady's stats: 21-for-35 passing, 262 yards, zero TDs, one INT, 71.4 rating
Oof, just an ugly game.
Both the Patriots and the Rams struggled to score, but New England did enough to emerge victorious. This marked Brady's only Super Bowl appearance without a touchdown pass, though he didn't seem to care much as he solidified his GOAT status with a record sixth Super Bowl ring.
[embedded content]
Tom Brady Super Bowl stats
Record: 6-3
Passing yards: 2,838*
Completions: 256*
Pass attempts: 392*
Completion percentage: 65.3
Passing touchdowns: 18*
Interceptions: 6
* Super Bowl record.
Emma Raducanu lives to play another day at Wimbledon – The Globe and Mail
Despite all the hype, Emma Raducanu's first-ever arrival on Centre Court on Monday afternoon took everyone by surprise.
It had been that sort of day to start this year's Wimbledon. It rained for most of the early afternoon which meant everything was running late. Matches continued under the roof at the big court, but the opener, Novak Djokovic, found himself up against someone who hadn't gotten the memo. South Korea's Kwon Soon-woo played like he expected to win. If you turned your head just so, it seemed for a moment like he could.
By the time Djokovic got Kwon under control, three hours had passed and the crowd was in need of relief. When Raducanu emerged onto Centre Court 10 minutes later, there were more people in line for the toilets than there were in the stands.
Sensing the shambling nature of her entrance, the remainers leapt up to give her a standing ovation. Raducanu waved her hand at them distractedly.
This is what happens when you put too much emphasis on something that's difficult to predict, like the scheduling of live outdoor events or tennis careers.
Raducanu, who won a surprise U.S. Open last fall and then nothing since, plays like someone who feels every eye in the place on her. Between points, she wanders off to the back wall to have a little chat with herself. During breaks, she stares ahead blankly while breathing in and out hard enough to light a fire. You just know this is a person who has really gotten into meditation, and not for fun.
Who could blame her? Right now, there may be no young athlete on Earth who feels more pressure to perform in one particular place.
Raducanu won on Monday because she sort of had to, didn't she? Which is not to say that she won with much elan. She wore down Belgian puncher Alison Van Uytvanck 6-4, 6-4.
What was it like that first hour? To say the first set was played at a snail's pace would be a calumny on snails. It's one thing to play turgid tennis. It's another to do it on a cool late afternoon at a place where they serve champagne for breakfast. You could see heads around you in the stands nodding.
But having gone through that set-long crucible of boredom, Raducanu perked up in the second. The crowd was back and the air was lighter. Then Van Uytvanck did the neighbourly thing and gave up.
Afterward, Raducanu was more than pleased. She positively glowed. She celebrated like she'd won something that mattered, which I guess she had.
"I felt the support the minute I walked out those doors," Raducanu said, though she hadn't really.
"Thank you to everyone who's been here supporting …" she said, though that wasn't totally correct either, since she made only a medium-sized dent in this tournament last year.
" … through the tough part as well."
Well, that is right.
Since winning the U.S. Open, Raducanu's career has split into two streams.
First, there is her personal brand. That is rated AAA by multinationals everywhere. Raducanu is that unicorn in sports marketing – an athlete who looks like they were designed in a computer, talks like they are a normal human and emotes like your new best friend. However the tennis turns out, she will make a fortune selling things for as long as she is willing to drag herself onto a court, and probably long after.
Then there's the tennis. That hasn't gone so well. Pernicious injuries and false recovery starts have blighted the past nine months. After the worst of it was over on Monday, Raducanu likened it to her gap year (only, I suppose, more painful and more profitable).
This sudden rise and fall has an almost direct parallel with Canadian 2019 U.S. Open winner Bianca Andreescu. Andreescu also introduced herself to people by winning a major and also immediately fell into a thicket of injuries.
The biggest difference between the two stories is that in Canada, we're willing to wait on our tennis stars. In this country, not so much. The British tabs have spent weeks playing up Raducanu's Wimbledon – only her second – like it's her last chance to win this thing.
A national injury watch was launched after she bailed out of her only match at her only warm-up tournament three weeks ago. The all-clear was announced on Saturday.
It's not clear if Raducanu's fit to play here, or 'fit' to play here. But she's playing, however slowly.
"Looking forward to hopefully coming out and playing in front of you guys again," Raducanu said afterward.
Maybe the "hopefully" is a verbal tic. Or maybe she actually meant it like it reads.
This is the unbearable heaviness of being British (and good at tennis and playing at Wimbledon). It is an unfair ask, until you consider the rewards being dangled for success. Win here, however young you are, and you can hire someone to write your obituary now. Unless things go very wrong, the first few paragraphs won't change much.
What you are struck by is how much Raducanu seems to enjoy interacting with a crowd, but not while she's playing. Every pro finds her zone, but few need to visibly grind so hard to stay in it. It speaks to a young person who senses keenly – maybe too keenly – what's at stake.
"I'm going to play like a kid who just loves playing tennis," Raducanu said over the weekend. She didn't. She played more like someone trying to squeeze the racket handle to splinters.
But one win means there will be no disaster. If she loses now, she can blame her fitness – which would be more of an explanation than an excuse. The important thing is that she cemented one positive memory on the most recognizable surface in tennis.
So having done the minimum, Raducanu sounded less like a star doing PR and more like what she is – a teenager of remarkable self-possession trying to figure out how to be famous.
Her voice trembled only a little and only once, when she told the crowd, "I'm just so happy to stay another day."
How Colorado's patience, intangibles challenged a Tampa offence with no answer – Sportsnet.ca
Over the years of their recent post-season success, which has included a pair of Stanley Cups and appearances in five of the last six Conference Finals, the Tampa Bay Lightning morphed from Team Speed & Skill, to Team Intangibles. They've gone from the high-flying offensive team that put others on their heels, to the positionally-sound defensive juggernaut that basically said to their opponents: "See if you can beat us, because we sure as hell won't beat ourselves."
And yet again, beat themselves they did not.
Beleaguered as a team can be, Tampa Bay laid back and stayed patient, even when it seemed like their opponent was taking it to them. They've had the ultimate trust in Andrei Vasilevskiy, as they should, and it forced opponents to get frustrated, open up, and give them just that extra chance or two that has allowed the Lightning to score and prevail. Like Tiger Woods in his prime, sometimes the size of their well-earned reputation forced others to beat themselves.
Still, at some point you have to be able to create some offence to win games, and as they got more injured, that became a bigger challenge. They didn't have Brayden Point as they did in Round 1, where a Bolts team on the ropes saw him go directly to the Maple Leafs crease and finish a rebound goal to keep their Cup hopes alive. That obviously hurt them.
Beyond that, though, they didn't have the depth scoring come through as it has in past years, and they simply couldn't dial it up on offence and remain as defensively stout as they knew they needed to be against an offensively-gifted Colorado Avalanche team. This time, that was the Avs' reputation coming into play. Each of Alex Killorn (19:16 TOI per game), Anthony Cirelli (also 19:16), and Brandon Hagel (14:21) played in all 23 playoff games for the Lightning, and they combined for just five goals. Killorn, who scored 25 in the regular season (and had eight in 19 playoff games last year), was blanked with zero. So many players had to turn their attention solely to the little details of defending and positional play, and they excelled at it. But it came at a cost.
I reference Tampa didn't have that same depth offence as they had in the past, because we all remember the Cup-winning Bolts teams getting huge goals from their third line of Yanni Gourde, Blake Coleman and Barclay Goodrow, but it's worth noting the crucial difference: Colorado wasn't Dallas and they damn sure weren't Montreal, not even close. The depth guys on the Lightning this year were faced with a much different chore than Coleman-Gourde-Goodrow. The Avalanche were extremely well-coached throughout this playoff run, and they recognized Tampa Bay's weakness: they didn't have another offensive gear to kick it into, so they leaned harder on that struggle.
The Colorado Avalanche all but stole the game plan from Tampa, which was to play smart and positional and choke the life out their opponent, all while saying "The burden of creating offence is on YOU, and you're going to have to go through every last one of us."
"Offensively-gifted" or not, the Avs' scoring was stunted down the stretch of the series, but it was a concession they were willing to make knowing Tampa Bay's inability to create. Here's the most telling stat of the series and why I leave the Final fixated on positional patience. If the Bolts were sitting back and waiting for the Avs to get desperate, open up and make mistakes in this series, here's what they got off the rush:
A hot bowl of nothing.
Over six Stanley Cup Final games the Avalanche had more rush chances than the Bolts by an average of six per game (per Sportlogiq). Six extra rush chances, which in the end was the difference, wasn't it?
The Stanley Cup game winner comes off a rush where Artturi Lehkonen makes an unbelievable off-hand one-time shot that finds the top corner, which maybe you'd call a bit "lucky" because who knows how many times out of 10 he could place that puck there again. But in very hockey fashion, it's not luck, because they created enough chances to "get lucky" like that. As it always goes in hockey's big picture, making your own luck is a reason to love teams like the Avs who create chances in volume.
There's been much said about the Lightning's injuries and their inability to be at their best in this Final, but let's not pretend the Avs were at max capacity. Andre Burakovsky was hurt, Valeri Nichushkin was hurt, and hell, Nazem Kadri had his trainer tie his skates and played in an oven mitt (and scored an OT winner). Sammy Girard was too hurt to get in a game in the Final.
Even with their injuries, the Avalanche played with a maturity the Lightning's other opponents could not. Colorado got the better of the Bolts to open the series, then Tampa went into full lockdown mode, playing for low scores and hoping to lean on their experience and again, patience. In Games 3, 4, 5, and 6 the Avs scored just 2, 3 (with overtime), 2, and 2 goals. But instead of starting to cheat and stretch and open up to generate more against a goalie that could've frustrated the heck out of them, they recognized that for Tampa to win, they'd have to score too.
The Lightning are getting deserved love as "Team Intangibles" this year, and they certainly played great and blocked shots and proved themselves to be warriors. But don't let the Avs' demonstration of those same things get lost.
That's coaching, that's leadership, that's playing (and sometimes losing) enough big games to see that forcing plays and taking chances can bury you in the post-season. You have to trust that it will come, you have to trust the plan, and when offensively talented teams get to that point, they're almost impossible to beat.
This Final was two teams that were "almost impossible to beat," and as a result, the series was delightful to watch. The Avalanche used all their tough experiences of the years past to give their opponent jack squat in the biggest moments of the season, and they finished the playoffs losing only four times the whole way through.
The Lightning were worthy foes, for sure, but the Avalanche are deserving champions.
What a Stanley Cup Final.
Makar gets love from Orr after winning 2022 Norris, Conn Smythe Trophies – NHL.com