Tomorrow's COVID safety guidelines will be different from today's – but that doesn't mean yesterday's were wrong – Philippine Canadian Inquirer
No one gave a second thought to the safety of dining out before the pandemic. Fast-forward to today, and it's normal to wonder whether there is a city, state or federal policy around whether you need a mask or proof of vaccination to eat in a restaurant. The public policies around dining and many other activities have changed multiple times over the course of the pandemic. These rules are also often different from place to place. For millions of parents like my wife and me, the guidelines regarding children can be especially frustrating, as they seem to change constantly.
I am the former director of the University of Virginia's Center for Health Policy and a practicing surgeon. I have followed both the development and rapid implementation of public policy in response to COVID-19, and I, like many people, have struggled to stay up to date.
Typically, meaningful changes to federal health policy happen at a glacial pace. But the modern world has never faced a public health crisis that has changed as quickly as the pandemic. The constant back and forth of rules can be frustrating, but policy changes aren't usually a sign of mistakes. Rather, they show that for the most part, policymakers are getting things right over and over again.
Rapid changes require rapid responses
The continued evolution of the coronavirus and resultant public policy changes don't look like a normal public health crisis. It's happening like a hurricane.
The danger of a hurricane depends heavily on the strength and path of the storm, and these things can and do change unexpectedly. Government officials use the best evidence available to give general information or orders to take certain precautions, shelter in place or evacuate an area, all within a very narrow window of time. Sometimes evacuation orders for a town or region will be issued, only to have a hurricane strike elsewhere.
This virus has similarly changed – and continues to change – very quickly. In a little over two years, researchers have found dozens of COVID-19 variants. Many of these have clinically important differences in their transmissibility, the severity of the illness they cause and the degree to which they are preventable and treatable with existing therapies.
When the coronavirus first emerged, health officials knew very little about it and did not have systems in place to track or predict its behavior; there was a hurricane approaching and the world had neither satellites nor weather models. But as epidemiologists and public health officials gained greater understanding of the virus, they quickly gained the ability to deploy effective countermeasures and adapt as the virus also changed.
University researchers and the pharmaceutical industry rapidly developed COVID-19 tests. Mask testing began at once. And as soon as scientists mapped the coronavirus's genome, work began to quickly use existing mRNA vaccine technologies to develop a vaccine in record time.
Public health done fast
With science and situations on the ground evolving rapidly, policymakers had no choice but to be equally as nimble. This has manifested in two unique ways.
First is the use of executive power. Both Presidents Trump and Biden – as well as a host of governors from coast to coast – have leveraged executive orders to shorten the time between the development and implementation of policies. Executive orders are also much easier to roll back or reinstate as coronavirus cases ebb and flow over time, and states in particular have relied on the ability to do this.
Second is the fast-tracking of drug and vaccine approvals. The normal process by which the U.S. Food and Drug Administration approves new drugs is slow – usually around a 10-year process or so, depending on the treatment. Drug companies can use the FDA's emergency use authorization process to speed this up slightly, but not by very much. To shorten this process even more, the FDA created a fast-track program specifically intended to accelerate the approval of treatments and vaccines for COVID-19. As a result, it took less than a year for vaccines to get emergency use authorization from the discovery of the coronavirus.
Just as a hurricane response needs to adapt to conditions on the ground and implement the best available information at a moment's notice, so too has the pandemic response.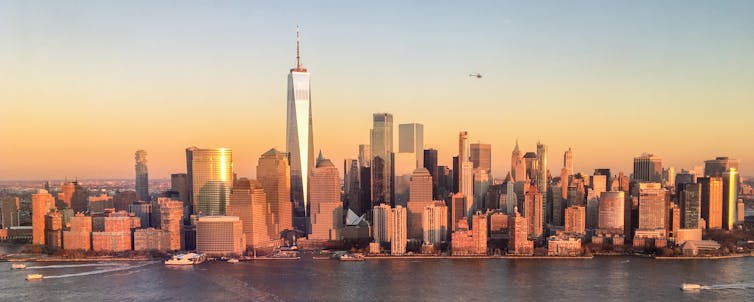 Different places, different policies
Hurricanes are intensely local and relatively short-lived. The pandemic is like dozens of different hurricanes repeatedly hitting all over the U.S. simultaneously. This has created a complicated web of policy that can and should be different depending on where you are and what bodies govern there.
The U.S. Congress, state governors, city mayors, departments of health and even local school boards have each needed to develop and implement policies for their own hurricanes at their own levels of control.
Despite its complexity, this approach to public policy is another example of getting it right over and over. New York City public health officials must respond to the unique situation in New York at any given time. These actions may be very different from the issues confronted by the mayor of Barstow, California – a far smaller, far more rural city. Local conditions require local solutions, all of which can evolve over time. This is very different from most other public health problems in the U.S. During flu season, for example, the correct response tends to be relatively similar from place to place.
Getting it right over and over again
I and many others have been guilty on occasion of thinking of policymakers as backpedaling when guidance changes back and forth or being inconsistent when one state makes a certain decision while another does something else. But I've come to appreciate that that isn't the correct framing.
As variants emerge, targeted policies to counteract the new reality follow in quick order. Reinstating mask requirements after they have been dropped or recommending additional vaccine doses between waves may seem like 180-degree course corrections. But in reality, these policy changes are the right reactions to the hurricane of COVID-19 that continues on its meandering path across the globe.
When the next change comes, I submit that you shouldn't be frustrated or angry. Rather, we should all applaud the fact that researchers and public health experts are getting it right over and over again.
[Research into coronavirus and other news from science Subscribe to The Conversation's new science newsletter.]
Michael Williams, Associate Professor of Surgery and Public Policy, University of Virginia
This article is republished from The Conversation under a Creative Commons license. Read the original article.
Study tracks hospital readmission risk for COVID-19 patients in Alberta, Ontario – CBC.ca
A new study offers a closer look at possible factors that may lead to some hospitalized COVID-19 patients being readmitted within a month of discharge.
At roughly nine per cent, researchers say the readmission rate is similar to that seen for other ailments, but socio-economic factors and sex seem to play a bigger role in predicting which patients are most likely to suffer a downturn when sent home.
Research published Monday in the Canadian Medical Association Journal looked at 46,412 adults hospitalized for COVID-19 in Alberta and Ontario during the first part of the pandemic. About 18 per cent — 8,496 patients — died in hospital between January 2020 and October 2021, which was higher than the norm for other respiratory tract infections.
Among those sent home, about nine per cent — 2,759 patients — returned to hospital within 30 days of leaving, while two per cent — 712 patients — died. The deaths include patients who returned to hospital.
The combined rate of readmission or death was similar in each province, at 9.9 per cent or 783 patients in Alberta, and 10.6 per cent or 2,390 patients in Ontario.
For those wondering if the patients were discharged too soon, the report found most spent less than a month in hospital and patients who stayed longer were actually readmitted at a slightly higher rate.
"We initially wondered, 'Were people being sent home too early?' … and there was no association between length of stay in hospital and readmission rates, which is reassuring," co-author Dr. Finlay McAlister, a professor of general internal medicine at the University of Alberta, said from Edmonton.
"So it looked like clinicians were identifying the right patients to send home."
Examining the peaks
Craig Jenne, an associate professor of microbiology, immunology and infectious diseases at the University of Calgary who was not involved in the research, said the study suggests that the health-care system was able to withstand the pressures of the pandemic.
"We've heard a lot about how severe this disease can be and there was always a little bit of fear that, because of health-care capacity, that people were perhaps rushed out of the system," Jenne said. "There was a significant increase in loss of life but this wasn't due to system processing of patients.
"Care was not sacrificed despite the really unprecedented pressure put on staff and systems during the peaks of those early waves."
The study also provides important insight on the power of vaccines in preventing severe outcomes, Jenne said.
Of all the patients admitted with COVID-19 in both provinces, 91 per cent in Alberta and 95 per cent in Ontario were unvaccinated, the study found.
The report found readmitted patients tended to be male, older, and have multiple comorbidities and previous hospital visits and admissions. They were also more likely to be discharged with home care or to a long-term care facility.
McAlister also found socio-economic status was a factor, noting that hospitals traditionally use a scoring system called LACE to predict outcomes by looking at length of stay, age, comorbidities and past emergency room visits, but "that wasn't as good a predictor for post-COVID patients."
"Including things like socio-economic status, male sex and where they were actually being discharged to were also big influences. It comes back to the whole message that we're seeing over and over with COVID: that socio-economic deprivation seems to be even more important for COVID than for other medical conditions."
McAlister said knowing this could help transition co-ordinators and family doctors decide which patients need extra help when they leave the hospital.
'Deprivation' indicators
On its own, LACE had only a modest ability to predict readmission or death but adding variables including the patient's neighbourhood and sex improved accuracy by 12 per cent, adds supporting co-author Dr. Amol Verma, an internal medicine physician at St. Michael's Hospital in Toronto.
The study did not tease out how much socio-economic status itself was a factor, but did look at postal codes associated with so-called "deprivation" indicators like lower education and income among residents.
Readmission was about the same regardless of neighbourhood, but patients from postal codes that scored high on the deprivation index were more likely to be admitted for COVID-19 to begin with, notes Verma.
Verma adds that relying on postal codes does have limitations in assessing socio-economic status since urban postal codes can have wide variation in their demographic. He also notes the study did not include patients without a postal code.
McAlister said about half of the patients returned because of breathing difficulties, which is the most common diagnosis for readmissions of any type.
He suspected many of those problems would have been difficult to prevent, suggesting "it may just be progression of the underlying disease."
Looking at readmissions is just the tip of the iceberg.-Dr. Finlay McAlister-Dr. Finlay McAlister
It's clear, however, that many people who appear to survive COVID are not able to fully put the illness behind them, he added.
"Looking at readmissions is just the tip of the iceberg. There's some data from the [World Health Organization] that maybe half to two-thirds of individuals who have had COVID severe enough to be hospitalized end up with lung problems or heart problems afterwards, if you do detailed enough testing," he said.
"If you give patients quality of life scores and symptom questionnaires, they're reporting much more levels of disability than we're picking up in analyses of hospitalizations or emergency room visits."
The research period pre-dates the Omicron surge that appeared in late 2021 but McAlister said there's no reason to suspect much difference among today's patients.
He said that while Omicron outcomes have been shown to be less severe than the Delta variant, they are comparable to the wild type of the novel coronavirus that started the pandemic.
"If you're unvaccinated and you catch Omicron it's still not a walk in the park," he said.
Many sick birds brought to Medicine River Wildlife Centre this spring have fatal avian flu – Red Deer Advocate
Some shaky, lethargic birds being brought to the Medicine River Wildlife Centre this spring are beyond help.
So far, about 20 feathered creatures — from waterfowl to raptors, crows and other corvids — have been diagnosed with avian flu. And all of them had to be put down as "there is no point having them suffer," said Carol Kelly, executive director of the wildlife rehabilitation centre.
The disease is almost always fatal to birds. There's no known treatment or cure for the virus that's impacting the global avian population, as well as some domestic livestock on poultry farms.
Among the sick patients that had to be euthanized at the centre was an owlet, ravens, hawks and geese, added Kelly.
So far, the virus has not been found in songbirds, so Kelly believes it's still safe to put out bird feeders.
However, five fox kits were recently brought in to the centre and diagnosed with avian flu, which can sometimes skip to other species. Kelly said three of the sick baby foxes died, but two have survived and seem to be improving.
The survivors are now recovering in a quarantine room. Staff who come and go from that chamber have to change their footwear and clothes to ensure they don't spread the virus, said Kelly.
She advises anyone who's handled sick birds or animals to wash their hands, although there is a very low risk of human transmissions of this latest strain of the bird flu.
According to information on the website of the U.S. Centres for Disease Control and Prevention, people should ideally wear gloves when handling infected birds, and should also wear a medical face mask, if available. The CDC advises to avoid contact with wild birds, and not touch surfaces that may be contaminated with their saliva, mucous or feces.
Kelley said people can always call the Medicine River Wildlife Centre if they see an animal they believe to be sick, injured or in distress.
Every spring well-meaning central Albertans bring in baby animals that they feel have been abandoned, or have fallen out of the nest. In most of these cases, the parents are around, but not immediately present, she added.
Kelly recalled one woman called her about a young robin that she saw hopping around on the ground, unable to fly. The woman didn't believe that the bird was O.K. and should be left alone, so Kelly asked her to search up a robin distress call and play it with the volume turned up on her phone.
"She was standing right next to the babies when she played it, and the parents came blowing out of the tree so fast they almost knocked her on the head," Kelly recounted.
Another time, a "gentlemen farmer" brought a baby fawn to the centre that he thought had been abandoned. Kelly returned with the farmer and the fawn to the spot where he found the baby animal. They played a fawn distress call and saw the doe come bolting across the field.
Kelly believes staying away from wildlife is a good general rule. A group of fox kits in Innisfail have become such a popular draw that Kelly heard some people are starting to feed them. She warned this could become a death sentence for the foxes since they will become habituated to begging food from humans and will eventually be considered a threat.
Medicine River Wildlife Centre
First patient in Quebec gets approval from Health Canada for magic mushroom therapy
MONTREAL — When Thomas Hartle indulges in a session of psilocybin treatment, the end-of-life anxiety, distractions and noises associated with his terminal colon cancer go away.
"Before the treatment, it's like you're sitting in your car. It's summer. You have your windows down; you're stuck in rush-hour traffic; it's noisy …. It's unpleasant," said Hartle, who lives in Saskatchewan.
"Your favourite song is on the radio, but you can't actually appreciate any of it because all of the other distractions are preventing you from even noticing that the radio is on. After a psilocybin treatment,(it's like) you're still in your car, in traffic, but you have the windows up; the air conditioning is on and it's quiet. It's just you and the music."
Hartle, 54, is one of the very few Canadians to have received legal psychedelics psychotherapy for a mental health condition since Health Canada made it easier in January for health-care workers to access psilocybin — the hallucinogenic compound found in some mushrooms.
In Montreal, meanwhile, a pioneering clinic in the emerging field of psychedelic-assisted psychotherapy is about to become the first health-care facility in Quebec to legally treat depression with psilocybin.
"It's a privilege to be able to accompany people in the exploration of their psychological distress and to offer something different than conventional treatment such as antidepressants," Dr. Andrew Bui-Nguyen, of the Mindspace by Numinus clinic, said in a recent interview.
Bui-Nguyen said his clinic received Health Canada's approval onMay 5 to care for a patient who had undergone several unsuccessful treatments for depression.
"There's a rigorous screening procedure," Bui-Nguyen said, adding that Quebec's health insurance plan doesn't cover the treatment. "We look at the diagnosis, the medical history, if there's a risk of addiction, what treatments have already been tried …. There must have been a lot of treatments done beforehand so the application is solid."
Health Canada on Jan. 5 restored its "Special Access Program" — abolished under former prime minister Stephen Harper in 2013 — allowing health-care experts to request access to restricted drugs that have not yet been authorized for sale in the country.
Before January, people could only access psychedelic-assisted psychotherapy through clinical trials or medical exemptions. Now, licensed experts can file applications on behalf of patients with mental health conditions such as post-traumatic stress disorder, depression and anxiety, but for whom conventional treatment has failed.
Health Canada says it has received 15 requests for the use of psilocybin or MDMA — a psychedelic drug with stimulant properties — since resuming the program.
In April, a clinic called Roots To Thrive, in Nanaimo, B.C., became the first health centre in Canada to offer a legal psilocybin group therapy program, in which Hartle took part.
"The therapy part has a capital T in this whole process," Hartle said. "It isn't just taking psychedelics. It's just a tool in the process; the therapy is crucial to getting a good outcome."
Psychedelic-assisted treatment, Bui-Nguyen explained, requires multiple therapy sessions before and after patients experience the drug. Patients will consume psilocybin while they are supervised by two psychotherapists and remain in the clinic-secured environment for up to six hours.
"It's not miraculous," Bui-Nguyen said. "You don't take psilocybin and that's it, a psychedelic trip and after the depression is cured — no! The patient has a lot of work to do. But it opens perspectives; it creates new paths in the brain that we aren't used to taking. The patient then explores new roads to get out of depression."
In the world's largest study on psychedelics' affect on the brain, released in March in the journal Science Advances, lead author Danilo Bzdok said psychedelic drugs might just be the next big thing to improve clinical care of major mental health conditions.
"There's something like a renaissance, a reawakening of psychedelics," Bzdok, associate professor with McGill University's biomedical engineering department, said in a recent interview.
He said the evidence-based benefits are very promising. Patients, he said, say they have experienced up to six months of lasting effects after a single psychedelic-aided therapy session. They have also experienced a reduction of symptoms associated with mental health conditions, Bzdok said, adding that there were fewer side-effects compared to antidepressants.
Mindspace by Numinus CEO Payton Nyquvest said psychedelics have the potential to become a widespread treatment. As Health Canada continues to approve more requests, he hopes the recognition will make the treatment much more accessible.
"We haven't seen significant innovation in mental health care in probably over 40 years," Nyquvest said in a recent interview.
"We're at a time where new and better treatments for mental health are needed now more than ever. No matter what you look at, depression, anxiety, and suicidality … these are all rates that continue to go up with no clear line in terms of how we're going to address these massive societal issues. Psychedelics represent an opportunity to make a significant impact."
Hartle's own experience echoed those hopes. "The improvement in my mental health is so night and day that it would be difficult to say all of the things that it does for me," he said.
"I still have cancer. I still have difficulty with what it physically does, but there are days when I don't even think about it. What would you do to have a day where you just feel normal?"
This report by The Canadian Press was first published May 16, 2022.
—
This story was produced with the financial assistance of the Meta and Canadian Press News Fellowship.
Virginie Ann, The Canadian Press