Top 5 Flames prospects: Coronato making successful jump to NCAA – Sportsnet.ca
It won't be hard to keep tabs on the Calgary Flames' prospects in this year's world junior tourney, as they only have one.
But that's not to say the Flames are short on top young players.
The Stockton Heat (18-2-3) are one of the best teams in the AHL, thanks to a generous helping of talented youngsters on their way up to the bigs.
For the next few weeks all eyes will be on Matthew Coronato, as the 2021 first rounder takes time out from Harvard to play a prominent role on the U.S. team's junior squad.
However, a quick peek at the top five prospects in the organization shows there are plenty of reasons to be excited about life down on the farm:
Matthew Coronato, LW/RW, Harvard (NCAA)
GP: 11 │ G: 6 │ A: 6 │ PTS: 12
Since being selected 13th overall this summer, the just-turned 19-year-old has made a successful jump from USHL sniper to Ivy League force.
Coronato leads all rookies on his team in scoring and sits top-20 in ECAC scoring despite playing almost half the games other players have played.
"He's a young player there, so to make that jump from the USHL is huge, playing with much older guys," said Flames director of player development, Ray Edwards. "I'm anxious to see him against his own age group at the world juniors."
As one of the best pure goal scorers in the 2021 draft, Coronato's role for the American's will likely involve being counted on to be a difference-maker.
It is at that tourney Flames fans will see the work ethic and compete-level that has Edwards comparing the five-foot-10, 183-pound winger to Andrew Mangiapane.
"When you draft a guy that high and he wants to get better, learn and be coachable and polite, it's clear he's just a great human being," said Edwards, who has seen Coronato play live a handful of times this year.
"On the ice it all goes together. What sticks out is how hard he competes. He's willing to go into tough areas to play, and he doesn't mind paying the price."
Dustin Wolf, G, Stockton Heat (AHL)
Record: 14-0-2 │ GAA: 1.84 │ SV%: .940
Leading the AHL in wins, and amongst the top three in every statistical category, Wolf continues to prove the hockey world was wrong to let him go undrafted until late in the seventh round in 2019.
The generously-listed six-foot, 168-pound goaltender has parlayed one of the greatest junior careers in decades into a flawless start as a pro.
"We had high expectations coming off a fantastic junior career and the handful of games he played in Stockton last year, but to go on the run that he has, you'd almost have to say he's exceeded expectations," said Stockton GM/Flames assistant GM Brad Pascall of the diminutive 20-year-old, who hasn't lost a game in regulation in 18 outings dating back to last year.
"This is a guy that is a hockey player. We have a good team down there, but he is a big part of the success we've had in the start of the season. He's a smart player. He reads the game so well and manages it so well as a goalie."
Some intermission entertainment – check out this save bypic.twitter.com/bWwhdYAi9S

— Stockton Heat (@AHLHeat) December 5, 2021
Jakob Pelletier, C/LW, Stockton Heat (AHL)
GP: 23 │ G: 10 │ A: 17 │ PTS: 27
Never mind the fact he's tops amongst AHL rookies, the 20-year-old sits third in league scoring.
Not a bad way to introduce yourself at the pro ranks, proving his size won't be a detriment moving forward.
Like Coronato and Mangiapane, Pelletier's offensive skills are complimented by a compete-level that make him a natural leader.
Tied with teammates Glenn Gawdin and Matthew Phillips at plus-17 atop the league, Pelletier has put himself in position to be a natural call-up at some point this season.
"Some guys it takes months to figure out the pro game, but for him it literally took a handful of games," said Pascall. "He can influence the game just by his competitiveness and work ethic and he keeps having more and more of an impact on the game."
In the midst of his stellar junior career the Flames selected Pelletier 26th overall in 2019, with hopes he could continue to find the scoring touch alongside the world's best.
"He comes in and has a smile on his face, he makes everybody laugh," said Stockton coach Mitch Love. "He's still a little undersized but he finds a way every night. It's impressive to watch."
Connor Zary, C, Stockton Heat (AHL)
GP: 15 │ G: 4 │ A: 4 │ PTS: 8
Things haven't come as easy this year as they appeared to last year when his season-opening stint in the AHL saw him pick up three goals and seven points in nine outings before heading back to junior.
This year things got off to a poor start after Zary suffered an ankle injury from a blocked shot in prospect camp, and missed plenty of time recovering.
"He's coming along — it took him some time to find his game conditioning and the jump in pace from junior to this level," said Love, who has been playing Zary up the middle, as opposed to last year's AHL stint on the wing. "No one has ever questioned his offensive instincts, but I think the best thing he's done a good job with the last three weeks is his play away from the puck."
The 20-year-old is another Flames first-rounder (24th in 2020) who does plenty of everything with a six-foot, 178-pound frame.
"Talented and so smart — he's a top prospect, no question," added Pascall. "As of late he's been solid, at both ends and producing more."
Martin Pospisil, C/LW/RW, Stockton Heat (AHL)
GP: 15 │ G: 4 │ A: 6 │ PTS: 10
He doesn't have any of the gaudy stats most of the franchise's top prospects have, but he has size.
And skill.
And when the 22-year-old winger isn't injured he puts all of it on display with a game Darryl Sutter is sure to love.
"He really turned heads last year, then he got hurt," said Pascall of the fourth-rounder who had his shoulder operated on and had a knee injury, one year after a concussion derailed his season.
"He's had some bad luck. He's big, he plays with grit and he's got skill and ability. He's an exciting guy that can excel at centre but also at the wing. He just needs more consistent reps."
He's missed a handful of games this year due to injury, but is learning to limit the recklessness that has led to past ailments.
"He plays an abrasive style, no doubt," said Love of the six-foot-two, 190-pound forward. "When he's moving his legs and feet he's hard to play against. He's a big, long kid who goes to the puck hard. The biggest thing for him is staying healthy, and he's putting a lot of work into his body in the gym."
Shapovalov beats Zverev in straight sets, advances to Australian Open quarterfinals – TSN
MELBOURNE, Australia — Canada's Denis Shapovalov continued his run at the Australian Open with a dominant straight-sets upset victory over Alexander Zverev in the fourth round Sunday.
Shapovalov of Richmond Hill, Ont., defeated the third-ranked Zverev 6-3, 7-6(5), 6-3 to advance to the quarterfinal.
The 22-year-old Canadian, ranked 14th, will face No. 6 Rafael Nadal in the next round. The Spaniard earned his spot in the quarterfinal with a straight-sets victory against Adrian Mannarino.
Shapovalov had never made it past the third round at the Australian Open.
The Canadian was aggressive in the match and constantly challenged the uninspired Zverev. He managed to overcome 11 double faults in the match.
Shapovalov completely dominated the third set, which ended with Zverev sending a return into the net. He fist-bumped in celebration.
Shapovalov needed two hours 21 minutes to defeat Zverev – his quickest match of the Grand Slam tournament so far. His previous three matches lasted more than three hours each, with his second-round victory over South Korea's Kwon Soon-woo going four hours 25 minutes across five sets.
But it was a much more consistent, composed performance that saw Shapovalov make relatively fast work of Zverev.
He put serious doubt in the German's mind when he broke his opponent on the very first game of the second set. Zverev destroyed his racket in anger, smashing it multiple times against the court.
The Canadian went on to lose serve twice to go down 5-3 in the second set before breaking Zverev right back to eventually force a tiebreak. In that tiebreak, Shapovalov nearly let a 5-1 lead slip away but he held on for the 2-0 set lead.
The upset was brewing early on when Shapovalov broke the German's serve on the fourth game to go up 3-1. He served out from there for the comfortable 6-3 opening-set win.
This report by The Canadian Press was first published Jan. 22, 2022.
Spencer Martin carries Canucks to shootout against Panthers – Vancouver Is Awesome
On Friday night, the Vancouver Canucks showed exactly why it is so difficult to predict the outcome of a single hockey game.
On paper, the Florida Panthers should have dominated this game. Sure, they had just played the night before and were missing one of their top forwards, Sam Bennett, to injury. But they're also the highest-scoring team in the NHL, with a deep bench that should've been able to easily absorb the loss of Bennett. They cruised to a 6-0 win over the Edmonton Oilers in their previous game and were able to limit the ice time of some of their best players to lessen the impact of games on back-to-back nights.
Besides, the Canucks' lineup was a wreck.
With six players in the NHL's COVID-19 protocol, the Canucks were missing all three of their top-scoring forwards — J.T. Miller, Bo Horvat, and Conor Garland. More importantly, both Thatcher Demko and Jaroslav Halak were unavailable, forcing the Canucks to go to the farm for the third-string goaltender.
That goaltender was Spencer Martin, who last played in the NHL back in 2017. He played all of three games for the Colorado Avalanche and didn't win any of them, posting an .865 save percentage.
Martin has been in the AHL ever since and never been particularly good. Even at just 26 years old, it must have seemed difficult to keep the dream of getting back to the NHL alive.
But then the Canucks traded for him. He joined the Abbotsford Canucks in the AHL, where they already had two prospect goaltenders vying for time, Michael DiPietro and Arturs Silovs. But he worked with Canucks goaltending coaches Ian Clark and Curtis Sanford and gradually, as the season progressed, he outplayed both prospects, earning starts ahead of them.
"This organization is rich with goaltending prospects," said Martin after the game. "To come in and join them and work with them, it was a good experience. I got some time at the beginning of the year where I wasn't playing much to work with Clarky and Sandman in Abbotsford and that, I think, is a huge reason why I feel comfortable in the game now."
So, when the Canucks needed a goaltender, they turned to the guy with a .921 save percentage in the AHL instead of one of their prospects with a sub-.900 save percentage.
"I just felt incredibly blessed," said Martin after the game. "I know how hard it is to get to this level and how many experiences it takes to get opportunities…it felt incredible to get an opportunity."
Martin came through.
On paper, this game looked like it should've been a blowout, but, against the most dangerous offensive team in the NHL, Martin stopped 33 of 34 shots to get the game to overtime and earn his team a point, then to the shootout to give them a chance to earn another one.
"I love when American League players that have played there for a while get opportunities and show what they can do," said head coach Bruce Boudreau, who spent a great deal of time in the AHL himself as a player. "There's a lot of good players that get overlooked because of their age or for whatever reason and they're really good players.
"So, for Spencer to come in and play a game like that against the highest-scoring team in the league, I thought it was really impressive."
Indeed it was. I, for one, was impressed when I watched this game.
Martin plays a very aggressive, athletic style that is common among undersized goaltenders, who have to put in a little more effort than a big goaltender to cover the net. Only, Martin is 6'3", which was a bit jarring to discover. He plays like he's 5'10". But hey, if it works, it works. On Friday night, it worked.

Martin's most chaotic moment came midway through the second period, when he was forced to scramble when a point shot was blocked. We'll call it controlled chaos, though, as he kept his wherewithal enough to shoot out his left pad and kick the puck off of Ryan Lomberg's stick before the Florida forward could even shoot the puck. Then he got the net knocked into the back of his head for good measure.
The kick save before the player could shoot makes me think of one of the NBA's great unheralded defenders, Shane Battier, who used to "block" shots by knocking the ball out of his opponent's hand as they were bringing the ball up into a shooting position, preventing them from getting a shot in the first place. He wouldn't get credit for a block on the box score, even if the end result was the same. Like Battier, Martin didn't get credit for a save for kicking the puck off Lomberg's stick.

This should have been Martin's first career NHL win but his counterpart in the Panthers net matched him save for save. It was another Spencer: Spencer Knight. The difference is that Knight was a first-round pick for the Panthers and Martin was acquired for "future considerations," which I don't think have ever actually materialized.
The player Knight stymied the most was Nils Höglander, who had multiple Grade-A chances for the Canucks but couldn't find the weak point in Knight's armour. Höglander finished with a game-high six shots on goal on a line with Elias Pettersson and Brock Boeser, but couldn't get a goal.

Höglander's best chance came in the second period after he made a nice defensive play to break up a Panthers chance in the slot. He and his linemates broke the other way and Pettersson sucked in the defenceman, then made a nifty move to evade the defender's stick and send Höglander in alone on Knight, who deflected Höglander's lancing shot away with his shield. Er, I mean blocker.
With Horvat and Miller out, the Canucks put together a ramshackle power play with Tanner Pearson and Alex Chiasson joining Pettersson, Boeser, and Quinn Hughes. Of course, Pearson and Chiasson immediately factored into the opening goal: Pearson tipped a Hughes point shot and the pluck fluttered up off Chiasson's hip and into the net. Unlike Shakira, Chiasson's hips did lie, fooling Knight completely.

Martin was very appreciative of the goal, which was delightful. We don't often see goaltenders celebrate goals and now I'm thinking we should always see goaltenders celebrate goals.
Martin held strong for two periods but the Panthers struck on an early third period power play on a bit of a soft call on Höglander. It was a broken play: Matthew Highmore knocked down a saucer pass and it just happened to go straight to Sam Reinhart, who tucked in the puck as Martin was sliding across to play the original pass. It was frustrating to see the Canucks penalty kill finally breaking up a cross-seam pass only to have it immediately backfire.

One of the weaknesses of Pettersson's game has been faceoffs but he's been gradually getting better. Still, he lost his first seven faceoffs in this game and he started taking turns on faceoffs with Boeser. There didn't seem to be a rhyme or reason — the right-handed Boeser wasn't taking all of the faceoffs on his strong side, for instance — but it seemed to work: Boeser only went 3-for-8 but Pettersson went 7-for-10 the rest of the game.

Pettersson's calm under pressure, on the other hand, is a clear strength. This moment in the third period when Pettersson recovered a poor pass from Tyler Myers is a perfect example, as he eludes three Panthers players to patiently maintain control until he can make a pass, which just happened to lead to a drawn penalty.
On the power play, Pettersson showcased some more outrageous skill. After double-clutching on a pass to Hughes at the point, Pettersson recovered to make a ridiculous move underneath a sliding Eetu Luostarinen to keep the possession going.
Tyler Myers gave all of Canucks nation a collective heart attack in the final minute of the game. With the score tied and the Canucks just trying to get the game to overtime, he sent a puck right up the middle of the ice from behind his own net, turning it over and forcing Martin to make another aggressive save at the top of the crease. To increase the difficulty, Matthew Highmore also tipped the shot on its way to the net. If I didn't know any better, I'd think they didn't like Martin.
It's obvious why Tyler Motte has so many fans in Vancouver, aside from his laudable openness about his mental health. On the ice, Motte gives his all, all the time. This sequence was fantastic, as he stole the puck in the neutral zone, drove back into the offensive zone for a scoring chance, probably should've drawn a penalty, then delivered a huge hit on the forecheck.
Still, that doesn't mean that Motte should be a go-to option in overtime. He came on for the second shift of overtime after Pettersson and Boeser. More inexplicably, the next two forwards on were Highmore and Juho Lammikko. I know the Canucks were missing three top-six forwards, but really?

It was pretty predictable: Lammikkko and Highmore, along with Oliver Ekman-Larsson, got hemmed into the Canucks zone for over three full minutes. To their credit, they managed to avoid getting scored on but it was a pretty clear illustration that whatever their strengths may be, they definitely do not extend to 3-on-3 overtime.

Part of the justification Boudreau made for putting Motte, Highmore, and Lammikko on in overtime is that he thought their speed would be an asset, but if you've watched a lot of 3-on-3 overtime, you know that despite the open ice, it's not typically all that fast. In fact, it's usually pretty methodical, with skilled players controlling possession and looking for ways to crack open the other team's three-man structure. Speed rarely enters into it.

Honestly, I'm okay with Motte in overtime. He does have some skill when he's got space to use it and, with the players they had out of the lineup, Motte was an acceptable option. But Lammikko and Highmore are literally the last two players I would use in that situation.

Meanwhile, Höglander, who was one of the Canucks' most dangerous forwards, didn't see a single second in overtime. Neither did Vasily Podkolzin. Boeser got just the one shift.

Boeser did get to go first in the shootout and made it look easy with a quick deke to the backhand. Pettersson and Hughes were less successful with their own attempts and two Panthers shooters scored on impressive moves, particularly Aleksander Barkov, who somehow shot a backhand with just one hand on his stick.

"I'll have to see the replay there because he made a really interesting move," said Martin. "Hopefully, I didn't look too bad."

Yeah, like the guy who made 33 saves on 34 shots against the highest-scoring team in the NHL could look bad. Sure. Pull the other one.

Goaltending not Edmonton's big issue, it's lack of hitting, desperation and hunger, NHL commentator argues – Edmonton Journal
Article content
Game Day 37: Oilers vs Flames
Update: Today's line-up as per Jack Michaels of the Oilers:
Article content
Expected lineup vs CGY:
Perlini-McDavid-Yamamoto
Foegele-Draisaitl-Puljujarvi
Benson-McLeod-Turris
Shore-Ryan-Sceviour
Nurse-Bouchard
Keith-Ceci
Russell-Koekkoek
Koskinen
—Kassian not on ice
My take
1. That means Kassian and Tyson Barrie are likely out, with Mike Smith, Zach Hyman and Ryan Nugent-Hopkins already out. That's a lot of core players out.
2. This in from former NHL grinder Alan May, now a commentator on the Washington Capitals, speaking to Bob Stauffer on Oilers Now in regards to the Oilers: ""I'm seeing a team that doesn't play with any physicality. I look last night at the players who got the hits up top, Tyler Benson and I think Devin Shore. You need to have more beef out there. Right now they look smallish. They look like a team that is sweep checking, poke checking, only checking the puck. It's like they're playing now to lose and therefore they are losing.
Article content
"I just think you've got to add some grit. … I'm not biased against small guys, but small guys to me have to the most noticeable, dominate players on the ice… I just think that those players have to be hungrier, faster, and I just don't see enough right now out of the supporting cast."
May had a kinder word for the Oilers goalie situation than you'll hear in Edmonton, noting that when you don't have a team playing hard in front of you, that puts immense pressure on the goalie. "If they let in one iffy goal, they're done. That's what is happening right now there. It doesn't matter who is in net. If you got (ace Tampa goalie Andrei) Vasilevskiy, eventually he will lose his confidence."
There are simply too many two-on-ones and high danger chances against Edmonton, May said.
Article content
"The depth guys have to be more desperate. Right now they look small, they look fragile, they're not physical, they're not checking the puck well."
My take
1. Hmmm. I think May has identified a major issue here but I don't think he hit the nail on the head, especially with his comment on Edmonton's goaltending. If Mike Smith this year was the Mike Smith of last year, Edmonton would be winning now.
2. It strikes me — and this is strictly from observation here, not from knowing anything about team dynamics — that Smith is the straw that stirs Edmonton's drink. When he's healthy and in the line-up, he dominates the game with his fiery mood, brilliant puckhandling and strong goaltending. The Oilers simply look like a different team when he's playing, each guy growing a few inches and gaining ten pounds of muscle, each guy ready to hit harder, hustle harder and try to match Smith's unmatchable intensity. Smith's presence on the ice — at least if he can bring something close to his "A" game — helps immediately to solve the problem May references, the lack of physicality and forceful play. He can't get back in the line-up soon enough, but it's starting to look like his health really isn't going to allow that this season. Hate to say it, but that's how I size things.
Article content
3. As for the lack of hard-hitting and intense forwards, especially some with some size, yes, that's a hole on the team, one of a number of holes, especially with big, tough Zach Hyman out of the line-up right now. When it comes to Oilers forwards who play a hard game, he's at the top of that list, with Leon Draisaitl, Jesse Puljujarvi and Warren Foegele having their moments, and Tyler Benson, Colton Sceviour and Kailer Yamamoto doing OK for smaller players. But Devin Shore, Brendan Perlini, and Zack Kassian need to bring more. Ryan McLeod needs to mix it up more. Kyle Turris has already played his way out of the line-up in large part through lack of physical play and defensive intensity, but Shore, Kassian, Perlini, Derek Ryan and McLeod have got to bring more fire. If not, they're on their way out too.
Article content
4. On defence, Duncan Keith has been playing better, but this is not a hard-hitting group. Tyson Barrie and Evan Bouchard aren't hitters, nor is Slater Koekkoek. Darnell Nurse is, but hitting too much will wear him out. William Lagesson needed to play a more physical game, but failed to do so. Kris Russell brings grit but keeps getting hurt and in too many games isn't the player he used to be. This group can move the puck OK, but it's short on Big Bobby Clobbers.
5. The Oilers now rank seventh out of eight teams in the Pacific Division, ahead of only woeful Seattle. But due to Edmonton's blistering start, the team is still at real .500, 18 wins and 18 losses in all situations. It hasn't dipped into hopeless territory. It's still got a chance to sort out this season and at least make the playoffs. It's hard to imagine how that happens just now, but it's almost impossible to fathom how a team that was the best in the NHL for the first 21 games has been the worst for the next 15. Who knows where this goes net?
Staples on politics
Why hasn't impolitic Kaycee Madu been fired? A few important reasons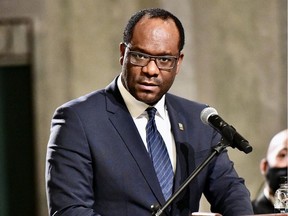 At the Cult
McCURDY: Turris waived, Griffith recalled
McCURDY: Reported Brad Malone signing quashed by COVID
LEAVINS: Post mortem of a 6-0 beatdown on home ice
McCURDY: Slumping Oilers in deep vs. high-flying Panthers
STAPLES: Savvy media men Ferraro, Messier offer tips to Oilers stars