Toronto Maple Leafs sign winger Ilya Mikheyev to two-year deal
TORONTO — The Maple Leafs have avoided an arbitration hearing on Wednesday with restricted free agent winger Ilya Mikheyev, settling instead on a two-year, $3.29 million contract extension Tuesday night.
Mikheyev had exercised his right for an arbitration hearing earlier this month after the Leafs extended a qualifying offer to the pending RFA but then failed to find common ground with his camp on a new extension. The 26-year-old had been looking for a one-year, $2.7 million deal from Toronto, while the Leafs initially countered with a two-year contract, averaging $1 million per season.
According to CapFriendly, the Leafs are now exceeding the NHL's flat salary cap of $81.5 million, with RFA Travis Dermott still left to be signed. General manager Kyle Dubas said in a conference call on Sunday he was waiting for Mikheyev's deal to be done before turning the team's attention to Dermott. Toronto can be 10 per cent over the cap until the 2020-21 regular season begins, at a date still to be determined.
Mikheyev's case was an especially interesting one to consider from both sides, given how the forward's promising rookie season was cut short by a gruesome injury.
Never originally drafted by an NHL club, Mikheyev's stock built slowly over four seasons in his native Russia with the KHL's Omsk Avangard. By the end of his career-best 45-point campaign in 2018-19, several NHL clubs were making offers, but it was the Leafs who landed Mikheyev in May 2019 on a one-year, entry-level contract.
Starting out in a third-line role for the 2019-20 season, Mikheyev scored in his NHL debut, and put up seven points in his first 10 games. He continued to show versatility from there, able to play on either wing and hold his own in the top-six when necessary.
Mikheyev had amassed eight goals and 23 points in his first 39 games when his freshman year took a brutal turn. Facing the New Jersey Devils on Dec. 27, he suffered ligament damage when Jesper Bratt's skate blade accidentally cut into his right wrist. The injury required surgery to repair and Mikheyev was not able to return before the NHL hit pause in March amid the global COVID-19 pandemic.
He was back to full health for Toronto's qualifying-round series against the Columbus Blue Jackets in early August, but Mikheyev was ineffective and failed to register a single point through those five games, as the Leafs fell three games to two.
Despite that poor showing, Mikheyev's speed, hockey sense and hard shot make him a valuable addition to the Leafs' offence going forward and he projects to play in the top-six again next season.
Source:- TSN
Raptors appear to be giving Terence Davis the benefit of the doubt – Sportsnet.ca
Toronto Raptors general manager Bobby Webster has a lot of things to figure out and a limited amount of time to get it all done.
Not all problems are created equal.
Unable to play in Toronto due to the COVID-19 pandemic, Webster's club is in the midst of building out a temporary home in Tampa Bay on the fly — including a world-class practice facility in a hotel ballroom — with barely three weeks until the 2020-21 season is due to start.
Important? Absolutely.
He's also trying to navigate a tightrope, which features fairness and due process on one side, and the team's progressive reputation for actively supporting women and their role in and around professional sports on the other.
The issues could potentially be in conflict as second-year guard Terence Davis continues to train with the team after being charged and investigated for an off-season domestic assault situation. The Raptors guard is alleged to have hit his girlfriend in the face and knocked over her toddler in the process.
Under Raptors president Masai Ujiri — who has yet to comment on the Davis issue — the club has worked to be seen as leaders as it relates to the roles of women within a professional sports organization. The club was proud that vice president of basketball operations Teresa Resch and assistant coach Brittni Donaldson were two of 14 women to earn championship rings with the Raptors in 2019. Their diversity, the Raptors argued, was a key to their success.
But so far, as they try to get settled in Tampa, the Raptors seem to be doing better with the logistics of starting from scratch in a new city than keeping their reputation scratch-free.
In his first comments since Davis was charged after the altercation in a New York City hotel room in late October, Webster attempted to explain Davis's continued presence with the team as a matter of due process: under the NBA-NBPA Joint Policy on Domestic Violence, the entire matter — from eventual discipline to issues like putting a player on paid leave of absence — is handled by the office of NBA commissioner Adam Silver.
That Davis is in Tampa in advance of training camp is the league's decision, Webster seemed to be saying.
But the questions got harder and Webster faltered.
Toronto Sun columnist Steve Simmons pointed out that, given the Raptors' progressive reputation, having Davis with the team (he was even included for discretionary events like their volunteer mini-camp in Los Angeles last week, for example) could make them seem hypocritical.
"We've spoken at length with Terence — multiple people in our organization," Webster said. "Obviously we wouldn't make the decision if we weren't comfortable with the information that we had. Obviously, it doesn't preclude us from getting new information that will come out in the future for us to make a decision. But we felt we were thorough on our end.
" … You know us, we take this incredibly serious," Webster continued. "There's no basketball issue that would ever prevent us from doing anything [with regard to his role with the team], but we also have to go with our relationship and our understanding of the conversation and what happened."
Clearly Webster's hands are tied, to some degree. Any disciplinary action taken before the league's investigation is concluded — which likely won't happen until after Davis's Dec. 11 court date at the earliest, one would assume — would be grieved by the players' union.
And clearly the Raptors feel the need to be fair to Davis as this all plays out, or at least they've been comfortable to do so. The club picked up the non-guaranteed second year of Davis's contract on Sunday. The logic was that failing to do so before the investigation finished would have triggered a grievance from the players' union.
But it would have sent a message, regardless. So would keeping Davis at a distance during discretionary team events.
It might have been construed as a different kind of leadership.
But Webster seems to have shown some of his cards, at least in implying that the club believes they were "thorough" in their own inquiry. And that rather than keep Davis at arm's length for now they have decided to keep him as part of the group — "we also have to go with our relationship and our understanding of the conversation and what happened."
It's not hard to read between the lines and conclude that Davis — arguably the team's most promising prospect based on a strong rookie season for the undrafted shooting guard — has already been given the benefit of the doubt, well before his court date.
To the extent something happened between him and his girlfriend, it could be implied, it was relatively minor — if there is such a thing as a sliding scale for domestic violence.
And who knows, maybe there are grounds for that. Former Celtics guard Jabari Bird was instantly placed on paid administrative leave just prior to training camp after he physically assaulted a girlfriend, attempted to strangle her and confined her to his apartment. Bird was eventually traded and waived and has yet to return to the NBA.
That the league — which holds most of the cards for the moment — hasn't limited Davis's contact with the team could be telling.
But at least until the investigation into what happened between Davis and his girlfriend is concluded — either by the legal system or by the NBA — a wiser path for the Raptors would be to avoid implying that Davis's word is good enough for them and to get him on the floor in as routine fashion as possible.
There is a lot going on and a balance to be struck, but on the Davis matter the Raptors seem to have already shown their hand.
By the Numbers: Comparing Metcalf to Megatron – TSN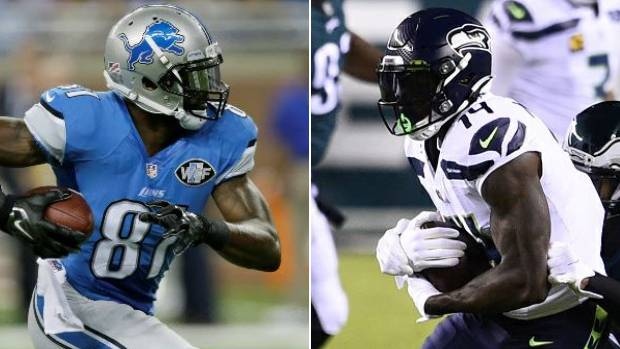 After D.K. Metcalf's monster performance against the Philadelphia Eagles on Monday Night Football, the second-year wide receiver said he had a chip on his shoulder following comments made to him by Eagles defensive coordinator Jim Schwartz.
Metcalf revealed after the game Schwartz said to him, "I was in Detroit with Megatron, but you're not there yet."
While there may have been a misunderstanding about the comment – Schwartz later clarified he meant to compliment Metcalf as the closest thing to Calvin Johnson, the three-time All-Pro receiver that retired after the 2015 season, Schwartz has seen – Metcalf used it as motivation to finish the game with 10 receptions for a career-high 177 yards.
The 22-year-old Metcalf has been outstanding for the Seahawks since the club selected him in the second round of the 2019 NFL Draft. Has he been as good as Johnson through the first year and a half of their careers? Is he on his way to becoming the next Megatron?
TSN.ca takes a closer look at Metcalf's early-career numbers and compares them to Johnson's statistics at the same time of his career.
Metcalf accounted for 77 per cent of the Seahawks' 230 passing yards. It was the third-highest percentage by a single receiver in the past five seasons, but strangely not even the highest percentage of Week 12. Denver Broncos tight end Noah Fant caught the lone completion by fill-in QB Kendall Hinton against the New Orleans Saints.
Metcalf's 177 receiving yards were the fifth-most in Seahawks' history, behind three games by Hall of Famer Steve Largent and one by fullback John Williams.
Metcalf leads the league with 1,039 receiving yards and his nine receiving touchdowns are fifth in the NFL.
With his 177 receiving yards on Monday, Metcalf became the fastest Seahawks receiver to eclipse the mark in just the 11th game of the season.
His 1,039 receiving yards are also the fifth-most by a player in his first or second year in the league through 11 games in the past 30 years.
His 1,939 career receiving yards are just 88 behind Joey Galloway's 2,027 for most through two seasons in Seahawks franchise history.
Metcalf vs. Megatron (through the first 27 games of their career)
Metcalf has 116 receptions on 190 targets for 1,939 yards and 16 touchdowns.
Johnson had 101 receptions on 200 targets for 1,727 yards and 12 touchdowns in 2007-2008.
Johnson would finish his sophomore campaign with 78 receptions for 1,331 yards and 12 touchdowns.
Metcalf is on pace to finish his sophomore season with 84 receptions for 1,511 yards and 13 touchdowns, projected over a full 16-game schedule.
Johnson wouldn't earn a trip to the Pro Bowl until his fourth season with the Lions and his best work came in seasons 5-7 when he named an All-Pro in three straight seasons.
He would twice surpass Metcalf's projected receiving yards total for this season (1,511) with 1,681 yards in 2011 and 1,964 yards in 2012.
Raptors finalize their 2020-21 training camp roster – Sportsnet.ca
The Toronto Raptors announced Tuesday that they have finalized their 2020-21 training camp roster.
There is a maximum of 20 players allowed on the roster at this time.
In addition, the Raptors announced that restricted free agent Oshae Brissett and free agent centre Henry Ellenson have each signed multi-year contracts. Toronto also finalized contracts with both of their 2020 draft picks, with Malachi Flynn signing a rookie scale deal and Jalen Harris signing a two-way contract.
The Raptors officially signed free agent forwards Alize Johnson and Yuta Watanabe to one-year exhibit-10 deals.
Terrence Davis remains on the roster after his arrest in New York City for allegedly assaulting his girlfriend back in October. His next court appearance is scheduled for Dec. 11.
As Sportsnet's Michael Grange explained, the situation with Davis continues to be uncertain and his future in Toronto is in doubt despite being included on the training camp roster.
"At this point, its a matter between the NBA and the union," Raptors general manager Bobby Webster said in a media availability Tuesday.
Individual workouts and training camp will take place Saint Leo University near the Raptors' temporary home in Tampa Bay, Fla., from Dec. 1 to Dec. 11.
2020-21 Toronto Raptors Roster