TRAMPS! looks at the art movement behind the The New Romantics – CBC.ca
Cutaways is a personal essay series where filmmakers tell the story of how their film was made. This is one of 5 essays from directors featured at the 2022 Inside Out 2SLGBTQ+ Film Festival.
Rising from the nihilistic ashes of the punk movement in the late 1970s, a fresh crowd of flamboyant fashionistas, who would later be christened the New Romantics, began to materialize on the streets of London, England.
My new feature film, TRAMPS! repositions the iconic 80s subculture as an art movement rather than solely a pop-cultural one.
This period in British history was particularly unique because kids could attend art or fashion school for free, and also lived in massive squatted houses with other fledgling artists. In a pre-AIDS era, this way of living provided a lifestyle with very little sense of consequence and resulted in a flourish of art being produced that straddled film, music, art and fashion causing waves around the world that resonate to this day.
Their radical, proto-drag confused the media, who couldn't look away — like a cultural car crash, and soon enough they were brought into homes internationally with the rocket-like rise-to-fame of the likes of Boy George and his band Culture Club.
The idea for the film originates back to my trip to London, England with my first movie back in 2013. Admittedly, I came to the city with a well-developed obsession with UK music, arts and subculture going all the way back to my youth. I was struck by the proximity of these artists who were both central to my preexisting obsessions, and those who permeated the margins of the cultures I had come to love.
I knew straight away that I needed to spend time getting under its skin for my next movie, and it wasn't until a series of coincidences revealed to me what that movie would be, that things started falling into place.
As my research plunged to its depths I realized that I wanted to shift the focus away from megastars and instead shine a light on people like painter Trojan, who had to this point been thrust into the shadows of his partner in crime, performance artist Leigh Bowery. These shadows were also cast by the onslaught of AIDS and rampant drug use, which effectively banished so much of the creative community to obscurity.
I crossed paths with incredible artists like fashion designers BodyMap, jewelry designer and stylist extraordinaire Judy Blame, choreographer Michael Clark and style icons Princess Julia and Scarlett Cannon. I was obsessed with their images, having permeated the pages of revolutionary cultural magazines like I-D and The Face, but seemed to flounder in terms of being celebrated as part of this movement which really was born out of a diversity of art practises, rather than strictly pop music aimed at straight people and dominant culture.
For me, TRAMPS! is a movie about youth culture, the central characters just happen to be more advanced in their years. Of course, night life in London still thrives, and although they seem to be slipping away to the annals of the digitization of gay culture, the East End alternative gay bars still teem with boundary pushing queer artists and festive freaks. DJ's like Princess Julia and Jeffrey Hinton are still very much at the centre of it. They've been at it since the early 80s — Jeffrey Hinton was the resident DJ at Leigh Bowery's nightclub Taboo, which was infamously debaucherous.
People like Julia and Jeffrey are a well of energy and I was eager to dip my bucket in! I wanted to bridge the gap between the archaic divide between so-called "kids these days" and the generations that predated them. I think the adage goes, if you're not interested, you're not interesting. The subjects in my film continue to engage with and produce art in whatever guise that may be — even just dressing up!
Making a documentary can be pretty depleting, especially when you spend years chasing pennies from granting bodies. For me that also extended into a sense of unworthiness — like the project I cared so deeply for didn't have the worth I felt it had. It can also be costly in many other ways, such as a forced unsustainable lifestyle, especially when other filmmakers seem to sail through things like financing and distribution, where I felt I was destined to flounder.
That's why when I would look at the subjects in TRAMPS! I began to see them not as just members of bygone subculture, but instead as a sort of mystical source of inspiration. To be an artist is to be a survivalist, resilience is at its centre, and so the narrative of the movie began to develop around those themes. Because I needed to hear it, I assumed others like me would also benefit from their secrets. What was the source of that resilience? How do they survive? How will I continue to make art and survive?
The New Romantics were essentially living what we are now seeing in what is sometimes referred to as the precariat generation; those whose income and employment are entirely insecure today. While working small jobs in friends shops, and a variety of other side gigs, trying to survive while making this movie — this fear-filled existence became central in my life and the narrative of the movie as well. Very dramatic I know, but these are undeniably dramatic times.
I hoped the answer, and inspiration to continue down this path existed somewhere in their story. This was the inspiration I needed to grow as a filmmaker and as a person, and so TRAMPS! was born.
I wanted to find some tenderness in a community that was so well-known for its aesthetic alone, and through this concept and cliché of the "artists struggle" I feel we really did find a lot of heart in that. It wasn't until the movie was invited to play BFI Flare, and I stood on the stage at two sold out screenings that I realized that pursuit I so desperately needed to continue, truly did manifest in this documentary. I'm so excited to be able to share that with anyone and everyone who may continue to be in that position.
Ultimately, TRAMPS! is an allegorical gesture to artists of any generation trying to navigate how to produce work in an aggressively capitalist political economy. It happens to take place in London, but I hope it speaks to artists everywhere.
---
TRAMPS! screens in Toronto at the Inside Out 2SLGBTQ+ Film Festival on Tuesday, May 31. It is available to stream across Ontario from May 26 to June 5.
Art workshops for teens offered in photography, poetry – Sarnia Observer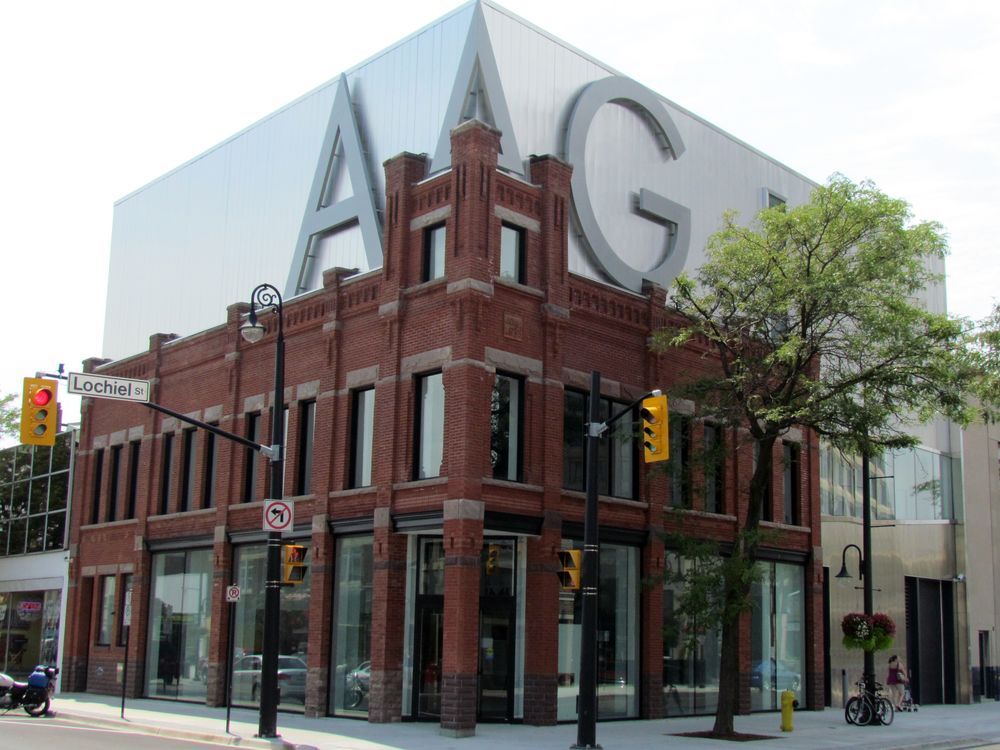 Article content
Hopes are participants in an upcoming art workshop series for teens also get involved in a photo contest jointly hosted by Lambton County Library and the Judith and Norman Alix Art Gallery, a gallery official says.
Article content
The Take Your Shot Teen Photo Contest that opened in May for 13-18-year-olds, and running until July 10, is one of the reasons photography was made one of the topics in an upcoming Random Acts of Art Workshop (RAAW), said Anna Miccolis, community art and education coordinator with the downtown Sarnia gallery.
The photo contest has been held by the library dating back to around 2009, but in recent years the gallery has come on board, she said.
"It's had a number of different names over the years," she said about the contest.
The July 6-8 RAAW "crash course of photography basics" with photographer Sierra Rei Hart at the gallery promises to help prep youngsters with photography knowledge, including composition, perspective, lighting and editing.
Winners, meanwhile, in the contest that challenges teens to encapsulate the feeling of home in their shots, get their photographs matted and framed. A choice of prizes is available to the grand prize winner.
Details are at jnaag.ca.
The contest kicked off in May with a talk about photography and storytelling from decorated photojournalist Larry Towell.
An Aug. 12 to Oct. 8 exhibition at the gallery called Feels Like Home is planned to showcase work by Towell, from the gallery's permanent collection, and jury-selected entries from contest participants, Miccolis said.
The other Summer RAAW workshop is poetry with spoken word artist Shelly Grace July 20-22.
It ties into 10th anniversary plans for the Judith and Norman Alix Art Gallery this fall, Miccolis said.
Article content
"We're looking at our permanent collection and the story of how JNAAG came to be in this building, but we're, in that exploration of the permanent collection, we're thinking about what our collection encompasses at this time," she said.
"And we thought that a program centred around poetry and performance could create an opportunity for some interesting responses from youth in the community."
Details are pending for anniversary plans in October, she said.
"But we do have a plan for a rotation of exhibits, giving a survey of the permanent collection."
The age 14-18 RAAW series – another for 9-13-year-olds is called TNT Summer Splash – has been hosted by the gallery for more than a decade, including its pre-JNAAG days as Gallery Lambton, Miccolis said, noting the workshops are free.
Past iterations have included making murals on walls of buildings, as well as stained glass artwork and experimental painting, she said.
"As always, we're looking to create deepened connections to the work on display," she said. "Whether it's a current exhibition, or using programs as a primer to exhibitions coming in the near future."
Current gallery exhibitions include photography exhibition One Wave by Ned Pratt, and Facing North, featuring paintings by Jean Hay.
Surprised by art — Folks Art Festival uses garbage cans as canvas – Welland Tribune
The annual Niagara Folk Arts Festival may be wrapping up, but its Art We Surprised project will be around all summer — and perhaps even beyond.
So if you're walking in St. Catharines' Richard Pierpoint Park and find yourself face-to-face with a piece of art, make sure to take a closer look.
It was carefully created and designed — but instead of the artist using a traditional canvas, the work is on a plastic garbage can.
The point, as the name suggests, is the surprise.
"The project came from the idea that persons walking through (the park) would suddenly come upon a highly decorated art work, and be surprised to find it out in a natural setting," said Pam Seabrook, fundraising and events manager with Niagara Folks Arts Multicultural Centre.
Originally planned for the 2020 festival through the City of St. Catharines Centennial Gardens Partnership Fund, Art We Surprised was placed on hold due to the pandemic.
Seabrook said the pause was because organizers wanted the art pieces to create "real engagement between artists and the general public," but in the end, settled for a hybrid model — with some solo creations, and some group pieces.
Spanning an assortment of styles and inspiration, from pencil portraits to pieces reminding residents the importance of taking care of the environment. Each art piece is created by an artist who came to Canada as an immigrant.
Seabrook said the art project is an example of what the centre stands for: the inclusion of all cultural heritages, and breaking down of racism, ageism, sexism, homophobia, perceived lack of abilities and seclusion barriers.
One of the artists, Cemile Kacmaz heard about the project through social media. Kacmaz came to Canada with her 12-year-old son in 2020, with the goal of working as an education assistant, and bringing art into special needs programming.
Originally from Istanbul, Kacmaz said she came to Canada because of the difficult political situation in Turkey, and a lifestyle she did not want her son to grow up in. Being an artist in Canada allows her a freedom of speech and expression people in Turkey — and for much of her own life — are not always allowed to share publicly.
Kacmaz attended Niagara College for two years (graduating last week), but with most classes online, said it was difficult and lonely, with no friends or family nearby.
When she learned the fold arts centre was looking for artists to participate in its annual art project, she thought it would be fun and give her a chance to become involved with the Niagara community.
Art We Surprised was an opportunity to use her art for change.
Kacmaz spent a month and a half planning, and another month painting her garbage can. It was a "long, slow process," she said, but the organizers gave artists the ability to take their time.
"Painting is the way of communication between me and the world. It is a kind of tool to understand the world around me," she said.
Her inspiration was the universe, and by placing the garbage cans into the space, between "planets and stars, I wanted to point out how we treat the nature we live and exist in."
All Art We Surprised garbage cans created by artists from across the Niagara region — artists with backgrounds spanning Lebanon, Africa, Colombia and China — will be placed in St. Catharines and at Pierpoint Park this month.
The Niagara Folks Art Festival has held a community art project each year since 2019, with artists invited to participate in communal art projects, regardless of ability.
SHARE:
The in-person return of Art on the Street (8 photos) – GuelphToday