Transcending politics – Northwest Arkansas Democrat-Gazette
It is a phrase that has been continuously invoked by Democratic and Republican leaders. It has become the clearest symbol of the mood of the country, and what people feel is at stake in November. Everyone, it seems, is fighting for it.
"This campaign isn't just about winning votes. It's about winning the heart and, yes, the soul of America," former Vice President Joe Biden said in August at the Democratic National Convention, not long after the phrase "battle for the soul of America" appeared at the top of his campaign website, next to his name.
A recent campaign ad for President Donald Trump spliced videos of Democrats invoking "the soul" of America, followed by images of clashes between protesters and police and the words "Save America's Soul," with a request to text "SOUL" to make a campaign contribution.
That the election has become a referendum on the soul of the nation, suggests that in an increasingly secular country, voting has become a reflection of one's individual morality — and that the outcome hinges in part on spiritual and philosophical questions that transcend politics: What, exactly, is the soul of the nation? What is the state of it? And what would it mean to save it?
The answers go beyond a campaign slogan, beyond politics and November, to the identity and future of the American experiment itself, especially now, with a pandemic that has wearied the country's spirit.
"When I think of soul of the nation," Joy Harjo, the U.S. poet laureate and a Muscogee (Creek) Nation member, said, "I think of the process of becoming, and what it is we want to become. That is where it gets tricky, and that is where I think we have reached a stalemate right now. What do people want to become?"
Harjo said the country's soul was "at a crucial point."
"It is like everything is broken at once," she said. "We are at a point of great wounding, where everyone is standing and looking within themselves and each other."
In Carlsbad, Calif., Marlo Tucker, the state director for Concerned Women for America, has been meeting regularly to pray with a group of a dozen or so women about the future of the country. The group has been working with other conservative Christian women to register voters.
"It really comes down to what do you stand for, and what do you not stand for," she said.
"I know this is a Christian nation, the Founding Fathers were influenced by the biblical values," she said. "People are confused, they are influenced by this sensationalism, they are angry, they are frustrated. They are searching for hope again in government, they are searching for leaders who actually care for their problems."
THE BODY POLITIC
The soul, and the soul of the body politic, is an ancient philosophical and theological concept, one of the deepest ways humans have understood their individual identity, and their life together.
In biblical Hebrew the words translated as soul, nefesh and neshama, come from a root meaning "to breathe." The Genesis story describes God breathing into the nostrils of man, making him human.
The meaning echoes through today, in a pandemic that attacks the respiratory system and in police violence against Black people crying out, "I can't breathe."
Homeric poets saw the soul as the thing humans risk in battle, or the thing that distinguishes life from death. Plato wrote of Socrates exploring the connection between the soul and the republic in creating the virtue of justice. For St. Augustine, who wrote "The City of God," the city could be judged by what it loves.
The soul of the nation is "a very ancient trope that is revived when all sorts of cultural ideas are in flux," Eric Gregory, professor of religion at Princeton University, said. "It reveals something about the current political conversation, in times of crisis and change, a corruption of sickness."
Often we stress systems and institutions, he said, but in the Trump era there has been a return to ancient concepts about the welfare of the city, where politics is about right relationships. "In ancient politics the health of society had a lot to do with the virtue of the ruler," Gregory said.
In the United States, the question of who could define the soul of the nation was fraught from the start, from the forced displacement of American Indians to the enslavement of Africans.
And the state of the soul of the nation has often been tied to the country's oppression of Black people. Abolitionists like Frederick Douglass fought for an "invincible abhorrence of the whole system of slaveholding" to be "fixed in the soul of the nation." Lyndon B. Johnson said the country found its "soul of honor" on the fields of Gettysburg. When the Rev. Martin Luther King Jr. and other civil rights leaders formed what is now the Southern Christian Leadership Conference in 1957, they made their founding motto "to save the soul of America."
'BATTLE FOR THE SOUL'
This year Trump has positioned himself as the defender of a Christian America under siege. "In America, we don't turn to government to restore our souls, we put our faith in Almighty God," he said at the Republican National Convention. Franklin Graham, one of his evangelical supporters, wrote last year that this age is "a battle for the soul of the nation," as the original "moral and spiritual framework, which has held our nation together for 243 years, is now unraveling."
For Biden, the soul of the nation came into focus after the deadly white nationalist rally in Charlottesville, Va., three years ago. "We have to show the world America is still a beacon of light," he wrote at the time.
Amid questions of the soul, voters have problems they want solved, and systems they want changed.
North of Boston, Andrew DeFranza, executive director of Harborlight Community Partners, an organization that develops inexpensive housing, reflected on the disastrous impact of the coronavirus pandemic for many people, from essential workers to people with disabilities. The country's soul is disoriented, adversarial and tired, he said.
"I don't think Group A is going to beat Group B and everything is going to be fine," he said of the election. "We are eager to see political leaders at every level regardless of party demonstrate concrete, actionable plans to address these issues of inequity around health and race, and to do so in a way that is concrete and has outcomes to which they can be accountable."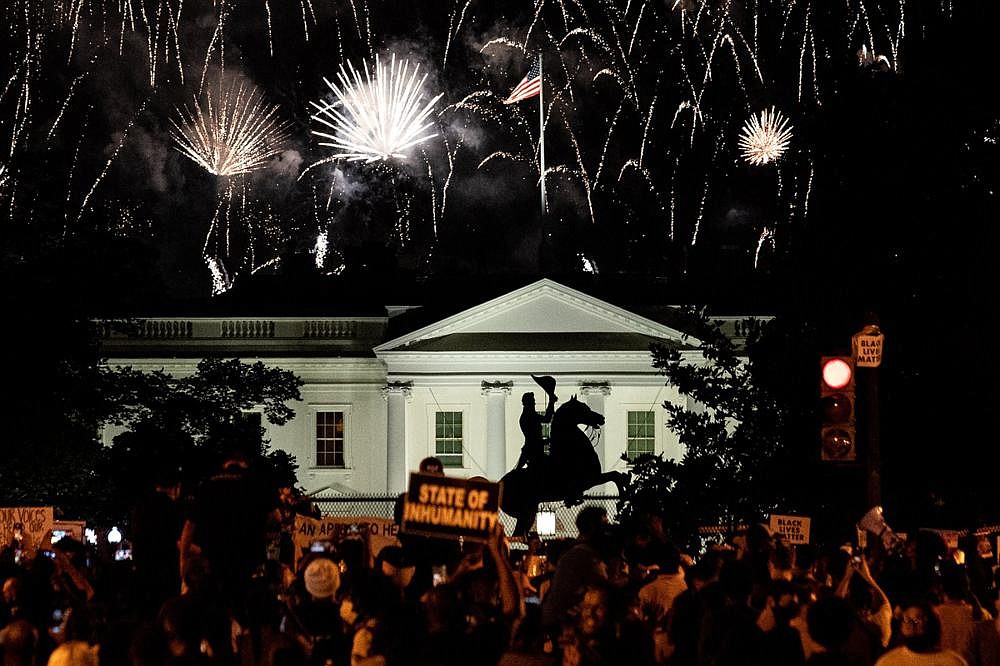 Protesters watch a fireworks display above the White House after President Donald Trump accepted the Republican presidential nomination during the final night of the Republican National Convention, in Washington, on Aug. 27. The election has become a referendum on the soul of the nation, suggesting that in an increasingly secular country, voting has become a reflection of one's individual morality — and that the outcome hinges in part on spiritual and philosophical questions that transcend politics.
(The New York Times/Erin Schaff)
Vaccines End the Pandemic's Political Harmony – The New York Times
#masthead-section-label, #masthead-bar-one display: none
Vaccines End the Pandemic's Political Harmony
Erin O'Toole, the Conservative leader, is using the government's vaccine plans to begin his first big political attack on Prime Minister Justin Trudeau.
Dec. 4, 2020,

9:04 p.m. ET
After several months of the pandemic not being a partisan issue in Canada, the prospect of effective vaccines has finally politicized it. While the political dissent in no way resembles the polarization that surrounds the pandemic in the United States, Erin O'Toole has made the government's vaccine plans the subject of his first major attack as Conservative leader on Prime Minister Justin Trudeau.
Joining Mr. O'Toole have been several of the premiers. Ontario's premier Doug Ford, who as recently as August said, "I absolutely love Chrystia Freeland," Mr. Trudeau's deputy prime minister, now grumbles about being denied information by the Liberal government.
Although no vaccine is currently approved for use in Canada, or in the United States or Europe, Mr. O'Toole introduced a motion in Parliament on Thursday to, among other things, require the government to post specific dates for when Canadians will start receiving each of the various vaccines it has ordered; offer details on how the vaccines will be shipped and stored; and state who the government will recommend be first inoculated by provincial health care systems.
"Canadians deserve to know when they can expect each vaccine type to be available in Canada and how many vaccines will be available per month," Mr. O'Toole said. "In the middle of a historic health crisis, this government should not be operating behind closed doors."
The motion followed earlier claims by Mr. O'Toole that the government had excessively focused efforts on a joint vaccine venture between CanSino, a Chinese vaccine maker, the National Research Council and Dalhousie University that ultimately fell apart because of lack of cooperation from China. He also said Canada was at the back of the line for the millions of doses of vaccines it has ordered.
The government rejects Mr. Toole's accusations that it has somehow dropped the ball on vaccines and will leave Canadians waiting for the shots.
When confirming this week that the first doses will arrive in early 2021, Anita Anand, the minister responsible for buying them, emphasized that everything now hinges on Health Canada determining that the vaccines are both safe and effective.
"While there is pressure to move at the speed of politics, we will not rush the science," she told a news conference. "It is not possible to circle a single date on the calendar but I can assure you that as soon as Health Canada approval occurs, our delivery process will kick in."
But that does open up the question of why Britain is going ahead now with the vaccine from Pfizer, the American company that will also be Canada's first supplier. Benjamin Mueller, my colleague based in London, recently explained that, unlike Canada and the United States, Britain's regulator is willing to rely more on reports by drug makers that their vaccines are safe and work as promised, rather than analyze the raw data.
[Read: Why the U.K. Approved a Coronavirus Vaccine First]
Not everyone accepts the wisdom of Britain's accelerated approach.
Scott Matthews, a professor of political science at Memorial University in St. John's, Newfoundland, told me that it was inevitable that the political harmony in Canada around the pandemic would erode.
"The prime minister has been benefiting from the absence of criticism," he said.
But he said there was no danger that the current focus on vaccine delivery would harm the overall message of the importance of following public health guidelines to reduce infection.
"The Conservatives' approach isn't putting anyone's life in danger and it's natural they'd be criticizing the government — that's what the opposition does," he said. But Professor Matthews wondered what would be gained if specific dates are pinned down. "Is the motion they're talking about really that important?" he asked.
---
Trans Canada
---
A native of Windsor, Ontario, Ian Austen was educated in Toronto, lives in Ottawa and has reported about Canada for The New York Times for the past 16 years. Follow him on Twitter at @ianrausten.
---
How are we doing?
We're eager to have your thoughts about this newsletter and events in Canada in general. Please send them to nytcanada@nytimes.com.
Like this email?
Forward it to your friends, and let them know they can sign up here.
Will Rajinikanth's bet on 'spiritual' politics, 'change' mantra catapult him ? – Mint
Chennai: If his political package of 'spiritual politics' plus 'change everything' clicks, Rajinikanth would be the third star from the celluloid world to taste political success in Tamil Nadu after AIADMK founder M G Ramachandran and his protege J Jayalalithaa.
Whether or not his charisma and fan following would catapult him to political primacy could also be gauged, to an extent, from how he was going to explain his spiritual politics and the mantra of change to the people besides a host of other factors.
Also read | Inside the race to save Mollem
Assembly elections are due in Tamil Nadu during April-May 2021. According to the actor, spiritual politics is honesty, transparency and graft free politics transcending the barriers of caste and religion to provide good governance.
The 'change everything' slogan in addition to the 'now or never' is about a complete overhaul of the 'system' in governance and at the level of party structure as well to facilitate a real change for the benefit of the people.
The star, who had described himself in the past as a fanatic fan of late MGR, had invoked his legacy to assure a good administration for the benefit of poor and common man. Before he founded the AIADMK in 1972, MGR was with the DMK and had been also been active in politics. Virtually challenging Dravidian ideology, he had asked if honesty, belief in God and overcoming the barriers of caste and religion was alien to the Dravidian land.
On the poll prospects for the actor, political analyst Sumanth Raman said it was too early to predict since there were many questions to be answered by the actor. Raman wondered, "What is the meaning of change everything ? what is his policy and programmes ?"
He said the actor should explain how he would usher in the change that he has promised. Many things– like if his party would contest all the 234 seats, if it is so, who would be the candidates or whether there is a possibility of stitching an electoral alliance are not known, he said. Rajinikanth would also need a large team of credible faces to be fielded as candidates, he pointed out.
To a question on the actor saying in March that he would prefer to name a youth as Chief Minister and stay out of governance, Raman wondered if that view was still "valid." "Rajinikanth will make an impact. But for the impact to be really huge, there should be answers for such questions. I can see that both AIADMK and DMK is rattled by his political innings." he told PTI.
On spiritual politics, he said the DMK may try to give a spin to it, but he did not see 'neagativity' about it.
Dravidian ideologue V M S Subagunarajan, however, did not concur. He said the actor could not get a political foothold in Tamil Nadu since neither spirituality nor nationalistic politics have ever been successful in the state. Despite rooted in Periyar's ideology, the state has some space for film stars but only for those who have either acknowledged or endorsed the Dravidian ideology like actors Vijayakanth (founder of DMDK) and Kamal Haasan (chief of Makkal Needhi Maiam), he said.
"Rajinikanth's brand of spirituality is no doubt Hindu spirituality. His claim that he embraces all faiths is only hollow," he said, adding the actor's party, with its hues of spiritualism and nationalism may only be a clone of the BJP. "Nationalistic politics has no place in Tamil Nadu and yesteryear top star Sivaji Ganesan's failure to take off politically is a very good example," he said.
Renowned actor Sivaji Ganesan, who founded a political party after associating with the Congress, was defeated by DMK's Durai Chandrasekaran in the 1989 Assembly election (Tiruvaiyaru assembly constituency) by a margin of over 10,000 votes. Ganesan could only emerge as the runner-up.
Film critic and political analyst M Bharat Kumar pointed out that the actor has said his spiritual politics treated all religions equally and that it transcended all barriers. "The AIADMK is already following soft spiritualism through several welfare measures for the benefit of all faiths including Christians and Muslims. So, we need to see how he is going to distinguish himself from the AIADMK to succeed," he said.
The actor has promised 'spiritual politics' driven by the 'change' mantra in Tamil Nadu which is dominated by Dravidian politics of the AIADMK and DMK for over five decades.
The death of former Chief Minister Jayalalithaa, and DMK patriarch M Karunanidhi in 2016 and 2018 respectively, provided the perfect setting for Kamal Haasan and now Rajinikanth to aspire to climb the political ladder.
This story has been published from a wire agency feed without modifications to the text.
A Gathering Political Storm Hits Georgia, With Trump on the Way – The New York Times
@media (pointer: coarse)
.nytslm_outerContainer
overflow-x: scroll;
-webkit-overflow-scrolling: touch;
.nytslm_outerContainer
display: flex;
align-items: center;
/* Fixes IE */
overflow-x: auto;
box-shadow: -6px 0 white, 6px 0 white, 1px 3px 6px rgba(0, 0, 0, 0.15);
padding: 10px 1.25em 10px;
transition: all 250ms;
-ms-overflow-style: none;
/* IE 10+ */
scrollbar-width: none;
/* Firefox */
background: white;
margin-bottom: 20px;
z-index: 1000;
@media (min-width: 1024px)
.nytslm_outerContainer
margin-bottom: 0px;
padding: 13px 1.25em 10px;
.nytslm::-webkit-scrollbar
display: none;
/* Safari and Chrome */
.nytslm_innerContainer
margin: unset;
display: flex;
align-items: center;
@media (min-width: 600px)
.nytslm_innerContainer
margin: auto;
min-width: 600px;
.nytslm_title
padding-right: 1em;
border-right: 1px solid #ccc;
@media (min-width: 740px)
.nytslm_title
max-width: none;
font-size: 1.0625rem;
line-height: 1.25rem;
.nytslm_spacer
width: 0;
border-right: 1px solid #E2E2E2;
height: 45px;
margin: 0 1.4em;
.nytslm_list
font-family: nyt-franklin, helvetica, arial, sans-serif;
display: flex;
width: auto;
list-style: none;
padding-left: 1em;
flex-shrink: 0;
align-items: baseline;
justify-content: center;
.nytslm_li
margin-right: 1.4em;
flex-shrink: 0;
font-size: 0.8125rem;
line-height: 0.8125rem;
font-weight: 600;
padding: 1em 0;
#nytslm .nytslm_li a
color: #121212;
text-decoration: none;
#nytslm .nytsmenu_li_current,
#nytslm .nytslm_li a:hover,
#nytslm .nytslm_li a:active,
#nytslm .nytslm_li a:focus
color: #121212;
border-bottom: 2px solid #121212;
padding-bottom: 2px;
.nytslm_li_live_loud:after
content: 'LIVE'
.nytslm_li_live_loud
background-color: #d0021b;
color: white;
border-radius: 3px;
padding: 4px 6px 2px 6px;
margin-right: 2px;
display: inline-block;
letter-spacing: 0.03rem;
font-weight: 700;
.nytslm_li_upcoming_loud
border: 1px solid #d0021b;
color: #d0021b;
border-radius: 3px;
padding: 4px 6px 2px 6px;
margin-right: 2px;
display: inline-block;
letter-spacing: 0.03rem;
font-weight: 700;
.nytslm_li_upcoming_loud:before
content: 'Upcoming'
.nytslm_li_loud a:hover,
.nytslm_li_loud a:active,
.nytslm_li_loud a:focus
border-bottom: 2px solid;
padding-bottom: 2px;
.nytslm_li_updated
color: #777;
#masthead-bar-one
display: none;
.electionNavbar__logoSvg
width: 80px;
align-self: center;
display: flex;
@media(min-width: 600px)
.electionNavbar__logoSvg
width: 100px;
.nytslm_notification
border-left: 1px solid #ccc;
font-family: nyt-franklin, helvetica, arial, sans-serif;
padding-left: 1em;
.nytslm_notification_label
color: #D0021B;
text-transform: uppercase;
font-weight: 700;
font-size: 0.6875rem;
margin-bottom: 0.2em;
letter-spacing: 0.02em;
.nytslm_notification_link
font-weight: 600;
color: #121212;
display: flex;
align-items: center;
.nytslm_notification_headline
font-size: 0.875rem;
line-height: 1.0625rem;
.nytslm_notification_image_wrapper
position: relative;
max-width: 75px;
margin-left: 10px;
flex-shrink: 0;
.nytslm_notification_image
max-width: 100%;
.nytslm_notification_image_live_bug
position: absolute;
text-transform: uppercase;
bottom: 7px;
left: 2px;
font-size: 0.5rem;
background-color: #d0021b;
color: white;
border-radius: 3px;
padding: 4px 4px 2px 4px;
font-weight: 700;
margin-right: 2px;
letter-spacing: 0.03rem;
/* No hover state on in app */
.Hybrid .nytslm_li a:hover,
.Hybrid .nytslm_li_loud a:hover
border-bottom: none;
padding-bottom: 0;
.Hybrid #TOP_BANNER_REGION
display: none;
A Gathering Political Storm Hits Georgia, With Trump on the Way
With two crucial Senate seats up for grabs, Mike Pence and Barack Obama joined the fray in support of their party's candidates, and President Trump is headed there on Saturday.
Dec. 4, 2020,

7:22 p.m. ET
ATLANTA — Some of the biggest names in national politics jumped into the fiercely contested runoffs for two Georgia Senate seats on Friday, even as a second recount showed that Joseph R. Biden Jr. had maintained his lead in the state and Republicans braced for a visit by President Trump, who has railed against his loss there with baseless claims of fraud.
With Mr. Trump set to campaign for the two Republican incumbents, David Perdue and Kelly Loeffler, on Saturday, Vice President Mike Pence and former President Barack Obama held dueling events to underscore the vital stakes in the special elections: If both Republicans are defeated, control of the Senate will shift to Democrats just as Mr. Biden moves into the Oval Office.
Mr. Obama appeared virtually at a turn-out-the-vote event for Jon Ossoff, the Democrat facing Mr. Perdue, and the Rev. Raphael Warnock, Ms. Loeffler's opponent, and spoke of his frustration in seeing his initiatives blocked by the Republican-controlled Senate when he was in office. "If the Senate is controlled by Republicans who are interested in obstruction and gridlock, rather than progress and helping people, they can block just about anything," Mr. Obama said.
Mr. Pence — with Mr. Perdue and Ms. Loeffler by his side — received a Covid-19 briefing at the Atlanta headquarters of the Centers for Disease Control and Prevention and said later at a rally for the Republican candidates that "we're going to save the Senate, and then we're going to save America."
A second recount of the presidential vote in Georgia has finished, according to the Secretary of State website, showing Mr. Biden ahead by about 12,000 votes with 100 percent of the counties reporting.
New campaign financial reports filed late Thursday showed a staggering influx of money into the state in the first days of runoffs that were expected to set spending records, with more than $300 million booked in television, radio and digital ads, according to data from AdImpact, an ad-tracking firm. Media buyers said the price of ads was soaring, especially for super PACs, to unseen heights.
The Senate races are playing out at a hyperpartisan moment in American politics that has led to a civil war among Georgia Republicans divided over whether to support Mr. Trump as he persists with false assertions that the election was stolen from him. In Georgia and elsewhere, the president's lawyers remain engaged in a failing, last-minute effort to throw the election to Mr. Trump.
Even as he tweeted this week that he wanted "a big David and Kelly WIN," Mr. Trump called Brian Kemp, the state's Republican governor, "hapless" for failing to work to overturn the election results, while also criticizing Georgia's top election official, Secretary of State Brad Raffensperger. His sustained assault on Georgia's voting system prompted an extraordinary rebuke this week from another high-ranking elections official, who warned of violent threats against poll workers and publicly pleaded with the president to cool down his conspiratorial rhetoric.
On Friday, State Senator Elena Parent, a Democrat on the judiciary subcommittee, which met on Thursday, said that she had been the target of violent, anonymous threats that appeared on a public internet chat room.
The president's appearance in Valdosta, near the Florida border, on Saturday evening comes after a concerted campaign by his advisers and Republican lawmakers to convince him that his presence is vital to increasing turnout among his supporters. Initially reluctant, the president agreed to hold the rally after being told that victories by the Republican Senate candidates would help prove his contention that his own win in Georgia was stolen from him, according to aides familiar with the conversations.
But some Republicans in Georgia and Washington are fearful that Mr. Trump will go off-script, and potentially attack Mr. Kemp or Mr. Raffensperger. Party officials also worry that the president's claims of fraud could backfire, undermining turnout by convincing Republican voters that the special elections are rigged against them anyway.
L. Lin Wood, a lawyer and Republican supporter of Mr. Trump, and Sidney Powell, a lawyer who has filed lawsuits on the president's behalf, urged Georgians Wednesday not to vote "unless your vote is secure."
That same day, a number of prominent Georgia Republicans, including former Gov. Nathan Deal, signed an open letter in which they warned that "the debate surrounding the state's electoral system has made some within our party consider whether voting in the coming runoff election matters."
The leaders said that the party needed to focus on winning the two Senate seats, or risk turning the Senate over to a Democratic Party that "wishes to fundamentally alter the fabric of our nation into something unrecognizable."
Some senior Republicans in Washington are doing little to hide their concern about the damage that they believe Mr. Wood and Ms. Powell are inflicting.
"It's encouraging the president is going down there to rally the troops, because I know there's some inconsistent messages being sent to his base supporters," said Senator John Cornyn of Texas.
Chip Lake, a Georgia-based Republican strategist who most recently worked for Representative Doug Collins — who unsuccessfully vied in November for Ms. Loeffler's Senate seat — said Friday that Mr. Trump was facing "one of the biggest political speeches the president's ever had to make, because the stakes are that high."
"If we have any portion of our base that might decide to boycott this election for any reason whatsoever, then we might be handing over the Senate to Democratic control," Mr. Lake said.
Although a hand-recount of the state's five million votes reaffirmed that Mr. Biden had indeed won the Georgia election, Mr. Trump's campaign demanded a second machine recount. Fulton County, which includes much of Atlanta and is the state's most populous, certified its results on Friday. As of Friday evening, state election officials had not responded to queries about when they would officially announce the results of the recount or recertify Mr. Biden as the winner.
The urgency of the senate races was reflected in the huge amounts of money pouring into the four campaigns in recent weeks: about $187 million just in online donations from Oct. 15 to Nov. 23, according to federal records from the donation-processing sites ActBlue and WinRed.
In that 40-day period, both Democratic challengers out-raised their Republican opponents every day from online contributions and surpassed the previous Senate fund-raising record for a full quarter. Mr. Warnock raised $63.3 million in online donations and Mr. Ossoff raised $66.4 million.
In that time, the two Republicans raised $58.2 million.
But well-heeled Republicans have erased much of the Democrats' financial advantage with giant donations to a super PAC that raised $70 million in less than three weeks from a who's who of Republican megadonors, including Stephen Schwarzman of Blackstone ($15 million) and Ken Griffin of Citadel ($12 million). The media mogul Rupert Murdoch gave $1 million, as did his son, Lachlan, the chief executive of the Fox Corporation.
Ms. Loeffler, one of the wealthiest members of the Senate, put $23 million of her own money into her campaign to get to the runoff and her husband, Jeffrey Sprecher, the chairman of the New York Stock Exchange, has donated an additional $10 million to a pro-Loeffler super PAC.
Big contributions from Democratic donors are lagging the Republicans. The leading Senate Democratic super PAC raised a little more than $10 million in the 20 days after the general election, records show. The biggest donation — $2.5 million — came from the organization that Stacey Abrams created, Fair Fight, after her narrow loss in 2018 for the governor's race.
As Ms. Abrams's star power has increased, Fair Fight itself has emerged as a major magnet for Democratic giving, pulling in nearly $35 million in 40 days that ended Nov. 23. Ms. Abrams, widely credited with leading the Democratic renaissance in Georgia, also appeared in the virtual rally on Friday for the two Democratic candidates.
"We won this election decisively, and, despite the number of recounts, it keeps giving us the same answer: that Georgia Democrats showed up, that Georgians showed up and that we decided that we wanted to move this nation in the right direction," Ms. Abrams said.
Mr. Ossoff voiced a major theme that both Democratic candidates were seeking to exploit: allegations that Ms. Loeffler and Mr. Perdue benefited from questionable stock trades as they learned about the seriousness of the coronavirus pandemic. "We're running against, like, the Bonnie and Clyde of political corruption in America, who represent politicians who put themselves over the people," he said. Mr. Perdue and Ms. Loeffler have denied any inappropriate financial dealings.
On Friday, Mr. Pence rallied on behalf of Ms. Loeffler and Mr. Perdue in Savannah, where he warned that Democrats would advance a liberal, big-government agenda if they were allowed to seize control of the Senate.
"If you don't vote, they win," Mr. Pence told the small but enthusiastic crowd at the Savannah airport. "If you don't vote, there could be nothing to stop Chuck Schumer and Nancy Pelosi from cutting our military, raising taxes and passing the agenda of the radical left."
Mr. Pence was joined at the airport by Mr. Perdue but not Ms. Loeffler, who returned to Atlanta after a young man on her campaign staff was killed on Friday afternoon in a traffic accident.
Before the rally, Mr. Pence attended the C.D.C. briefing with the Republican candidates, saying the nation is facing a "challenging time" but also "a season of hope," with the likely approval of the first coronavirus vaccine coming as soon as next week.
Sheryl Stolberg, Jonathan Martin and Rachel Shorey contributed reporting.