Travel Pain Spreads as Europe Closes Ranks on U.K. Virus Strain – Bloomberg
We're tracking the latest on the coronavirus outbreak and the global response. Sign up here for our daily newsletter on what you need to know.
A brutal ending is taking shape for what's already been a lost year for Europe's travel industry, as Covid-19 administers a final kick to airlines, innkeepers and travelers alike.
A mutant strain of the coronavirus spreading rapidly in the U.K. led Prime Minister Boris Johnson to clamp down on holiday visits at home and abroad over the weekend. Italy, the Netherlands and Belgium were among the countries closing their borders to the former European Union state, with others preparing to follow suit.
Airlines that were seeing a glint of the typical holiday bustle are now canceling flights or sending planes out empty so stranded Brits can return. U.K. hoteliers and operators of holiday lets are coming up empty during one of the busiest times of the year. Train operators contended with chaos over the weekend amid a rush to leave London, while travelers hoping to squeeze in a visit to family or a sunny getaway are spending time on the phone seeking refunds.
"Fundamentally no one expected winter to be good," Citigroup analyst Mark Manduca said of the airline industry's year-end swoon. "We knew it was going to be bad, it is bad, it just turns out it'll be very bad."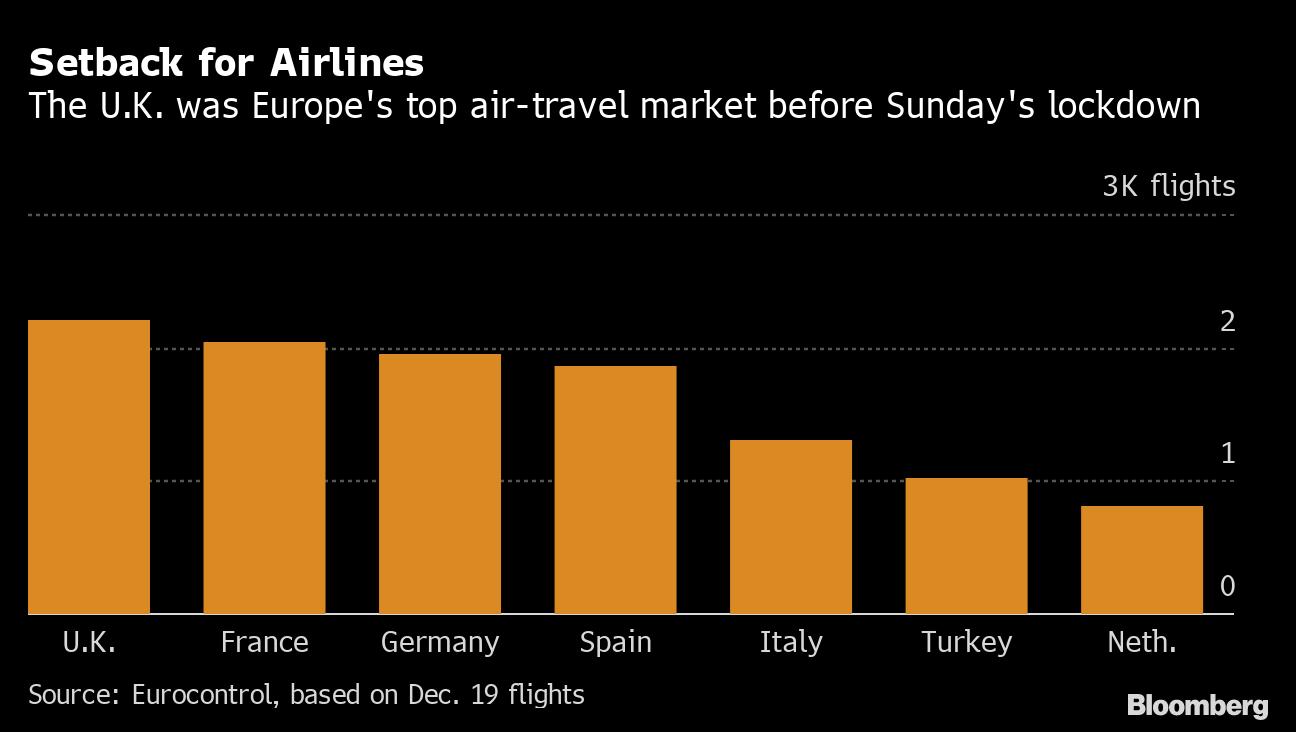 In coming days, thousands of flights are likely to be canceled.
Before the latest lockdowns, airlines anticipated offering just under a million seats this week between the U.K. and western Europe, said Anne Correa, vice president for airline and airport services at consulting firm Morten Beyer & Agnew. While that's down by more than two-thirds from a year ago, the run-up to Christmas was supposed to be one of the few bright spots for the industry this year.
Ryanair Holdings Plc and EasyJet Plc will see the biggest immediate impact, she said, given they sell 49% of the seats between the U.K. and Europe.
"These bans are going to lead to the disruption of travel plans for thousands of travelers and the loss of peak revenues for the airlines," said John Strickland of JLS Consulting.
Bearing the Brunt
Who pays is often dependent on the fine print of plane and train tickets that few read until a crisis hits. On social media, customers engaged in refund battles with airlines, train operators and ticket brokers.
Some airlines like EasyJet quickly said they'll offer cash refunds to customers whose travel was disrupted, while IAG SA's British Airways and long-haul specialist Virgin Atlantic Airways Ltd. said they'll limit compensation to vouchers or waive change fees.
Irish discounter Ryanair said Sunday it'll provide refunds where EU countries ban travel between Dec. 20 and Dec. 24, but not to other countries to which the airline is permitted to fly.
Stranded Travelers
Beyond the damage to their wallets, would-be travelers found their plans dashed. Twitter user Franchesca_3 said she was unable to board a flight from Britain to Sweden, where she is moving, on Sunday because it would stop in Amsterdam, where the Netherlands had prohibited U.K. arrivals. She said she's hoping to get to her destination before Sweden follows with its own ban.
Read more:

U.K. Virus 'Out of Control'; Cuomo Warns of Spread: Virus Update

Europe Moves to Isolate U.K. as Mutant Virus Ruins Christmas
Those thwarted trying to leave the U.K. risk being stranded without a place to stay. The Premier Inn Wimbledon Broadway in south London said it was open but anyone booking a room must prove they are there for a legitimate reason such as business, by showing a letter or email.
Operators of small holiday lettings were also out of pocket. Airbnb told customers they should get a refund if travel is restricted, under a policy put into place before the latest rules were enacted.
Cottages.com, Britain's biggest provider of self-catering accommodations, told proprietors it was contacting all guests who live in a Tier 4 area — including London and much of southeast England — to cancel reservations and offer a later booking or refund.
Scotland will move to Tier 4, the most severe U.K. lockdown category, from Dec. 26 through at least mid-January, while in Wales, all holiday accommodation must close, Cottages.com said.
Trains and Cabs
Rail stations serving express routes out of London were packed on Saturday night amid an exodus ahead of the new rules. Some travelers rented cars or booked taxis for journeys spanning hundreds of miles to flee the capital and be with loved ones for the holidays.
Eurostar International Ltd. said it will refund passengers unable to travel on its trains through the Channel Tunnel, though the impact will be limited by demand already running at less than 30% of the usual Christmas level became of previous curbs.
Manduca, the Citigroup analyst, said the chaos at year-end would likely have a knock-on effect, causing some travelers to delay making bookings in the early part of the year for summer travel.
While he expects negative sentiment on airline stocks in the short-term, he said low-cost carriers such as Ryanair could benefit from pricing power when travel snaps back. Airlines have become more nimble with costs and can more easily adapt to shorter booking lead-times, he said.
"I don't think it'll have a big impact on the fundamentals," he said. "Summer may be quite good."
— With assistance by Priscila Azevedo Rocha
Most stable laser transmission: world record set by Australian and French researchers – World Record Academy
Perth, Western Australia, Australia–Scientists from the International Centre for Radio Astronomy Research
(ICRAR) and the University of Western Australia
(UWA) teamed up with researchers from the French National Centre for Space Studies
(CNES) and the French metrology lab Systèmes de Référence Temps-Espace
(SYRTE) at Paris Observatory; by combining the Aussies' phase stabilization technology with advanced self-guiding optical terminals, it allowed laser signals to be sent from one point to another without interference from the atmosphere, thus setting the new world record for the Most stable Laser transmission of a laser signal through the atmosphere.
The team set the world record for the most stable laser transmission by combining the Aussies' phase stabilization technology with advanced self-guiding optical terminals. Together, these technologies allowed laser signals to be sent from one point to another without interference from the atmosphere.
Lead author Benjamin Dix-Matthews, a Ph.D. student at ICRAR and UWA, said the technique effectively eliminates atmospheric turbulence. "We can correct for atmospheric turbulence in 3-D, that is, left-right, up-down and, critically, along the line of flight," he said. "It's as if the moving atmosphere has been removed and doesn't exist. It allows us to send highly stable laser signals through the atmosphere while retaining the quality of the original signal."
Photo 1: UWA's rooftop observatory. Credit: ICRAR.
The result is the world's most precise method for comparing the flow of time between two separate locations using a laser system transmitted through the atmosphere, The
Phys.org reports.
ICRAR-UWA senior researcher
Dr. Sascha Schediwy said the research has exciting applications. "If you have one of these optical terminals on the ground and another on a satellite in space, then you can start to explore fundamental physics," he said. "Everything from testing Einstein's theory of general relativity more precisely than ever before, to discovering if fundamental physical constants change over time."
The technology's precise measurements also have practical uses in earth science and geophysics. "For instance, this technology could improve satellite-based studies of how the water table changes over time, or to look for ore deposits underground," Dr. Schediwy said.
There are further potential benefits for optical communications, an emerging field that uses light to carry information. Optical communications can securely transmit data between satellites and Earth with much higher data rates than current radio communications.
Related world records:
SpaceX Launches Rocket With 143 Satellites – The Most Ever Flown On A Single Mission – Forbes
Elon Musk's company SpaceX has successfully launched the Transporter-1 mission, breaking the record for the most number of satellites ever flown on a single rocket.
Today, Sunday, January 24 at 10 A.M. Eastern Time, the company's Falcon 9 lifted off from Cape Canaveral in Florida, with 143 commercial and government satellites on board.
The satellites were launched into a sun-synchronous orbit, one that stays in constant daylight, about 500 kilometers above Earth's surface.
About eight minutes later, the bottom section of the rocket returned to Earth and landed in the Atlantic Ocean on a floating barge called Of Course I Still Love You – a norm now on SpaceX launches.
The launch was the first in SpaceX's new "Rideshare Program", designed to launch many satellites at a time and enable organizations to reach space at a lower cost.
SpaceX has launched rideshare missions before, notably its SSO-A mission in 2018 with 64 satellites on board, but this new program is intended to greatly expand the launch opportunities on offer.
It cost just $5,000 per kilogram to place a satellite on this rocket, or $1 million for 200 kilograms. The total mass of all the commercial satellites on board was about 2,700 kilograms, equating to almost $14 million.
The launch of 143 satellites broke the previous record for the most number of satellites on a launch, set by India in 2017 when it launched 104 on a single rocket.
The satellites on board included 48 satellites from Earth imaging company Planet Labs, a small NASA mission called V-R3x to test ways to track small spacecraft in Earth orbit, and 36 small communications satellites from Swarm Technologies.
Ten of SpaceX's own satellites in its controversial Starlink internet mega constellation were included, which reached the milestone of 1,000 satellites launched last week.
The total mass of the satellites on board was about 5,000 kilograms.
However, the large number of satellites on board – while impressive – has caused some concern, specifically regarding space traffic management.
SpaceX did not release a detailed manifest of the satellites on board, meaning the purpose and nature of some of them was unclear at the time of launch.
"One of the problems is that we don't even know for sure what all of the 143 satellites are," astronomer and spaceflight expert Jonathan McDowell from the Harvard-Smithsonian Center for Astrophysics told SpaceNews.
With some of the satellites being as small as a shoe box, they will be hard to track in orbit, a necessity to avoid collisions with other satellites.
This single launch alone will increase the number of active satellites in orbit by about five percent, given there are only about 3,000 active satellites currently orbiting Earth.
Or, in other words, one out of every 20 active satellites now in orbit were launched on this Transporter-1 mission.
Nonetheless, the launch is a huge milestone for SpaceX, letting it offer a new type of service unmatched by any other launch provider.
At $5,000 per kilogram, the flight was far cheaper for the satellites on board than on a rival commercial rocket.
For example, the New Zealand-based launch company Rocket Lab offers space on its smaller Electron rocket at about $20,000 per kilogram.
However, while these smaller launchers can't match SpaceX on price, they can offer a dedicated launch to a specific orbit with a short wait time.
SpaceX with its rideshare missions, on the other hand, can only launch multiple satellites into one orbit, posing some issues to then move the satellites elsewhere.
Still, the service has clearly proven popular, and a Transporter-2 mission is expected later this year.
Now many will be hoping, if these launches are to become more regular, that more can be done to safely manage the large amounts of satellites deployed in orbit.
Watch SpaceX's first dedicated rideshare rocket launch live, carrying a record-breaking payload of satellites – Yahoo Canada Shine On
Eat This, Not That!
The coronavirus has claimed the lives of more than 410,000 Americans, and that doesn't even count those who caught the virus and never got better, still suffering from Long COVID. In fact, these "long haulers" may never get better, and remain a shell of their former selves, tortured by a series of never-ending and ever-changing symptoms that debilitate them, with no cure yet available. Dr. Anthony Fauci, the chief medical advisor to the President and the director of the National Institute of Allergy and Infectious Diseases, has witnessed Long COVID first hand and wants you to know: "This is a phenomenon that is really quite real and quite extensive." Read on to hear about one sure sign you may have it—and to ensure your health and the health of others, don't miss these Sure Signs You've Already Had Coronavirus. You Might Feel Like You Have Myalgic EncephalomyelitisDr. Fauci has said that the effects of Long COVID are new and need further research—but that it resembles an existing syndrome. "You don't want to be scaring people and alarming them, but they really should know that we don't know what the long-term consequences are, even when it looks like a routine infection," Dr. Fauci told Medscape in July. "We better be careful. Even after you clear the virus, there are postviral symptoms. I know, because I follow on the phone a lot of people who call me up and talk about their course. And it's extraordinary how many people have a postviral syndrome that's very strikingly similar to myalgic encephalomyelitis/chronic fatigue syndrome. They just don't get back to normal energy or normal feeling of good health."The other symptoms he has listed include myalgia—which are body aches and pains—and headaches, among others.What is Myalgic Encephalomyelitis?A syndrome misunderstood by even some doctors, "ME/CFS is a multi-system disease that causes profound metabolic dysfunction and is accompanied by physical and cognitive limitations," according to the experts at #MEAction. Hallmark symptoms include:Post-Exertional Malaise, which #MEAction defines as "a reduction in functioning and a severe worsening of symptoms after even minimal physical or cognitive exertion."Unrefreshing SleepHeadaches of a New Type or SeverityCognitive Symptoms—some call this "brain fog," which Dr. Fauci calls an "inability to concentrate"And More."People experience symptoms on a spectrum from severe to mild, but 75 percent of people with the disease are unable to work and 25 percent are homebound or bedridden," according to #MEAction. "Based on past viral outbreaks, we are expecting 10-12 percent of all people with Covid-19 will go on to develop ME/CFS.""Unfortunately, we are still far away from a cure," Adriane Tillman, Editor of #MEAction, tells us. "The paramount problem is the abysmal lack of research funding allotted to ME/CFS by our government. The bottom line is that research funding for ME/CFS is absurdly deficient. If you add up all the funding that the NIH has allocated to ME/CFS research over the past two decades, it wouldn't even reach the total amount that the NIH should be spending in one year on ME/CFS based on the disease burden (the number of people who are sick and the effect on the quality-of-life)."Dr. Fauci has alluded to more research being done "now" on Long COVID, but no specifics have been mentioned. "It's essential for us to learn all we can about how SARS-CoV-2, which is the coronavirus that causes COVID-19, leads to such widespread symptoms," wrote National Institutes of Health director Dr. Francis Collins last week. "It's also essential that we develop ways to better treat or prevent these symptoms. The NIH held a workshop last month to summarize what is known and fill in key gaps in our knowledge about Long COVID syndrome, which is clinically known as post-acute sequelae of COVID-19 (PASC). In December, Congress authorized funding for continued research on PASC, including an appropriation of funds for NIH to support continued study of these prolonged health consequences."ME/CFS-like symptoms are also being studied in Post-COVID care centers at hospitals like Mt. Sinai. But we're still at the "tip of the iceberg," according to one scientist. "We need to dig in and do the work that needs to be done to help relieve the suffering and stop this madness," said Dr. Michael Saag, an infectious disease expert from the University of Alabama at Birmingham, at the NIH workshop, which also included Dr. Fauci.What to Do if You Feel You Have Myalgic EncephalomyelitisContact a medical professional if you feel you have Long COVID or ME/CFS. Note that they are likely to treat your symptoms but are still learning to understand both ME/CFS and Long COVID. Also, there is no one-size-fits-all treatment. "The pathway to recovery or diagnosis for COVID-19 long haulers will not be uniform," reports #MEAction. "Some long haulers will recover, a subset will go on to develop chronic illnesses like ME/CFS or postural orthostatic tachycardia syndrome (POTS), and some will have long-term consequences due to organ damage alone. Some long haulers are reporting symptoms that resemble ME/CFS, including post-exertional malaise, as well as cognitive challenges and sleep issues." For the full list of 98 symptoms that COVID long haulers say they have suffered (not all are ME/CFS), don't miss these Sure Signs You've Already Had Coronavirus.