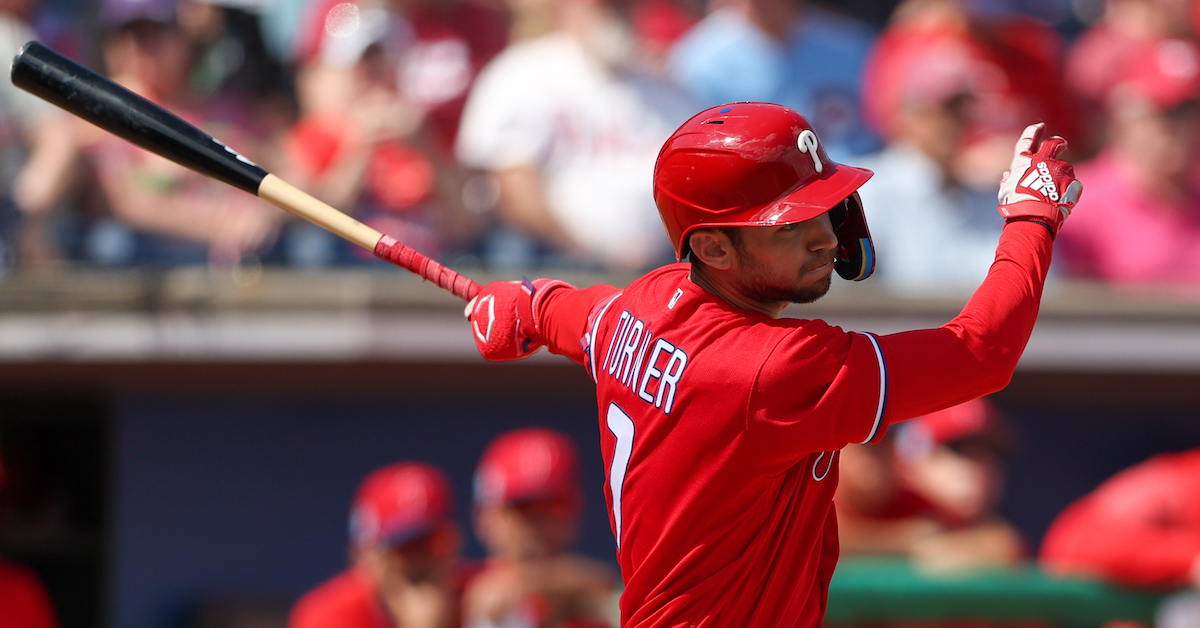 Trea Turner has transformed himself into one of the best hitters in baseball. Lacking projectable power when he was drafted 13th overall in 2014 — Kiley McDaniel cited his upside as 10-12 home runs with a .420 SLG the following winter — Turner proceeded to become far more than the slash-and-burn type that many envisioned. His past three seasons have been particularly impressive. Playing with the Washington Nationals and the Los Angeles Dodgers, he posted a sparkling .316/.364/.514 line with a 139 wRC+. Moreover, his right-handed stroke has produced 87 home runs over the last four non-COVID campaigns.
Turner — now with the Philadelphia Phillies after being signed to an 11-year, $300 million contract in December, and currently playing for Team USA in the World Baseball Classic — talked hitting prior to a recent spring training game.
———
David Laurila: Let's start with one of my favorite icebreaker questions: Do you view hitting as more of an art or more of a science?
Trea Turner: "I think it's more of an art, but we're trying to use science to quantify it. Sometimes guys have good swings, but then you go into a game and you can't necessarily hit. The game is more of an art than a swing."
Laurila: Why are some players with good swings unable to hit in games?
Turner: "I think there are an unlimited amount of answers to that. I remember talking to one of my coaches in college and him saying that some people are swingers, and some people are hitters. There's a difference. To me, hitting is being able to make adjustments and hit different pitches. And if you don't have your best swing that day, you still have to be able to get hits and execute. The best hitters can kind of figure it out along the way."
Laurila: At what point in your life did you go from swinger to hitter?
Turner: "Oh, I was never a swinger. I've been fighting since day one. I wasn't a natural hitter. I don't just wake up and step in the box like some guys, and be able to just naturally do it. I've worked on it a lot, kind of my whole life."
Laurila: Even at a young age?
Turner: "I mean, I was a good player when I was younger, but I never had power. I hit one home run in school. When I was younger I couldn't even pull the ball. I played up a lot, so guys were a lot bigger and stronger than me. I was hitting the ball the other way just because that's all I could do. I was grinding."
Laurila: How old were you when you started being able to pull the ball?
Turner: "Oh, I don't know. Probably not until I was in high school? Maybe more like 12-13 years old, or… I remember that my dad would say he'd give me a dollar if I could pull the ball in a game. But yeah, I would say it wasn't until high school that I really started pulling the ball.
"Now, I think my strength is pulling the ball, which is kind of funny looking back. But as a hitter you want to use all fields. The old saying that you want to hit the ball where it's pitched is true to this day."
Laurila: How much of the power you've developed is from added strength, and how much is from fine-tuning your swing?
Turner: "It's both. I'm definitely stronger now than when I was younger, but I think it's probably more about the swing. You gain strength as you get older, but you also learn your body, learn movements, learn patterns. So it's more about using everything you have correctly. Sequencing is a big thing now. Making sure that everything is sequenced up is something I've tapped into in the last four or five years."
Laurila: Has that been gradual, or was there a defining moment where you made an adjustment and something started clicking?
Turner: "There have been a couple for me. In college, I started leg-kicking, which helped me start getting a little bit more behind it. I didn't have a ton of homers in the minors, but then in 2016, when I got called up, I hit a bunch and kind of realized I could do it at a high level. That was another step. And then, in 2019 when I was working with K-Long [hitting coach Kevin Long], I figured out how to do it the other way a little bit — not just pull side, but all over the field. I don't have as much power as a Kyle Schwarber — guys like that — but being able to tap into it a little bit more has made me better."
Laurila: Has your swing path changed?
Turner: "I would say it has a little bit. But I've always tried to have a flat swing because I feel like that gives me the most room for error and the most chance of success. Having a flatter swing allows me to hit a lot of different pitches, and that has always been a goal. Sometimes you do tinker a little. Your swing changes, your body changes a little bit, and I'm always working on that. But yeah, I'm just trying to have that flat swing."
Laurila: How much do you look at the data when you're working in the cage?
Turner: "Never. I'm not an exit velo guy. I'm never at the top of those charts. For me, it's not about that. It's about getting hits. I could roll over groundballs at 150 mph and my exit velo would go up, and people would be telling me I'm a good hitter, but I'd rather stay inside a ball and hit a soft line drive to center field for a hit. I think that's where the art and science thing gets mixed up. I think it's more about art and a little bit less about science."
Laurila: That said, is there any science that's helped you become a better hitter?
Turner: "I like comparing good and bad swings in the sense of body mechanics, like what fired first and whatnot. Here, and also being in LA, they have the technology where you can see all of those things. So, I like comparing swings, but at the end of the day it's about making solid contact on the barrel, and not necessarily hitting certain numbers or certain angles."
Laurila: Are you basically hunting fastballs middle and adjusting from there, or is your approach more nuanced than that?
Turner: "I would like to not talk about it… But yeah, for each pitcher you have a game plan. Different guys have different pitches, different arm angles, and different velos, so you've got to adjust to the pitcher a little bit. You can't just go up there with one mindset that works for everybody. I kind of take a lot of things into account."
Laurila: Any final thoughts on hitting?
Turner: "I like the art vs. science thing. That's a good debate to have because there's really not a right answer. But I do think sometimes the art of getting hits gets lost. Everybody wants to walk, and there's launch angle, exit velo — you get all of these numbers on FanGraphs because of these things — but then you have guys like Tony Gwynn and Rod Carew, guys who simply could hit. There's an art to that. I think it is a cool part of the game."
——