Trial begins for Canada 'Freedom Convoy' organisers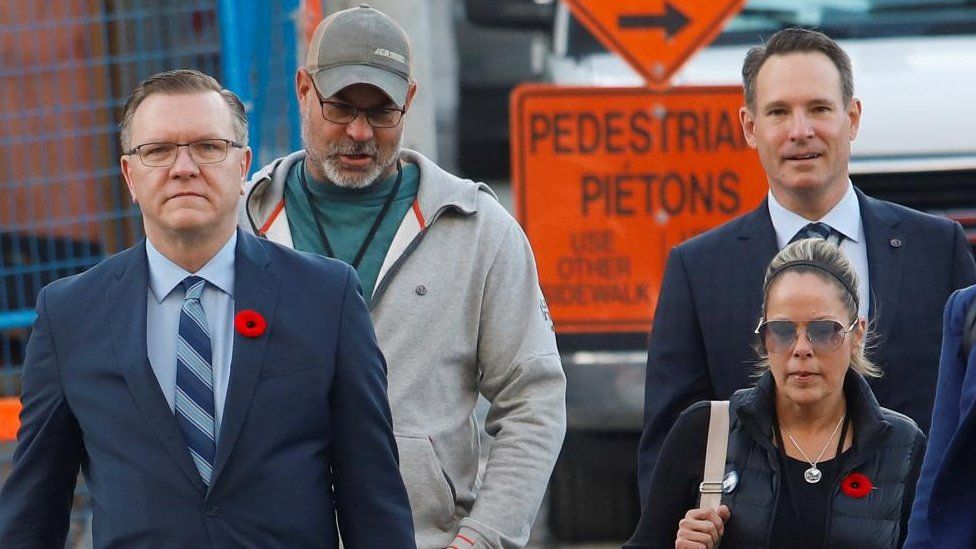 The trial for the leaders of the so-called Freedom Convoy protest that gridlocked Canada's capital for weeks in 2022 began on Tuesday.
Tamara Lich and Chris Barber each face counts of mischief and obstructing police.
The two were part of a group that led a convoy of lorries to Ottawa to protest against Covid-19 measures and Prime Minister Justin Trudeau's government.
The main charge that Ms Lich and Mr Barber will have to defend is that of mischief, defined under Canadian law as the wilful destruction, damaging, obstruction, or interference of property.
Joao Velloso, a law professor at the University of Ottawa, said legally, the case overall is quite ordinary.
But he anticipates an abnormal level of attention given its tie to the Freedom Convoy protests and the political tensions around issues like vaccine mandates and freedom of assembly.
The outcome of the case will be viewed differently depending on where people stand on these issues and their overall trust in the justice system, he said.
"In that sense, [the case] is bigger than the law itself."
Judge Heather Perkins-McVey requested the largest room in Ottawa's courthouse to allow as many spectators given the heavy public interest.
The February 2022 protests were initially sparked by a federal vaccine mandate for lorry drivers crossing the US-Canada border.
Convoys of some 400 heavy trucks and other vehicles descended on Ottawa, Canada's capital, and blockaded city streets around parliament for three weeks.
City officials deemed it an "occupation".
Separate protests also blocked a key US-Canada border crossing near Detroit, angering the White House and disrupting the flow of goods. Other border points were blocked in Alberta and Manitoba.
The protests received international attention and inspired similar copycat demonstrations abroad.
They came to an end after Mr Trudeau invoked the Emergencies Act – the first time the Canadian law has been used – which allowed police to clear the streets and the government to impose bans on public assembly and freeze the bank accounts of protesters.
Ms Lich and Mr Barber were arrested shortly afterwards.
Paul Daly, Chair in Administrative Law and Governance at the University of Ottawa, said a key question will be to what extent the pair were responsible for the disruption experienced by Ottawa residents.
Many complained of excessive noise, daily disruptions and instances of harassments during the protest.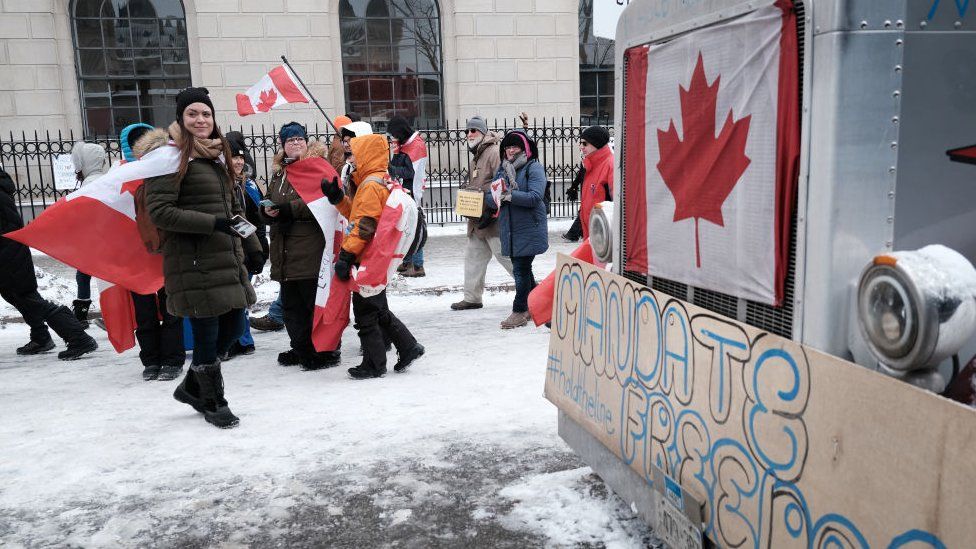 The trial "pits the free speech and free association rights of convoy organisers against the public interest in keeping city streets liveable for residents," Mr Daly said.
In Tuesday's opening remarks, Crown prosecutor Tim Radcliffe accused the two of directing people to Ottawa and asking them to stay and "hold the line".
He argued their actions had "crossed the line, and in so doing they committed multiple crimes".
Lawrence Greenspon, Ms Lich's lawyer, said in a statement to the BBC that "we do not expect this to be the trial of the Freedom Convoy".
"The central issue will be whether the actions of two of the organisers of a peaceful protest should warrant criminal sanction."
Still, during a recent book event, Ms Lich said she believes the outcome of the trial will set a precedent for other protesters awaiting trial.
"That's why I'm not going down without a fight and we will come out swinging," she said in July.
Crown prosecutors have argued that, if Ms Lich is found guilty, she could face a sentence of up to 10 years in prison.
But during a July bail hearing, an Ontario court judge said that due to this "very unusual case, there is significant uncertainty about the degree to which she will be held culpable for the assortment of alleged bad acts committed over many weeks by various persons in a crowd of thousands".
Both Ms Lich and Mr Barber, along with other named organisers, are facing a separate C$300m ($222m; £175m) civil lawsuit brought against them by Ottawa residents over the disruptions in the city.
The trial of Ms Lich and Mr Barber is set for 13 days, followed by another six days in October.
Pat King, another organiser of the protests, is facing a separate trial in November.
'ET Canada' cancelled by Corus Entertainment, blames 'challenging' advertising market – CTV News
We use cookies and data to
Deliver and maintain Google services
Track outages and protect against spam, fraud, and abuse
Measure audience engagement and site statistics to understand how our services are used and enhance the quality of those services
If you choose to "Accept all," we will also use cookies and data to
Develop and improve new services
Deliver and measure the effectiveness of ads
Show personalized content, depending on your settings
Show personalized ads, depending on your settings
If you choose to "Reject all," we will not use cookies for these additional purposes.
Non-personalized content is influenced by things like the content you're currently viewing, activity in your active Search session, and your location. Non-personalized ads are influenced by the content you're currently viewing and your general location. Personalized content and ads can also include more relevant results, recommendations, and tailored ads based on past activity from this browser, like previous Google searches. We also use cookies and data to tailor the experience to be age-appropriate, if relevant.
Select "More options" to see additional information, including details about managing your privacy settings. You can also visit g.co/privacytools at any time.
Entertainment Tonight Canada to end after 18 seasons
Canadian media company Corus Entertainment has announced it is ending flagship entertainment program Entertainment Tonight (ET) Canada after 18 seasons.
"The costs of producing a daily entertainment newsmagazine show in a challenging advertising environment have led to this decision," read a statement posted on the company's website on Wednesday.
"We recognize the impact this decision has on the dedicated team who have worked on the show and we thank them for their meaningful contributions over the years."
The show's final episode will air on Oct. 6, with reruns airing in the same time slot on Global TV until Oct. 31, a Corus spokesperson told CBC News.
The cancellation won't impact Corus's obligation to produce Canadian content under the rules set out by the Canadian Radio-television and Telecommunications Commission (CRTC), the spokesperson said.
ET Canada's website and social media platforms will also be shut down. The spokesperson declined to comment on how many people had been laid off as a result, but said the program's hosts were impacted.
The network said it has no plans for another entertainment news show.
An hour-long, magazine-style show that focused on entertainment, celebrity, film and TV news, ET Canada began airing in 2005 on Global TV, which is owned by Corus Entertainment.
The program has been hosted by Canadian media personality Cheryl Hickey since its launch, with regular appearances by entertainment reporters, including Sangita Patel — a co-host since 2022 — plus Carlos Bustamante, Keshia Chanté and Morgan Hoffman.
The cancellation leaves ETalk, CTV's weeknight show, as Canada's lone major entertainment news program.
Andrea Grau, founder and CEO of entertainment publicity firm Touchwood PR, said ET Canada offered a Canadian perspective that made it stand out in the U.S.-dominated entertainment landscape.
"There was this great Entertainment Tonight brand that was going on in the U.S. — we all watched. And the idea of a Canadian arm of it was very special because it could give a different slant," she said.
ET Canada's demise comes during a major shift in the industry, she said, as publicists struggle to find entertainment outlets that can shine a spotlight on emerging Canadian artists and projects.
"Even though we share a language with the U.S. and we share pop culture, we are still Canadian and we have a different perspective," Grau said, noting that ET Canada's hosts were a mainstay on the U.S. press circuit.
"You see those relationships that have been built over the years of having Sangita [Patel] standing on a red carpet interviewing someone, or Cheryl Hickey interviewing someone. They're recognizable to [celebrities] after all of these years, too," she said. "They've created such a strong brand."
Canada just had its lowest number of births in 17 years. What's behind it?
The number of babies born in Canada dropped to a 17-year-low last year amid the COVID-19 pandemic and a declining fertility rate, data shows.
A Statistics Canada report released Tuesday showed there were 351,679 births registered across the country in 2022, which was a five per cent decrease from the previous year. This was Canada's sharpest drop recorded since 2005.
Before 2022, the lowest number of births recorded was in 2005, with 345,044 babies born nationwide.
While the number of births in all provinces and territories declined last year, Nova Scotia was the notable outlier with a 12.8 per cent increase in live births.
The biggest decrease was in Nunavut, with the number of births dropping 11.8 per cent compared with 2021.
Canada, like many other developed countries, has been seeing declining birth trends over the past several years, but the COVID-19 pandemic has affected many people's plans to have kids, said Kate Choi, an associate professor of sociology at Western University.
"Although the fertility decline was indeed part of a larger trend of fertility decreases that have been occurring in Canada, the magnitude of the decrease is larger than what we would have anticipated in the absence of COVID-19," she told Global News in an interview.
Infertility: Shedding light on a common problem
The high cost of living has magnified the size of the drop in births, Choi said.
"It's very expensive to have children and right now, when everything is expensive, it's very hard for young adults to be able to have the type of lifestyle that allows them to have children, which is contributing to delayed and forgone fertility," she added.
It's a concerning trend for Canada, according to Choi, who said decreasing birth rates have the potential to exacerbate population aging issues.
Canada is considered a low-fertility country and its fertility rate has been declining over the past decade.
The latest Statistics Canada data from 2021 reported a fertility rate of 1.44 children per woman that year — marking a slight increase following a steady decline since 2009.
The fertility rate is an estimate of the average number of live births a female can be expected to have in her lifetime, according to StatCan.
As some couples delay their plans to have kids for a variety of reasons, egg freezing and other fertility treatments are on the rise in Canada.
More IVF babies born after summer egg collection: study
Lifestyle changes and work decisions are contributing factors, with a shift toward smaller families, said Mark Rosenberg, an expert in geography and professor emeritus at Queen's University.
"I think mainly the factors we should focus on are first and foremost women's decisions around the labour force and delaying birth until they're in their 30s," he told Global News in an interview.
There is also an increasing number of younger people living in single-person households, Rosenberg added.
Despite the drop in births, Canada's population has been growing at a "record-setting pace," surpassing the milestone of 40 million people earlier this year, due to a focus on increasing immigration.
Meanwhile, the StatCan report Tuesday also showed a rise in the proportion of babies who were born with a low birth weight — less than 2,500 grams.
Seven per cent of all babies had a low birth weight in 2022 compared with 6.6 per cent the year before.
Babies with a low birth weight are at an increased risk of complications, such as inhibited growth and development and even death, according to StatCan.
"When we see higher rates of low birth weight babies or higher rates of babies that are born who are overweight, those are issues that we should be concerned about because they reflect on people's health," Rosenberg said.
— with files from Global News' Katherine Ward