Trudeau roils Canada's oil patch naming Greenpeace activist as climate chief
Canadian Prime Minister Justin Trudeau on Tuesday sparked concern in the country's oil patch and hope among green advocates when he named two men with strong environmental records to lead his government's fight against climate change.
Steven Guilbeault was named environment and climate change minister as part of a major Cabinet shuffle following September's vote https://www.reuters.com/world/americas/canadas-trudeau-may-cling-power-election-looks-unlikely-secure-majority-2021-09-20, which handed Trudeau a third victory since 2015, albeit with a minority in the House of Commons.
Jonathan Wilkinson, who spent two decades in the green tech sector and then served as predecessor to Guilbeault for two years, took over as minister of natural resources. Canada is the world's fourth-biggest oil producer.
La Presse newspaper once dubbed Guilbeault "the green Jesus of Montreal." He has worked for green groups, including Greenpeace, for more than 20 years. In 2001 he climbed the CN Tower in Toronto to protest Canada's environmental record.
"This will be very concerning and frustrating for everyone who's part of the natural resource economy in Canada," said Heather Exner-Pirot, a fellow at the Macdonald-Laurier Institute think tank. She spoke from Calgary, the heart of the oil patch.
"Now someone who's worked for Greenpeace … will have significant influence on how we go forward with our resource development," she added.
Trudeau says addressing climate change is a major priority. His government already has imposed a carbon tax and has pledged net-zero carbon emissions by 2050. But green groups note that per capita greenhouse gas emissions remain among the highest in the world, thanks in part to the energy industry in western Canada.
"Liberals are looking for a way to shut us down. … Mood in Alberta is not good," said the chief executive officer of a Canadian oil and gas company who asked to speak anonymously.
Trudeau's government has promised to freeze oil sector emissions and set a 2025 requirement https://www.reuters.com/business/sustainable-business/canada-oil-producers-grapple-with-trudeaus-demand-faster-emissions-cuts-2021-10-22 for the industry to reduce them. Canada has failed to meet any of its emissions-cut pledges so far.
"We need to make sure that the oil and gas industry stops increasing its emissions and starts reducing them, while supporting workers in these industries to help find new ways to work new jobs and new careers," Trudeau told reporters at a news conference following the Cabinet nominations.
"The largest energy companies in this country are committed to net zero by 2050. And the way to do that is to all of us work together," he added.
NO MORE OIL ADVOCATE IN CABINET
Guilbeault will be representing Canada at the United Nations COP26 summit in Glasgow, Scotland, which starts on Sunday.
"If you were an oil and gas company that was banking on the government not living up to its commitments, then maybe you've got some rethinking to do," said Jamie Bonham, director of corporate engagement at NEI Investments, a responsible investor that owns shares in some oil sands companies.
Seamus O'Regan, who was well-liked by the oil and gas producers, was moved to the labor ministry from natural resources.
Keith Stewart of Greenpeace Canada praised making Wilkinson the new minister because in the past the natural resources figure has "acted as the chief advocate for the oil industry at the Cabinet table."
Trudeau also appointed new ministers of defense, foreign affairs and natural resources. Fewer than 10 of the 38 ministers kept their existing positions. There are two more Cabinet positions now than in 2019, and an equal number of men and women.
Liberals hold 159 seats in parliament but do not have the 170 needed to pass legislation without the support of an opposition party. Minority governments do not usually last a full four-year term in Canada.
Trudeau earlier announced that Finance Minister Chrystia Freeland, who is also deputy prime minister, would be staying in her job.
Among the other major changes, Melanie Joly became Canada's fifth foreign minister under Trudeau. Anita Anand takes over at defense from Harjit Sajjan, who has been widely assailed over what critics say is a lackluster effort to address allegations of sexual assault in the military.
Marco Mendicino, previously immigration minister, will take over as minister of public safety.
(Reporting by Steve Scherer in Ottawa and Rod Nickel in Winnipeg; additional reporting by David Ljunggren; Editing by Timothy Heritage, Bernadette Baum and Jonathan Oatis)
LETTER: Sidney working towards a vibrant economy – Sooke News Mirror
In the spring of 2014, Sidney's then-mayor Cross struck a mayor's downtown revitalization task force and I was appointed vice-chair to Mark Dickinson's chairman. Mr. Dickinson led a cross-functional team of dedicated citizens, representatives from the chamber of commerce, Sidney BIA, as well as town staff to renew the economic development strategy for Sidney. Going in, we knew there were several iterations of well-intentioned committees in the past and we mused would we be able to forge a new strategy.
Hours were spent in the Arbutus Room at town hall over several months on a SWOT (strengths, weaknesses, opportunities, and threats) analysis, prioritizing an action registry and producing a report to present to council on our findings. The council of the day accepted the report just prior to the civic election.
Mayor Cross retired and a new council reviewed and ratified the report which provided four pillars for success and a roadmap to achieve them. It included the recommendation to establish an economic development committee of citizens willing to 'roll up their sleeves' to operationalize the recommendations. If this model wasn't successful after a year or so, it was recommended that a consultant be engaged to fine-tune the strategy and the tactics.
The EDC was formed and quite frankly was ineffective due to several strong personalities with differing agendas and goals. Members resigned, new members stepped in, but it became clear that 'Plan B' needed to be effected. The EDC is still an entity in the town but I am pleased to see that cooler heads have prevailed and a consulting firm with expertise in this area has been engaged.
I applaud this decision and sincerely hope the contract deliverables can leverage the town's strengths and mitigate any perceived weaknesses in support of a vibrant business economy.
Brian Losie
Sidney
Nobody seems to know what's going on with the economy – CNN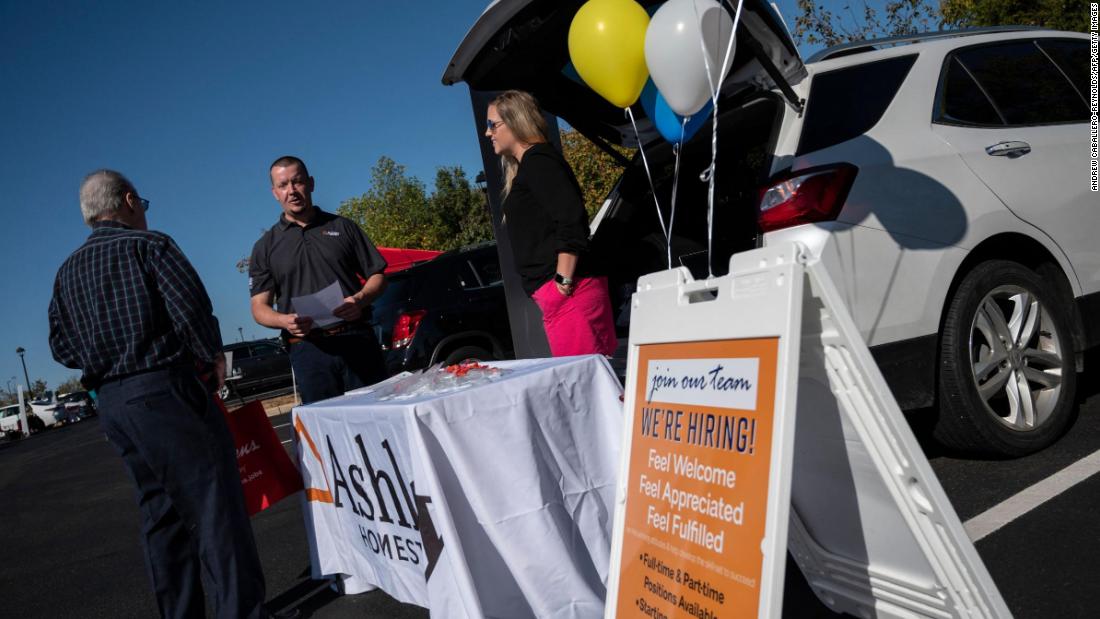 The economy is on the road to recovery from the coronavirus pandemic, reeling from inflation or a source of disappointment on jobs creation, depending on who you're talking to.
It's probably all three, and what happens from month to month seems to be something of a surprise. That element of unpredictability might be the most normal possible thing given the shock of the pandemic — the extraordinary government intervention to save the economy is unlike anything anybody alive today has ever seen.
It's hard to decide how important any single thing is.
Omicron Variant May Be Good For Economy – Forbes
The omicron variant of Covid-19 has sparked great fear. With time, we may find the fear to have been justified, but we may find the opposite: that this is good news for the economy.
It's still early days for our knowledge of omicron. Waiting to learn more seems to make sense, but consider this: Business decisions are being made every day. Any person who waits for perfect certainty—about the economy, technology or Covid-19—will never make a single decision. In many areas decisions have to be made this week. So it's worthwhile to consider how omicron may be good for the economy.
Omicron seems to be displacing the delta variant in South Africa. Ted Wenseleers showed that delta's share of total Covid-19 cases in South Africa has plummeted while omicron has surged. Because the early indications show that omicron was highly transmissible, it could well displace the delta variant around the world.
So far omicron has triggered a surge in infections in South Africa, but not a comparable increase in deaths. There's good reason for the virus to mutate to be less dangerous. Bugs that kill their hosts don't replicate as much as bugs that allow their hosts to remain alive. Many viruses in the past have evolved to be milder. We cannot take this idea too far, however.
The omicron virus may have mutated so that it has greater ability to infect those who already had been exposed to earlier variants. That's no surprise to South African scientists, who have observed a very high past infection rate in their population. The virus could not get ahead by finding people never exposed to any version of Covid-19, so it found a way to infect the previously ill, this theory goes.
BioNTech CEO Ugur Sahin said recently that current vaccines probably help protect against severe illness from the omicron variant, and that new vaccines are under development that would be more targeted against omicron. Given the speed with which our vaccines were developed, we may have new versions being tested in the lab right now. The question will be how long we have to wait for regulatory approval.
From an economic forecasting viewpoint, business leaders should consider the upside potential of omicron. Although it is way too early to be sure, we may find that the disease becomes dominated by a less dangerous mutation. Illness would continue if this happens, but with fewer deaths and hospitalizations. People would come to feel more comfortable dining out, traveling and seeking routine non-Covid healthcare tests and procedures. The rosy view is far from certain, but current evidence is not more pessimistic.
Companies that that are especially sensitive to the Covid pandemic should try to delay big decisions. We'll have better information in the coming weeks. But decisions that cannot be delayed should probably consider the possibility of a stronger economy rather than greater Covid problems.