Trudeau's populist pose could hurt Canada's economy – BNN
Prime Minister Justin Trudeau of Canada would reject claims that his leadership style is similar to that of former U.S. President Donald Trump or British Prime Minister Boris Johnson. But in at least in one respect the comparison is getting closer to hitting its target.
To win back the majority government his Liberal Party lost in the 2019 election, Trudeau is engaging in populist pandering that, if acted upon, could damage Canada's economic performance.
Consider what happened last week. First the prime minister pledged to ban foreigners from purchasing homes for two years in an effort to cool Canadian house prices. The goal, he said: "No more foreign wealth being parked in homes that people should be living in."
The next day, Trudeau announced a plan to impose a 3 per cent surtax on Canada's largest financial institutions, raising their top rate from 15 per cent to 18 per cent. This would apply to profits over $1 billion (US$793 million) earned by big banks and insurers.
Whether originating on the right or left, such proposals will backfire, stifling growth and diverting attention from solutions that would actually help solve the problems that people care about.
Corporate tax rates should be uniform across industries to allow for investment decisions to be driven by economic considerations, not tax policy. By reducing after-tax profits relative to other industries, Trudeau's surtax would lead to inefficient investment, hurting the productivity of the banking sector and the economy overall.
To make matters worse, the surtax would only apply to Canada's largest banks and insurers. This makes it a barrier to growth — and arguably targets the most successful financial institutions in the country. Penalizing success is a bad idea.
Trudeau's proposed restrictions on home purchases by non-Canadian buyers are aimed at improving affordability. Canadians have long chafed at stories of Chinese and Hong Kong investors buying up property in Vancouver, bidding up values there and in other cities, and also at foreign speculation in cheaper housing options. Toronto and Vancouver have already imposed a 15 per cent and 20 per cent tax, respectively, on home buying by foreigners. With housing prices nevertheless continuing their surge, Trudeau is calling for a two-year ban on such purchases.
It's not as if Trudeau lacks more substantive proposals to address the problem — including a promise to increase the number of houses. But these ideas aren't getting top billing, even though they would likely be much more effective. Blaming foreigners for domestic problems is more politically appealing.
To be sure, his proposals to go after big corporations and foreigners on behalf of "the people" are a long way from the provocations of Boris Johnson, who was a prominent figure in Britain's decision to leave the European Union, or Trump, who demonized immigrants and championed protectionism in U.S. manufacturing.
We know that populist governance is bad for economic performance. In a recent paper, economists Manuel Funke, Moritz Schularick and Christoph Trebesch studied 118 years of data in 60 countries, including Canada. Out of approximately 1,500 presidents and prime ministers, they identified 50 as populist. Those 50 placed the alleged conflict between "the people" and "the elites" at the center of their campaign and governing style.
According to the authors, Trump fit the bill. Trudeau did not.
The economists found that countries lost around one percentage point of economic growth every year after a populist came to power. This underperformance existed relative both to each country's long-run growth rate and to the current global growth rate, and held for at least 15 years. They concluded that after a decade and a half, national income per person was 10 per cent lower than it would have been if a populist hadn't come to power.
"Rising economic nationalism and protectionism, unsustainable macroeconomic policies, and institutional decay under populist rule do lasting damage to the economy," they said.
Maybe Trudeau's proposals are just political positioning, intended to help get him through the Sept. 20 election. But if his party is successful, he should think twice before continuing to flirt with this style of leadership. Getting the populist genie back in the bottle is very difficult. And it can do great damage once it's out.
Canadian dollar falls as Canadian data shows economic momentum easing
The Canadian dollar weakened against its U.S. counterpart on Thursday as the greenback notched broad-based gains and investors weighed domestic data showing some weakening in activity.
The loonie was trading 0.3% lower at 1.2675 to the greenback, or 78.90 U.S. cents, after moving in a range of 1.2616 to 1.2698.
Canadian wholesale trade fell by 2.1% in July from June, the biggest decline since April last year, and housing starts were down 3.9% in August compared with the previous month.
"Momentum (in housing starts) has been moderating after unprecedented strength earlier in the year," Shelly Kaushik, an economist at BMO Capital Markets, said in a note.
Foreign investors are growing more worried that Canada's federal election on Monday could result in a deadlock that hampers Ottawa's response to the COVID-19 pandemic and further slows the economic recovery from the crisis.
The U.S. dollar climbed to a near 3-week high against a basket of currencies after data showing U.S. retail sales unexpectedly increased in August.
The data could ease some concerns about a sharp slowdown in the U.S. economy, ahead of a Federal Reserve policy meeting next week.
U.S. crude prices were unchanged at $72.61 a barrel as the threat to U.S. Gulf production from Hurricane Nicholas receded. Oil is one of Canada's major exports.
Canadian government bond yields were higher across the curve. The 10-year touched its highest since Aug. 12 at 1.272% before pulling back to 1.231%, up 1.2 basis points on the day.
(Reporting by Fergal Smith; Editing by Bernadette Baum)
New Zealand's Economy Was Humming Prior to Delta Lockdown – BNN
(Bloomberg) — New Zealand's economy was expanding at a rapid pace before a nationwide lockdown interrupted its momentum, latest data show.
Gross domestic product climbed 2.8% in the second quarter after jumping 1.4% in the first, Statistics New Zealand said Thursday in Wellington. Economists forecast a 1.1% gain. From a year earlier, when the country was in its initial pandemic lockdown, the economy expanded 17.4% against expectations of 16.1% growth.
Today's report will do nothing to dissuade the central bank from raising interest rates at its next meeting on Oct. 6 as it frets about mounting inflation pressures. While a contraction is expected in the current quarter after an outbreak of the delta strain of coronavirus prompted a three-week national lockdown, last year's experience shows that demand quickly bounces back when restrictions are lifted.
The New Zealand dollar rose on the data. It bought 71.29 U.S. cents at 10:47 a.m. in Wellington, up from 71.2 cents beforehand.
©2021 Bloomberg L.P.
Global economy projected to show fastest growth in 50 years – UN News
In its new report released on Wednesday, the agency said that the rebound was highly uneven along regional, sectoral and income lines, however.
During 2022, UNCTAD expects global growth to slow to 3.6 per cent, leaving world income levels trailing some 3.7 per cent below the pre-pandemic trend line.
The report also warns that growth deceleration could be bigger than expected, if policymakers lose their nerve or answer what it regards as misguided calls for a return to deregulation and austerity.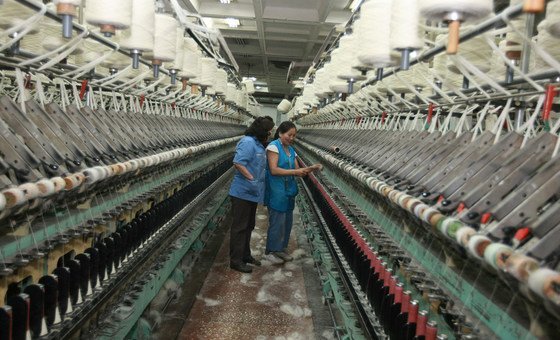 Differences in growth
The report says that, while the response saw an end to public spending constraints in many developed countries, international rules and practices have locked developing countries into pre-pandemic responses, and a semi-permanent state of economic stress.
Many countries in the South have been hit much harder than during the global financial crisis. With a heavy debt burden, they also have less room for maneuvering their way out through public spending.
Lack of monetary autonomy and access to vaccines are also holding many developing economies back, widening the gulf with advanced economies and threatening to usher in another "lost decade".
"These widening gaps, both domestic and international, are a reminder that underlying conditions, if left in place, will make resilience and growth luxuries enjoyed by fewer and fewer privileged people," said Rebeca Grynspan, the secretary-general of UNCTAD.
"Without bolder policies that reflect reinvigorated multilateralism, the post-pandemic recovery will lack equity, and fail to meet the challenges of our time."
Lessons of the pandemic
UNCTAD includes several proposals in the report that are drawn from the lessons of the pandemic.
They include concerted debt relief and even cancellation in some cases, a reassessment of fiscal policy, greater policy coordination and strong support for developing countries in vaccine deployment.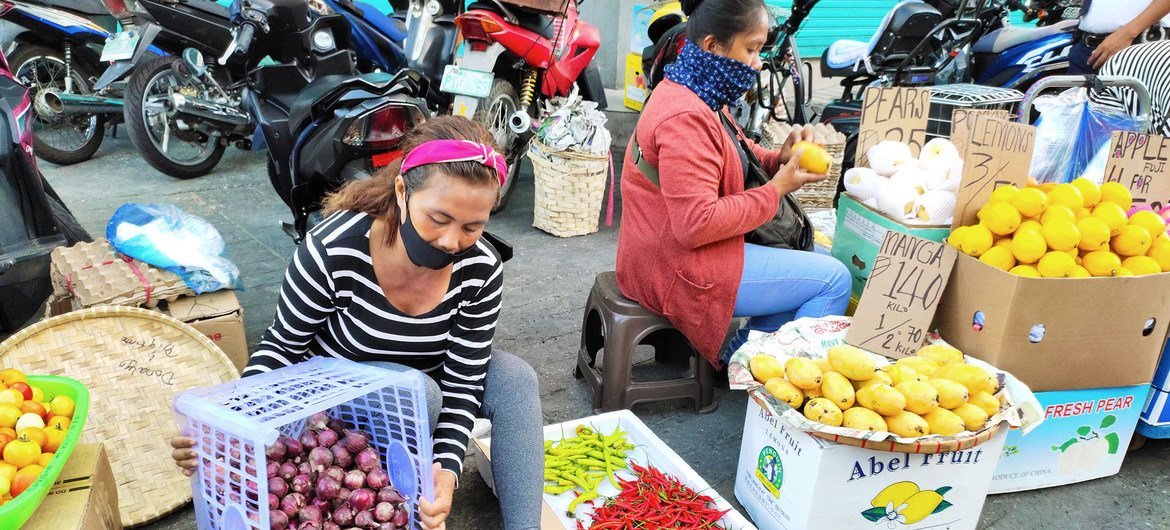 ILO/Minette Rimando.
Women sell fruit and vegetables on a sidewalk in the Philippines, where workers in the informal economy are in danger of having their livelihoods destroyed by the impacts of COVID-19.
Even without significant setbacks, global output will only resume its 2016-19 trend by 2030. But even before COVID-19, the income growth trend was unsatisfactory, says UNCTAD. Average annual global growth in the decade after the global financial crisis was the slowest since 1945.
Despite a decade of massive monetary injections from leading central banks, since the 2008-9 crash, inflation targets have been missed. Even with the current strong recovery in advanced economies, there is no sign of a sustained rise in prices.
After decades of a declining wage share, real wages in advanced countries need to rise well above productivity for a long time before a better balance between wages and profits is achieved again, according to the trade and development body's analysis.
Food prices and global trade
Despite current trends on inflation, UNCTAD believes the rise in food prices could pose a serious threat to vulnerable populations in the South, already financially weakened by the health crisis.
Globally, international trade in goods and services has recovered, after a drop of 5.6 per cent in 2020. The downturn proved less severe than had been anticipated, as trade flows in the latter part of 2020 rebounded almost as strongly as they had fallen earlier.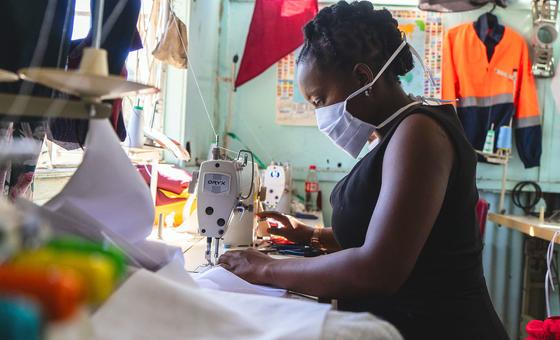 The report's modelling projections point to real growth of global trade in goods and services of 9.5 per cent in 2021. Still, the consequences of the crisis will continue to weigh on the trade performance in the years ahead.
For director of UNCTAD's globalization and development strategies division, Richard Kozul-Wright, "the pandemic has created an opportunity to rethink the core principles of international economic governance, a chance that was missed after the global financial crisis."
"In less than a year, wide-ranging US policy initiatives in the United States have begun to effect concrete change in the case of infrastructure spending and expanded social protection, financed through more progressive taxation. The next logical step is to take this approach to the multilateral level."
The report highlights a "possibility of a renewal of multilateralism", pointing to the United States support of a new special drawing rights (SDR) allocation, global minimum corporate taxation, and a waiver of vaccine-related intellectual property rights.
UNCTAD warns, though, that these proposals "will need much stronger backing from other advanced economies and the inclusion of developing country voices if the world is to tackle the excesses of hyperglobalization and the deepening environmental crisis in a timely manner."
For the UN agency, the biggest risk for the global economy is that "a rebound in the North will divert attention from long-needed reforms without which developing countries will remain in a weak and vulnerable position."