U.S. economy on thin ice: These are top recession bets for 2023
More and more banks and economists are leaning towards a hard landing in 2023 as high interest rates start to bite. But a recession is not a done deal yet, even though the U.S. economy is on thin ice going into next year.
After a rapid interest rate hiking cycle by the Federal Reserve, macroeconomic data is finally showing signs of cooling, with the biggest hit to the economy yet to come.
Fed Chair Jerome Powell has reiterated a few times already that the full effects of this year's total 425-basis-point rate increase are yet to be worked through the economy.
On the possibility of a soft landing, Powell also noted that the longer the Fed needs to keep rates higher, the narrower the runway becomes. "I don't think anyone knows whether we're going to have a recession or not. And if we do, whether it's going to be a deep one or not, it's just not knowable," he said in December.
Despite the Fed Chair not being able to forecast a recession, the Fed is looking for real GDP to come in at 0.5% in 2023, the PCE inflation to slow to 3.1%, and the federal funds rate to peak at 5.1%.
What the big banks are saying
The big banks have weighed in on what to expect next year, and some see a soft landing as their base case scenario.
Goldman Sachs stated that the U.S. economy could avoid a recession. "There are strong reasons to expect positive growth in coming quarters," Goldman Sachs' chief economist Jan Hatzius said in the 2023 outlook.
Goldman sees core inflation slowing to 3%, the unemployment rate rising 0.5 percentage points, and the U.S. economy growing 1% next year.
However, the bank noted a "distinct risk" of a downturn, with a chance of a recession at 35% next year.
"We expect the FOMC to slow the pace of rate hikes as it shifts to fine-tuning the funds rate to keep growth below potential, but to ultimately deliver a bit more than is priced … with three 25bp hikes next year raising the fund's rate to a peak of 5-5.25%," Hatzius said. "Our recession odds are below consensus even though our Fed forecast is slightly more hawkish than consensus because we expect demand to prove more resilient than expected next year."
Morgan Stanley projects that "the U.S. economy just skirts recession in 2023, but the landing doesn't feel so soft as job growth slows meaningfully and the unemployment rate continues to rise."
Nevertheless, risks remain "skewed to the downside" because of high interest rates, noted Morgan Stanley's chief U.S. economist Ellen Zentner.
Morgan Stanley estimates that rates will remain elevated for almost the whole year.
Credit Suisse believes the U.S. can avoid an economic downturn next year as inflation slows and the Fed pauses rate hikes. In 2023, the bank sees the U.S. economy growing 0.8%.
On a more bearish side, JPMorgan has warned that a recession is very likely next year. "Our view is that market and economic weakness may occur in 2023 as a result of central bank overtightening, with Europe first and the U.S. to follow later next year," JPMorgan's chief global markets strategist Marko Kolanovic said in his 2023 outlook. "While there is significant uncertainty on the timing and severity of this downturn, we think that financial markets may react sooner and more violently than the economy itself."
Bank of America forecasts a recession in the first quarter of 2023, with the GDP falling 0.4% next year. The bank forecasts the unemployment rate to rise to 5.5% and inflation to fall to 3.2% by 2024.
UBS is also calling for a recession in 2023, citing high interest rates and projecting near-zero growth for the U.S. next year and in 2024. "We think the U.S. expansion is headed for a hard landing," UBS' chief U.S. economist Jonathan Pingle said in the 2023 outlook.
Wells Fargo is pricing in a recession in the third quarter of next year as the dramatic rise in rates hurts demand.
"We expect the Fed to continue tightening policy through the first quarter of next year, with the fed funds rate peaking at 5.25% this cycle … That said, we do not expect the Fed to cut rates immediately at the first sign of weakness. Specifically, we expect the Committee to stay on hold for the rest of 2023, and we look for the first rate cut in Q1-2024," the bank said.
Capital Economics is looking for the U.S. to enter into a mild recession next year, with the Fed forced to cut rates before the end of 2023. The GDP is expected to rise 0.2% over the next year, and core inflation to slow to 3.2%.
"We expect the lagged impact of higher interest rates to push the U.S. economy into a mild recession next year. Although that downturn will be accompanied by only a modest rebound in the unemployment rate, we expect both headline and core inflation to fall rapidly, eventually convincing the Fed to begin cutting rates before the end of 2023," Capital Economics said in its outlook.
Can the Fed reach 5% next year?
Billionaire "Bond King" Jeffrey Gundlach sees the Fed moving another 50 basis points in February, with rates potentially peaking at 5% next year.
But what's more important is that the Fed won't be able to keep rates at that level for more than one meeting and will be forced to cut, DoubleLine Capital CEO Gundlach said during a December webcast.
"You get to 5%, you repeat it, and then the market thinks it will start falling," he said. "The bond market is pricing in that the fed funds rate one year [later] will be the same as the fed funds rate at the December meeting. This leads me to wonder why even bother with these hikes? Dig a hole just to fill it back in."
Gundlach even warned that the Fed might not even make it to 5% as the data is "weakening too rapidly."
The Fed moving rates up so quickly is not usually good for stable policy, said Gainesville Coins precious metals expert Everett Millman. "The U.S. economy will fluctuate widely from that … I think there will be a pause on rate hikes sooner than projected. Next year, the damage will be clearer," Millman said.
The Fed is always working with backward-looking data, which makes its job much harder. "It's difficult for them to see problems in the economy until it is too late. They could follow through and push rates near 5% because they want to appear to be handling inflation," Millman added.
Canada's economy slowed down in November, but still eked out growth
The Canadian economy grew by 0.1 per cent in November as higher interest rates began to slow spending toward the end of the year.
The Canadian economy grew by 0.1 per cent in November as higher interest rates began to slow spending toward the end of the year.
Statistics Canada's preliminary estimate for December indicates the economy stayed flat, suggesting the economy grew at an annualized rate of 1.6 per cent in the fourth quarter.
The economy grew at an annualized rate of 2.9 per cent in the third quarter.
In November, growth in real domestic product was driven by the public sector, transportation and warehousing and finance and insurance.
Meanwhile, construction, retail and accommodation and food services contracted.
Statistics Canada says economic growth for 2022 was an estimated 3.8 per cent.
Canadian economy grew 0.1% in November, likely was unchanged in December – The Globe and Mail
Canada's economy expanded slightly in November, matching expectations, and likely stalled in December, data showed on Tuesday, broadly in line with the Bank of Canada's expectations for the economy to flatline during the first half of this year.
November gross domestic product (GDP) rose 0.1 per cent in November, Statistics Canada said, and was likely flat in December, according to a preliminary estimate.
"The flash estimate for December suggested that there was little if any growth during the final month of the year. That aligns with our view that the economy is likely stalling," said Royce Mendes, head of macro strategy at Desjardins.
In December, gains in the retail, utilities, and public sectors were offset by decreases in sectors including wholesale, finance and insurance, Statscan said.
Annualized gross domestic product likely gained 1.6 per cent in the fourth quarter, above the Bank of Canada's 1.3 per cent forecast. If the flash estimate proves correct, the economy expanded 3.8 per cent in 2022 from the previous year, above the central bank's 3.6 per cent forecast.
"Today's data show that the Canadian economy continues to cool, but not as yet shift into reverse, in the face of rising interest rates," Andrew Grantham, senior economist at CIBC Capital Markets, said in a note.
The Canadian central bank has raised its key interest rate at a record pace of 425 basis points in 10 months to cool the economy and bring inflation down. After the latest rate hike last week, the Bank of Canada said it would likely hold off on further increases.
Last week, the central bank said the economy would stall and could tip into a mild recession during the first half of this year.
"The overriding message is that the economy is just managing to keep its head above water, which squarely fits with the Bank of Canada's view," said Doug Porter, chief economist at BMO Capital Markets.
Canada's service-producing sector grew 0.2 per cent in November, buoyed by a third straight month of gains in transportation and warehousing. The goods-producing sector contracted 0.1 per cent in November, dragged down by declines in the construction and manufacturing industries.
The Canadian dollar was trading 0.2 per cent lower at 1.3405 to the greenback, or 74.60 U.S. cents, after clawing back some of its earlier decline.
IMF upgrades outlook for the global economy in 2023 – GuelphToday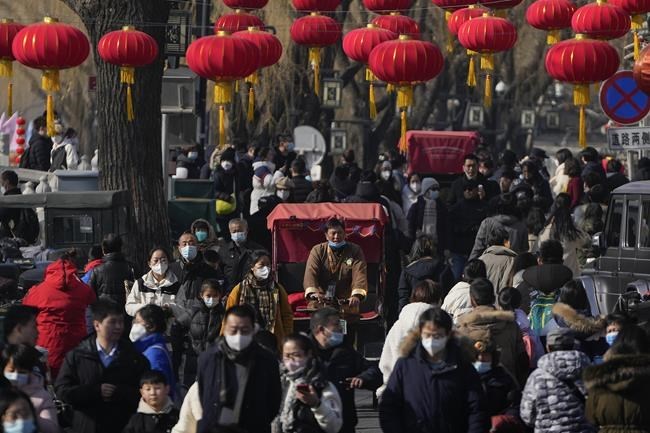 WASHINGTON (AP) — The outlook for the global economy is growing slightly brighter as China eases its zero-COVID policies and the world shows surprising resilience in the face of high inflation, elevated interest rates and Russia's ongoing war against Ukraine.
That's the view of the International Monetary Fund, which now expects the world economy to grow 2.9% this year. That forecast is better than the 2.7% expansion for 2023 that the IMF predicted in October, though down from the estimated 3.4% growth in 2022.
The IMF, a 190-country lending organization, foresees inflation easing this year, a result of aggressive interest rate hikes by the Federal Reserve and other major central banks. Those rate hikes are expected to slow the consumer demand that has driven prices higher. Globally, the IMF expects consumer inflation to fall from 8.8% last year to 6.6% in 2023 and 4.3% in 2024.
"Global conditions have improved as inflation pressures started to abate," the IMF chief economist, Pierre-Olivier Gourinchas, said at a news conference in Singapore. "The road back to a full recovery with sustainable growth, stable prices and progress for all has only started."
A big factor in the upgrade to global growth was China's decision late last year to lift anti-virus controls that had kept millions of people at home. The IMF said China's "recent reopening has paved the way for a faster-than-expected recovery.''
The IMF now expects China's economy — the world's second-biggest, after the United States — to grow 5.2% this year, up from its October forecast of 4.4%. Beijing's economy eked out growth of just 3% in 2022 — the first year in more than 40, the IMF noted, that China has expanded more slowly than the world as a whole. But the end of virus restrictions is expected to revive activity in 2023.
Together, China and India should account for half of this year's global growth, while the United States and Europe contribute 10%, according to Gourinchas.
"China's reopening is certainly a favorable factor that's going to lead to more activity," Gourinchas said. "But this is in the context in which the global economy itself is slowing down."
The IMF's 2023 growth outlook improved for the United States (forecast to grow 1.4%) as well as for the 19 countries that share the euro currency (0.7%). Europe, though suffering from energy shortages and higher prices resulting from Russia's invasion of Ukraine, proved "more resilient than expected,'' the IMF said. The European economy benefited from a warmer-than-expected winter, which held down demand for natural gas,
Russia's economy, hit by sanctions after its invasion of Ukraine, has proved sturdier than expected, too: The IMF's forecast foresees Russia registering 0.3% growth this year. That would mark an improvement from a contraction of 2.2% in 2022. And it's well above the 2.3% contraction for 2023 that the IMF had forecast for Russia in October.
The United Kingdom is a striking exception to the IMF's brighter outlook for 2023. It has forecast its economy will shrink 0.6% in 2023; in October, the IMF had expected growth of 0.3%. Higher interest rates and tighter government budgets are squeezing the British economy.
"These figures confirm we are not immune to the pressures hitting nearly all advanced economies,'' Chancellor of the Exchequer Jeremy Hunt said in response to the IMF forecast. "Short-term challenges should not obscure our long-term prospects — the U.K. outperformed many forecasts last year, and if we stick to our plan to halve inflation, the U.K. is still predicted to grow faster than Germany and Japan over the coming years."
The IMF noted that the world economy still faces serous risks. They include the possibility that Russia's war against Ukraine war will escalate, that China will suffer a sharp increase in COVID cases and that high interest rates will cause a financial crisis in debt-laden countries.
Asked about the impact of U.S. efforts to limit Chinese access to advanced processor chip technology due to security concerns, Gourinchas cautioned that curbs on semiconductor trade and government pressure to pull back industries to within their own borders and limit reliance on foreign partners "potentially could be harmful to the global economy."
"Diversification of supply chains is much more important in trying to improve resilience, improve growth, improve standards of living, rather than moving toward re-shoring or 'friend shoring,'" Gourinchas said.
The global outlook has been shrouded in uncertainty since the coronavirus pandemic struck in early 2020. Forecasters have been repeatedly confounded by events: A severe if brief recession in early 2020; an expectedly strong recovery triggered by vast government stimulus aid; then a surge in inflation, worsened when Russia's invasion of Ukraine nearly a year ago disrupted world trade in energy and food.
Three weeks ago, the IMF's sister agency, the World Bank, issued a more downbeat outlook for the global economy. The World Bank slashed its forecast for international growth this year by nearly half — to 1.7% — and warned that the global economy would come "perilously close'' to recession.
___
AP Business Writer Joe McDonald in Beijing and AP Writer Danica Kirka in London contributed to this report.
Paul Wiseman, The Associated Press