U.S. Futures Trim Loss From U.S.-China Flare-Up: Markets Wrap – Yahoo Canada Finance
(Bloomberg) — U.S. stocks fluctuated as investors weighed the likelihood for a new spending bill, corporate earnings an escalation of tensions with China that could spill over into trade. The dollar weakened.
The S&P 500 pared earlier gains, led by declines in the energy, commercial services and consumer discretionary sectors. Futures retreated overnight on news that the U.S. ordered China's Houston consulate to quickly close. Earnings remained in focus. Texas Instruments Inc. dropped after urging caution. Snap Inc. tumbled following a miss on its user-growth targets. Tesla Inc. and Microsoft Corp. are among the companies reporting later Wednesday.
Progress on combating the virus's impact also contributed to sentiment. The U.S. reported more than 1,000 deaths Tuesday. Pfizer Inc. shares rallied after saying the government ordered up to 600 million doses of its vaccine candidate against Covid-19. Treasuries rose, while Silver continued its tear, climbing to the highest level in almost seven years.
"The market's focused on the virus and employment right now," Scott Wren, senior global market strategist for Wells Fargo Investment Institute, told Bloomberg TV. "But certainly, as we get down the road, trade tensions are going to have an effect."
Fresh Sino-U.S. tension including new charges of Chinese hacking are adding to potential risks weighing on investors who recently drove global equities to a five-month high. After the success of a European rescue package this week, Senate Republicans and the Trump administration are struggling to reach consensus on another stimulus plan. The president warned the coronavirus crisis will probably worsen before improving.
"I'm more concerned going into the August, September period: what's going to then be the next catalyst to take the broader market higher," Andrew Sheets, a cross-asset strategist at Morgan Stanley, said on Bloomberg TV. It's going to be "a tougher period for stocks," he said.
Elsewhere, oil in New York dropped from a four-month high on signs of a surprise gain in U.S. crude stockpiles.
Here are some key events coming up:
Quarterly earnings gather steam, with reports due from Microsoft, Blackstone Group, Roche, Intel, Unilever, Canadian Pacific, Daimler, Hyundai and Mattel.The EIA crude oil inventory report is due Wednesday.U.S. weekly jobless claims come on Thursday.
These are the main moves in markets:
For more articles like this, please visit us at bloomberg.com
Subscribe now to stay ahead with the most trusted business news source.
©2020 Bloomberg L.P.
Ontario reports 218 new COVID-19 cases, 9M-plus now fully vaccinated – CityNews Toronto
For the fourth straight day the province of Ontario is reporting more than 200 new cases of COVID-19.
Health officials confirmed 218 new infections on Sunday. That's a drop from the 258 cases reported the previous day. However, a week ago there were just 172 cases reported.
The rolling seven-day average of new cases continues to climb, up to 189.
Toronto reported 40 new cases, while there were 33 in Peel Region, and 23 in York Region as the three regions accounted for more than a third of all new cases.
Another two people have died as a result of the virus, raising the provincial total to 9,347.
The province administered 60,583 doses of COVID-19 vaccine on Saturday, bringing the total number of doses administered to more than 19.5 million. As well, the number of people who have been fully vaccinated in the province has surpassed nine million.
Canada to receive 2.3 million COVID-19 vaccine doses this week – CP24 Toronto's Breaking News
OTTAWA — The federal government is expecting to receive more than 2.3 million doses of the Pfizer-BioNTech COVID-19 vaccine this week, as public health officials brace for a potential fourth wave of infections.
Ottawa has already received more than 66 million COVID-19 vaccine doses, enough to fully immunize all eligible Canadians.
As of Tuesday, the federal government had 6.7 million COVID-19 vaccines in its national reserve, an amount that provinces and territories can draw from if they need more doses.
The new COVID-19 vaccine shipments come as Canada's top doctor warns that the country could be headed towards a fourth wave of COVID-19 cases if public health restrictions are lifted before vaccination rates pick up.
Speaking to reporters on Friday, Dr. Theresa Tam said an updated national modelling for the pandemic trajectory suggests that the highly contagious Delta variant of COVID-19 could drive a fourth wave of infections.
"The trajectory will depend on ongoing increase in fully vaccinated coverage and the timing, pace and extent of reopening," Tam said.
"While some resurgence is expected as measures are eased, this updated model shows that if we maintain current levels of community-wide contacts, we would expect to see a modest increase in cases."
Tam said the country could see a high increase of COVID-19 infections if reopening continues quickly before enough people are fully immunized.
"We could expect to see a sharp resurgence by the end of the summer," she said.
She said the new forecast "reaffirms the need to take a cautious approach to relaxing public health measures to remain vigilant and responsive to signs of resurgence and to continue to increase first and second dose vaccine coverage."
Canada reported an average of 640 new cases over the past seven days, she said, which is still 93 per cent lower than the peak of the third wave.
As of Friday, 80.3 per cent of those eligible had received a first dose, while 63.7 per cent are now fully vaccinated.
Tam said the country has made "great progress" on vaccinating those who are eligible over the last month, but there is a need to increase numbers of vaccinated even more.
"This means increasing fully vaccinated coverage above 80 per cent across all age groups and particularly in younger age groups where most of the transmission is occurring."
This report by The Canadian Press was first published Aug. 2, 2021.
Ontario pharmacists group warn thousands of Moderna shots to go wasted – CityNews Toronto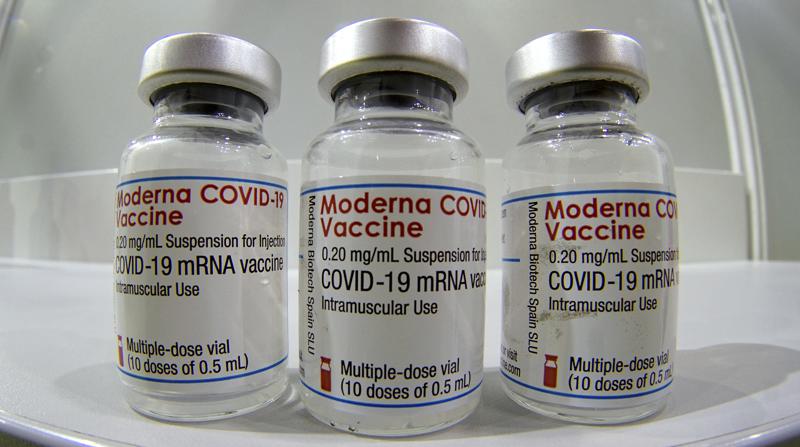 Ontario pharmacists say thousands of doses of the Moderna COVID-19 vaccine are set to expire soon and they warn the supply could go to waste if people don't show up to get a shot.
The CEO of the Ontario Pharmacists Association said some Moderna shots are set to expire in early August, and generally, supply that arrives in bulk must be used up within 30 days.
Justin Bates said a slowdown in Ontario's vaccine rollout and the public's preference for the Pfizer-BioNTech shot have made it difficult for pharmacists to use up the Moderna doses.
"It's an awful situation for them (pharmacists) to be in," Bates said in an interview. "They've done everything they can to make sure there's no wastage, but yet they're coming to that place where they may have to, or have already."
Bates' comments came after a health unit covering London, Ont., asked the public to roll up their sleeves for Moderna vaccines before more than 21,300 unallocated doses expire in two weeks' time.
Pharmacies are now ordering vaccine based on scheduled appointments to cut down on possible waste, said Bates, but they still need to use the supply they have on hand.
"The next couple of weeks (are) critical," he said. "It's complicated because you have any number of scenarios that could waste the vaccine."
On top of the expiration issue, Bates said it's also been challenging for pharmacists to use up the larger dose quantities that come in Moderna vials currently being supplied in Ontario.
Vials include enough vaccine for 14 shots and once a vial is punctured, all the vaccine must be used within 12 hours. If a patient cancels their appointment for a Moderna shot, it can't be filled by the end of the day, said Bates.
The problem is not limited to pharmacies.
The Middlesex-London Health Unit recently issued a call for residents to take the Moderna vaccine because it had thawed more than 21,300 doses of the shot that need to be used by Aug. 12.
In a statement, the health unit said vaccinations had declined over the previous weeks and the thawed shots were "above and beyond" appointments already allocated for second doses.
"We don't want this vaccine to go to waste, so we are asking people who aren't fully vaccinated to join us in the fight against COVID-19 and consider receiving a first or second dose of Moderna," Dr. Chris Mackie, the region's top doctor, said earlier this week. The health unit also stressed that the Pfizer-BioNTech and Moderna shots can be used as first and second doses safely.
A spokeswoman for the health minister said the province is working with the Middlesex-London Health Unit to help reallocate doses to areas of need.
"Public health units are working to keep vaccine wastage to a minimum and are encouraging walk-ins where appropriate," Alexandra Hilkene said.
"We are also working with federal partners to explore vaccine donation opportunities in the future."
Bates said his organization wants a provincewide program to help redirect doses at risk of being wasted to another site more likely to use them, though he noted that process would be complicated.