U.S. gains 678,000 jobs in February and unemployment drops to 3.8% despite labor shortage – MarketWatch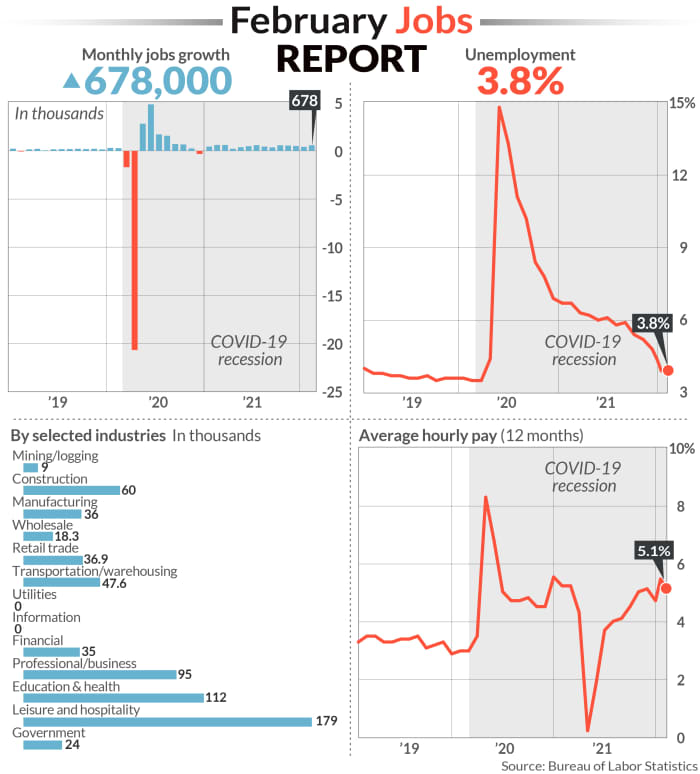 The numbers: The U.S. added 678,000 jobs in February and the unemployment rate fell again even as businesses grappled with the worst labor shortage in decades, signaling the economy is picking up after a slow start to the year.
The unemployment rate dropped to 3.8% from 4%, the government said Friday.
The increase in hiring last month — the biggest in seven months — exceeded forecasts. Economists polled by The Wall Street had estimated 440,000 new jobs.
The government's employment report won't sway the Federal Reserve as the central bank prepares for a series of interest-rate increases to try to tame the worst bout of U.S. inflation in 40 years.
The jobs report has also been less reliable over the past year owing to the waxing and waning of the pandemic. The estimates have been subject to large revisions months later that have presented a very different view of how many people are being hired.
One thing is clear, though. The labor market is very tight and it's going away to stay that way for a while. Workers are taking advantage of the situation to leave their employers in droves for better-paying jobs.
Hourly wages only rose 1 cent to $31.58 in February, but worker pay is climbing at the fastest rate since the early 1980s.
Read: Soaring U.S. worker pay stalled in February, but probably not for long
"The 'Great Resignation' is real," a technology executive told ISM. "Severe labor shortages are expected well into 2022."
U.S. stocks fell in Friday trades and were little swayed by the jobs report. The war in Ukraine is the main focus of investors now.
Big picture: The economy is getting a tailwind from the steep decline in cases of the omicron variant of the coronavirus.
People who got sick from the highly contagious variant have returned to work. Governments have dropped business restrictions and companies have stepped up hiring efforts to try to cater to high demand for their goods and services.
Yet soaring inflation and ongoing shortages of labor and supplies are likely to constrain the economy in the first half of 2022 before easing, analysts predict. Americans are unlikely to buy as many houses, cars and other big-ticket items if prices keep rising and interest rates go up though.
The war in Ukraine also threatens to worsen inflation and deliver another shock to an already fragile global economy.
Key details: About a quarter of the new jobs created in February were in leisure and hospitality, the industries most affected when coronavirus cases were high.
Restaurants added 124,000 new jobs last month and hotels hired 28,000 people.
Hiring also rose strongly at white-collar professional jobs (95,000), health care (64,000), construction (60,000) and transportation and warehousing (48,000).
No industry reported a decline in employment.
The size of the labor force increased by 301,000 in February. The percentage of people in the labor force rose a tick to 62.3%, though it's still well below the peak before the pandemic.
The economy would have about 3 million more workers if the so-called participation rate in the labor market was the same now as it was before the pandemic.
Hiring in January and December were somewhat stronger than previously reported. Job gains in the two months were raised by a combined 92,000.
Steady hiring is pushing the unemployment rate back to precrisis levels, when it had fallen to a half-century low of 3.5%.
The tight labor market is a blessing for many workers. They've switched jobs for better pay or gotten higher wages from their current employers.
Over the past year the average paycheck has increased by 5.1% — one of the fastest increase since the early 1980s.
"Employers continue to struggle to bring in new workers and keep existing ones," said Thomas Barkin, president of the Richmond Federal Reserve.
Rising pay still isn't keeping up with inflation, however. The cost of living jumped 7.5% in the 12 months ended in January.
Higher wages could even add to inflationary pressures unless accompanied by increases in worker productivity.
In a worst-case scenario, a dreaded wage-price spiral could take place and keep inflation at worrisomely high levels.
Looking ahead: "If we see more numbers like this moving forward, we can be optimistic about this year. Employment is growing at a strong rate and joblessness is getting closer and closer to pre-pandemic levels," said Indeed Hiring Lab Research Director Nick Bunker. "Still, in these uncertain times, we cannot take anything for granted."
"What this tells me is that the U.S. economy is open for business. Omicron is in the past, and businesses expect demand to remain strong going forward," said John Leer, chief economist at Morning Consult.
Market reaction: The Dow Jones Industrial Average
DJIA,
-0.53%
and S&P 500
SPX,
-0.79%
were sank in Friday trades. Stocks have been under pressure the past week since the Russian invasion of Ukraine.
Home sales tumble again as mortgage rates surge – Business News – Castanet.net
Photo: CTV News
Sales of previously occupied U.S. homes slowed for the third consecutive month in April as mortgage rates surged, driving up borrowing costs for would-be buyers as home prices soared to new highs.
Existing home sales fell 2.4% last month from March to a seasonally adjusted annual rate of 5.61 million, the National Association of Realtors said Thursday.
That was slightly higher than what economists were expecting, according to FactSet. Sales fell 5.9% from April last year. After climbing to a 6.49 million annual rate in January, sales have fallen to the slowest pace since June 2020, when they were running at an annualized rate of 4.77 million homes.
The median home price in April jumped 14.8% from a year ago at this time to $391,200. That's an all-time high according to data going back to 1999, NAR said.
"Without a doubt, rising mortgage rates, rising prices are hurting affordability, but we should not discount that we're still lacking inventory," said Lawrence Yun, NAR's chief economist.
Fierce competition for limited properties on the market and ultra-low mortgage rates superheated the housing market the last couple of years, but now its cooling as homebuyers face sharply higher home financing costs than a year ago following a rapid rise in mortgage rates.
In April, the weekly average rate on a 30-year fixed-rate home loan climbed above 5% for the first time in more than a decade, crimping would-be homeowners' purchasing power at the outset of the spring homebuying season, traditionally the busiest period for home sales.
Mortgage rates are climbing following a sharp move up in 10-year Treasury yields, reflecting expectations of higher interest rates overall as the Federal Reserve hikes short-term rates in order to combat the worst inflation in 40 years.
With inflation at a four-decade high, rising mortgage rates, elevated home prices and tight supply of homes for sale, homeownership has become less attainable, especially for first-time buyers.
Higher rates can limit the pool of buyers and cool the rate of home price growth — good news for buyers. But higher rates can also limit affordability.
For now, the housing market continues to favor sellers as buyers vie for a still tight inventory of homes for sale, which has kept pushing up home prices. Even as sales slowed last month, it was common for homes on the market to receive multiple offers.
Inventory levels have to go higher before multiple offers dissipate from the market, Yun said. Until then, prices are likely to move higher.
"We anticipate, again, a continuing decline in home sales, but not necessarily home prices," he said.
On average, homes sold in just 17 days of hitting the market last month, unchanged from March or April last year. In a market that's more evenly balanced between buyers and sellers, homes typically remain on the market 45 days.
As is typical in the spring, the number of homes on the market increased in April from the previous month. Some 1.03 million properties were available for sale by the end of April, up 10.8% from March, but down 10.4% from April last year.
At the current sales pace, the level of for-sale properties amounts to a 2.2-month supply, the NAR said. That's up from 1.9 months in March, and down from 2.3 months a year ago.
Real estate investors and other buyers able to buy a home with just cash, sidestepping the need to rely on financing, accounted for 26% of all sales last month, down from 28% in March, NAR said.
Homes purchased by investors made up 17% of sales in April, down from 18% the previous month, while first-time buyers accounted for 28% of transactions, down from 30% in March and 31% a year ago.
Canadian Real Estate Prices 38% Overvalued, Largest Trend Deviation In 40 Years: BMO – Better Dwelling – Better Dwelling
[unable to retrieve full-text content]
Gas prices in Ontario rising: Best time to fill up | CTV News – CTV News Toronto
Gas prices in Ontario dropped 10 cents per litre on Friday ahead of the long weekend, but the relief at the pumps is expected to be short-lived.
The average price of gas in Ontario dropped to $196.6 per litre Friday, which is a 13-cent drop from Wednesday.
However, President for Canadians for Affordable Energy Dan McTeague says Ontario gas prices are projected to rise over the next two days.
"We're going to see a four-cent increase on Saturday and although the markets haven't settled yet, it's pretty clear that we are likely looking at about a two-cent increase (on Sunday). In other words, you got the 10 cents off today, it's going to go up between now and Sunday by about six cents a litre," he told CP24 Friday morning.
On Wednesday, gas prices hit a whopping $209.9 per litre, and McTeague says gas prices are set to top that in the coming week.
"Next week, the Americans begin their unofficial kickoff to the summer driving season. That's going to put a lot of pressure on gas prices for us here in Canada. They are really the ones to determine prices for us, they're a large market. I would expect that we're going to be back to $2.10 a litre probably within the next week or so."
Gas prices have been elevated since late February mostly due to fuel supply shortages amid the war in Ukraine and international sanctions that have been imposed as a result.
For the coming summer months, McTeague says the outlook on gas prices is grim partly because of impending weather issues.
"We may see days where we hit $2.30, $2.25 if we're lucky. American weather problems in the Gulf Coast tend to be a big deal," he said.
"The summer looks like average prices will get to $2.15 a litre here in the GTA, and right across most of southern Ontario," he added.