U.S. gains 916,000 new jobs in March and signals strengthening economy – MarketWatch
The numbers: Restaurants and other businesses hired the most workers in March in seven months as the U.S. added 916,000 new jobs, signaling the economy is primed for a period of rapid expansion again.
Employment accelerated after the weather warmed and a decline in coronavirus cases allowed states to relax business restrictions. Rising vaccination rates gave Americans more freedom to venture out to eat, attend a game, travel or engage in other activities they would have avoided at the height of the pandemic.
Massive federal fiscal stimulus, including $1,400 checks for most households, also gave people more money to spend.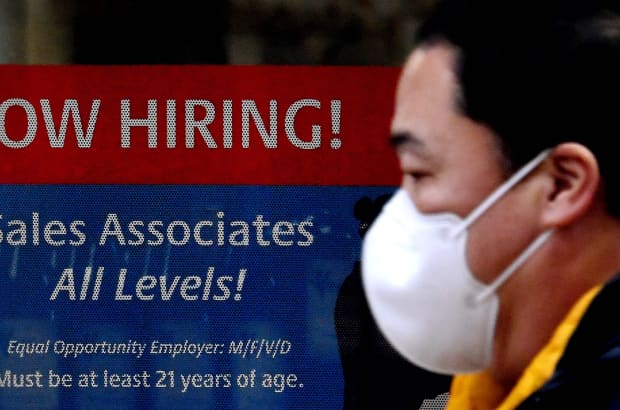 The jobs explosion in March easily exceeded Wall Street forecasts. Economists polled by Dow Jones and The Wall Street Journal had forecast a 675,000 increase.
Hiring in February and January was also much stronger than previously reported.
Read: U.S. adds 517,000 private-sector jobs, ADP says, as economy speeds up
Economists predict even faster hiring in the months ahead if most Americans get vaccinated and the coronavirus pandemic fades away, though it will take a while to know for sure. Covid-19 cases in the U.S. have actually risen slightly in the past few weeks for the first time in several months.
Read: Consumer confidence surges to a pandemic high
The official unemployment rate, meanwhile, slipped to 6% from 6.2%, the Labor Department said Friday. Yet the official rate doesn't capture nearly 4 million people who lost their jobs last year and left the labor force.
Economists peg the true unemployment rate at above 9%.
Read: Is the U.S. unemployment rate really 6%? Not even close
What happened: Companies in leisure and hospitality hired the most people in March. They added 280,000 jobs to bring total employment gains in the past two months to 664,000.
Restaurants were at the forefront, creating 176,000 new jobs. More Americans are going out to eat and the numbers are expected to grow as most of the country gets vaccinated and spring arrives. People are eager to go out after being stuck at home for the past year.
Employment in construction bounced back after a decline in February tied to poor weather. Builders hired 110,000 people, the largest increase in nine months.
Soaring home sales and a revival in commercial construction are fueling the biggest industry boom in more than a decade. The biggest problem is finding enough skilled workers.
Manufacturers, for their part, added 53,000 workers. The industrial side of the economy is also growly rapidly again and leading the U.S. recovery. Demand in many cases is so strong that companies can't find enough raw materials, parts or other supplies to keep up.
Government employment also surged in March, mostly in state and local education. Some 136,000 jobs were added.
Hiring rose in every other major part of the economy except information services, a catchall category that includes media and public relations.
The number of jobs created in the first two months of the year was also revised up by a combined 156,000
The number of jobs created in February was revised 468,000 from 379,000. The increase in January was lifted to 233,000 from 166,000.
Read: Manufacturers grow at fastest pace since pandemic
Nearly 350,000 people joined the labor force in March in another good sign, but the total is still about 3.9 million below pre-pandemic levels. Those missing workers are no longer counted in the official unemployment rate, helping to explain why it's relatively low now.
A better measure of unemployment is the government's so-called U6 rate that includes people who've recently stopped looking for work as well as those who can only find part-time jobs.
The U6 rate fell to 10.7% from 11.1%. It had reached a record 22.9% last April.
Read: It's no time to celebrate unemployment applications falling below 1 million
Big picture: The skies have cleared for the U.S. economy after a record surge in coronavirus cases clouded the outlook over the winter. Growth is likely to speed up through the spring and early summer if the vaccines do their job and keep the coronavirus pandemic at bay.
Yet even in a best-case scenario, the U.S. is unlikely to quickly recoup all of the 8.4 million jobs that are still missing one year after the onset of the pandemic. The destruction caused by the pandemic, including lost jobs and shuttered businesses, is likely to linger for a few years.
See: A visual look at how an unfair pandemic has reshaped work and home
What they are saying? "Job growth is now accelerating across the nation, helped by massive fiscal stimulus and a now speedy vaccination program," said senior economist Sal Guatieri of BMO Capital Markets.
"While we still have a long way to go to repair the damage that was done to the economy last year, we're making good progress," said Chris Zaccarelli, chief investment officer at Independent Advisor Alliance
Market reaction: The Dow Jones Industrial Average
DJIA,
+0.52%
and S&P 500
SPX,
+1.18%
closed higher on Thursday to finish out a shortened week. Markets are closed on Friday due to the Good Friday holiday.
See also: 'There is finally real light at the end of the tunnel' — economists react to strong March jobs report
TSX extends gains as gold prices rise, set to rise for third week
(Reuters) -Canada's main stock index extended its rise on Friday after hitting a record high a day earlier as gold prices advanced, and was set to gain for a third straight week.
* At 9:40 a.m. ET (13:38 GMT), the Toronto Stock Exchange's S&P/TSX composite index was up 24.24 points, or 0.1%, at 19,326.16.
* The Canadian economy is likely to grow at a slower pace in this quarter and the next than previously expected, but tighter lockdown restrictions from another wave of coronavirus were unlikely to derail the economic recovery, a Reuters poll showed.
* The energy sector climbed 0.6% even as U.S. crude prices slipped 0.1% a barrel. Brent crude added 0.1%. [O/R]
* The materials sector, which includes precious and base metals miners and fertilizer companies, added 0.3% as gold futures rose 0.7% to $1,777.9 an ounce. [GOL/] [MET/L]
* The financials sector gained 0.2%. The industrials sector rose 0.1%.
* On the TSX, 117 issues advanced, while 102 issues declined in a 1.15-to-1 ratio favoring gainers, with 14.26 million shares traded.
* The largest percentage gainers on the TSX were Cascades Inc, which jumped 4.2%, and Ballard Power Systems, which rose 2.9%.
* Lghtspeed POS fell 5.6%, the most on the TSX, while the second biggest decliner was goeasy, down 4.9%.
* The most heavily traded shares by volume were Zenabis Global Inc, Bombardier and Royal Bank of Canada.
* The TSX posted 23 new 52-week highs and no new low.
* Across Canadian issues, there were 160 new 52-week highs and 12 new lows, with total volume of 29.68 million shares.
(Reporting by Shashank Nayar in Bengaluru;Editing by Vinay Dwivedi)
Canadian economy likely to slow, but COVID-19 threat to growth low
By Indradip Ghosh and Mumal Rathore
BENGALURU (Reuters) – The Canadian economy is likely to grow at a slower pace this quarter and next than previously expected, but tighter lockdown restrictions from another wave of coronavirus were unlikely to derail the economic recovery, a Reuters poll showed.
Restrictions have been renewed in some provinces as they struggle with a rapid spread of the virus, which has already infected over 1 million people in the country.
After an expected 5.6% growth in the first quarter, the economy was forecast to expand 3.6% this quarter, a sharp downgrade from 6.7% predicted in January.
It was then forecast to grow 6.0% in the third quarter and 5.5% in the fourth, compared with 6.8% and 5.0% forecast previously.
But over three-quarters of economists, or 16 of 21, in response to an additional question said tighter curbs from another COVID-19 wave were unlikely to derail the economic recovery, including one respondent who said "very unlikely".
"Canada is undergoing a third wave of the virus and while case loads are accelerating, the resiliency the economy has shown in the face of the second wave suggests it can ride out the third wave as well, without considerable economic consequences," said Sri Thanabalasingam, senior economist at TD Economics.
The April 12-16 poll of 40 economists forecast the commodity-driven economy would grow on average 5.8% this year, the fastest pace of annual expansion in 13 years and the highest prediction since polling began in April 2019.
For next year, the consensus was upgraded to 4.0% from 3.6% growth predicted in January.
What is likely to help is the promise of a fiscal package by Prime Minister Justin Trudeau late last year, which the Canadian government was expected to outline, at least partly, in its first federal budget in two years, on April 19.
When asked what impact that would have, over half, or 11 of 20 economists, said it would boost the economy significantly. Eight respondents said it would have little impact and one said it would have an adverse impact.
"The economic impact of the federal government's promised C$100 billion fiscal stimulus will depend most importantly on its make up," said Tony Stillo, director of Canada economics at Oxford Economics.
"A stimulus package that enhances the economy's potential could provide a material boost to growth without stoking price pressures."
All but two of 17 economists expected the Bank of Canada to announce a taper to the amount of its weekly bond purchases at its April 21 meeting. The consensus showed interest rates left unchanged at 0.25% until 2023 at least.
"The BoC is set to cut the pace of its asset purchases next week," noted Stephen Brown, senior Canada economist at Capital Economics.
"While it will also upgrade its GDP forecasts, we expect it to make an offsetting change to its estimate of the economy's potential, implying the Bank will not materially alter its assessment of when interest rates need to rise."
(Reporting and polling by Indradip Ghosh and Mumal Rathore; editing by Rahul Karunakar, Larry King)
CANADA STOCKS – TSX rises 0.78% to 19,321.92
* The Toronto Stock Exchange's TSX rises 0.78 percent to 19,321.92
* Leading the index were Martinrea International Inc <MRE.TO​>, up 7.4%, Fortuna Silver Mines Inc​, up 7.1%, and Hudbay Minerals Inc​, higher by 6.7%.
* Lagging shares were AcuityAds Holdings Inc​​, down 6.7%, Ballard Power Systems Inc​, down 6.5%, and Northland Power Inc​, lower by 6.0%.
* On the TSX 165 issues rose and 60 fell as a 2.8-to-1 ratio favored advancers. There were 18 new highs and no new lows, with total volume of 203.0 million shares.
* The most heavily traded shares by volume were Royal Bank Of Canada, Suncor Energy Inc and Air Canada.
* The TSX's energy group fell 0.59 points, or 0.5%, while the financials sector climbed 0.86 points, or 0.3%.
* West Texas Intermediate crude futures rose 0.27%, or $0.17, to $63.32 a barrel. Brent crude  rose 0.36%, or $0.24, to $66.82 [O/R]
* The TSX is up 10.8% for the year.