U.S. House Committee on Energy and Commerce Questions Apple on Accuracy of App Store Privacy Labels – MacRumors
The U.S. House Committee on Energy and Commerce this week sent a letter to Apple [PDF] inquiring about the accuracy of the App Privacy labels that Apple asked developers to start adding to apps back in December.

In the letter, the committee asks Apple about reports suggesting that some App Privacy labels are offering "misleading and false information." The query was prompted by a January story from The Washington Post that found over a dozen apps with inaccurate privacy labels.
Apple requires developers to provide information on all of the data that an app collects, but developers are self-submitting the privacy label details on an honor system, without verification from Apple itself. Apple has said that it routinely audits the information that's provided and works with developers to correct inaccuracies, but it's impossible for the company to verify every app's privacy listing.
App developers that do get audited and are found to have failed to disclose accurate privacy information can have future app updates rejected or in some situations, the apps can be removed from the App Store entirely if not brought into compliance.
Committee members Frank Pallone and Jan Schakowsky told Apple that a privacy label is "no protection if it is false," in the letter that urges Apple to improve App Privacy labels.
"According to recent reports, App Privacy labels can be highly misleading or blatantly false. Using software that logs data transmitted to trackers, a reporter discovered that approximately one third of evaluated apps that said they did not collect data had inaccurate labels. A privacy label is no protection if it is false. We urge Apple to improve the validity of its App Privacy labels to ensure consumers are provided meaningful information about their apps' data practices and that consumers are not harmed by these potentially deceptive practices."
Apple has been asked to provide the following details on its App Privacy system:
Details on the process by which Apple audits the privacy information provided by app developers and how frequently audits are conducted;
How many of the apps audited since the implementation of the App Privacy label were found to have provided inaccurate or misleading information;
Whether Apple ensures that App Privacy labels are corrected upon the discovery of inaccuracies or misleading information; and
Details regarding Apple's enforcement policies when an app fails to provide accurate privacy information for the App Privacy label.
The committee asks that Apple send the requested information by February 23, so Apple has two weeks to craft a response.
Note: Due to the political or social nature of the discussion regarding this topic, the discussion thread is located in our Political News forum. All forum members and site visitors are welcome to read and follow the thread, but posting is limited to forum members with at least 100 posts.
Report: New Nintendo Switch With 4K Output, OLED Screen Will Release Before Christmas – Kotaku
Last year, Bloomberg reported that a new model of the Nintendo Switch would be out sometime in 2021. Today, they're reporting some more specific details, like the size of the screen and some 4K news.
The original report was very light on details, saying only that Nintendo "has looked into including more computing power and 4K high-definition graphics", but that has now been clarified to say that this new model will feature an OLED screen made by Samsung, which will be seven inches across (current Switch models are 6.2 and 5.5 inches for the regular and Lite respectively) and feature a 720p resolution.
It will also, perhaps even more importantly, output 4K visuals when connected to a TV, which will make for one hell of a resolution change when switching between docked and handheld mode.
Bloomberg's report says production on the new screens will commence in June, with the "displays slated for shipment to assemblers around July", meaning this new model would be ready "in time for the holidays".
Nintendo reportedly plans to release new Switch with larger Samsung OLED display – MobileSyrup
It seems there might be at least some level of truth to rumours that Nintendo is working on a new version of the Switch.
According to a recent report from Bloomberg, the company plans to release a new version of the Switch with a larger display in time for the 2021 holiday season.
This time around the console's 7-inch, 720p display will be OLED and manufactured by Samsung Display. Bloomberg says that the displays are set to ship in July to the various companies that assemble the Switch.
Making the jump to OLED would give the Switch better battery life and likely improve the screen's contrast ratio. The current version of the Switch features a 6.2-inch LCD screen, while the Switch Lite's LCD display measures in at 5.5-inches.
Though the current Switch's LCD screen is passable, moving to a Samsung panel would almost certainly improve its overall picture quality given the South Korean company's prowess in the TV and smartphone display space.
The report also mentions that this new version of the Switch will be capable of outputting 4K visuals to a television, hinting that at least its dock will feature a faster processor. While interesting, this could potentially splinter the Switch's installed base and result in few developers taking advantage of the increased graphical power, similar to the 3DS and the New 3DS.
It's unclear if anything else about the actual Switch console will change beyond the larger screen and the 4K output. Though the Switch continues to sell well and recently hit 79.87 million consoles sold as of February 1st, it faces stiff competition from Microsoft's more recent Xbox Series X/S and Sony's PlayStation 5.
This could be an effort on Nintendo's part to build excitement surrounding the home console-portable hybrid system while moving into the holiday season.
However, Shuntaro Furukawa, the Japanese gaming giant's president, recently stated that Nintendo has no plans to announce a new version of the Switch "anytime soon."
Last year The Wall Street Journal reported that Nintendo was working on two Switch models, the Switch Lite and the Switch Pro. Though the Switch Lite eventually released, the company has repeatedly denied a more powerful Switch is on the way.
According to previous rumours, the upgraded version of the Switch features a more powerful processor, an improved design and possibly a dock with built-in hardware.
Source: Bloomberg
Nintendo Plans Switch Model With Bigger Samsung OLED Display – Bloomberg

Follow Bloomberg on Telegram for all the investment news and analysis you need.
Nintendo Co. plans to unveil a model of its Switch gaming console equipped with a bigger Samsung OLED display this year, hoping the larger touchscreen can prop up demand in time for the holidays, people familiar with the plan said.
Samsung Display Co. will start mass production of 7-inch, 720p-resolution OLED panels as early as June with an initial monthly target of just under a million units, said the people, who asked not to be identified discussing internal matters. The displays are slated for shipment to assemblers around July, the people said. Representatives for Nintendo and Samsung Display declined to comment.
Nintendo seeks to sustain a Switch lineup that continues to sell well against the Xbox and PlayStation, thanks to pandemic-era breakout hits like Animal Crossing and a chip crunch that's plagued supply of rival devices. But the gadget is now into its fifth year, while Microsoft Corp. and Sony Corp. both have new and more powerful machines in the market.
The gaming community has speculated online about the introduction of an OLED or organic light-emitting diode screen, but Nintendo has stayed mum and President Shuntaro Furukawa said in February his company has no plans to announce a new Switch "anytime soon." Samsung's involvement is the strongest indication that Nintendo is serious about updating the console, and on a large scale.
Shares of the Kyoto-based games maker fell 3.6% in Tokyo on Thursday amid a wider market selloff.
What Bloomberg Intelligence says

"The release of a more premium version of Nintendo's Switch console with an OLED display and support for 4K graphics for the holiday 2021 selling season could drive the company's sales above consensus for the fiscal year ending March 2022 and extend the life cycle of the Switch platform for many more years."

– Matthew Kanterman and Nathan Naidu, analysts

In February, Nintendo raised its annual forecasts after the Switch helped the company to its best quarterly earnings since 2008. The games maker hopes to sustain that run in 2021 despite stiffening competition and an ebbing pandemic.
Read more: Nintendo Raises Outlook After Surpassing High Expectations
"The OLED panel will consume less battery, offer higher contrast and possibly faster response time when compared to the Switch's current liquid-crystal display," said Yoshio Tamura, co-founder of display consultancy DSCC.
Nintendo decided to go with rigid OLED panels for the new model, the people said, a cheaper but less flexible alternative to the type commonly used for high-end smartphones. The latest model will also come with 4K ultra-high definition graphics when paired with TVs, they said. That could intensify a longstanding complaint of developers, who have struggled with the difference in resolution between handheld and TV modes and now face a bigger gap between the two.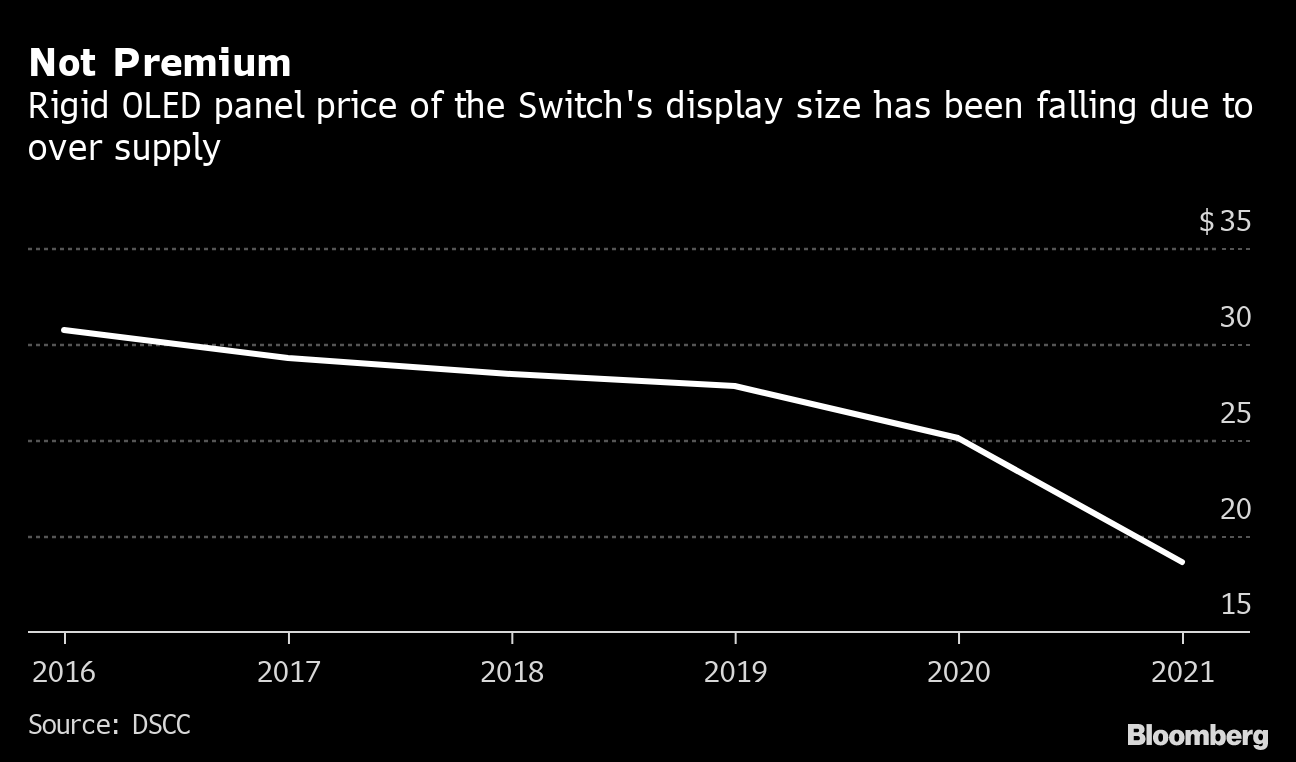 The deal benefits Samsung Display because market prices for so-called rigid OLED panels have been falling due to excess supply. Winning a customer like Nintendo also helps the Korean giant — an affiliate of Samsung Electronics Co. — firm up production plans. Nintendo in turn secures a valuable partner and supplier at a time semiconductor shortages are squeezing the supply of display-related components.
The new display's resolution mirrors the current Switch and Switch Lite but is an upgrade from the Switch's 6.2-inch and Lite's 5.5-inch size. If the console's housing remains unchanged, the new Switch is likely to sport a thinner bezel.
(
Updates with share price and analyst comment
)